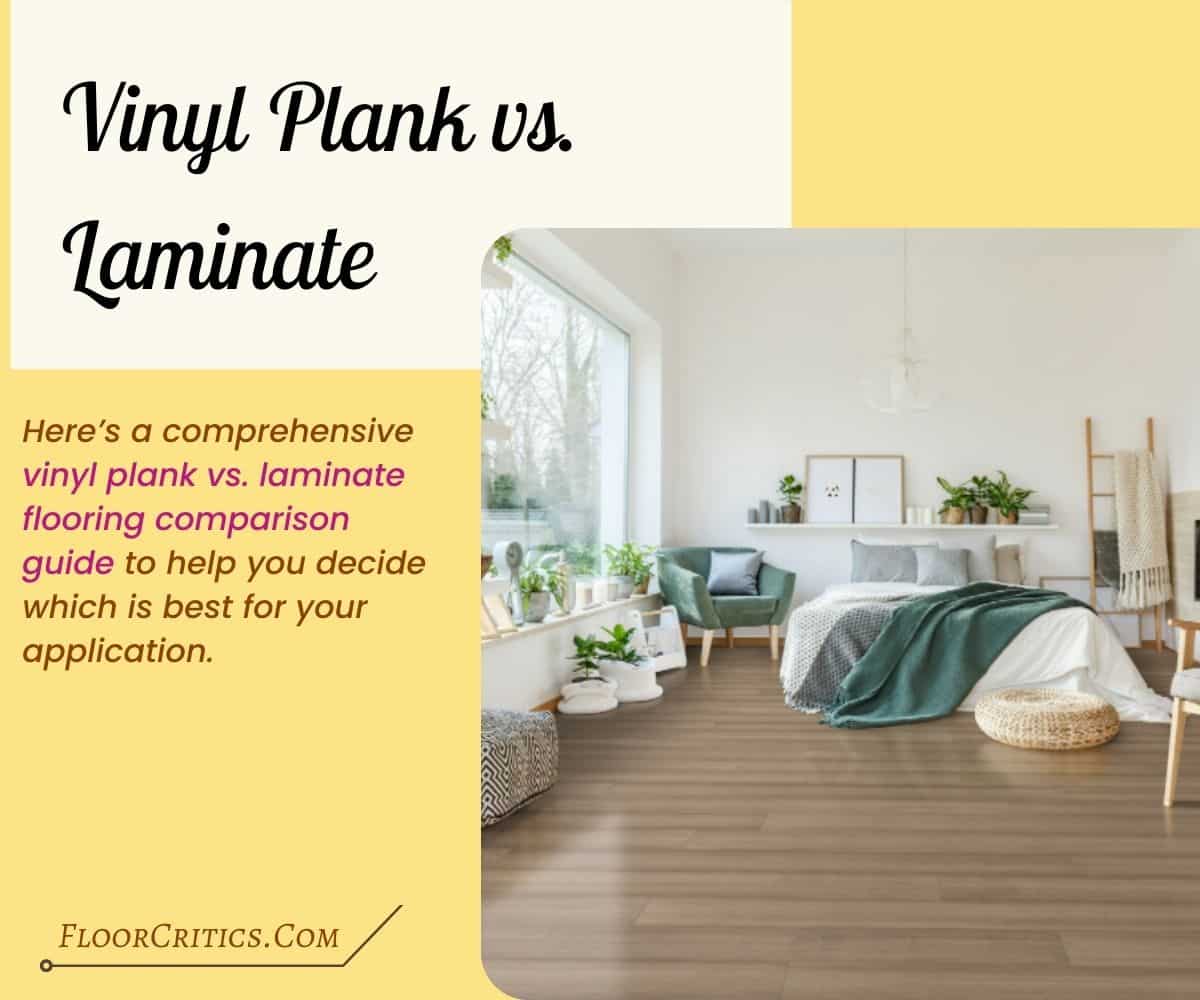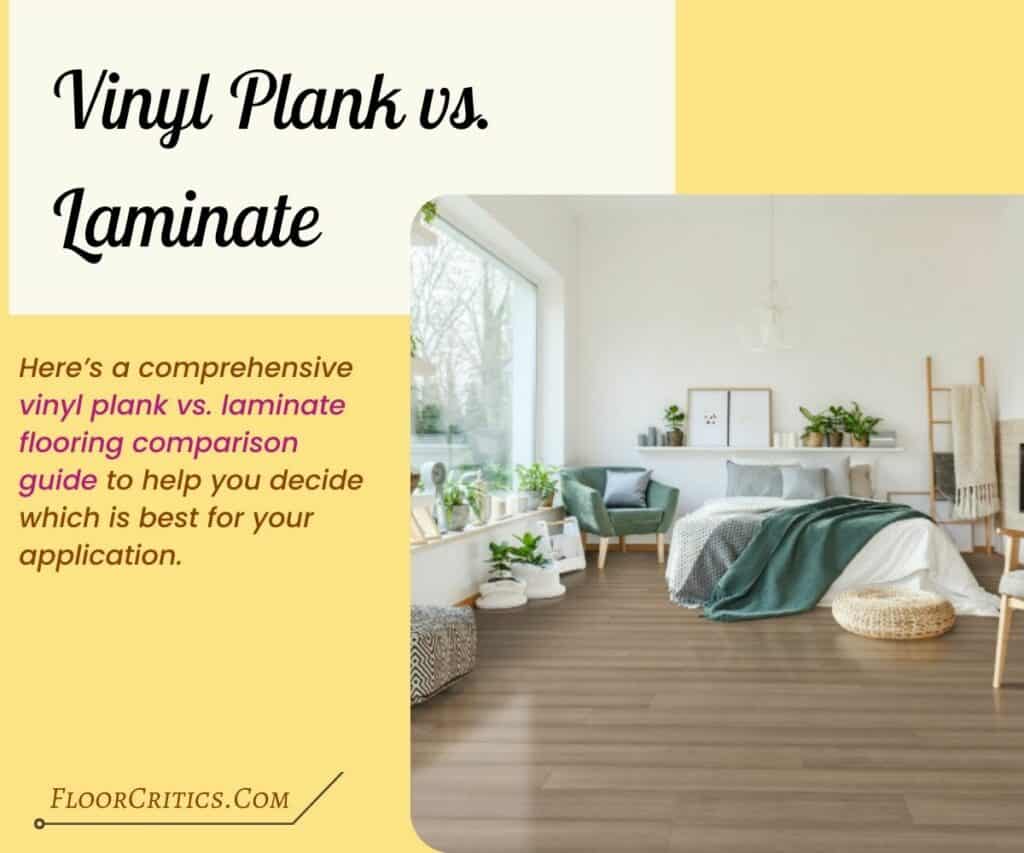 If you are looking to learn about vinyl plank vs. laminate flooring, you have come to the right place! Both promise to be durable, affordable, and easier to maintain than hardwood, but how do they stack up against each other?
We have thoroughly analyzed 8 key buying factors as well as the pros and cons of each type of flooring to help you make the best decision. We've also included the top brands for each type of flooring.
Laminate vs Vinyl Flooring: Definition, Pros, and Cons
So what's the difference between vinyl and laminate flooring? Let's start by defining what these types of flooring are along with their pros and cons.
What Is Vinyl Flooring?
Vinyl flooring is plastic. The creation of vinyl planks does not involve wood. However, manufacturers have used the latest technology to give a realistic look to vinyl. This includes color variations, textures, and patterns that replicate the appearance of wood at a fraction of the cost and with all of the benefits previously covered.
Vinyl flooring is a terrific choice if you are looking for a floor that is durable, easy to install, and affordable. According to the Statista Research Department, luxury vinyl flooring sales in the United States from 2014-2020 were ~ $5.3 billion dollars which represented about 20% of the total floor covering market.
Thus, vinyl flooring is much more popular amongst consumers when compared to laminate flooring which represents only ~3.6% of the total market.
Pros
Easy to install (most are click and lock)
Cost: quality vinyl flooring costs at least $3 per sq. ft. (much less than real hardwood)
Easy to clean and low maintenance
Variety of styles and designs that mimic the look of wood, tile, and stone
WPC and SPC vinyl flooring are 100% waterproof (ensure the brand you choose is waterproof vs. water-resistant)
Cons
Buying a wear layer less than 12 mils may lead to increased wear and the need for a replacement sooner
As the material is 100% synthetic, the public perception could lead to lower resale value vs. hardwood flooring
Some brands have questionable environmental credentials
READ NEXT: Vinyl Flooring Buying Guide
What Is Laminate Flooring?
Laminate is wood but its design is on top of it, on a photographic layer. Most laminate manufacturers utilize modern printing techniques to give their products a more realistic look and texture.

While not as popular as other types of flooring, laminate flooring is a great option you should consider if you want the look and feel of hardwood, but at an affordable price point. According to the Statista Research Department, laminate flooring sales in the United States in 2020 were $947 million dollars which represented about 3.6% of the total floor covering market.
Pros
Appearance mimics styles found in hand-scraped hardwood and burnished brick
Cost: quality laminate flooring costs at least $3 sq. ft.
After carpet, laminate flooring is a close second for comfort
Easy to clean and low maintenance
Available in wood designs that are more realistic
Newer laminate options are more waterproof
Cons
Not all brands are waterproof so laminate is not recommended in bathrooms or the kitchen
Cannot be refinished
Primarily require only dry cleaning methods
Lower return on investment (ROI) as it is less popular than vinyl flooring
Similar to vinyl flooring, some laminate brands have questionable environmental credentials such as not being biodegradable
Can be noisier than alternate options
READ NEXT: Laminate Flooring Buying Guide
Side-By-Side Comparison: Key Differences Between Laminate and Vinyl Flooring
Vinyl Plank
Laminate
Appearance & Design
– Larger selection of products and SKUs on the market.
– Available in a variety of wood styles, including oak, mahogany, and cherry.
– Better, more realistic appearance and styles.
– Available in a variety of wood styles, including oak, mahogany, and cherry. Also available in travertine, ceramic, and stone styles.
Sizes
– Typically 4-inches to 12-inches wide.
– Lengths are usually up to 48 inches.
– Can be cut to size using a utility knife.
– Widths start at 4 inches and can reach up to 16 inches.
– Lengths range from 36 to 48 inches.
– Can be cut to size using a handsaw or circular saw.
Durability & Quality
– Great for pets and high-traffic areas.
– Better for areas with moisture such as bathrooms and kitchens.
– Can feel cold if directly installed on the subfloor without insulation.
– More prone to fading.
– Prone to scratching over time. May also chip at the corners with extensive wear.- New waterproof products just hitting the market.
– More comfortable than a vinyl floor. Underlayment helps minimize sound.
– Less prone to fading.
Pet-Friendliness
Better equipped for pets than Laminate
Waterproof options are better for pets
Price
$1 sq. ft. to $6 sq. ft. or more (material only).
$1 sq. ft. to $6 sq. ft. or more (material only).
Installation
– Floating click and lock, peel-and-stick.
– Best for any room.
– Floating click and lock (need underlayment).
– Avoid using in bathrooms, kitchens, and laundry rooms (if not waterproof)
Cleaning
– Can be cleaned using steam mops or wet mops.
– Non-abrasive, mild cleaners should be used.
– Can be cleaned with laminate-specific products (dry to the touch).
– Wet mops should never be used.
– Acetone can be used to remove difficult stains.
Maintenance
– No wax should ever be used on vinyl.
– No polishes can be used to restore shine.
– Laminate-specific products can be used to restore shine.
– Products can be used to repair scratches and chips as needed.
Health & Environmental Safety
Many are made from phthalates (plasticizers); look for phthalate-free products
Made from adhesives that release formaldehyde gas, look for low VOC products
Resale Value
Higher quality options can provide a higher resale value
Has a higher resale value compared to vinyl and is best for low to mid-range houses.
Our Picks for Top Brands
Proximity Mills
Mohawk
Shaw
Karndean
COREtec Plus
Other brands
Quick Step
Newton
Mohawk
Shaw
Tarkett
Other waterproof brands
Flooring Guide
Vinyl Flooring Guide
Laminate Flooring Guide
Vinyl Plank Flooring vs Laminate – We Pick Our Winner Across 8 Categories
1. Appearance & Design
We'll start our vinyl plank vs laminate comparison with the appearance and available styles of flooring for these two.
What Does Vinyl Flooring Look Like?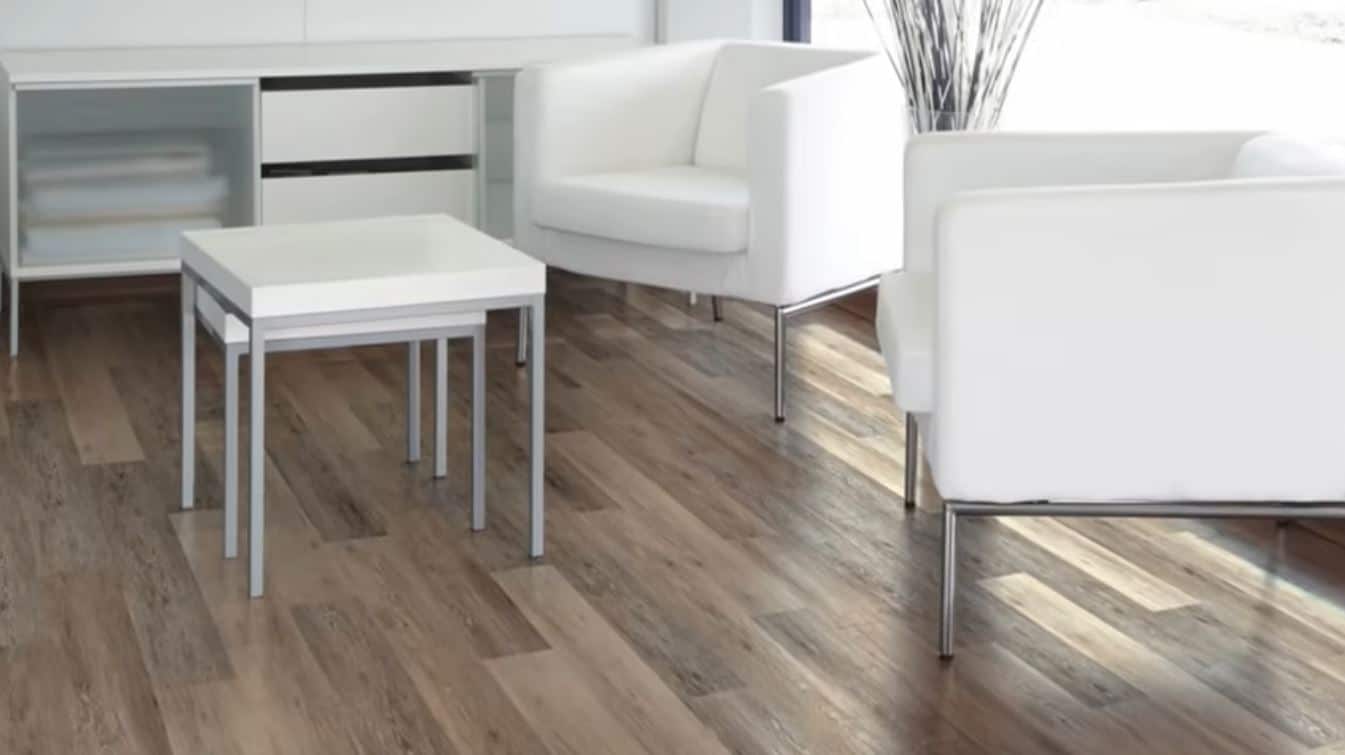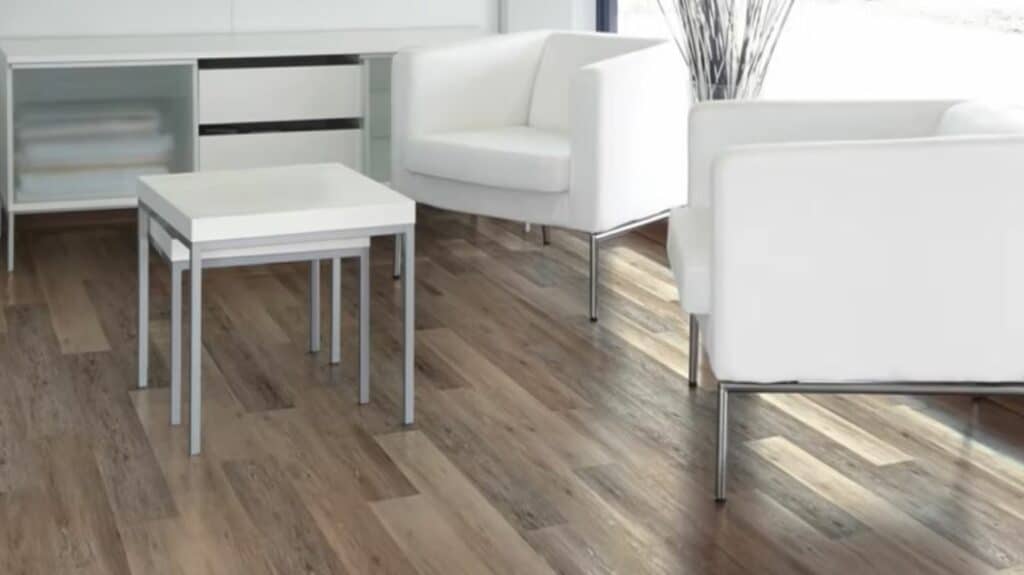 There are many types of vinyl flooring:
Sheet vinyl – Comes in large sheets and is more water-resistant than other vinyl flooring types
Luxury vinyl plank (LVP) – Long, narrow planks that mimic hardwood and are usually made of Polyvinyl chloride (PVC); thicker and more durable than sheet vinyl
Luxury vinyl tile (LVT) – Constructed like LVP, but come in tiles that mimic ceramic, porcelain, and stone
Wood-Plastic Composite (WPC) planks – 100% waterproof luxury vinyl planks
Stone-Plastic Composite (SPC) planks – Also waterproof planks but are tougher than WPC
In terms of styles and colors, vinyl plank offers something for everyone. From whitewashed oak for the shabby chic interior, cherry or mahogany for a classic look, or even black for modern rooms, there is no shortage of styles and colors to choose from.
Vinyl-plank flooring is also available in multiple lengths and widths:
Sheets are usually 6 or 12 feet wide and up to 100 feet long.
Planks are generally 4 to 12 inches wide and between 36 and 48 inches long.
Tiles come in sizes between 16" x 16" and 18" x 36"
Vinyl flooring thickness typically ranges between 2mm and 8mm. More durable SPC options are often found in 7mm vinyl plank flooring.
Also, because it is soft vinyl, you can easily cut it into smaller sizes using a utility knife.
What Does Laminate Flooring Look Like?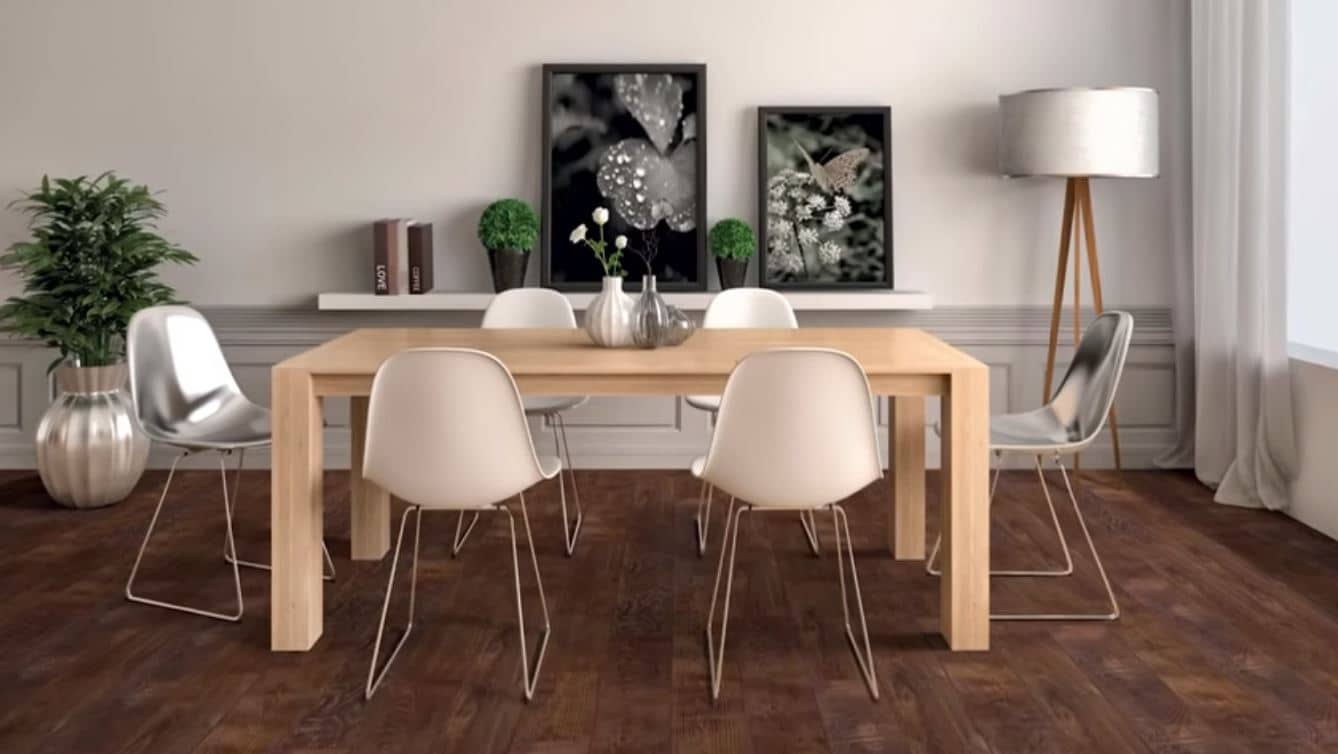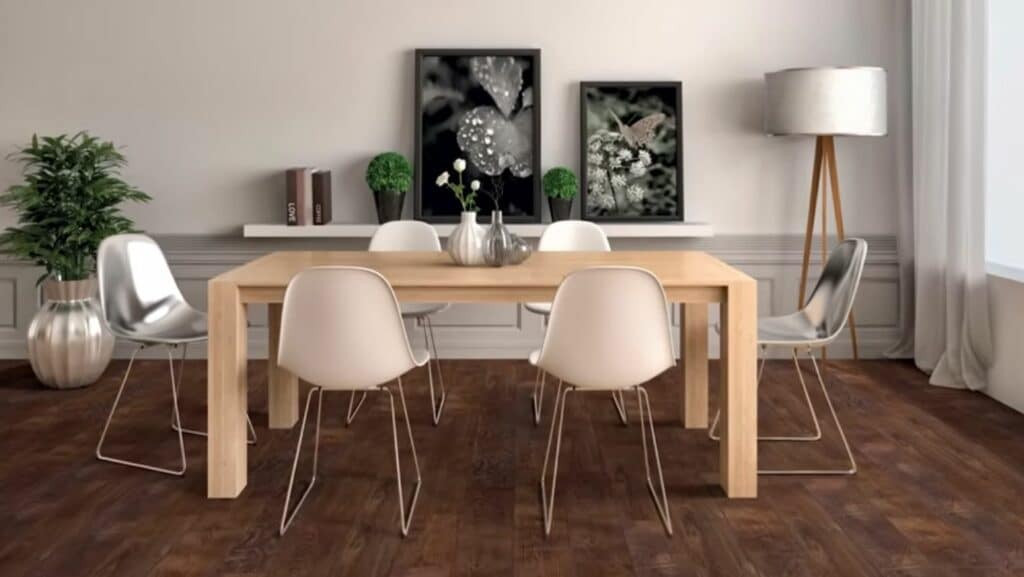 If your criteria is only appearance, our flooring experts give the edge to laminate flooring. With advancements in printing technology, laminate flooring has some very realistic-looking styles and colors.
While various colors and types of wood are available, laminate goes beyond just wood. Laminate designed to mimic the look of travertine, ceramic tile, and stone are also options with this type of flooring.
Laminate offers widths of about 4'' to 16''. Lengths vary from 36 to over 48 inches and widths range from 6mm to 12mm. Like vinyl plank, you can also cut laminate to size but because it is wood, it is not quite as easy to cut.
How to Tell the Difference Between Vinyl and Laminate Flooring
"Do I have laminate or vinyl flooring?"
This is another common question asked by many people since both look very similar.
But while vinyl is available in several formats (sheets, planks, and tiles), laminate only comes in click-lock planks. Also, laminate resembles hardwood more closely through its realistic embossing, unlike vinyl which has an artificial-looking textured surface.
Floor Critics Winner: Tie

Laminate is your best option if you prioritize appearance as it is more realistic. However, if you are looking for the largest selection of products, vinyl flooring has the clear edge. On our team's recent trip to a big box retailer, we found that vinyl flooring had 2X the selection of laminate flooring products.
2. Durability & Quality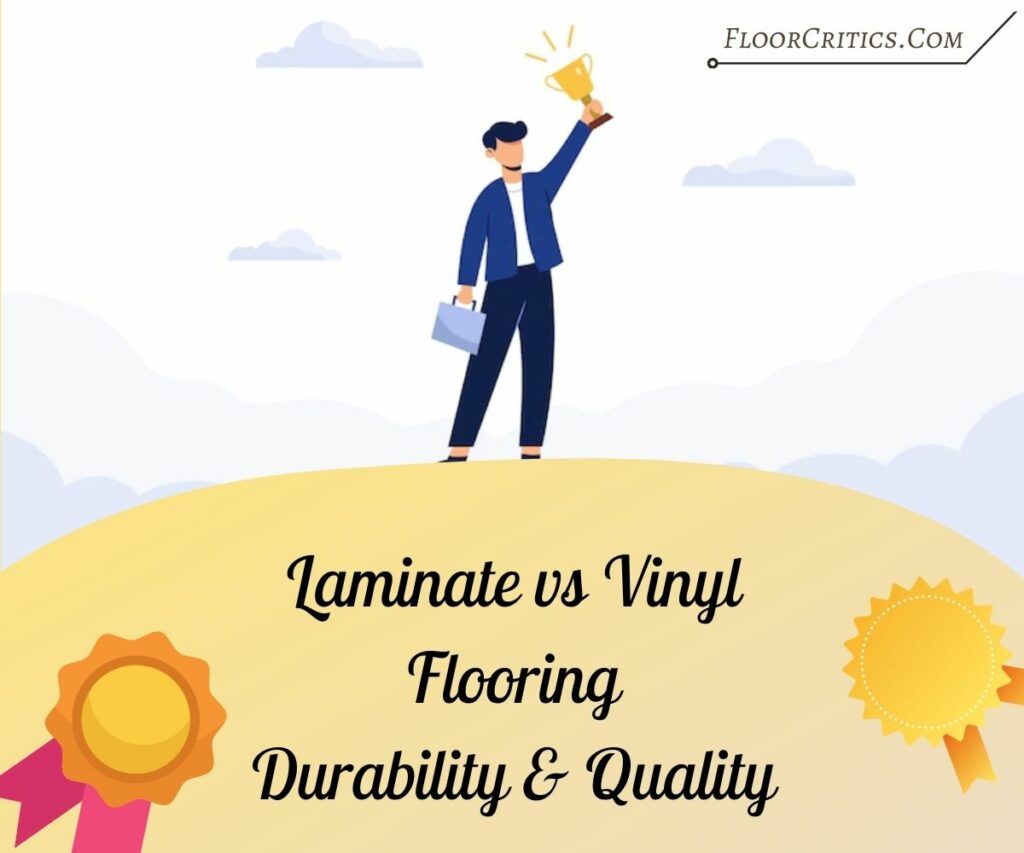 For laminate vs vinyl flooring comparison, one of the most crucial factors to consider is durability and quality.
Consumers often turn to vinyl-plank or laminate flooring to get the look of hardwoods without the risk of scratches, dings, and other flaws that can be time-consuming (and expensive) to repair.
One of the primary benefits touted by both vinyl plank and laminate flooring is durability. How do these two types of flooring hold up when put to the test?
A. Lifespan
If a higher wear layer is purchased (12 mils or greater), the vinyl flooring could last 20 years or more. Lower quality ones can only last up to 10 years.
On the other hand, laminate can last around 15-25 years with poorly maintained flooring lasting only 5-10 years.
B. Construction
The capability of each flooring type to withstand damage depends on its construction. Vinyl and laminate both come in four major layers:
Wear Layer – A transparent coat that prevents fading, scratches, and stains.
Design Layer – The printed layer that uses design techniques to mimic stone or wood looks.
Core Layer – The major component of the flooring material and is the thickest layer.
Base Layer/Underlayment – An optional layer that helps in reducing wear, insulation, and sound absorption.
What Is Vinyl Plank Flooring Made Of?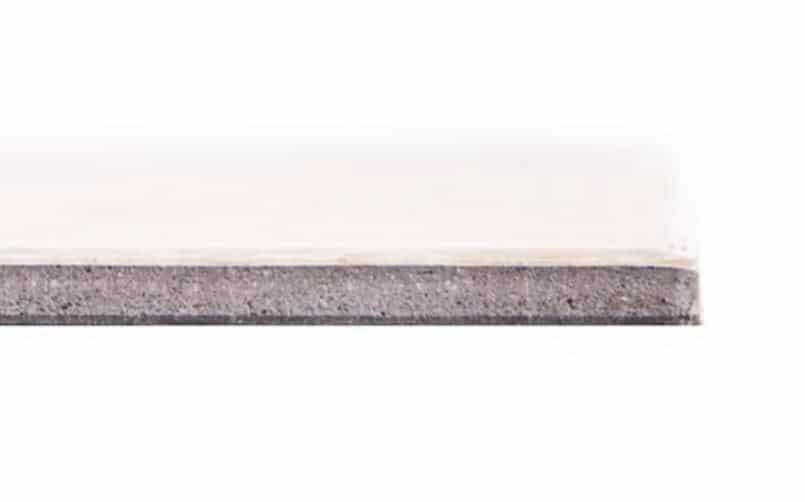 Vinyl flooring is made of synthetic materials.
Sheets – Most vinyl sheets are made using a fiberglass base layer with PVC vinyl coating and plasticizers. The wear layer is often coated with UV acrylic and they have a foam layer to make them softer underfoot.
LVP and LVT – Vinyl planks and tiles also have PVC-coated fiberglass layers but they have multiple wear layers instead of a single one. They are often coated with polyurethane.
WPC – WPC is made of wood plastic composite which makes it quieter and softer underfoot than SPC.
SPC – Made of stone plastic composite which makes it more resistant to dents and scratches.
Traditional vinyl planks and tiles have vinyl cores, but more rigid and waterproof options have WPC or SPC cores. Both WPC and SPC planks are stable and durable, but SPC is denser overall because of its stone composition.
In addition, vinyl planks come in different wear layers. The higher the wear layer thickness is, the more durable the flooring will be:
Good: 6 mil (Residential use)
Better: 12 mil (Residential to light commercial)
Best: 20+ mil (Commercial use)
What Is Laminate Flooring Made Of?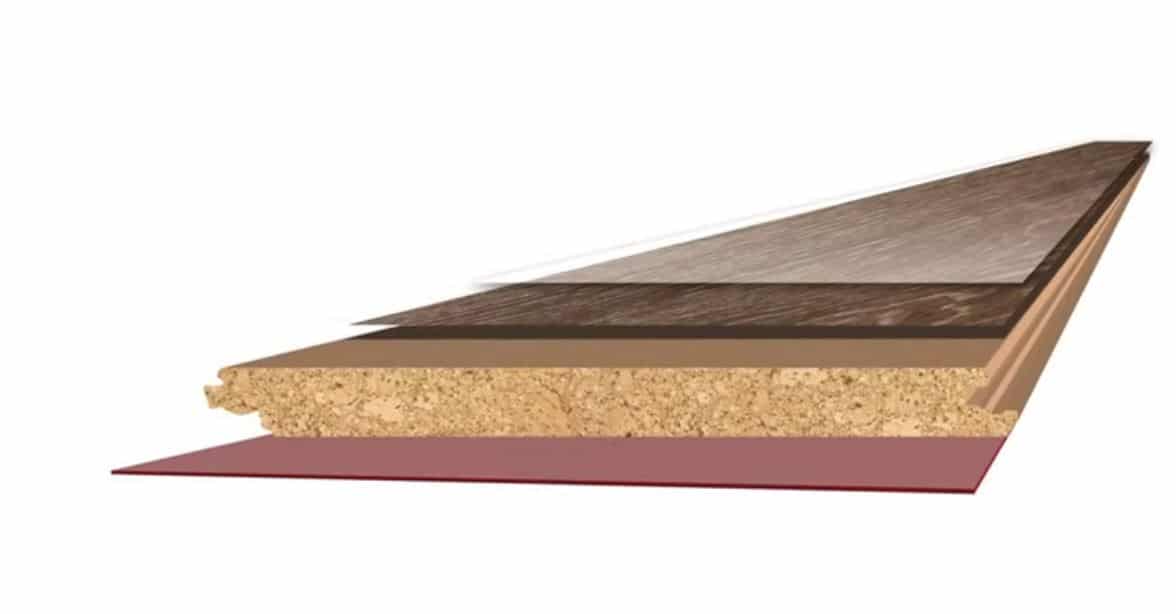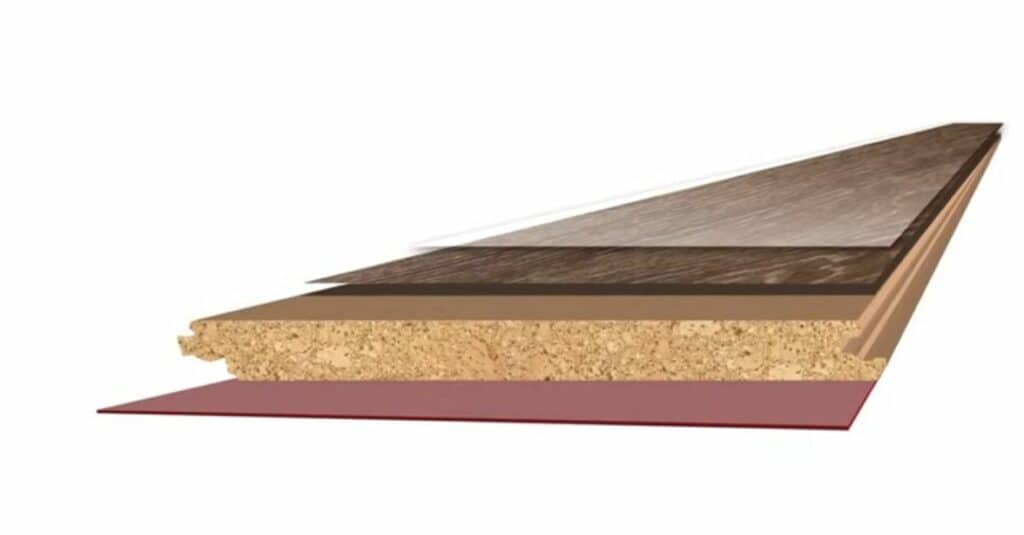 On the other hand, laminate cores are made from medium-density fiberboards (MDF) or high-density fiberboards (HDF) which make them partly natural.
Laminates do often come with an aluminum oxide-coated wear layer which lasts longer and is more scratch-resistant than polyurethane. They also come with a foam underlayer and are thicker compared to vinyl which makes them softer and warmer to walk on.
In addition, laminates are primarily measured in millimeters, but take note that thicker doesn't mean more durable. However, thicker laminates are more resistant to other conditions such as warping.
C. Padding or Underlayment
Vinyl flooring, specifically luxury vinyl, doesn't usually need underlayment because they come with base layers which make the addition of underlayment pointless. The base layer helps your vinyl flooring to be more durable and comfortable underfoot.
As for laminate flooring, installing underlayment is a must, but take note that not all laminates come with pre-attached underlayment. Not installing an underlayment first will cause your laminate flor to shift and move as it doesn't have support.
In case your flooring doesn't come with pre-attached underlayment, foam and cork are the most popular options. Installing quality underlayment for vinyl and laminate can make both flooring quieter.
NOTE: Always check with your manufacturer if you can install underlayment for your vinyl flooring as the wrong underlayment can void your warranty.
D. Stain Resistance
While they are made of different wear layers, both laminate and vinyl have durable top layers that can do a great job in protecting your flooring against stains.
E. Scratch-Resistance
Is laminate more scratch-resistant than vinyl? The answer is no.
Laminate is more prone to chipped corners and scratches compared to luxury vinyl. That's why you need special cleaning tools and detergents to clean laminate floors– because the surface of the planks tends to scratch easily. You have to use microfiber mops and non-abrasive cleaning aids on laminate flooring.
But while vinyl is more scratch-resistant, it is more prone to tearing and denting.
F. Water & Heat Resistance
One of the drawbacks of hardwood is that it can't get wet or it will be completely ruined. Vinyl-plank flooring and laminate both offer the look of hardwood, but how do they compare when exposed to water?
Vinyl flooring, specifically, vinyl planks (WPC and SPC), are 100% waterproof and are less likely to scratch. Also, vinyl sheets have no seams and can also a great job in moisture-prone areas as liquid can't seep through.
On the other hand, you should not expose laminate to water. The two main drawbacks of laminate flooring (susceptible to water damage and the inability to refinish the floor if the top layer is damaged) can greatly impact its durability.
Most laminate flooring is made of a fiberboard core that will change its form when exposed to water. Standing water or high moisture levels in a room can lead to buckling, gapping, separating, and warping.
But, take note that HDF is more water-resistant than MDF. Although this is the case, they can't still withstand prolonged exposure to water as they are only water-resistant, not waterproof.
While not a common complaint, some laminate owners have experienced mold and mildew, which was almost always because of exposure to moisture. This is not a concern with vinyl flooring unless you installed it in a home that had this problem prior to installation.
Waterproof Laminate Flooring vs Vinyl Plank
Because vinyl flooring is virtually waterproof, it is the winner in comparison to laminate flooring in terms of water resistance.
However, note that many large brands such as Shaw and Mannington have now started to produce waterproof laminate products. So when it comes to waterproof laminate vs vinyl plank, the gap could be closing.
Compared to water-resistant laminate flooring, waterproof laminates are supposed to be impervious to water. They have higher quality cores like wood fiber with wax-sealed joints for water resistance. Make sure to always use waterproof laminate flooring for bathrooms and other wet areas.
But again, laminate is still made of a wood core layer. Thus, there's still a possibility that it can swell and expand when it gets wet.
G. Fade Resistance
One upside to laminate flooring is that they don't fade as much as vinyl can. However, laminate may be more prone to fading when exposed to UV rays. So make sure you install your laminate floors in a room that doesn't get a lot of sunlight.
H. Comfort & Sound
When comparing the two types of flooring, laminate is our winner when it comes to comfort.
Anyone who has stood on bare flooring for hours knows just how tough it can be on the legs, knees, and back. When installing new flooring, it's important to consider just how comfortable the flooring will be.
Because you install vinyl flooring directly on a concrete subfloor, it's often not the most comfortable flooring. It can also feel cold because there is no insulation underneath.
Laminate flooring, on the other hand, is traditionally more comfortable. It is much thicker than vinyl, immediately making it more comfortable. Using a foam underlayment underneath can also add to the comfort level and reduce the sound impact.
All bare flooring can get cold depending on the temperature of the room, but laminate – especially flooring installed with a thick underlayment – is warmer than vinyl. Underfloor heating systems can also be installed for an additional cost to further warm up these floors.
Floor Critics Winner: Vinyl Flooring

Vinyl wins in the majority of the factors we have considered for durability especially when it comes to scratch and water resistance. But while vinyl wins overall, laminate has the edge in terms of comfort.
3. Price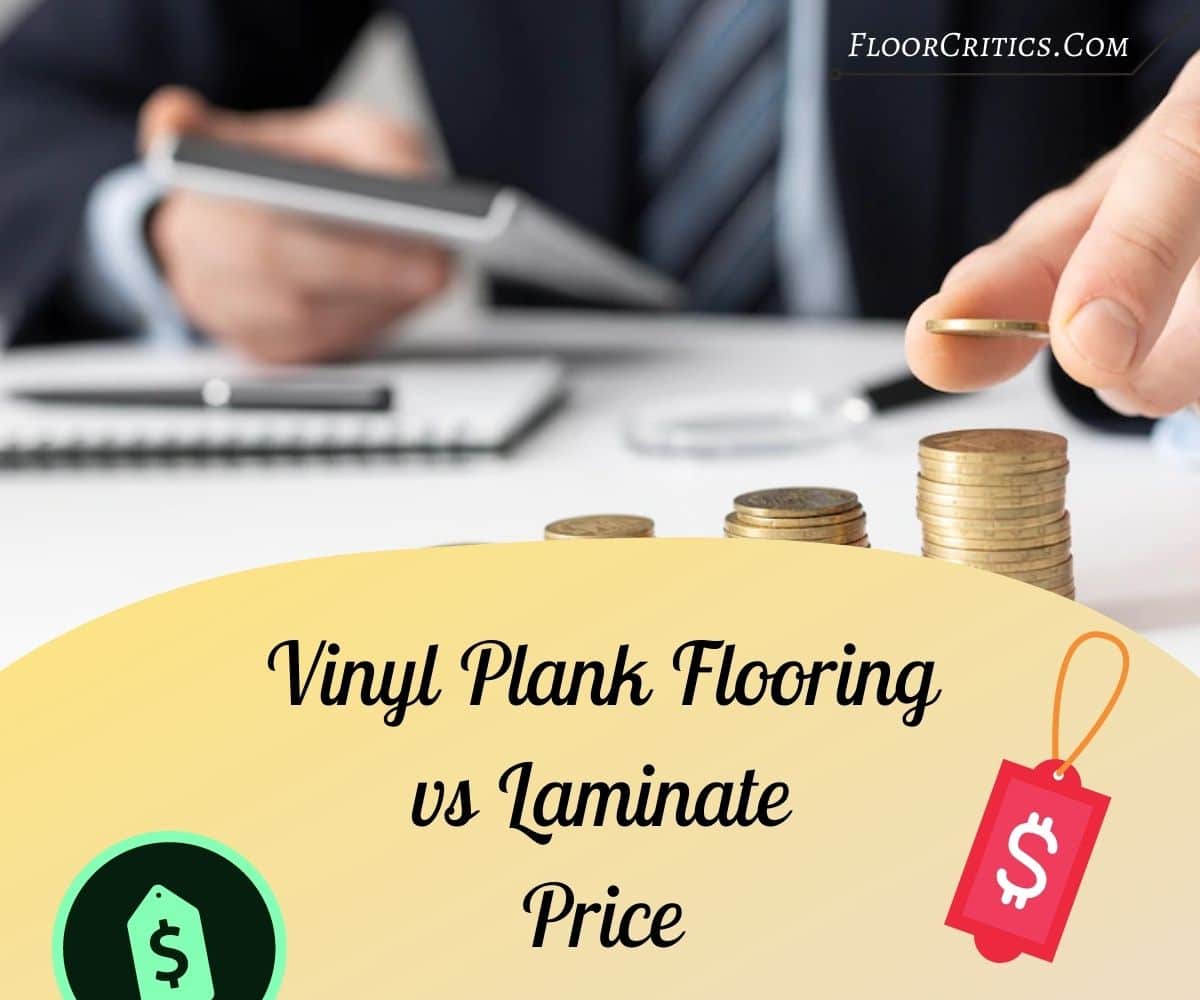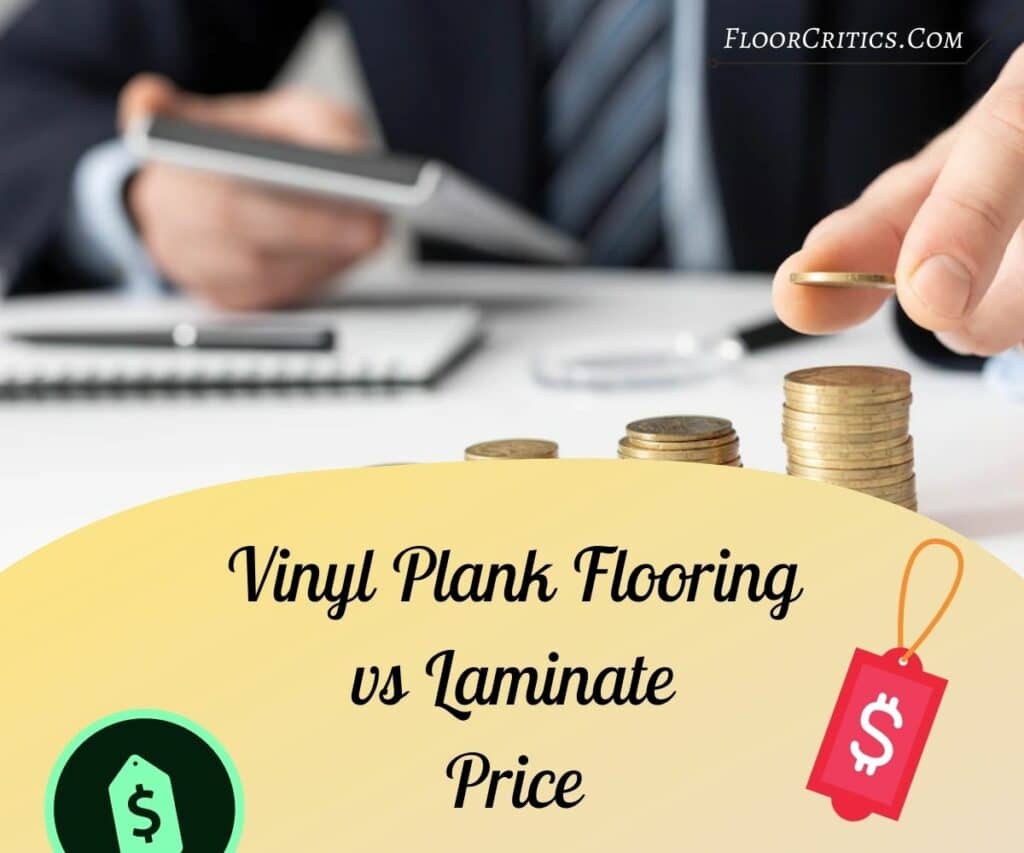 When it comes to vinyl plank flooring vs laminate cost, both types of flooring typically range from $1 sq. ft. to $6 sq. ft. or more.
Bargain: <$1 sq. ft. (peel and stick products)
Moderate: $1 to $3 sq. ft.
Quality: >$3 sq. ft.
Note the costs above are just material costs. Install costs can range from $2 to $5 sq. ft. and costs of removing old flooring sales tax, etc. would add on further.
In addition, another key consideration when it comes to price is the long-term costs. Vinyl flooring will provide a higher ROI than laminate flooring for the following reasons:
Public perception: sales of vinyl flooring are almost 6X the sales of laminate flooring so consumers seem to prefer vinyl flooring
Durability: while both can last many years, laminate flooring has a greater probability of needing to be replaced sooner than vinyl flooring.
READ NEXT: See our detailed vinyl flooring and laminate flooring cost guides for more information.
Floor Critics Winner: Vinyl Flooring

With the cost being about the same, the advantages above push us to give the nod to vinyl flooring.
4. Warranty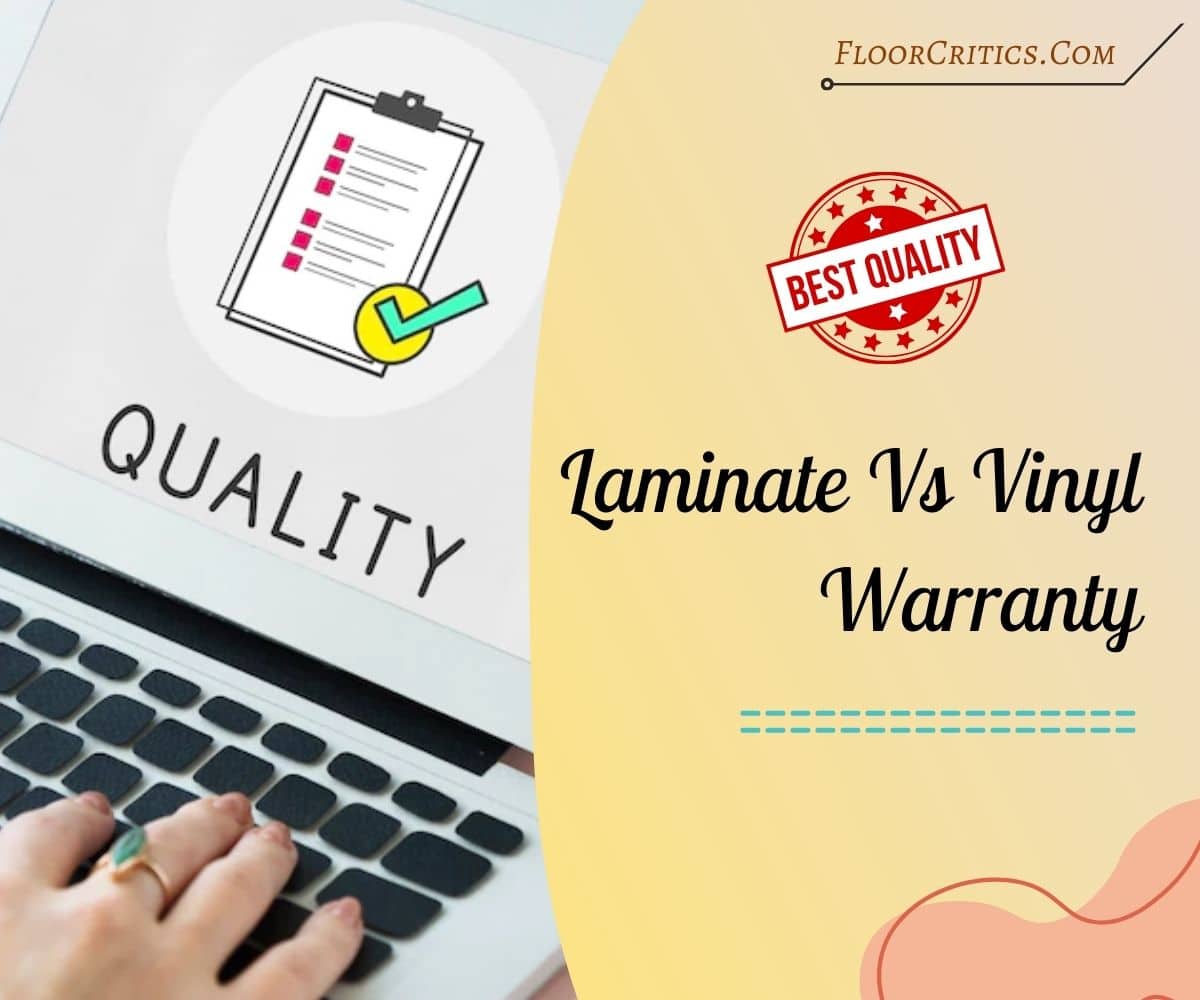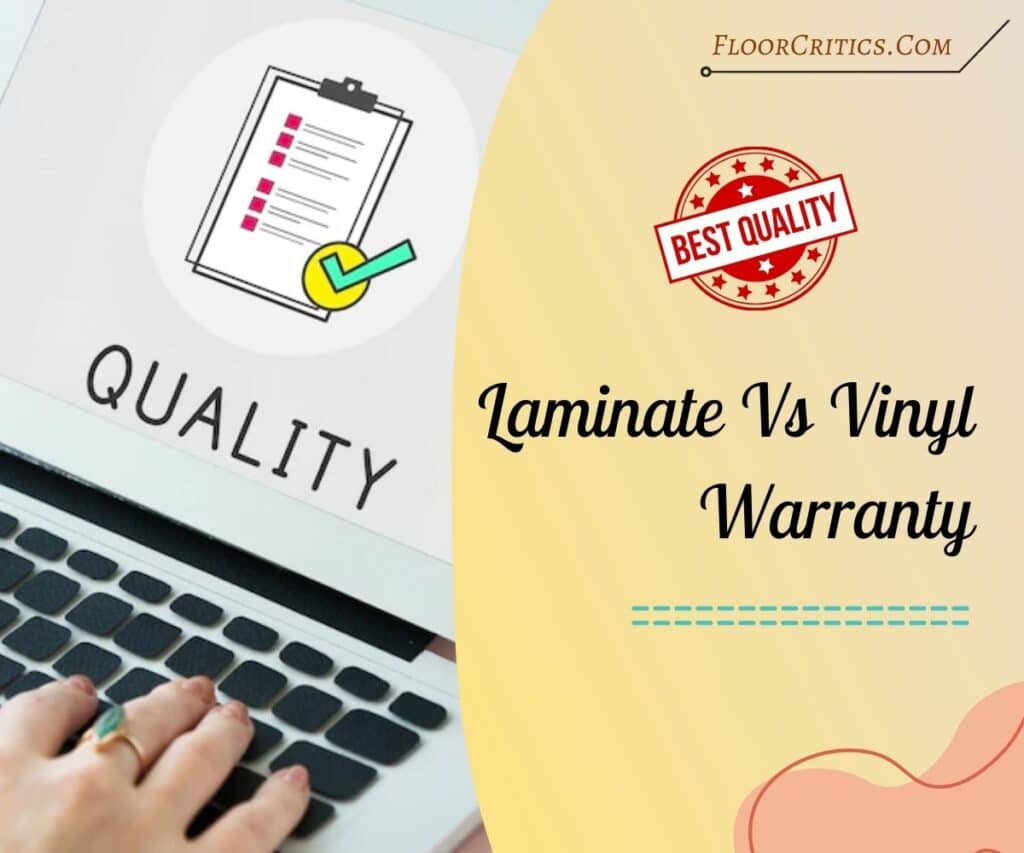 Both vinyl and laminate flooring warranties are similar. Length varies by brand, but on average, bargain products like peel and stick will have a 1 year or less warranty while high-quality brands will offer 20 years to a lifetime.
Many customers are upset to learn that a warranty does not cover some key items or can be voided. For example, deep scratches or dents caused by moving furniture or from high heels are not covered. In addition, not following proper cleaning instructions or issues caused by the installer can void a warranty.
Our advice is to do the following:
Clearly read and understand the warranty (don't gloss it over)
Hire a trusted installer who has worked with the brand before (consider the cost savings of doing it yourself vs. coding the warranty if something goes wrong)
Avoid very inexpensive products where the warranty is less than 10 years
Most product issues or customer complaints arise not from the product itself, but instead from the installation.
Floor Critics Winner: Tie

Warranty rules for both vinyl and laminate are similar.
5. Installation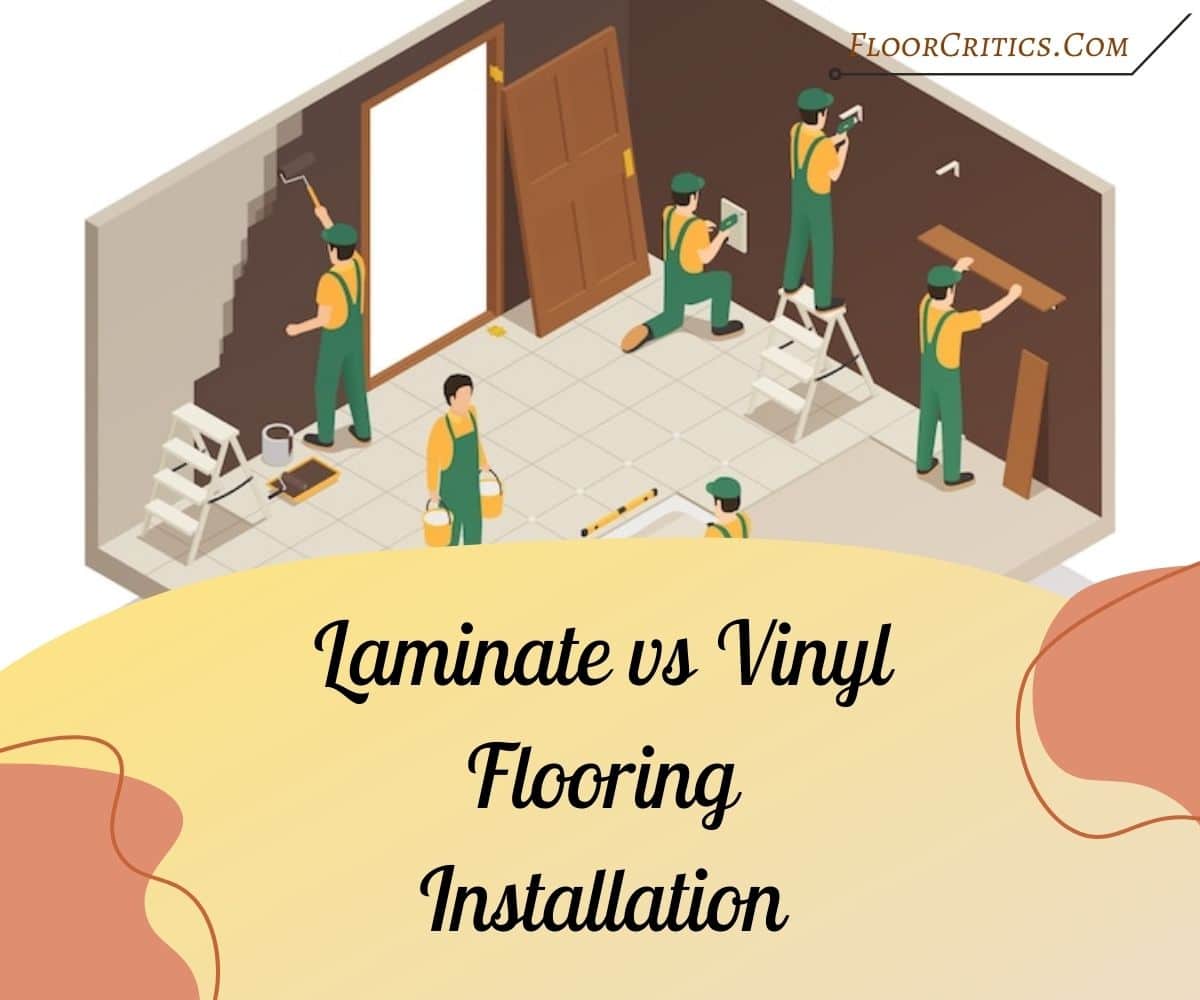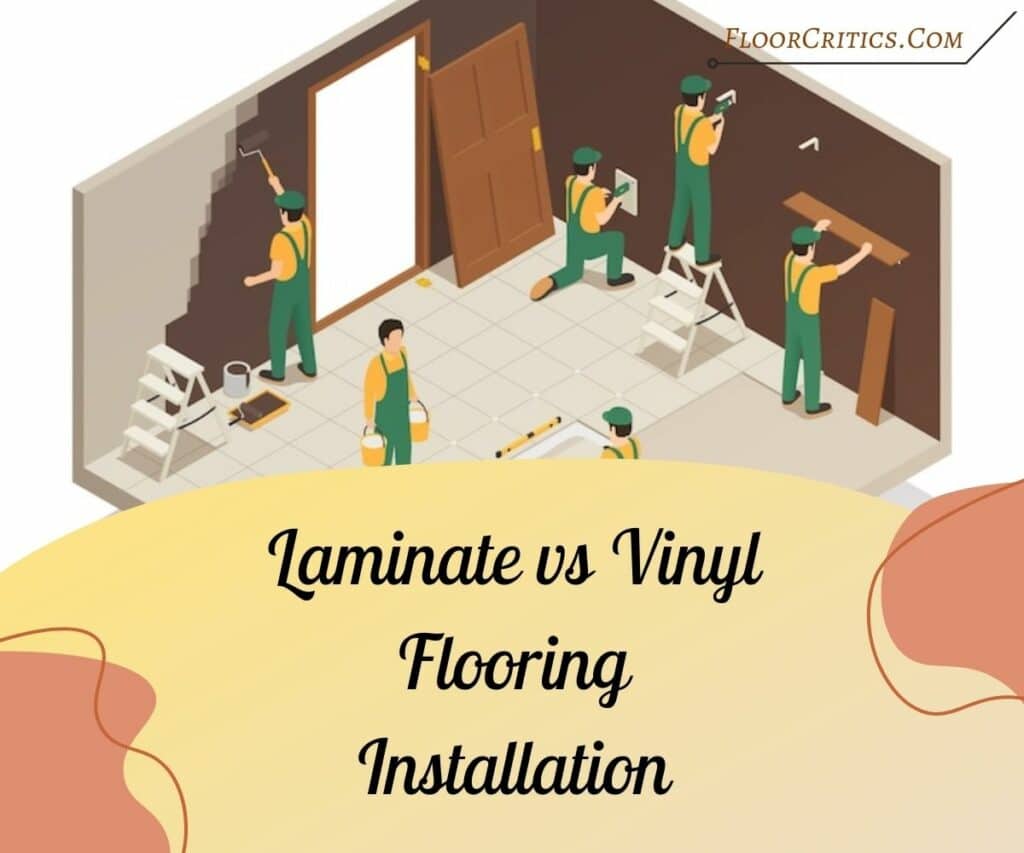 Many homeowners choose to tackle flooring installation themselves in order to save hundreds or even thousands of dollars on installation costs. With the right tools and a little know-how, homeowners can install both vinyl plank flooring and laminate, but which is easiest?
Installing Vinyl Flooring
There are two ways to install vinyl plank flooring, depending on the type that you purchase:
LVP flooring with a tongue-and-groove design easily clicks together. Because vinyl is a softer material, you can cut and score pieces by simply using a utility knife.
The other type of vinyl plank flooring is peel-and-stick. As the name suggests, this floor has a backing that is peeled off to expose adhesive and each plank is then applied to the prepared subfloor underneath. You can easily cut planks with a utility knife for the perfect fit.
Refer to the video below for a more detailed guide on how to install vinyl plank flooring for beginners:
Installing Laminate Flooring
Like vinyl plank, homeowners who like to tackle DIY projects can install laminate flooring. However, the installation of this flooring requires more tools, including a hand saw or circular saw to cut each piece. If you are going to install the laminate below-ground, such as in a basement, you will also need a vapor barrier to protect against moisture.
Before installing laminate, an underlayment will need to be applied over the subfloor. This is a type of padding that is used to not only fix any minor deviations in the subfloor but to also improve acoustics. Some laminate comes with the underlayment already attached.
Similar to vinyl plank flooring, laminate has a tongue-and-groove design so that you can install it as a "floating floor" without the need for glue or nails. Installation can be time-consuming, but most homeowners can tackle a room in just one day.
Here's a video on how to install Pergo laminate flooring along with some tips:
Best Flooring by Room: When Is Vinyl or Laminate the Better Choice?
Vinyl plank has grown in popularity because it is resistant to water. This means it can be installed in areas where there's moisture without the worry of warping or buckling. It is completely waterproof and will not succumb to damage, provided you have installed it correctly.
Below are the recommended installation areas for vinyl and laminate flooring:
| | | |
| --- | --- | --- |
| Room | Vinyl Floor | Laminate Floor |
| Basement | Yes | Waterproof Laminate |
| Bathroom | Yes | Waterproof Laminate |
| Mudroom | Yes | Waterproof Laminate |
| Laundry Room | Yes | Waterproof Laminate |
| Kitchen | Yes | Waterproof Laminate |
| Dining Room | Yes | Waterproof Laminate |
| Powder Room | Yes | Waterproof Laminate |
| Living Room | Yes | Yes |
| Bedroom | Yes | Yes |
| Home Office | Yes | Yes |
Floor Critics Winner: Vinyl Flooring

When comparing vinyl flooring to laminate flooring, it is a close race as to which is easier to install. However, the installation of vinyl plank requires fewer tools and steps, so it is the superior choice in this category. Installing peel-and-stick vinyl plank flooring is easier than tongue-and-groove flooring, and even beginners can tackle this DIY project.
6. Care & Maintenance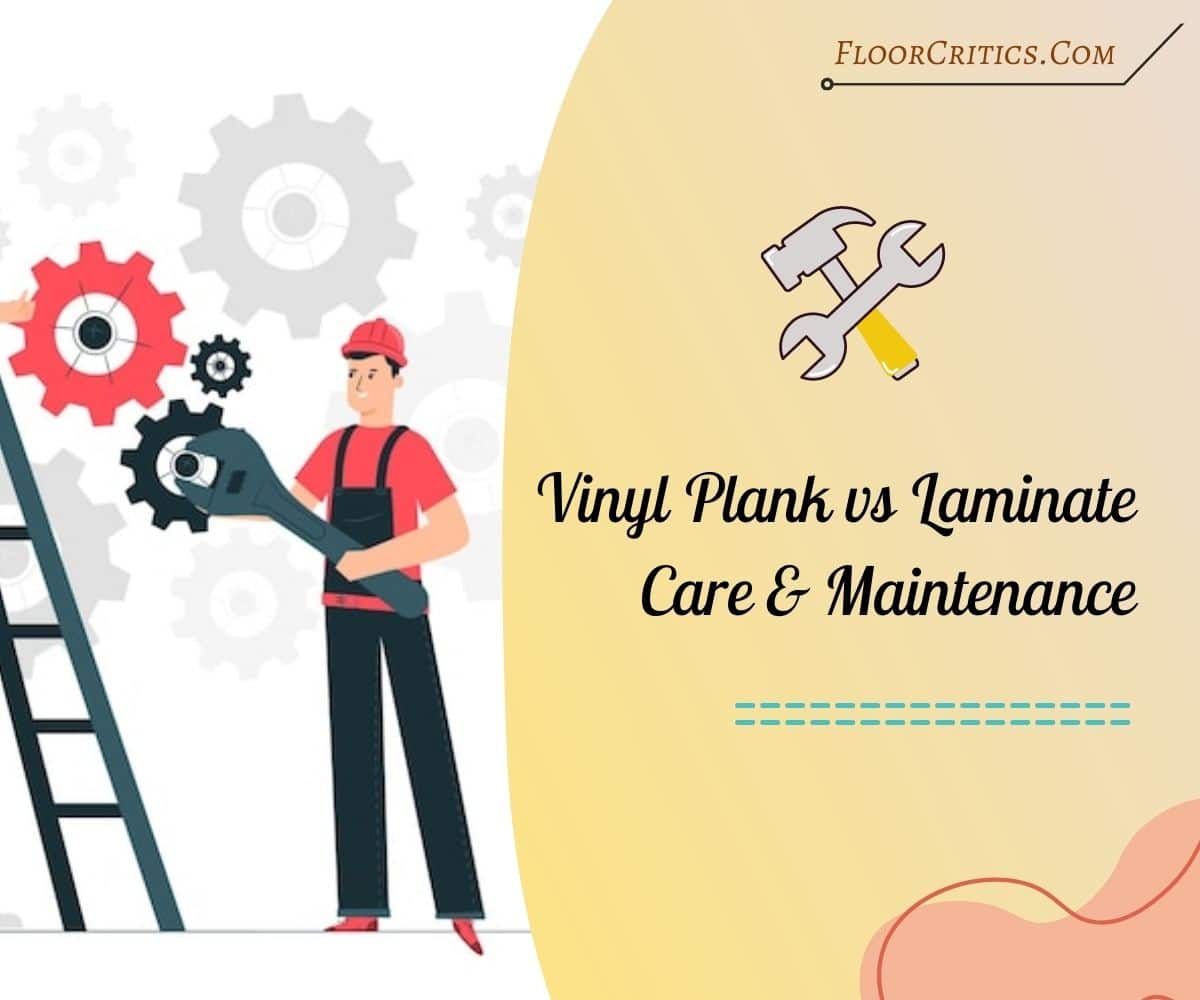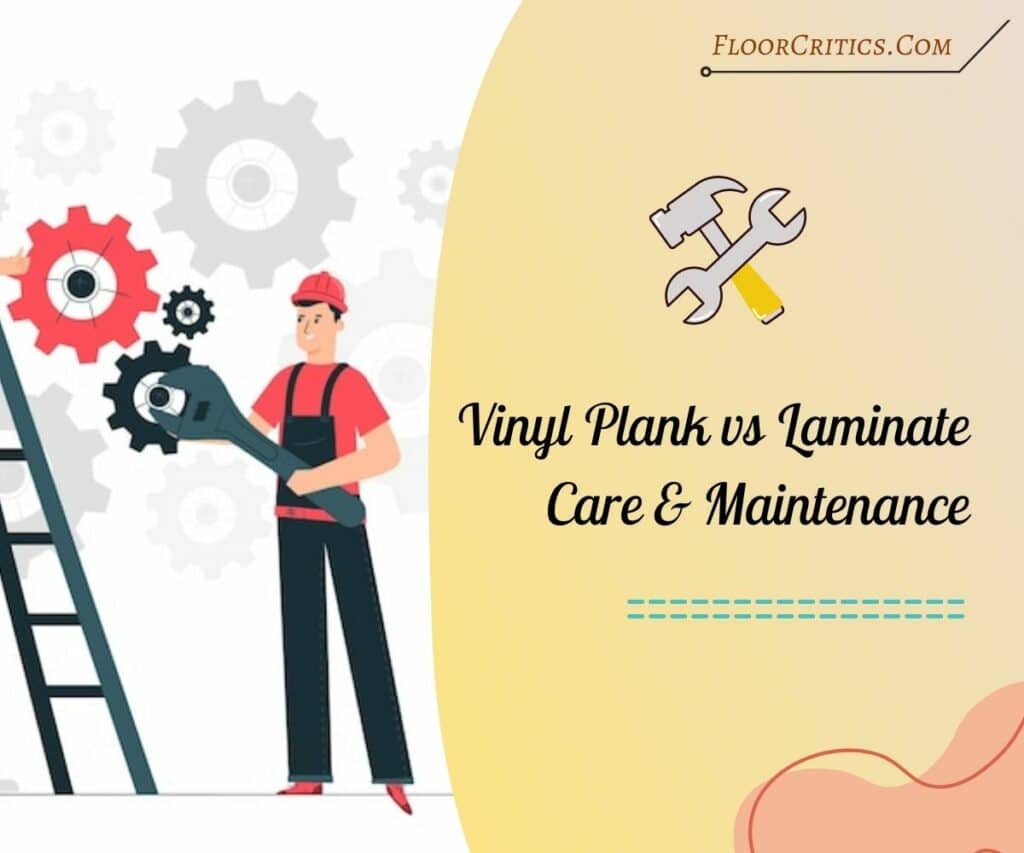 Many consumers opt for vinyl or laminate flooring because care and maintenance is so simple. After all, they don't have to tackle refinishing (which is usually best left to the professionals) or take special precautions when cleaning the floor the way they would with hardwoods or other types of flooring.
For laminate versus vinyl cleaning and maintenance, vinyl flooring is easier to clean as it allows for virtually all cleaning methods while laminate flooring is best done with dry methods:
Cleaning Vinyl Flooring
Vinyl flooring is one of the easiest floors to clean. Below are cleaning tips we can give you:
A wet mop can be used, but it's important to note that pouring water or otherwise drenching the floor isn't recommended on peel-and-stick planks because the water can get underneath seams and edges and break down the adhesive.
Harsh cleansers aren't needed to clean vinyl planks. A mild cleanser will sufficiently clean up even the biggest messes.
A traditional mop and/or a dust mop (but not a steam mop) can be used to effectively clean vinyl flooring.
While regular cleaning will help vinyl flooring retain its shine, you can easily restore floors that appear dull by using a polish or product designed for no-wax floors.
Maintaining Vinyl Flooring
The biggest concern with vinyl flooring is dents caused by heavy furniture. You can purchase Floor protectors online or from a local big box home improvement store to prevent dents and damage to the floor.
Vinyl floors also don't require waxing, as using wax will result in a buildup that requires stripping.
It's also important to remember never to drag furniture or appliances, and instead lift when able or use plywood sheeting to prevent scuffs or scratches.
Cleaning Laminate Flooring
Laminate flooring is also easy to clean and maintain, but there are a few precautions to take to avoid damaging these floors:
For daily cleaning, a broom, dust mop, or vacuum cleaner designed for use on laminate floors can tackle everyday messes.
You should always wipe up any water or other spills immediately.
You should never use a wet mop on laminate.
Only use soap-free cleansers. In addition, always use products designed for laminate flooring. You can spray these on the surface and wipe them off with a cloth or dry mop.
Steam mops are generally NOT safe for use on laminate, with few exceptions.
You can tackle tough spots like oil, paint, markers, or inks using acetone or nail polish remover. These are generally safe for use on laminate but consult with the manufacturer if you're unsure.
Maintaining Laminate Flooring
Laminate flooring does not require waxing. It generally retains its beauty and shine over time.
You can restore floors that look dull using products specific to laminate.
You can also repair scratches and chips using specialty markers, putties, and other products.
Note: Dog or cat urine may damage your LVP or laminate floors if left for a long period of time. Just as you would with hardwood, be sure to clean up any accidents or spills as quickly as possible. Not doing so could lead to mold, mildew, or other damage to your flooring.
In addition, shades or blinds should be used with both types of flooring in rooms with a lot of sunlight, and area rugs can also be used in brighter spots that may be more apt to fade.
Floor Critics Winner: Vinyl Flooring

Although both types of flooring are easy to care for, vinyl plank has the edge when it comes to ease of care and maintenance. You don't need specialty cleaners. You can also wet-mop the floor. That makes it easier to care for when compared to laminate flooring.
7. Health & Environmental Safety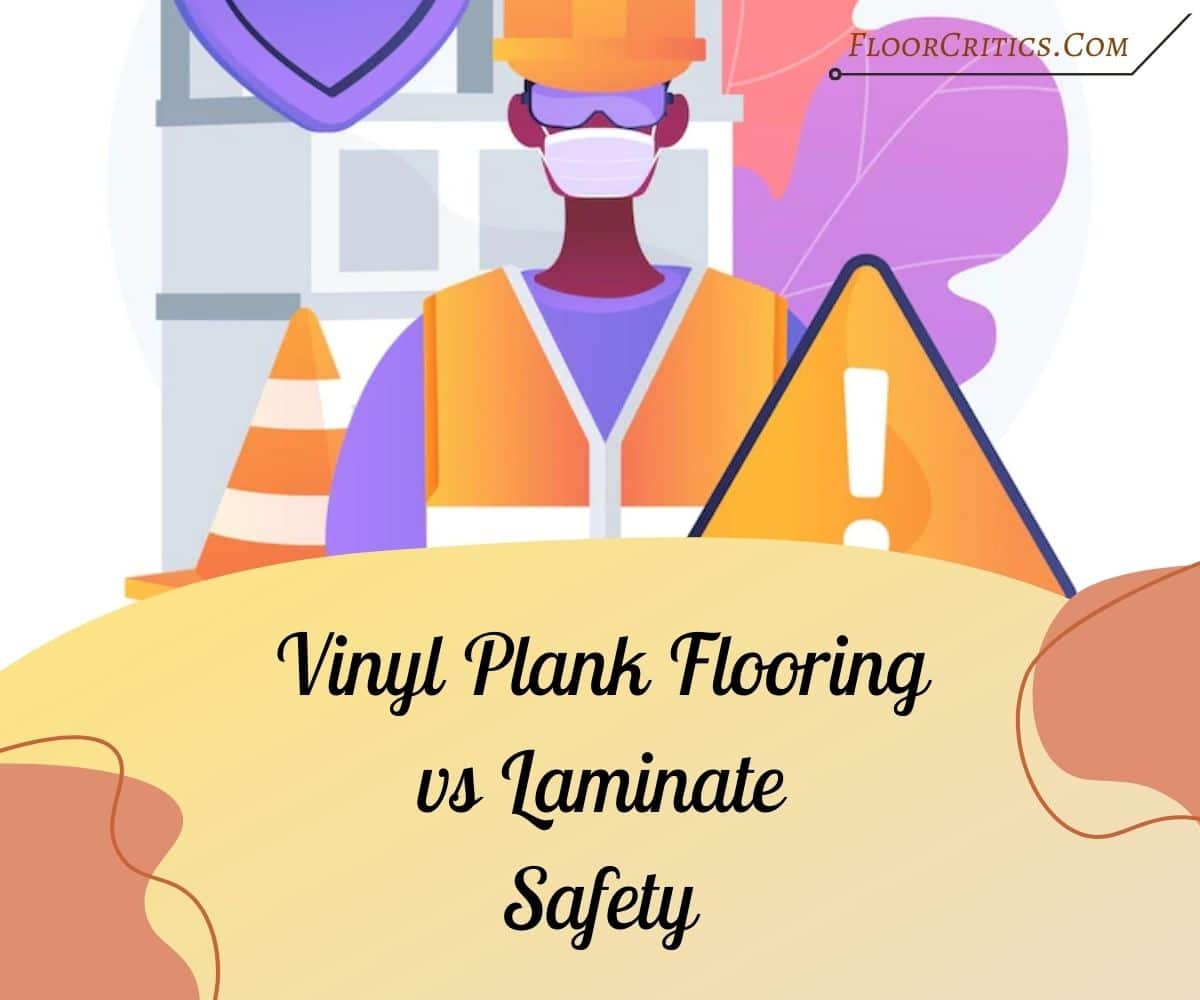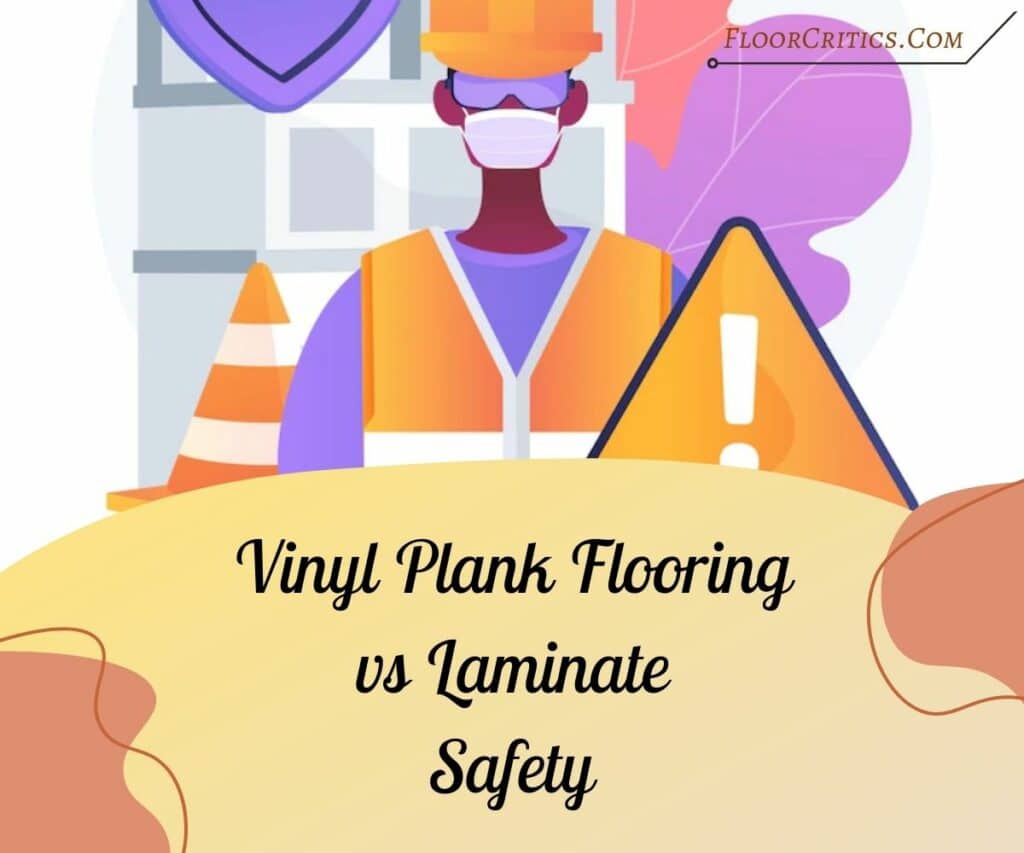 Both vinyl and laminate flooring is made from materials that could be toxic to your health. It is worth spending some extra time learning about the product before you buy.
Vinyl flooring is made from phthalates (plasticizers) which make plastics more durable. Per the CDC, the exact effect on humans is not fully clear.
When looking for vinyl flooring it is best to seek brands that advertise low VOC (Volatile Organic Compound) flooring that is phthalate-free. In addition, try to find flooring that is nail-down or that interlocks vs. glue down flooring which can emit VOCs.
Laminate is made from adhesives that release formaldehyde gas. According to the CDC, most humans don't have any health issues when exposed to low levels. However, it could irritate the skin, nose, and throat. Similarly to vinyl floors, you should look for floors with low VOCs. You also look for products that are GreenGuard certified.
Reach out to our team of experts and they can help you make an informed decision.
Floor Critics Winner: Tie

Both types of flooring can emit toxic substances that can harm your health. Better choose options that are certified to emit low VOCs such as those that are GreenGuard-certified.
8. Resale Value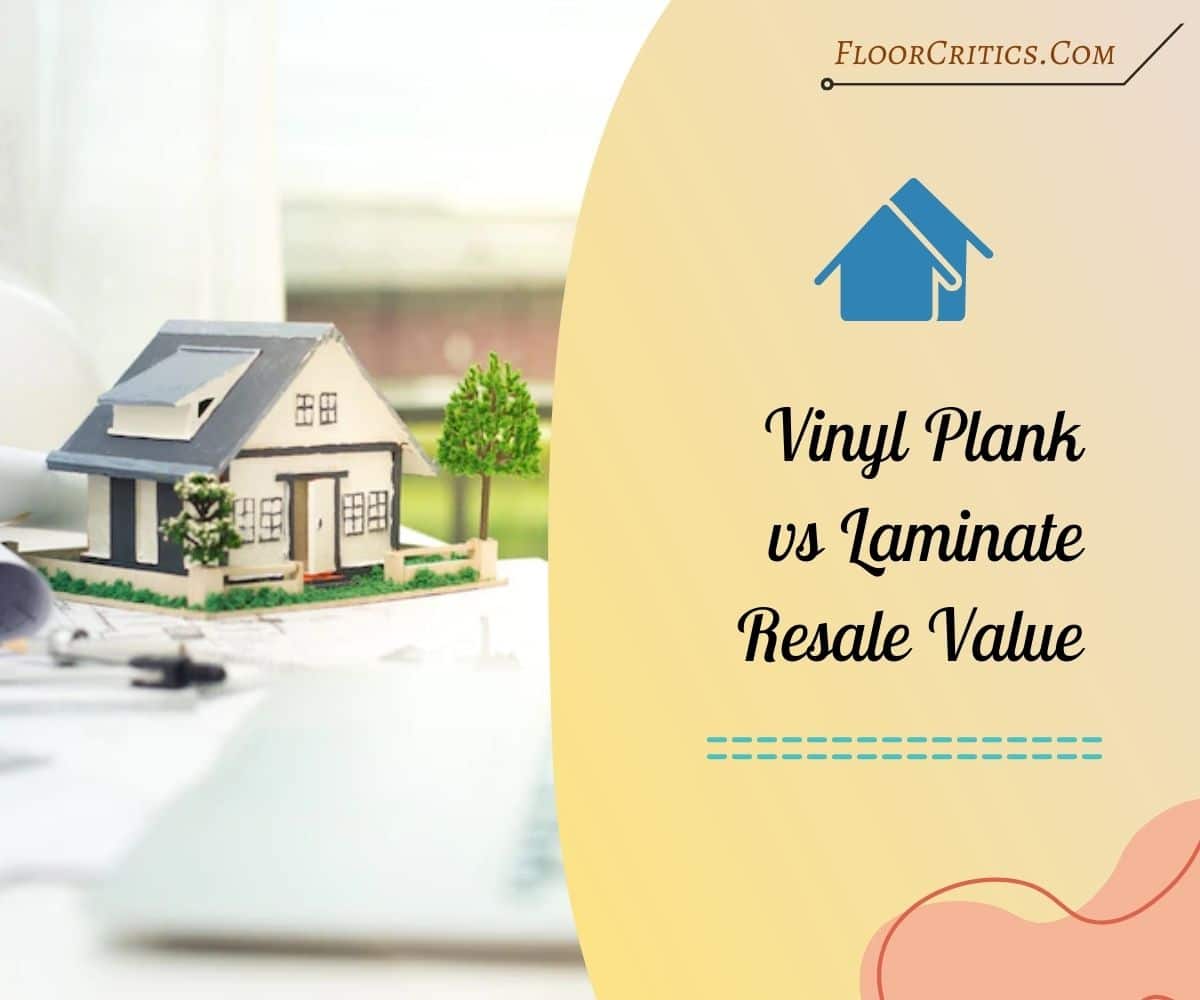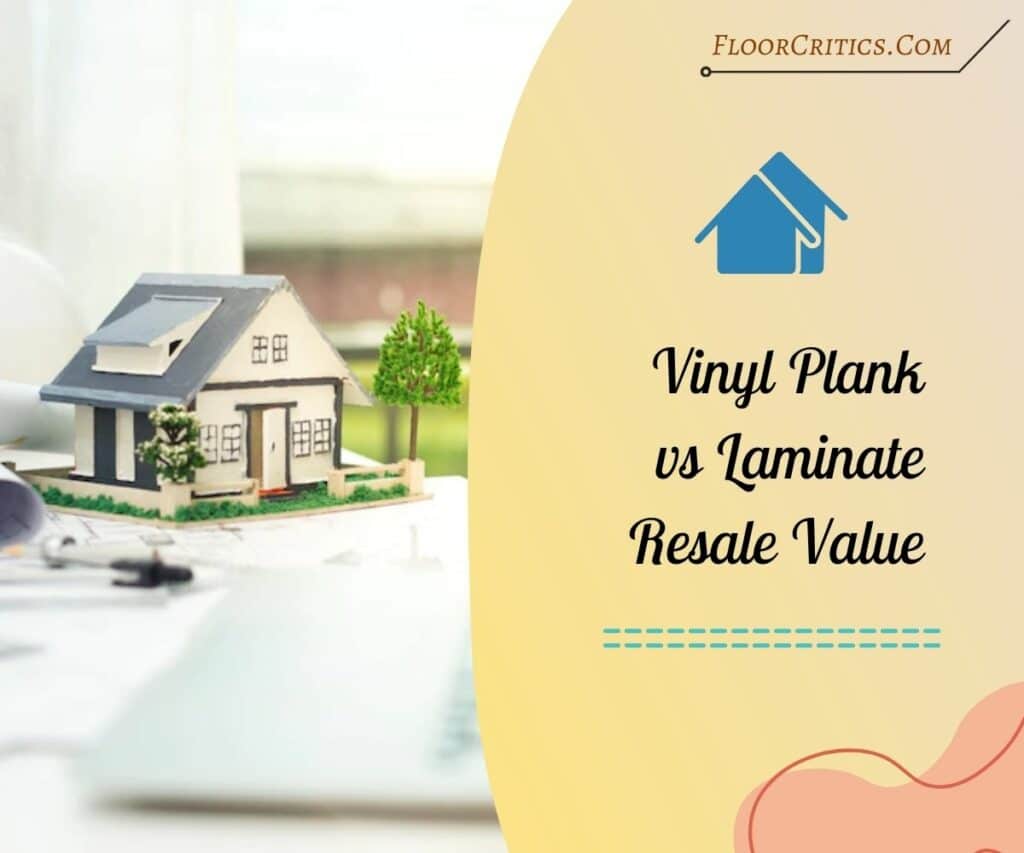 "A nice laminate is going to go a long way in a low- or mid-range house." – Realtor.com
Although both high-quality vinyl and laminate flooring can give you higher resale values compared to low-quality ones, laminate flooring will give you higher returns compared to vinyl.
Laminate planks are often chosen as alternatives for more expensive solid and engineered hardwood flooring as they can mimic a lot of different wood species at lower price points. They offer more advanced features such as better imaging and embossing.
Note: As luxury vinyl planks and tiles continue to catch on, they might be able to close the gap when it comes to resale value.
Floor Critics Winner: Laminate Flooring

Laminate flooring ranks below engineered and solid hardwood for resale value.
Samples / Where to Purchase?
The Floor Critics team of experts can help you with questions about your flooring needs. Our in-house team of experts and our 2,000+ local flooring partners are ready to help and provide you with free, honest advice and connect you with the best local flooring store!
Get the Help of a Professional to Help You Choose Which Is the Better Flooring for You!
Buying flooring is not a straightforward process and can leave customers very overwhelmed and confused. Our main goal at Floor Critics is to help lessen those obstacles by providing you with free educational resources and access to our experienced team and partner network of flooring experts.
If you have any questions as you read, please don't hesitate to contact us. Our in-house team of experts and our 2,000+ flooring partners are ready to help!
FAQs
Is Vinyl Better Than Laminate?
Vinyl plank flooring is considered the superior choice because of its durability. Since vinyl planks are made with 100% plastic, they are moisture-resistant. Therefore vinyl flooring is ideal to install in bathrooms, kitchens, and basements.

Another aspect to remember is that there are three types of vinyl flooring: WPC flooring, rigid core, and standard vinyl. The WPC is a wood-plastic and polymer composite. Rigid core planks are made with limestone powder, stabilizer, and polyvinyl chloride. The rigid core planks are more robust and are suitable for outdoor decking.

On the other hand, laminate flooring is not suitable for outdoor areas and isn't as durable as vinyl. That said, homeowners tend to pick laminate flooring because they're more aesthetically pleasing and come in more colors and designs.

You'll also love how easy it is to maintain vinyl flooring. You can use steam mops, brooms, and any type of mop when cleaning your vinyl floors. Laminate flooring requires special cleaning aids and tools to keep the surface clean.

Which Is More Durable: Laminate Or Vinyl Flooring?
Vinyl plank flooring has a longer lifespan than laminate flooring and is less prone to getting scratched over time. This is ideal if you have pets with long claws. Additionally, vinyl floors hold up well under pressure so they won't crack or split under heavy furniture.

You'll appreciate how well vinyl holds up in areas with heavy foot traffic. Since vinyl is not affected by water, you can install them anywhere in your home and they won't warp or snap. The way you install your vinyl floors will have a major impact on durability, so ensure that you follow the instructions carefully.

Laminate flooring is also durable but the surface scratches easily. That's why it's important to select quality laminate planks from reputable brands such as Shaw or Mohawk. Some brands offer laminate flooring that has a high scratch-resistance rating.

Is Vinyl Plank or Laminate Cheaper?
Pricing is pretty similar for vinyl and laminate flooring. You can expect to pay between $1 to $6 per square foot or more.  This excludes installation costs, which will set you back an extra $2 to $5 per square foot if you're hiring professionals.

Are Vinyl And Laminate Floating Or Stick-Down Flooring?
Vinyl flooring comes in both floating and peel-and-stick installation types. Laminate flooring requires floating installation.

Floating floors mean that the planks fit and lock together, similar to how puzzle pieces fit together. This prevents moisture from getting under the floorboards. This installation type is sturdier and creates an even surface.

Peel-and-stick vinyl flooring comes with an adhesive backing that allows you to simply stick your planks down. Most people don't use peel-and-stick flooring because it's difficult to remove when it's time to renovate or replace your vinyl flooring.

What Is Easier to Lay Laminate or Vinyl?
Both types of flooring are easy to install and you can do it yourself. However, vinyl plank installation will require fewer steps and tools compared to laminate. If this is the basis, vinyl is faster and easier to install.

Which Is More Toxic Vinyl or Laminate?
Both types of flooring are made with harmful chemicals that can endanger your health. While vinyl can release toxic chemicals into the air, some laminates have been discovered to emit formaldehyde. What you can do is make sure that you are buying low-VOC flooring to ensure safety.

Is Laminate Or Vinyl Better For Dogs and Cats?
While both types of flooring can withstand daily use, kids, pets, and heavy traffic, vinyl flooring is superior. It is extremely resistant to damage and will not have to be refinished over time like traditional hardwoods.

Although scratches and chips can occur over time, vinyl's high resistance to fading and overall durability make it the top choice for anyone looking for flooring that can last for years to come. Plus, it is easier for dogs to navigate.
Vinyl Plank vs. Laminate: The Verdict
Vinyl planks and laminate each have their benefits and drawbacks. They are both also a cost-efficient alternative to hardwood and other types of flooring.
Laminate has a more realistic appearance. It comes in many styles and colors to perfectly complement any home. It is durable and will retain its beauty for many years when properly maintained.
On the other hand, vinyl flooring is best in bathrooms or other rooms where moisture accumulates. Beginners looking to tackle an easy DIY home improvement project will also find that it's easier to work with and maintain vinyl planks.
Back to Top