Whether you have had a hardwood floor for years or just had it installed, it's important to preserve your pricey investment and learn how to clean hardwood floors.
Finding the right vacuum, mop, and cleaning solution for this flooring type is essential to prevent damage. Equally as important is knowing the cleaning products that can harm your hardwood floor and potentially void its warranty.
Routine Hardwood Floor Cleaning Steps
Most hardwood floor can be cleaned with minimal effort and in most cases, you will not need to buy any extra cleaning tool that you don't already have in your home.
For routine cleaning you can follow the four simple steps below. Later in this article we will discuss more hardwood flooring cleaning suggestions for special cases.
Step 1: Prep The Area
Clear the area as much as possible before you begin. For deep cleaning days, you can remove furniture or other items.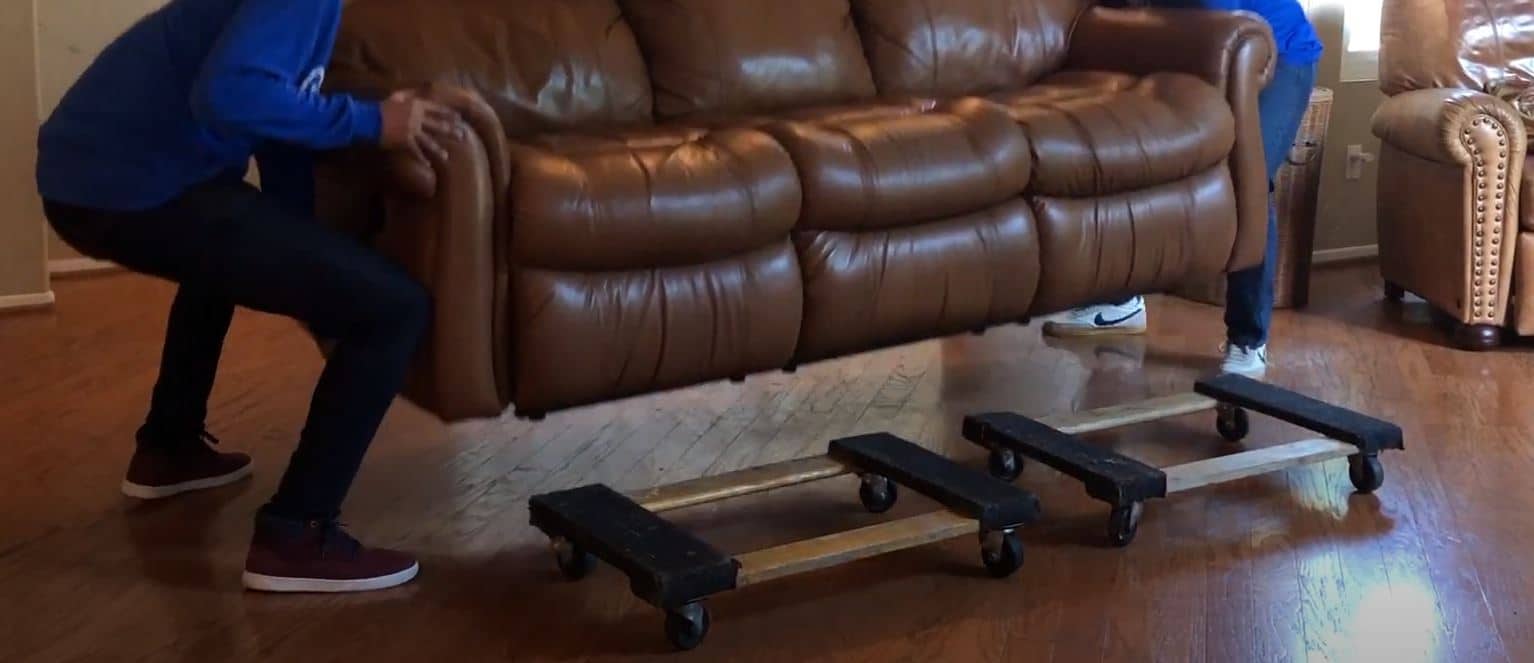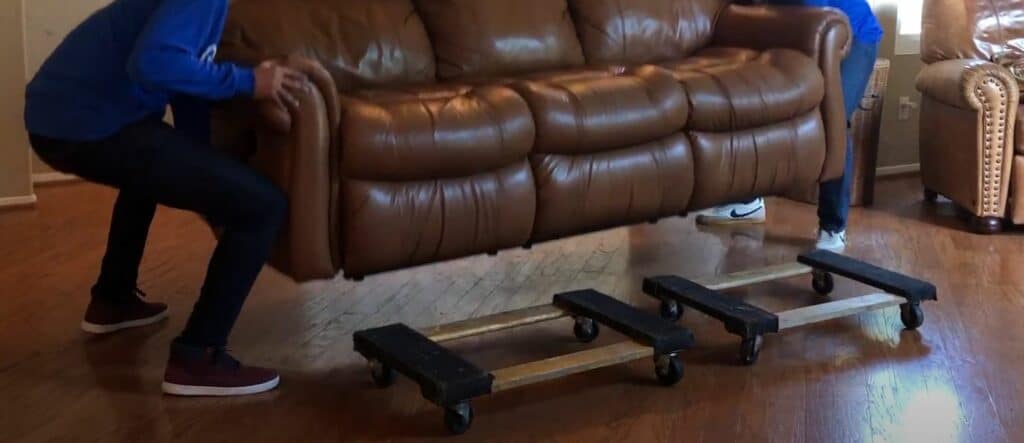 Tips:
It is very important to use furniture movers. It is worth investing the time to use furniture movers otherwise your floors could get severely damaged and lead to costly repairs.
Step 2: Grab a Vacuum
Use a vacuum to pick up any large dust particles or debris that could scratch and dull your hardwood floor.
A vacuum designed for hard surfaces should be used for hardwood flooring. It needs to have good suction for removing dirt and lint, while having wheels that don't scratch the floors. A lightweight vacuum is better for easy, quick cleaning. If the vacuum has a beater bar, ensure it's removable or adjustable.
Some folks prefer an robot vacuum such as a Roomba or Shark. Robot vacuums have come a long way in their cleaning performance and can cut cleaning times way down. See our Shark vs. Roomba head to head comparison.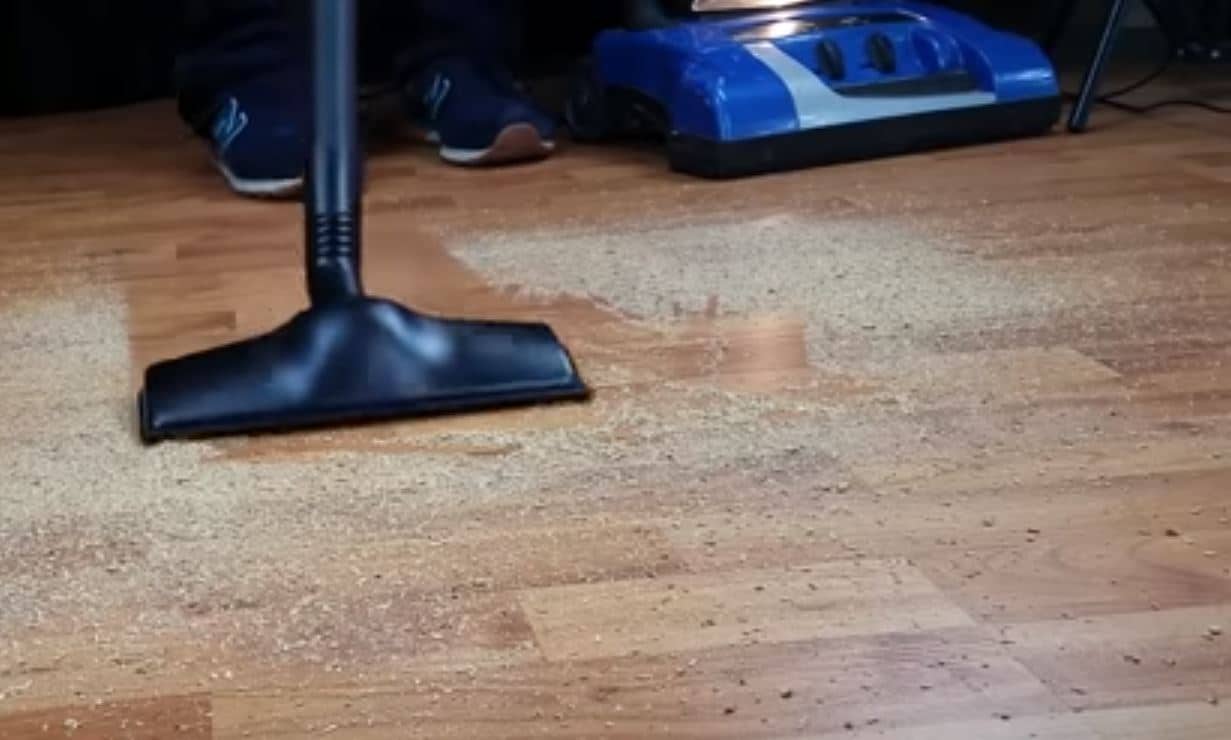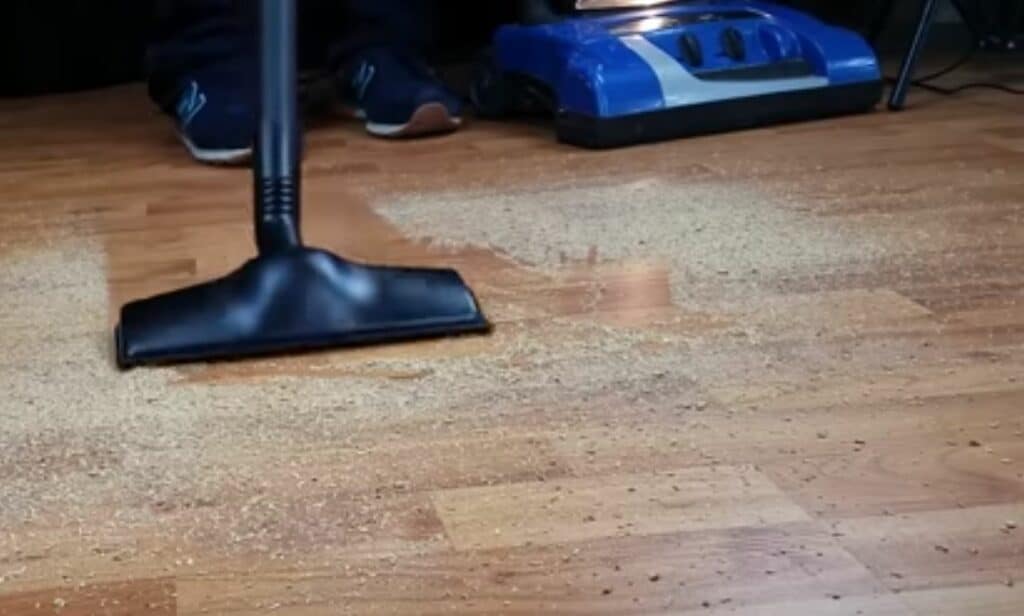 How to Vacuum Hardwood Floors
Start at one end of your floor at the wall and begin vacuuming with the grain of the hardwood to the other end of the wall.
Go slow to allow the vacuum to pickup the dirt or dust.
Use attachments to get to hard to reach spots.
Tips:
Set your vacuum to the hard floor setting to prevent scratches. This raises the vacuum and deactivates the brush rolls (also called the beater bar or bristle bar). If your vacuum does not have this setting, check the manual to ensure it is safe for hardwood floors before using.
Ensure the wheels of the vacuum are clean as abrasives such as gravel, salt, and coffee grounds can become embedded in the hard-plastic vacuum wheels.
Aim to vacuum at least once a week.
See our list of the best vacuums for hardwood floors.
Step 3: Grab a Dry Mop
Grab a dry mop next.
Microfiber mops are also known as dust mops. Dust mops replace your standard bristle head with a head wrapped in a microfiber cloth. Depending on the model, the cloths are either disposable or reusable and machine washable.
The benefit to dust mops is that they do a great job of attracting and picking up dirt, dust, and hair instead of just pushing it around the floor into a pile. You may still get a pile of dirt when you're done, so don't throw out your dust pan.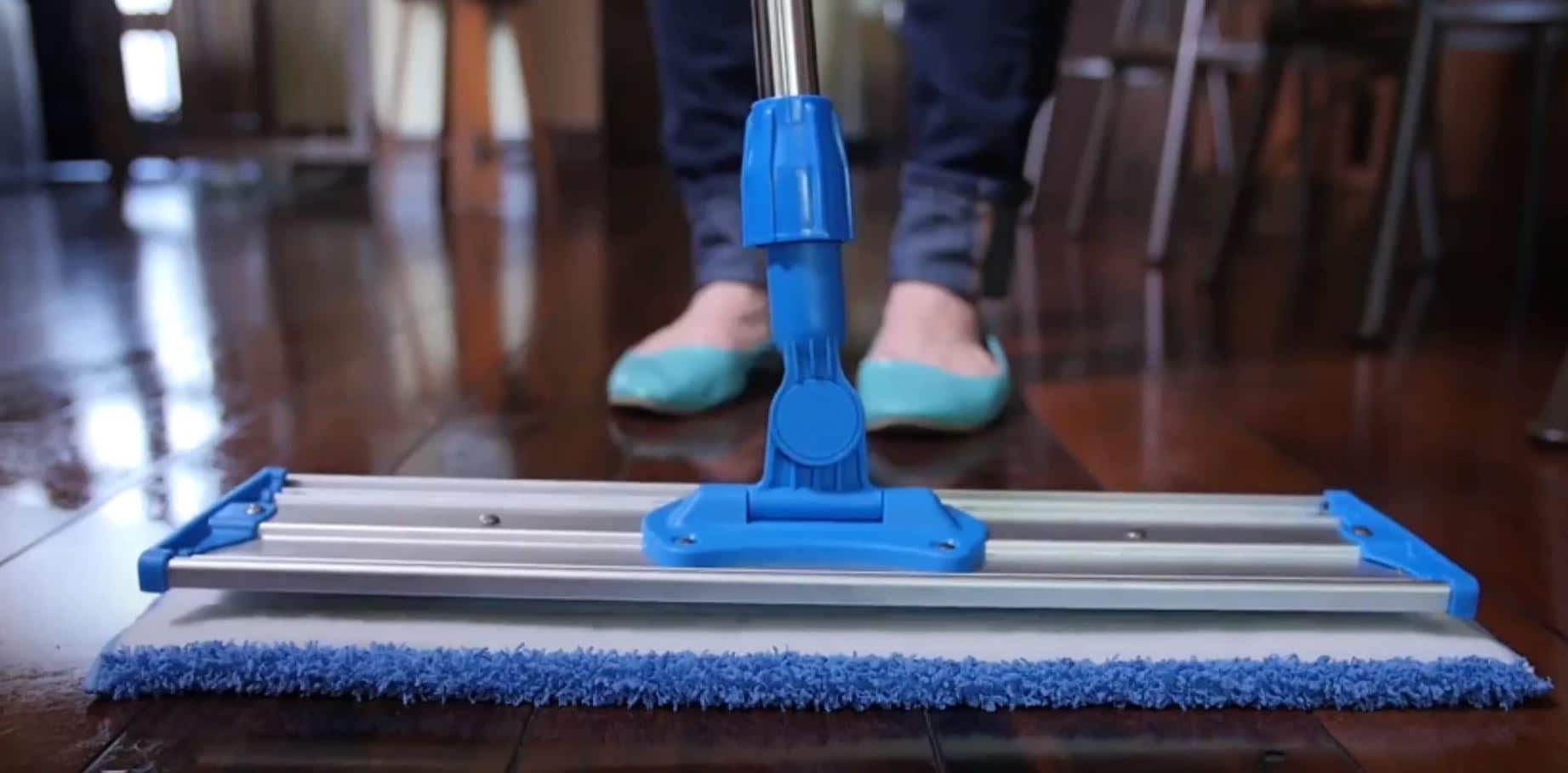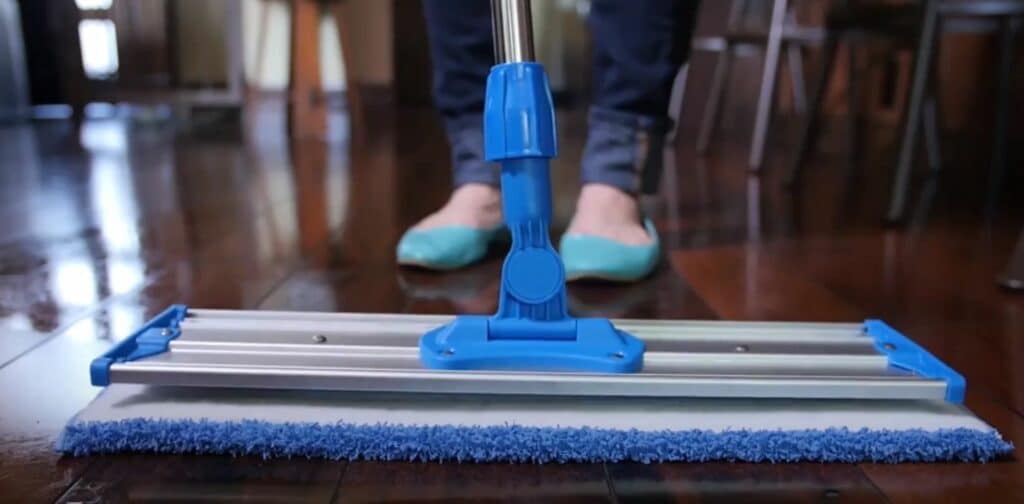 How to Mop Hardwood Floors
Spray your dust mop head with dust mop treatment 24 hours prior. This helps the dust stick to the mop.
Start by dust mopping the perimeter of the area while keeping the leading edge facing forward.
You can then either mop in a figure eight pattern on in straight lines.
Shake out dirt and debris. Do this away from wall edges so it is easier to gather.
Use a broom and dust pan to collect and remaining dirt that did not stick to the microfiber mop.
Tips:
Avoid using a hard-bristle broom or mop.
Clean up spills as soon as possible with a microfiber cloth or mop.
If you are thinking about using a Swiffer for your mop, ensure you buy the pads that are specially for hardwood. Note: Swiffer says you can use their products safely on hardwood floors, but we suggest you check with your manufacturer before using as wet mopping is not recommended by most manufacturers.
See our buying guide for the best mops for hardwood floors.
Step 4: Apply A Floor Cleaner
To take you cleaning a step further, you can use hardwood floor cleaners. They can come in high and low gloss finishes and can also help fill in scratches. Always use a product that is approved by your flooring manufacturer so it does not void the warranty.
Before you begin to spray your new cleaner everywhere, it's always a good idea to test it on your floor in a closet or corner of the room that isn't noticeable. Spray the cleaner on a small area, wait a couple of minutes, then wipe it off. Look for any discoloration, residue, clouding, or bubbling of the floor finish.
There are some general guidelines you should always follow when choosing a hardwood floor cleaner. The most important is that it needs to be pH-neutral and designed specifically for urethane-finished hardwood floors. This is where it really pays to read the label because some products labeled as safe for hardwoods are not.
If your floors are finished with wax, oil, or Monocoat, avoid using water. Manufacturers make their own cleaners for these finishes, which should only be used as directed.
Don't Use Water To Clean Hardwood Floors
The video below shows the negative affects of using water with vinegar. You begin to see some damage to the floor after 10 cleanings and much more after 20 cleanings.
Tips:
We found the Bona hardwood floor cleaner to be one of the most effective cleaners.
Most manufactures also recommend their own branded products.
Always apply any product with the grain of the floor.
Turn on a fan to help dry the floor and avoid any foot traffic until completely dry. A microfiber cloth can also be used to help dry the floor.
What Cleaning Products To Avoid On Hardwood Floors
First and foremost, do your best to steer clear of internet misinformation and 'cleaning hacks' as many of these methods can do more harm than good. If you are ever unsure, consult your flooring manufacturer for recommended cleaning products and methods.
There seems to be a lot of confusion on what kinds of products, particularly store-bought, are safe to use. Using an inappropriate cleaning solution on your hardwood can be devastating and expensive. These can leave an impossible-to-clean residue that leads to discoloration, delamination, wood splitting, and bubbles or ripples in the finish.
What To Avoid
Why To Avoid
Water
Large manufactures such as Shaw and Mannington clearly state to avoid wet-mopping with water. It can cause warping, swelling, and possibly void the warranty.
Wax, polish, oils, soaps, shine enhancers
Manufacturers say they can dull your floors (counterintuitive!). Also, avoid products that contain lemon, citrus, tung oil, or silicon.
Steel wool or scrub brushes
This is practically like taking sandpaper to your hardwood. One exception is for cigarette or candle burns, Mannington says it is ok to use

fine

steel wool that is lightly coated with mineral spirits.
Steam cleaners, steam mop or buffing machine
The intense heat drives the moisture deep into the wood and causes irreparable damage. After just one or two cleanings with a steam mop, planks can shrink or swell, buckle, splinter, delaminate, and look aged well beyond their years.
A few well known cleaning products you should avoid are:
Solvent-based cleaners
Rubbing alcohol
White vinegar
Cleaners containing ammonia or bleach
Scrubbing cleaners that contains abrasives
What Cleaning Products To Use On Hardwood Floors
While there are general guidelines when it comes to hardwood care and maintenance, the specific type of hardwood and finish you have may require special considerations. You will want to check with the manufacturer if you aren't sure.
Product
Category & Our Rating
What We Like

Microfiber Wholesale Professional Microfiber Mop
View on Amazon –>
View on Walmart –>
Dust Mop

Overall Rating: 4.9
– Easy to use/setup, has an extra wide cleaning head, and is reasonably priced
– Customer support is 5 stars!
– Extended reach of 70 inches

See the full review and all of our best hardwood mop picks

Shark Rocket Ultra-Light HV320
View on Amazon –>
View on Kohl's –>
Vacuum

Overall Rating: 4.8
– Price, versatile, easy to store, multi-stage filtration, warranty

See the full review and all of our best hardwood vacuum picks

Bona Hardwood Floor Cleaner Spray
View on Amazon –>
View on Walmart –>
Floor Cleaner

Overall Rating: 4.8
– Safe for all unwaxed, unoiled, polyurethane finished wood floors
– Water-based cleaning formula
– Premixed
– Safer Choice certified – very low VOC emissions

Flerise Furniture Moving Kit
View on Amazon –>
Only sold on Amazon
Furniture Movers

Overall Rating: 4.6
– Durable and can be reused many times
– Aesthetically appealing (can be left under furniture legs
– Affordable
10 Preventative Hardwood Floor Care Tips
Use door mats. They can help collect dirt, sand, and oils. Ensure mats you use do not have a foam or rubber back as that can discolor your wood floor.
Aim to keep you home humidity level between 35% and 55%. A humidifier is recommended to minimize the expansion and contraction of hardwood.
Remove shoes. Walking with heels or tracking in dirt and indent and scratch your hardwood floors.
Use UV treatments or solar shades on windows. Prolonged exposure will cause fading.
Lay down rugs. Ensure rugs and furniture is rearranged from time to time so the floor can age evenly.
Use furniture sliders.
Trim pet nails frequently.
Sweep and vacuum regularly. Ensure the hard floor setting is used on vacuums. Never use a steam cleaner on hardwood.
Avoid wet-mopping.
Follow the care and maintenance instructions from the manufacturer.
Pro tip: If you have a lot of square footage to cover, it can be a real chore to keep your hardwoods looking good. Believe it or not, the best way to spend less time cleaning your floor is to do it more often. This may sound like an oxymoron, but spot cleaning saves time in the long run.
Specialty Hardwood Cleaning Advice
How to Remove Sticky Residue or Wax From Hardwood Floors
1. Fill a plastic bag with ice and place it over the affected area to harden the substance.
2. Then gently scrape with a plastic scrapper or credit card.
3. Clean with a white cloth.
How to Clean Hardwood Floors Without Streaks
1. Do not use water.
2. Use a vacuum, dry mop and floor cleaner such as Bona.
3. Use a small amount and spread the floor cleaner along the grain (do not oversaturate or let the cleaner sit for too long).
How to Disinfect Hardwood Floors
1. Ensure the floor is clean of dirt and debris.
2. Apply a disinfectant such as Nova with a spray bottle and microfiber mop.
3. Let the product sit for 10 minutes.
Important: ensure your flooring manufacturer approves the use of disinfectants before using.
How to Get Stains Out of Hardwood Floors
1. Mist a pH-neutral cleaner onto the stain.
2. Wipe with a clean cloth.
3. If stain remains, pour one cap-full of isopropyl alcohol (or odorless mineral spirits or Goof Off) and let it sit on the stain for one minute.
4. Use a red Scotch Bright pad to very lightly scrub the stain.
5. Clean off an excess with a very damp white cloth.
How to Clean Dirt in Grooves of Hardwood Floors
1. Use a vacuum set to hard floor mode.
2. Spray a floor cleaner such as Bona and mop the area.
How to Deep Clean Hardwood Floors
1. Vacuum the floor to remove large pieces of dirt and debris.
2. Apply a dust mop treatment to the a drop mop 24 hours prior and then mop the floor.
3. Apply a manufacturer approver floor cleaner.
4. Look for any problem areas (stains scratches, wax build up, etc.) and follow specific cleaning procedures listed by the floor manufacturer's care guide.
Professional Hardwood Floor Cleaning Service
When the job get complicated or too difficult to handle on your own, it's best to call a professional cleaning company.
They can help ensure the job gets done properly, save you money by not having to buy expensive cleaning tools, and ensure compliance with your flooring warranty.
FAQs

What is the best wood floor cleaner and polish?
Only approved wood floor cleaners and polish should be used for hardwood flooring. The cleaning products should be pH-neutral and designed specifically for hardwood floors with urethane finishing. Hardwood floors with wax, Monocoat, or oil finishes should not be cleaned with any water. Specific cleaning products for these types of floors should be used.

One of the best hardwood cleaners our team likes is the Bona Hardwood Floor Cleaner Spray.

What is the best thing to use to clean hardwood floors?
One of the easiest and fastest ways to clean hardwood floors without damaging them is using a vacuum designed for this type of floor cover. It should provide good suction, be lightweight with wheels that don't scratch the floor, and have a removable beater bar. 

Upright, canister, and cordless stick lightweight vacuums are the best types to use for cleaning hardwood floors.

Is Steam Cleaning Safe for Hardwood Floors?
No! Despite what the appliance companies would have you believe, you should never use a steam mop on a hardwood floor. The pictures on the company websites and boxes of these gadgets often feature a person cleaning and happily ruining their hardwood floors with this expensive appliance.

Is it OK to clean wood floors with water?
No. Water as it can lead to cupping and damage the floor.

Is vinegar a good cleaner for hardwood floors?
No. Vinegar will damage the surface of the floor and as the floor ages it will lose it shine and look more dull.

How often should you clean hardwood floors?
With the right tools and cleaning products, hardwood floors should only need to be cleaned two or three times a month. High-traffic areas will need to be cleaned at least once a week. Low traffic areas may benefit from the occasional spot cleaning. Otherwise, clean them every second week. Deep cleaning of hardwood floors can be done two or three times a year.

How do you clean and protect hardwood flooring?
When cleaning hardwood flooring, make sure you use tools such as mops, brooms, and vacuums designed for this type of floor. Many brands carry their own cleaning products, so ensure you use approved cleaners designed for specific hardwood floors. 

Furniture movers and felt pads are excellent products for protecting hardwood flooring. Heavy-duty blankets work well when you want to move furniture on cleaning days without damaging the hardwood flooring.

Can you mop hardwood floors?
Dry mops with a microfiber head are fine to use on hardwood floors. Wet mopping is not recommended and can void your warranty.

Can you use Dawn dish soap on hardwood floors?
Using Dawn can cause delamination and joint-line separation, and void the warranty.

Can you use Pine Sol on hardwood floors?
Using Pine Sol can cause swelling, warping, and void the warranty.
Final Thoughts
Your hardwood floor is a long-term investment that, with the right amount of care, will last for years. With cleaning, like all good things, a little here and there goes a long way. Learning how to clean hardwood floors is essential in preserving their health and prolonging their lifespan.
Keeping your hardwood floors looking like new doesn't have to take up every Saturday for the rest of your life. With the right tools and supplies, quality hardwood cleaning products, spot cleaning, and knowing what not to do, you can spend less time cleaning and more time living.
What will you do with all the time you saved? Do you have any safe hardwood cleaning tips? Tell us in the comments.
Back to Top