Acacia wood provides floors with a gorgeous look at a relatively low price. However, affordability isn't the only reason to fall in love with this one-of-a-kind flooring. That's why today, I'll give you an insight into the properties of this flooring type, as well as pros, cons, and the best brands you should consider when it is time to make a purchase.
If you want to find the most beautiful, unique hardwood floor that no one else will have, turn to acacia wood as your first alternative. You won't need to pay a small fortune, plus you'll be stunned by how amazing it looks.
With its signature rustic appeal and beautiful color variation, acacia is quickly becoming a top choice among designers and homeowners. Even commercial buildings are getting on board with acacia hardwood flooring.
If you're interested in acacia wood flooring, let's first find out what it is and where it comes from before exploring the advantages, cons, pricing, and reviewing some great available brands.
What Is Acacia Wood?
Acacia wood is a type of wood from trees located mostly in Australia, Africa, Asia, the Pacific Islands, and several regions in North and South America. It's native to Australia and also known as wattle, Asian walnut, or thorn tree. There are over a thousand different species of acacia in the world, all of which deliver a gorgeous final flooring product.
Acacia wood is a type of hardwood source that grows plentifully, meaning that it's renewable and easy to find. Thankfully, these trees can grow in varied climates and adapt to different temperatures. The wood that comes from Acacia trees is very durable and a great alternative for flooring and other objects made of hardwood.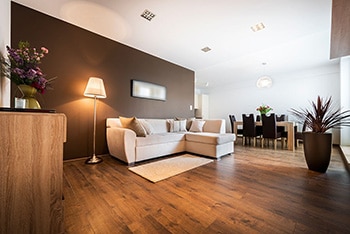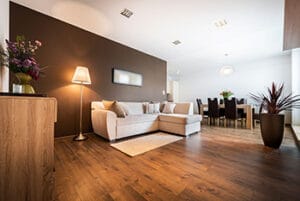 Aside from flooring, furniture is another very popular category of products made from acacia wood. The items are highly durable, feature a gorgeous appearance, and easy to maintain. If you're on the lookout for a stunning new dining table or a bench, this material may be perfect for your home.
Pros and Cons of Acacia Wood
Let's dive into the significant pros and cons of acacia wood flooring to get familiar with the biggest advantages and disadvantages it offers. It will help you decide whether it's something you should consider for your home or not.
Pros of Acacia Wood
1. Acacia wood is an extremely durable flooring
This type of wood is naturally hard. Large-leaf acacia has a Janka hardness rating of 1700; the small leaf variety has a hardness rating of 2220.
This rating is even higher than popular species like hard maple and oak, both of which are known for their durability.
This hardness means it holds up well to wear and tear. It is less susceptible to scratches and dents and is an excellent option for families with children and pets.
Depending on how thick your acacia flooring is, it could last between 50 and 100 years. This wood can easily last for 40 years, even when it's not protected and treated regularly.

2. Easy to maintain
Acacia has a natural wax coating that protects it from things like warping and swelling. This coating also keeps water and unwanted pests from harming it.
Plus, things like dirt, pet hair, dander, and dust cannot get trapped in as they do on the carpet.
It is very easy to maintain.
Just sweep up any dust that collects on a routine basis. Or use a damp mop when needed – no special cleaning products are required.

3. Acacia wood is naturally mold and mildew-resistant
If you are sensitive to mold and mildew, then this is a great flooring option for you.
Acacia is naturally resistant to mold. This proneness applies to both solid and engineered acacia hardwood flooring.
So if you are considering hardwoods in your kitchen or other home areas that see regular moisture, then acacia wood is a good product to consider.

4. Acacia wood is distinctively beautiful
Acacia's grain patterns are unique, with colors ranging from golden tans, deep dark browns, lighter shades of brown, and even some off-white color.
The primary color of your flooring will be whatever you've chosen, but you can expect to see shades of all these other colors beautifully mixed in.
This flooring adds distinctive style and beauty to your floors. It might even make other types of hardwood floors look bland by comparison.

5. Eco-friendly flooring option
Acacia grows quickly, so it is a very sustainable option to use as flooring. Plus, acacia harvesting is well-managed in most areas.
Since producing the wood planks requires few emissions, acacia is considered a green choice. It is also recyclable and reusable.

6. Acacia wood flooring offers lots of options
If you think you've narrowed down the choices by selecting acacia, you still have work to do because there are many options within this type of hardwood flooring.
You can choose solid or engineered acacia hardwoods, or you can opt for a laminate version.
There are also numerous options of plank widths, colors, and finishes.

7. Enhances any room design
Acacia is becoming increasingly popular with interior designers because of the unique ambiance it adds to any room. In some designs, acacia wood floors are even the focal point of the space.
The exotic look of this wood naturally attracts attention, and it compliments many styles.
Hand-scraped acacia helps create a shabby-chic or rustic look, while smoother wide planks are well-suited for elegant rooms.
Cons of Acacia Wood
1. Acacia Is More Expensive Than Some Of The Other Hardwood Options.
Acacia has many great features, but they don't come isn't cheap. It is less expensive than other exotic hardwoods, but it generally costs more than native species and other flooring options.
You do get a good value for your money, but you should be prepared to spend a little more on acacia.
However, acacia also comes in a laminate option. So, if you want the look but have a slimmer budget, this is also available.

2. You Are Very Limited In The Size Of Planks.
Despite having various options of width, color, and finish, you are limited on the length of acacia wood planks.
Generally, the longest planks are four feet long.
Limited plank size is a result of acacia trees being naturally short. The wood milled from these trees is typically less than two feet in length.

3. It Can Have Many Defects And Variations.
It is common with acacia to find knots and defects in the species of wood.
Because it is a short, stubby tree, the trunk and branches can get twisted. And because a limited portion of the trees is available for harvesting, wood with knots and other blemishes is just a part of the package.
The same holds true for color variations – which some people like and others do not.

4. Acacia Is Prone To Buckling And Other Issues.
Acacia is very stable. However, under certain conditions, it can buckle.
If it is not adequately dried or acclimated, it could dry out in your home, causing it to shrink, separate, or buckle.
This can be avoided by acclimating your acacia and keeping proper levels of humidity in the home.
How to Find High-Quality Acacia Wood Floors
It is not difficult to find acacia wood flooring. In fact, most major home improvement and flooring stores carry it.
Acacia is native to Australia and South East Asia; however, it grows in many other countries. There are commercial plantations in more than 70 countries that produce this beautiful wood specifically for harvesting.
For sustainability purposes, it is best to purchase acacia floors that come from an FSC-certified plantation.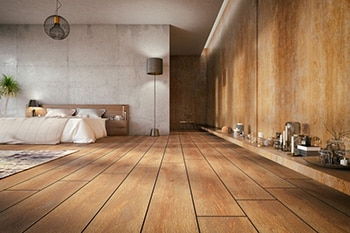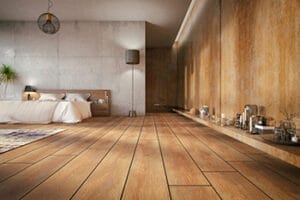 Finding high-quality acacia does not mean you have to invest in the most expensive end of this flooring's price range. You can find high-quality flooring at a reasonable price.
That said, it is best to go with a reputable company or brand. When you find a style or brand that you like, make sure to ask about the drying process.
To avoid running into acclimation issues, find a product that has been dried to between six and eight percent humidity. This drying process often requires that the planks pass through a kiln twice.
Cost
While this flooring is more expensive than some other flooring options, it is still less expensive than many exotic wood alternatives.
Here are some general guidelines on what to expect when purchasing acacia floors:
Acacia solid hardwood flooring costs between $3 and $8 per square foot to purchase.
Engineered acacia floors range from $2.60 to $8 per square foot.
Acacia laminate wood flooring runs from approximately $0.80 to $3.50 a square foot.
Since acacia is relatively easy to install, you can opt to do so yourself to save money. If you prefer to have it professionally installed, here's what you can expect to pay:
Solid and engineered acacia floor types will cost between $3 and $8 per square foot for installation.
Laminate acacia floor types will range from $1.50 to $3 per square foot for installation.
Keep in mind, however, that these are estimates. Factors such as your location, the brand/style you choose, and installation areas such as staircases, which require more technical attention, can also impact the price.
Acacia Hardwood Durability
Because it is a hard, exotic wood, acacia is exceptionally durable. However, this does not mean that it is immune to damage.
If you drop something heavy on your acacia floors, a mark may be left behind. So practice caution as you would with any other type of flooring.
Acacia wood floors hold up extremely well in high-traffic areas. But over time, they will lose some of their luster.
You can restore their sheen by simply refinishing them. And you should do this about every ten years anyway.
These floors will also hold up extremely well with pets, but if you have a large dog who spends time indoors, try to keep its nails trimmed to avoid scuffing on the surface of your floors.
Acacia Flooring Reviews
Here you can find a nice selection of acacia hardwood floor options. The top brands that Home Depot carries that sell Acacia include Pergo, TrafficMaster, and Home Legend.
You can find solid, engineered, and laminate acacia types at Home Depot in different styles, including hand-scraped varieties.
Plank sizes range in width from four to six inches. Some boxes of planks come in varying lengths for a truly distinctive look.
Customers report loving the beautiful look of these floors, in addition to the ease of installation (for those who choose to tackle the job themselves).
Home Depot has been around since 1979, providing homeowners with the resources and materials they need for DIY projects. The company is committed to hiring knowledgeable salespeople with expertise in the departments to better serve its customers.

Lumber Liquidators has many options to choose from for acacia flooring. Its top brands are Virginia Mill Works, Builders Pride, and Bellawood.
Like its competitors, Lumber Liquidators offers solid, engineered, and laminate acacia flooring options.
Customers who purchased their acacia wood floors from Lumber Liquidators have been generally pleased. They rate the look and the durability of their flooring highly.
However, some people found this flooring difficult to install on their own. Lumber Liquidators does offer installation services, which may be a good investment, depending on the product you select.
This company has been in the flooring business for over 20 years. Recently, Lumber Liquidators has worked closely with the Consumer Product Safety Commission (CPSC) to ensure its products' safety.

The most extensive selections of this flooring type that Lowes offers are from the brands FLEXCO and USFloors. The company also carries a few choices by Pergo and Congoleum.
You can find a variety of choices, including solid and engineered wood planks, plus laminate selections. These come in both smooth and hand–scraped varieties.
The reviews of this type of wood flooring selections from Lowes have been favorable. Customers appreciate the quality and look for the money, and consider them an overall good value.
Lowe's first opened in North Carolina in the 1940s. Since then, it has grown to become the second-largest home improvement retailer in the world.

Floor & Decor's selection of acacia hardwood is large and varied. The company sells mostly solid and engineered acacia, but it does offer a few laminate options as well.
The colors and styles vary with most options in the medium color range. You can also choose from smooth or hand-scraped styles.
Floor & Décor was established in 2000 and is known for its excellent customer service. It has quickly grown to become a leader in the retail flooring market.

Menard's Floors of Distinction® and Cross Island Trading are two main acacia flooring brands that Menards carries. The company offers both solid and engineered acacia options.
They also carry laminate varieties of acacia from Mohawk.
Menard's reviews of its products and installation have been mixed; some customers cite quality issues.
The company is a leading retail home center, particularly in the Midwest. It has been around since the 1950s.

Quality Flooring 4 Less carries a large acacia selection for flooring from top brands, including Mohawk, Armstrong, Shaw, and Bruce.
This up-and-coming flooring store has had mostly positive reviews and received the Best of 2016 award from Houzz.
With Quality Flooring 4 Less, there is no storefront, so your only option is to place your order online.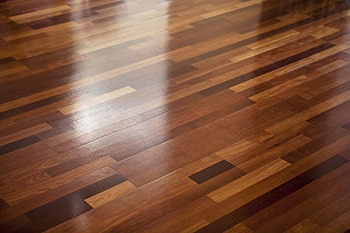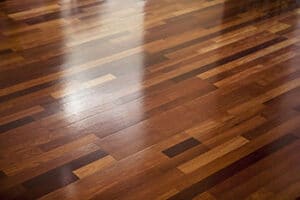 FAQs:
Is Acacia A Hardwood Or Softwood?
Acacia trees and shrubs belong to the subfamily Mimosoideae and family Fabaceae. This is a hardwood tree family that initially could only be found in its native Australia. Today, it grows all over the world.

Thanks to the high grade of acacia wood hardness, it's a very durable option for flooring. As I mentioned, these floors can last up to 100 years. They can still be great even after 40 years without protection or treatment.


Can You Oil Acacia Wood?
Yes, you can oil this type of wood. Oil is one of the most common ways of protecting wood, aside from professional products engineered to do the job.

Some of the oils you can use are teak, tung, and linseed. These will not only preserve the wood but also restore the glow your floors once had.

If you need to choose between a clear and a pigmented oil, opt for oil with pigment. These oils can protect your floors from harmful UV rays.

Oils are usually inexpensive and easy to use, provided product instructions are followed closely. Oils can really bring out the wood's gorgeous natural color and make your floors appear even more beautiful than before.

You can also purchase a professional product that includes oils in the ingredient list. Varnishes are another way of elevating the color of acacia; just make sure that you get a product that is safe and meant for hardwood floors.

How Do I Take Care Of My Acacia Wood Flooring?
As I previously mentioned in the pros section about this flooring type, it's relatively easy to maintain.

Fortunately, this hardwood doesn't retain debris, dirt, and dust, meaning that you can clean it in only minutes. The entire process is time-saving, so if you have kids or pets, acacia is a hardwood flooring option you should consider.

You will need a broom and a mop for regular maintenance. Sweeping is a must if you want to keep a clean home. Since this flooring doesn't trap dirt and dust, you'll find it effortlessly easy to sweep.

Mopping is another way to remove dust and germs that might be present on the wood's surface. Remember always to use a damp mop rather than a wet one. Whenever you're cleaning, just be sure to drain the water as much as possible before applying the mop to your floor.

Leaving moisture on your floors is not a good idea, even though acacia is water-resistant. This is not a type of wood that is water-proof; water and liquids can still cause damage.

When using a wet mop, water can get between the wood planks, and if this happens often, it can lead to damage.

Another thing you might want to invest in is a special cleaner for hardwood floors. There are many variations on the market. These cleaning solutions will help you achieve even cleaner floors with a protective finish.

If you are a pet owner, you know how hard pet hair is to clean from your home. Thankfully, this wood has natural oils that protect its surface. These oils act as a coat that prevents pet hair from sticking to the surface.

Spills are something that you should target right away. Just as with any other flooring type, when an accident happens, you should act fast. Use a paper towel or cloth to blot the spill and soak up the liquid.

Is Acacia Fire-Resistant?
Acacia is a fire-resistant wood flooring alternative, thanks to its high density. However, this wood material is not fire-proof. Be sure not to confuse one of these terms with the other!

Australian acacia is a tree that has had to adapt to the harsh environmental conditions on its native continent. Australia often faces naturally-occurring fires, which helped this tree family become more resistant to fire than other types of wood.

Simultaneously, acacia trees have thrived under difficult conditions, growing even larger and wider. That's why these trees are the perfect source for flooring, furniture, and more.

Is Acacia Better Than Oak?
Oak is another excellent hardwood flooring alternative. Both types of wood are solid options that are different in many ways.

Let's start with the hardness. Acacia is 23% harder than white oak. If you're looking for a harder, more durable alternative, you should opt for acacia. It can withstand a lot, and it's perfect for homes with kids and pets.

When it comes to sustainability, acacia grows worldwide and is a fast-growing tree. Oak trees take longer to grow. For oak trees to develop from seed to the stage of a harvest-ready tree can take up to 10 years.

Oak is mostly found in North and South America, North Africa, regions in Asia and Europe. As I mentioned, acacia trees are found in Australia (they make up around 8% of Australia's forests), North and South America, Asia, Africa, and many other places worldwide.

If sustainability is a factor on your mind, acacia wins in this category.

Red oak floors cost between $2 and $6 per square foot, while white oak costs between $5 and $8 per square foot. Acacia solid hardwood floors can cost between $3 and $8 per square foot; engineered acacia costs between $2.60 and $8 per square foot.

What is acacia flooring?
Acacia flooring is derived from the acacia tree. This tree belongs to the group of trees known as hardwoods, and its other names include Wattle, Mimosa, and more. If you're looking for a gorgeous hardwood flooring type that will last for many decades and is easy to maintain, you should look no further than acacia.

There are various species of this tree; therefore, there are many varieties of acacia flooring. It features a unique look, and in most cases you'll see the base color of the wood but it will be enhanced with several other shades.

Is Acacia a good hardwood?
Yes, acacia is an excellent hardwood. Although there are more popular hardwood flooring options, acacia is one of the best you can find for your home. In addition, it's worth mentioning that these floors are not prone to damage, are resistant to mold and mildew, are an eco-friendly option, and come in many varieties.

One of the downsides of this flooring type is its cost. In general, it's more expensive than other woods, except for exotic alternatives. In addition, acacia planks can have defects; however, that's what makes the flooring even more beautiful and unique.

How hard is acacia wood flooring?
Acacia wood flooring is an extremely hard material that is perfect for people who want a very durable alternative. According to the Janka hardness rating, acacia can be divided into two categories. Small leaf acacia features a hardness of 2200, while large leaf acacia has a hardness of 1700.
 
When compared to other hardwood alternatives like maple and oak, acacia is actually harder. You don't have to worry about it being scratched or damaged. It's a fantastic alternative for people with pets, kids, and high-frequency areas.

How durable is acacia wood flooring?
Acacia wood floors are incredibly durable. This is one of the main reasons why so many people decide to install these floors in their homes, especially in rooms with high traffic. As we mentioned before, the hardness of large leaf acacia is 1700, and small leaf is 2200.
 
You can expect acacia wood floors to last between 50 and 100 years when treated and maintained correctly. In other words, this is a lifetime investment that isn't prone to scratches, dents, or other damage.

How do you clean acacia wood floors?
Acacia wood is a flooring type that you'll find to be very straightforward to maintain. This material comes with a natural coating that prevents damage. All you need to do is wipe the floors with a mop once or twice a week or whenever you notice that it needs a little more love.

Because of the natural coating, this wood is resistant to water, so you can feel free to use a damp mop when cleaning it. However, when it comes to vacuums, you should opt for a hardwood vacuum to know you won't cause any unwanted damage to your floors.
Conclusion
Acacia wood is a great flooring choice, especially if you're looking for something affordable and of excellent quality. If you want exotic hardwood floors that will not break your budget, acacia is a great option.
Just like any other flooring type, this one has both pros and cons. Acacia is very durable and can last from 40 to as long as 100 years. It has a stunning and unique appearance, giving your room an elegant vibe.
Maintenance is straightforward, time-saving, and cost-saving. This wood type is resistant to mold, pests, water, and fire.
Although it's less expensive than other exotic floor types, it's still more expensive than some other common flooring alternatives. Thankfully, there are many varieties of acacia, and you can probably find one that fits your budget. Unfortunately, these floors can be prone to buckling, and the wood can show knots and defects.
After reading all the information and tips about acacia hardwood flooring, can you tell whether it's a good fit for your home?
If you have any comments or first-hand experiences with this type of flooring, please post them below or share your pictures via our social media.