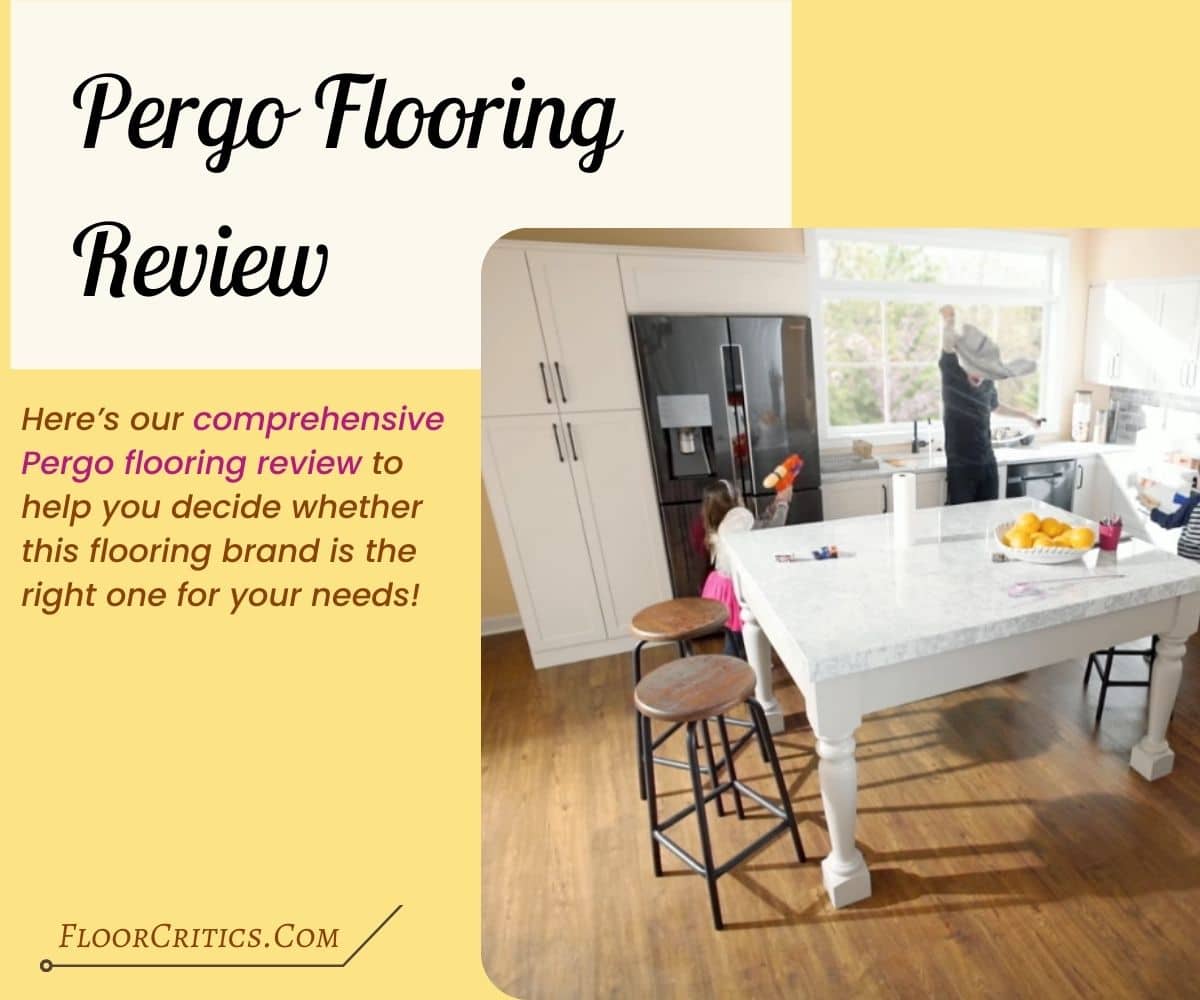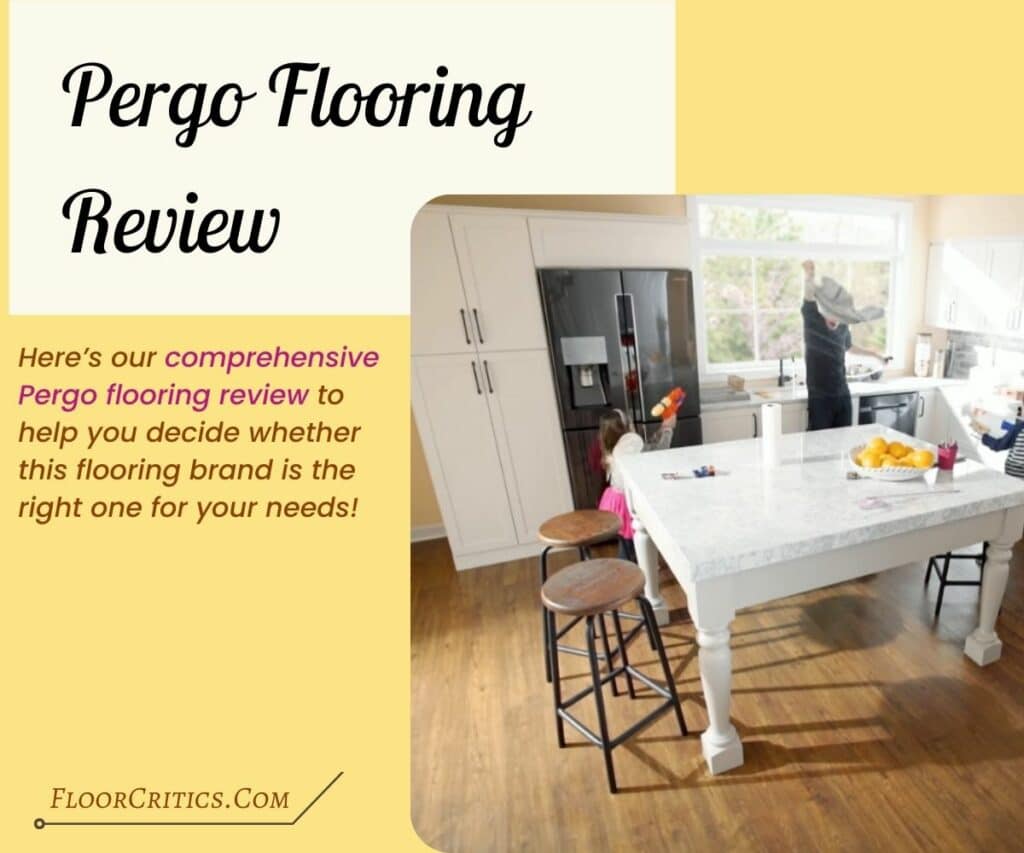 When it comes to those big, important purchases such as your flooring, we often choose to go with a well-known name such as Pergo flooring, as brand recognition often means trust.
Pergo is one of the biggest names in the flooring industry, and they produce laminate, hardwood floors, and luxury vinyl plank flooring. So, something for everyone. But are they really a good brand?
Check out our comprehensive Pergo flooring review across 9 criteria to help you decide whether this flooring brand is the right one for your needs!
Our Overall Rating of Pergo Flooring
Here are our ratings for Pergo flooring across 9 criteria: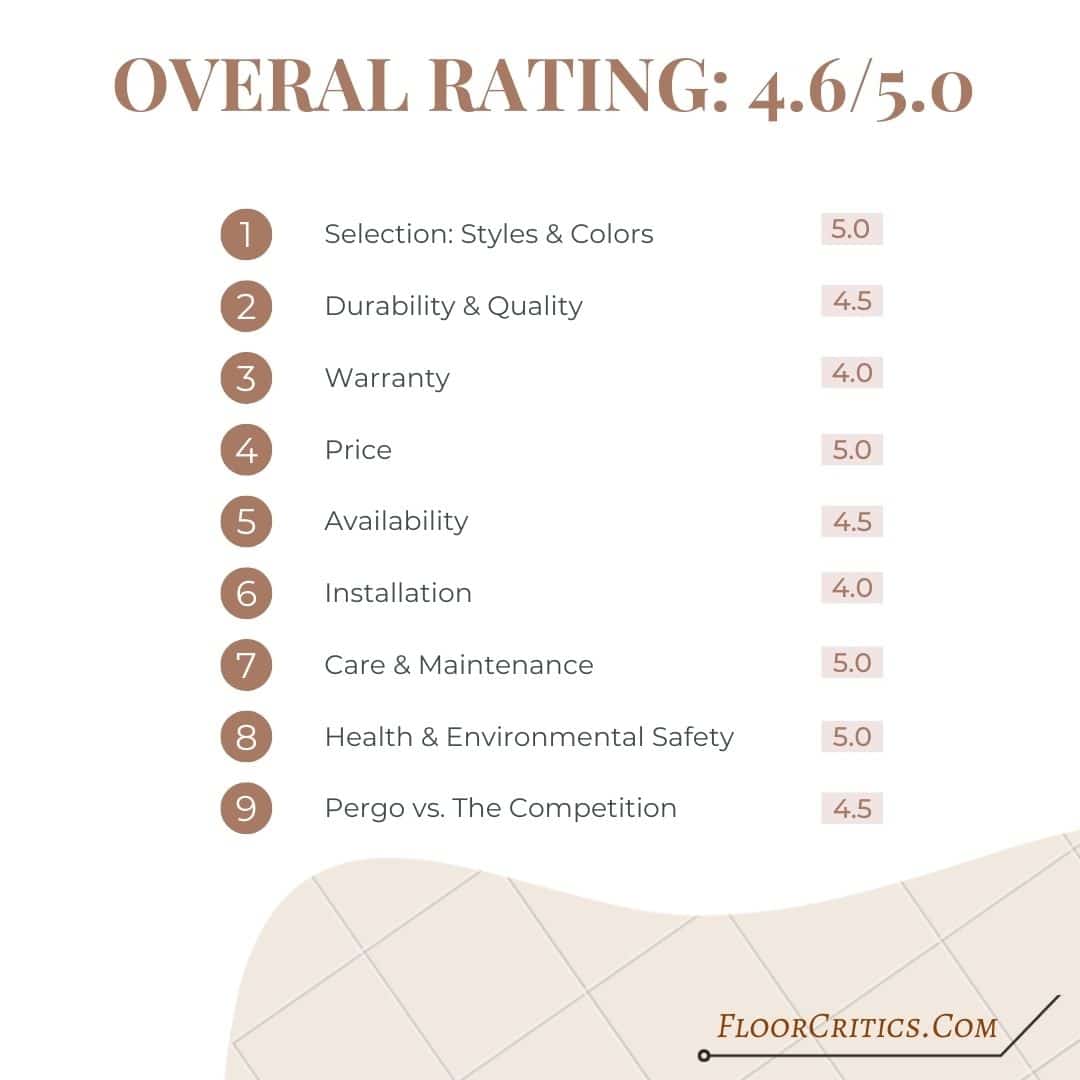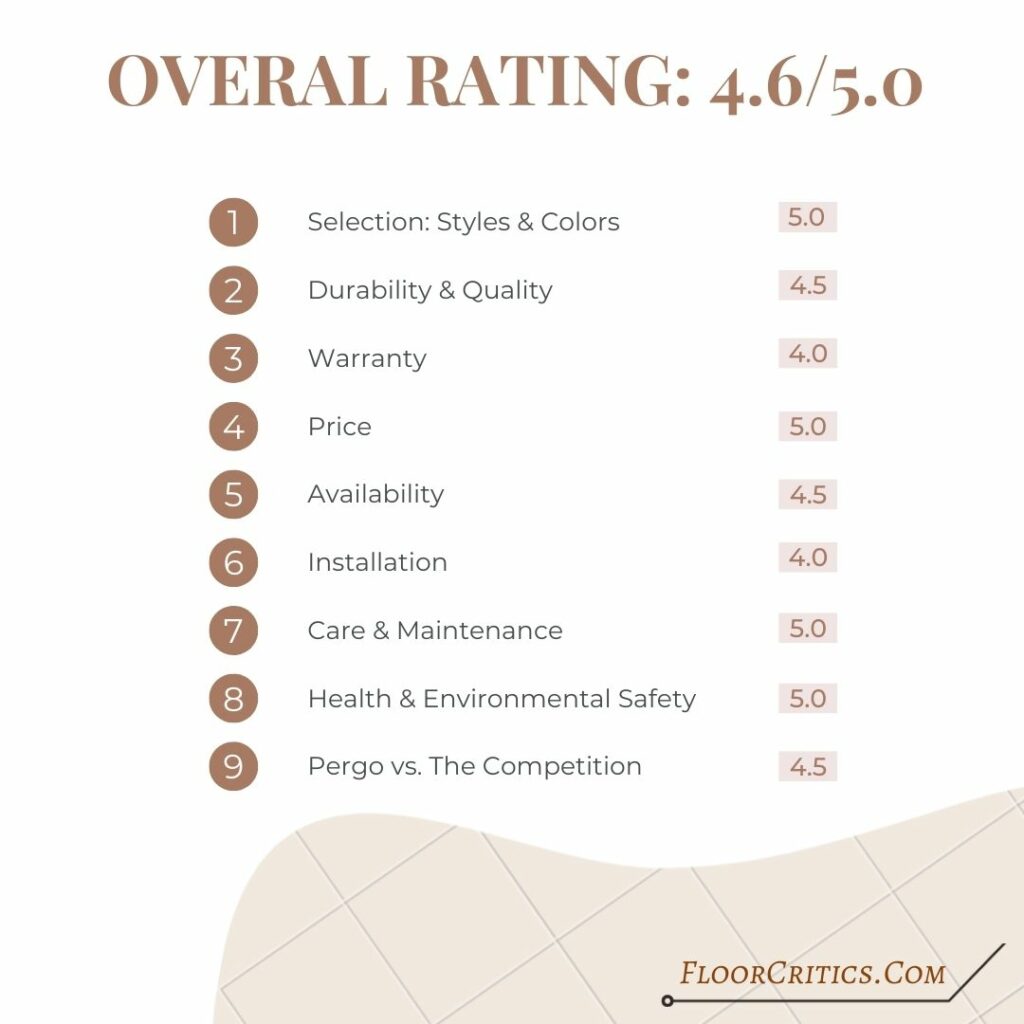 Pros and Cons of Pergo Flooring
Pros
Cons
– Wide array of styles and colors to choose from
– They offer laminate, LVP, and engineered hardwood options
– Offer options that are ideal either for DIY or professional installation
– Simple cleaning and maintenance instructions
– Options that are steam mopping-approved are available
– Innovative technologies for enhanced waterproofing capabilities and durability
– Only sold mainly at Home Depot and Lowe's
– Independent retailers sell Pergo too but with limited Pergo lines
– Not all have an attached underlayment
– Confusing warranty terms depending on where you are going to buy from
– Mixed reviews from customers
Pergo Overview
Pergo was established in 1977 when they invented the first laminate flooring as a new application for high-pressure laminate. Since then, Pergo has grown into a comprehensive flooring company, producing laminate, solid wood and engineered hardwood flooring, and luxury vinyl plank (LVP) flooring.
Pergo is owned by Mohawk, the world's largest flooring company, which has operations in North America, Europe, Asia, and Australia. All of Pergo's products are produced by Unilin BV, which is based in Belgium.
The Complete Pergo Flooring Buyer's Guide
1. Selection: Pergo Flooring Colors & Styles
Pergo offers over 300 styles, textures, and colors that are available in various classic, modern textures with gorgeous finishes. This is great as not all flooring brands can offer this wide variety that can complement any style of shade.
The age-old question of laminate or hardwood is eliminated by Pergo's set of offerings. There's a wide variety of each option for your flooring needs.
Pergo offers laminate, luxury vinyl, and hardwood planks in wood, tile, and stone look options that are available in a ton of colors including various gray Pergo flooring and oak Pergo flooring styles. These come in 10 product lines and 9 collections that you can find in different finishes such as satin, matte, gloss, semi-gloss, and low-level gloss.
Essentially, Pergo offers everything except the kitchen sink; they're a flooring company after all. But while Pergo offers tons of flooring options, which one is right for you?
A. Pergo Laminate Flooring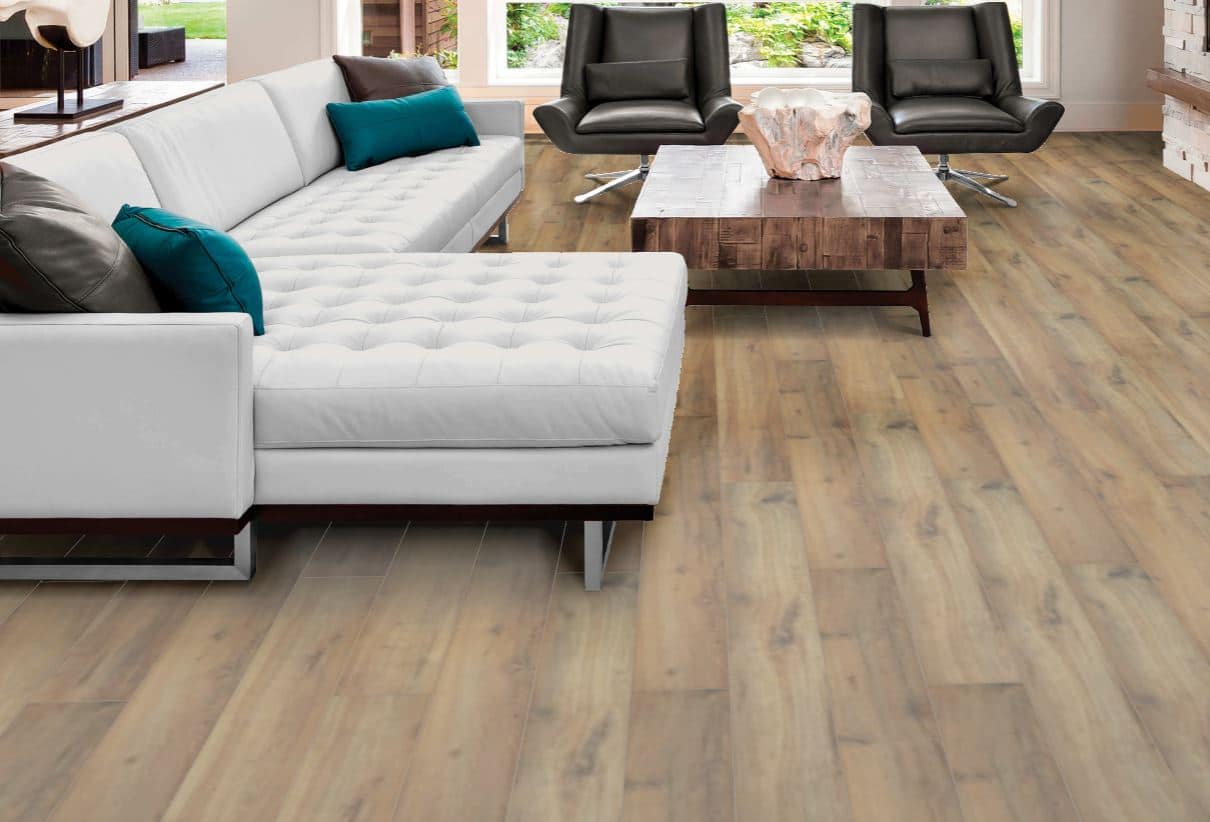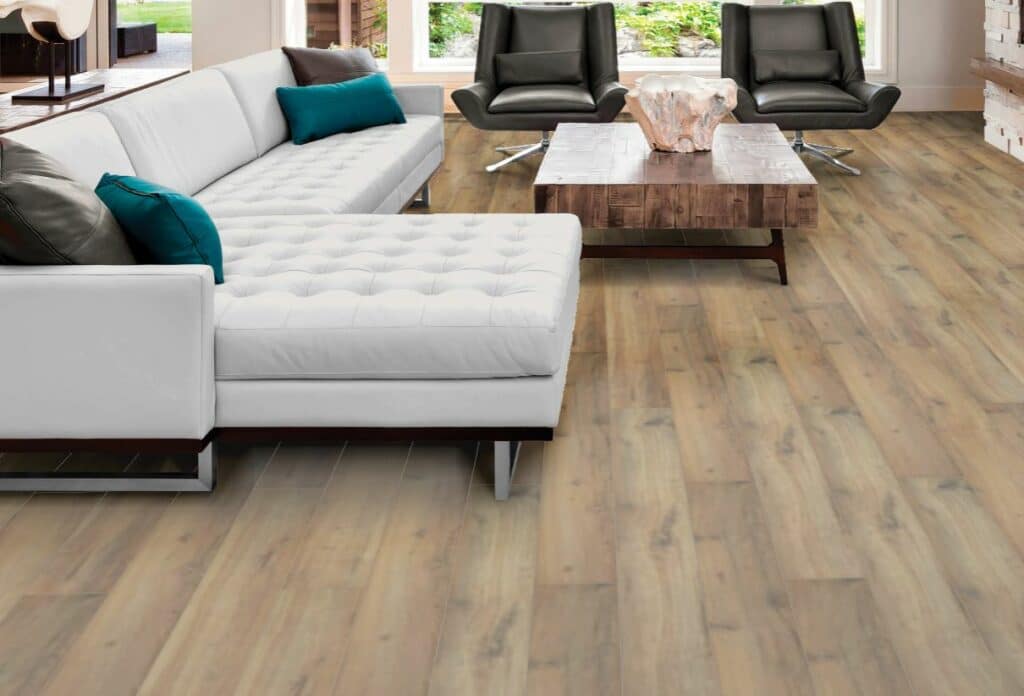 Who do you think would do laminate flooring best? How about the people that literally invented laminate?
Pergo invented the laminate floor over 35 years ago and still leads the industry in laminate flooring. They're dedicated to creating quality products without the use of any toxic chemicals and pass a set of third-party tests to ensure quality.
Laminate isn't waterproof, but it comes pretty close. Pergo says their laminate is water-resistant, giving you a 30-minute window to clean up spills. If wood floors aren't your thing, Pergo offers laminate flooring in stone and ceramic styles as well.
Pergo laminates come in 7 lines and 5 collections:
Pergo XP Flooring
Pergo Outlast Flooring
Pergo Defense+
Pergo Elements (Legrand, Visionaire, Foundations, Epworth, and Accustoms Collections)
Pergo Portfolio
Pergo TimberCraft
Pergo TimberCraft Elite
Pergo Laminates come in matte, satin, gloss, and semi-gloss options. A few lines also use SpillProtect and WetProtect technologies and most of the lines are infused with anti-microbial top layers for inhibiting bacterial growth to give you safer flooring.
B. Pergo Hardwood Flooring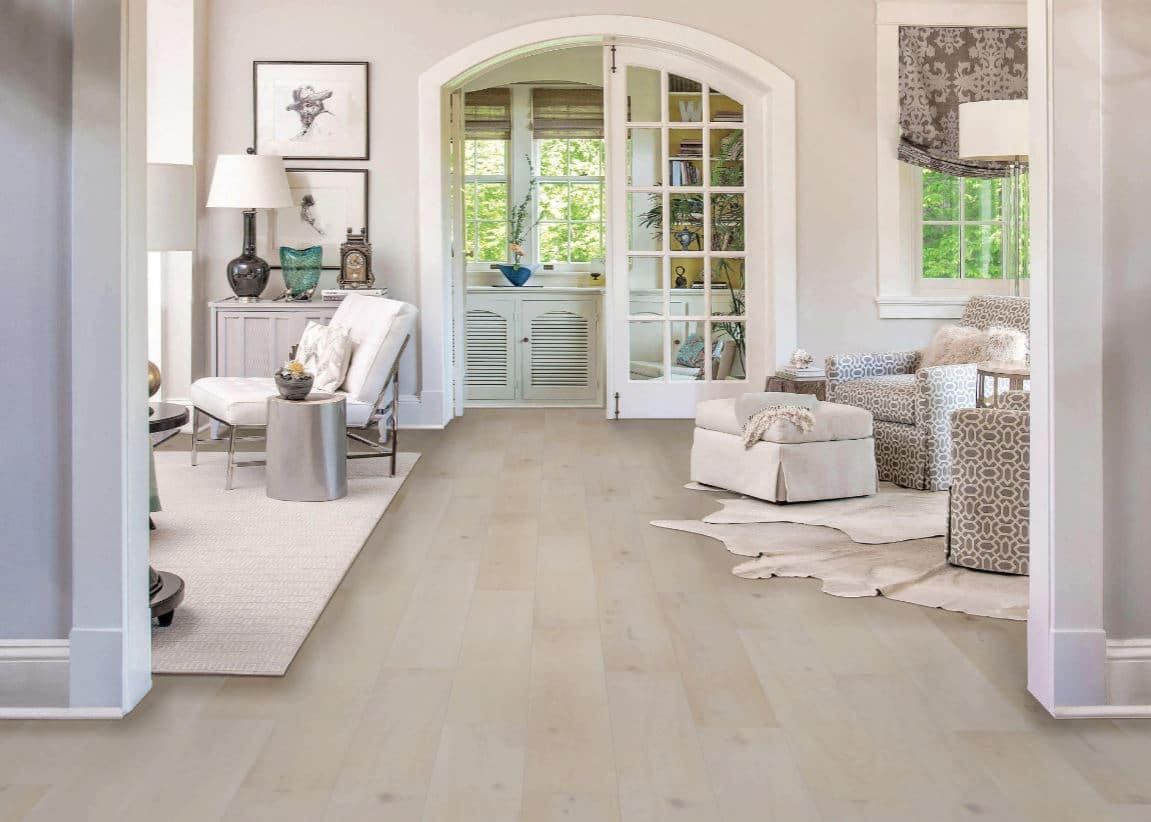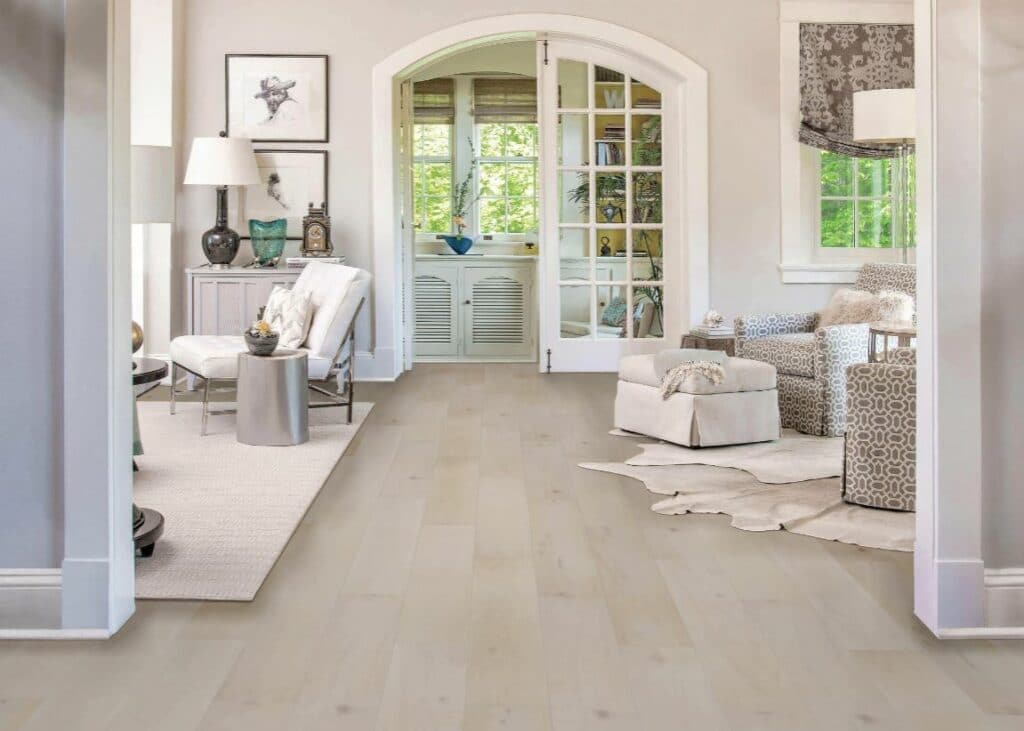 Offering styles catering to the DIY handyman and professional installer, Pergo has you covered no matter what kind of hardwood you need. Currently, Pergo only offers two lines of engineered hardwood on their website in maple, oak, and hickory species:
Pergo WoodCraft
Pergo Defense+
In case you've never heard of engineered hardwood, don't fret, you're not alone. Despite semi-popular belief, engineered hardwood isn't the mutant cousin of the solid hardwood floor.
Engineered hardwood is a layered hardwood floor that has a separate backing layer from the layer used to lock the flooring into place. Engineered hardwood is typically easier to install and has the same feel solid hardwood does on the feet.
The styles for hardwood aren't as varied as they are for laminate; however, there are dozens of finishes for each style to choose from.
Pergo's engineered hardwood comes in matte and satin finishes and their Defense+ line is an antimicrobial-protected flooring. This is great for sensitive people and pets. They also use WetProtect and SpillProtect technologies for enhanced waterproofing features.
C. Pergo Luxury Vinyl Flooring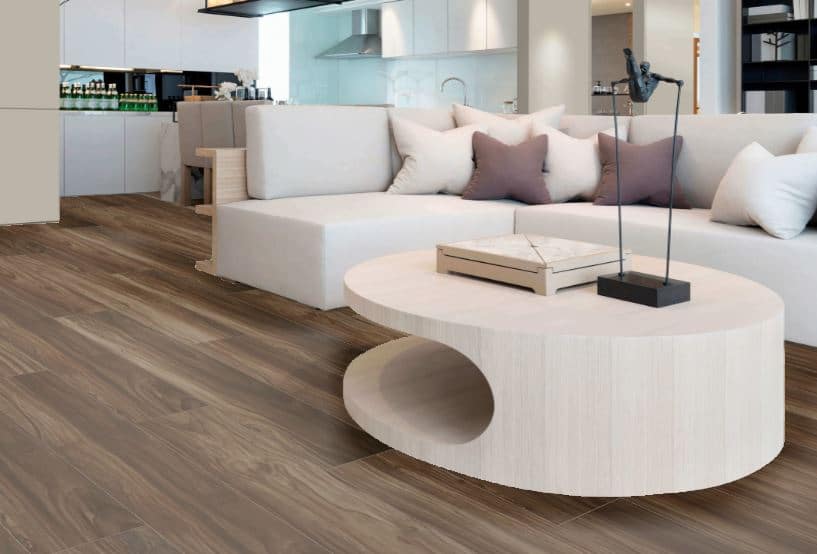 Pergo vinyl plank flooring comes in three selections:
Pergo Extreme Flooring
Pergo Defense+ Flooring
Pergo DuraCraft Flooring
Their luxury vinyl Extreme line comes in Wood Originals, Wider Longer, Tile Options, and Wood Fundamentals collections. Selected lines only come in low-level gloss finishes. For those who want wider planks, Pergo offers wider options through their Wider Longer collection.
Characterizing them as the next generation of LVP flooring, Pergo claims that their LVP products are 100% dent-proof, waterproof, kid-proof, and pet-proof. Some lines use SpillProtect and WetProtect technologies with enhanced visuals for more defined textures and anti-microbial features.
So if you are looking for Pergo commercial flooring, their LVP lines would be your best option.
Discontinued Pergo Laminate Flooring
Pergo has stopped manufacturing a lot of Pergo lines that you won't find on their website anymore. However, take note that Mohawk's discontinued Pergo flooring products list doesn't contain all of the products that they have stopped manufacturing.
Some of the famous lines that Pergo doesn't offer on their website anymore (but you might be able to find in other stores like Lowe's) include Pergo's three previous hardwood lines.
So if you're an engineered hardwood lover or you're a sucker for solid, you might still be able to get ahold of the following:
A. Pergo Max Flooring
If you can't fathom hiring someone else to do the job for you, Pergo Max should be your floor of choice. This engineered hardwood should click right together to ensure an easy installation process.
B. Pergo Lifestyles
If you're confident in your abilities to install flooring that requires more elbow grease than clicking into place, your ideal flooring is Pergo Lifestyles. This is also an engineered hardwood but requires staples or glue to install.
C. Pergo American Era
Do not try this at home, kids. Pergo's American Era collection is the top of their hardwood line, and its solid construction should not be installed by someone without prior flooring experience. Go ahead and hire someone—your wallet will thank you later.
These solid hardwood and engineered hardwood lines are on the lower end of the price spectrum, ranging from about $2.80 to $5.00 per square foot. You're getting a bargain considering that the average engineered hardwood is from about $4.00 to $7.00 per square foot, and the average solid hardwood is from about $4.00 to $10.00 per square foot.
Where to Get Pergo Flooring Ideas
Pergo has a trends page and an image gallery that doesn't simply contain a collection of images.
The trends page offers inspiration for various flooring styles like New Nordic, Coastal, Classicism, Modern Rustic, and Hollywood Regency. Each style provides suggestions on what Pergo products you can choose from that can give you the look you want.
On the other hand, the image gallery can help you get design ideas by allowing you to choose the type of room, flooring type, floor look, floor color, and style. So whether you are looking for Pergo in bathrooms, Pergo kitchen flooring, Pergo bedroom flooring, and others, you'll find what you're looking for here.
Another nice feature Pergo's website has is its floor visualizer where you can upload your own room or choose an existing floor scene. You can then select your desired flooring type, line, and color to get an idea of what the product would look like when installed.
2. Durability & Quality
Pergo's innovative waterproofing and durability enhancing technologies provide superior protection for your flooring up to the subfloor level. However, not all of their products are created the same and some may not offer the durability you are expecting.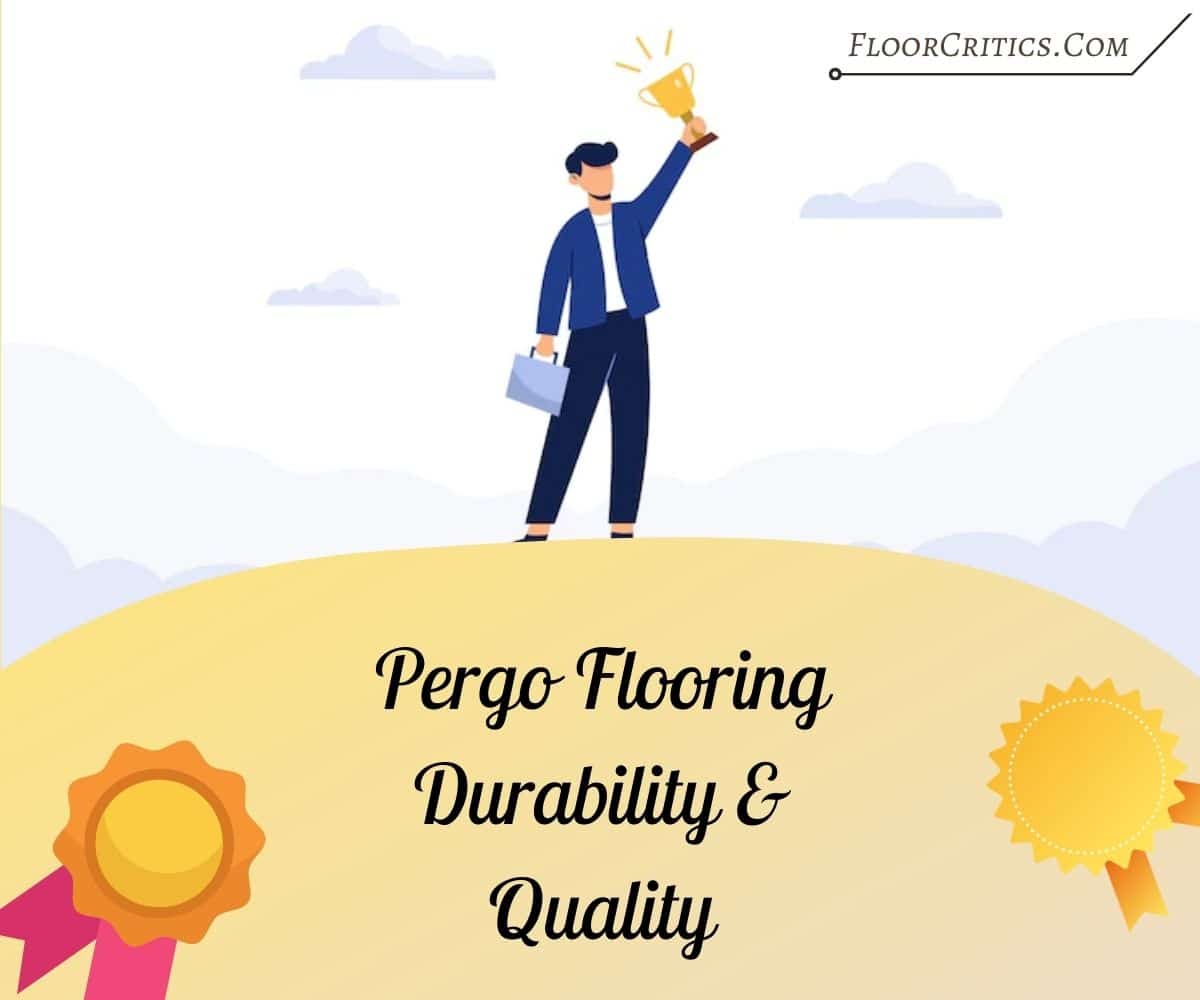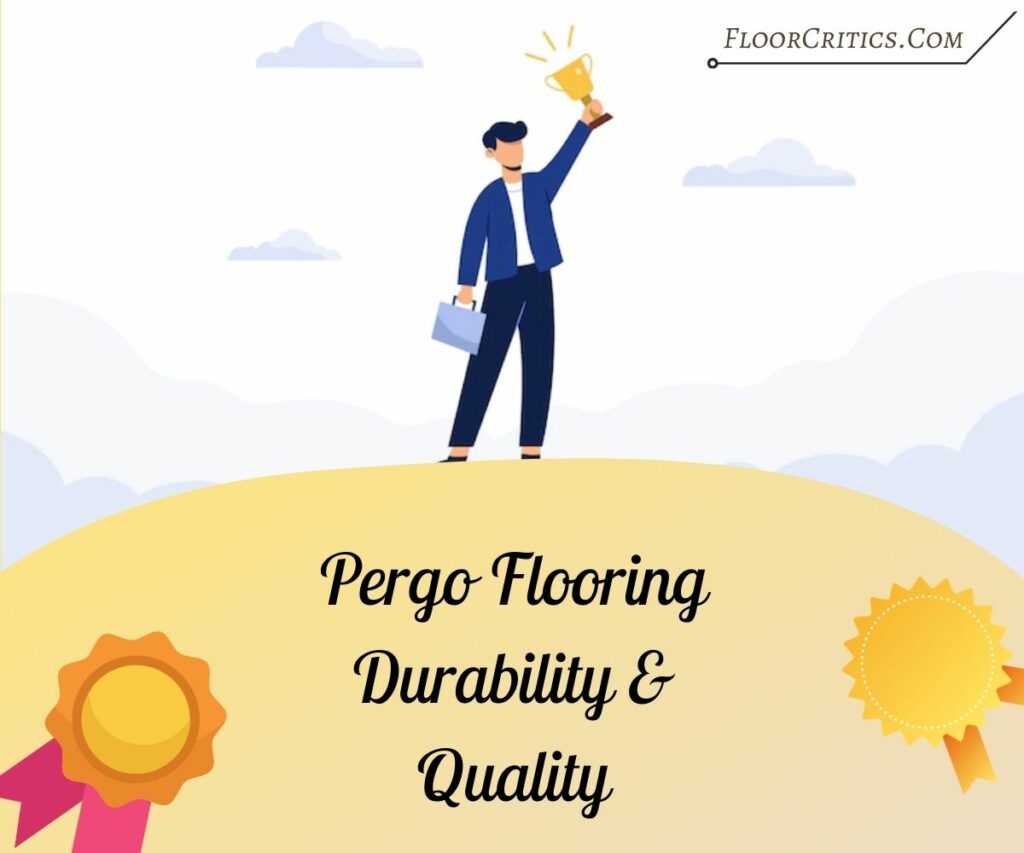 Pergo is a highly affordable brand, and they offer a diverse range of flooring options, especially in laminate (they did invent the stuff after all), but their selection of hardwood and luxury vinyl plank is not to be sniffed at.
However, it seems that not all of Pergo's lines are created equal, and while some are fantastic, others leave a lot to be desired.
Proprietary Technologies
WetProtect – An innovative technology that provides full-coverage waterproofing through a waterproof quarter round and finish as well as water-tight joints to prevent subfloor damage. Now, you can stop worrying about spills, splashes, and pet accidents.
SpillProtect – Water-repellent coating on the planks' edges that can stand up to deep cleaning for extra protection against spills and accidents.
Uniclic Locking Technology– Installation mechanism with tight-locking plank joints to keep out liquids for up to 24 hours for spills and pet accidents that you might miss.
CleanProtect – Provides protection for the planks for life by inhibiting bacterial growth that causes product degradation, odors, and stains. This is built into the planks and won't wear or wash off. However, take note that it is only limited to the planks' top surface.
UltraDef technology – Recreates every detail for a more authentic look.
ScratchGuard Advanced Finish Technology – Offers surface protection to prevent dulling and resist stains, scuffs, and scratches by adding aluminum crystals into the planks' top layer.
Pergo Waterproof Flooring
Pergo's WetProtect, SpillProtect, and Uniclic Locking technologies help in creating waterproof flooring up to the subfloor level. These innovations help prevent liquid from permeating into the planks' joints to protect your subfloor. This makes Pergo's planks ideal for people with kids and pets as well as for installation in wet areas.
What Is Pergo Flooring Made Of?
Since Pergo Outlast+ is the most popular flooring, for sure you might want to know what it is made of. This line is made of four major layers:
Transparent, wear-resistant top layer designed with PermaMaxTM and ScratchGuard Advanced wear layer for superior scuff and scratch resistance
High-definition design layer
Premium high-density fiberboard (HDF) cores made of recycled materials for stability and dent-resistance
Balancing layer that prevents collapsing and bowing
For Pergo vinyl flooring, their popular Extreme lines are constructed with four key layers:
Superior 20-mil wear layer with a urethane coating for extreme protection against damages
High-definition design layer with dramatic visuals
Rigid composite cores that are stronger than standard LVP
Attached cushion for enhanced stability and sound absorption
As for Pergo's hardwood products, we didn't find any information as to what they are made of aside from having a durable protective finish and tight-locking joints for extra protection.
Does Pergo Wear, Stain, & Fade Easily?
Pergo offers wear, fade, and stain-proof options depending on the product line. Lines with the WetProtect technology have a patented coating that can resist everyday wear, fading, and stains.
Does Pergo Flooring Scratch And Dent Easily?
Depending on the line, Pergo floors can offer superior dent and scratch protection compared to ordinary laminate and vinyl flooring. They use innovative top coating for maximum durability that will guard your flooring against wear, scratches, and scuffs.
But while Pergo is adamant about the durability of their floors, many customers have reported that their floors scuffed and scratched much faster than they had imagined. However, take note that not all Pergo flooring is the same.
There are specific Pergo products that offer superior durability and some will be better than others. So before you buy, make sure that you read the specifications of the product you are interested in.
Pergo Flooring Underlayment
Glue-down Pergo floors won't need an underlay. But for floating floors that require one, not all Pergo flooring comes with a built-in underlayment (like their hardwood floors) that should allow for easy installation. However, you can choose to buy Pergo gold underlayment which provides increased sound and thermal insulation as well as moisture protection.
NOTE: The durability and longevity of Pergo planks will depend on the technology used on the products. Not all planks offer the same protection and some will be more appropriate for specific applications. So if you want to ensure the longevity of your flooring, follow the requirements specified by Pergo for your flooring type to avoid complaints regarding durability.
3. Pergo Flooring Warranty, Returns, And Damage Policies
Details on warranties are very obscure and differ greatly depending on the retailer you use and the product you choose. So, if you don't want to encounter warranty issues like many people have complained about, make sure to clarify the details from where you are buying from.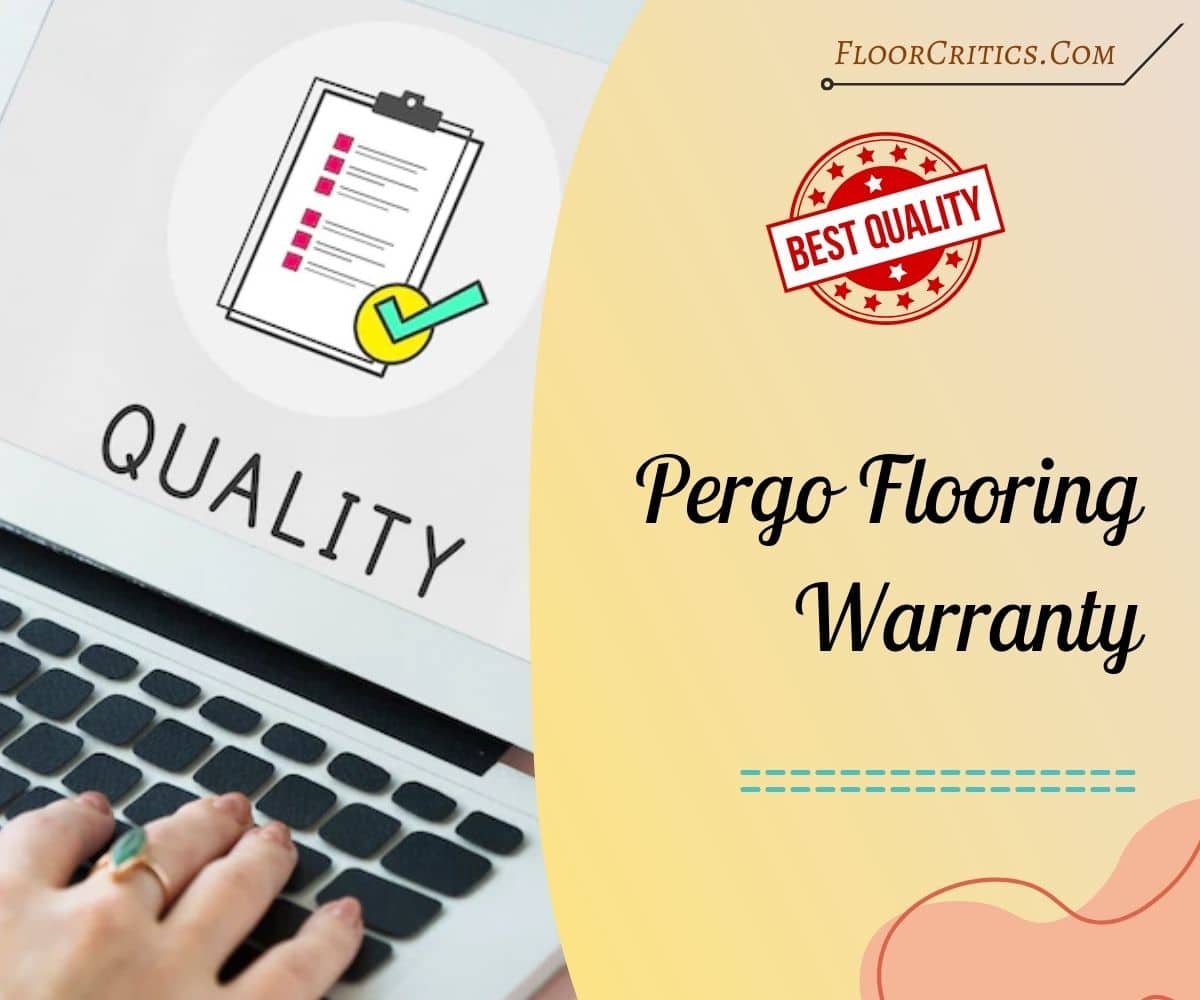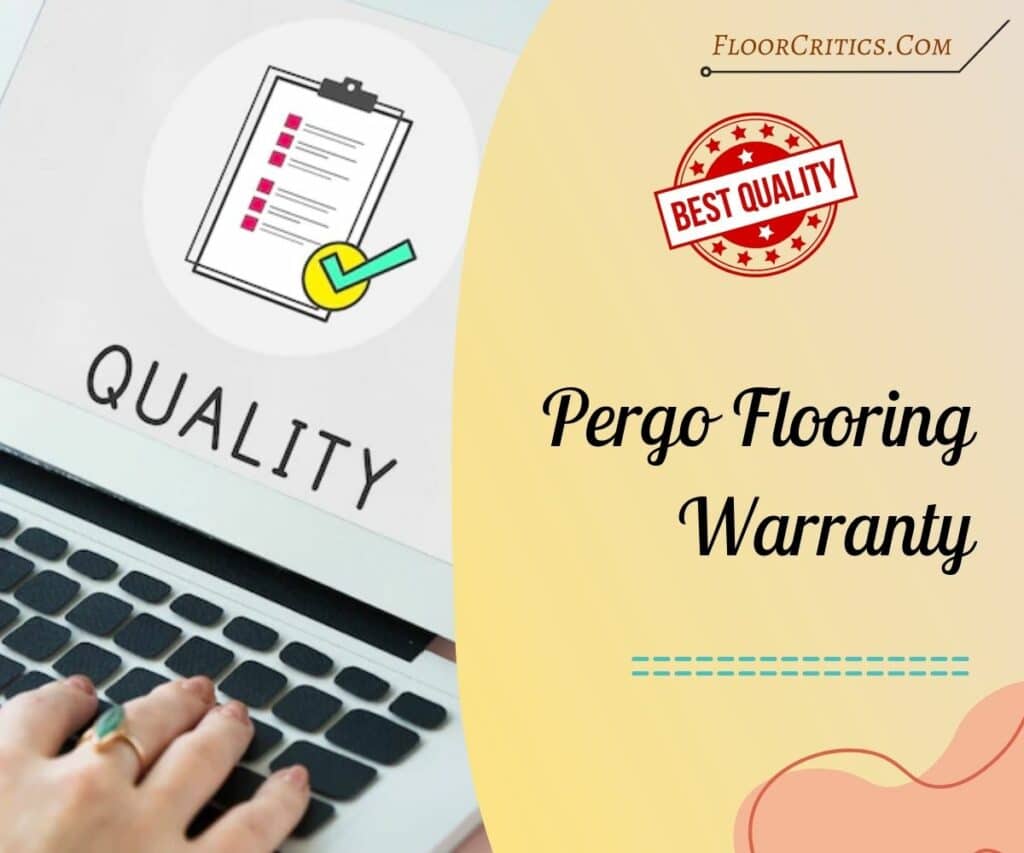 Be Aware of Pergo's Different Warranty Terms
Pergo's warranties aren't as clear cut as they claim they are on their website where they offer lifetime manufacturer warranties on most of their floors in residential installations. But in reality, depending on which product you buy and where you buy it, your warranty will be different.
If you're interested in purchasing a Pergo product, you'll need to order from a big-box retailer rather than directly from their website. They're found in most Lowe's stores and Home Depots across the country, but some smaller retailers will carry their lines, too.
Home Depot and Lowe's have different warranty levels for each of the products described above. Before buying any product from this company, I'd suggest doing your warranty research to make sure you're getting the coverage you and your lifestyle will need.
If buying from another retailer, you'll need to talk specifically with that retailer about their Pergo warranty. There's no info on the website for any other companies' warranties besides Home Depot and Lowe's.
Be acutely aware of what you're buying and make sure you're not making an investment this large without protecting yourself. You wouldn't ride a motorcycle without a helmet, so don't purchase flooring without a warranty.
What's Covered?
Take note that Pergo offers different warranty parameters for their products, so policies will also differ and the validity will be affected greatly by how you will install your flooring.
To give you an idea, below are a few warranties that Pergo may offer:
6-month manufacturing warranty
Limited Lifetime Residential Warranty
10-year light commercial warranty
Waterproof surface warranty and subfloor warranty for WetProtect lines
Scratch-resistance warranty
What's Not Covered?
Pergo will not cover any damage caused by:
Improper installation
The use of cleaning methods not approved for their flooring
Flooding, appliance leaks, mechanical failure, leaking pipes, standing water, etc.
Water under your subfloor
Also, Pergo won't cover damage during installation or shipment as well as installing products with visible manufacturing defects and re-installing the flooring.
Note: If you don't want to void your warranty, make sure to always read specific installation and care and maintenance instructions for your product thoroughly. Pergo always specifies the warranty conditions for each product to make sure that you won't have any problem with making claims in case any issue occurs.
4. Pergo Flooring Prices
Pergo snap lock flooring is priced the same and even a bit lower than the industry average flooring prices. If you choose carefully, you can get great flooring at an affordable price from Pergo. But exercise caution when making your selection.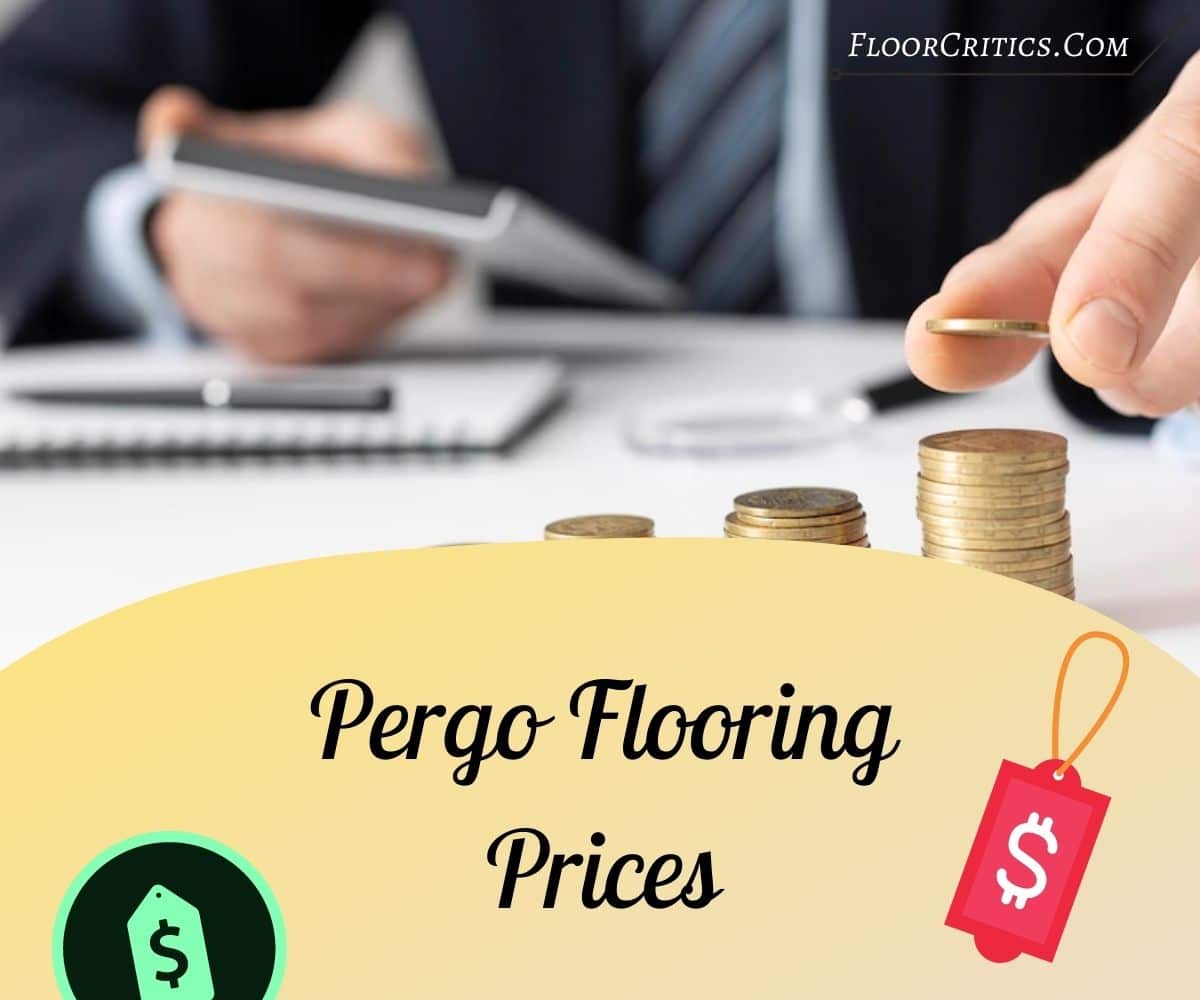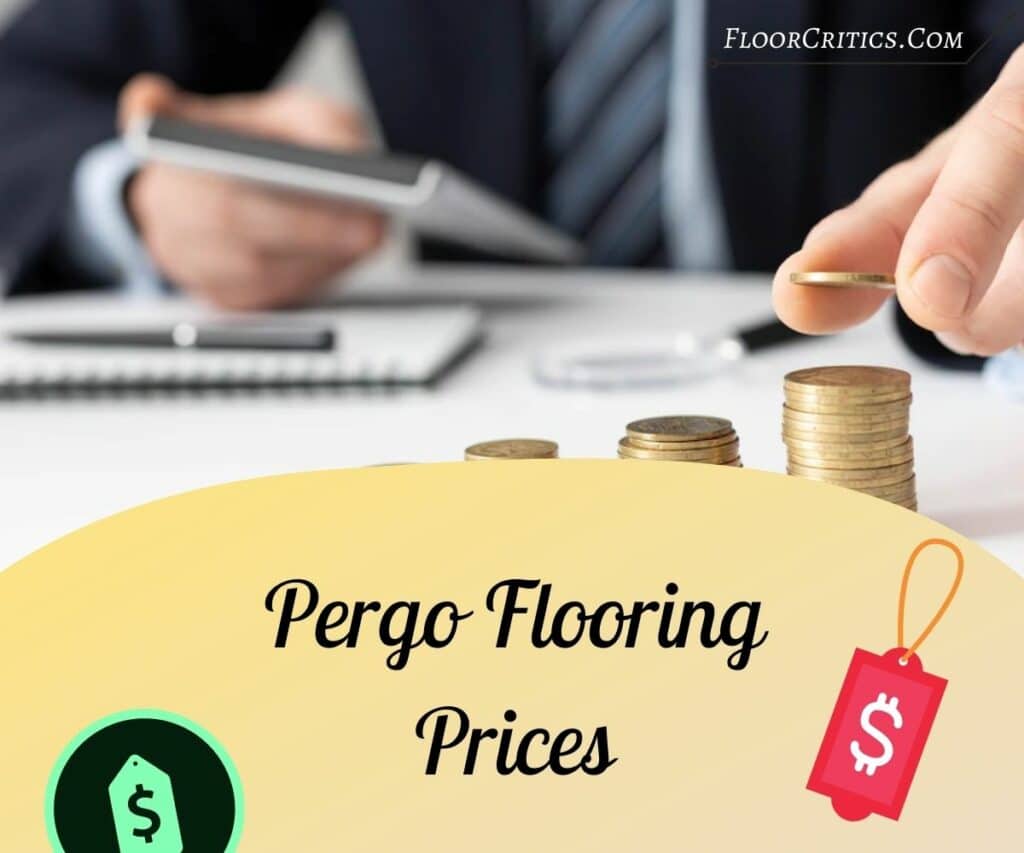 Pergo Flooring Cost: How Much Is Pergo Flooring per Square Foot?
The price point for Pergo's laminate lands in the $2.50 to $3.00 per square foot range. This puts their prices at right about the industry average which is $2.40 to $4.00 per square foot.
Pergo's LVP flooring will set you back between $4.00 and $5.00 per square foot which is at the mid to low end of the market with average prices of $3.00 to $7.00 per square foot.
As for their hardwood floors, they range from $4-$6 per square foot which falls in the low-end to the mid-range cost of engineered wood floors which is $3-$10 per square foot.
Cost of Pergo Flooring Installed
Pergo flooring installation costs will vary depending on the type of flooring you are going to install as well as room size, contractor fees, and labor costs. However, the average cost is around $3 to $22 per square foot.
5. Availability
You can find Pergo floors mostly at Lowe's and Home Depot. Although there are other independent stores that offer Pergo products, they only sell limited lines. Also, samples are not free.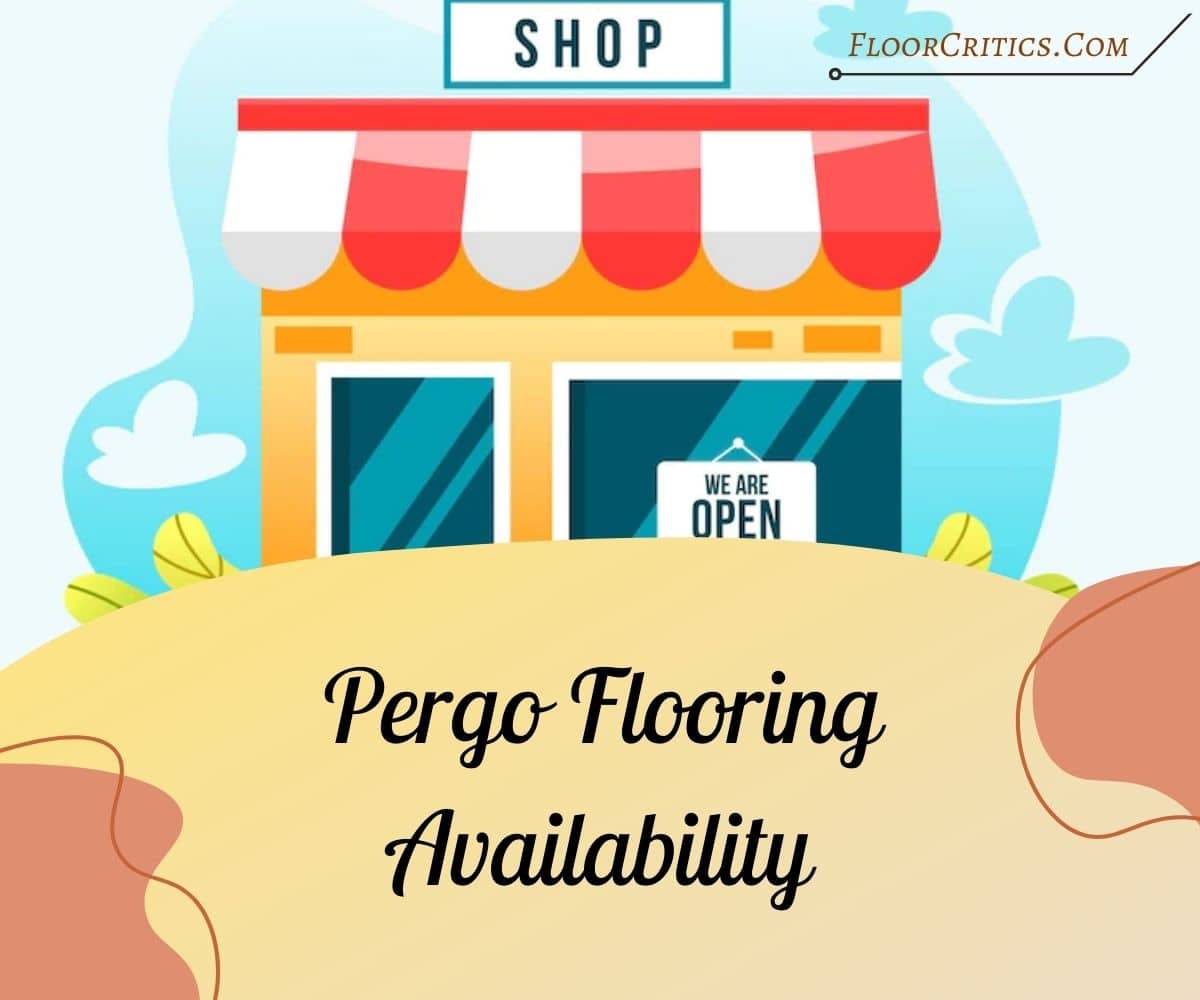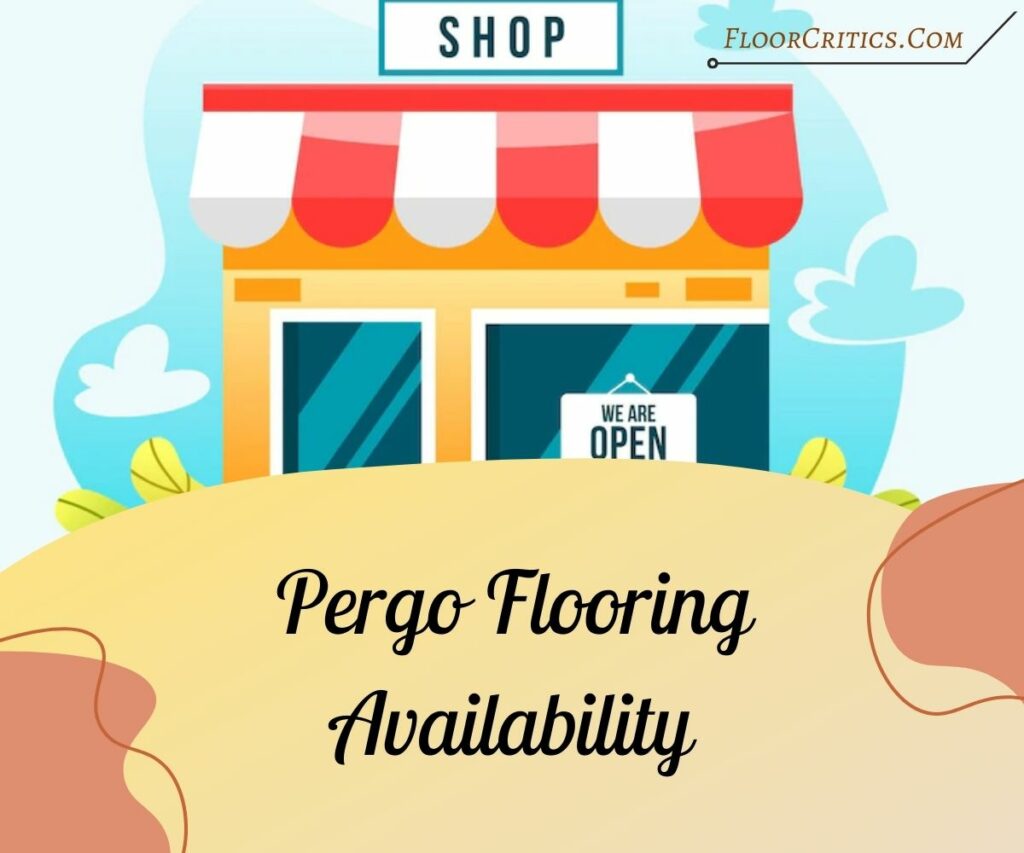 Where Can You Buy Pergo Flooring?
Pergo has a retailer finder on their website which is very convenient to use because you only need to enter your zip code and it will show you the stores near your area. Lowe's and Home Depot are the major suppliers but you can also find independent stores but the lines they offer are limited.
But what's great about their retailer finder app is that they also specify which lines each store offers. So, you won't be wasting your time going to a store just to find out that they don't offer the Pergo flooring you want.
Where to Buy Samples
Though it's not free, you can order samples through Pergo's website at $5 per sample. There's an Order Sample button under each product page.
6. Installing Pergo Flooring
Installing Pergo flooring is not as easy as the company says it is. A lot of customers have complained about how hard the planks are to install and how easily the grooves of some of their lines can break. They also have a lot of installation requirements which can be a hassle for many people. Thus, we recommend hiring a professional when installing Pergo flooring.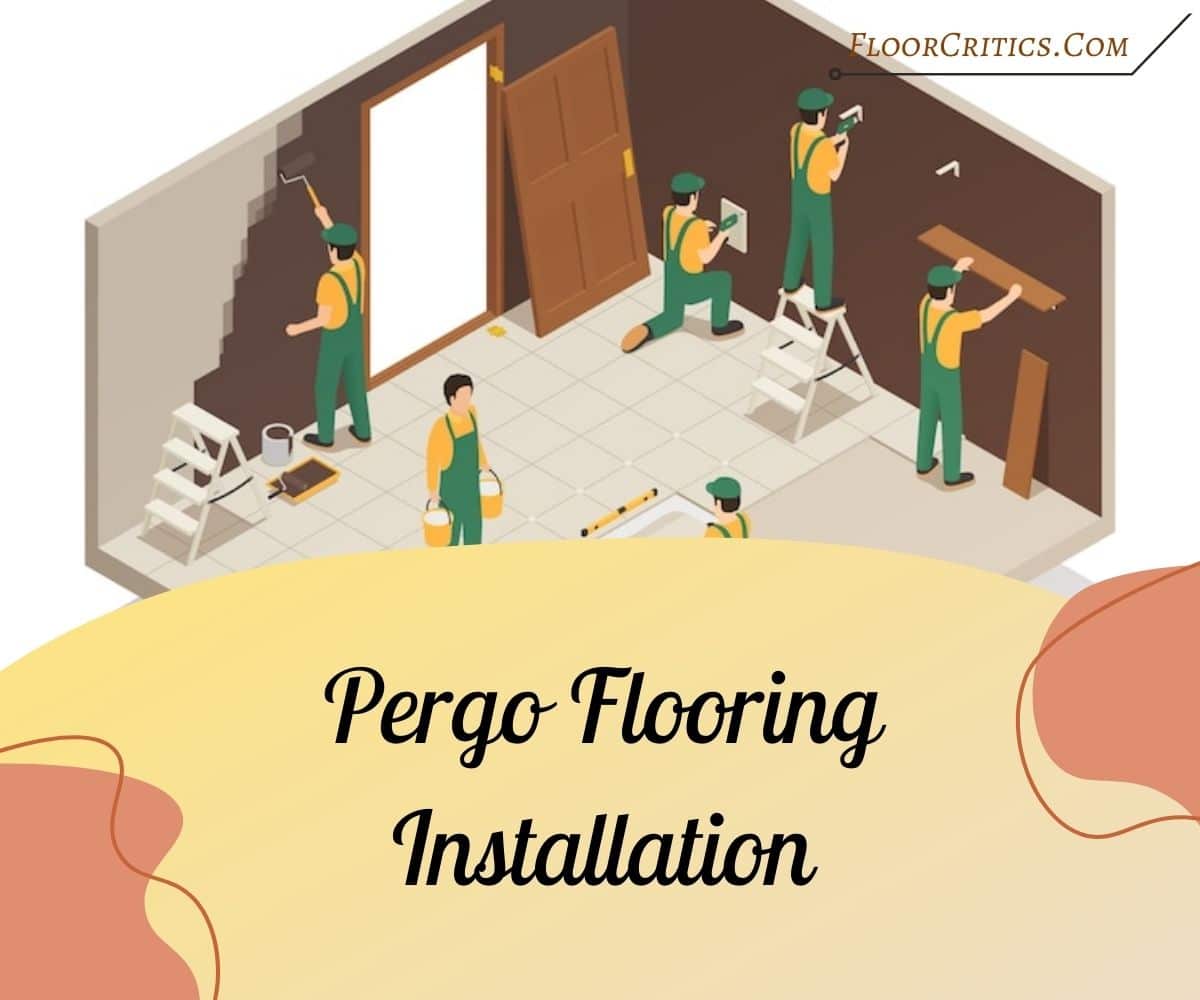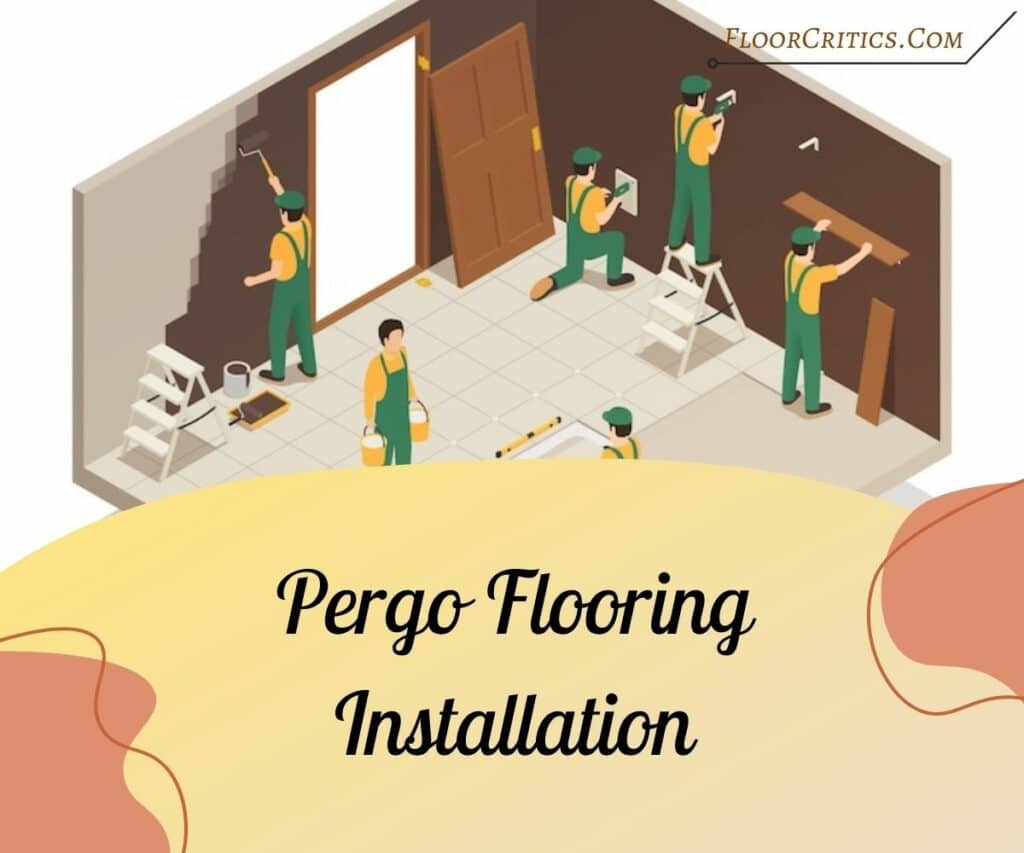 Pergo's flooring has dual-locking installation systems which they claim allows DIYers to easily install the products in a living room-size floor in one day. But again, Pergo's lines have their pros and cons and some lines can be DIY-friendly while others may not be.
For instance, while a lot of DIYers loved the easy installation of Pergo Extreme and Hardwood products, the same can't be said when installing Pergo laminate flooring. This may be because Pergo laminates still use the "old-school" four-sided locking system which even some professional installers are having a hard time installing.
Also, many customers mentioned the grooves breaking easily and chipping when installing which resulted in wasted planks. So if you don't want to take the risk of damaging your planks, better hire a professional.
Where Can You Install Pergo Floors?
You can install Pergo flooring over any flat and solid subfloor. However, do not install them in rooms with floor drains and sump pumps as well as in planes, boats, and motor homes.
In addition, you can install some Pergo lines in areas that are not climate controlled but with proper precautions. But, Pergo's engineered hardwood should only be installed in climate-controlled areas. Plus, hardwood and laminate varieties should only be installed indoors.
Also, since Pergo's engineered hardwood floors are waterproof, you can install them in moisture-prone areas like mudrooms, kitchens, or powder rooms. However, you need to use an appropriate foam backer rod or waterproof molding to ensure that your room is sealed to avoid voiding your warranty.
As for subfloors, floating floors can be installed over wood, concrete, and most vinyl or ceramic tiles. Always check specific installation instructions for your product especially when installing in wet areas as the details may vary.
How to Install Pergo Flooring
Here are the general steps on how to lay Pergo flooring:
Measure and calculate the area of your room. (Pergo provides a calculator for this.)
Buy underlayment if your flooring needs one and follow the installation instructions that came with your chosen flooring. You can also download the specific instructions for each line from Pergo's website.
Prepare the needed tools such as the following:
Tapping block
¼-inch spacers
Coordinating transitions
Vapor barrier
Moisture meter
Level
Circular saw
Utility knife
Safety items (gloves, safety glasses, knee pads, dust mask)
Prepare the subfloor. It should be clean, dry, level, and flat as well as meet all local building codes.
Acclimate the planks by stacking them up in the installation areas for at least 48 hours before installation. (Not all Pergo floors need acclimation. Follow the installation guide for your flooring.)
Perform moisture testing.
Install your flooring.
In addition, below are some installation requirements you need to know:
Relative room humidity should be between 35 and 65% and temperature ranging from 60-85°F.
You can install Pergo with floor heating systems but take note that excessive heating will damage the planks.
Spacers are needed for proper expansion space.
All floating floors need underlayment.
Moisture readings should not exceed 12%.
Below are videos from installers with pro tips that you might want to check out:
For more information about proper Pergo laminate flooring installation in general, you can check out Home Depot's guide.
How to Install Pergo Flooring on Concrete
Are you planning to install Pergo flooring in your basement which usually has a concrete base? Installing Pergo flooring (we're talking about vinyl or laminate here) over a concrete subfloor is the same as how you would normally install it on other subfloors.
The only difference is that you need to add a vapor barrier to protect your flooring from moisture coming from the porous concrete subfloor.
In addition, Pergo recommends installing their flooring over concrete only if moisture readings are below:
How to Cut Pergo Flooring
Here are tips from Pergo for cutting their flooring products:
Pro Tips When Cutting Pergo Laminate and Hardwood Planks
Always wear gloves when cutting the planks.
When using a hand saw, make a short incision first before continuing and put the saw line as close as possible to the bearing surface.
When using a table saw, a jigsaw, or a plunge saw, use a fine-tooth blade for cleaner cuts and have the saw rolling before making your cut.
Use a jigsaw to cut boards into shapes.
Use a crosscut saw, table saw, or plunger saw to cut planks to fit slanted corners or walls.
For laminates, test the direction of the saw blade's teeth first so you'll know whether to cut up or down.
Pro Tips When Cutting Pergo Vinyl Planks
Wear gloves and use a sharp concave knife to cut faster and safer. Never use a saw even when cutting shapes.
Just draw a line on where you are going to cut and firmly cut into the plank with its decor facing upward.
Make your knife as straight as possible.
Break the plank in two with the decor pointing away from you.
Use pliers for smaller cuts.
For more detailed instructions, check out Pergo's tutorial videos below:
Other Expert Installation Tips
Here are other pro installation tips we can give you:
Follow the company's installation guidelines including underlayment integrity, acclimation, and others to avoid voiding your warranty.
You might need finishing putty for blemishes and a 100% silicone sealant when installing in high-moisture areas.
The difference between the moisture readings for the subfloor and materials shouldn't be more than 4-5%.
Do not install Pergo flooring that is not recommended for high-moisture areas as this will cause cupping and expansion.
It can be hard to click the first row to the second one when installing the planks so we suggest pulling your rows off of your wall and sticking 3-4 rows together first before pushing them back to your wall with the spacers.
Sometimes planks are made at different times so they will have different patterns so better open all boxes and lay them down to create randomness.
You can find more installation tips from Pergo's tutorial videos.
7. Pergo Flooring Care & Maintenance
Cleaning and maintaining Pergo floors is pretty simple. Just make sure that you follow manufacturer instructions especially when it comes to floor cleaners to avoid voiding your warranty and damaging your flooring.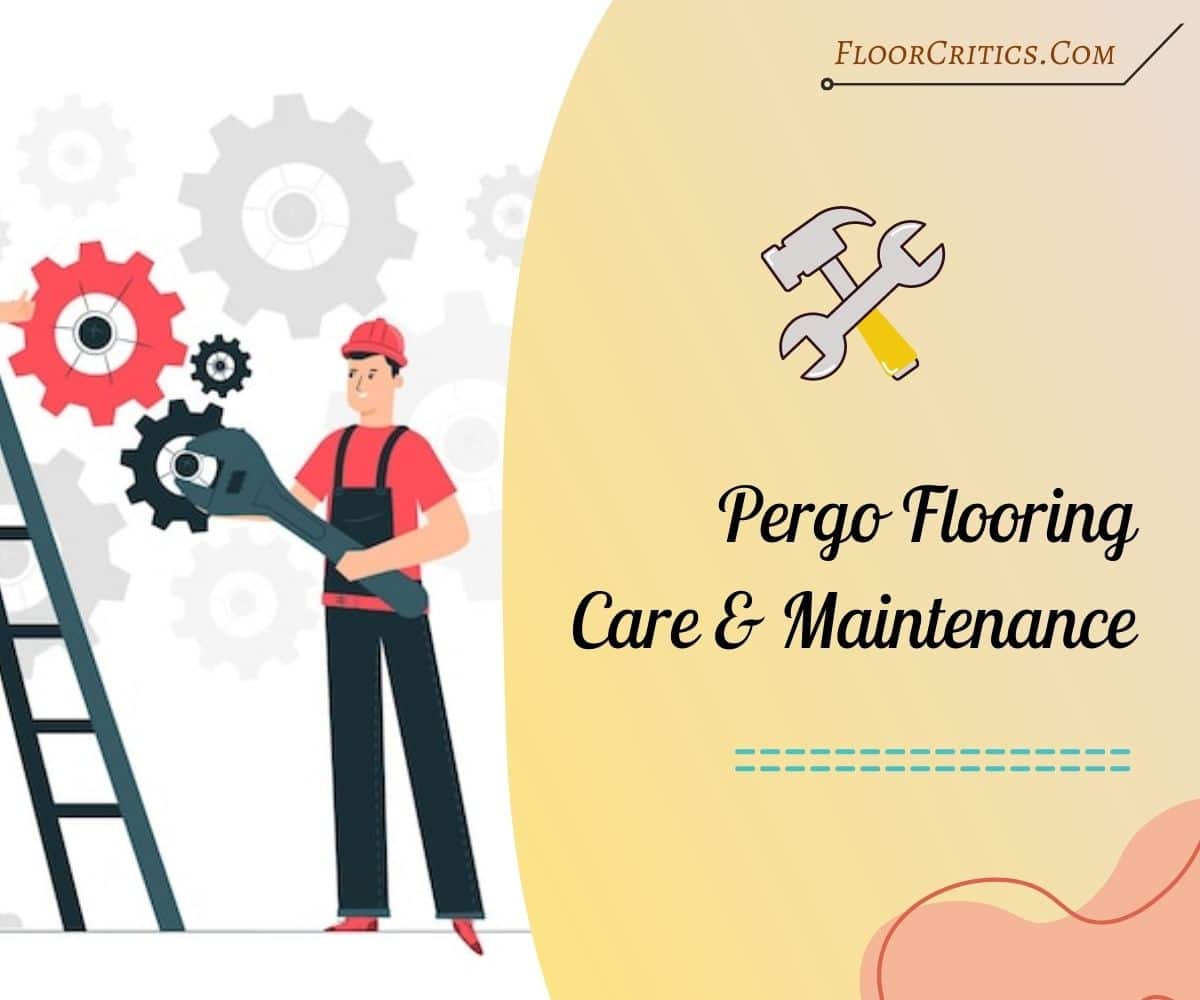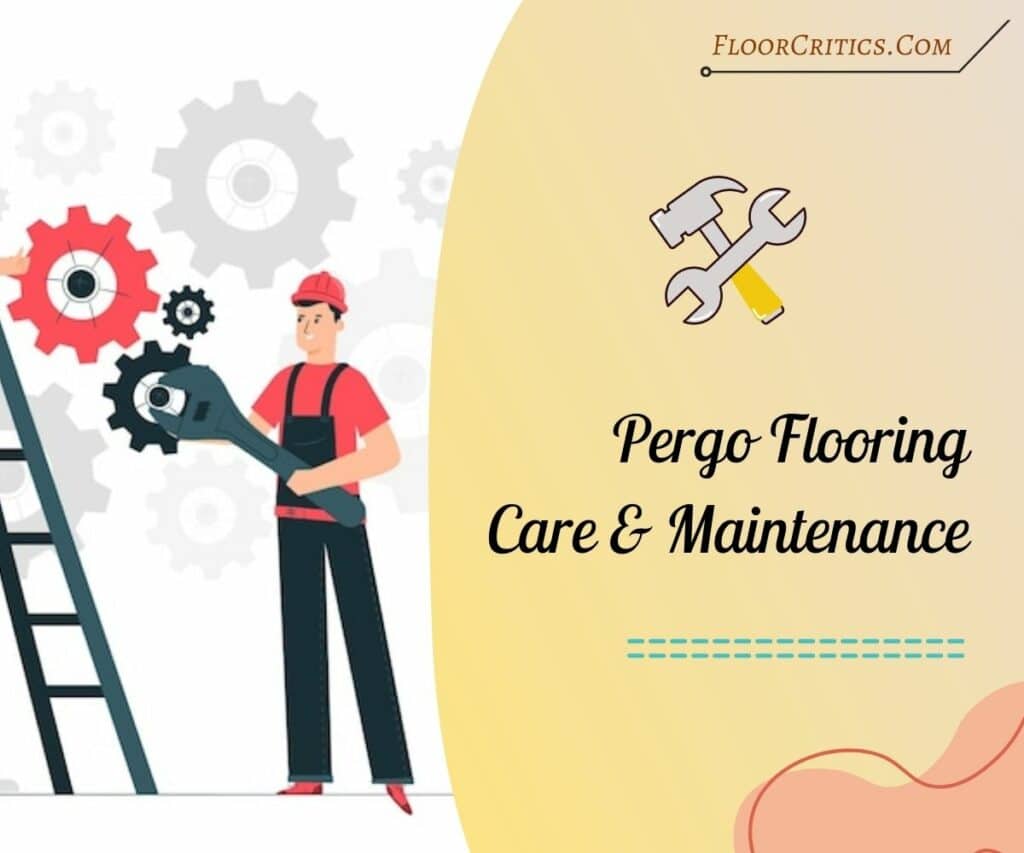 How to Clean Pergo Flooring
In addition to using a vacuum with a hard floor attachment or a dust mop to remove dust and dirt, here are general tips on how to clean Pergo's flooring types:
Cleaning Pergo Laminate Flooring
– A damp cloth mop or cotton cloth and a non-abrasive floor cleaner will suffice for deep cleaning
– Remove liquid spills and food using lukewarm water
– Use denatured alcohol or acetone nail polish remover for tough stains

The steps mentioned are also for those who are wondering how to clean Pergo Outlast flooring.
Cleaning Pergo Hardwood Flooring
– Dampen a cloth with a few drops of hydrogen peroxide to remove pet stains
– Use a mop and a hardwood floor cleaner for deeper cleaning (Do NOT apply the cleaner directly on your floor, apply it on the mop)
– You can use Shark Steam Cleaner on Pergo Defense+ and WoodCraft floors but make sure to follow specific care instructions
Cleaning Pergo Luxury Vinyl Flooring
– Avoid using soap, abrasive cleaners and cleaning agents, and cleaners containing waxes or oil
– Remove persistent stains using vinyl cleaner
– Use denatured alcohol or acetone nail polish remover for tough stains
How to Maintain Pergo Flooring
Follow the guidelines below to keep your Pergo flooring as good as new:
Place mats in doorways
Use rugs with a solid backing
Use felt covers and floor protectors as well as rubber wheels
List heavy objects when moving
In addition, below are specific guidelines for maintaining Pergo's flooring:
Pergo Laminate Floors
– Use Pergo Finishing Putty for dings and minor damages
Pergo Hardwood Floors
– Wipe up liquid messes quickly using a cotton cloth and remorse remaining residue using a damp cloth
– Repair minor damage using a kit designed for wood flooring
– Trim pet nails
– Avoid spiked shoes or heels
– Avoid excessive exposure to sunlight
Pergo Luxury Vinyl Floors
– Remove liquid and food spills immediately
– Always remove aggressive substances like staining agents and sharp objects from your floor
Pergo Floor Cleaners to Use
For hardwood floors, use cleaners recommended for hardwood floors. For laminate and luxury vinyl, use non-abrasive cleaners like a mixture of the following:
1 gallon of warm water and 1 cup of household vinegar
1 gallon of warm water and ⅓ cup of ammonia
For more information, follow Pergo's detailed cleaning care and maintenance instructions here. You can also find special care and maintenance instructions that you need to strictly follow in the installation guideline for your product.
8. Health & Environmental Safety
Pergo uses renewable materials and energy for their manufacturing processes. Aside from complying with all health and environmental standards, they also work hard to achieve other high standards voluntarily.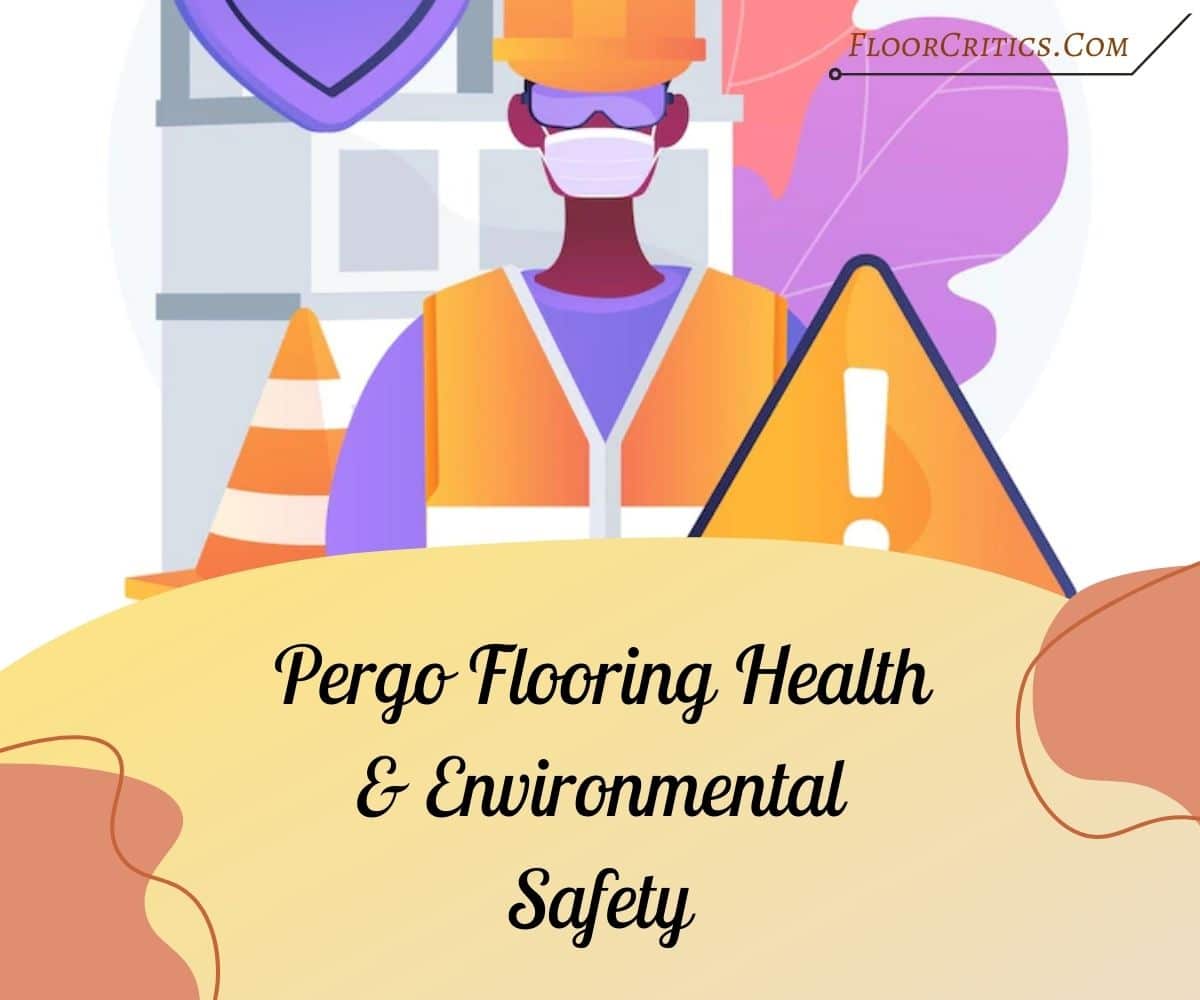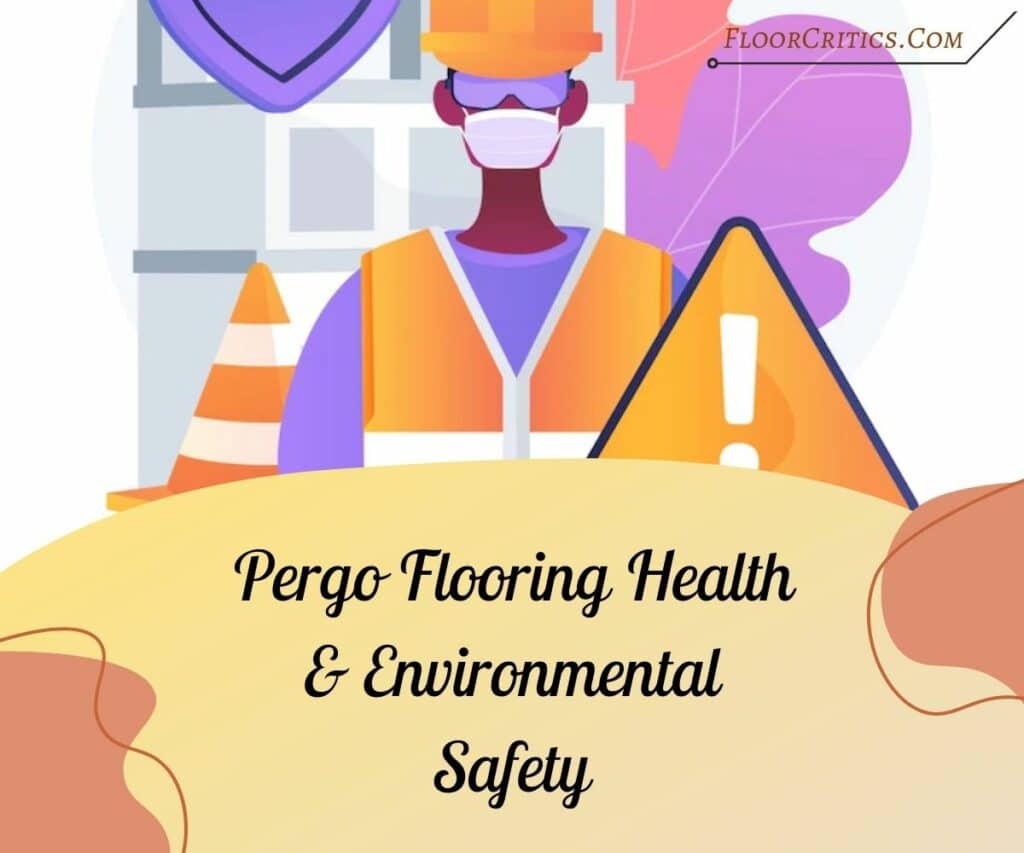 Pergo manufactures their products in-house where they can limit and control the VOC emissions of their products.
Their wooden and laminate flooring options have a negligible formaldehyde (a common compound found in flooring products) emission. They are 10 times lower than the EU standards as Pergo says. As for their vinyl flooring, no formaldehyde has been detected.
In fact, their products have achieved GREENGUARD certifications like GREENGUARD Indoor Air Quality Certified and GREENGUARD Children & Schools Certified. Pergo's products have also achieved the following ratings and labels for having low VOC emissions:
A (wood)
A+ (vinyl and laminate)
M1 (vinyl and laminate)
When it comes to sustainability, Pergo has been using renewable materials and do their best in making the most out of them as well as using green manufacturing processes:
Using entirely recovered wood
Slow-growing wood species like oak are only used in the top layers
The use of fast-growing wood species or high-density fiberboard are core layers
Creating long-lasting vinyl floors to not avoid wasting non-renewable raw materials
Using renewable energy
In addition, Pergo also has Nordic Ecolabel, EU Ecolable, EPD, and PEFC certifications.
9. Pergo Vs. The Competition – LifeProof, NuCore, Shaw, and QuickStep
While Pergo flooring is better when it comes to style variety compared to most of the competition, other brands can offer better warranties. Also, while most brands come with pre-attached underlayments, not all Pergo flooring has these.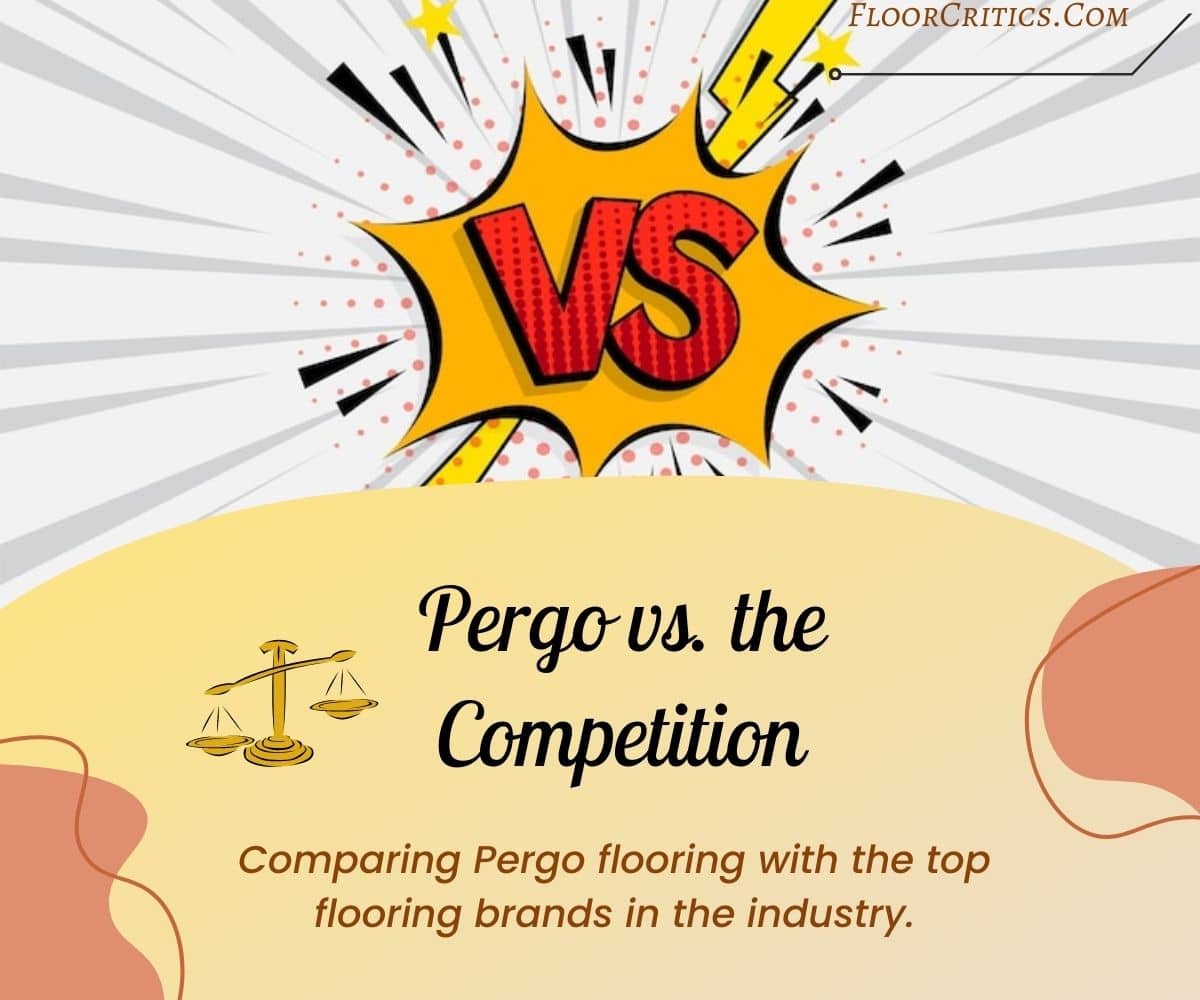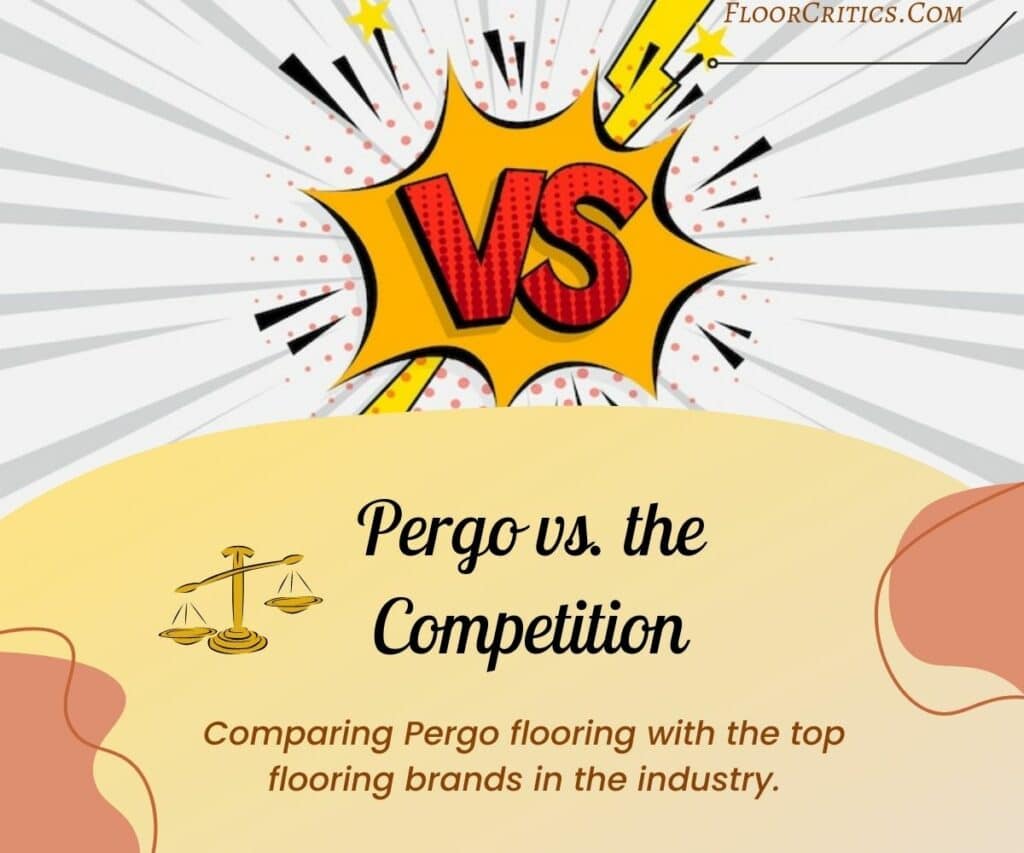 LifeProof has far fewer options but they do offer three wear layer options compared to Pergo's 20-mil vinyl planks only
LifeProof can only be bought at Home Depot stores, unlike Pergo that is also available at Lowe's and other independent stores
LifeProof is slightly cheaper than Pergo
LifeProof planks come with pre-attached underlayments while not all Pergo's planks have one
Pergo has a more impressive collection of textures and has a wider range of styles and colors
Although Pergo and NuCore are almost the same when it comes to durability and quality, Pergo would be your best pick when it comes to the availability of stocks since NuCore seems to change designs more frequently
Pergo vs. Shaw
Shaw has a larger selection of styles and colors but is more expensive
Shaw offers various warranty lengths including 3-year, 10-year, and 25-year warranties compared to Pergo's 10-year commercial warranty only
Shaw has its own flooring stores where you can buy their products while Pergo mainly sells at Home Depot and Lowe's
Shaw might be better but if you are looking for something that is more budget- and DIY-friendly, Pergo is better
Pergo offers water protection while only a few QuickStep models have these features
QuickStep has better warranties
Pergo products have a better design versatility and texture
QuickStep is more DIY-friendly
QuickStep might be better than some of Pergo products when it comes to damage resistance
QuickStep is compatible with any underlayment while Pergo has restrictions when it comes to underlayment
Pergo Flooring Reviews
With a company with as long of a history as Pergo, you're bound to find reviews that are both "print out and put on your fridge" worthy and "report the user as spam to make the review disappear" worthy.
Here's what some Pergo customers had to say about the products they purchased:
The Good
Some of Pergo's customers are over the moon with their purchases, such as these customers:
"Bullet Proof Flooring. Okay, I didn't actually shoot at my floor. We installed some Pergo American Cottage from Lowe's 10 years ago. This floor looks exactly the same as the day it was finished." – Customer from California
"My mom has had Pergo laminate in the main areas of her house for 10+ years. It has stood up to a 125-lb Rottweiler and a 65-lb pit mix. No scratches, no chips, no peeling edges." – Kris of North Carolina
In addition, Pergo's customer service seemed to satisfy customers:
"The customer service was wonderful. Very helpful… The customer service will help you find out what you're looking for within your budget and what works best for your home to ensure it lasts." – Justine of California
Also, Pergo laminate flooring reviews (specifically Pergo Outlast Laminate) earned positive reviews in general from installers when it comes to scratch and water resistance.
The Bad
Unfortunately, there are overwhelmingly more unsettling reviews than there are positive ones. Here are what some customers said about Pergo flooring on ConsumerAffairs's website:
"I purchased $6000 worth of Pergo Max hardwood flooring from Lowe's. It was professionally installed. After 1 month, the floor is so scratched that the installer recommends replacing the entire floor – the scratches cannot be fixed. No help from Pergo on this matter." – Jane of the Woodlands
"Our Pergo Max flooring is less than 4 months old and looks like it's years old. It has fine scratches apparently from sweeping it with a broom. When I mop it with a damp cloth and water only, it leaves streaks and smears and dulls." – Marilynn of Lincoln
Also, a lot of users are complaining about how hard it is to install Pergo laminate floors including Pergo Outlast like this customer:
"It is absolutely a nightmare to work with. It does not lock together easily nor stay locked. Seriously considering ripping off all the tongues and grooves and just gluing it down." – Dee of Minnesota
And here's what a flooring installer from Ohio eloquently said about Pergo's wood floors:
"Garbage in a box."
One Thing to Note…
It's hard to generalize reviews about Pergo's flooring because they offer different products. Some lines will give you exceptional performance while others might make you regret buying them. Each type of product will always have its pros and cons.
However, take note that installation also plays a big role in the overall durability and quality of your flooring. So before you purchase anything, make sure that you do your research and follow installation guidelines.
FAQs
Is Pergo Laminate Or Luxury Vinyl?
Pergo is a flooring brand, but the brand name is often used as a byword for laminate flooring, as the company invented laminate flooring back in 1977 and brought the technology to the United States in the early 1990s.

However, Pergo in fact produces both laminate and vinyl flooring as well as a variety of solid wood and engineered hardwood flooring options.

What's the Difference Between Pergo and Laminate Flooring?
Since Pergo was the one who introduced laminate flooring, the term "laminate" was often associated with them. However, Pergo doesn't have any difference from laminate flooring because Pergo flooring IS laminate. Well, they pioneered laminate but they also offer other flooring types.

But is Pergo better than other laminates? Pergo's laminate flooring is comparable with other laminate flooring options on the market in terms of cost, the range of styles available, durability, scratch resistance, and water resistance.

Is Pergo Flooring Good?
Pergo's long history in producing laminate flooring used to give them an edge in the market, but new technological developments have leveled the playing field. Today, Pergo is a mid-range laminate flooring option both in terms of price and quality.

The quality of Pergo's flooring is best described as variable. While some customers are very happy with the quality of the flooring, others complain that it started to look worn much sooner than expensive floors, and that warranty support was limited at best.

They receive an average of 2.5 stars on most review sites. Laminate flooring seems to score worse than Pergo's other flooring lines and should be purchased with caution.

Is Pergo Flooring Waterproof?
This depends on the type of product you will buy. Although Pergo laminates offer waterproof options, we recommend going for their vinyl flooring options like their Pergo Extreme if you want an entirely waterproof flooring.

Also, take note that proper installation is important to ensure that you get waterproof floors. Pergo has specified specific installation instructions including recommended sealants to guarantee that you'll get waterproof floors. Make sure to always read their installation requirements carefully to avoid any problems.

Does Pergo Flooring Scratch Easily?
All hardwood floors scratch, but laminate and vinyl plank flooring are meant to be more durable. It is described as scratch-resistant, though there is no such thing as scratch-proof. While Pergo advertises its products to offer superior scratch resistance, not all customers can say the same.

Pergo's vinyl floors seem to be more durable than their laminate options. Customers who have bought Pergo's laminate flooring have also complained that the locking edges that keep the planks in place are also easily damaged.

However, take note that this will depend on the type of Pergo product you are buying. For instance, customers and installers alike have praised the scratch-resistance of certain Pergo lines like Outlast.

Is Pergo Flooring Expensive?
Pergo flooring is affordable and sits at the mid to low end of the market in its pricing.

Pergo's laminate flooring costs between $2.50 and $3.00 per square foot. Its engineered hardwood floors cost between $2.80 and $5.00 per square foot. Their vinyl flooring lines cost between $4.00 and $5.00 per square foot.

As for the cost to install Pergo flooring, it will run at about $3 to $22 per square foot depending on the Pergo flooring type, labor costs, room size, and contractor fees.

How Long Does Pergo Laminate Flooring Last?
When cared for properly, Pergo laminate flooring should last between 15 and 25 years.

Pergo offers a limited lifetime residential warranty on their laminate flooring, and a 10-year light commercial warranty. This warranty guarantees the floor will not wear through, fade, stain, or become water damaged by wet mopping or standard spills, and that the joints will remain secure under normal use.

Do You Need Underlayment for Pergo?
Pergo states that all of their floors require an underlayment to facilitate installation and sound dampening as well as provide thermal and moisture protection. They recommend using their own Pergo Gold underlayment option.

Is Pergo Laminate Better Than Hardwood?
Hardwood flooring is still one of the most desirable flooring options on the market in terms of its aesthetics and lifespan, and as such it does a lot to add value to your home. Laminate is a more affordable alternative. But more than that, it is a better choice for some environments.

Laminate tends to be more scratch-resistant and stands up better to moisture than solid wood floors. As such, laminate is often recommended for bathrooms, basements, and high-traffic areas.
Final Thoughts
Pergo is a big-name flooring brand that produces a broad range of laminate, vinyl, and solid wood and engineered hardwood flooring. Their prices are reasonable at the mid to low range of the market, but the quality of their flooring varies.
While Pergo receives some glowing reviews online, negative experiences seem to outweigh the positive, and on most review sites they have an average star rating of 2.5 stars.
This certainly doesn't mean you shouldn't take advantage of Pergo's flooring options, just that you should purchase with care. Order samples from Pergo's website and put them to the test. Also, search online for reviews of the specific flooring you're interested in.
Have you purchased and installed a Pergo product in the past? Comment below and let us know what you think about Pergo.
Back to Top