If you have gone for Ipe decking for a drool-worthy addition to your home, you were probably told that the floor is incredibly low-maintenance. But while that is true, it doesn't mean "no-maintenance."
Keeping up with a simple cleaning and maintenance schedule can prolong the life of your boards and keep your deck looking good for years and years. It's not difficult, it's not expensive, but it is necessary.
Read on as we go through exactly what you need to do to care for your Ipe deck, both in terms of routine cleaning and annual maintenance. We'll also talk you through how you can go about refinishing your Ipe decking should the need arise, and some special consideration to bear in mind when tending to your Ipe flooring.
About Ipe Decking
Ipe (pronounced EE-pay) is a hardwood indigenous to Central and South America and is one of the hardest woods in the world. It makes long-lasting, tough flooring material ideal for both indoor and outdoor projects, which is why it is a popular choice for decking.
Ipe is a rich brown color with red and amber hues, though they can naturally fade to an attractive silver patina in the sun if left unsealed. The boards tend to have a lot of variation in color, which can make for attractive patterning, and also means that it can look less obvious if you need to replace any boards.
It has a very dense, interlocking grain, which can be either straight or wavy. The result is both attractive and slip-resistant. It is also naturally resistant to insect attack, mold, rot, fire, and decay.
In the outdoors, such as decks, Ipe flooring should last 40-75 years depending on environmental conditions.
Routine Cleaning
Sweep your deck once a week with an outdoor broom. Excess debris can cause staining or water buildup, or get caught underfoot, leaving behind unsightly scrapes and markings.
Once a month you'll need to check for proper drainage and ventilation. This is a relatively simple process.
Start by removing any outdoor furniture and toys from the surface. Don't forget to relocate the grill, as grease can splatter underneath it.
Next, inspect the crevices for leaves or pinecones gathering between the boards. If debris is building up, use a scraper or putty knife to clear it out. Instead of re-sweeping, use a shop-vac to suck up the waste.
After vacuuming, grab your garden hose and rinse the deck.
If you need to remove pollen or algae from your Ipe, clean your decks with a gentle cleaning solution. Good options include:
You can also make a cleaning solution at home that will remove these items without damaging your decking by mixing one quart of bleach into a gallon of warm water.
Use a scrubbing brush to work your preferred cleaning solution into the boards. Then rinse the entire deck again to ensure no residue seeps back into the wood. Allow the decking to dry completely before repeating the process.
Annual Maintenance
If you're letting your Ipe fade to silver, you'll only need to seal the deck upon installation. And no need to worry, the bleaching process does not affect the structural integrity of the boards. However, to keep the original coloring, you'll have to re-apply sealer annually.
When planning your project, check the weather to rule out high humidity or rain. You'll want to do this during low moisture periods. Gather your equipment ahead of time and study all guidelines and directions.
Remember to purchase an oil-based product made specifically for natural hardwood. Popular choices include walnut oil, coconut oil, and teak oil. NOTE: The treatment may change the coloring or undertones of the wood. Test it in a small area before applying it to the entire deck.
We recommend: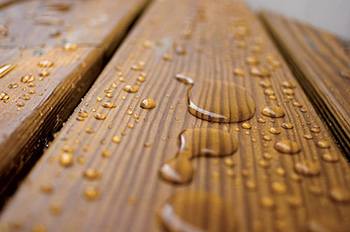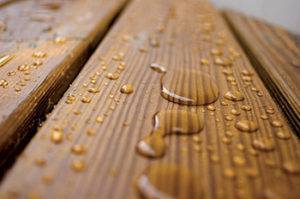 If your Ipe needs sanding, use an orbital sander and 50 grit disks. Move the sander across the boards going with the grain.
Be sure to vacuum (with your shop vac) and rinse any dust. Consider using a pre-sealer to open the wood for better penetration. You'll find these products online or at your local hardware store.
Apply the sealer with a lint-free cloth or natural bristle brush. Work with long strokes and overlap them to ensure evenness. Use a dry rag to wipe off any excess oil. Be on the lookout for drips in between the boards or along the sides.
Let the sealer dry a minimum of 24 hours before walking on your deck. Product drying times vary by manufacturer, so check the packaging. Ipe resists absorption, so always inspect the boards before assuming their dry.
Refinishing
Another reason why Ipe makes a great flooring material for decks is that it is relatively straightforward to refinish and rejuvenate.
First, if your deck has a sealer, you will want to remove the sealer using a wood stripper. We recommend Penofin Pro-Tech Wood Stripper. You can then clean the stripped wood using the same method described above.
Then, if you are dealing with deep scuffs and scrapes, or you want to remove the silvery patina color and restore the original red hues of the deck, you can sand the deck down like with any hardwood floors. You could also achieve the same using a low-level pressure washer less than 12,000 psi.
You are then free to seal your renewed wood floors, or leave them to naturally fade to silver.
If you are just looking to return silvered planks to their natural color, you might also try a wood brightener, like the Penofin Pro-Tech Wood Brightener, which neutralizes the pH balance of the deck, which in turn helps take the graying out of the deck.
Special Considerations
While Ipe maintenance is straightforward, there are a few things to consider.
The jury is out on pressure-washing your Ipe. Some experts say it's harmful, while others advise that it's okay. If you choose to pressure wash the deck, make sure the setting is no higher than 1200psi.
Take care when sanding: Ipe contains silica, so use a respirator and gloves to prevent inhaling and absorbing the dust.
Never apply sealer with a sprayer. It won't go on evenly and will result in streaks. Spreading the treatment by hand might be tedious, but you won't have a disaster afterward.

If you're unhappy with your weathered Ipe, you can sand it to its original color. Just be sure to buy the correct grit texture. Never go below 50, or you'll risk burning the wood.

Lastly, sunlight speeds up the graying process. You may notice the deck is fading in some spots and not in others. If you aren't ready to seal your Ipe, consider installing an awning to help minimize the effects.
FAQs
How Do You Clean Ipe Decking?
If you sweep your Ipe decking regularly and ensure that it is clear of debris that can stain or scratch, you shouldn't need to clean the floor very often. If you do need to clean up stains, use a mild bleach-based cleaning formula. Work the cleaner into the stain using a bristled brush (non-metal), and then thoroughly rinse away the cleaning product.

Should I Sand My Ipe Deck?
If you need to refresh your Ipe flooring, you can sand the deck down to refinish it. Due to the nature of the wood's grain, it is recommended not to use anything finer than 80-grit. After sanding, vacuum up the remaining particles. If you are planning on sealing your floor after sanding, it is recommended that you do this immediately.

Show Often Should I Oil My Ipe Deck?
If you are oiling your Ipe deck to maintain its color and protect it from UV fading, we recommend that you oil your deck annually. However, if you live somewhere where the wood is exposed to a lot of direct sunlight, you might want to do this more often. Always look out for dry periods to conduct this kind of maintenance, and make sure the oil is completely soaked in before walking on your decking.

How Long WIll Ipe Decking Last?
Depending on environmental conditions and how you care for it, Ipe decking installed outdoors should last between 40 and 75 years. However, you should expect warranty periods of around 20 years to accompany your decking, depending on the manufacturer and where you purchase.

Can I Power Wash My Ipe Decking?
It is not recommended to power wash your Ipe decking, and the pressure can damage your boards. If you do choose to power wash, it is recommended that you use a low-pressure, wide-spray setting, certainly no more than 1,200 psi.

What Are Some Alternatives To Ipe Flooring?
If you like Ipe flooring, but you are looking for something a bit different, there are a variety of alternatives available.

Garapa is just as hard as Ipe but significantly less expensive. The natural yellow color of this wood is generally considered less desirable, but it will fade to the same silver as Ipe in the sun. It is also thought to have less "character" than Ipe in its grain.

Camacru is also a nice alternative that is less expensive than Ipe, but it is also less dense and so won't have the same lifespan as Ipe.
Closing Thoughts
Ipe wood is a significant investment, but we consider it worth every penny considering the quality and attractiveness of the resulting floor. It adds significant value to your home and is also incredibly easy to maintain.
But while it is easy to maintain, that does not mean that it is maintenance-free. And, considering the amount invested in the flooring, maintenance is something you are going to want to take the time to do properly.
Maintain a simple cleaning routine, and give your deck an annual maintenance check. Ipe floors can also easily be refinished and resealed. If you are reluctant to do the job yourself, consider hiring a local handyman to do the job.
If you've installed an Ipe deck, what cleaning products do you use? Share your thoughts and advice about Ipe and other exotic hardwoods in the comments below.
Back to Top