"Do they still make linoleum flooring?" is a question I hear all the time. Linoleum, or lino as it's lovingly referred to by many, is in fact still being made and remains one of the top choices for flooring all over the world.
However, linoleum has moved on with the times, and these days you'd have a hard time picking a linoleum floor out of a lineup. Just like it was back in the day, linoleum is a relatively inexpensive flooring option that looks good—and looks good for a LONG time at that. I'm talking decades.
Linoleum is made up of ground cork dust, pine resin, sawdust, solidified linseed oil (see where it gets its name from?), and a bunch of natural materials and mineral fillers like calcium carbonate. In short, it's an eco-friendly choice, and I'm all about going green.
If you picture linoleum floors as the checkered flooring used exclusively in old school diners and old people's kitchens, allow me to introduce you to the new and improved linoleum of the 21st century. I'll teach you everything there is to know about the linoleum floors of today:
Why would anyone want that as their new floor?
It may have gone out of vogue for a while, but linoleum is back in a big way. This fun and funky floor covering got a chic makeover and is now gracing the homes and businesses of top designers and architects all over the world.
Linoleum isn't for everyone, but it has become a popular and practical design choice for the everyday homeowner.
Let's take a walk through of some pros and cons of linoleum flooring—paisley and platform shoes not required.
Linoleum Flooring Pros
1. Eco-Friendly
Linoleum stands out as one of the eco-friendliest floors on the market. This floor is made of compressed natural resins, cork dust, wood fibers, mineral pigments, and linseed oil.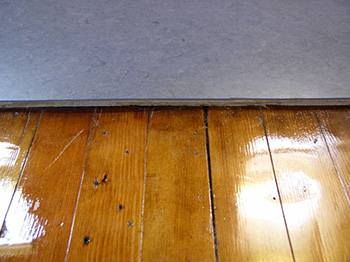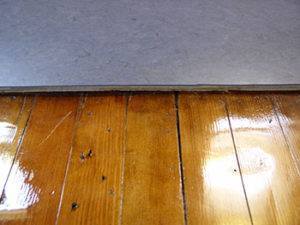 Linseed oil comes from the rapidly renewable flax seed. Yes, the same ground flax seed you put in your morning smoothie. The "lin" in linseed oil is where linoleum gets its name.
The flexible backing is typically made of woven jute or canvas and bonded with a natural latex.
It may seem strange to talk about throwing away your floor when you are in the process of buying a new one. The truth is, you will eventually grow tired of looking at it in your home and want something new.
So, it may set your mind at ease to know that it will decompose completely and not hang out in a landfill for hundreds of years. Some people have even composted their linoleum.

2. Low VOC
It would also stand to reason that this eco-friendly floor would not emit potentially harmful chemicals once installed in your home.
Linoleum is naturally low VOC, which stands for Volatile Organic Compound. Some VOCs have been found to cause respiratory health problems in vulnerable populations such as children, the elderly, and people with compromised immune systems.
You may notice a slight smell after the linoleum is first installed, but it's just the natural smell of the linseed oil and will disappear over time.

3. Water-Resistant And More
Linoleum is a true all-natural multi-tasker. It is naturally antimicrobial, fire-retardant, stain resistant, and anti-static.
It is also water-resistant. The keyword here is "resistant." This means it can still be damaged if it's exposed to excessive moisture.

4. Stylish
Linoleum comes in a rainbow of colors, patterns, textures, and styles. You can find just about anything to suit your taste or design.
Most manufacturers offer wood patterns and flecked, solid, striated, and marbled looks. You can also special order custom die-cut inlays and borders to create a unique floor that your neighbors won't have.

5. Resilient
Linoleum belongs to the resilient floor family along with vinyl and cork (in fact, here's a linoleum vs cork comparison). These floors are called resilient because they bounce back.
Linoleum is springy and soft underfoot and has a minimal self-healing property. Small dents can pop back up over time, and small cuts may become less noticeable.

6. Durable
Most manufacturers will warranty their linoleum products for 25 years. With excellent care and maintenance, your floor can last up to 40 years.
Linoleum is one of the oldest flooring types still in use today. You may have seen linoleum in your local doctor's office, school, library, hotel, or favorite store and not even realized it. The durability of this floor has made it an excellent choice in many high-traffic places over the decades.

7. Continuous Color
Unlike sheet vinyl and laminate, linoleum features continuous color all the way through. So, dents and dings are less noticeable because there is no veneer to wear through.
This is one reason it is a prized floor covering for high-traffic commercial buildings, schools, and healthcare settings.

8. Versatile
Linoleum is very versatile due to its durability, many resistances, and multitude of style options. It is well suited for your open floor plan where you want something distinctive yet that can coordinate with all your décor.
You can even have a custom linoleum monogram or logo inlay made and installed in your home entryway or office. How cool is that?

9. DIY Option
With the rise of the do-it-yourself movement, flooring brands are now creating easy-to-install products that appeal to the adventurous homeowner and seasoned professional alike.
Previously, you could only purchase linoleum in a sheet type that comes on large, heavy rolls. This stiff material is difficult to work with and best left to the pros to install.
Now, linoleum comes in tile and plank formats with a click-lock mechanism that is put together like a puzzle. This floating floor can be installed without adhesives, nails, or staples.
Linoleum Flooring Cons
1. Maintenance
Traditional linoleum is a high-maintenance floor. To look its best and maintain durability, it requires frequent waxing and polishing and needs to be stripped every so often. The frequency depends on foot traffic and cleaning schedule.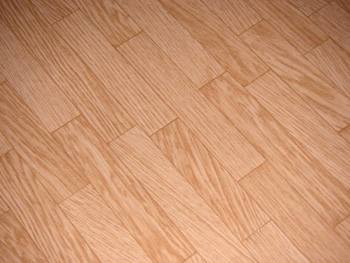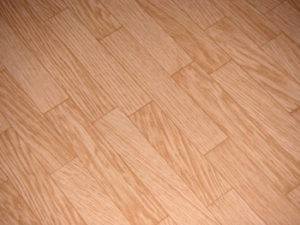 For example, linoleum in an entry hall of a busy home will require more sweeping and wet mopping and will lose its luster faster than it would in a bedroom or home office.
How will you know it's time to strip and re-wax? It will be obvious when it's time. The floor will look scuffed, dull, and dingy and grime will seem to stick to it.
Keep in mind that stripping, waxing, and polishing is a time-consuming process. This can be a deal-breaker if you can barely find the time to sweep and mop.
However, most manufacturers are now offering pre-finished linoleum that eliminates the need for stripping and polishing. The finish can be restored with a light buffing. Again, this is still more maintenance than other wash-and-go flooring options such as vinyl.

2. Discoloration
Natural discoloration called "ambering" is a common issue with linoleum floors. It is a yellowing or darkening of the floor caused by the linseed oil rising to the surface. Laying rugs or large heavy furniture on the floor or uneven exposure to sunlight can cause ambering and leave a discolored footprint of the item.
Avoid using chemicals or cleaners to try to reverse the process, as they will only make it worse. You may be able to remove the items from the area and open the curtains to allow the floor to amber more evenly, but this is not guaranteed.
It's important to note that ambering is a natural property of linoleum and is not a manufacturer defect, therefore it will not be covered under your floor's warranty.
Factory-finished linoleum typically has a UV-resistant coating, but this will not keep it from discoloring completely.

3. Not Waterproof
It's very important you understand the difference between a floor that is "water-resistant" and one that is "waterproof." These words are not interchangeable.
Linoleum falls into the water-resistant category. It can be wet mopped, but avoid letting water sit on it for long periods of time or exposing it to excessive moisture from steam.
Linoleum is a popular choice for kitchens, baths, laundry rooms, and entries. However, an appliance or plumbing leak will damage your linoleum beyond repair.
If you have children who can't seem to keep the water in the tub during bath time or prefer to hide their spilled juice instead of telling you about it, you may want to reconsider your flooring choice.
If you do plan on installing linoleum in a wet area, opt for a sheet linoleum. With this type, it is more difficult for moisture to penetrate it if the finish is maintained.

4. Not Pet-Friendly
Linoleum is easy to clean, but it is also a softer floor. This is not an ideal floor for large dogs. Heavy paws and claws can scratch and gouge your floor in a way that can't be repaired.
Untrimmed cat nails can create many little surface scratches that will make your floor look worn and dull. At worst, some cats find pleasure in using your linoleum floor as a scratching post because it's easy to dig their claws into.
In addition, a pet accident left unattended can damage the finish. This can sometimes be repaired on a wax and polish type of linoleum floor by cleaning with a bio-enzymatic cleaner before stripping and polishing the floor.

5. Challenging Installation
Linoleum is sold in a traditional sheet-type, glue-down tile as well as a click-together plank or tile.
Sheet linoleum is a difficult install and best left to the professionals. It requires special tools, and quality seams can be difficult to achieve even for a seasoned professional.
Intrepid DIYers can find success in a click-together or glue-down tile installation with minimal tools and expertise. However, several factors such as notching corners and undercutting door jambs may still make this an install best left to the pros.

6. Cost
Linoleum is a fantastic flooring, but it comes at a price. The cost is one of the major reasons that sheet vinyl has gained in popularity over the years and has overshadowed linoleum as a top flooring choice.
The cost to produce the material as well as the increased labor price can make this flooring option cost-prohibitive to the budget buyer.
How To Find A High-Quality Linoleum Floor
With all the options out there, finding a high-quality linoleum floor can seem overwhelming but doesn't have to be. Here are a few tips to make things easier while you are navigating the linoleum-buying process.
The more homework you do, the less pressured the buying process is going to feel. So, when you walk into the showroom already having a good idea what you want, you can go right to picking out samples to take home.
With this tactic, you can also avoid unnecessary sales pitches and use that valuable time to ask your salesperson specific questions about the product.
Otherwise, some people may be more than happy to steer you toward the most expensive linoleum in the showroom. With any flooring, cost can be a good indicator, but a high price tag doesn't always mean high quality.
A high-quality sheet or tile linoleum will have 2.0 mm or more in thickness and feature a durable jute backing. On the other hand, a high-quality linoleum click plank will have an 8 mm or more HDF core with a 2.0 mm layer of linoleum bonded on top and an attached 2 mm cork underlayment.
One great benefit of linoleum is that quality doesn't vary as widely across brands like other types of flooring (see engineered hardwood, solid wood, bamboo, vinyl, porcelain tile, ceramic tile, etc). There are strict guidelines in place that determine what can and cannot be called linoleum based on the types and quantities of raw materials used.
Durability: What To Look Out For
As with any floor, if it seems to be too good to be true, it probably is.
With some companies now operating on the Internet, it's easy to buy something that isn't as described and is not so easy or even impossible to return.
Sure, it may be more of a hassle to visit a flooring showroom or home improvement store, but being able to see and feel the product can mean the difference between spending your money on a floor you'll love versus one you'll regret.
With a flooring sample in hand, you will generally be able to tell the difference between a durable product and one that will just fall apart.
For maximum durability, look for a thicker linoleum. The added heft will provide more dimensional stability to resist humidity changes and will wear longer.
Also, it's helpful to choose a pre-finished linoleum that features a stain- and UV-resistant coating that is applied in the factory. This durable finish will keep your floor looking better longer and require less maintenance over time.
Linoleum Brand Reviews
Many flooring manufacturers that once made linoleum have since stopped production in favor of making less expensive and increasingly popular vinyl products. As a result, there are now only a handful of linoleum brands.
On the bright side, this may make your brand decision-making that much easier.
Who knows? Maybe with the rise of the eco-friendly building trend, more companies will choose to make linoleum again or with new innovations.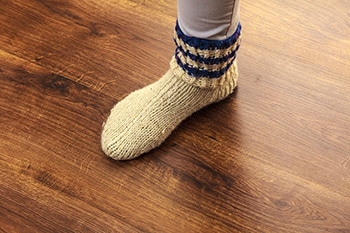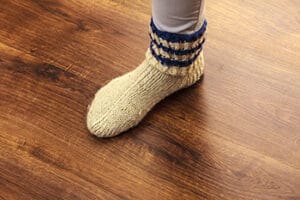 Forbo Marmoleum
Perhaps one of the most well-known linoleum brands is Forbo. They are the creators of their proprietary product called Marmoleum. It's important to note that Marmoleum is still just linoleum, but you will often hear these names used interchangeably.
Forbo boasts an impressive range of linoleum products in their catalog. You will find traditional sheet goods, glue-down modular tile, commercial-rated linoleum, artistic custom inlays, and click-together tiles and planks.
With a whopping 300 options to choose from, they have one of the largest color and pattern selections on the market.
If you are specifically looking for a DIY linoleum floor, consider Forbo's Marmoleum Click. This floating floor system goes together without adhesives or fasteners, much like a laminate or vinyl plank floor. The drop-lock format provides a quick and easy installation.
Linoleum itself is already a great acoustic insulator, but when installed with Forbo's underlayment, this floor will provide noise reduction down to 21Db.
All Forbo's products, whether sheet, tile, or click, feature their proprietary Topshield finish that adds an added layer of UV, wear, and moisture resistance.
Expect to pay a little more on average for this UK brand due to their high-quality linoleum, variety, and specialty items.

Johnsonite Harmoneum XF
Tarkett's subsidiary Johnsonite is perhaps better known for their vinyl products, but when it comes to linoleum, this company is no slouch. Johnsonite Harmoneum XF was the first linoleum to be Cradle to Cradle certified, using 94% raw natural materials. That's about as sustainable and eco-friendly as a floor can get.
A product worth noting is the Harmoneum XF Veneto Acoustiflor. This product was designed for large buildings for noise reduction. It features a 1.3 mm polyurethane underlayer, a urethane-ceramic wear layer, and is durable enough for rolling loads up to 5000psi and heavy foot traffic—think hospitality or healthcare applications.
Perhaps the only downside to Johnsonite Harmoneum XF is the limited color range and lack of custom options. The largest is the Veneto collection with 62 marbled colors. Their other collections have even fewer options.
However, if you are looking for something more budget-friendly, the Harmoneum Etrusco collection has a limited color range but doesn't sacrifice durability.

Armstrong LinoArt
Armstrong caters more toward commercial customers, but their products are also well-suited for residential applications. Their linoleum products are specified by architects worldwide and are known for high-quality durable floor coverings.
Armstrong LinoArt has a small color range and four patterns including solid, marbled, linear, and flecked. Lino Art is available in glue-down tile and sheet formats with no click-together option.
All LinoArt products are finished with Armstrong's NATURCote high-performance coating that is stain-, soil-, and wear-resistant. It is also specially formulated to withstand damage from alcohol-based sanitizers.
The LinoArt Granette tile is most often seen on classroom floors and hallways. However, many designers and homeowners have co-opted this trend to create punchy and whimsical flooring designs for homes. This modular tile comes in three sizes and 24 high-impact colors, so you can create a budget-friendly and durable custom flooring design.

Nova Distinctive Floors – Linoleum Floating Floor
Nova flooring is a smaller boutique brand with dealers located throughout the United States and Canada.
They offer a click-together linoleum in a square or rectangle size and in a handful of rich colors in monochromatic marbled patterns.
With what Nova lacks in options, they make up for in a high level of quality. Their linoleum floating floor features a 7mm HDF core with a deep channel angle lock for a tight fit and an attached cork underlayment for superior noise reduction.
Nova stands behind this product and offers a 20-year residential and 10-year commercial warranty.
Cost Expectations
It's no secret that linoleum isn't the most budget-friendly floor out there.
Linoleum is an investment floor or a floor that you plan to spend more money on because it lasts longer. People typically choose linoleum for their long-term home.
Expect to spend on average $2.50–$3.50 per square foot for sheet linoleum and modular tile. Click-together linoleum planks cost $4–$6 per square foot on average.
Where it starts to get expensive is when you factor in sundries such as adhesives, underlayment, floor patch, and trims.
You can't use just any multi-purpose glue for your sheet linoleum or modular tile. If you don't use a manufacturer-recommended adhesive, you run the risk of voiding your warranty and ruining your new linoleum. These specialty adhesives can run anywhere from $25–$50 per gallon.
A high-quality floor patch won't break the bank, but it is a necessary extra expense. Expect to pay $20–$30 for a 5-lb bag.
Trims and transition strips are difficult items to estimate because the type and cost needed vary from job to job. To give you an idea of this range, we could say that for a small area and a few transitions it would run $40–$75, and upwards of $200–$400 for a whole home.
Also note that flooring stores rarely stock linoleum. It is a specialty item, and you will often have to do a special order to get it. Depending on freight charges to your area, the shipping for this bulky and heavy item can get expensive. Sometimes, shipping alone can cost up to $2 per square foot.
Then there's the installation cost. Linoleum sheet installation is tricky and requires skill that goes beyond what most floor pros do to install other sheet goods.
You can expect to pay around $4–$5 per square foot to lay the linoleum. Modular tile and click linoleum typically cost a little less to install on average. You will also want to add a few more dollars per square foot if you need your existing floor removed, require heavy subfloor prep, subfloor replacement or removal, and reinstallation of your base moldings.
If you are handy and want to tackle the glue-down tile or click-plank linoleum options, you can save a lot of money by doing the install yourself.
A few handy linoleum tools to have on hand include: a speed square, scribe, utility knife, floor scraper, tape measure, flat trowel, hammer, notched trowel, chalk line, chisel, and a small pry bar. For a click linoleum, you will also need a circular saw, tapping block, wedge spacers, and a rubber mallet.
A flooring roller is also needed for sheet goods, and many home improvement stores rent them in their tool rental department. Otherwise, purchasing one can be a couple hundred dollars.
If you've survived the sticker shock and decided that linoleum is your must-have floor, let's talk about installation.
General Linoleum Installation Tips And Tricks
Remember to remove base moldings and undercut door jambs if needed. Check for height differences between your new floor and floors in the adjoining rooms.
This way, you can order necessary transition strips ahead of time or install an additional plywood layer to make up for height differences that are too much for a regular reducer trim. There is nothing more frustrating than completing your floor and realizing you have no way to transition it to the other rooms.
Always perform a moisture test to make sure your subfloor's relative humidity or RH is within recommended guidelines.
Linoleum is thick and stiff. Make sure to acclimate the product and adhesive in the area between 65–80 degrees Fahrenheit for 48 hours ahead of time and maintain this temperature during the install. This will make it much easier to work with.
Prep, prep, prep. Linoleum is not the most forgiving material, and subfloor imperfections can telegraph through, become more visible over time, and make your new floor wear down faster.
Sand your subfloor if needed and use a high-quality patching compound to make your substrate smooth and flat. Fill any screw holes, gaps, and ridges. With proper preparation, your linoleum almost lays itself.
It can be helpful to have a sample piece of linoleum to lay over areas you have prepped. It will show you which areas need more attention as you go. Always remember that linoleum tile and planks are much easier to install than sheet linoleum, but they are more difficult to find and the available selection is generally limited.

Linoleum Sheet Installation Tips
Always do a dry layout. Without adhesives, lay out your linoleum and figure out which way you are going to run your pattern and account for seams. If you have fixtures to cut around such as a toilet or pedestal sink, it's helpful to make a template.
Linoleum expands and contracts like other resilient floors. So, you'll want to leave a small expansion area around the perimeter, free of adhesive, and not place the edge right against the wall. Your base molding will cover this gap.
This is also true of joining seams. Placing seams too tightly can create a ridge or bubble as the floor expands and contracts with temperature and humidity changes.
Using a scribe, you will need to double cut the edge at a 45-degree angle with the adjoining piece overlapped underneath. Working slowly, cut through both the linoleum and the jute backing. This is the trickiest part of the installation because a cutting error can ruin the whole piece.
To heat weld or not to heat weld? This is entirely up to you. Heat welding the seams is required in commercial settings, but in the home it is largely considered overkill.
Some people swear by heat welding seams in a residential bathroom or kitchen to keep moisture out of the seams. If this is something you want, it is a process best left to a professional.

Linoleum Modular Tile Installation Tips
You install linoleum modular tile similarly to vinyl composition tile or VCT. It is easier to install than sheet linoleum and more suitable for DIY.
Again, a dry layout is helpful here. Start from the center of the room and work your way to the walls. Make sure you evenly place your tiles to avoid tiny cut pieces near the walls that not only look strange but tend to lift or create a ridge.
No double cutting is necessary at the joints. These tiles are butted against one another. Make sure your joints are straight and the tile pattern is facing the correct way as you go.
Don't underestimate the power of the trowel. Always use the correct size notched trowel when working with flooring adhesives. This can mean the difference between a lumpy floor that never dries and a smooth floor that's ready to walk on in a day or two.
With both sheet and tile linoleum, don't skip the floor roller. Follow the manufacturer's recommendation for floor roller weight and adhesive setup time. Rolling the floor gets rid of air bubbles and ensures proper adhesion.

Linoleum Click-Together Plank Installation Tips
Linoleum click planks and tiles are by far the easiest to install of the three formats. There are no adhesives or fasteners needed to create a beautiful floating floor. No adhesive also means that it's ready for foot traffic immediately after install.
You can install linoleum click flooring on top of any clean, dry, firm, and even subfloor. It may go without saying, but do not attempt to install it over carpet (in fact, here's a linoleum vs carpet comparison).
If you are installing on top of concrete, you should use a thin plastic sheet or roll-on type vapor barrier to protect your floor from the effects of moisture.
Prep is always necessary, but not as crucial with floating linoleum flooring. The thick HDF core keeps subfloor imperfections from telegraphing through. However, large lumps and uneven spots can cause the joints to peak or valley, which could make the click tabs break and separate.
For planks and tiles, always purchase 10–20% more flooring than your net square footage. This will allow for cuts, waste, and cull.
Work from 4–5 boxes at a time to minimize any shade variances or natural ambering.
Linoleum click is designed to be a drop and lock installation, although sometimes the planks don't want to join completely. Try not to force it, and use a gentle tap with a tapping block and rubber mallet.
With all these installation formats, it's always smart to sweep or vacuum your new floor clean immediately after the installation is complete. This keeps any construction dust from becoming like sandpaper underfoot and ruining the finish.
After a thorough dust removal, mop, polish, or seal the floor per the manufacturer's instructions.
Now bask in that new floor shine.
Tips For Hiring A Pro Installer
Does linoleum installation sound too tough to tackle on your own? Maybe you have odd-shaped rooms or notched areas. Save yourself the headache of a botched flooring job and hire a licensed linoleum professional.
Let's make one thing abundantly clear: not all flooring pros do linoleum. So, it's important to ask and communicate that you want linoleum–not sheet vinyl but actual linoleum.
We have already discussed here that linoleum is tricky to install. It takes patience and practice to get it right.
When hiring a pro, you can ask them how much linoleum they have installed. Do they have pictures or a portfolio you can see? If not, have they recently completed any linoleum installation certification courses offered through a manufacturer or company specific contractor training?
You may be tempted to get as many quotes as possible and then choose the lowest one. This will only waste your and the professionals' time. It will also waste your money if you must pay for an estimate.
Here's what to do instead.
Get three quotes, maybe four. Ask lots of questions when you meet with the pro and get a feel for the company and the way they do business.
It's a huge red flag if the contractor is rude, condescending, or doesn't answer your questions. If this is what they are like during the selling process, imagine how they will act if you have an issue with the work they performed and need to file a claim.
It's not always smart to go with the lowest bid. There's often a reason they are cheaper than the other guys. Unfortunately, there are companies out there that don't pay their installers enough to care and do a good job.
It never hurts to read reviews online before accepting a bid. You can also check with your state's contractor licensing board to make sure your pro's licensing is current and people have not brought claims against them.
When you do find that amazing professional, treat them like gold. If they do a great job, make sure to leave them a good review and refer them to your friends. They will truly appreciate it.
FAQs
What Is The Difference Between Linoleum And Vinyl Flooring?
As you'll have learned in today's article, there are a number of differences between linoleum and vinyl flooring, though they may look similar at a glance. Linoleum's color goes all the way through, and vinyl is cheaper to purchase, but the biggest difference lies in the materials used to create them.

Vinyl flooring is made up of PVC and additives whereas natural linoleum flooring is made up of natural substances such as pine resin, solidified linseed oil, wood flour, ground cork dust, and mineral fillers.

Linoleum is also significantly more durable and will last longer, but vinyl takes the cake when it comes to ease of installation. Both flooring types are easy to care for and maintain.

Is Linoleum Flooring Good For Bathrooms?
Since linoleum flooring is water-resistant and not waterproof, manufacturers of this type of flooring will agree that it's not the first choice for bathrooms. Naturally, bathrooms tend to see a lot of aqua action and the moisture that results is likely to cause contraction and expansion.

Remember that common 25-year warranty I mentioned earlier? Some manufacturers will void that warranty completely when linoleum is installed in bathrooms against their recommendations.

Consider options such as tile, engineered hardwood, or waterproof vinyl flooring when looking for the best flooring types for bathrooms. These flooring types are built to withstand the demands a bathroom typically brings with it.

Why Is Linoleum Bad?
Linoleum is not bad, not by any stretch of the imagination. Short of the cons highlighted in today's article (being maintenance, discoloration, installation, cost, not waterproof, and not pet-friendly) the only "bad" aspect of this flooring is that if maintenance is skipped, you're missing out on its potential longevity and instead signing up for curled edges.

It's also important to remember that, because it is largely made up of natural materials, you should avoid using harsh chemical cleaners—although you should be avoiding those in general—as the ingredients in them may cause the materials to break down faster.

But as you can tell from the pros and cons I shared with you right at the beginning of this article, the "good" side to linoleum far outweighs the outlined negatives. As long as you look after linoleum flooring, linoleum flooring will look after you.

Is It Easy To Replace Linoleum Flooring?
No, it's not at all easy to replace linoleum flooring. Provided you know what you are doing or hire a professional, it can be relatively straightforward to replace linoleum flooring when the time comes, but other flooring types are much easier to replace.

The process varies slightly according to whether you plan on replacing the flooring with new high-end linoleum flooring, using whatever subflooring is under the lino, or opting for a new type of flooring altogether.

When it comes to subfloors, there's a lot of scraping, stripping, and sometimes even sawing involved, and the removal process can call for a fair amount of elbow grease.

What Is The Best Linoleum Flooring?
The answer to this question largely depends on what you're looking for. Do you want high-end linoleum flooring or are you working with a tight budget? Are you looking for sheet, tile, or plank? How thick do you need the linoleum to be? All of these factors could determine what makes an option the "best."

As far as I'm concerned, the brands I mentioned earlier on (Nova, Forbo, Armstrong and Tarkett) are the best of the best. They're the industry leaders for a reason, many of which I shared with you today.

What Is Floating Linoleum Flooring?
Contrary to popular belief, floating linoleum flooring is not a type of linoleum but rather a method of installation. To float a linoleum floor means to lay it down without securing it to the subfloor below using adhesive glue.

Much like the case with floating luxury vinyl flooring, this is a great installation method for those who are short on time or on money for installation. However, for a super secure installation, it's recommended that you use glue to lay the floors.

Even though floating installation is much easier and takes far less time, I always recommend opting for more thorough installation methods. Don't cut corners, but rather keep longevity in mind and dedicate the proper time and care to your linoleum installation.
Wrapping Up
Linoleum is affordable, versatile, water-resistant, anti-microbial, durable, and a sustainable flooring option. It can be used everywhere from the basement to the kitchen and all rooms in between. Sure, it's been around for a while, but with the plethora of stylish designs available on the market these days, linoleum flooring is far from old-fashioned.
Seeing that linoleum is such a versatile flooring material, you can use it in such a way that it will be complementary to whatever design style you have going on, whether that's rustic or retro or chic or contemporary. Honestly, what's not to love? Linoleum flooring simply ticks most of the boxes that flooring needs to.
It may be available in an assortment of colors, but at its core linoleum flooring is as green as can be—and we all know that, in the 21st century, being eco-friendly is groovy! High quality linoleum is not difficult to come by and won't break the bank or Mother Nature's heart, which is something that simply can't be ignored anymore.
Do you have any comments or your own firsthand experiences with real linoleum flooring? Please post them below or share your pictures via our social media. We always love hearing from you!