Linoleum flooring is certainly having a moment as the interest in sustainable building materials and practices has boomed in recent years. Here, we will discuss one of the most well-known brands in the linoleum game.
Forbo Flooring Systems are the creators of their proprietary product called Marmoleum. It's important to note that Marmoleum is still just linoleum. However, you will often hear these names used interchangeably.
Here, we look at some of the features and benefits of this durable and eco-friendly floor. It also boasts an impressive color range and a DIY option to boot.
Here are some Marmoleum flooring options to give you a sense of different varieties to purchase. Continue reading and check out our in-depth review.
Style and Appearance
Forbo has a wide range of linoleum products in their catalog with five different flooring formats to choose from.
Below are examples: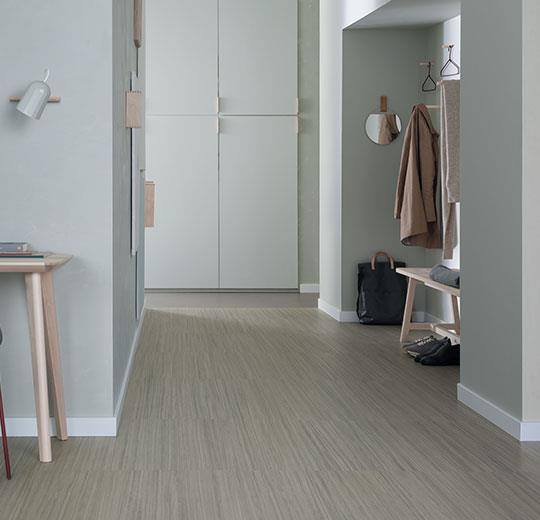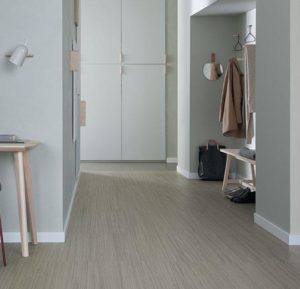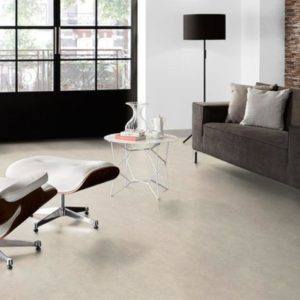 In the online catalog, you will find traditional sheet goods and modular tile. You will also find custom water-jet cut inlays and click-together tiles and planks. If you are shopping for your business, Forbo also has a selection of products rated for commercial use.
Unlike other flooring manufacturers, Forbo only makes linoleum products. As such, they have one of the largest color palette selections on the market. There are over 300 options to choose from.
So, if you are trying to color coordinate your bathroom floor to those hand-towels your mother in law got you for your anniversary, you are in luck.
While the color palette is impressive, the patterns in the line of residential sheet goods just come in three types: marbled, linear, and solid—which perfectly describe the appearance of these patterns. Within these main collections, you will find sub-collections such as Real, Fresco, Vivace, Splash, Terra, and Striato that further narrow down the pattern types.
If you are looking for a bit more creative design freedom, the glue-down Marmoleum Modular tile system has even more patterns to choose from. Here, you will find an assortment of wood-look plank, slate, and stone patterns. A handful of the most popular colors and patterns from marbled, linear, and solid collections have been reimagined into the modular format.
These glue-down modular tiles can be cut, mixed and matched to create a one-of-a kind floor design.
The Marmoleum Click Cinch-Loc collection is the click-together version of the modular tiles. The "floating floor" version of the modular tile has a smaller range of color options. Here, you will find a handful of the most popular colors from the Marmoleum sheet collection.
If you are truly wanting a one-of-a-kind flooring, you also have the option of ordering a custom water jet design or inlay. You can cut and install many designs onsite with a coordinating welding rod for extra durability and water resistance.
Construction and Durability
Forbo's Marmoleum, like other linoleum products, are eco-friendly. They are durable and can last for years if maintained properly.
Linoleum itself is made of compressed natural resins, cork dust, wood fibers, mineral pigments, and linseed oil. Linseed oil comes from the rapidly renewable flax seed. The "lin" in linseed oil is where linoleum gets its name.
The pressed linoleum is formed into sheets and then applied to a flexible backing. The backing is typically made of woven jute or canvas and bonded with a natural latex.
Forbo's Modular tile format is built just like the sheet version. However, the product is a bit thicker and obviously cut down into more manageable pieces. You will also find an enhanced three-layer backing for added stability.
The Marmoleum Click Cinch-Loc format takes the idea of the Modular tile. It applies it to a plank or square with a high-density fiber core.
The HDF core has a drop and lock tab system with deep groove channels and thick tabs. That alleviates breakage during transport and install. Anyone who has installed cheap laminate can attest that this a desirable feature to have.
However, one thing missing from the click product is an attached underlayment. This is something you will have to purchase and install separately.
Linoleum is already a great acoustic insulator. However, installing it with Forbo's recommended underlayment will deliver noise reduction down to 21Db.
In the past, one of the headaches of having linoleum was the maintenance. Depending on the level of foot traffic, you had to schedule time to strip, buff, and wax your floors. Who has time for that?
All Forbo's products are prefinished and require minimal maintenance. The proprietary Topshield finish adds a layer of UV, wear, and moisture resistance.
Linoleum cleaning & care only requires regular sweeping (or hard floor vacuuming) and damp mopping. However, you should not saturate it with water.
Ease of Installation
If you are specifically looking to DIY install your linoleum floor, consider the glue-down Modular tile or floating Cinch-Loc options. However, several factors such as notching corners and undercutting door jambs may still make this an install best for the pros.
The Modular tile format is a great option if you are looking for flexibility with your layout or design and is appropriate for novice DIYers. The tiles are lightweight and easy to cut and maneuver. The Forbo-recommended pressure-sensitive adhesive is forgiving if you are a little slow or need to adjust the tile as you go.
If you don't want to deal with glue or have a particle board subfloor, the Cinch-loc format might be a better option. This floating floor system goes together without adhesives or fasteners much like a laminate or vinyl plank floor. The drop and lock tabs provide a quick and easy installation.
Unless you have a small, square area that won't require seams, sheet linoleum is an install best left to the professionals. It is a more difficult and time-consuming installation that requires special tools and practice to create quality seams. Custom work like inlays and heat-welds are tough to achieve even for a seasoned professional.
Cost
The cost of linoleum is one of the major reasons that sheet vinyl has gained in popularity over the years and has outshined linoleum as a top flooring option. The cost to produce the material as well as the increased cost to install, makes linoleum one of the pricier floor covering options.
Forbo linoleum products are available from local and online retailers. Your best bet is often a shop that specializes in eco-friendly products. Depending on the format you choose, whether it be sheet, tile, or click, can impact the price.
Forbo linoleum products costs $5-7 on average and sometimes equal to the cost of the product for professional installation. However, a handy homeowner can save a bundle by installing themselves.
Other costs to consider are trims and transitions. These can run $25-$50 per piece. You will also want to budget for shipping costs since linoleum products are almost always special order unless you are lucky enough to have a local flooring retailer that stocks a few colors.
FAQ
What is Forbo linoleum?
Forbo linoleum is no different to any other linoleum floor product. However, the brand has its own linoleum product called Marmoleum. It's a durable product that's also eco-friendly and comes in a wide range of colors. 

Additionally, Forbo linoleum comes in a variety of formats such as modular tiles, traditional sheet goods, click-together planks and tiles as well as custom water-jet cut inlays. Forbo linoleum is made with compressed cork dust, mineral pigments, wood fiber, natural resins, and linseed oil.

How much does it cost to install Marmoleum?
Forbo Marmoleum products cost between $5 to $7 per square yard for professional installation. DIY installation can often be cheaper if you have all the right tools on hand to do the job. Other costs to consider include transitions and trims at $25 to $50 per strip. 

Forbo linoleum often has to be ordered in, so you may need to budget additional shipping costs if your local store doesn't have the exact flooring product you're looking to install in your home.

Where to buy Forbo Marmoleum?
Forbo Marmoleum products can be found worldwide. To find a dealer near you, in your country, go to the Forbo website and navigate to their user-friendly "Dealer Locator" page. Both residential and commercial dealers can use this page to source Forbo linoleum products.

Contact details for the North American head office located in Hazleton, Pennsylvania, and the Canadian office based in Mississauga can be found on the "Dealer Locator" page if you want to speak to their customer service directly. Customers in Mexico can contact either Mongar Solutions or click on the website link included on the "Dealer Locator" page.

Is Forbo linoleum waterproof?
No. They are water resistant, but not water proof. However, all Forbo linoleum flooring products are prefinished and don't need a lot of maintenance. The additional Topshield (a Forbo proprietary product) finish ensures protection against harsh UV rays, general wear and tear, and moisture. 

The custom water jet design offers durability and water resistance. However, all Forbo linoleum floor products shouldn't be saturated with water if you wish to keep the flooring in good condition for many years
The Verdict
Forbo Linoleum or Marmoleum products have stood the test of time and continued to provide quality products over the years.
Forbo Linoleum is a great option for active families that want a sustainable, eco-friendly, and low-VOC floor that requires minimal maintenance.
While the cost for the product and installation might give you some sticker shock, rest assured that it's suitable for long-term use even in high-traffic areas. Therefore, it's more of an investment floor for your "forever home" rather than one you are trying to fix up and sell on the cheap.
Have you had experience with Forbo linoleum? Do you prefer it over another brand? Tell us in the comments.
Back to Top