Some floor cleaning tools may look like they'll work, but they sometimes leave your tiles drenched in water and spread the dirt around. That's why it's important for you to pick one of the best tile mops for your requirements.
Tile mops come in all shapes and sizes, and they're made with special materials. This kind of mop should never scratch the surface of your tiles, and it should have an ergonomic design so it's easy to use. So, how do you know the tile mop you want will work for you?
Well, we're here to help you find the best tile mop for your floors. Read our reviews on the top six best tile mops to see which one will be ideal for the type of tiled flooring you have.
Our Top Picks
Tile Mop Buying Advice
Weight: 4.2 lbs.
Power Source: Manual
The High Points: Price, 5 washable pads, Ability use any cleaning solution
The Low Points: Manual, Mobility
The Spot Less Flat Floor mop allows users to tap into the long-standing tradition of cleaning floors with a sturdy mop and a bucket full of soapy suds. This combination is still one of the most functional and effective ways to conquer the job. While we researched many mops, our experts gave this mop our best overall rating and highest return on investment.
A separate wring compartment allows you to fully get all the dirt off the mop head between each swipe. This system minimizes bending and contact with dirty mop water. This effective wringing method, combined with the super-absorbent microfiber mop head, helps keep the mop's moisture levels low. This means no more puddles of sludgy water pooled on the floor.
As with any mop and bucket system, users can customize their cleaner solutions and modify the concentrations with each application. There is a splash guard in the system. That is to keep a lid on the bucket of soapy fun.
What Our Reviewers Say
Our testers of the Spot Less Flat Floor mop report enjoying the bucket's wringing system and secondary area that captures the dirty water.
Those who are fans of the size of the mop head claim that the cleaning job is quicker and more thorough since the mop head is more manageable and able to fit in tighter spaces.
Mop owners who compare the Spot Less Flat Floor mop to an electric mop may see their cleaning time take a bit longer. That is because they can't cover as much ground as quickly.
The mop head shape is beneficial when swiping along baseboards and into tight corners.
One of our testers had a slight issue opening the bucket to fill in water.
Features & Considerations
The Spot Less Flat Floor mop handle is adjustable which makes it for any user and also when storing.
The mop pad is washable and five mops pads are included in the box which is a great benefit. You can reuse it for up to 100 washes. Additional mop pads are available for purchase.
The mop bucket has two parts, the main water holding area and the area where all the magic happens to clean the dirty mop. The sections are separate unlike many other brands we tested, so dirty water will not get reintroduced into the sudsy water.
The adjustable handle allows for some versatile cleaning capabilities. A dry mop head can be used in combination with the reach of the fully extended handle to dust ceilings and walls, and a little bit of moisture added to the mix can convert the mop to a wall washer.
The mop and bucket combination can be a bit bulky to store. After use, some air drying may be necessary prior to sending it to its dark corner in the closet.
Weight: 7.04 lbs.
Power Source: Battery
The High Points: Cordless operation, LED headlights, Washable pads, Powerful scrubbers
The Low Points: Price, Weight, Durability issues
Nellie's Wow Mop seems to solve nearly all of the aversions moppers have to the floor-mopping process. This battery-powered floor cleaner does the spraying, the scrubbing, and the sanitizing. The oscillating mop pads provide powerful stain-lifting motion that combines with the absorbent mop pad material to wipe out scum and leave floors sparkling.
Cordless operation allows the mop to move as swiftly as a traditional stick mop, though its motorized function adds some weight. The mop is twice the weight of a standard, manually powered version.
The low-profile mop head fits under most furniture and into tight spaces, and the push button spray dispenser allows users to customize the amount of cleaner needed as they move through the floor-scrubbing experience.
What Reviewers Say
The Nellie's Wow Mop receives rave reviews about its ability to provide excellent results while requiring minimal effort from the user. Reports also note that the unit is easy to assemble and to operate.
The pads are reported to be abrasive enough to grab ground-in grime and assist in grout-cleaning endeavors. The mop is also said to be effective on other hard floor surfaces, including laminate and hardwood.
There are a handful of reviews mentioning defective units and/or longevity issues, with some mops only surviving to complete a few tile cleaning sessions before requiring repair and attention.
Features & Considerations
The Nellie's Wow Mop has a reasonably long battery life, allowing users to power scrub their tile floors for nearly an hour before a recharging session is required. A full charge takes 3–5 hours to complete.
The mop's manufacturer makes floor cleaner blends that can be used with their machine. These cleaners are well-received by Wow Mop owners and, while not required for mop operation, could be worth sampling in between other commercial or homemade cleaner blends.
LED headlights are located on the front of the mop and can help to expose stains and shed much-needed light on low-lying, hidden areas.
Nellie's Wow Map comes with a few accessories, including a measuring cup appropriately sized for filling the onboard cleaner-holding tank. Mop pads are also included, and additional pads are available for purchase.
Weight: 4.65 lbs.
Power Source: Manual
The High Points: Lightweight, Price, Washable pads, Can use with different cleaning solutions
The Low Points: No onboard holding tank for cleaner, Handle can break, Durability issues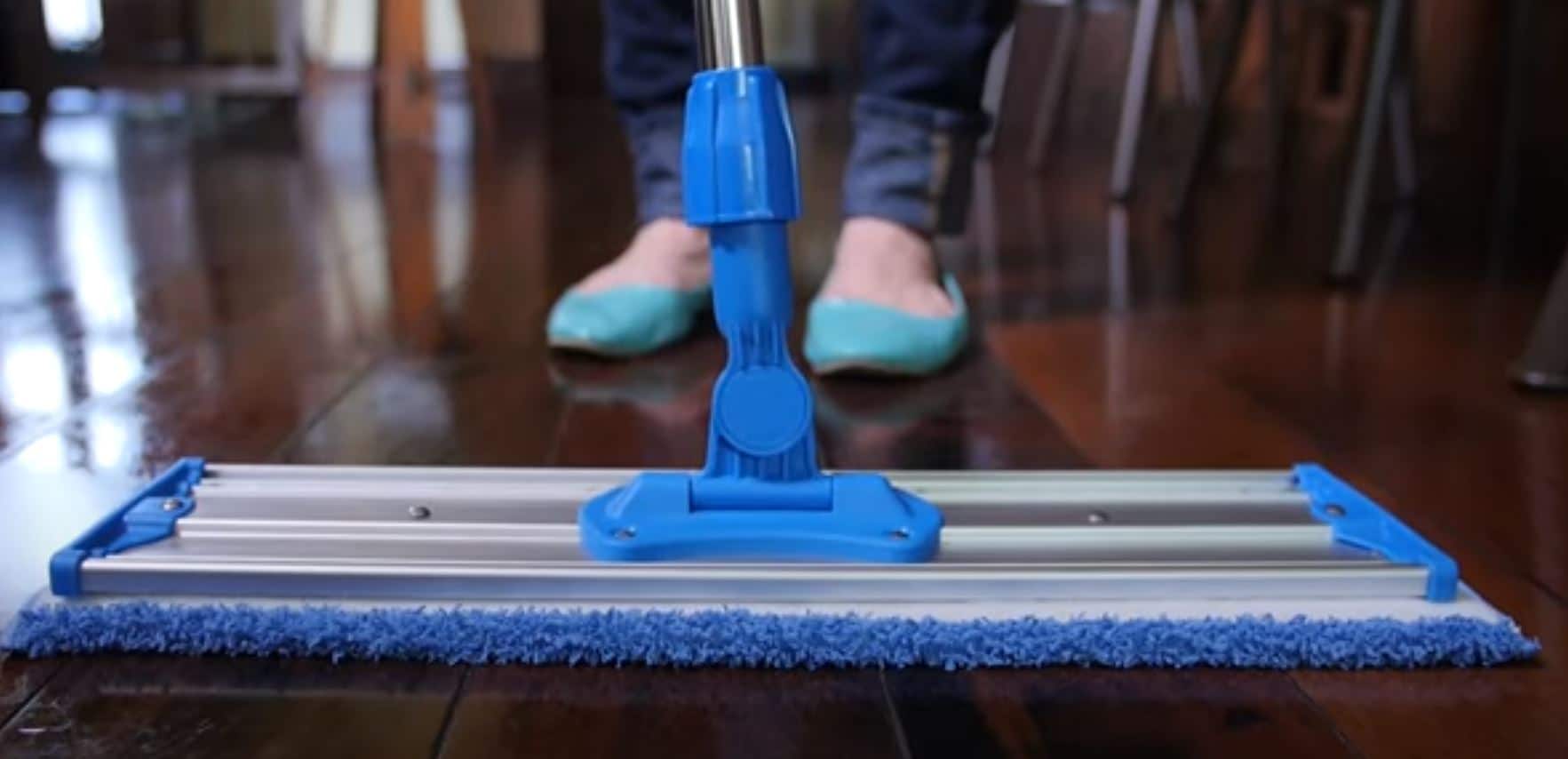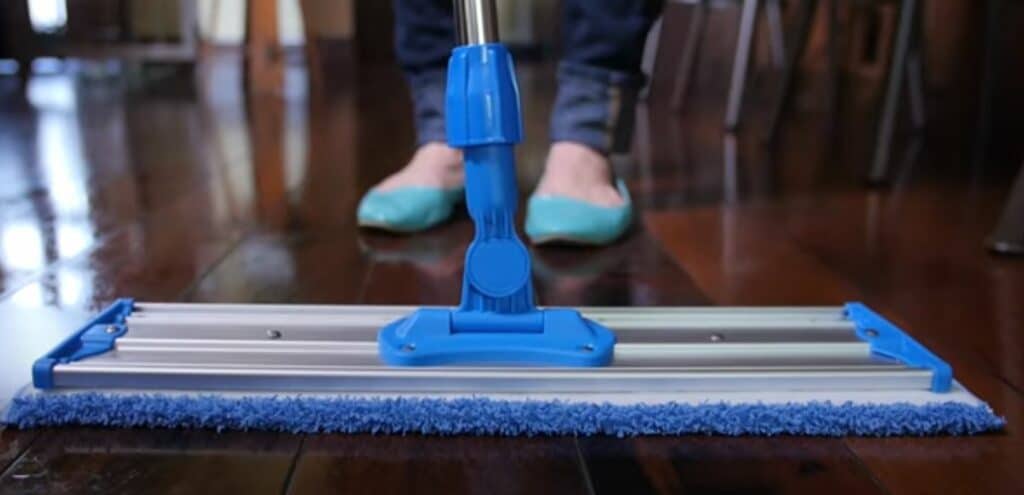 The 18" Professional Microfiber Stick Mop comes with a variety of washable mop pads made of different piles of fiber. A dry dusting pad is also included, adding a level of versatility, and can be extremely helpful when cleaning up pet-related messes like pet hair and cat litter. The pads span a sizable length of 18", which can help cut down on cleaning time.
Low-profile and lightweight, the Professional Stick Mop is easy to operate and easy to store. The mop head can tuck into the lowest spaces and grab debris and dirt that often goes undetected. The handle is also light and moves fluidly during the mopping process.
There is no tank for the cleaner on this slim stick mop, so users will need to have a cleaner handy to spray ahead of the mop pad's path. If the cleaning solution isn't necessary, the mop pad can be rinsed under warm water and then wrung out prior to being attached to the mop. This process can be repeated over the course of the cleaning session
What Reviewers Say
Owners of the Professional Microfiber Mop report good results with the washable microfiber pads, though many recommend having quite a few extra pads on hand. This allows users to have access to clean mop pads while others are in the washing and air-drying process. Multiple pads are included with the mop, which should get owners off to a good start.
Mop pads can be used in other household cleaning applications too, according to a few mop users. The microfiber material of the pads provides sleek and shiny results when cleaning glass, countertops, and other streak-prone surfaces.
Textured tile and grout seem to be well-scrubbed by the semi-abrasive pads, though some added pressure may be required to nab stubborn stains.
Features & Considerations
The Professional Microfiber Mop has an adjustable handle and the mop head swivels, so fitting into tight spaces should be relatively easy. The handle can break, and there have been reports of it detaching from the mop head.
There isn't a scrubber material incorporated into the pads or the mop head, so users may have to utilize an added sponge or rag to address certain spots.
The sleek Professional Microfiber Mop doesn't have an onboard cleaning solution tank, so users will need to have their preferred cleaning solution ready to spray from outside of the mop. This design allows users to customize their own cleaning blends or simply sprinkle a little water in the path of the oncoming 18" cleaning pad.
There have been some reports of durability issues, primarily related to the mop's handle. The swivel function at the base of the mop head is sometimes found to be the root of the problem. Per a few reports, when customer service has been contacted about this or similar issues, users have been satisfied with the results.
Weight: 1.14 lbs.
Power Source: Manual
The High Points: Price, Wet and dry pads, Easy to attach pads
The Low Points: The price for refills is too high
The Swiffer mopping pads are textured pieces of material that are designed to wipe up dry messes as well as liquid spills. There's a scrubbing strip on the bottom of the fabric that helps remove tough or sticky residue on your tiles.
These mopping pads are suitable for tiled floors and won't scratch the surface. You'll get a box of these mopping pads with your Swiffer mop, and you'll appreciate how easy they are to attach to the device.
The handle of the Swiffer has an ergonomic design so it's not uncomfortable to use when you're cleaning your floors. You'll also love that this is a comprehensive cleaning kit that comes with durable dry sweeping cloths and wet pads that are disposable.
This Swiffer mop removes all dirt off of your tiled floors without damaging the surface of your flooring. With your Swiffer mop, you can get into hard-to-reach places and under furniture easily.
What Reviewers Say
It's no surprise that the Swiffer mop has such high ratings on review sites. People appreciate how easy it is to clean up dry and wet messes off of tiled floors. Many users have stated that it's effortless to clean up pet messes.
The only downside to the Swiffer mop is that buying the refills can get expensive. But the advantage is the pad refills last longer because they're made from durable fabrics that can be reused a few times before you throw them away.
There are users who utilize the Swiffer mop for bamboo flooring as well as tiles in the bathroom, kitchen, and hallways. It's the perfect product if you don't want to use a vacuum cleaner to suck up dust on your tiled flooring.
Users have also said that the Swiffer mop is ideal if you don't enjoy wringing out wet mops all the time. This mop doesn't saturate your floor with water, so the surface will dry quicker when using the wet cleaning pads.
Features & Considerations
The Swiffer mop has durable clips, so you can easily attach the fabric to the device. This cleaning tool is suitable for hard floors and can be used to clean natural stone tiling as well as ceramic tiled floors.
These cleaning pads have fibers that allow you to clean the grouting between your tiles easily. So if you're experiencing mold growth in between your tiles, use the Swiffer mop to clean it out. The mop is lightweight so you won't struggle to clean your floors, and it has a streamlined design so you can store it easily.
Furthermore, the Swiffer mop has a 360° swivel head, so you can clean under furniture easily. While mopping the cleaning pads on the mop will stay securely in place thanks to the fabric clips.
The benefit of the Swiffer mop is that it doesn't spread the dirty around on your floors. Swiffer's cleaning pads trap all the dust and dirt from your floors onto the fabric easily.
Weight: 10.6 lbs.
Power Source: Corded
The High Points: No cleaning solution needed, Versatile (can handle other cleaning jobs), Washable pads, Easy to assemble
The Low Points: Price, Weight, Difficult to regulate steam levels, Durability issues
The Bissell PowerFresh Lift-Off Steam Mop utilizes high-temp sanitizing steam to envelop stains and dirt, and is capable of removing some of the toughest stains with minimal user effort required. Grime and germs can be erased with a few sweeps of the mop pad, and the mop operator can adjust steam cycles for a custom cleaning experience every time.
This versatile mop enables this powerful steam to mobilize with its lift-off handheld unit. This portable system pulls away from the mop's main base and allows steam to be utilized in other cleaning applications, including sinks, showers and tubs, and greasy ovens. The cleaning capabilities of this lift-off steamer are nearly endless, and users might find themselves hoping to find more grime.
And with tile usually comes grout, and with grout comes dirt and microscopic debris compacted between its lines. Due to the daunting task of removing this caked-in crud, many tile floor households have accepted their new accent colors of dark gray and dingy brown, and some have maybe even redecorated accordingly.
Enter the power of the Lift-Off steam combined with the steamer's grout brush attachment and those lines make their ways back to bright, clean, and slightly unrecognizable with a few swipes of the steamer (and maybe some elbow grease and a sponge if it's been a few years or decades … no judgment here).
What Reviewers Say
Bissell PowerFresh owners claim to get great results when attacking old or stuck-on stains, though the mop may need to remain stationary for a bit or make a few passes over the spot to loosen it. The mop's water tank capacity is reported to be sizable enough to produce sufficient steam to clean a few hundred square feet of area. Upon being refilled, the tank takes a minute or two to heat the water to create steam.
Some users are happy with how dry their floors remain during the steam mop cleaning process, noticing minimal moisture used to achieve the desired results. A few owners mention having issues regulating the steam at times and note that the high setting seems to be overkill for most floor applications. These users also indicate that the added steam can build up and cause quite the puddle.
Users report that the Bissell PowerFresh Lift-Off Mop can stand on its own. So if the mop needs to rest for a minute, there is minimal risk of it tipping over (and spewing steam in all directions).
Features & Considerations
The water tank within the mop holds approximately 13.7 ounces of water. It can be a bit tedious to fill, as the tank isn't removable. It's best to use only distilled water in the mop, as it will limit the amount of mineral buildup inside the system.
The PowerFresh Lift-Off Mop comes with 13 attachments and tools that can help attack hard-to-clean spots like baseboards, under refrigerators, and most glass surfaces. You can sanitize toilet bases with a few swipes of the handheld wand. You can steam, clean, and slightly straighten certain fabrics with the fabric attachment.
The need for a cleaning solution goes out the window when the Bissell PowerFresh is on the scene. This can leave rooms smelling clean in a hospital kind of way. You can also insert scent discs into the mop to provide a fresh scent so that you can enjoy your efforts after the steaming job is done.
Weight: 7.8 lbs.
Power Source: Battery
The High Points: Automatic operation, True mapping laser, 3-hour run time, Able to recharge and resume easily
The Low Points: Onboard camera doesn't have a light
Sometimes you may not have the time to clean your floors manually. But if you don't maintain your floors regularly, dirt will continue to build up and it will be more difficult to clean them. So if you don't have the time to manually clean your floors, then opt for the Ecovacs Deebot Ozmo.
This is one of the best robo mops on the market because it cleans your tiled floors for you so you can concentrate on other important tasks around the house. The Ecovacs Deebot Ozmo robo mop is easy to set up and operate. Simply follow your instruction manual to get started.
You'll love that this robo mop is designed to clean all types of floor surfaces such as ceramic and natural stone tiles. What's more, the robo mop has a sensor that will detect when it comes into contact with carpet, so it will move away from the area so that it doesn't damage rugs or carpets.
The Ecovacs Deebot Ozmo is a feature-rich robo mop that cleans your floors fast. Additionally, it has a robust construction and a long service life. Let's find out what users have to say about the Ecovacs Deebot Ozmo device in this next section.
What Reviewers Say
This is another floor cleaning tool on our list that has exceptionally high ratings from users. The performance of the Ecovacs Deebot Ozmo is incredible because it works fast and efficiently.
The Ecovacs Deebot Ozmo is the perfect robo mop to use if you have pets. Sometimes dogs and cats shed fur on the floor or tread muddy paw prints inside your house. But no job is too big for this mop because it will easily clean up wet and dry messes from pets.
When using electronic cleaning tools, it's important to pick one that's not going to disturb your peace. Users also appreciate how low the sound is on the Ecovacs Deebot Ozmo. Using a robotic mop also requires floor mapping and, according to most users, mapping with the Ecovacs Deebot Ozmo is effortless.
Users who have big open plan spaces benefit from using the Ecovacs Deebot Ozmo because it can clean up a large area quickly. Lastly, it doesn't have an annoying power cord to contend with.
Features & Considerations
As mentioned before, the Ecovacs Deebot Ozmo is a feature-rich robo mop. So let's go through all the features that this floor cleaning device can offer you.
The Ecovacs Deebot Ozmo has a streamlined construction, so it's easy to store and you won't find yourself tripping over the device.
This robo mop also has a simple on/off switch located on top of the device. The cleaning device operates on a battery that lasts for up to three hours. If the device dies before finishing a cleaning task, you can charge it and resume the mapping so that the robo mop doesn't miss a spot.
There's a water tank inside the machine that allows the device to clean 2,000 square feet of flooring. The device has AIVI technology that allows the robo mop to detect objects such as shoes and toys, so it works around them.
The Ecovacs Deebot Ozmo robo mop comes with a compatible app so you can operate the device and map out where you want it to clean. This app allows you to map out areas that need to be cleaned even in the dark. So you can get your robo mop to work at night.
This robo mop works with filters so that it can capture and trap allergens and pollutants easily inside the machine. Overall, this robo mop is perfect if you want to clean large tiled surfaces without damaging them.
Side by Side Comparison
The Complete Tile Mop Buyer's Guide
What To Look For In A Tile Mop
When weighing the options in pursuit of the best mops for tile floors, one of the best methods seems to involve a bit of reverse engineering. In order to find the top contenders, it first requires us to break down exactly what the most common complaints and aversions seem to be, related to the typically time-consuming and physically taxing task of tile floor cleaning.
The factors to consider when weighing the options offered on the tile mop market are fairly limited and can be broken down into a few categories. As any seasoned scum -scrubber knows, taking some of the physical requirements out of the job can go a long way, and cost-of-ownership is always a consideration, too.
Before being able to zone in on the best tile mop for the job, it's necessary to dig deep and come to terms with what a positive tile-mopping experience means. If price efficiency is a top priority, a mop with reusable pads that offers the ability to use custom cleaning solution blends might make it to the top of the list.
Maneuverability and ease of use might be of the most importance. If a mop is easy to whip out, the chances are much higher that it'll see more use, more often. A mini suds fest every couple of days can go a long way when it comes to keeping the tile floors gleaming.
We've zeroed in on the top factors used to determine the best tile mops and explored the most common variables that arise when on the path of seeking a mop that can improve the tile-mopping experience.
Cost Of Use
Once you have added the mop to the cleaning team, there are some costs you may incur. Most mops on the market offer washable, reusable cloth mop pads; these pads are typically the super-absorbent material of microfiber.
You can wash these pads dozens of times before needing to replace them. There's some extra maintenance involved in keeping up with these washable pads, but they can really take a bite out of the cost of operating.
Disposable pads are also an option with some mops, and while they can cut way down on maintenance/washing duties, the cost of use can really add up. There are jobs that will require multiple pads to effectively complete the task.
Some manufacturers offer a happy medium of sorts when it comes to pad usage options. In some cases, both disposable and washable pads are available, so users can weigh the situation and alternate between the two.
Cleaning solutions can really take a toll on the home maintenance budget over time. Most mops allow users the flexibility to mix their own concoctions or to create a custom cleaner from concentrate, which can help keep costs down. Mops with onboard cleaner reservoirs keep it simple to incorporate the best, most cost-effective blend for the job.
Steam cleaners take cost savings to another level. Distilled water should be used in these machines, but beyond the minimal cost of the water, users can steam and sanitize their way through the task without committing to cleaning solutions.
Weight And Mobility
Ease of use can be a huge variable when it comes to the best mops for tile floors. The mop-and-bucket, hands-and-knees-scrubbing regimen has driven many floor maintainers to avoid the issue for as long as possible.
The ability to apply cleaning solution and scrubbing pressure while keeping upright during the mopping process can significantly increase the frequency of the mop jobs.
Weight is important, especially when you need to apply some force to operate it. There are instances, however, when some added bulk can bring some added benefits. Powered oscillating scrubbers or stain-melting steam can eliminate elbow grease from the cleaning equation, but the parts and pieces required for the added functionality can add a few pounds.
Corners, nooks, crannies, and crevices can all require attention at times, and a mop's ability to navigate these tight spaces can really make a difference in the floor-cleaning chore. Swivel mop heads and adjustable handles can help users attack these off-the-beaten-path regions, and can also assist when everyday obstructions like tables, chairs, and the occasional sleeping cat get in the way.
While pure human energy powers most mops, some have branched off into the alternative energy realm. Batteries and corded power sources can provide some added benefits like powered scrubbing, self-propulsion, and sanitizing steam to help combat some of the more difficult floor-cleaning tasks.
Extra Features And Functions
There are some added features offered within the tile mop niche that can improve not only the tile-mopping sessions but other tasks around the house. A budget-friendly mop is surely a simple system. However, even on this base level of form and function, the mop's microfiber pads can be used to clean surfaces like glass without creating streaks.
Steamers open up an entire world of cleaning potential, and when the steaming function can go mobile, the possibilities really are almost endless. When a mop can clean a floor, grout lines and all, and also do much more, the added value of function and appliance efficiency can really drive it to the top of the list.
Mops with adjustable handles and extensions can bridge the gap between the floors below and the ceilings above when a dry duster or even a damp cloth is incorporated into the mop head. Mop users can reach to heights formerly untouched and tackle tasks that would otherwise require several additional cleaning accessories.
How We Ranked The Best Tile Mops
When weighing the options and ranking the best tile mops, there are some key variables that factor into the equation. It can be a bit daunting to sort through the details, especially when each user may value features and benefits from different perspectives.
Ultimately, the rankings were established by assessing some of the most common qualifiers. Price is always a factor, and a product's ability to perform the job for which a manufacturer designed it also ranks toward the top.
Real-world mobility is important, too, and can help to provide the ease-of-operation that can enable users to more frequently and more efficiently complete a tile-mopping session.
Consumer reviews are also critical when it comes to uncovering what life is like once a mop is brought into the mix. We scanned and scoured reports from various sources to help shed light on the pros and cons of ownership. We discovered useful and hidden tidbits along the way.
Price and Cost To Use
The upfront cost of a tile mop is important, but the added costs of ownership are also pretty key. Simple stick mops tend to be the most affordable initial investment. But if they need specific cleaners and disposable pads to function, the costs of use can pile up fast.
These simple mops become more cost-effective in the long run when they offer washable mop pads and the ability to use a variety of commercial or homemade cleaning solutions.
You will find some extra features in products as prices start to tick up. That frees most users from more than just physical labor.
Vibrating scrubbers and pedal-powered spinners provide valuable functions. Those can really dive into solving some of the issues that can arise during a floor-mopping job. So in these cases, some extra upfront expense can be justified.
Effectiveness and Versatility
There are lots of features among the array of tile mops on the market. Mop heads with scrubbers, handles that rotate and extend, and buckets that do the wringing virtually themselves are some of the functions that have been incorporated into the mops we've encountered.
There are plenty of bells and whistles to peruse on the path to the best tile floor mop. However, it's important to consider the true purpose of the purchase.
A mop that is capable of overcoming varying levels of grime while minimizing operational stress is of utmost importance. You can consider any additional options on a point-of-use basis.
Once you have established a mop's success in the floor-cleaning ring, you can consider its added bonus features. Steamers with attachments can go far when it comes to combating whole-house cleaning tasks.
Robo mops can assist with dry-dusting excursions. You can modify stick mops to reach to the heights of the walls and ceilings.
Weight and Mobility
The weight, bulk, and build of a mop can help determine if you will be able to use, maintain, and store it. A low-profile footprint is almost always a winner.
The size and shape enable users to navigate around a floor cleaning project with minimal effort. With little weight typically comes a little less function, though. So users seeking a substantially lightweight experience may need to sacrifice some features.
A bot mop is possibly a winner in both the weight and the mobility category. This tiny mop can handle these two top-ranking variables right off the bat.
However, it doesn't matter much for the humans what this mopping bot weighs. Because short of the occasional relocation, bulk is of no concern.
Storage requirements are often overlooked during the pursuit of a tile mop, but its a real problem sometimes, especially when buckets are involved. Once again, a sleek body style can be important in storage scenarios, and those with the added bulk took a few hits during the ranking process.
Consumer Reviews
Plenty of insight can be offered into a product's true performance by delving into the array of user and consumer reviews that span various retail websites. Maintenance tips and tidbits are often mentioned in these short snippets, and users share their favorite facts and findings regarding their new-found floor cleaning friend.
The sun isn't always shining on the reviews of some of these mops, though some valuable information can be acquired, along with product failure patterns that can be picked up along the way. Reports of mop handle breakage, warranty processes, and a good read on overall customer satisfaction can be gathered from a balanced study of these reviews.
FAQs About Tile Mops
What Kind Of Maintenance Can I Expect With A Tile Mop?
Due to the simplistic nature of a standard tile mop, maintenance tends to be minimal. You can wash a reusable mop pad between 75–100 times before needing to replace it.

Most manufacturers recommend their pads be washed at certain temperatures. Typically, that is without the presence of bleach or other stain-removing chemicals.

You should air-dry the pads to preserve their form and function. So it may be worth it to have a few extras on hand.

It is important to dry mop heads, without pads, thoroughly prior to placing them in storage locations. Most mops don't retain much water beyond that which is helpful in the microfiber mop pad. So this task is simple and doesn't take much time to complete.

Distilled water should be used whenever possible in tile mops with water- or cleaner-dispensing mechanisms. This can help to prevent clogging mineral buildups. Those can start to negatively impact a mop's inner workings over time.

How Can Microfiber Improve Cleaning Results?
The cleaning powers of microfiber are in their microscopic makeup. A microfiber thread's diameter is smaller than a strand of silk. In many products used for cleaning, these threads are split to further increase surface area.

This design allows the material to grab tiny debris and hold onto it. It also acts as a super absorbent sponge.

Moisture that a microfiber material slurps up typically doesn't leave it. That is, unless you squeeze the pad or towel several times.

This helps to keep floors as dry as possible during the mopping process. That way, cleaning can become a bit more effective.

What Are The Pros And Cons Of Using Homemade Cleaners?
Homemade cleaners can add a customized edge to attacking various types of applications around the house. Search engine chemists have been popping up everywhere, concocting blends and combining basic kitchen supplies to create a powerful cleaner capable of tackling some pretty serious tasks.

These DIY solutions can help to limit exposure to toxic chemicals that can cause some serious side effects, both short- and long-term. In some cases, at-home blends can be safe to use in areas frequented by pets and children, and these concoctions can also help keep strong chemicals out of the water supply.

You can control costs a bit by using ingredients already on hand. Some people do that rather than investing in a cabinet's worth of commercial cleaning products. You can dilute when you need to and customize scents and blends specific to each task.

Vinegar is a common ingredient in many cleaning solutions due to its versatility in mixing and cleaning capabilities. However, this potent liquid may not always be super effective at killing some of the meanest germs out there. Vinegar can leave a surface looking sparkly, though microscopic invaders may still be thriving and surviving on it.

Sometimes, the homemade solutions offer no resolution at all. Sometimes they just can't achieve what a strong chemical blend can.

You may need to reserve these harsh blends for the most difficult of tasks. Otherwise, cleaners run the risk of wasting kitchen supplies—and time.


What Features Might Be Worth Considering?
There are some pretty exciting tools and features on offer. The old hands-and-knees scrubbing technique seems to be the least favorite plan of attack. However, it still tends to be the most effective.

Is freedom from scrubbing what you are seeking? If so, automatic mop bots, powered oscillating scrubbers, and targeted steam can be part of the solution.

Additional tools and attachments that come with some of the steam mops can really help cut down on the time it takes to eliminate gritty grout. You can use a window squeegee attachment during a window cleaning job.

The murky waters of a mop bucket rank right up there with the least favorite aspects of the tile-cleaning session. Modern mop manufacturers seek to eliminate, or at least improve, these less than ideal conditions.

They do that with the incorporation of onboard cleaner reservoirs. There are also hands-free mop pad releases and even a foot-powered wringing system.

Chemical sensitivities can cause some serious difficulties when it comes to effectively conquering a cleaning task. The desire to clean "green" also follows the path of eliminating harsh chemicals from the process.

Mops with onboard solution tanks, and the traditional mop and bucket combinations, offer users the flexibility to mix things up, and the steam cleaning method entirely replaces chemicals and cleaners of any sort.

What Are The Best Mops For Tiled Floors?
The best tile mops are ones that can clean up dry and wet messes without hassle. You also want a mop that you don't have to wring water out of. A tile mop should clean different floor types such as natural or ceramic tiles.

Furthermore, a manual mop should have an ergonomic handle so it's not uncomfortable to work with. You want your mop to clean in between your tiles and wipe up tough, sticky spills easily.

Your mop should make the task of cleaning tiles easier, so you don't have to struggle getting dirt off your floors. Steam mops work well to get rid of tough marks, and they disinfect your tile surfaces, too.

What Is The Best Way To Clean A Tile Floor?
The best way to clean a tile floor is to use a mop that has microfiber fabric instead of a sponge to wipe up dirt. This is because dirt is picked up easily with a microfiber mop, so it doesn't spread the dirt around on your floors.

Additionally, you shouldn't use too much detergent because it can leave a sticky residue on your tile surface. Cleaning tiled floors is easier if you have a mop that can reach into crevices and corners to clean out the dirt that gets trapped in the grouting.

You should also ensure you use the correct detergent for your floors because natural stone tiles can get damaged if you use a cleaning aid that's high in acidity. If you notice a hazy film over your tiles, use lemon juice to clean them with a microfiber tile mop.

Don't use a tile mop that has materials that can scratch your floor. Your tiles will start looking dull over time if you continue scratching them with abrasive mops. Pick a mop that has soft cleaning pads that can pick up dirt easily.

How Do Professionals Clean Tile And Grout?
Before you get started on cleaning the grout of your tiled floors, you must sweep or vacuum up crumbs or dust. Then select a high-quality grout cleaning aid such as Ultimate Grout Cleaner and pour it onto the grouting. Leave the cleaning product sit for a few minutes.

You can use various-sized scrub brushes to start cleaning the grouting. The grout cleaner should make this part of your floor easy to clean. After you've scrubbed the grouting, it's time to mop up the mess.

Select one of the best tile mops on our review lists to clean up the mess left behind from cleaning the grouting. Ideally you want a mop that's not going to push the dirt back into the grout, so use either a steam-cleaning mop or a robo mop to suck up all the dirt.

Another way you can clean in between the grouting of your tiled floors is using a pressure cleaner. This cleaner shoots a stream of water at high pressure speeds to blast away the dirt trapped inside your grouting.

Does Vinegar Shine Tile Floors?
Yes, vinegar can be used to keep your tiled floors shiny. This is especially true if your floors have soap buildup from detergents. Vinegar is a natural product that can be used to eliminate foul odors and to disinfect your floors without emitting harmful toxins into the air.

The only downside is that you should never use vinegar on natural stone tiles because it can damage the surface of your floors with the high-acid content. Vinegar is only suitable to clean ceramic or porcelain tiles.

How Do You Deep Clean Tile Floors And Grout?
To deep clean your tile floors and grouting you'll need scrubbing brushes, a proper grouting detergent, hot water, a bucket, and a mop. Take your grout detergent and pour it into the sections between your tiles. Leave the product to draw out the dirt for at least five minutes.

Use a thin scrubbing brush that's designed to clean between tiles and scrub the grouting. All the dirt should lift from these crevices. You don't want to push the dirt back into the grout, so you can either use a wet/dry vacuum cleaner to suck up the dirt, or you can wipe the dirt away with a microfiber mop.

The hot water can be used to wash away the residue on your floors left behind by the grout cleaner. Make sure the grout cleaner is safe to use on natural stone tiles.

Does Toothpaste Clean Grout?
Yes, toothpaste can be used as a grout cleaner. Toothpaste has a bleaching component in it that removes stains and dirt. However, you have to make sure that the toothpaste is white and it mustn't be a gel product.

Cleaning your grouting with toothpaste may take longer because you have to apply the product and start scrubbing immediately. It's a cheaper alternative to using grout cleaner but certainly not the easiest.

Grout cleaner draws all the dirt and bacteria out of your grouting simply by leaving it on the surface for five to 10 minutes. When using a proper grout cleaner, you don't have to do any vigorous scrubbing because the detergent has done half the work for you.

So if you really don't have any other products left at home to clean your grouting then toothpaste will be an adequate alternative.
Final Thoughts
Which of the six best tile mops on our review list do you think is ideal for your cleaning projects? If you don't want to clean your floors manually, you could always opt for a robo mop such as the Ecovacs Deebot Ozmo. On the other hand, if you're more old school, then pick a manual mop or one of the steam mops on our list.
Cleaning your tiled floors should never be a hassle. You want a cleaning tool that will help you complete your chores quickly. The tile mop you pick should help you keep your floors shiny and your grouting white.
What methods do you use when cleaning your tiled floors? Do you use specific products to clean your tile surfaces? Let us know your process in the comments section below. We're always happy to hear from our readers.
Back to Top