Grout: the ultimate enemy of the pursuer of clean. Sure, scrubbing for hours on your hands and knees can get your floors spotless, but what if there was a mop specifically made for tile that could do it for you?
Caring for your tile may seem like a full time job, but with one of our 10 best tile mop picks, you'll be able to clean in a breeze and have more time to do what you love. (Which we assume is anything but cleaning your tile.)
Investing in a mop specifically for tile will make your floors cleaner than they would be with a traditional mop and will do the job in less time.
The mops below are perfect for those who may have bad backs and can't lug a giant bucket of cleaner around, those with arthritis who can't wring out a heavy mop, or those that simply want to streamline their cleaning process.
No matter what you're looking for, one of our top 10 mops for tile picks are sure to be the perfect fit for you and your floors.
The Best of the Best: The Top 3 Mops for Tile
We've broken down our top 3 picks into the best overall mop for tile, the best steam mop for tile, and the best budget mop for tile.
Let's dive in, shall we?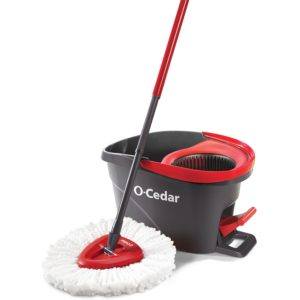 Classic mopping meets modern functionality in this fun and simple to use spin mop.
At the intersection of cost effective and user friendly, you'll find the sleek O-Cedar spin mop waiting for you.
Once you put the head of the mop in the water, after a few quick pumps of a foot pedal, your mop will be ready to go. Using the spinner gets off extra water and quickens dry time, so you can get back to using your floors fast.
Because of the rave reviews and ease of use, this pick mopped up the rest of the competition and made it to our number 1 spot.

Simplicity is the name of the game with this steam mop because it has everything you'd ever need out of your steam mop without all of the extras.
With two basic functions and three heat settings, you'll be able to scrub and steam your way to perfectly polished, streak free tile.
It eliminates bacteria as you steam your floors, leaving them sanitized and smelling fresh like febreeze after every use.
Though this is on the lower price point of steam mops, you'll find all of the necessities that you're looking for in the Bissell 1940.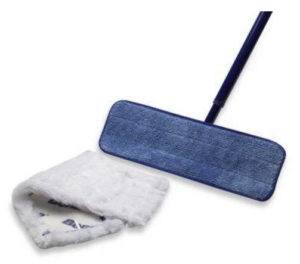 If you're fed up with the underperformance of your Swiffer, the Bona is the product you need in your life. It's inexpensive, but the quality is by far the best you'll find in the $20-$25 range.
For the best Bona results, you can first sweep over your area with the dusting cloth and then break out the disinfectant spray and use the cleaning pad to say goodbye to grime.
If you're not a fan of how much cleanser other spray mops leak onto your tile, the Bona is the perfect solution. Since the cleaner isn't integrated into the product, you can choose what you want to clean with and how much of it you want on your floors.
If you're looking for something light that can keep your home tidy between deep cleanings, the Bona has your back.
What to Look for in a Mop for Tile
Are you an old school mop lover or are you looking for the next major innovation in mop technology?
You have hundreds of options for mops on the internet, which means that there is the perfect mop out there for you. We're here to make that process a bit easier.
Here's a short rundown of the different types of mops you'll find on the market now:
Spin mop: A take on the classic mop and bucket; you won't need to spend any time wringing out your mop since the bucket does it for you.
Steam mop: Using only water, your floors will be sanitized and cleaned quickly.
Combo mop: Meet the child of the mop and the tile vacuum; this hybrid can clean virtually all parts of your home.
Tile scrubber: If your grout needs some serious TLC, you may want to invest in a specialized scrubby buddy.
Classic mop: Your good ol' cleaning companion without any of the bells and whistles.
When buying a mop for your tile, you should consider a few things before clicking the order button:
Will this mop be used only for tile?
If not, what other surfaces would you like to clean with the mop?
Are we only cleaning floor tile?
What is my budget for this mop?
Do I want a traditional mop or something that will make me feel like I'm not mopping at all?
Once you figure out what you want your mop to do for you, you're ready to go forth and purchase the mop of your dreams.
What to Expect when Spending More?
If you're buying a cheaper mop, that doesn't mean that the quality won't be stellar. When buying a less expensive version, that typically means that you're buying a mop with fewer extra features.
Low cost mops from around $10-$30 include classic mops without buckets and scrubbers specifically for grout. Since these products only have one function, the price reflects that.
If you're wanting to splurge a bit more, you'll be in spin mop territory. When spending roughly $30-$70, you'll find a range of spin mops with varying features, like splash guards and wheels, to choose from.
Anything over $70 will be able to get you a steam mop. Steam mops have their own price brackets as well, with lower end mops typically having fewer steam options and shorter cords.
High end steam mops (typically over $130) will include high-end features such as pet cleaning options or doubling as a vacuum.
The more money you spend, the less your mop will actually resemble a mop. With the right mop choice for you, mopping may not seem like a chore; it may actually become fun.
Rankings & Reviews
Here's the moment you've been waiting for: the definitive power rankings of best mops for tile floors has arrived.
Your tile will for sure get the royal treatment when using any one of these awesome products. You'll find all of the details on specs, appearance, value, and where to buy below.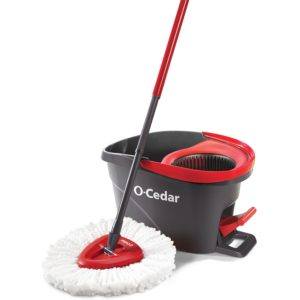 Contents: Extendable mop, microfiber cloth, EasyWring bucket
The highs: Hands-free wringing, includes a splash guard, can also mop other hard floor surfaces
The lows: Everything included is plastic and the bucket doesn't have wheels
This mop is the best of the best, combining the best in value, efficiency, longevity, and appearance. The O-Cedar can clean everything, including the kitchen sink.
This mop can be used with any cleaning solution, such as water and soap, hardwood cleaner, some form of bleach, or any shower cleaner to get the job done. It's your one stop shop for hard surface cleaning.
There is no clean up involved when using this cleaning system. There won't be any leaks or splashes from the bucket while wringing to ruin your streak-free floors.
If you have hard to reach places, the mop's triangular head and adjustable rod will help you get the most difficult to clean areas spotless.
The price point for this type of system is why users have ranked it their number 1 choice in 3 separate cleaning categories. No other mop on the market can boast a hattrick like O-Cedar can.
What reviewers say about it
With a 4.4 star rating, it's easy to see that users are absolutely in love with O-Cedar. Here's how this mop has influenced customer lives:
This mop has changed the way they've cleaned after 40 years.
The O-Cedar keeps their constantly forming dust bunnies at bay.
(And, my favorite opinion): The mop works like a turbo salad spinner, which makes mopping almost fun.
What's good?
This product, as stated earlier, is incredibly easy to use. It will do its sole duty of keeping your house clean and it will do it well.
O-Cedar's mop is lightweight and their bucket uses a pedal to wring out your mop. This makes this the perfect product for anyone who may have ailments that prevent them from using their hands too often or from bending down repeatedly to clean.
There are many different microfiber cloths that you can replace the mop head with on the market, which means you're not totally limited to O-Cedar products. You can also use any kind of cleaning solution you want in your bucket and it won't harm the plastic.
It's smaller than a lot of other spin mops, which means that set up, clean up, and storage are a piece of cake.
Overall, this product is one that has significantly more pros than cons, which is why it's so highly recommended by users across the board.
What could be better?
Because this product is so lightweight, that means that the materials its made out of have to be lightweight as well. Everything you see above is made of plastic, which will last for a long time according to reviewers.
After about 3 years, many reviewers said that they needed to replace their mop pole for something more durable, such as a stainless piece. The bucket seems to have more longevity than the pole, as long as you empty it after every use and don't go past the recommended fill line.
The only other downside to this product is that there are no wheels on the bucket, which makes it difficult to maneuver when full. This system seems to be ideal if you're cleaning one or two rooms in your house every time you break it out, but might not be the best choice for someone who cleans for a living.
How does it compare in value?
Compared to the other two spin mops like it on this list, we can see that this is the least expensive option, yet it still has spectacular reviews.
O-Cedar has gone to infinity and beyond finding the happy medium between value and quality, which shows in its sales.
How has it improved?
From the information we've read, this product doesn't seem to have gone through any major changes since first hitting the market.
The only thing that I can see being improved in the near future is the addition of wheels to the bucket, which many customers have begun to ask for in recent months.

Contents: Steam mop, reusable microfiber pad, fragrance discs
The highs: Sanitizes while cleaning, no chemical use, steam comes out continuously
The lows: Steam can be a bit dangerous
If traditional mops are not your bucket of water, this is the product for you. The Bissell 1940 is everything that you'll need and more to keep your hard flooring surfaces spotless.
This product is the highest ranked steam mop, which is the pinnacle of achievement for today's consumer market.
If you're looking for something with more than simple sanitizing powers, BIssell provides fragrance pads so your home will smell as good as it looks.
There are even different steam options for the toughest and stickiest of messes. Your decade old grout doesn't stand a chance against this master of a machine.
What reviewers say about it
The 4.2 rating doesn't lie, there are literally thousands that rave about how great their grout looks after using the Bissell 1940.
One satisfied customer says that it saves time, hassle, your back, and the environment by not having you purchase cleaning solutions and mopping pads every week.
One really satisfied customer said that life is good with this steam mop.
One way too satisfied customer said that this mop is awesome. Sure I wish she was a cheaper date, but hey, she sure can make me steamy.
What's good?
This mop weighs in at a whopping 8.3 pounds, which means that it's light enough to take with you around your entire home. There's no need to carry a giant bucket of solution with you when using this mop, which may be the biggest pro of all.
Plugged in products can be a bit of a tricky thing, but the length of the cord for the Bissell 1940 is just long enough to get you around the kitchen or bathroom without unplugging and plugging back in again but not too long as to where you're tripping over yourself.
Finding a product with a need for zero cleaning products to sanitize your home is like finding a pot of gold when it comes to cleaning. With this product, you've basically lucked out and found a unicorn at the end of your rainbow, too.
What could be better?
If you're looking for a high-intensity product that cleans and sanitizes at high temperatures, you're looking in the right place. Because the product works at such a high temperature, cleaning can be dangerous if you're not careful.
You have to flip the steamer over to use the scrubbing portion of it, which means that if you don't turn the mop off, you're in for a face full of hot steam. If you're not careful, you could be dealing with a burn in addition to your unfinished floors, which is a scenario no one wants to be in.
Some floors, such as porcelain, retain heat very well. Don't keep your product in one spot for too long, because that could lead to hot tiles burning unprotected feet and paws even 5-10 minutes after you're finished.
If you're aware of how much steam you're using and be careful, you won't run into any of these issues. If you've been known to leave your flat iron plugged in while you're at work, you may want to think twice before purchasing this product.
How does it compare in value?
As far as other steam mops go, this is a mid-range model that does the job as well, if not better than the higher end models.
You will be spending considerable more than what a budget version of this product would be, but you're also getting much more for your money; it's very much worth it.
How has it improved?
Looking at reviews as far back as 2012, this steam mop doesn't seem to have gone through a major overhaul in design since its conception.
That being said, customers are still as happy as they have ever been, which makes it seem like this product was great to begin with.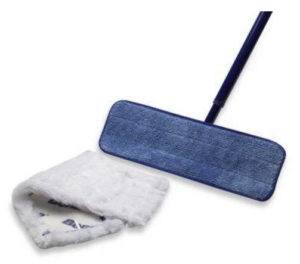 Contents: Mop, Cleaning Pad, Dusting Pad
The highs: Super lightweight and easy to use
The lows: Need to carry around cleaning solution with you while using
Bona has created a simpler version of their Swiffer-like product, which involves their basic mop and two cleaning pads. If you're looking for a no-frills way to clean your home, you've found the product for you.
Usage is simple: You use your own cleaning solution, spray it on the ground, and use the Bona mop to clean it up.
Unlike other options, this can be used for both wet and dry cleaning scenarios. The dusting pad is ideal for everyday usage, while the cleaning pad is ideal for deeper cleanings every few days or weekly.
Since this mop has the duster pad, you can take it to the skies and use this product to dust high to reach places, like crown moldings without hassle. Because of the low price point and versatility of the product, we'll recommend Bona for any home.
What reviewers say about it
If you're looking for your new everyday picker upper, you've found it.
Satisfied Bona users say this is a good, everyday, easy to use mop.
They also love the dusting pad to quickly go over floors then they use the cleaning pad with a few spritzes of cleaner to make the floors really shine.
The best advice users gave was to buy the Bona and throw your Swiffer in the trash.
What's good?
For the price, you're not going to find anything better out there. This product is sturdy and can get the job done quickly.
The soft microfiber head and rubber inserts will leave your floors streak free without leaving any accidental scratches behind.
You can use as little or as much cleaning product that you want, which gives you full control over what you put in your home. If you're not a fan of products that are chemical heavy, you can go green and choose an organic cleaning solution to spray along as you go.
Bona is also more durable than any other similar adjustable pole mop. Most people get years of use from their new tidy best friend, creating hundreds cleaning memories that last (at least until the next inevitable spill).
What could be better?
The charm of this product is that it is very simple and easy to use. The downside of that is that there are few features to make this product stand out among the crowd.
The real downside to using Bona is that you need to carry around some sort of cleaning solution with you if you're using the cleaning pad. For someone that doesn't want to keep bending down with a spray bottle, this could be a major deterrent.
There is also no super rough scrubbing edge, so stuck on messes may be a bit more difficult to clean. You may need the help of a second product that specializes in scrubbing if you've let pasta sauce splashes sit on your floor for a few days.
How does it compare in value?
For comparable products, you're getting much more bang for your buck when you go Bona.
A regular old swiffer that you can buy at the local grocery store can do one thing and one thing only. The same old swiffer wet jet also has its fair share of problems, especially with the fluid getting clogged and using too much solution on the ground.
The Bona takes the best parts of each of those traditional products and merges them into the dry dusting and wet mopping masterpiece that users adore.
How has it improved?
This product was developed after original Bona fans said that they'd like to see a version of the product that doesn't have the cleaning solution integrated into the product, like a Swiffer wet jet. Thus, the new Bona was born.
This version is lighter, more versatile, and is the perfect multi-cleaning solution for any home.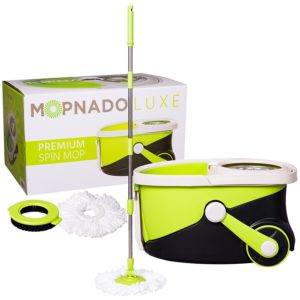 Contents: Rolling bucket, mop handle, scrubbing mop head, 2 microfiber mop heads
The highs: Easy to transport, built-in agitator, stainless steel parts
The lows: You'll need a handle extender if you're 5'11" or taller, no splash guard
This take on a spin mop classic made our list because of the extra features that our tried and true O-Cedar pick doesn't offer.
The Mopnado has a soap dispenser built in, has wheels and handles to easily transport, and comes with a specialized scrubbing mop head to get into the nitty gritty of your dirty grout.
This option is a bit on the pricier side of spin mops, and in our eyes, the extra price difference made this our second rather than top spin mop choice. If you're wanting your cleaning buddy to have all of the bells and whistles, this is the mop for you.
What reviewers say about it
Great reviews are common, and pleased customers like these want to spread the good word of Mopnado (and their friendly service) across the internet.
Some say that customer service is absolutely superb in this family run business.
Others compared this mop to a superhero that can mop mop and away; Mopnado is the Superman of mops.
What's good?
Your grout grime monsters have nothing on the specialized Mopnado scrubbing attachment. The versatility in head options for your mop means that you won't need to purchase any other product to help your mop reach maximum functioning.
The bucket is the most unique selling feature of the mop. You have stainless steel inside to avoid rusting or wear and tear, you have an agitator on the side to scrape off any extra grime, and you have an easy way to take your cleaning to the next level (if you have a staircase).
What could be better?
Mopnado's bucket doesn't have a splash guard, which means that spills are prone to happen when you're spinning the cleaner off of your mop. Because the product rolls, that could mean spills if you're not careful, too.
In most families, everyone is expected to chip in and do the mopping every once in a while. If you have any family members over 5'11", you're going to need to purchase an extender to make your mopping experience pleasant rather than a back pain.
Contents: Mop and pocket head
The highs: No trigger to let the steam out, easy to push, cleans without much effort
The lows: No way to control the amount of steam coming out
The leader of the lower price point of steam mops, the Shark Pocket mop is lightweight, sturdy, and can sanitize any stuck on stain.
If you can plug 'n' push your mop, you can get your home spotless with the Shark.
What reviewers say about it
Usually, we can see how well a product performs by looking at multiple reviews. Thankfully, we don't need to look any further than this customer's short but sweet poem about the Shark:
Functional perfection
Minimal cost
Lightweight, nimble, easy to use
Extremely effective.
What's good?
You can use this mop on any hard floor, which means that between the living room, bathroom, and kitchen, you won't need to change your cleaning product.
Because this mop is unique and doesn't have a trigger to let the steam out, those with arthritis or other ailments in their hands don't need to worry about any added strain from pushing a button as they scoot their steamer along.
What could be better?
This steam mop needs to be hot enough to kill bacteria on the ground with only water, so you can expect temperatures to get high. As a downside of all steam mops, high temperatures that can lead to burns are a possibility.
Looking at the opposite of one of the pros, a unique downside to the Shark is that there's no control of the steam on the floor; As you move the mop, steam simply comes out. This means you need to physically unplug your product as soon as you're done to avoid any damage to your floors (or feet).

Contents: Extendable arm and scrubber
The highs: Specialized for scrubbing
The lows: Limited usage
Though this product isn't a mop per-say, the OXO Scrubber is an awesome addition to your tile cleaning team. This game changer is extendable, is designed specifically for grout, and cleans those extra hard to reach places with ease.
The OXO is what you need to bring out when your regular spin mop or steamer won't quite finish the job. If you're not ready to make the investment in a whole new cleaning system, this inexpensive addition can pump up your home's cleanliness without pumping out cash.
What reviewers say about it
Thousands have joined the OXO bandwagon to revamp their cleaning routine. Just in case you need some more convincing:
One user said this tool gets every single hidden corner of their bathtub clean.
And another wishes they had bought this years ago.
What's good?
If you have an awesome spin mop or steamer but you're looking for something that can add just a little more oomph when you're deep cleaning, OXO does just that. The scrub pad on the end is just rough enough to demolish dirt and debris without scratching your precious porcelain.
The arm of the scrubber is perfect for those that can't (or just hate to) get down on the ground to scrub the old fashioned way. The extendable arm is perfect for leveraging your weight to optimize scrubbing capacity.
What could be better?
The only foreseeable downside to this product is that there is one specific use for it and one use only.
If you're looking for an all-purpose mop that can do everything from scrubbing to dry sweeping, this will be a disappointment. It's still an awesome piece though because its mastered the art of scrubbing hard to reach spaces.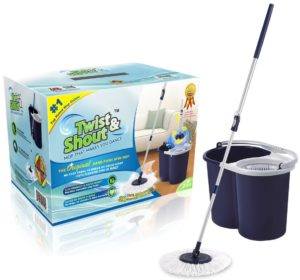 Contents: Bucket, mop, microfiber cloth
The highs: Self wringing and has an anti splash guard
The lows: No pedal to spin the mop
This high-rated fan favorite is no stranger to people singing its praises. There's no twisting in frustration nor shouting in agony when breaking out this cleaning product.
The unique push to spin mechanism the Twist and Shout features is different from other spin mops that are controlled by a foot lever. People love how different (and unbreakable) this feature is compared to similar products.
Using this mop is like going through your usual set list of chores. The encore is hearing your loved ones rave about how spotless your tile is.
What reviewers say about it
Mopping doesn't have to be a chore.
One user makes mopping one of the more relaxing parts of her day. To spice things up, she drops a few drops of essential oils into her bucket of water, such as lavender or lime, and transforms mopping into a spa experience!
What's good?
This spin mop is reliable, easy to use, and keeps excess water off of your floor while cleaning. The durability of this mop is the reason fans keep purchasing the Twist and Shout as gifts for friends, family, and even the babysitter.
The anti splash guard and self wringing mechanisms make sure only just enough water will be used, making drying times faster than the speed of light. Okay, maybe it's not that fast, but you get the idea.
What could be better?
In earlier versions of this mop, the salad spinner mechanism was controlled by a foot lever. In the newer version, this mechanism seems to be controlled by the user twisting the mop in the bucket.
Though both styles have their merits, some fans of the Twist and Shout say they prefer the earlier model with the foot pedal. Maybe the original Twist and Shout will make a comeback in a few years as a "vintage" version and we'll see the foot pedal make its return.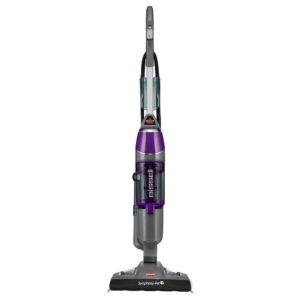 Contents: Steam Vacuum, 2 microfiber cloths
The highs: All-in-one product for tile & hardwood floor cleaning needs
The lows: It only does each job semi-well
With the Bissell Steam Vacuum, you're literally given the power to vacuum and sanitize at the exact same time. You don't even have to vacuum before mopping; you can do it all in one fell swoop.
Because Bissell's product is versatile and the price range for one of these beauties is that of a mid range steamer vacuum, you're essentially getting a 2 for 1 deal with this product.
What reviewers say about it
Some little girls dream about the day that their evil stepmother doesn't make them clean the whole house alone while her stepsisters watch. Others only dream about the shiny, streak free floors in the story:
One user said that this mop is a dream come true. She can clean her floors in five minutes as compared to the 30 it would have taken her to sweep, boil water, mop and wait for it to dry.
Cinderella would be over the moon if she had a Bissell Symphony for sure.
What's good?
There's no need to have 3 or 4 different products sitting in your closet for different stages of the dreaded tile cleaning process. With an all-in-one masterpiece like this, you don't have to worry about buying different products that do different steps of the same process.
If you're like most people and want to get your cleaning done as soon as possible, Bissell has created a product that should sing directly to your soul. Welcome to having more time to sit around after cleaning, admiring how great of a job you just did.
What could be better?
The tricky thing that happens when you find an amazing product that seems to do it all is that sometimes, the product does things only half as well. Some reviewers find that to be the case with this Bissell vacuum steamer.
Some think that you would be better off buying a tile-safe vacuum and a steamer separately so they can excel at what they do best separately.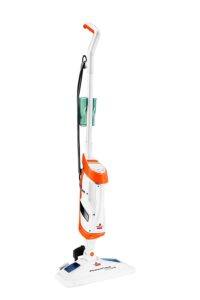 Contents: Steamer and variety of detachable tools
The highs: Ability to steam above the floor
The lows: Price tag
Bissell has created a product that not only allows you to sanitize your floors, but that specializes in cleaning grout all over your kitchen and bathrooms.
The unique detachable head and accessories are what stand out the most to customers that have been wanting more from their steamer. The removable head portion of the PowerFresh steam mop will get your tile looking the way it did the day you installed it in no time.
What reviewers say about it
Detailed reviews by consumers are one of the most important factors when deciding whether or not to purchase a product.
If you had any doubts that this machine could clean, one pet parent said they love that the whole pad is dirty when they take it off. It does a great job on grout and melts the dog saliva off their windows.
Now we know Bissell wasn't lying when they said it was pet-proof.
What's good?
Bissell knows what their customers want, so they create specialized products for their very specific needs. This product is a steamer with all of the attachments any self-proclaimed neat freak could ever ask for.
You'll receive scrubbing attachments, a fabric steamer, and a variety of other brushes to keep all areas of your house neat and tidy when you buy this steamer. Customers say that with the grout scrubber, they never had to just "put their back into it" to get the dirt off again.
What could be better?
When looking at how pricey this steamer is, it is a very mid-range model. Some higher end steamers can trend toward the thousand dollar mark, which is a hefty tag for most people in the market for a new cleaning supply.
Though this product clocks in at just under $150, compared to other products that we've reviewed so far, spending this much on a product with a single function may be a perceived downside.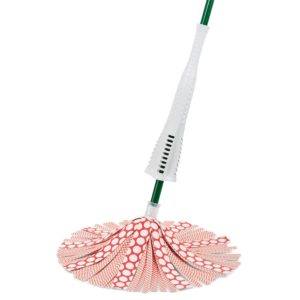 Contents: Mop and mop head
The highs: No-frills cleaning experience, inexpensive
The lows: It's just a mop
You may be wondering why this little inexpensive mop is on our best mops for tile picks. Shouldn't all good mops have 60 features that can magically make any 500 year old stain disappear?
We have to disagree. The Libman Wonder is the best traditional mop you'll find on the market. If you love your bucket of water and the ritual of ringing out the cloth after every few swipes on your floor, Libman has your back.
With Libman, you'll even get a mop equipped with a specially designed tool to help get all of the extra liquid off before you take to the floors, saving your hands from the usual strain of the wringing process.
What reviewers say about it
The reviews are mostly positive for this product- the only negative reviews are for people who are wanting more than just a mop. (See below for our "what could be better analysis" to see what they mean).
The common positive reviews acknowledge that this is a cheap mop, but they really like it. It's not a miracle worker, but it's a good little mop that gets the job done well.
What's good?
If you're a traditionalist and the new wave steam mops or spin mops aren't your jam, Libman's your choice. The wonder mop makes mopping a breeze… some may even say it's a wonderful experience.
You'll get only the basics, which means your cleaning experience is simple from start to finish, and you won't have tons of accessories that have the potential to break. Easy peasy.
What could be better?
If you're wanting the swiss army knife of mops, you should pass on the Libman.
What you see is what you get with this product. If you want your mop to do more for you, try one of the other options listed above.
It's Your Choice Now
We've given you the run-down on mops of all shapes, sizes, and prices for you to choose from when making that all important decision of what to use on your precious tile floors.
For spin mop needs, our
O-Cedar pick takes the prize with their easy to use and mess free system.
If steam mops are what you're after, our
Bissell 1940 pick is both cost effective and efficient in getting off stuck on grime.
For simplicity's sake,
Bona is the perfect choice for your everyday sweeping and weekly mopping needs.
Have you tried any of these products yourself? Do you have a favorite tile cleaning mop and think that it should be on this list? Let us know below.