You've realized the worst has happened: the scratch you've had on your tile for years is actually a scratch in the grime covering your entire floor. Yikes is an understatement.
Since you threw out your knee pads when you gave up skateboarding in college, getting on your hands and knees to scrub it away is not an option.
If you're looking for a better way to clean (which we all know you are), one of our 6 best steam mop options may be just what you need.
Steam mops literally melt away muck before your eyes, and they sanitize your floors during the process. The proof is in the microfiber pad, which will inevitably be super grody when you're done.
There are a few different steam mop types on the market, so one of them is bound to be the perfect match for you and your newly discovered grime scratches.
Since we know you need help ASAP, let's dive right in and look at the 6 best steam mops money can buy:
Rankings: Best Steam Mops
What to look for in a steam mop?
When searching for a steam mop, you'll come across a few different models on the market. Here are the most common models of steam mop you'll find:
Steam cleaner for hard floors
Steam cleaner for hard floors and carpeting
Convertible floor to hand steam cleaner
Steam cleaner vacuum combination
Steam cleaners and mops for hard floors are your basic run of the mill cleaners. These do the job they're meant to do well without any extra frills.
Steam cleaners that clean both hard floors and carpeting are a different story. These typically have a carpet attachment you can add to the head of your hard floor steamer, making cleaning your entire home in a single go simple.
Convertible steam cleaners are perfect for people who aren't fans of purchasing a separate product that does the same thing as something they already have. You'll get full floor cleaning and portable power with a convertible steamer.
Steam cleaner vacuum combinations are very unique in that there is only one on the market right now (the Bissell Symphony). Because of their many uses and practicality for small homes, we expect to see these grow in popularity over the next few years.
No matter if you're looking for something simple or something with all the bells and whistles, there's a steamer on our list for you.
What to expect when spending more?
When getting a steamer at a low price point, you should expect to get a steam cleaner for hard floors and that's about it. These won't have all of the fancy attachments you may want, but they'll be hot enough to sanitize your floors and make them sparkle.
Steam cleaners that convert to portable cleaners are usually mid range models. This added function adds a lot of value to the user, so the increase in usefulness logically reflects the increase in price.
The steam cleaner vacuum combination is the most expensive model on our list because it takes two large floor cleaners and turns them into one. If you were to purchase a vacuum and a steamer separately, for the quality you're getting in the combination tool, it would be far more expensive.
When purchasing a steam cleaner at any price point, there will usually be an available option for you to purchase a head attachment that will allow you to use your hard floor steamer on carpet. Some models (like the O-Cedar below) come with the attachment in the box, but even if yours doesn't, you should be able to purchase one separately.
No matter what your price range is, we have an option below that will steam its way straight into your heart.
Full Reviews
Our favorite part of the article has arrived: the rankings and reviews.
We've taken the top 6 steamers and put them to the test. Now it's your turn to decide if our best of the best is truly better than all the rest.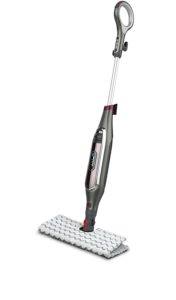 Weight: 5.78 pounds
Tank capacity: 11.83 ounces
The high points: Steam blast option, hands free pad installation, no need to press button to release steam
The not-so: Non-removable water tank, steam control buttons are at base of body, continuous flow of steam
What better product to take our number one spot than something certified as a Genius?
Also our #1 hardwood steam cleaner pick, the Shark Genius is one smart machine that has the ability to steam like there's no tomorrow. With 3 heat options an an extra duty steam blaster, the Shark Genius has the tools to clean your home in a snap.
With not one, but two dirt pads, the Genius gives you more time between washings to clean the dirt grip pads that will be certified disgusting by the end of a cleaning session. (But you know, disgusting in a good way.)
The mop is also lightweight, so anyone from preteen girls to retired men can easily navigate the Genius around their home.
You'll sanitize your home while cleaning it with the pure no-chemicals-added power of heat and water, leaving your floors spotless and safe.
What reviewers say about it?
Reviewers have great things to say about the cleaning power of the Shark Genius. Users found little to no issues cutting through built up grime from weeks of neglect.
This mop is not as hot as other steam mops, which makes this a good model to have if you have children or pets running after you as you clean. Unlike other steam mops, your feet won't burn while cleaning.
The mop was also easy to put together, and aside from a few odd design choices, reviewers rave about how well the Shark Genius works for them.
What's good?
There's nothing more satisfying than seeing a horrendously dirty pad after cleaning an entire kitchen. It's rewarding seeing the dirt that you picked up, but it's not so nice taking off the dirty pad and throwing it in the washer, right?
The Shark Genius fixed that problem and added hands-free pad technology. Say goodbye to putting on gloves to take off the dirt grip pad when you're done.
One pro of the Genius is that you don't have to hold down a button when dispensing steam. You press a single button on the body of the mop and viola, a constant stream of steam appears.
There's also a steam blast option which gives a bit of extra heat to hard to clean spots. This is an awesome option for cleaning dirty grout and sticky messes.
What could be better?
On most steam mops, a removable water tank is a given. With the Shark Genius, you'll be left scratching your head as to why they chose to have their water tank integrated into the body of the mop.
If you're lucky enough to have extra water in your mop when you're done cleaning, you'll have to turn the entire unit upside down to drain it. Cumbersome is an understatement.
Though some may think constant steam is a pro, others may not like that option. If you have kids or pets, you may not want to have steam coming out when its resting, just in case one of your little ones decides to run past.
If you're not into yoga, you may not be into pushing the buttons on this mop, either. All steam controls are at the base of the mop, which means you'll need to bend over slightly every time you want to change the steam control.
Overall, the raw cleaning power and price of this steam mop make-up for its less than ergonomic design.
How does it compare in value?
The Shark Genius is in the low to mid price point of steam mops, which means that compared to other mops in its price point, it's hard to beat.
Most other mops in this price range are much flimsier than the Genius, which means that you're getting a better cleaning and more durable product when buying this Shark.
How has it improved?
In earlier models of the Genius, a simple microfiber cloth was used in lieu of the dirt grip mop pads used now. The new pads are much better at giving you that extra oomph you need to get sticky messes off.
Older models also didn't have the steam blast option, which in addition to the dirt grip pads, make it easier than ever to clean.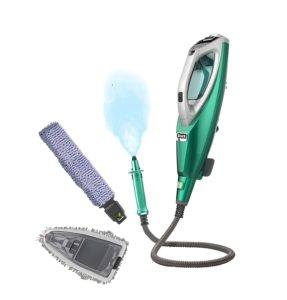 Weight: 9.67 pounds
Tank capacity: 13 ounces
The high points: Can easily convert into a handheld, multiple accessories for different cleaning purposes, dual sided pads
The not-so: In unit water tank, does not stand on its own, accessories are hard to store
If vacuums can convert into a handheld steamer, why can't your steamer do the same thing?
If you're the kind of person who wants to sanitize everything, especially during flu season, the Blast & Scrub is the Shark for you. It's great for home or for work, especially if work involves a classroom full of germy kids.
This 2-in-1 steam mop allows you to clean everything from the floor to your ceiling… well, it would if your ceiling were made of tile.
The dual sided pads allow for a longer uninterrupted cleaning session, reducing the amount of time you're actually cleaning. The rectangular cleaning head is large, also allowing for a faster steaming.
If specialized cleaning tools get you excited, you'll have a lot to celebrate when you purchase the Blast & Scrub. As Shark would say, there's an attachment for that.
What reviewers say about it?
Reviewers are so pleased that they have a mop that can take care of all of their steam cleaning needs. Most steam mops don't have a handheld option, so this one stands out.
Most reviewers say that though it's not as tough on grout as some other steamer options, it gets the job done well and is great for maintaining your clean home.
Distilled water can be a pain to store, especially because most people don't know exactly when they're going to mop and going to the store every time is a bit overkill. This model can take tap water like a champ, and won't break because of any hard water residue, which users love.
What's good?
You're no longer tethered to the floor with the Shark Blast & Scrub. With this, you're able to clean not only your floors, but your wood-look tile, countertops, and backsplashes, too.
The Blast & Scrub easily converts to a handheld and there are plenty of handheld accessories that you can attach to blast away dirt anywhere.
This Shark features pads that are dual sided, meaning that you'll have to change your pads half as often as you normally would. Since changing dirty pads is arguably the worst part of using a steam mop, this feature is incredibly useful.
What could be better?
This Shark, like the Genius we reviewed above, has a built in water tank. Though there could be a few pros to this feature, like a tank less likely to leak, it's really inconvenient to use the funnel to fill the tank.
The Blast & Scrub may also be a pain to stand up while cleaning. It doesn't seem to balance well on its own because of the dual sided head, which means you'll need to either lie it down on the ground or wedge it between two pieces of furniture to prevent it from crashing.
Storage is also an issue for the Blast & Scrub; It may look like an easy product to hang with the large hole in the handle, but that's not the case. This Shark has a lot of accessories, and since it doesn't stand well on its own, many are just keeping the box in their closets for storage.
If you're crafty, coming up with a way to hang the Blast & Scrub and its accessories on the wall would make things much easier for you. It could also make you a few dollars if you market it to other Shark users if you know what I mean.
How does it compare in value?
This Shark is in the mid price range of steam cleaners. For all of the accessories you're getting, this product is well worth its value.
Most other steam cleaners in this price range will be floor only, not allowing you to detach the head and steam other areas of your home.
How has it improved?
Earlier and less expensive versions of the Blast & Scrub have fewer head attachments, limiting your cleaning capacities.
If you're not wanting to go and purchase each attachment separately (which gets very costly very quickly), this Blast & Scrub is the one for you. This Shark streamlines the purchasing process by giving you essentially everything you could possibly need at once.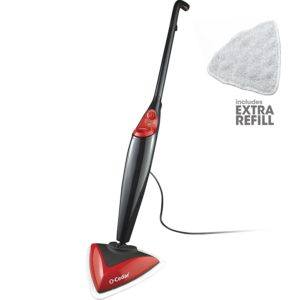 Weight: 7.4 pounds
Tank capacity: unknown
The high points: Can freshen up carpet, 20 second heat up, lightweight
The not-so: Unknown tank capacity, built in tank may be hard to fill, no scrubbing pad
Though we chose this as our budget pick, this little steamer is anything but cheap. It gives you no nonsense cleaning power without any of the extras you may not use anyway.
If you have mostly hard flooring and carpet in your home, this is the product for you. One unique feature the O-Cedar has allows you to freshen up carpets and area rugs easily.
The O-Cedar is light enough for your kids to clean with (while supervised, of course), which means you can share the joys of cleaning with your children at an early age. Instead of the boogey man, they'll fear grime scratches.
If keeping your house clean with a weekly steam is your goal, this product will be able to help you get there. Deep cleanings are better left to other models since the O-Cedar excels in maintaining your shine.
If convenience was able to be molded into the shape of a steam mop, the O-Cedar would be it.
What reviewers say about it?
Reviewers love the fact that the O-Cedar is so easy to use. After plugging in, all you need to worry about is gliding across your floors and picking up the dirt that's been left there.
Some users say that this isn't the best product for getting those hard to get off sticky stains, but it does a wonderful job of maintaining the cleanliness of your home once you do a deep cleaning.
The swivel head of the O-Cedar makes cleaning easy for people that have had difficulty maneuvering larger units in the past.
What's good?
The O-Cedar is light on the arms, but tough on floors. Anyone and everyone can take this lightweight steamer for a spin.
If you have better things to be doing than cleaning your floor, you'll be relieved to hear the O-Cedar has a 20 second warm up period. By the time you can sing the alphabet in your head, your steamer will be ready to go.
One unique feature this steamer has that even more expensive steamers don't is the carpet freshener. You can snap this on to the bottom of your microfiber cloth and pick up dirt on all types of carpeting in a jiffy.
What could be better?
On both the O-Cedar website and any other site where this steamer was sold, we couldn't find an exact tank capacity listed. According to reviews, the specific amount of water this steamer has is about a room and a half full.
This product has a built in tank, like the other two models we reviewed above. Users say that this is one of the worst and most cumbersome parts about cleaning with the O-Cedar.
No one wants to clean spills off the floor after filling up their cleaner. Users just want removable water tanks.
The microfiber pads for the O-Cedar are soft and thick, but they're not made for scrubbing. One user said that the O-Cedar paired with a Magic Eraser was the ultimate dream team, so if you need to scrub, consider that as your backup plan.
How does it compare in value?
This is one of the least expensive steamers on the market, but it certainly doesn't have the quality of an inexpensive steamer.
With the O-Cedar, you're getting a basic steamer with a unique option (hey there, carpet attachment) that most steamers for twice the price don't have. If you're on a budget and want something high quality, the O-Cedar is the pick for you.
How has it improved?
This looks like the only steam cleaner O-Cedar has on the market, which means it's basically competing against itself.
Since the current model has the carpet attachment, 2 steam options, and an easy to maneuver head, we can say that this current O-Cedar doesn't have too much competition to look forward to. The only thing we want to change is adding a removable water tank (take the hint, O-Cedar).

Weight: 8.3 pounds
Tank capacity: 16 ounces
The high points: Built in easy scrubber, fragrance discs, continuous steam, removable water tank
The not-so: Should use distilled water, for maintenance rather than deep cleaning, continuous steam
If fragrances and clean floors are your thing, the PowerFresh by Bissell should also be your thing. With this steam mop, you'll get your floors spotless and sanitized, all while adding a fresh scent to your home.
With features like a built in scrubber and two different kinds of microfiber pads, cleaning is easy. The PowerFresh also works 2x faster than other steam mops, so you have more time to clean that pile of dirty dishes (or play Candy Crush; we don't judge).
What reviewers say about it?
Reviewers love the fact that this machine uses no chemicals at all. If you're looking to go green, getting rid of harsh cleaning chemicals is something that can make your home safer for you and your guests.
Users also love that the PowerFresh eliminates 99.9% of bacteria and germs off of their floor. If you really wanted to, you could eat off the floor without a problem (aside from the weird stares you'd get, but that's beside the point).
What's good?
Alas, the removable water tank. The PowerFresh is easy to fill, making assembly and (especially) clean up simple.
The continuous steam feature, as noted in other product reviews, can be a pro or con. If you're unable to hold down a button for a long period of time while cleaning your floors, this is a great feature for you to have.
This mop comes with a built in scrubber to get tough stains off. The "fresh" of the PowerFresh name comes from using fragrance discs underneath the pad as you steam, leaving your house not only looking good, but smelling good, too.
What could be better?
For your Bissell to last, you need to use distilled water when cleaning. This isn't that big of a problem if you live in a large house with ample closet space, but it may be a problem if you're in a studio apartment and don't have much room for yourself, nonetheless extra jugs of water.
Though the Bissell cleans well, it won't get years and years of gunk off of your floor. Once you do a deep cleaning of your home, the PowerFresh will keep your home nice and refreshed.
The continuous stream of steam, though useful for most, may be a con to some. If you're cleaning by yourself dancing to Shakira, the continuous steam will be fine; if you have small children dancing with you, the constant steam may not be the best option.

Weight: 13.9 pounds
Tank capacity: 16.9 ounces
The high points: Steam blaster, 2 sided cleaning pad, removable steamer body, change mop pad without touching it
The not-so: Can't stand upright, no continuous stream in handheld mode
Just like the Shark's Lift-Away vacuum line, the Lift-Away steamer does the same thing, except it steams instead of vacuums. This Shark converts into a handheld steamer that presses garments, cleans countertops, and gets those pesky wrinkles out of your curtains.
With 3 levels of steam to "dust", "mop", and "scrub", the Lift-Away will be your go to for everyday cleaning or for a deep scrubbing.
What reviewers say about it?
Reviewers love that they only need one product to steam their entire home. Having a portable steamer along with a separate handheld steamer can make any storage closet feel cramped.
Users also love that they will never use any chemicals when cleaning with the Lift-Away. Sanitizing without selling out to cleaning corporations is always a plus in the reviewers' books.
What's good?
With the Lift-Away, you never have to touch the dirty mop pad when you need to change it out and wash it. Even better, you only have to switch out your mop head half as often because the Shark can spin its head around, allowing you to clean with both sides of the cloth.
The steam blaster is a signature Shark steamer feature that just so happens to be included in the Lift-Away. For those times you need a little more oomph, an extra bit of heat will go a long way.
The handheld mode to this steamer will make you and your cleaner inseparable. In handheld mode, you can steam curtains, countertops, appliances, backsplashes, glass, underwear, you name it.
What could be better?
When you have a steamer that can do it all, it seems odd that it can't do something as simple as standing on its own. You'll need to prop the steamer against a counter or between pieces of furniture if you need to pause for a moment.
When in handheld mode, the steamer does not dispense continuous steam. As a few users noted, when holding curtains back while steaming, a continuous feature would be incredibly helpful.

Weight: 10.1 pounds
Tank capacity: 12.8 ounces
The high points: Both steams and vacuums at the same time, controls on handle
The not-so: difficult to clean corners of rooms, not as effective if using vacuum and steamer at the same time
The sound of steam? Music to your ears.
The Bissell Symphony is unique in that it has a 2-in-1 feature that no other steamer on the market has. You can vacuum and steam in the same unit at the same time, which streamlines your cleaning routine.
What reviewers say about it?
Most reviewers say that the vacuum function is just as good, if not better, than the steaming function. Considering that this is a steamer first, that was a pleasant surprise to most.
Though it's not advertised as a perk, you can go ahead and use the vacuuming function of the Symphony on your carpets and area rugs. Reviewers say that they use this as their everyday vacuum for all surfaces, not just on hard floors.
What's good?
With the Symphony, you have the ability to vacuum and steam clean at the same time. Most users don't use both tools at the same time, but instead tend to vacuum then steam clean.
One of the best parts of this steamer is that the buttons to control the heat are on the handle. Surprisingly, this is the only model on our list that has this user friendly feature.
What could be better?
The vacuum portion of the Symphony is raised off of the ground when the microfiber pad is on. Because of this, most say that it's better to get the vacuuming done before steaming, so the head of the vacuum will be closer to the ground for better suction.
The unique placement of the vacuum head also makes corners difficult to get into. Since all of the suction is in the center, you physically won't be able to maneuver the head to dust in your corners.
When steaming and vacuuming at the same time, many said their machines left streaks on their floors. Since no one wants to clean after they clean, the fix to this would be to do one function before the other.