The soft, warm feeling of carpet under your feet makes it a very attractive flooring option for some rooms in your home. But many people steer clear because it is just so difficult to maintain.
Carpet has its advantages and disadvantages when compared with hard floors such as tile and hardwoods. It can be a great choice to add warmth and softness to your home, but a disaster if it is not right for your space or your lifestyle.
Read on to learn everything you need to know about carpets so you can make an informed decision. We'll go through the pros and cons, what to look for when choosing a carpet, how much you can expect to pay, and how long you can really expect it to last.

Carpet Flooring Pros
1. Carpet Keeps Rooms Feeling Warm And Well-Insulated.
Who wants to step barefoot onto a cold, hard floor in the middle of winter? No one.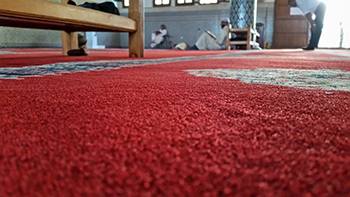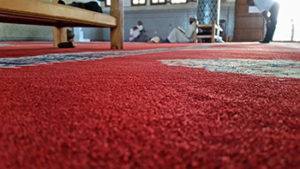 Carpet not only feels warm to the touch, it helps keep rooms insulated. So, you can walk around without socks or slippers if you choose to.
And you won't crank up the heater as much as you might with hard surface floors like linoleum. So your energy bill may also be lower.

2. Because It Is Soft, Carpeting Is Also Safe.
Kids run through the house and can fall. Elderly people sometimes struggle to get around.
Carpet is a much safer option for both because you are less likely to fall on carpet than on other types of surfaces. And if you do, since it is soft, the impact will not be as harsh.
It is the best option when safety is a concern.

3. It Is Comfortable To Walk Or Even Sit On.
If you have an active family who likes to wrestle and play around, you need a comfortable floor. Rolling around on ceramic, porcelain tile, concrete, or hardwoods (or even softer woods like cork or bamboo) is not fun.
However, carpet is cozy.
It feels good to walk on. And if you'd rather sit on the floor than a chair to watch television, you can comfortably do so with carpet.

4. Carpet Absorbs Sound And Reduces Noise.
Loud noises need a place to go. They reverberate off hard surfaces.
Carpet is absorbent. It can help stifle these sounds and reduce other noises.
So, if you like to walk around the house while others are sleeping, your footsteps won't be heard nearly as much with carpet. In fact, your family might not be able to hear you at all.

5. There Are So Many Choices Of Style, Texture, And Color.
Carpet comes in more options than any other type of flooring. Between colors, textures, styles, and thicknesses, the possibilities are virtually endless.
Looking for a plush, luxurious carpet for your bedroom? You'll have thousands of options to choose from.
Need a durable carpet for high traffic areas? There are countless varieties.
Even if you can narrow it down to Berber, frieze, loop, cut, or cut and loop, you'll be able to find the look that is right for your budget and taste.

6. It Is Very Appealing To Look At.
Carpet is aesthetically appealing. It brings warmth and texture to any room.
And it makes people feel comfortable and cozy.
It also hides dirt well, unlike hard floors. So even if your carpet needs a good cleaning, your guests probably won't be able to tell.
Carpet Flooring Cons
1. It Must Be Cleaned Regularly.
Carpet flooring requires ongoing maintenance. It needs to be vacuumed regularly or at the very least touched up with a carpet sweeper.
Periodic steam cleaning is also recommended. You can hire a professional cleaning company, buy your own steam cleaner, or rent one at a local home improvement store.
While it may not always look like your carpet needs cleaning, you never know what is lurking beneath its fibers.

2. It Can Stain If You Are Not Careful.
Hopefully, the carpet you choose is treated with a stain guard. But even if it is treated, carpet can still stain.
There are many cleaning products that can remove most carpet stains; however, if it isn't treated quickly, it is very difficult to remove a stain later. So, you may have to either learn to live with it or remove the stained carpet.
And some substances, such as red wine or pet urine, are very difficult to get out of carpet.

3. Carpet Can Cause Health Issues.
Carpet, like many other types of flooring, can give off chemical emissions. While it does not have the highest levels of VOCs compared to other flooring, this can be an issue for anyone who has health concerns.
It also tends to collect dust, dust mites, pet dander, and other allergens between the fibers. Anyone who needs to take measures to prevent allergens should consider an alternative to carpet.
However, if you or your family do not suffer from allergies, then regular carpet cleaning should suffice in keeping everyone happy and healthy.

4. If It Gets Wet, It May Need To Be Removed.
Accidents happen. Water or juice spills on the floor, the hot water heater erupts, the dog has an accident, or the house floods after a heavy rain.
Carpet does not hold up as well to water as other flooring. And in some of these cases, it may have to be removed altogether.
Liquids can seep down into the padding as well, causing the growth of mold and mildew.
So, if your home is vulnerable to any of these things, be prepared to replace the carpet periodically.

5. In General, It Doesn't Last As Long As Other Flooring Options.
Some types of carpet are very durable; however, it is generally not as durable as other flooring options.
In areas with heavy traffic, some types of carpet can wear down quickly. Depending on your preferences, you may have to sacrifice style for durability.
While most come with 20+-year warranties, the average life expectancy of carpet is around 10 years.
So if you like the look and feel of carpet, keep in mind you may have to replace it regularly.
How To Find High-Quality Carpet Flooring
With so many options and styles to choose from, what are the most important things to consider when finding high-quality carpet flooring?
Safe For Your Home
First, look for a carpet that is safe and does not harm the quality of air in your home. Check to see what the manufacturer says about VOCs in their carpet or look for one with an eco-friendly label. Look for CRI Green Label Certification for peace of mind. This is a Carpet and Rug Institute certification that guarantees a carpet to be low-VOC.

Warranties
Find out what types of warranties are offered with the carpet you like. Look for guarantees against staining and a warranty that covers matting and crushing.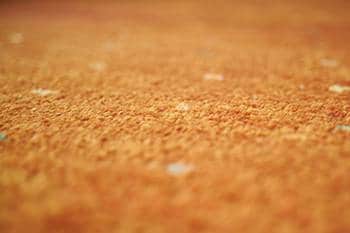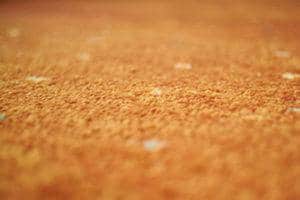 In general, carpets should have a lifespan of about 10 years, and warranties should guarantee that your carpet will not fall apart or wear through during that time.

Reputable Retailer
Use a reputable company that specializes in carpet and ask questions. A knowledgeable sales associate can share information with you on different fiber options so you can make an informed decision.
Below we have recommended five carpet retailers that should be able to help you make the right choice.

Style
Even though there are many styles available, choose the one that best fits your needs. For example, if you're carpeting a high-traffic area, Berber is a better choice than plush for that area.
Berber carpets are generally considered a good commercial carpet choice, and it should be made from Nylon, Olefin, or Polypropylene.

Padding And Installation
The quality of padding and installation also play a role in the final product. Make sure to select a good-quality pad and use a qualified installer to put it in your home.
Carpet Flooring Cost
Depending on what style you choose and how much area is covered, carpet flooring can be very expensive or very inexpensive.
Here's a breakdown of the costs by types of carpet flooring:
Loop Pile Carpet: This is a very durable carpet often used in commercial and high-traffic areas. The price is dependent on the material used: Wool $10, Nylon $3, or Olefin $1.50 per square foot.
Cut Pile Carpet: The four categories of cut pile carpet are Saxony/plush, Textured Saxony, Frieze, and Cable. Again, the material used impacts the average cost per square foot: Wool $15, Nylon $7.50, or Olefin $4.
Cut and Loop Carpet: This type is a combination of both the other styles. The average price is based on the type of material used: Wool $18.50, Nylon $10, or Olefin $6.50.
In addition to the cost of the carpet itself, there are also other expenses to factor into the total cost including:
Basic Installation: This averages $0.50 to $1 per square foot.
Additional installation fees: You'll incur additional installation fees for things such as custom cuts for staircases and other tight areas, removal and replacement of baseboards, installing subfloors, adding molding, removing old flooring, and moving furniture. These fees generally cost an additional $0.50 to $2 per square foot.
Padding: Sometimes padding is included in the price of the carpet, but if it is not, it averages $0.30 to $0.60 per square foot.
These prices are estimates to give you an idea of the cost of carpet. However, the actual prices will vary based on where you live and what you choose.
Carpet Flooring Durability
The durability of carpet flooring is determined primarily by three factors: fiber, twist, and density.
The types of carpet fiber include wool, nylon, acrylic, polyester, cotton, and olefin. The most durable fibers are those that are wear-resistant and protect against dirt and stains.
The twist of the carpet has to do with how it is spun into yarn and how that yarn is twisted on itself. Generally speaking, the tighter the twist, the more durable the carpet.
Density refers to how much pile is in the carpet and how close together the tufts are. The most durable carpet floorings have a high density.
Carpet Flooring Reviews
For a huge selection of styles and brands at wholesale prices, American Carpet Wholesalers is the way to go. They offer carpet flooring from virtually every major carpet mill in the country.
They are a Fortune 5000 company and have even been featured on the Today Show for their selection and prices. And the company has received numerous rave reviews for their service and products.
Although you may save significantly on the cost of carpet, their store is in Dalton, GA. So, unless you live close by, you will have to order the carpet online.
And you will be responsible for finding and scheduling someone to install it for you. American Carpet Wholesalers will provide resources for this, but ultimately you must find someone yourself.

Doma's tagline is: where fashion meets flooring. Doma offers three types of flooring: vinyl plank, hardwood, and carpet. We really found liked their carpet line to be refreshing. There are so many stunning looks and styles they offer.
Read our in-depth review of Doma.
Empire Today offers all the major styles of carpet including plush, frieze, Berber, patterned carpet, and even indoor/outdoor carpet. The company has received excellent reviews for its service, products, and installation.
When you order from Empire, you have the option to visit one of their many locations, or you can schedule one of their sales associates to come to you.
The company has been in business for over 55 years and has successfully served over 2 million customers.

Home Depot is considered the top home improvement store in sales both online and at its many locations. The company makes it a priority to staff knowledgeable sales associates who can help customers make well-informed decisions.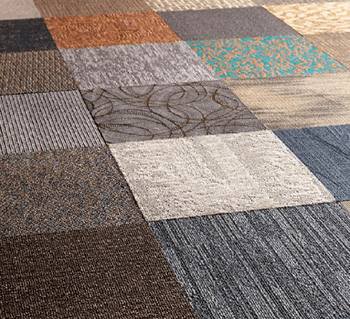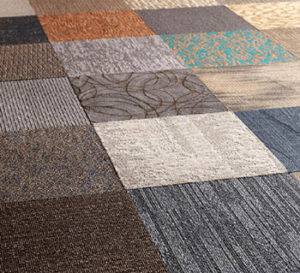 Home Depot carries a large carpet selection ranging from low-end to high-quality carpet options. The company sells carpet from many of the major manufacturers.
The company often offers special carpet installation deals with a minimum purchase order. They have received mixed reviews by consumers for their flooring and installation.

Lowe's carries many carpet options and is the only home improvement center that offers Stainmaster carpet. If you purchase their Stainmaster carpet, they also offer special deals on installation and removal of old carpet.
However, the company has received mixed reviews on their flooring installation.
Lowe's has been around since the 1940s and is now the second-largest home improvement retailer in the world.

National Floors Direct carries many different carpet styles and brands from most of the leading carpet manufacturers. Although they operate primarily online, the company adds a personalized touch by offering free in-home appointments.
First, you complete an online form to schedule the appointment with a trained flooring specialist who then brings floor samples and assists you with the selection of your carpet.
National Floors Direct also offers next-day installation on all in-stock flooring. So, if you are anxious to get it installed, their service might be the best way to go.
FAQs About Carpet
What Type Of Carpet Is Best?
The best carpet for you depends on your needs. But the most durable carpets will be made from a stain-resistant fiber such as nylon, have a tight twist level, and a high thread density. This type of carpet is ideal for moderate traffic areas such as your living room. You may prefer a softer, looser carpet for other areas such as the bedroom.

What Is The Most Popular Carpet Color?
Carpet color trends have changed significantly over the years, and thankfully we have moved past the patterned stage. Neutral colors at the lighter end of the spectrum, such as beiges and grays, have become popular. These colors are easy to incorporate with overall room design themes and also tend to make spaces look bigger and more spacious.

Should Carpet Be Lighter Than Walls?
No, generally the rule is to work upwards, starting with darker carpets, lighter walls, and then working up to white or other pale-colored ceilings. It can be a good idea to match the colors of your walls and carpet, going slightly darker with one and slightly lighter with the others.

What Carpet Lasts The Longest?
Nylon carpets tend to be the most durable, especially if they have a tight twist. It is resistant to fading, mildew, staining, and crushing. You can expect a properly cared for carpet to last around 10 years.

Should I Keep Carpet In The Bedrooms?
Carpet is a very popular flooring option for bedrooms because it is soft, cozy, and warm. It is soft and warm underfoot when climbing out of bed first thing in the morning, and it retains heat, helping keep the room warmer at night. It is also a space in the home where you are likely to want to walk barefoot, making carpet a great choice.

You can make your bedroom carpet last longer by refraining from bringing food, drink, and other potentially staining items into the bedroom space.

Is Carpet Cheaper Than Wood Flooring?
When it comes to price, which is cheaper depends very much on the type and quality of the floor you go with. Both carpet and hardwood floors can cost as little as $3.00 per square foot or as much as $15.00. Both also tend to require professional installation, so there are no savings there.

But while hardwood floors can be refreshed and refinished and might last you upwards of 100 years, you can expect to replace your carpet around once every 10 years. So, in the long-run, solid wood flooring offers a better return on investment.

What Is The Best Month To Buy Carpet?
You can get better deals on carpet if you purchase in December or January. This tends to be a slow time of year for carpet retailers, as household budgets are tied up with other expenses. As a result, they may be more willing to negotiate on prices in order to move stock.

How Much Does It Cost To Carpet Three Bedrooms?
How much it will cost you to carpet three bedrooms depends very much on what type of carpet you choose and the size of your home. But you can expect to pay between $1,750 and $5,500 for three bedrooms covering around 500 square feet.

In addition to the carpet itself, which can range from $3.00–$15.00 per square foot depending on your selection, there are also installation and padding costs to be considered.
The Verdict
While carpet is an attractive flooring that feels great underfoot, many homeowners steer clear due to concerns about maintenance and durability.
Carpets are a great flooring choice in certain areas of your home, such as your bedroom where you want warm soft flooring. It can also be a great choice for recreational areas where people might want to sit or play on the floor, and homes where safety is a concern, as carpet can soften the impact of a fall.
Carpet is not ideal in spaces where it is likely to be exposed to water, and you need to invest in specific types of durable carpet for light commercial areas such as reception spaces. Also, carpet has a much shorter lifespan than most hard floors. You should expect to replace your carpets every 10 years.
If you choose carpet for your home, you are committing to a cleaning and maintenance regime to keep it clean and hygienic.. But it can be more than worth it for the comfort and aesthetic appeal of a nicely carpeted floor.
Do you have experience with carpeted floors? Which type did you choose and what challenges did you face? Share your experience with the community in the comments.