You're getting sweep-y…so very sweep-y. That's right. It's carpet sweeping time.
Carpet sweeping offers quick clean-ups for the cookie crumbs, the kitty litter trails, and even the bits of popcorn kernels. You know, the ones that escaped during that not so graceful final bowl-to-mouth dump. (You know who you are).
To review this collection of the six best carpet sweepers, one must first know the purpose of a carpet sweeper. These are handy stand-ins for the very boring and old-fashioned broom and dustpan.
Rankings
What Exactly Is a Carpet Sweeper For?
They use revolving brushes, and are powered either manually or with a battery powered motor to collect surface debris. How does that stuff suddenly appeared on otherwise pristine floors?
To be clear, carpet sweepers are not carpet vacuums. They do not suck, they sweep.
A carpet sweeper is not going to extract dust and debris from the depths of your plush, high pile carpet. It will, however, hopefully remove some stray leaves or crumbs that have recently landed on the top layer.
There is no doubt many a carpet sweeper out there suffering from daily identity crises. We know owners try to force the suction and extraction out of these little sweeping assistants to no avail.
Do you feel like you could use the services of a fancy broom and dustpan? Besides, if you have an additional vacuum cleaner already in your cleaning arsenal, it might be time to bring one of these handy helpers into the family.
How We Ranked the Best Carpet Sweepers
The exciting and diverse world of carpet sweepers really comes down to a few key factors and functions.
When it comes to the quick pick-ups a carpet sweeper is made to master, certain criteria come to mind. The sweeper's weight and its efficient debris collection capabilities are probably the biggest features that'll tip the scale one way or the other.
The word on the street is that if you're really looking for maximum dust and debris attraction action, natural boar bristles are the way to go. These bristles have a way with welcoming various shapes and sizes of messes into their tiny arms. In this way, they send them to their final destination, the dust bin.
Weight and portability are pretty important variables to a carpet sweeper user. One of the main purposes of these handy little broom replacements is that they can be brought in for a quick in-between cleaning and then easily stowed back in a tiny spot somewhere out of sight.
Motors versus manual power is really up for discussion. The manual models seem to do just fine with their powerless ways. The motored models are a bit more elaborate machines in general and do have a bit of an extraction edge when it comes to certain applications.
The most important variable in determining the rankings comes down to the balance between price, quality and features.
Ease Of Use

Weight and Maneuverability
Dirt containment/handling
Compact stowing/storing

Value

Features and benefits

Removable/replaceable brushes
Charge time, usage time (models with motors)
Noise levels
Cleaning path coverage

Price
Quality of construction and materials

Cleaning Power
What to Expect When Spending More
When pricing carpet sweepers, there are a couple markers of a higher quality machine. Bristle material and serviceability are important to the longevity of the sweeper. Natural boar bristles tend to be more durable and effective in the sweeping process than the nylon or other fiber constructs.
The ability to remove brushes for cleaning or replacement is a key feature and allows the sweeper to be more easily maintained. Some day, some way, debris will undoubtedly become lodged in the brushes.
It's much easier handling a jam outside of the sweeper housing, than it is doing battle in the cramped and awkward underbody of a sweeper.
While trying to strike the balance between durability and lightweight handling, a few models have done an impressive job of incorporating heavy duty metal housings and handles.
Plastic tends to be the go-to material used to make the majority of carpet sweepers on the market.  In this way it keeps weight and costs down.
Full Research & Reviews
Tough decisions were made @ Floor Critics when ranking these stellar sweepers. The purpose behind these relatively simplistic cleaning devices really comes down to ease of use and quick, functional floor clean-up capabilities.
Additional features aren't necessarily a bad thing. However, in this product realm, they can sometimes impede the core function of the unit. So here we go with our opinion of the breakdown of carpet sweepers that recognize their roles and run with them.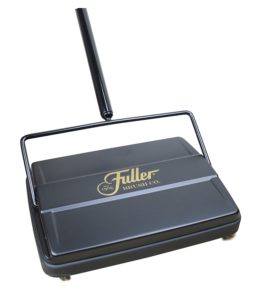 Weight: 3.2 lbs
Motor or Manual: Manual
The high points: Lightweight, Quality built, Easy to use
The not-so: Higher price tag, Handle can loosen itself
The Fuller Brush Electrostatic Sweeper is a well-built, American-made durable sweeper. Its heavy-duty yet lightweight metal housing, sturdy metal handle and natural boar bristle brushes are a few of the key features the Fuller Brush Electrostatic Sweeper brings to the table, er, floor…
Fuller has been producing high quality carpet sweepers for decades. The Fuller Brush Electrostatic Sweeper has a vintage '60s sweeper look.
The Brush Electrostatic Sweeper does exactly what's alluded to in its name. The sweeper creates an electrostatic charge during the active sweeping process that acts like a dirt magnet, attracting as much debris and dust as it can.
The natural boar bristle brush is the second part of the equation.  Expertly, it latches onto the particles and flips them into the dual dust collection bins.
Great for home or commercial applications, the Fuller Brush Electrostatic Sweeper folds and stows easily. The head of the sweeper folds flat into the handle and requires minimal storage space to spend its free time. Until, of course, duty calls.
In sum, the light weight of the sweeper allows for quick pick-em ups and easy portability to different spill sites.
Now, accessories and attachments aren't really common or necessary in the carpet sweeper world. Nevertheless, Fuller does include a couple little extras with the Brush Electrostatic Sweeper.
An extra vinyl blade rotor comes with the sweeper and can be a helpful tool in the event of an extra messy situation. Fuller also includes a handy little raking tool for the brushing and general grooming needs of the boar bristles.
What Reviewers Say About It
Fuller owners tend to be pretty faithful fans of their carpet sweepers and other Fuller cleaning products. Various users report it's easy to empty dust bins. It's said to be as easy as holding the bins over the trash can, then pushing the release button. Effortlessly say 'adios' to the awkward bits of disgusting debris.
The no-win combination of high pile carpet and hairy pets is a little less of an undertaking with the Fuller Brush Electrostatic Carpet Sweeper, according to users.
Quite a few folks report being able to stretch out time between vacuuming sessions by running the Fuller over the carpet once a day to capture hair. In this way, they catch it before it heads into the depths of the carpet. Expect to have to go over certain spots more than once to grab all the hair though.
Sometimes long hair can cause brush jams. If there are strands of long luscious locks laying around your home, chances are high that you might have an occasional unwinding session with the boar bristles.
The Fuller Brush Electrostatic Carpet Sweeper is apparently amazing around the kitty litter box. Reports of quick, easy litter trail containment are common among Fuller reviews. Most users are happy to spare their upright vacuums and filters from the fine little particles on which cats love to track outside of the box.
What's Good?
Durability and quality engineering are prevalent with the Fuller Brush Electrostatic Carpet Sweeper. It is clear that a lot of thought and development has gone into the final product. Users can expect years, even decades, of use from their Fuller.
The 9" carpet cleaning path that the Fuller Brush Electrostatic Carpet Sweeper provides is a decent span of coverage. This low profile dimension is helpful when weaving in and out of tables and furniture. The soft vinyl bumper on the exterior edge of the sweeper protects from unexpected scratches.
This tried and true sweeper brand is also stylish. Let's just say as stylish as a vintage metal sweeper can be. It's available in a variety of vibrant colors, just in case you want to proudly display your fancy broom contraption.
What Could Be Better?
Bigger debris bins would be an improvement. Quick jobs aren't as quick if the bins have to be unloaded a few times during the clean up session.
Over time, those boar bristles wear down and start to impede the sweeper's function. Include an extra set of brushes with the sweeper. In the end this would solidify the concept of longevity and quality within the product line.
Though sturdy and durable, the sweeper's metal handle can tend to gradually unscrew itself from the sweeper head. This is really a minor issue, but somehow keeping the handle in place could help with some eye-rolling re-screwing sessions.
How Does It Compare in Value?
The Fuller Brush Electrostatic Carpet Sweeper is a bit on the high end of the price spectrum within the manual carpet sweeper market. Actually, some similarly functioning models are almost half the price.
It has quality construction and a design that has withstood the test of time. Therefore, the sweeper's value within its higher price point still makes it a worthwhile investment for the consumer interested in a durable, well built carpet sweeper.
How Has It Improved?
The easy grip rubber handle is a relatively new update to the Fuller sweepers, as well as the ability to fold the sweeper into the handle for more storage versatility.
Not much has changed over the years with the Fuller Carpet Sweeper models. The natural boar bristle brushes and metal housing have been the building blocks of the long line of sweepers produced by Fuller.

Weight: 4.2 lbs
Motor or Manual: Manual
The high points: Price, Easy to Maneuver, Made of 100% Recycled Plastic
The not-so: Heavier than most sweepers, Brushes can jam often
Overall rave reviews and a surprisingly reasonable price point brings the Bissell Natural Sweep Carpet and Floor Sweeper in at number two. This relatively lightweight sweeper is capable of effectively picking up anything from dust and dirt particles to popcorn kernels, cereal bits and pet hair.
The Bissell Natural Sweep Carpet and Floor Sweeper strives to be part of the no-PVC plastic revolution; all of the plastic used in its construction is 100% recycled.
Granted, it's not a major feature or function. Nevertheless, for those looking to support the cause, the Bissell Natural Sweep is one of the (somewhat) more environmentally friendly products on the market.
Dual nylon rotating brushes grasp and hold tight to most debris in their path. The Bissell Natural Sweep Carpet and Floor Sweeper's dual brush design also allows the sweeper to pick up on both the forward and return passes. So, the tough messes get eliminated twice as fast.
In addition, small brushes on all four corners of the sweeper head grant access to otherwise unreachable dirt from tight corners and other nooks and crannies.
Twin debris bins are sizeable and easy to empty. A lever release arm allows the user to avoid touching disgusting debris when cleaning the bins. Users report a quick lever-action dump over the trash can gets them quickly and cleanly back on the carpet sweeping track.
The low-profile build of the Bissell Natural Sweep Carpet and Floor Sweeper allows this eco-friendly surface sweeper to easily glide in, out, under and around the standard household obstructions that most sweepers are guaranteed to encounter.
What Reviewers Say About It
Various reviewers remark about easy initial assembly of the Bissell Natural Sweep Carpet and Floor Sweeper. Clear instructions and sturdy packaging make for a pleasant first impression. Once assembled, owners love the lightweight and user friendly maneuverability the sweeper provides.
Keepers of cats seem to love the Bissell Natural Sweep Carpet and Floor Sweeper. Trails of cat litter, hair, and kitty kibble are no match for this sweeper. Quite a few reviewers remark on the sweeper's effective ability to remove all cat related debris from their carpets.
Vacuum filters catch a break from the general, recurring kitty-related remnants that accumulate throughout the house.
Some sweeper operators complain they need to apply excessive pressure to the sweeper at times.  Of course, this makes for a slightly exhausting extraction experience.
Also, fluffy puffs of pet hair aren't easily captured on some carpeted surfaces. Let's face it, they tend to get corralled into a giant carpet cloud of floof.
A few reviewers commented on the nearly silent operation of the Bissell Natural Sweep. Thus affording the ability to quickly and quietly sweep a cluttered carpet without a lot of noise disruption.
What's Good?
No electricity is needed to get effective results from the Bissell Natural Sweep. Lots of new sweepers out there are built with batteries and motors to assist in the sweeping process. Uniquely, Bissell keeps it simple and still provides more than satisfactory sweeping results (in most cases).
It's pretty painless to get involved with a Natural Sweep Floor and Carpet Sweeper. The relatively low price tag on this sweeper makes it easy to incorporate into most households or businesses. Because of the friendly price point, some owners report owning multiples to keep in different areas of the house for quick pick up jobs.
The 9.5" wide cleaning path covers a good span of ground while still fitting under and around most furniture. The low profile sweeper head fits in lots of confined spaces.
What Could Be Better?
The transition from carpeted to hard surface floors can cause trouble with the Bissell Natural Sweep. Dirt in the brushes can dump all over the floor when there's a terrain change. It's probably not an easy improvement to make, but owners would be happy to dump less debris during floor transitions.
Some users report frequent brush jams, requiring them to pause and thoroughly clean it in the midst of a sweeping session.
Upgrade from the nylon brushes to natural boar bristles and it might improve the function and user experience slightly. Likely it will also drive the sweeper's price up a bit.
4.2 lbs certainly can't be called heavy. But in the sweeper realm, the Bissell Natural Sweep is on the heavier side. Quite a few other sweeper models on the market are 30%-50% lighter. Lessening this sweeper's load a little could surely sweeten the deal.
How Does It Compare in Value?
The Bissell Natural Sweep Floor and Carpet Sweeper flaunts an extremely affordable price point and tends to provide pretty high quality results.
Small but functional features like the tiny corner brushes and sizeable twin dirt collection bins provide the functionality typically found in higher priced sweepers. The recycled plastic construction is also a perk for those looking to limit their household cleaning device's environmental impact.
How Has It Improved?
The additional dirt collection bin was added in recent production years to lengthen the time between bin dumps. More bin storage is never really a bad thing in the sweeper world, so this was a smart development.
The only things that stewards of the sweepers like more than big dirt bins are extra sweeping brushes. Bissell incorporated four tiny brushes into the corners of the sweeper head for maximum debris sweeping coverage.

Weight: 2.7 lbs
Motor or Manual: Motor
The high points: Sleek and compact, Lightweight, Good Price
The not-so: Noise, Needs to be charged
We're going with the "As Seen on TV" sweeper for number three. The Ontel Swivel Max is a pretty neat sweeper, with a sleek, slim modern look and a battery powered motor to assist in dirt collection.
The Ontel Swivel Max's name says it all. This sweeper can make 360's while out there on the open carpet sweeping road.
The compact yet effective sweeper head moves effortlessly around the room, removing debris large and small from surfaces on which it comes into contact.
One of the main purposes of a carpet sweeper is to eliminate the need to haul out the upright vac anytime you need quick dirt decimation. The Ontel Swivel Max is a pro at filling this role.
To do so, it provides added pick up power with its battery powered motor. The brushes spin at maximum speed to pull as much dust and debris from the floor as possible.
The Swivel Max sweeper head folds flat to the handle, making it easy to store just about anywhere with a minimal footprint.
Removable and replaceable brushes boost the durability of the Ontel Swivel Max. The brushes on any carpet sweeper have the potential to be a major weak point if they aren't easily accessed for maintenance or, down the road, replacement.
What Reviewers Say About It
There is some slightly involved initial assembly required with the Ontel Swivel Max. But no matter, users report this set up to be pretty easy. Clear instructions are included with the sweeper and most owners report being ready for their first charging session within half an hour or less.
Most users report needing to charge the Ontel Swivel Max for 8-12 hours to get about 45 minutes of cordless operation.
Not only that, but a notable recurring complaint seems to be the lack of consistency with charging sessions.
Replacement batteries are available for purchase and quite a few owners recommend having a couple extras on hand.
Slow motion is best, according to a few reviews. Apparently the sweeper's peak particle removing performance is based on a slow, steady swipe with the sweeper head.
What's Good?
The Ontel Swivel Max Sweeper's powerful motorized Quad Brush technology provides debris pick up from all four sides of the sweeper head.
In its fully charged state, the Swivel Max Sweeper is capable of up to 45 minutes of powered sweeping. In an average household application, this can equate to 6-8 quick clean up sessions between battery charges.
As mentioned before, the easily accessible and removable brushes are key to a good sweeper experience. Over time, these brushes will inevitably wear out and Ontel makes it easy to replace them, too.
Equally important, affordable replacement brushes are available from various sources. It's easy to keep a couple on hand for back up if needed.
What Could Be Better?
The battery, as with all powered tools, can be a weak point. Consistent battery charges and maybe an extra battery included with the sweeper could help minimize the issues that arise from the motor's power source.
Due to the motored nature of the brushes, some sound should be expected during operation. Some users report a little too much noise from the Ontel Swivel Max sweeper.
Not to mention, they equate the sounds produced to be almost vacuum-like. Toning down the volume on the Swivel Max could improve the unit.
An unexpected dirt dump can be devastating during a sweeping session. This, unfortunately, can happen sometimes with the Ontel Swivel Max.
Reviewers report a rare but annoying situation where the bottom of the sweeper pops open and releases much of its collected debris right back onto the floor. Solve the bottom popping issue to prevent future frustrations.
How Does It Compare in Value?
The Ontel Swivel Max Sweeper is a mid-range price point sweeper, though in the submarket of motored sweepers, the Swivel Max tends to be one of the better values when comparing features and price tags.
Construction and overall quality seem to be decent with the Ontel Swivel Max, and the ability to easily remove and replace brushes adds to the serviceability and hopefully the longevity of the product.
How Has It Improved?
Ontel has worked on various improvements over the past couple product generations.
The battery quality and capacity has been upgraded, with the current Swivel Max sweeper boasting 33% more battery power than its predecessor.
Then there's the metal handle that has replaced a previously less sturdy plastic one. The removable brushes are also a recent upgrade.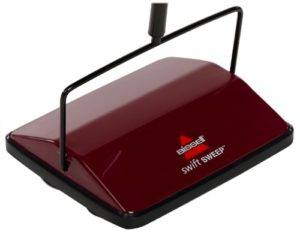 Weight: 1.96 lbs
Motor or Manual: Manual
The high points: Ultra lightweight, Low price, Steel construction
The not-so: Flimsy handle, Can get clogged with long hair
The extremely affordable price tag and the durable steel construction are a couple perks that the Bissell Swift Sweeper has to offer a potential sweeper owner.
Quite possibly the lightest sweeper on the market, the Bissell Swift Sweeper is a lightweight, breezy broom alternative. Coming in at just under 2 lbs, this sleek sweeper is a portable and quick dirt picker-upper.
The Bissell Swift Sweeper is a handy little helper. This sweeper is a master at picking up a wide range of debris, from microscopic dirt and dust, to leaves, paper clips and pebbles.
What Reviewers Say About It
Bissell Swift Sweeper owners tout the overall sturdy and quality construction of this entry-level priced sweeper.
The handle can be a weak point, according to some users, and can sometime bend to the pressures of being pushed over time. The handle also occasionally unscrews itself and can require some re-seeding.
Emptying the dust collection bins can be a bit awkward, per some reviewers' feedback.
What's Good?
The affordable price tag on the Bissell Swift Sweeper makes it easy to enter the wonderful world of carpet sweeping. One of the lowest priced sweepers on the market, the Swift Sweeper doesn't necessarily trade quality for dollars. Not only that, many owners report years of use from their simple and sturdy sweepers.
The rotating brush roll helps the sweeper to efficiently capture debris and pet hair. Over time these hard-working bristles will wear down.
Bissell offers replacement brushes so the sweeper can easily remove debris again with a relatively simple brush swap.
The Swift Sweeper also has a rubber bumper around the exterior of the sweeper head, a feature normally found in mid to upper price point sweepers. This soft rubber cushion helps to protect furniture and baseboards from scratches and scuffs.
What Could Be Better?
While the rotating brush roll seems to do the job when it comes to standard dirt and debris removal, the addition of corner brushes could help draw particle remnants from tight spaces and baseboard edges.
The overall construction of the Bissell Swift Sweeper is decent, especially considering its weight. That said, the handle could be made to be a bit sturdier to prevent permanent bends in the metal.

Weight: 4 lbs
Motor or Manual: Motor
The high points: Up to 60 minutes of use between charges, Handle lies flat, Easy access dirt containment bin
The not-so: Price, Requires long time to recharge
With some nice features like the easy top loading dirt bin and a handle that can lie flat to access hard to reach spots, the Bissell Perfect Sweep Turbo 28806 is a user friendly, versatile sweeper capable of handling some of the toughest carpet spills.
The motorized three brush system picks up just about any small scale smattering of debris, even grabbing tiny particles attempting to seek refuge in corners and along baseboards.
What Reviewers Say About It
Perfect Sweep Turbo users report some issues with jams in the brushes and bristles, sometimes requiring a less than desirable dirt yanking stint. Just so you know, it is reported to be best executed by utilizing a finger.
The almost 60 minutes of use between battery charging is a major perk commonly mentioned by Perfect Sweep Turbo owners. In a normal usage application, that means 6-8 clean-ups before returning the sweeper to its charger.
The Perfect Sweep Turbo handle gets both good and not so good feedback from owners. Many enjoy the flexibility of the handle, which has a wide range of up and down mobility.
It does not, however, swivel, much to the disappointment of some suave sweeping consumers. The lack of length in the sweeper's handle is a minor complaint taller Perfect Sweep Turbo owners voice.
What's Good?
The Bissell Perfect Sweep Turbo 28806 is a versatile sweeper, capable of conquering a variety of messy materials. The detachable handle and the well-placed corner brushes make this sweeper ideal for eliminating dust and hair from tight corners and carpeted stair applications.
Though compact and easy to store, the Bissell Perfect Sweep Turbo's sleek design and neutral color scheme allow for the option to keep it on display in its own cozy corner of a room. Meanwhile, it can await its next rapid residue removal task.
What Could Be Better?
The Bissell Perfect Sweep Turbo sweeper lacks a soft exterior bumper, useful for protecting furniture and baseboards. An addition of one of these bumpers to the sweeper could add just a bit of value and function to the package.
A longer handle, lengthier battery life and some swivel action would help bump this Bissell up the list and help justify the sweeper's slightly high price tag.

Weight: 2.5 lbs
Motor or Manual: Manual
The high points: Effective on all types of carpet, Lightweight, Easy to maintain
The not-so: High price, Cheap construction
The Casabella Neon Carpet Sweeper is an attractive modern sweeper that excels in carpet sweeping. A well placed metal panel at the bottom of the sweeper attracts pet hair like a magnet, actively eliminating tufts and dust, and efficiently covering quite a bit of ground with its impressive 10.5" wide cleaning path.
The lightweight, compact design makes it easy to recruit the Casabella Neon Carpet Sweeper for a quick touch-up between vacuuming session, or an impromptu pick up of a crummy situation.
What Reviewers Say About It
A favorite sweeper amongst the kitty litter cleaning community, the Casabella Neon is a top pick for eliminating litter particles, dust and other cat related debris. In fact, Casabella reviews would lead some to believe that our proud, pristine feline friends are possibly the messiest pets around.
We're talking kitty litter, scattered food kibble, cat nip remnants and of course, fluffy tufts of fur. The consensus is that the Casabella Neon has cat ladies (and lads) covered.
Various reviewers comment on the seemingly cheap materials used in the construction of the Casabella Neon, though most also note that they are pleasantly surprised with the performance.
There are sharply contrasting reviews when it comes to the Casabella Neon's ability to function effectively on hard flooring surfaces. For as many users stating that the sweeper will absolutely not pick up anything on their hard floors, there are as many owners claiming to regularly use the sweeper successfully in hard surface applications.
What's Good?
The low profile 2" height of the sweeper head allows the Casabella Neon to sneak under low lying areas like chairs and end tables. An exterior soft bumper protects all surfaces that the sweeper may encounter while in use.
Owner reports claim that the Casabella has success on almost all carpet types, though may require a few extra swipes occasionally.
The easy to empty dirt bin and comfort grip handle make operating the Casabella Neon reasonably user friendly. A tiny comb for bristle cleaning is included with the sweeper, for easy bristle maintenance.
What Could Be Better?
The price on the Casabella Neon seems a bit high for its relatively cheap construction. While it does seem to get decent feedback on performance, it's tough telling how long the sweeper will really hold up.
There are a few reports of handles falling off after light use. In some of these cases, it's almost impossible to return the handle to its original state and requires some semi- involved repairs to get the sweeper functional again.