Do you get tired of trying to keep your hardwood floors clean? You sweep and sweep and sweep – only to find that you've missed a spot (or several).
It almost seems as though your hard floors collect more dirt than carpet. (Actually, carpet gets really dirty too – you just can't see it as well.)
If only it were as easy to clean hardwoods as it is to clean carpet.  You know, just run a vacuum over the floors.
But your vacuum doesn't reach low enough to pick up the dirt on your hardwood floors. Or, you may have one that doesn't work at all on hardwoods – and could actually damage them!
The good news is that there is a solution – vacuums designed specifically to work on your hardwood floors.
And we've narrowed down the field to the best vacuums for hardwood flooring on the market today. Here are our top picks:
Showcase: The 3 Best Vacuums for Hardwood Floors
We've put together a comprehensive list of ten vacuums for hardwoods that address different needs.
Let's start with our three top choices.
Our top three best vacuums for hardwood floors are the Shark Navigator Liftaway Pro, the Kenmore Elite 31150, and the Dyson Elite V8 Cordless.
Let's look further at why these three made the top of the list.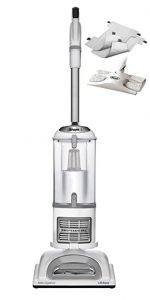 While there are many great vacuum options for cleaning hardwood floors, the Shark Navigator Liftaway Pro is the best overall choice.
And we aren't the only ones who loved this vacuum. It is one of the top-selling ones on the market today – for good reason.
It is well constructed with solid, durable materials – so you can expect it to last awhile.
Plus, it cleans – really cleans your floors. This vacuum can help your hardwoods look as beautiful as they did before your family began trampling over them every day.
Read our full review of this vacuum below.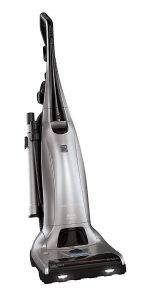 Kids aren't the only thing that can wreak havoc on your beautiful floors. As much as you love your furry critters, they can leave a trail of pet hair, dirt, and dander.
That's why we love the Kenmore Elite Pet-friendly Upright.
This vacuum powerfully cleans your floors, plus it has special features to remove that pesky pet hair from both your floors and furniture.
And if that's not enough reason to love this vacuum, it is also certified by the Asthma and Allergy Foundation – so it is great for allergy sufferers too.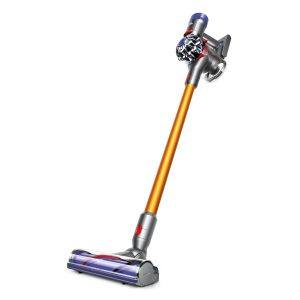 Is it possible to have a top list without including a Dyson vacuum? Perhaps, but not this one.
The Dyson V8 Cordless is both lightweight and powerful. How could it not be powerful with a V8 motor?
It gets your floors clean and sparkling with very little hassle, and you can even use it on your stairs. Just be prepared to pay a "Dyson" price for it.
Read our full review to find out more about this great cordless vacuum.
What to Look for in a Vacuum for Hardwood Flooring?
The carpets have been ripped, the hard floors exposed. Now, what can be done when the debris piles start to grow? Chances are that the trusty traditional vacuum that resides in the hall closet won't be the best candidate for the job.
It's time for some new talent. A vac that's been tailored to deliver superb suction without scratching or scuffing the handsome grooves and grains of the solid floor.
In order to zero in on the best hardwood vacuum for the job, it's important to consider the features and functions that may be important and even vital to achieving smooth and shiny flooring bliss.
Are there additional floor covering materials to be cleaned in addition to hardwood?
Most of the vacuums in our rankings are designed specifically for hardwood floors. They have specific features geared towards efficiently removing all types of debris from a hard surface.
If a floor cleaning application has additional floor coverings that will also require attention, such as area rugs or a nearby carpeted room, it may be important to focus on the vacuums that offer adjustable suction and roller speed settings, and automatic level adjustments. These features can help users customize the vac's functionality to cater to the different variables that apply to different surfaces.
Lower levels of suction tend to help in creating air movement on flat and solid surfaces. That draws dirt and dust to the source. High-powered suction settings combined with rotating brushes allow for effective deep-down debris removal from carpet fibers (note: after deep vac'ing, consider investing in a carpet steam cleaner to get a true clean).
Using the wrong suction settings or brush speeds can heavily impact the performance capabilities of a vacuum. At times, they can create more damage.
What is the vacuum's primary purpose?
To clean the floor. While this answer seems obvious, it's important to dig a bit deeper into the true function desired when considering the different hardwood floor vacuum options.
Many hardwood floor vacuums are designed to be lightweight and versatile. They often have features like hand-vac convertibility. Extendable handles allow users to reach in tight spaces with targeted suction.
These vacs can usually be easily stored and even mounted on a wall. That allows for quick and easy access.
Often referred to as stick vacuums, these sleek systems can replace a standard household broom. Their footprint is similar and their functionality can far exceed the old wooden stick.
Canister vacuums can help take some weight off, too. That allows users to spend the bulk of the solid or engineered hardwood cleaning session utilizing the typically feather-light handle and floor attachment while the heavy motor and dirt containment system is housed with the canister.
This style can be a bit tedious to manage at times. That is especially true when transporting it up or down stairs.
However, it can provide the same heavy-duty performance of a traditional upright vacuum while minimizing physical exertion during active vacuuming times.
Robot vacuums have whirled their way into the modern household cleaning market. They can really take the pressure off busy or low-home-maintenance-motivated individuals who'd prefer to leave the dirt decimation to a friendly and faithful automated assistant.
These zippy little bots can take a big bite out of the cleaning needs of an average dirt-laden residence. However, they may not quite cut it as the sole suction system.
What types of features might be beneficial?
There are some pretty nice features that have been incorporated into many of the hardwood floor vacuums on the market. While suction power is the primary goal, some of the add-ons can really aid in the debris removal process.
Flashy LED headlights can expose fine debris and pet hair and is great for spying elusive particles under furniture, beds, and other places where the sun doesn't shine.
Subtle but important tweaks to brushes and roller materials can help protect floor surfaces and cut down on the maintenance and general headaches associated with nylon brush bristles combined with fluffy puffs of pet hair.
In some of the hardwood vacuum models, the brushes have been completely eliminated and other techniques have been devised to assist in the drawing debris into the sucky section of the vacuum.
Handy features like foot-pedal power switches and convenient cord rewind systems can provide a bit of added convenience and cut down on some of the minor but often mentioned headaches that come with operating a vacuum.
How We Ranked the Best Hardwood Floor Vacuums
We focused on a few variables when determining the rankings for the six best hardwood vacuums. Suction power and ease of use carried the bulk of the rankings' weights, but other factors definitely come into play.
Price is always a top consideration, especially when comparing the features and functions gained with an uptick in a product's price tag. Consumer reviews are also a factor in the process and often, there can be recurring rants and raves unearthed when comparing reports from various sites and sources.
Upgraded options and general product design ingenuity also play a role, along with added versatility features that can come in the form of attachments and tools or in convertible vacuum capabilities.
Mobility and Versatility
Hauling a hulking vacuum around to do the dirty work is less than ideal. It almost goes unsaid. Almost.
There's even a real possibility that due to the daunting task of wrestling a massive vacuum out into circulation, debris may have a fighting chance to take up long-term residency.  The ability to whip out a lightweight vac for a quick pick-up job or wheel out the ever-ready canister for a heavy-duty situation can help to increase cleaning frequency and support a rapid decline in accumulating particles.
Sometimes the straight-up floor suction function just isn't enough. The corners, the baseboards, the ceiling where the cobwebs like to live – they all need attention too. A vacuum's ability to reach these tight and tough spots with the simple attachment of a tool and the release of an extension wand can turn an often dreaded task into a quick and simple cleaning session.
Storage and Maintenance
An often overlooked consideration when scoping out a vacuum, or really any other household maintenance tool, is where the item will reside when it's not actively pursuing the demise of dirty, dusty debris. Tools, hoses, and other accessories can pile up fast and suddenly a small room addition is needed to contain all of the devices.
Stick vacs and other low-profile vacs can usually be mounted to a wall and are small enough to take up about the same amount of space as a broom and dustpan. Canister vacuums can result in the opposite effect and while they can provide some serious results in the debris demolition realm, they may require two to three times more storage space than a smaller (less heavy-duty) vacuum.
The overall maintenance required to keep a vacuum up and sucking can vary from vac to vac, though most generally involve keeping filters clean and dirt containment bags and bins free from overload and blockage.
A bagged vacuum system usually incorporates the primary filter into the disposable bag, meaning that each time the bag is replaced, so is the filter. This means that minimal maintenance is required to keep these vacs up and running, though replacement bags will be a recurring cost through the life of the vacuum.
Bagless systems, while cost-saving when it comes to replacement bags, will require some user interaction at every step of the particle removing process. Dust or dirt bins capture the suctioned debris and will need to be emptied often.
There are usually multiple filters integrated into a bagless vacuum and their ability to breathe freely directly impacts the vacuum's ability to provide superior suction levels. Most filters are washable and should be rinsed and air-dried at least once per month.
Power Source
Until the vacuum industry releases a power supply source fueled by the friction of Cheerios and cat hair meeting a vacuum's rapidly rotating rollers, vac users will continue to have the option to pick between their power source tethers.
A battery-powered vacuum can enable an operator to move freely and without restraint…until the juice runs out. So while there are not physical cords limiting mobility, the cleaning clock is ticking from the first suck.
Battery life is a key factor when comparing cordless vacuums for hardwood floors. Most cordless vacuums should be able to supply enough power to get through a reasonable amount of cleaning and the lack of a cord can help shave minutes off a vacuum session.
When it comes to corded vacuum cleaners, there is a delicate balance to be found in power cord lengths. The longest cords can provide the most freedom while cleaning, however, with this convenience comes added cord bulk and weight when not fully extended. It seems that a length of 25'-30' tends to blend a comfortable level of extended reach while keeping weight within a manageable status.
Consumer Reviews
The valuable and sometimes volatile world of consumer reviews and reports can help to paint a picture of what real-life vacu-lationships are all about. Helpful tidbits, interesting insight into product design, and recurring issues can really assist in the ranking process, especially when it comes to assessing a vacuum's true worth in various applications.
As always, consumer reports and reviews can be a bit of a jungle when it comes to sorting through the vapid and vague reviews that are mixed in with the true, real-world reports of what it's like to live with the vacuum. But rest assured, the reviews have been picked through with precision and the results have been factored into these hardwood vacuum rankings.
Price
The price tag of a hardwood vacuum is a pretty large factor in determining its rank. When considering all the above factors and applying the final factor of cost, it becomes clear which high-end and budget vacuums rise to the top of the value category.
Finding the balance of both upfront and long-term costs of ownership with features, functions, and add-on accessories can be a bit challenging but we've attempted to sort through these key factors to establish a sort of…suction order within the hardwood floor vacuum market.
Frequently Asked Questions (FAQ)
Why can't I just use the same vacuum that I use to clean my carpet?
It's clear that carpet coverings and hardwood floors are two completely different animals. The techniques and velocity required to successfully extract debris from the tiny fibers of cotton or synthetic based material are far different from the method required to nab surface-level particles and rolling and recurring balls of fluff.
Beater bars and rollers are necessities in waging an effective war on carpet debris and combined with targeted, nearly air-tight super-powered suction, allow a vacuum to separate and suck up the microscopic particles trapped in the depths of the floor.
This specifically tailored system, however, can have the opposite effect when it comes to grabbing the gritty grime that accumulates on the planes of a vast span of hardwood flooring.
Like a tornado rolling across an open field, a hard surface suction system requires some room to flow to create an adequate vacuum effect. Too much power can draw the vac tight to the smooth and solid surface, sealing it and eliminating its ability to maintain its suction.
Adjustable suction settings can allow users to adapt to their changing terrains, increasing suction and roller speeds for maximum extraction power on carpeted surfaces and then dialing back the power a bit when running over the hardwood floors.
The sometimes complex beaters bars and bristles found on a traditional upright vacuum can become a serious detriment in a hardwood vacuuming application. Their high-speed rotations combined with their somewhat abrasive materials can cause serious scratches on delicate hard surfaces and at the same time, tend to muck up the suck situation by spreading debris rather than crisply capturing it.
What is the difference between a bagged system versus a bagless?
A bagged vacuum system is designed around containing collected particles in a disposable bag that can be removed and replaced when it becomes full. Airflow is funneled through the bag, which basically acts as a big filter, allowing air to flow through it while keeping the dirt within its confines.
Maintenance on a bagged vacuum is typically limited to replacing the bag when it fills up with dirt. Because of the dual functionality that the bag serves as a filter and a dirt collector when a new bag is added, so is the filter.
Due to the simplistic and sealed nature of a bagged vacuum system, this form of particle wrangling can be extremely important when it comes to allergy sufferers and pet owners, as there is almost always zero contact with the dirt once it's been corralled.
A bagless vacuum system relies on filters, sometimes a few, to assist with creating suction power for adequate dirt collection. These filters are imperative to the function of the system and some maintenance will be required to keep them at their best dirt-capturing capacities. As microscopic particles flow through, many will be caught in the filter's tiny webs of fibers, trapping them and keeping them for eternity (or until the user pops the filters out and rinses them in the sink).
Bagless systems can be a bit messy to maintain and while the advantage of never needing to replace a bag is a big one, users shouldn't go into the ownership expecting to just hit the switch and walk away when the debris has met its demise. Even the act of dumping the dirt collection bin can be daunting and sometimes requires a multi-stage method to keep the dust and dirt contained during the emptying process.
Which features or upgrades could be useful in a hardwood floor vacuum?
Soft rollers and microfiber pads are a couple of the nice upgrades that are available with some of the hardwood vacuums out there. These cushiony cohorts can aid in grabbing microscopic particles while also doubling as floor buffers in the process.
Headlights are always helpful in exposing hidden piles of pet hair or fine dust that blends right in. These lights can also come in handy when ducking into low-lying areas and tight corners.
With hardwood floor surfaces come corners, cracks, and crevices. Attachments like crevice tools and dusting brushes can get into these almost impossible to reach spots to provide targeted suction where it's needed most.
What are additional considerations for those cleaning up after pets?
Kitty litter, crushed chunks of kibble, and discouraging amounts of wonderfully insulating but excessive undercoat sheds are all recurring remnants that require removal from a hardwood floor. Adjustable suction levels may be necessary when it comes to sucking the varying sizes of litter and food pieces, while soft rollers may come in handy when capturing dander and hair.
HEPA filtration may also be worth prioritizing when maintaining a space occupied by our favorite fluffy companions, as the micro-filtration system has the ability to contain some of the smallest allergy-inducing particles. This means filtering the air while removing pet-based debris, keeping rooms, duct work, and, of course, floors, much cleaner than before.
What to Expect When Spending More?
Vacuums come in all shapes, sizes, and price ranges. You can literally spend anywhere from $50 to over $1000 on a vacuum for your hardwood floors.
With such a varied price range, how do you choose? And is a $1000 really worth it?
There are a few things to consider. Are you looking for something to really deep clean your floors or do you need a vacuum for everyday quick cleaning?
If you don't need a lot of power and you don't mind replacing it every few years, then a vacuum on the less expensive side is fine.
However, if you want one that really cleans and doesn't blow dirt and dust back into your home, then you may want to look at a pricier model.
In this review, you will find that there are some great, hard-working vacuums that also provide great value for the money.
Rankings & Reviews
And we've arrived at the rankings rundown of the six best hardwood vacuums. Each vacuum has been ranked based on its features and functions, along with its place within the pricing scale and carefully reviewed consumer reports.
Stick-style bagless vacuums dominate the list primarily due to their lightweight and versatile nature. However, other, more traditionally styled vacs can hold their own on the rankings and their superior cleaning capabilities and dirt containment capacities cannot be overlooked.
Some of these vacs may not be the best for each individual cleaning application, but there is definitely a vacuum on the list that can be a perfect match for every hardwood floor setting.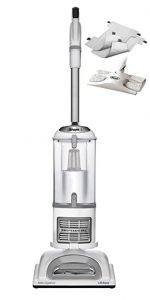 Key Feature #1: Dust-away hard floor attachment
Key Feature #2: Powerful suction
The highs: Easily picks up dust, grime, and allergens – even in hard to reach places.
The lows: It's heavy to haul and sometimes falls over while using.
The Shark Navigator Lift-Away is the best of the best hardwood floor vacuums for its uncompromising ability to remove dust, grime, and allergens from floors. Its powerful suction is second to none.
Since its canister is removable from the base, you can reach places that a normal vacuum can't, making cleaning easy. You can hit stairs, curtains, baseboards, and corners with this vacuum.
Plus, it has a HEPA filter with seal technology to help trap allergens, which is great for any family members who suffer from allergies.
This Shark is constructed well using high-quality materials. It is not cheaply designed, turns on a dime, and is easy to maneuver – saving you time.
What reviewers say about it
The reviews of this Shark vacuum have been mostly positive.
The number one reason so many people love this vacuum is its powerful suction. And when you have hardwood floors that show lots of dirt and debris, this is important.
The biggest complaint was that it is heavy. It weighs 13.7 pounds, which could be too much for some people.
What's good?
Hardwood floors, especially those in darker grains, tend to show every speck of dust that's on them. So, the best part of this vacuum is its ability to truly clean them.
Its dust-away hardwood floor attachment comes with two microfiber pads that pick up virtually anything.  Plus, you can remove the attachment and even get into super hard-to-reach places.
Not only does it have the microfiber pads to grab dust particles and debris, this vacuum has excellent suction power.
So, the best part about this vacuum is that it will get your floors sparkling clean – at least until the dog or kids come running through again.
What could be better?
This vacuum claims to be lightweight, but 13.7 pounds simply isn't lightweight for everyone. However, the weight of the vacuum is clearly stated in its description.
The Shark Navigator also has some balance issues. It tends to fall over frequently.
Customers have commented that it falls while rolling or unrolling the cord. It falls when using the attachment, and sometimes simply when setting it down.
How does It compare in value?
Overall, this vacuum is an excellent value for the money – which is one of the reasons it tops this list.
The Shark Navigator Pro has the powerful suction of a Dyson vacuum, but without the hefty price tag.
And while it's not the cheapest vacuum on the market, it leads the pack in best overall value.
How has it improved?
The Shark Navigator Pro first came on the market in 2011 and was an instant hit. And it has remained one of the top-selling vacuums on Amazon.
Over the years, the look of this vacuum has improved, becoming sleeker in design. Plus, the newer one comes with the microfiber pads.
It is also heavier than older models. However, part of this is due to its larger capacity canister.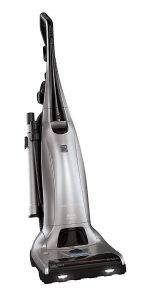 Key Feature #1: Ideal for families with pets.
Key Feature #2: Great for allergy sufferers.
The highs: Not only does it pick up dust and dirt well, it contains them.
The lows: Tough to maneuver and too heavy for some people.
The Kenmore Elite 31150 is a bagged upright vacuum that comes with a HEPA filter. It is extremely powerful on hardwood floors, picks up pet hair and dander with ease, plus it is certified by the Asthma and Allergy Foundation of America.
It comes with all the attachments you need to thoroughly clean your floors and home, including a pet hair attachment and a telescoping wand. This vacuum also has an LED light for better vision.
With five-position height adjustment, not only does it work well on hardwood floors, but you can easily clean any carpeted areas as well.
While many other vacuums tend to release particles back into the air, this one keeps them well contained, which is great for allergy sufferers.
But along with the power and useful features comes a big, bulky machine. The Kenmore Elite is rather heavy and may be hard to maneuver for some people.
What reviewers say about it
This vacuum has received great reviews on Amazon & other online review portals.
People love how well it removes the dirt and grime from their hardwood floors. And the pet attachment really helps to pick up all the hair and dander.
Overall, this vacuum received a four-star rating.  While there were few complaints, most were about how heavy this machine is.
What's good?
This vacuum is powerful, adjustable, and loaded with great features.
It comes with 20 percent more air power than your standard upright vacuum. Plus, it literally has everything you need to get your floors cleaner than they've ever been before.
There's a telescoping wand for hard to reach places. A pet hair attachment that allows you to remove hair and dander from your floors and furniture while you are cleaning.
And it even comes with an additional attachment to get in those hard to reach corners and crevices.  Plus, you can adjust the height to go over rugs, carpet, tile, or any other surface.
What could be better?
While pushing a 20-pound vacuum may be a breeze for some, it's not for everyone. If you have had an injury or you are older and need to be careful with the amount of weight you handle, then this vacuum is not for you.
It is heavy, and it can be difficult to operate. And sometimes it tips over.
Some customers felt that the attachment cords could be longer. So, if you need a hose that can reach farther, you may want to consider a different vacuum.
How does It compare in value?
Given the amount of power, its certification from the Asthma and Allergy Foundation, and its great features, this vacuum is an excellent value for the money.
There are some vacuums in this review that are cheaper, and there are certainly some that cost more. But this moderately priced vacuum will keep your floors clean at a price that won't break the bank.
How has it improved?
The Kenmore brand has been around since the early 1900s and has been selling vacuums for the past 70 years. It is one of the most popular brands on the market today.
The 31150 boasts a marked improvement on the 31140 model. Some of the features that were improved include a longer power cord, the LED lighting, and the more powerful motor.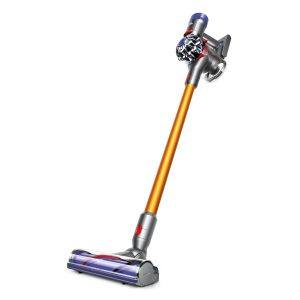 Key Feature #1: Powerful V8 motor.
Key Feature #2: Lightweight, cordless vacuum.
The highs: Cleans hardwoods spotless while expelling cleaner air.
The lows: Battery can run down quickly.
Dyson has set the bar for other vacuums to try and beat. The name means greatness when it comes to vacuums.
So how does this one stack up?
There is a whole lot of power in this five-pound cordless vacuum. It's light and easy to maneuver.
And it does a fantastic job cleaning floors. With its HEPA filtration system, even the air in your home will be cleaner than before.
But make sure you clean fast because the battery doesn't last long. You have about 20 to 40 minutes before it needs another charge.
What reviewers say about it
For the most part, people love this vacuum. They view it as money well spent.
There's no cumbersome cord to contend with, plus it transfers to a handheld, so you can clean your stairs too.
While most reviewers loved how easy it is to use this vacuum, the number one complaint is that the battery will run out. So clean quick if you go with this one.
What's good?
The best part of the Dyson V8 is that it allows you the freedom to clean your floors spotless without the hassle of a big, bulky, corded vacuum.
It has extremely powerful suction and you can easily turn the bristle bar on or off to move from your hardwoods to carpet.
Additionally, its HEPA filtration can't be beat. It captures allergens and expels cleaner air leaving your home much cleaner than it was.
What could be better?
The trade-off with a cordless vacuum is that batteries simply don't last forever.
This Dyson vacuum comes with lithium metal batteries, but you must remember to charge them for at least four hours before use.
And when you do, you could get up to 40 minutes of cleaning time, depending on whether you use the floor tool.
How does It compare in value?
The Dyson V8 is not cheap. You may pay a hefty price for this lightweight vacuum.
But looks can be deceiving. For the price, you get a whole lot of power and convenience (for around 40 minutes).
However, if hassle-free cleaning is one of your priorities, then this vacuum is well worth the money.
How has it improved?
This vacuum is a definite improvement over the V6. It is more powerful, and its battery does last longer.
Plus, Dyson has included some much-needed attachments with this model making it the only vacuum you'll need for cleaning your hardwoods.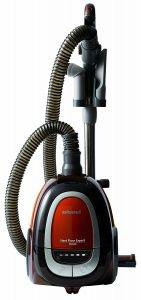 Key Feature #1: Gentle on hardwood floors.
Key Feature #2: Easy to maneuver
The highs: Designed specifically for your hard floors.
The lows: Doesn't have a very long cord.
What is great about the Bissell 1161 is that it is specifically designed for hardwood floors. Its wheels are made of felt and rubber, so it won't leave marks on your floors.
Plus, it has soft bristles that gently, yet powerfully, remove the dirt and debris from your hardwoods.
What reviewers say about it
Most online reviewers give this vacuum 4 or 5 stars (out of 5). They love how effectively it cleans and how easy it is to use.
The main complaint is that over time this vacuum may lose some of its suction power.
What's good?
If most of your floors (or all of them) are hard surface floors, then this is a great choice in vacuums.
It is specifically designed for hard surfaces and is extremely gentle on your hardwood flooring.
What could be better?
Compared to other corded vacuums, this one does have a pretty short cord. It is only 16 feet compared to other models with cords that are 30 feet or longer.
So, make sure there are plenty of plugs in your home, or pair it with an extension cord.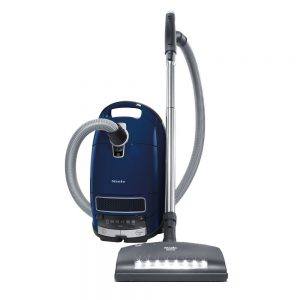 Key Feature #1: Very durable.
Key Feature #2: Powerful and easy to use.
The highs: It comes with all the "bells and whistles" you could ever need.
The lows: This vacuum has a hefty price tag.
The Miele C3 canister vacuum is built to last. And while it is an investment, like other Miele products, it is one that you can depend on for many years to come.
This vacuum is extremely powerful and easy to use. Plus, it comes with all the attachments you could ever need to get your floors, furniture, and even your draperies sparkling clean.
What reviewers say about it
Even though this vacuum is expensive, it's extremely well-reviewed. Customers say that it is worth every penny.
It is well-constructed and really gets the job done when it comes to cleaning.
What's good?
This vacuum is powerful and top-rated for cleaning hardwood floors. Plus, it comes with attachments to clean your other areas too.
It is also very easy to use and maneuver. Plus, the bag is very easy to empty.
What could be better?
This vacuum is expensive. Very expensive.
But then again, it is a Miele, which has an excellent reputation for high-quality products. You'll tend to get what you pay for with quality vacuums, and Miele is no exception.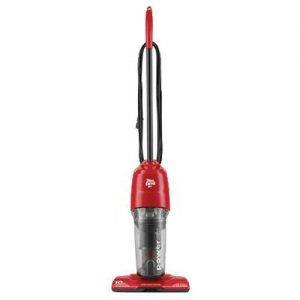 Key Feature #1: Lightweight.
Key Feature #2: Easy on the budget.
The highs: High powered 10-amp motor.
The lows: Design could be better.
If you are looking for a lightweight, inexpensive vacuum for your hardwoods, then this Dirt Devil Stick Vacuum may be the one for you.
It is easy to use and easy on the budget.
What reviewers say about it
Most people who purchased this vacuum find that it is great for the price.
Buyers love how easy it is to use compared to heavier models. The main complaint with this one is how noisy it is.
What's good?
This lightweight vacuum cleans your floors well. It has great suction and a 10-amp motor.
Plus, it is very easy to open and empty.
What could be better?
The cord is 20 feet long, which is okay, but not great.
And the design could be improved upon. It tends to blow air out of the front of the vacuum, which can stir up pet hair and dust.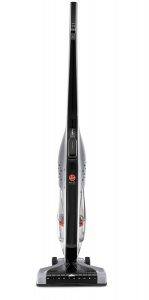 Key Feature #1: Cordless.
Key Feature #2: Multi-floor cleaning features.
The highs: Can hit hard-to-reach areas.
The lows: It tends to blow dirt and dust around.
If you'd like a cordless stick vacuum that is easy on the budget, then the Hoover Linx is a good choice. It works extremely well on hardwood floors, but you can also use it for carpet and other surfaces.
It won't scratch or mark your floors. And it comes with windtunnel technology that is extremely effective in removing dirt and dust from your floors.
What reviewers say about it
This is very popular vacuum cleaner, with over 9,000 reviews on Amazon at the time of this review.
People love how well it works on hardwoods, and how well it picks up pet hair. A few customers were disappointed with customer service when they had issues.
What's good?
This vacuum is lightweight, easy to use, and it can get into hard-to-reach places. Plus, it is cordless, which makes it very convenient.
It also comes with a fade-free lithium-ion battery system, so you can change out the batteries when they run low and keep on cleaning.
What could be better?
While this vacuum can powerfully pick up dirt and grime, because of the air blowing out of it, it can also blow it around.
Longer pieces of hair from pets and people can get twisted and caught in this vacuum's brush. So, you may need to check it and clean it before using again.

Key Feature #1: Power-packed hardwood floor cleaning.
Key Feature #2: Easy fingertip controls.
The highs: Anti-allergen technology.
The lows: It can be a heavy piece of equipment to drag around the house.
Shark's Rotator Powered Lift-Away Canister Vacuum is a powerful cleaning machine. It has dynamic swivel steering and a powered lift-away mode to make cleaning your whole house easy.
Plus, its easy fingertip controls allow you to effortlessly switch gears from your hardwoods to carpet or rugs.
What reviewers say about it
This Shark vacuum received stellar reviews. Most of the 1,300+ Amazon reviewers (at the time of this review) give it five stars.
People love its versatility and its power.
What's good?
This canister model vacuum is a great value. It is powerful, can get just about any spot in your home, and it even comes with an attachment for picking up hard-to-clean pet hair.
And with its anti-allergen technology, it traps 99.9% of dust and allergens in the vacuum.
What could be better?
The Shark is powerful but heavy. Especially top-heavy.
It would also be easier to use if you could adjust the height of the stick.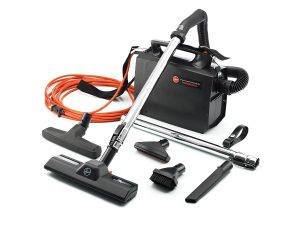 Key Feature #1: Lightweight.
Key Feature #2: Extra-long cable for convenient cleaning.
The highs: Includes extendable hoses.
The lows: Less longevity than other models.
The Hoover CH30000 is a lightweight canister vacuum that can be easily adjusted to your cleaning needs. It has long cords and extendable hoses.
So, you can clean your home from top to bottom with this vacuum.
What reviewers say about it
This Hoover vacuum received excellent reviews across many online review sites.
People love how easy it is to use and adjust to reach different areas of their homes.
What's good?
The price of this vacuum is great. For a little money, you get a lot of features.
The cord is long, the hose can be extended, and getting to those tough corners and areas is easy with this vacuum.
What could be better?
While this vacuum is not expensive, it also doesn't appear to be built to last.
After extended use, the motor could begin to smell, and it may not last more than a few years.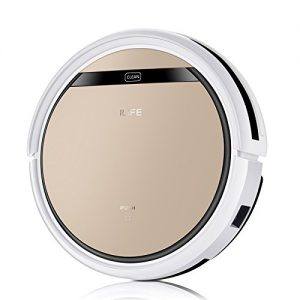 Key Feature #1: Self-cleaning vacuum.
Key Feature #2: Automatically adjusts to your floor type.
The highs: Has smart-sensors that detect dirt.
The lows: It could get stuck if there are objects lying around on the floor.
If you have hardwoods and are considering a robot vacuum, this one is a great buy. It is less expensive than some of its competitors but still gets the job done.
The ILIFE V5s Pro is powerful, plus it has smart sensors that can find where your dirt is hiding. And its powerful motor picks up all sorts of dust, debris, and even pet hair.
What reviewers say about it
This self-cleaning vacuum rated well across over 1000 Amazon reviews, and is reviewed highly elsewhere online.
People were amazed at just how well this little robot works on hardwood floors.  They found it a great buy for the money.
What's good?
The best part about this vacuum is that it does all the work for you. It vacuums, sweeps, and damp mops – all in one little machine.
And when it is done, it automatically docks and recharges so its ready to go next time you need it.
What could be better?
If you want this vacuum to last a while, be prepared to hunt for a new battery.
The one that comes with the ILIFE is rechargeable, however, replacement batteries could be a challenge to find once your battery dies.
Wrap Up
So, which vacuum is the BEST overall pick for hardwood floors? Despite some tough competition, the
Shark Navigator Lift-Away still takes the cake.
Yes, you have to operate it yourself (unlike the ILIFE V5s). And yes, it can be heavy to lift.
However, it is a powerful cleaning machine that truly gets the job done. And at a price that won't break the bank.
Now, you could go with a vacuum from a long-standing brand that has been around for years, like the Kenmore Elite 31150. Or the more expensive, yet lightweight Dyson V8.
They are both great options too. It really boils down to what you are comfortable with and what you are willing to spend to get your floors clean.