Your local Best Buy employee knows that you've been eying up the Dyson vacuums since, well, you started shopping at that Best Buy.
If you have to answer another "just looking again?", you may have to buy something to just to hide your embarrassment due to your lack of vacuum knowledge.
Dyson's product listings are long and the features seem never ending. It's easy to be overwhelmed and confused by everything their vacuums have to offer.
I mean, what is HEPA filtration, anyway?
We're here to help make your Dyson shopping nightmare the dream it should be. The next time Bill from Geek Squad jokingly asks what you're buying today, you'll be able to proudly grab your cart and purchase the vacuum of your dreams.
We've picked the top 6 best Dysons on the market just to make your life that much easier:
Top List: The 3 Best Dyson Vacuums
Dyson has a large range of vacuum products, so we know how overwhelming it is to head over to their site and figure out which one is the right one. Instead of dreading sifting through hundreds of options, take a deep breath.
We already did it for you.
Here are our top choices in cordless vacuums, upright vacuums, and canister vacuums by Dyson: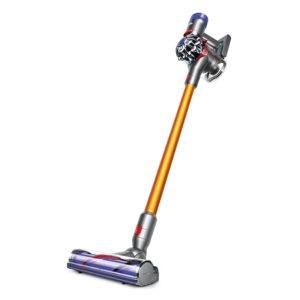 If you're looking for a vacuum option that's, well, absolutely incredible, your search stops here. With the V8, you're getting everything that any elite carpet or hardwood vacuum can and should offer.
With no cords, HEPA allergy filtration, the ability to clean all flooring types, and a lightweight vac body, this vacuum is a cleaning lover's dream.
Pets', kids', and adults' messes alike stand no chance against the V8. With the exclusive soft roller cleaning head designed to pick up large and small debris, the V8 is not only going to replace your vacuum, but your broom, too.
If you're wanting to make the investment to purchase the best in vacuum technology to date, the V8 is where your money should go.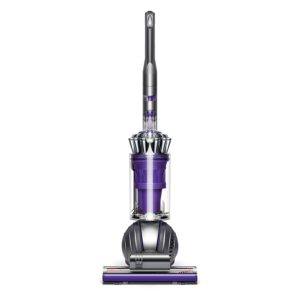 An alternative title for this pick was "the best for pets" since it cleans animal (and human hair) in a jiffy. If it didn't already have animal in its name, it sure would deserve to.
Though most wild animals are untamable, the Animal 2 is well trained and can transition from cleaning tile to vintage vacuuming shag carpeting on command.
If that wasn't enough, the snake-like attachment to the vacuum lets you get those hard to reach places that your upright won't be able to fit into (which are far and few between to begin with).
This vacuum is anything but a beast to use, but for sure attacks the dirt on your floors with the certified strongest suction around and will keep them spotless year after year.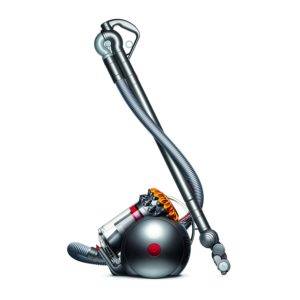 Go ahead, it's natural to want to tilt your head and ask yourself "what exactly is that?" when you first see this product.
There's more than meets the eye when it comes to the Big Ball, as the beauty of this product lies within its less than conventional exterior.
You'll get nothing short of a superb Dyson product when purchasing this vacuum. If you're a lover of retractable cords, larger than life canisters, and a vacuum that will literally pick itself up if it falls, you'll love the Big Ball.
Dirt on laminate and area rugs alike will be sucked up by this all floor cleaner. Take a chance on the odd (big) ball of the bunch and your floors won't regret it.
What to Look for in a Dyson Vacuum?
When deciding which Dyson to go with, you first need to decide what kind of vacuum you'd like to have. Because there are so many options available, you'll first want to think about which options are the most important for you to have and which ones you can probably live without.
Here are some questions you should ask yourself to get a better idea of what you want you vacuum to do for you:
Corded or cordless?
How heavy do I want my vacuum to be?
Do I need something that can clean up after pets?
How bad are allergies in my house?
Do I like having a hand vacuum?
Once you decide what features you absolutely need, you can go from there and decide what kind of vacuum fits the bill. You can get a stick vacuum, a  hand vacuum, a canister or an upright vacuum from Dyson.
Stick vacuums are cordless and are very easily maneuverable and lightweight. They're small so you'll need to empty them multiple times per cleaning and have a limited charge.
Canister vacuums are large and corded, but feel like a stick vacuum when in use. The canister also holds more than an upright vacuum does.
Hand vacuums are tiny cleaning companions that help you get to hidden areas in your home and keep your car tidy. If you're getting a canister vacuum, you'll probably want to invest in one of these, too.
Picture a "vacuum" in your mind. What materialized was probably an upright vacuum, which is a cleaning classic.
What to Expect When Spending More?
When spending more, you'll get top of the line features that are basically the best in the entire vacuuming industry. Here are some of the elite features you'll find on more expensive models:
Cordless vacuums will be more expensive than corded vacuums. The decision "to cord or not to cord" all comes down to personal preference and if you'd rather use outlets or batteries.
HEPA and allergy filtration technologies will also be more expensive. If you're prone to sneezing and wheezing after a light dusting, it may be worth it for you and your inhaler to invest in this feature.
Pet cleaners have to do more work than those not optimized for pets, which means they'll have a heftier price tag. Even if you don't have a furry friend, these will generally have more cleaning power (which is never a negative).
If you're looking to splurge and get all of these features (and more) in a single vacuum, Dyson has an option for you. If none of the high end features above are your cup of tea, you can find less expensive models without them that still work really really well.
A Dyson is a Dyson, after all.
Rankings & Reviews
Dyson has an infamous reputation of having the best quality and most expensive vacuums in the industry, which means we're truly ranking the best of the best. (No pressure, right?)
Here are the top 6 Dysons to invest in to make your chores for the next decade a breeze: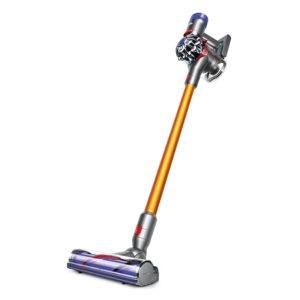 Weight: 5.75 pounds
Power Source: Cordless
The high points: 40 minute battery life, picks up large and small debris, HEPA filtration, cleans carpet and hard floors, transforms into a handheld
The not-so: 40 minutes may not be enough time to vacuum your whole home
I've never seen a vacuum that can do as much as the Dyson V8 can. If you can dream it, chances are this vacuum already does it.
Cordless? Check.
Allergy and pet proof? Check.
Works on all flooring types? Check.
If you're looking for the top of top of the line, this is the model of Dyson that you'll want in your utility closet. As the V8's name suggests, it's the absolute best of the best.
What reviewers say about it?
Many reviewers of the V8 were those that had the earlier V6 and upgraded. What they had to say was positive all around.
The V8 is quiet, which means that you can vacuum without alerting the entire neighborhood that you're about to clean your home. This is especially great for not disturbing pets or kids that just fell asleep, giving you time to clean in peace.
Speaking of pets, this vacuum does an excellent job of getting pet hair out of carpets and picking up the dirt your furry friends may track in from the yard. Though not specifically mentioned, I'm sure the Dyson excels in picking up dirt kids may bring in from the yard, too.
Reviewers can not stop praising Dyson for actually making improvements that users wanted to see. You'll find that the V8 is specifically tailored to making cleaning easier without leaving you anything to fuss about.
What's good?
Cordless vacuums are all the rage, and with 40 minutes of battery power at your fingertips, there's no limit as to what you can clean in a single session.
As a bonus, the V8 also has settings that allow you to pick up large and small debris. The soft roller attachment exclusive to the V8 just so happens to be included for that purpose.
If anyone in your family suffers from allergies, you'll be able to rest assured that the dust you pick up isn't going straight back into the air. HEPA filtration is there to save you from costly Benadryl trips to CVS.
The most beautiful part of all? The V8 will travel across any flooring that you have in your home without any troubles at all.
What could be better?
The ever looming problem over the heads of cordless vacuums is their run time. No matter how long the battery power of one vacuum is, there will always be consumers craving more.
With 40 minutes of cleaning power on the lowest setting, you should have more than enough time to clean your entire home on a single charge.
Since the battery is inside your vacuum, there isn't a way for you to take it out and replace it with an extra battery halfway through your cleaning. There also isn't an option for you to plug in your vacuum directly to the wall.
The good news? Nearly all customers have had no problem with how long the battery lasts, so you don't need to worry too much about a half cleaned home.
How does it compare in value?
Since this is the newest and most improved Dyson, the price of this model is the highest on our list. Because of all of the added extra features this model has that no other Dyson does, it tops our list as the best model around.
If you're looking for a less expensive model with almost all of the bells and whistles as the V8, another one of our top picks (the older Dyson V7) is a good option for those wanting superb quality without spend as much.
Do we think the difference in quality is worth the price difference between the V7 and V8? Absolutely.
How has it improved?
Compared to the V6, the Dyson V8 has made substantial improvements. The 20 minute battery life of the V6 pales in comparison to the 40 minute maximum battery life of the V8.
The suction power of the V8 is also 150% more powerful than its earlier V6 counterpart. That means more cleaning in less time.
In addition to HEPA filtration, an added crevice tool, and a setting just for dusting, the V8 has redefined what it means to give customers it all.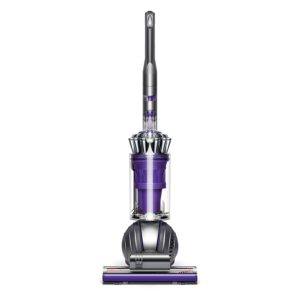 Weight: 17.35 pounds
Power Source: Corded
The high points: Self adjusting head, cleans all floor types, strongest suction of any upright vacuum at the cleaning head
The not-so: May be bulky to use, cord does not retract into vacuum, hose is difficult to put back
Upright vacuums are a timelessly classic vacuum pick. The Animal 2 is sure to get its Academy Award for "Best Supporting Cleaner" in the mail soon.
Though timeless, the Animal 2 is innovative in that its improved in every aspect over other upright vacuums. It has the certified best suction (which definitely doesn't suck).
You'll also be able to clean virtually any surface with your Animal 2. Those pesky hard to reach places can be cleaned with a detachable hose attachment and the self adjusting head makes traveling from surface to surface as enjoyable the first time you tried your new vacuum out.
You'll keep coming back to your Animal 2 time and time again because cleaning with the best never gets old.
What reviewers say about it?
There's another vacuum on the market (the Shark TruePet Rotator) that seemingly has the same specs as the Dyson Animal 2. Many reviewers put the two to the test and found that the Dyson is far and away the better of the two.
What impresses customers the most is the suction power that you get with the Dyson. Most hair doesn't get caught in the rotator, but simply gets sucked up into the bin above.
Another huge win for the Dyson is the filtration unit attached. If you've ever taken a post cleaning pharmacy run because your allergies start flaring up after vacuuming, the Animal 2 will be your saving grace.
What's good?
If you've clicked on the link above, you can see that this vacuum has the strongest suction compared to any other vacuum. We weren't lying when we said these vacuums are the tops.
Having the best suction around is a huge statement, and Dyson has the proof to stand behind it. The Animal 2 has the strongest suction power at the head compared to any other upright vacuum.
The self adjusting head makes sure that when you're transitioning from floor to floor that you won't have difficulty maneuvering the vacuum from tile to carpet to wood to wherever else it may need to go.
The ball technology Dyson uses also allows the vacuum to turn on a whim; it works with you instead of against you, leaving your floors clean and leaving you happy.
What could be better?
This Dyson is large. The size of it may be a bit bulky for some users, especially those in very small homes that may not have the space to store such a large product.
The weight is comparable to other upright vacuums, however, some may still find that it's a bit difficult to move around. When you have an incredible amount of suction in addition to 17.35 pounds, it's quite difficult to get it across ultra plush carpeting.
One common complaint from users is that you have to manually wrap the cord around the vacuum. At this price point, a retractable cord is expected to be a part of the package.
The removable hose that you use is actually a part of the handle you use to push the unit around. Once removed, it can be a bit of a struggle to get it back in its place.
Despite all this, the vacuum works and works well. Many of the problems listed above are common complaints among most upright vacuums.
How does it compare in value?
The price point for this product is higher than most other upright vacuums on the market (and especially higher than most Shark vacuums). The value comes in that you will not find another vacuum out there that can do what this one does period.
Because of this, we recommend that this vacuum be an investment to you and your family rather than an impulse buy. Rest assured, you will get your money's worth because the quality is far and away better than most (if not all) uprights out there.
How has it improved?
The previous Dyson Animal model doesn't have nearly the raw suction power that the Animal 2 does. The Animal 2 is leading the market in suction, so no other upright can really compare.
If you're looking online for the Animal, chances are the vacuum will be more expensive than the new and improved Animal 2. If you're down to pay less money for a better vacuum, I think the value speaks for itself.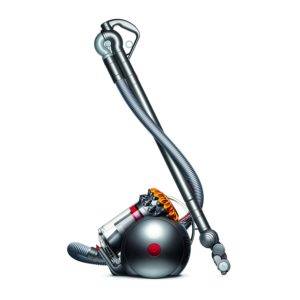 Weight: 17.64 pounds
Power Source: Corded
The high points: Picks itself back up if it topples over, large canister to pick up debris, retractable cord, works on any surface
The not-so: It may be difficult to transition to a canister vacuum if you've never used one
Are you a canister vacuum advocate? If you're not, the Big Ball multifloor canister vacuum can certainly change your mind.
With the Big Ball, you'll be able to clean your floors with as little hassle as possible. You may not even realize that you've been tugging your canister behind you as you go across all types of flooring in your home.
With a retractable cord and technology that prevents tipping over, this Dyson was built with the intention of remedying common vacuum complaints in mind.
If you've never tried a canister vacuum before and are a bit hesitant to take a chance on the weird looking product on the market, you're not alone.
Based on reviews from users and the laundry list of product offerings, Dyson has (almost) perfected the canister vacuum as we know it.
Give the Dyson Big Ball a try and you'll be a convert soon, too.
What reviewers say about it?
Most reviewers have never owned a canister vacuum before buying the Big Ball, and the reviews are nearly unanimous in saying they're total canister converts.
Many say that they love the fact that they don't have to push and pull a giant upright back and forth continuously. It might even save you enough energy to go on that 3 mile jog you've been putting off for years.
Another plus is that the small nature of the head means you can reach under tables and couches without adding a separate attachment, which upright vacuums just can't do.
Once you go canister, you won't want to go back.
What's good?
The three high points of this vacuum are what set it far and away from other leading canister vacs. As per usual, Dyson made the Big Ball with users in mind, leaving little room to complain and many reasons to rave about.
Two words: retractable cord. No one wants to wrap a giant cord around a vacuum after using all of their energy to clean their home, so Dyson delivered.
Canister vacuums are finicky in that they tend to have a mind of their own and topple over if tugged on the wrong way. Dyson thought that the Big Ball should be able to flip back over on its own, taking away that potential frustration.
If a vacuum picks up so much that you need to empty it out 2 or 3 times per vacuum session, that's always a good sign. To eliminate that need, Dyson made the canister larger so you can pick up more without needing to stop and empty your vac.
What could be better?
If you've never used a canister vacuum, that means that you'll be learning how to vacuum all over again. They're not as intuitive to use as upright vacuums are.
Canister vacuums essentially follow you around the house as you're cleaning. You can think of them as a cute and loyal cleaning companion that never leaves your side.
If you've used an upright your whole life, you're used to pushing the weight of the whole vacuum the entire time. Canister vacuums are pulled behind you, which definitely takes a bit of getting used to using.
How does it compare in value?
This vacuum is actually in the mid-range of Dyson canister vacuums, which means that you're getting more for less money.
The higher range Dyson canister vacuums may boast that they are better for pets and allergies, but the Big Ball seems to be the consumer favorite. If I were you, I'd choose the Big Ball over similar products (like the Cinetic Animal Canister) because the difference in quality doesn't justify the difference in price.
How has it improved?
The Big Ball is unique in that it picks itself back up when it falls down. No other canister vacuum has this useful feature and fun party trick.
The Big Ball can also hold more debris compared to other Dyson canister vacuums, which means that there are less trips to and from the bin while cleaning.
#4.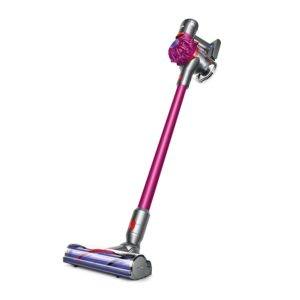 Weight: 5.3 pounds
Power Source: Cordless
The high points: No cord to worry about, cleans all floor types, can clean both high and low, lower price point
The not-so: 30 minute max charge, not as powerful as the newer V8
Simplicity is key when it comes to the Dyson V7. With every feature that you'll need built into the vacuum without bulky attachments, the V7 is the stick vacuum that will streamline your process.
Less expensive and older than the V8, the V7 still has enough cleaning power and longevity to make our top list. This product is one that stands the test of time and will clean anything you throw at it (or at least throw at the floor).
What reviewers say about it?
Reviewers say that they love the fact that everything they need to clean can be done with one simple tool. From car floors to baseboards, the V7 does it all.
They love the low profile of the vacuum most of all and find that this is their new one in all go to. It's not necessary to take the vacuum apart to fit underneath the sofa, which means less time messing with the V7 and more time actually cleaning.
What's good?
Cordless equals freedom in the vacuum world. Not being tethered to the wall is any cleaner's dream come true.
The V7 excels in cleaning all floor types and can transform into a handheld to get to those not so easy to reach places. When it comes to cleaning, Dyson's usual no dirt left behind quality applies here.
It's also an extremely lightweight vacuum, which means that both young and old can join in the cleaning fun.
What could be better?
Compared to the newer V8 Absolute (which we reviewed above), the V7 is an earlier version that would make a great alternative. You'll be saving money by getting this version, without sacrificing too much.
The V7 only holds 30 minutes of charge, whereas the V8 holds up to 40 minutes. The V8 also has 75% more brush bar power than the V7 and has specialized tools specifically for cleaning up after pets.
Despite these differences, the V7 is still an amazing vacuum that is one of the best out there for cleaning hard floors. It's at a better price point than the shiny new V8 is, too.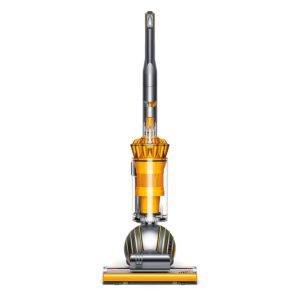 Weight: 15.6 pounds
Power Source: Corded
The high points: Multifloor cleaning, instant release wand, self adjusting cleaning head, lower price point
The not-so: Suction is not as powerful as the Animal 2
At a fantastic price point, the Ball Multifloor 2 is your best bet if you're looking for a deal on a Dyson. It has all of the basic features that makes a Dyson, well a Dyson, but is anything but ordinary.
The Multifloor 2 is an all floor cleaner, so you won't need to worry about this vacuum scratching your hardwood or not being powerful enough to deep clean your carpet.
You'll get all of the benefits of having a specially crafted Dyson product, like ball rotating technology and a self adjusting head, without dropping more than $300. This vacuum is a win all around.
What reviewers say about it?
Most reviewers are loyal Dyson fans and many compared this Dyson to the Origin DC07 that they owned for the previous decade and a half. (Those are Dysons as old as a high schooler.)
Fans are amazed at how much the vacuum industry has progressed and are just as impressed with their new Dyson as they were satisfied with their old one.
They especially love that the improved ball head technology makes the vacuum easy to turn around even in the most not so spacious of places.
What's good?
Dyson's multi floor technology means that messes on any kind of floor are no match for the Ball Multifloor 2. The self adjusting head assures that your vacuum won't get caught on any thresholds.
The instant release wand gives you the flexibility of having a handheld and lets you get into places where the ball head won't fit. This feature is exactly the same as what the Animal 2 features.
The major perk of this product is the price point because it's much more affordable than most (if not all) other Dyson products. If you haven't bought a Dyson yet because it's "out of your budget", this might fit the bill.
What could be better?
The Animal 2 is the newest upright that Dyson has on the market, which means that it's the model that has all of the extra features (for an additional cost, of course).
Though the Ball Multifloor 2 doesn't have the strongest suction of any upright vacuum, it still gets the job done. It just may take a bit more time than the Animal 2 takes.
Despite the Ball Multifloor 2 being an older model, it cleans well enough for Dyson to continue to offer it to people that love their products but might not love their extremely pricy prices for their newest models.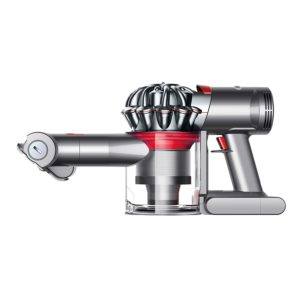 Weight: 3.77 pounds
Power Source: Cordless
The high points: Strongest suction of any other handheld cordless vacuum, 30 minutes of suction
The not-so: Vacuum is optimized for small tasks, specialized usage
If you hate dragging out your large vacuum to pick up every single little mess, you're very very normal. As Dyson tends to do, the V7 Trigger is there to make your life easier.
If you're opting to go for a canister vacuum, you may need to purchase a handheld to take care of daily cleanups. With all of the included attachments you'll ever need, the V7 Trigger is there to pick you (and your dirt) up when you need it.
What reviewers say about it?
Reviewers adore how light the product is. Even your toddler can pick up a 4 pound handheld and pick up the messes (that they probably made) around the house.
The fact that you get 3 different attachments for the vacuum is also a huge plus for reviewers. Many handhelds don't offer much variety and are designed with a single purpose in mind, so having variety is a major selling point.
What's good?
This little vacuum is small yet mighty. It has the strongest suction of any handheld cordless vacuum you'll find anywhere.
Since it's cordless, you won't have to worry about finding an outlet if you need to quickly clean out your car. 30 minutes of interrupted suction time is more than you'll need for small tasks this vacuum excels at.
What could be better?
The V7 Trigger is great at what it claims to do, which is picking up small messes anywhere in your home or car in a jiffy.
The only downside is that you'll only be able to use it for that sole purpose as it has no handle attachment to where you can use it on your main floors. This is a specialized tool that needs to be used in addition to another vacuum for daily use.
The Verdict?
The V8 Absolute is our top pick overall because of its innovation and the overwhelming amount of features offered.
The Animal 2 is the best of uprights, giving you literally the suckiest vacuum you'll ever own.
Last but certainly not least, the Big Ball is the best of canister vacuums and comes with its own unique topsy turvy pros.
We've given you the low down on the best Dyson in each vacuum category (and threw in 3 best of Dyson extras just for fun); it's your turn now to dig deep and decide what the best vacuum for you is.
The best part? You'll never have to talk to Bill from Best Buy again.