The reason you splurged on a new car last weekend wasn't because there weren't great used options, but because of that new car smell. It's irresistible.
There's nothing like it, and of course, you're going to do everything in your power to keep your car smelling new for as long as possible. A "no fast food" rule can only contribute so much to keeping your car pristine.
You know you'll only be able keep your car spotless for so long; life happens, and in general, life is messy. It looks like you could use a list of the best car vacuums to help you clean your car and keep it smelling like new.
Getting a quality car vacuum will allow you to keep your floors and upholstery spotless, leaving you more time to show off your shiny new car instead of picking up those M&Ms you accidentally dropped on the floor.
Rankings: Best 6 Vacuums for Cars
Before you go out and purchase the first dustbuster you see, here are our 6 best car vacuum picks to keep your car looking like it just rolled off the lot.
What to Look for in a Car Vacuum?
When looking for a car vacuum, you'll have a few options to choose from. Here are the types of common car cleaners on the market:
Corded hand vacuum for home outlet
Corded hand vacuum for car outlet
Cordless hand vacuum
Small shop vac
Each of these have pros and cons when it comes to cleaning out your car.
Corded vacuums will always be a bit of a pain to move around since you're attached to an outlet when cleaning. You don't need to remember to charge corded vacuums, which is a major downside to having a cordless version.
Cordless vacuums are ideal for those that hate being tethered to the wall. If you know you'll plug your battery after every use and will only need it to clean for a few minutes at a time, a cordless vacuum is for you.
Shop vacs are great for cleaning both wet and dry messes, which other hand vacuums can't do. If you know you'll need something a bit more heavy duty than the average cleaner, a shop vac is the way to go.
Depending on your car and lifestyle, there is a vacuum out there to help keep your car fresher than when you first test drove it.
What to Expect When Spending More?
When buying a car vacuum at a lower price point, you can expect your vacuum to be corded. There are both shop vac options and traditional hand vacuum options for you to choose from within this price range.
Budget car vacuums will typically have less accessories to choose from, but their suction will be nearly as good as the higher end vacuum models on our list. If you decide to choose a budget vacuum not listed below, it will most likely have sub-par suction, so be careful.
Mid range car vacuums are typically handheld vacuums that are either corded or cordless. These will have more accessories and attachments to choose from.
High end car vacuums will typically be cordless and very lightweight. There will be other user-friendly features, like making sure your battery doesn't overcharge, standard in these models.
Overall, the amount of features you're looking for and whether you're searching for something corded or cordless will determine the price of your vacuum. Thankfully, we've chosen options from low to high just for you.
Full Reviews
Ready to buy the car cleaner of your dreams? You'll get the most out of your new car smell with one of these babies.
Here are our 6 best vacuum for cars picks: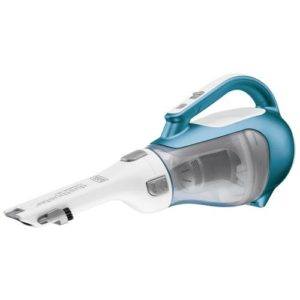 Weight: 2.6 pounds
Power source: Cordless lithium ion battery
The high points: Smart charge technology, ultra lightweight, great suction
The not-so: You'll be exposed to dust when cleaning, must clean entirely after every use, awkward to charge
What's cordless, smart, and sucks all over?
If you said the Black + Decker Lithium Dust Buster, you're 100% correct.
The Black + Decker is ultra lightweight, has amazing sucking power, and has technology that will extend the life of your battery. With smart charge technology, you don't need to worry about your vacuum until it's time to take it out to clean.
With the Black + Decker, you'll receive a brush head attachment for upholstery, which is located on the head of the vacuum for easy access. You'll never lose this commonly used attachment since it's always with you.
Because something this small cleans this well, it easily earned the number one spot on our best car vacuums list.
What reviewers say about it?
Reviewers have tried vacuum after vacuum looking for a product that sucks as well as the Black + Decker does. Most say that after years of struggling with dust buster after dust buster, they finally recycled their old vacuum – and the Black + Decker has become their saving grace.
The Black + Decker has a long head, which has a brush on the bottom of it. The brush is great for working with upholstery and for not scratching floors like hardwood or bamboo.
The only downside of the brush feature is that it's not removable from the head. Users mention cleaning the brush is a bit difficult because you have to clean the brush attachment while it's still on the head of the vacuum.
What's good?
The most unique feature of the Black + Decker is the smart charge technology. When it comes to charging, most people are hesitant to leave their battery plugged in for an extended period of time because they know the battery life will decrease.
Most of the time, that's true. With the smart charge, your charger will turn off once the battery is full. It's all automatic, no thought required.
The Black + Decker is also ultra lightweight, which means that anyone will be able to use the vacuum with ease. At under 3 pounds, it's even light enough for the kiddos to join in on the cleaning fun.
The fact that there are no strings (or in this case, cords) attached is a major plus. You can take this anywhere from your stairs to your car without needing to worry about an extension cord.
What could be better?
Charging your Black + Decker is not as easy to charge as other portable vacuums. Most cordless portable vacuums are nowadays hung on a charging station attached to the wall, but this Black + Decker has one that sits on shelves.
Freeing up closet space to sit your Black + Decker down is a downside, but a few reviewers have ingeniously come up with ways to hang their system upside down on the wall without any issues. Though it's possible to hang your unit on the wall, the fact that you need to be extra creative to make room to store your system is a problem.
The suction of this machine is incredible, but only if it's cleaned properly. If you don't clean your Black + Decker after every single use, you'll have terrible suction, which will drain your battery faster.
Cleaning isn't difficult, but since you need to clean the head, the filter, and the body every time you vacuum, it can be a time consuming process. Some with allergies say that emptying their unit needs to be accompanied by a dose of allergy medicine nearby.
How does it compare in value?
Compared to other cordless vacuums that are similar in power and style, the Black + Decker is most certainly on the lower side of price points.
As far as value is concerned, you won't find another cordless vacuum as strong as this one for the price. The value of the Black + Decker is a great one, that's for sure.
How has it improved?
If we look at other Black + Decker handheld cordless vacuums, we will see something missing from all of them that the Black + Decker we're reviewing has.
No other similar model has smart charge technology, which is what will save your battery life and ultimately the suction of your vacuum.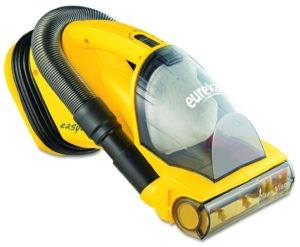 Weight: 4.8 pounds
Power source: Corded – standard outlet
The high points: Built in roller brush, riser visor, a great vacuum for pet hair
The not-so: Brushes fray after use, filter difficult to clean, motors are loud
What's yellow, great with stairs, and sucks all over?
If you shouted the Eureka EasyClean, we have a winner.
You'll want to shout "eureka" when vacuuming your home and car with the Eureka EasyClean. The roller brush feature is unique to this portable vacuum, which makes cleaning stairs and upholstery easy.
If you have pets, you'll want to adopt the Eureka into your life. The suction is incredibly powerful, and pesky pet hair has nothing on the raw power of this little vacuum.
Some say that vacuums with cords are more powerful than those with batteries. Though that's a widespread cleaning myth, the Eureka is much stronger than most other portable vacuums out there, no matter what their power source is.
What reviewers say about it?
To start, reviewers love the cheery yellow color of the Eureka. Of course, the color doesn't affect the way the vacuum itself works, but it does make cleaning a bit more sunshiney.
When you buy a vacuum, you're first and foremost worried about the suction. When cleaning with the Eureka, you won't need to worry at all.
The suction on this vacuum is incredible, which is why users don't mind it being a bit louder than any other handheld they've used. If dealing with a bit of noise is all you need to do in order to use the strongest handheld you've come across, you'll do it.
Users also say that this is a bit heavier than other handheld vacuums they've used in the past. However, if the weight of the vacuum and the long cord both contribute to maximize suction, it's worth it.
What's good?
The unique roller brush feature is one that most (if not all) other handhelds don't have. The brush allows the Eureka to act like a much larger vacuum than it actually is.
The roller brush is controlled by a separate motor than the suction, so your cleaning power will only be maximized by using the roller. No power will be taken away from the suction motor when turning on the roller, which is optimized for stairs and areas with pet hair.
Speaking of pet hair, pet parents everywhere are rejoicing that the Eureka is in their lives. Reviewers have posted picture after picture of hairballs that their Eurekas have picked up which their upright vacs didn't.
The roller brush feature is optimized to make cleaning stairs a breeze. Instead of needing to maneuver the Eureka in odd ways to get to every crevice, the riser visor allows the Eureka to be moved vertically rather than front to back.
When using the riser visor, you're able to vacuum from top to bottom, making the riser of your stairs easier than ever to clean. No other vacuum aside from the Eureka will be able to do that.
What could be better?
Some users say that their brushes frayed after a few uses. Because the suction is so powerful, it may be possible that the brushes were repeatedly pressed against what they were vacuuming, resulting in them flattening.
If you're very intentional about not pressing too hard down on the Eureka while you're vacuuming, you should be able to avoid the brushes fraying.
The dual motors are great for double the power, but with great power comes great sound. This portable vacuum may be a bit too loud for those with sensitive hearing.
There is a reusable filter in the Eureka, which is great for the environment. Some users say that needing a separate vacuum to vacuum their vacuum's filter is a bit overkill and they'd rather have something disposable or easier to clean.
How does it compare in value?
There are really no other vacuums to comparable this one to because this one is so unique. There are few, if any, vacuums out there that include features that make cleaning stairs this simple.
For the price and the suction this vacuum has, its value is worth much more than what you'll pay.
How has it improved?
The Eureka offers 3 versions of this same vacuum, one in yellow, one in red, and one in blue.
After searching through reviews and the manufacturer's website, there doesn't seem to be a difference between the colors aside from the fact there is a brush attachment included with the red model.
If you think you would like to have a separate brush attachment on a portable vacuum that already has an amazing brush roller, the red version is the one you'll want to get.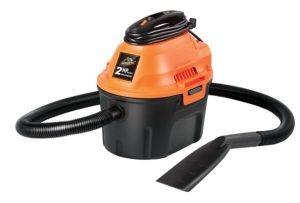 Weight: 7 pounds
Power source: Corded – Standard Outlet
The high points: Can vacuum wet and dry debris, specifically designed for the car, small enough to carry around
The not-so: must remember to switch filters when transitioning from wet to dry, doesn't have wheels, short cord
What's designed for the car and can suck wet and dry debris alike?
If you said the Armor All Wet/Dry, you've got it.
The Armor All is essentially a small shop vac designed specifically for the car. It cleans everything from spilled cereal to the dropped coffee on your morning commute.
It transitions from wet to dry mode with the switch of a filter and is small enough to carry while large enough to hold all of your debris.
If you're realistically going to need to clean mud and other wet spills in the car, the Armor All is the vac you need.
What reviewers say about it?
Reviewers put this little vacuum to the test and were overall pleasantly surprised with the results that they found.
One reviewer spilled her soup in the car, which would have been a nightmare to clean with paper towels. Since this is small shop vac is perfect for wet debris, she was able to suck it right up without any issues.
Another reviewer has two Alaskan Malamutes, which are the certified fuzziest dogs around. After a long car ride, they tried out the Armor All and didn't see a speck of fur in sight.
Most of the reviewers said that this was the best thing they've used to clean out their cars, which means you're getting a quality product designed with car cleaning in mind.
What's good?
Most portable vacuums are not designed to handle wet debris. If something were to spill in your car, most of the time you'd let it dry, use some sort of cleaning solution on it, and then dab away with endless paper towels.
The Armor All makes cleaning easy, because you can go from milkshake on the ground to a dry and clean car in minutes flat. This small shop vac is small enough to carry around, but has enough of a tank to get the job done.
Being able to carry around your portable vacuum (like a backpack vac) is one of the most important factors to consider when buying. This vacuum is lightweight and small enough to carry with you from place to place.
The fact that you don't have to hold the entire unit and only need to move the hose while cleaning means you'll have less of a strain on your shoulders when done, too.
What could be better?
Having a wet and dry vacuum sounds amazing, until you forget to switch out the filter and your motor becomes waterlogged. Remembering to switch out the filter between modes is incredibly important; if you don't, you risk ruining your entire Armor All in one swift move.
Though the Armor All is portable, some may say it's not portable enough. There were a few requests for wheels on this small unit, which would make it easier to transport, especially when full of liquid.
For a car vacuum, the cord of the Armor All is extremely short, clocking in at a measly 10 feet. With most vacuums, you'd need an extension cord to reach your car anyway, so this problem can be fixed with a quick trip to Wal Mart.
How does it compare in value?
Compared to other small shop vacs, this one has a price that can't be beat.
The other wet and dry vacuums in this price range are much bulkier, larger, and aren't designed specifically for your car.
How has it improved?
It doesn't look like there is either an earlier version or newer version of the Armor All. The company has built a solid product, which has lasted the test of time.
In future models, users want to see wheels and a longer cord, however, the product you're getting now is one that can't be beat by any other model currently on the market.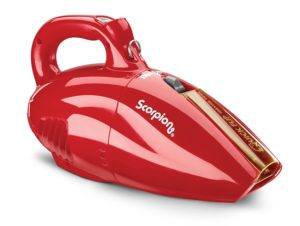 Weight: 4.5 pounds
Power source: Corded – standard outlet
The high points: Quick flip crevice tool, no loss of suction when plugged in, variety of accessories
The not-so: Small debris holder, gets hot after 15 minutes of use, may be heavy for some
For some old school cleaning action, plug in your Dirt Devil Scorpion to the wall and let the vacuum be your guide. With unbelievable continuous suction, the Scorpion is the tool you've been looking for.
From the quick flip crevice tool to the abundance of accessories, the Scorpion will become your go to when battling the french fry salt on the bottom of your car.
What reviewers say about it?
Reviewers say that though the cord may be a bit of a hinderance, they don't mind it because of how strong the Scorpion is. They're able to clean up any small mess they come across with this vacuum in tow.
The classic cherry red exterior of the vacuum doesn't help it clean any better, but it certainly does make users happy. Bright colors tend to make chores a bit less daunting, which could contribute to why users love it.
What's good?
Many Dirt Devils have a unique feature called the quick flip crevice tool, which is a tool directly attached to the machine to get to those hard to reach places. Since everything is attached, you don't need to worry about losing the crevice tool.
There are other separate accessories that you can attach to the vacuum itself aside from the quick flip crevice tool. These include an even longer crevice tool and a brush for upholstery.
The main selling point of the Scorpion is that there is no loss in suction whatsoever when plugged in. Because the Scorpion gets its power from a wall rather than a battery, you're getting more oomph for your buck.
What could be better?
The Scorpion is small, which is great for maneuvering, but not so great for dirt collection. You'll need to empty your vacuum at least a few times even if cleaning a small area, like your car floors.
All good things must come to an end, and for the Scorpion, that's about 15 minutes of use before it gets hot. You'll need to unplug your Scorpion and let it rest after a while if you need to clean for an extended period of time.
Though for many this vacuum is lightweight and poses no problems, for some it may be hard on the wrists. Thankfully, Dirt Devil has included a strap that you can wear around your body, distributing the weight of the vacuum better.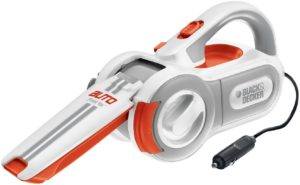 Weight: 4.25 pounds
Power source: Corded – car outlet
The high points: Plugs directly into car, has pivoting head, long cord to reach every part of your car
The not-so: Suction is not as strong
If finding an extension cord is the worst part of cleaning your car, you won't need to worry any longer: The Black + Decker Auto Pivot is the vacuum you'll want.
This hand vacuum plugs directly into your car outlet, rendering the 30 foot extension cord from your garage to your car useless. In addition to cleaning cars, this is the perfect option to upkeep smaller mobile homes, too.
What reviewers say about it?
Users say that the brush attachments for the Auto Pivot are incredibly useful for agitating dirt and getting those pesky crumbs out of your car carpets. The attachments for this vacuum are actually useful and are used by the majority of the reviewers.
Most carrying cases that come with vacuums are small and don't fit even a portion of the accessories in the bags themselves. The Auto Pivot fixed that problem, giving you a large enough of a case to store all of your accessories in your car until the next mess happens.
What's good?
The best feature of the Auto Pivot is that it plugs directly into your car. Extension cords reaching from the garage to the car are not necessary.
16 feet may sound like a lot of cord, but there's a good reason for it. With the Auto Pivot's long cord, you'll be able to reach every part of your SUV without worrying that your vacuum won't reach.
The Auto Pivot is named after its pivoting head, which makes getting into hard to reach places a breeze. You won't even need an attachment to get in between your car seats.
What could be better?
This vacuum is great for picking up small messes, but it may not have the strength you'd expect for a vacuum designed specifically for cars.
The Auto Pivot has great suction for a small handheld, but it doesn't have the power that a small shop vac designed for cars would.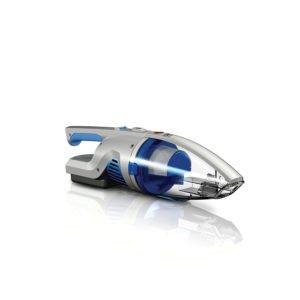 Weight: 2.1 pounds
Power source: Cordless LithiumLife battery
The high points: The battery lasts a long time while in use, good suction
The not-so: Charging takes a long time, easy to accidentally press the release button
A rolling brush and a crevice tool are all part of the package when buying the Hoover Air Cordless. You'll have everything that you need included to detail your car to sparkling perfection.
The Air Cordless even offers the option for you to purchase an attachment that can transform your handheld into a small floor vacuum. The versatility of the Air Cordless is what makes its users swoon.
What reviewers say about it?
Many reviewers are like the average person, who forgets that they've been charging something for a week straight. Thankfully, this LithiumLife battery can take a serious beating.
There is a filter that needs to be rinsed after every few uses, which users don't mind. Because it takes a while to dry, they wish they had an additional filter as well.
What's good?
The battery, once fully charged, will last you a long time. There's no need to worry about charging multiple batteries to get a single job done.
The suction is the thing users really love, as it's strong enough to pick up large debris, such as pebbles, as well as small debris, like dirt from your pup's paws. Anything that's made its way to the bottom of your car will be sucked swiftly up by this little machine.
What could be better?
Charging to get a full battery takes an incredibly long time, which means that users aren't pleased with the quality of the charger. When buying this product, it will take 9 hours to fully charge a completely dead battery.
The design of the Air Cordless is also not the best for keeping your dirt inside the vacuum, as the release button is very easy to hit on accident. If you have a habit of knocking your vacuum about as you go along, you may want to consider a vacuum with a different design.