All right, the spray-cation is over, it's time to zone in on the six best handheld steam cleaners. These handy and portable steam machines mean no more cleaning chemicals, less scrubbing and no more germs, except that elusive 0.1%, of course.
These high-temperature (around 200°), bacteria-boiling, grime-getting steamers are like little magic wands. They send out mist-ical high-powered shots of maximized cleaning power. There isn't much these little powerhouses can't handle.
Grimy grout, well-visited kitty litter boxes, gross garbage disposals, pigeon and parrot "presents." Greasy grill and oven grates and even, gasp, we don't even want to utter the name…bed bugs, are no match for the sanitizing, vaporizing power of these dirt-destroying devices.
Mop floors, sanitize toys, get the grit out of patio door tracks, or even remove wallpaper. You can do it all with the help of a handy, dandy handheld steam cleaner. Houseplants love a little misty visit (from at least a 12" distance) and tough-to-clean hard water stains don't stand a chance.
We'll take a tour across the varied handheld steamer spectrum. From versatile 3-in-1 systems to designs that allow users to dabble not only in steam, but cleaner solution. Then, there are the traditional options. Oh, and a handsome Italian one, too.
Rankings
Ranking
Product
Capacity
Heating Time
Cord Length
Review
Price
#1
Bissell PowerFresh Slim Hardwood Floor Steam Clean System
12 oz
1 minute
25'
Read Review
#2
Bissell Steam Shot Hard Surface Cleaner
6.6 oz
30 seconds-1 minute
20'
Read Review
#3
Vapamore MR-75 Amico Hand Held Steamer
6.7 oz
4 minutes
10'
Read Review
#4
PurSteam Handheld Pressurized Steam Cleaner
8 oz
3-4 minutes
9.8'
Read Review
#5
Dirt Devil Steam Cleaner Easy Steam Corded Handheld Steam Cleaner
8 oz
4 minutes
10'
Read Review
#6
Hoover Twin Tank Handheld Steam Cleaner
11.5 oz
3-4 minutes
17'
Read Review
How We Ranked the Best Handheld Steam Cleaners
When it comes to zoning in on the best handheld steam cleaners, some key variables come into play. Most users are looking for an easy-to-use, portable machine. They want something that can pack a powerful punch when it comes to wiping out tough messes.
The water tank capacity size, our source of sanitizing steam, is a slippery slope in the handheld steam machine world. Water holds some weight.
While larger tanks mean longer steam sessions, they also mean heavier cleaners. We've tried to find products that find a good balance within this important variable.
Attachments and accessories are a big deal in the handheld steamer market. Consumers love accessories and manufacturers strive to cover all of the bases when it comes to their steamer's versatile cleaning capabilities.
There are extension wands, squeegee attachments, mop heads, a vast array of brushes, and oh, so many more attachments that are additions to these handheld steamers' toolboxes.
Appliance lifespans can vary wildly, as we all know, with early demises ranging anywhere from faulty parts and poor design to user mishandling and lack of maintenance. Warranty timelines and inclusions can certainly become important when grappling with product performance issues.
So to help in determining overall value and ranking of these steamers, we have incorporated manufacturer warranties into the equation.
Ease Of Use

Weight and Maneuverability
Power Cord Length
Water Tank Capacity

Value

Features and benefits

Accessories and attachments included
Warranty (Length and inclusions/exclusions)
Cleaning performance and versatility

Price
Quality of construction and materials

Cleaning Method

Steam vs. traditional cleaner and water
What to Expect When Spending More
You can find little upgrades in the residential handheld steamer market. These include digital control panels and variable steam setting options.
You will get those when you reach the higher end of the price spectrum. In addition, you will get better warranties and more durable construction.
It comes as no surprise that attachment and accessory durability and quality seem to improve as a steamer's price goes up. Any manufacturer can throw a lot of little accessories into a package. However, if they don't last more than a couple cleaning sessions, the value of said package drops drastically.
Paying more does not seem to go hand-in-hand with having a better overall product, necessarily. Some higher-priced steamers may offer some added features or a specific functionality.
Many of the more budget-friendly models seem to be able to deliver satisfactory results. Power cord lengths, accessory packs and water tank sizes vary among price points.
Rankings & Reviews
We navigated through the vaporous variables that come into play when ranking the best handheld steamers of the residential realm. We've zoned in on the top models capable of effectively steam cleaning and sanitizing in a variety of household and light commercial applications.
We have taken several factors into consideration when determining our rankings of the six best handheld steamers. These include tank sizes, power cord lengths, steam control, consumer reviews, and price.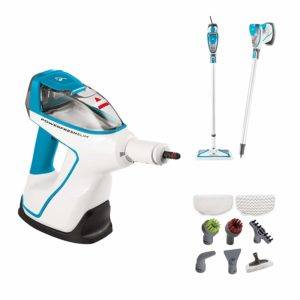 Weight: 6.4 lbs.
Water Tank Capacity: 12 oz.
The high points: Larger than normal water tank, Long power cord
The not-so: Price, Cleaning in tight areas
The Bissell PowerFresh Slim
Hardwood Floor Steam Cleaner
System is a
3-in-1 beast of a machine
. It has a monstrous 12 ounce water tank.
That is almost double the capacity of other steamers in its class. This means extra-long steaming sessions spent with this sleek system.
The versatility of the PowerFresh Slim system is broad and extremely functional. Even with its slightly lofty price tag, this steamer made it to the number one slot on our list.
The removable tank converts to a powerful handheld steamer. It can go mobile for special assignments.
The swivel mop handle allows the Bissell PowerFresh Slim to navigate around obstacles and access low-lying areas. That is where the grossest of the gross debris and bacteria love to linger.
An extension wand allows the steam to be directed in the deepest, darkest corners of ceilings and stairwells. It also keeps users at a comfortable distance while sanitizing around toilets.
A fancy on-board control panel lets users switch between a low and high steam setting. It even has a "pause" button. This helps to manage steam usage and carry the water in the already sizeable tank just a little bit further.
As with most handheld steamers on the market, the Bissell PowerFresh Slim Hardwood Floor Steam Cleaner System comes with a healthy spread of accessories and attachments.
These extra tools help to convert the handheld steamer into a versatile cleaning machine. It is capable of tackling tasks ranging from window washing to grout cleaning to grill grate grease elimination.
What Reviewers Say About It
Reviewers report on the outstanding hard floor cleaning abilities of the Bissell PowerFresh Slim Steam Cleaner. It is equally effective as a floor steamer as it is a portable, handheld power shower cleaner.
Users seem to find the PowerFresh Slim to be surprisingly successful at being a 3-in-1 system. It doesn't sacrifice performance on any of its three functions.
This seems like a given. However, when the system is fully assembled, the massive water tank can make for a top-heavy cleaner. A few owners noted the need to be aware of where the cleaner is positioned at all times or it may take a dive.
There isn't a small, flexible hose attachment available in the accessory grouping that's included with the system. A couple reviewers have voiced disappointment with their inability to reach tight spaces with their tiny accessories. That is because they lack the flexibility to maneuver.
When water levels get low in the tank, the steamer can fail to produce consistent steam flows. Reviewers note that once they refill the tank a bit, the steam production stabilizes.
What's Good?
This model boasts a helpful supply of handy attachments. In addition, the Bissell PowerFresh Slim system comes with on-board tool storage. Users can grab the right tool at the right time without having to scramble.
We're suckers for power cord lengths. Bissell nails it with the PowerFresh Slim Hardwood Floor Steam Cleaner System. It has a cord length of 25'.
Yeah. Let that sink in. It is almost two and a half times as long as other steamers' cords. This cord is basically a symbol of freedom in a steam dreamer's world.
Along the lines of ease-of-use, the PowerFresh Slim comes with a wall mount. That allows for easy stowing of the steamer system during times of inactivity.
The system's tank is also simple to fill. It doesn't require much manipulation to complete the task.
Oh, and for the fancy steam system operators out there, Bissell offers scented water to use in the machine. That is just in case the smell of sterility isn't quite pretty enough.
What Could Be Better?
The addition of a couple key attachments, like the previously mentioned small flexible hose would bulk up the accessory lineup a little.
Incorporating some type of counterbalance to prevent the mop from tipping could help to eliminate some spillage situations and thwart potential damage caused to the unit during the fall.
How Does It Compare in Value?
Though the price tag is one of the highest on the handheld steam cleaner spectrum, the Bissell PowerFresh Slim Hardwood does justify its cost with the broad range of functions that it provides.
Added features like a digital control panel that allows the user to choose between low and high steam output and the variety of tools and accessories help to tip the value scale in the PowerFresh Slim steam system's favor.
Considering all of the functionality that the Bissell PowerFresh provides, even with the hefty price tag, this steamer seems to be a pretty decent buy.
How Has It Improved?
Bissell has made a few changes with the PowerFresh Slim Hardwood Floor Steam Cleaner System over the past couple model generations.
The water tank is actually a bit smaller than in previous models, seemingly to lighten the overall weight of the unit.
A slightly smaller power source is utilized in the PowerFresh model compared to some of its predecessors. Though a lower wattage supply, water still heats to the point of steam in about 60 seconds while possibly using a bit less electricity to do it.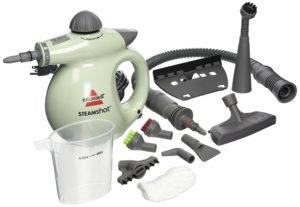 Weight: 3 lbs.
Water Tank Capacity: 6.6 oz.
The high points: Price, Lightweight and Portable
The not-so: Small, Tips easily
The Bissell Steam Shot Hard Surface Cleaner is
lightweight and efficient,
and able to eliminate even the stickiest of residue. It's not the biggest cleaner on the market and is best suited for smaller household jobs.
This value-priced steamer can introduce even the most budget-savvy buyer to the wonderful world of grime annihilation. While there are higher priced products with possibly better features or functions on the market, not much can beat the Bissell Steam Shot Hard Surface Cleaner's ability to sanitize and scrub-assist the grossest dirt and sludge buildup while sticking to this affordable price point.
Attachments are plentiful with the Bissell Steam Shot Hard Surface Cleaner. Tools like a grout brush, a scraping tool and a window squeegee help the operator and the steam accomplish even the toughest of dirt removal deeds.
The easy-to-operate push button steam trigger allows steam to be released on demand, so certain areas can be strategically targeted for vapor blasts while conserving the sanitizing, sludge-lifting steam for the next battle.
The water heater in the Steam Shot Hard Surface Cleaner is a powerhouse, heating water to steam-ready levels in less than 60 seconds. This means no waiting for crevice cleaning sessions or refrigerator residue (more like resid-eww) removal parties.
What Reviewers Say About It
Owners rave about the Steam Shot Cleaner's ability to get grout back to looking new again. While most admit that they needed to put a little of their own scrubbing power into the job, they also acknowledged that it may have been (cringe) decades since the grout had seen a proper cleaning.
Users tend to get extremely involved in their steam sessions and lose track of time. Suddenly, the steam clouds clear and the realization sets in that, in fact, the last vapor has passed through the nozzle and the steamer's in need of a reload.
This is the dawn of a new, less rewarding era known as the "cool down, refill" stage, which is reported to take about 15 minutes.
Some reviewers report having issues with attaching accessories and keeping them in place. If the pieces aren't twisted and locked appropriately, they can blast off the nozzle in mid-clean and spray hot steam on the unexpecting user.
Almost all consumers offering up their steamer opinions are excited about the lightweight, portable nature of the Bissell Steam Shot Hard Surface Cleaner.
What's Good?
The price point of the Bissell Steam Shot Hard Surface Cleaner is one of its strongest points. It cannot be understated that this cleaner packs a similar vaporizing, sanitizing punch to some of its much pricier competitors.
The power cord is long, about 20' long to be exact. For a smaller scale steamer, Bissell stuck with a lengthy cord on this one. Prepare to span entire rooms at a time in a cloud of bacteria-biting steam before having to move to a new power supply source.
Bissell provides an informative user guide with the Steam Shot Hard Surface Cleaner. It outlines the initial set up and usage process in clear detail and also includes operational tips for different tasks of which this little steamer is capable.
What Could Be Better?
The steam temperature exiting the nozzle can vary depending on the tool being used. Some users report needing to make very close contact with their targeted grime in order to have the desired effect. Being able to grasp more of that steam and shoot it for farther distances could be helpful.
A water level indicator sensor or window would be a helpful minor improvement. Operators want to know when the fun is almost done. This seems like a relatively simple addition to make, and it would go a long way with some owners.
The warranty is short, spanning just one year from date of purchase. The price does at least somewhat ease this lack of a long-term warranty, but even an extra year seems like it could improve consumer confidence a bit.
How Does It Compare in Value?
The Bissell Steam Shot Hard Surface Cleaner is a pretty decent value. At the bottom of the price range in its industry, this scrappy little steamer can accomplish many of the same tasks as its much pricier counterparts.
Functional attachments and a handy measuring cup for refills boosts the value, too. While the relatively minimal warranty drags the value down a bit, the price of the steamer makes up for it.
How Has It Improved?
The manufacturer has added accessories to the Bissell Steam Shot's standard equipment. As we know by now, attachments are king in the handheld steamer world.
The manufacturer has not modified many other things from previous Bissell steamer model designs. The tank size, power supply size and cord length are the same.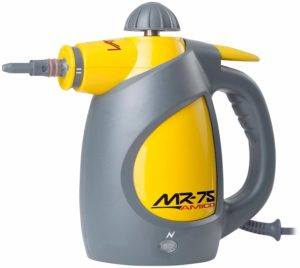 Weight: 3.5 lbs.
Water Tank Capacity: 6.7 oz.
The high points: Lightweight, Tons of accessories
The not-so: High price tag, Short power cord
The Vapamore MR-75 Amico Handheld Steamer is a serious steam delivery system capable of taking on an
almost endless variety of tasks.
Quality Italian design and engineering goes into both the form and the function of this friendly and fashionable steamer.
The MR-75 Amico is lightweight, and easy to manage and move about while spraying and steaming every last inch of the previously much dirtier house. Time should probably be reserved to really get to know this steamer and its wide range of cleaning capabilities because, as some users report, once you get steaming, you just can't stop.
Attachments are plentiful with the MR-75 Amico, including an array of brass and nylon brushes, scrapers, squeegees, and cotton covers to assist with larger surface steaming jobs. The flexible hose attachment is a generous, yet manageable, three feet long and able to reach tight spaces.
Stylish steam connoisseurs will love the sleek lines and vibrant yellow color of the MR-75 Amico handheld steamer. While not everyone is particular about the aesthetics of their dirt deletion devices, no one can deny that this steamer is a real looker.
It can't go unsaid that it's all in this little Italian steamer's name. Yes, yes, Vapamore Amico, we love steam, you are such a friend. There, and now not only are we covering superior steamers here, but we're packing in some linguistics action. You just can't get this anywhere else, folks.
What Reviewers Say About It
Owners of the Vapamore MR-75 Amico steamer seem, overall, to enjoy having this handy sidekick at their grime busting disposal. There are reports of grout being returned to its original, very different color after a couple swipes with the steamer.
Others report turbo cleaning litter boxes and pet bedding to better-than-new conditions, and even weathered and dirty patio furniture found new life outside of the shed after an encounter with an MR-75 Amico.
Though the water tank capacity is on the small side, multiple users cited the ability to clean with a constant flow of steam for 20-30 minutes before needing to refill. The refilling process does seem to take about 15 minutes from start to finish, as the machine has to cool and restart the steaming process.
Some consumers report that they've crossed paths with the steam stream and learned an important lesson as to exactly how high the temperature of the vapor can be. While it's somehow encouraging to know that the temperature is, no doubt, extremely hot, be careful out there, steam troopers.
Various reviewers lament about the lack of an on/off switch on the Vapamore MR-75 Amico. If you're plugged in, you better be ready to steam. And when the steamin' and dreamin' is done, unplug that sanitizing system and return it to its staging area, aka the closet.
What's Good?
The Vapamore MR-75 Amico comes with an almost ridiculous amount of attachments. There really is almost no task that one of the tools Amico's arsenal can't tackle. Window cleaning is a breeze with the squeegee attachment, and with the use of some specific tiny attachments, car detailing has never been so simple.
Accessories are readily available on the manufacturer's website and sometimes on Amazon. This helps lend to a long lifespan of the steamer, with access to replacement pads and the replenishment of those little tools that help conquer the cleansing process.
Vapamore offers a lifetime warranty on most of their steamer products. They cover the serious components for the full "lifetime" span. In addition, they cover the attachments and smaller parts for the first year.
Obviously they don't cover some items, due to expectation of normal wear and tear. But regardless of some of the limitations, this warranty is one of the best in the industry.
What Could Be Better?
The power cord is short. It's one of the shortest on the handheld steamer market, actually, measuring about 10' long.
Cord length is a highly-sought luxury when it comes to powered home cleaning appliances and if Vapamore wanted to up its game a bit, it could add a few feet to the power cord.
While the MR-75 Amico is portable and lightweight thanks to its minimalist design, a larger water tank wouldn't hurt. A lot of users would probably trade a few ounces of weight for a few more ounces of steamy water power.
A few reviewers commented on the unbalanced, tip-prone style of the steamer. When plugged in and in full steam mode, if this steamer is set down to stand alone, it can be pulled by the power cord, spewing scorching steam in its flailing path.
How Does It Compare in Value?
The price tag on the Vapamore MR-75 is on the mid-high range. It's a consistently hot and steamy machine and seems to be more than capable of overachieving at its core job of producing strong streams of germ-killing, dirt-chewing steam.
While it does bring a lot of attachments and some serious style to the table, these variables don't set the MR-75 Amico far enough apart from its competitors to really drive it up the value scale on these add-ons alone.
The warranty packs a powerful value-based punch and, for the price point, sets this steamer apart from the rest.
Factoring in the steaming and cleaning performance, the added accessories and the upgraded warranty of the Vapamore MR-75 Amico handheld steam cleaner, it's safe to put this one at the higher end of the value spectrum.
How Has It Improved?
It may come as no surprise that Vapamore upped its accessory count from the previous model. Instead of a mere 5-6 attachments, they're coming in at around a dozen with the MR-75.
The body style also got a facelift and the overall weight of the unit was reduced by almost a full 16 ounces.
The power cord is still at 10 feet though.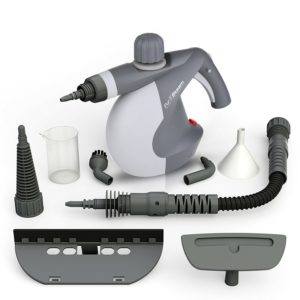 Weight: 5.25 lbs.
Water Tank Capacity: 8 oz.
The high points: Price, Lightweight
The not-so: Poor instruction manual, Short cord
The PurSteam Handheld Pressurized Steam Cleaner comes in at a
reasonable price
and performs quite a few of the same duties that larger, pricier steamers do.
With a moderately sized water tank capacity of about eight ounces, this lightweight steamer will produce enough steam to effectively clean for about 10-15 minutes. While it might not be set up for the toughest, deepest cleaning conditions, the PurSteam can hold its own when it comes to general household cleanups.
What Reviewers Say About It
Users report satisfaction with the PurSteam Handheld Steam Cleaner's ability to get grout back to good again and steam the grime out of the tracks of sliding patio doors. The pressurized steam is easily directed toward the intended target.
Owners have gotten creative with their PurSteam steam cleaners, attacking bad window tint and stubborn, dated wallpaper. According to reviews, the handheld steamer is a powerful weapon to have when waging the war removing a variety of tedious glues and adhesives.
The instruction manual gets some pretty bad feedback. Multiple PurSteam owners have commented on how difficult the guide was to understand. Basically, based on what some users report, PurSteam Handheld owners are kind of on their own to learn the ins and outs of their little steamer buddy.
What's Good?
There are approximately nine accessories and attachments that come with the PurSteam Handheld Pressurized Steam Cleaner. The variety provides plenty of tool choices to tap into when firing up with the steamer for greasy, ground-in dirt removals.
The PurSteam Handheld steamer has a safety lock that can be used if the steamer needs to be set down briefly.
The price is right on the PurSteam. It's an affordable little household steamer that can fit into almost any budget.
What Could Be Better?
We've said it before and we'll say it again. Power cords need to be longer. Always.
When in doubt, draw it out (the cord length, that is). The PurSteam Handheld Steam Cleaner's power cord is less than 10' long; this cleaner's cord could be doubled and, at that point, would start to be close to the minimum desired length of a household cleaning appliance.
A more clear and concise instruction manual would be an improvement and some type of wall mount bracket would be handy for easy steamer storing when the cleaning fun is done. Also, with all the accessories that come along with the steamer, it'd be nice to have some type of on-board tool storage incorporated.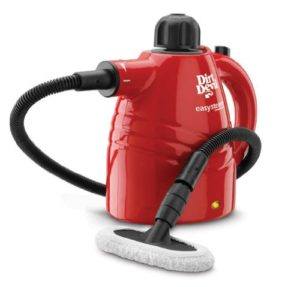 Weight: 2.6 lbs.
Water Tank Capacity: 8 oz.
The high points: Price, Extremely lightweight
The not-so: Power cord length, Quality/durability issues
The Dirt Devil Easy Steam Handheld Steam Cleaner is a value-priced cleaning system that is lightweight and easy to maneuver using the handy carrying handle.
Water turns into steam quickly with the Dirt Devil Easy Steam, and the tank's eight ounce capacity allows for about 10-15 minutes worth of steam for cleaning. A jet tip extension assists in directing steam at intended targets and helps to more effectively eliminate stubborn stains and sticky residues like gum.
While the accessory spread is not as vast with the Easy Steam as with some other competitive models, the tools are functional and seem to hold up pretty well under pressure. The kit includes a steam pad and the well-reviewed squeegee attachment, among a few other useful tools.
What Reviewers Say About It
Users seem to enjoy having this little steamer on hand for quick stain removals and small but important bathroom maintenance work. Toilets, shower doors, faucets and sinks become instantly sanitized and are the squeakiest of clean after an encounter with the Dirt Devil Easy Steam Handheld Steam Cleaner.
A couple reviewers warn against overfilling the water tank. This action can apparently make the steamer spittin' angry, as these users report hot, steamy water being spewed out in protest. Moral of this story is don't try to cheat the tank capacity.
What's Good?
The lightweight, portable design of this friendly, scum-fighting companion makes it easy to tote around the Dirt Devil Easy Steam Handheld Steam Cleaner to all corners of the house. Many users agree that though it's a small one, it's a fierce one.
Ahh, first it was the Italian language translations, now Shakespeare. Who knew that steamers were a part of so much culture.
The 2-½' extension hose is a small diameter and is able to flex and bend to fit into tough to reach spaces like microwaves and behind refrigerators.
What Could Be Better?
The power cord could be better. There, we said it right away. A 10' power cord just doesn't cut it when users are looking for convenience and portability.
There seem to be issues with the steamer nozzle ceasing to function due to mineral buildup. Users with this problem report the machine producing steam as normal, but when they push the button to let the steam out, nothing happens.
It's always recommended that steamer users only use distilled water in their cleaners to help avoid this situation, but, in this case, it seems to happen regardless of the type of water being used.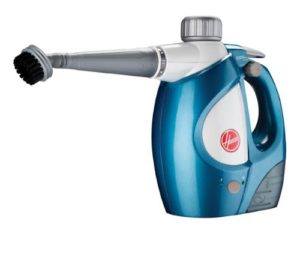 Weight: 3.4 lbs.
Water Tank Capacity: 11.5 oz.
The high points: Option to use steam only or with cleaner, Lightweight
The not-so: Price, Cheaply-made accessories
The Hoover Twin Tank Handheld Steam Cleaner made it to the list because of its versatility in cleaning methods. You can use this steamer with just water. You can also
add cleaning solution
to the separate detergent tank.
The water tank capacity is sizeable at 11.5 ounces and produces enough steam to work through about 20-30 minutes of steady cleaning.
The steam cleaner is lightweight and has a reasonably long power cord, so it can easily move throughout the room while pursuing its polishing and sanitizing duties.
What Reviewers Say About It
Users enjoy the mobility of the steamer and appreciate the variety of accessories that come with the steamer.
A few reviewers noted that it can be tedious to operate the steamer with attachments while trying to also simultaneously hold the steam button down to keep the vapors flowing. It does sound a little awkward.
There were multiple complaints about accessory durability and quality. Reviewers have reported that the brushes can become damaged easily. They also reported that a few tools have actually melted under the heat of the steam.
What's Good?
The large water tank combined with the Hoover Twin Tank steamer's lightweight construction make this steamer a handy tool to have waiting in the wings. Capable of eliminating stubborn stains or freshly soiled spots, you can easily bring in the Twin Tank to handle the job.
The secondary detergent tank gives users options when it comes to their cleaning tactics. Some dirty situations may just call for some suds and the Hoover Twin Tank steamer allows for that flexibility.
The Hoover Twin Tank Handheld Steam Cleaner comes with a large surface tool. This tool is perfect for spanning hard floor surfaces, shower walls and kitchen and bathroom countertops.
What Could Be Better?
You have to get into acrobat-like positions in order to operate some of the attachments. That should not be the case for simple day-to-day cleaning jobs.
The addition of a variable switch setting to allow for the steamer trigger to hold its own would go a long way among stretching steam machine operators.
The tool quality could definitely use some improvement. There's no value to an assortment of tools that last for one or two uses, sometimes barely even completing the initial job.