Composite decking is a popular type of flooring that's durable, easy to install, and effortless to maintain. There are many products on the market, but the best overall are TimberTech and Trex. Today, I'll be giving you a comparison guide on TimberTech vs Trex so you can decide which one is best suited for you.
We compare TimberTech vs Trex across 8 metrics and pick our winner in each.
Brand Comparison
TimberTech vs Trex – We Pick Our Winner Across 8 Categories
1. Materials & Board Composition
TimberTech
Made from 100% recycled wood fibers and plastics
Alloy Armour Technology® provides 100% polymer cap
AZEK line is full made from a synthetic material (i.e. no wood)
PRO line is capped on all four sides
EDGE line is not capped on the bottom
Includes a color-blended prime
Trex
Made from 95% recycled wood fibers and plastics
Made up of a protective shell and composite core
100% polymer cap only on top of the board
Stain, scratch, and mold-resistant
Two different profiles available: scalloped (entry-level planks) and the traditional full-bottom plank
Higher scratch-resistance rating (good for owners with pets)
The biggest difference here is how the deck boards are capped.
Trex only applies a cap on the top of their boards. This could be for saving costs on materials or maybe they feel moisture is bound to get in over time and not capping all sides will allow the board to breath and release excess moisture.
On the the other hand, TimberTech puts a polymer cap on all sides (on their better and best lines) and hopes to seal out moisture completely.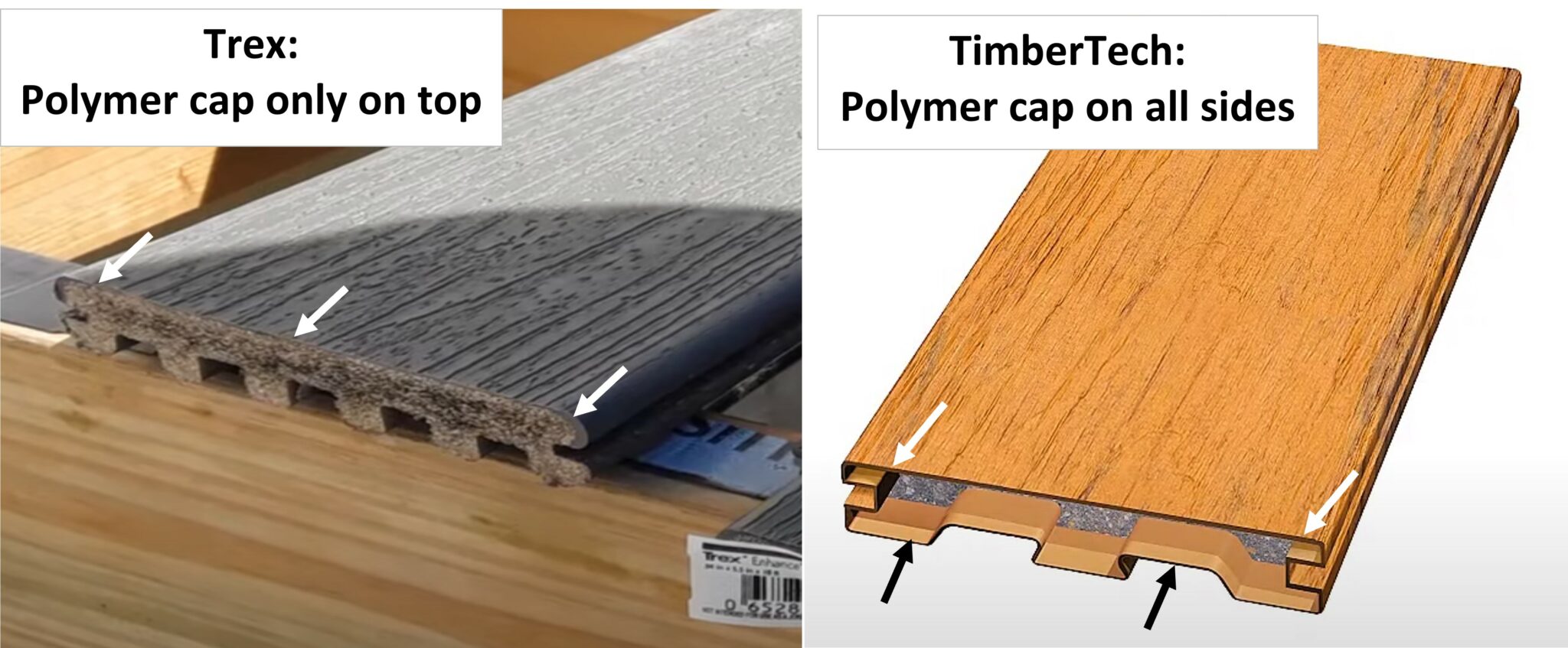 Floor Critics Winner: TimberTech

We feel capping on all four sides is the much better choice as it protects the board better from fading, cracking, insect infestation, and more.
2. Warranty & Durability
TimberTech Warranty
AZEK line: Lifetime Limited warranty, and 50 year Fade & Stain warranty
PRO line: 30 year Limited and Fade & Stain warranty
EDGE line: 25 year Limited and Fade & Stain warranty
Can be transferred one time within 5 years from the date of purchase
Separate Labor warranty of 2 to 7 years depending on if the contractor is a Silver, Gold, or Platinum level installer
What's not covered?

Improper installation
Use of products beyond intended use
Supporting structure issues
Flooding, hurricane, earthquake
Normal weathering (i.e. sunlight, rain)
Improper storage or handling
Improper application of paint or other surface chemicals not recommended by the Manufacturer
Trex Warranty
25 year Limited warranty
Can be transferred one time within 5 years from the date of purchase
Separate Fade & Stain warranty
Separate Labor warranty of 1 to 5 years depending on if the contractor is a Pro, Gold, or Platinum level installer
What's not covered?

Improper installation
Use of the product in an application not recommended
Supporting structure issues
Flooding, hurricane, earthquake
Normal weathering (i.e. sunlight, rain)
Improper storage or handling
Normal wear and tear
It is worth pointing out that manufacturers have the right to prorate recovery due to fade and stains after year 10. For example, both the TimberTech EDGE and the Trex warranties after year 10 look the same in terms of recovery percentage.
| Year of Claim Recovery | Recovery |
| --- | --- |
| 11-13 | 80% |
| 14-16 | 60% |
| 17-19 | 40% |
| 20-22 | 20% |
| 23-25 | 10% |
Floor Critics Winner: TimberTech

TimberTech's confidence in their product shows in the warranty length. On their highest quality product, their warranty is 2x that of Trex. Furthermore, we are not sure why Trex offers the same warranty for all three tiers of their decking products.
3. Performance
Fading
TimberTech had a third party run a fade comparison test that measured color change over time and fade resistance. The test ran for a total of 2,150 hours in a Weather-Ometer that had an 8 hour UV radiation cycle followed by 4 hours of darkness.
They compared the TimberTech vs Trex line of decking products and measured derating.
The results of the test found that Trex decking boards showed 7 times more fading than TimberTech boards.
Scratching
In the samples we tested, we found the Trex (specifically the Transcend line which is their high-end line) to be more scratch resistant than the TimberTech AZEK line.
Floor Critics Winner: Tie

While the test result was clearly in favor of TimberTech, we remain impartial as the test was sponsored by TimberTech themselves. Our own scratching test, found the Trex to be a bit better. This TimberTech vs Trex is therefor a tie.
4. Pricing
TimberTech Decking Cost
Decking material cost can range from $7 to greater than $11 per square foot depending on the exact product you choose.
Trex Decking Cost
Decking material cost can range from $5 to greater than $8 per square foot depending on the exact product you choose.
Keep in mind there will additional costs for substructure, railing, etc. Total material cost factoring these other items can be in the $15-30 per square foot range and that's before installation.
While the cost of composite decking is greater than wood upfront, over the long-term, composite decking will provide the higher return on investment.
You can expect to find better deals during the winter months so that is something to consider if you have room to store the materials.
Floor Critics Winner: Trex

From purely a cost perspective, Trex has a lower price point. However, it also important to consider the how long the decking can last based on its durability and also the on-going maintenance costs.
5. Availability
Both Timbertech and Trex are wildly available in thousands of retailers. They can be found in big box retailers like Home Depot or Lowe's as well as many local retailers. See the links below to find a dealer near you.
Floor Critics Winner: Tie

Both brands offer thousands of different retailers or dealers to get their decking products. Trex has the slight edge if you trying to locate a product outside of North America.
6. Styles & Colors
TimberTech Products
Do you want a gray or light-brown decking to complement the exterior of your home? TimberTech offers its decking boards in a stunning sea salt gray and coconut husk, either of which will elevate the outdoor aesthetics of your home.
The TimberTech composite decking is versatile, so you can use it to create patios, greenhouse flooring, balconies, and more. These decking boards have a stunning realistic finish with a wood-like texture.

There are multiple design options for you to pick from, or you can customize your boards by combining your favorite colors. There are also a number of finishes available, such as wire brushed, low gloss, and classic cathedral grains.
TimberTech offers single-width decking boards defined by straight, consistent lines. You can also add a border around your decking to frame it. There are multi-width boards available too if you want to create a unique decking pattern. You can visit the TimberTech website where you can use their design tool to play around with various patterns.

Timber Tech AZEK Line
Highest quality line
Offers 3 different collections

TimberTech Vintage Collection
TimberTech Landmark Collection
TimberTech Harvest Collection

The TimberTech AZEK decking boards come in a variety of sizes and cap configurations. This collection has a 50 year fade and stain warranty that also covers cracking and flaking. The AZEK decking is durable, so the boards won't split, rot, or tarnish over time.
Between the three collections there are 17 AZEK decking colors available. There are natural and traditional wood grain patterns that blend well.
This range is perfect for patios and balconies with a vintage or traditional aesthetic. Lastly, the AZEK decking boards are lightweight, easy to install, and effortless to maintain.
PROS
Capped decking boards
Durable
Comes in 17 colors
Excellent warranty
CONS
Not as rigid as wrapped composite boards
Doesn't have an authentic wooden look
---
Timber Tech PRO Line
Middle tier quality line
Offers 3 different collections

TimberTech Legacy Collection
TimberTech Reserve Collection
TimberTech Terrain Collection

The TimberTech PRO line has four-sided polymer capping that prevents wear and tear on the boards. These decking boards are stain and moisture resistant and, like all TimberTech products, the PRO range is low-maintenance.
Select between a full-profile board or a scalloped design for ease of installation. The TimberTech PRO range has elegant colors that are in traditional browns such as Tigerwood, or select a neutral tone such as Whitewash Cedar. The Pro range features a hand-scraped finish, and they have a complex blend of colors. You can buy these decking composite boards in a wide variety of lengths and widths.
PROS
4-sided capped composite decking
Comes in a variety of colors and sizes
Easy to maintain
Scratch resistant
CONS
Only has 73% recycled plastic
Expensive
---
Timber Tech EDGE Line
Budget line
Offers 1 different collection

TimberTech Prime+ Collection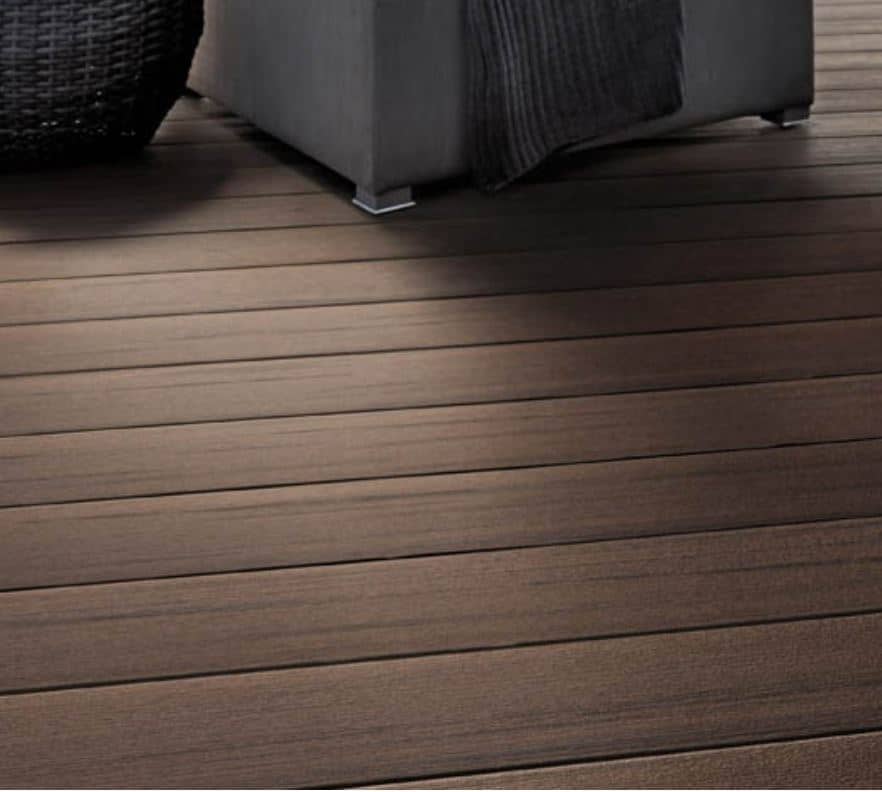 The TimberTech EDGE range is the most affordable line the brand offers. This means it's suitable for homeowners on a budget. These decking boards are made up of a combination of wood and plastic materials. TimberTech's decking is only capped on three sides.
This TimberTech decking range has a 25-year warranty on stains and scratches. Additionally, the boards are resistant to splitting, cracking, rotting, and tarnishing over time.
There are four colors for you to pick from, and they all have a slight wood grain finish. The boards are made from 73% recycled plastic and reclaimed wood.
Lastly, the TimberTech Edge range doesn't require any sanding or staining, so it's easy to maintain.
PROS
Most affordable TimberTech line
Robust
Sustainable
Comes in full-profile construction
CONS
Only capped on three sides
Doesn't have many color options
---
Trex Products
Trex decking is another homeowner favorite. There are multiple colors for you to pick from, such as Island Mist, Tiki Torch, and Lava Rock. You'll also appreciate that Trex decking comes in various sizes for small to large-sized areas.
Trex decking is versatile because it can be installed inside or outside of your home. These boards are made with 95% recycled material, so they are eco-friendly too. The embossing on a standard Trex plank will occur every 39 inches.

Trex Transcend Line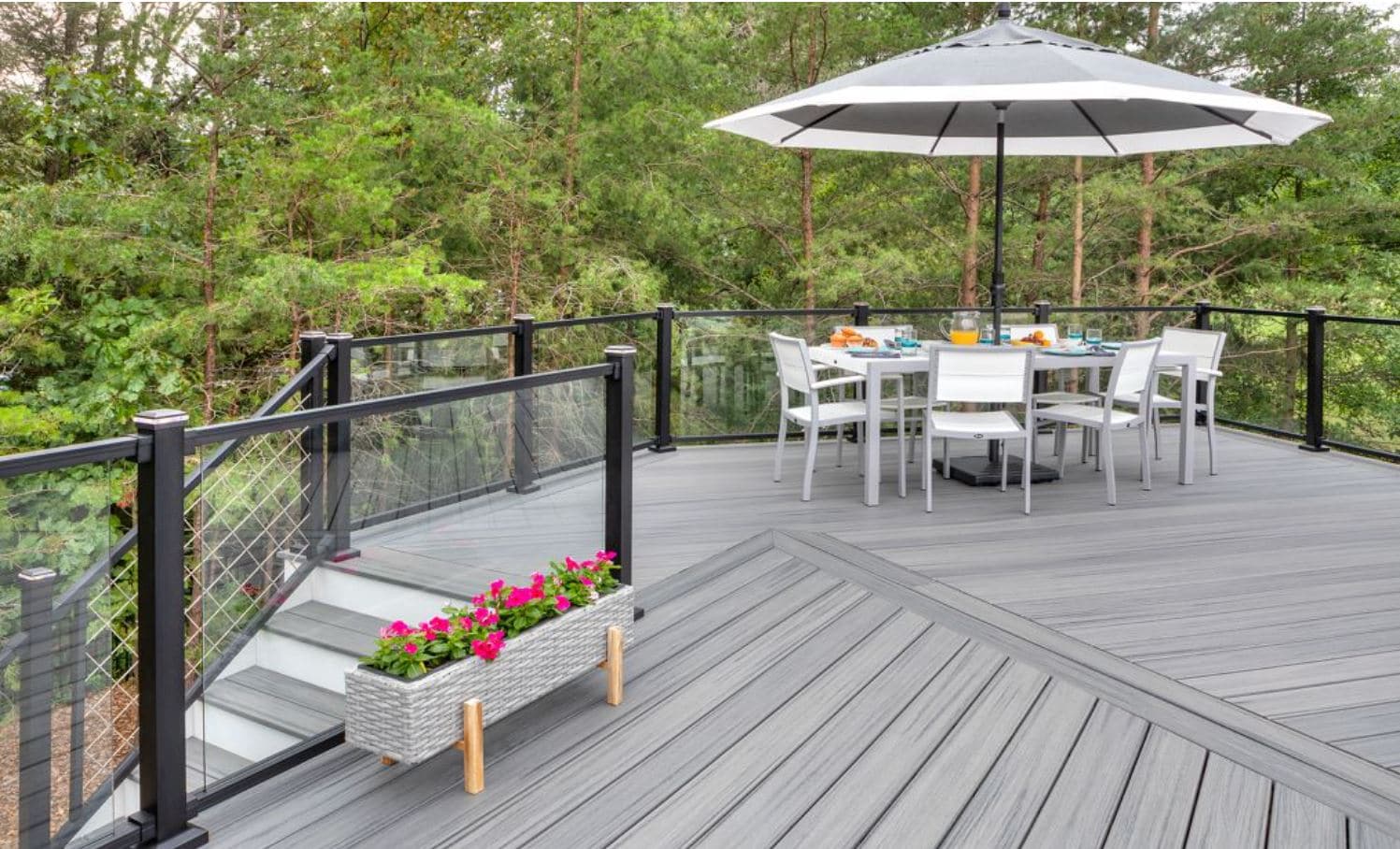 The Transcend range is a composite decking product that requires no sanding or staining. It's also sustainable flooring that has 95% recycled materials inside the boards. This decking product is UV-resistant and doesn't get damaged from liquid spills. Each board is capped on three sides for protection against wear and tear.
Trex's Transcend range has a 25-year limited warranty on stains and fading. These boards have deep grain patterns for a realistic wooden texture and aesthetic. Additionally, there are multiple color options for you to pick from.
For ease of installation there are various profiles to choose from such as grooved and square-edged constructions. Under the Transcend range there are three collections, namely Tropical, Southern, and European. Each of these Transcend collections have different colors and finishes.
PROS
Low maintenance
Comes in various colors and sizes
Has different profiles
High-performance decking
CONS
Only capped on three sides of each board
Expensive
---
Trex Select Line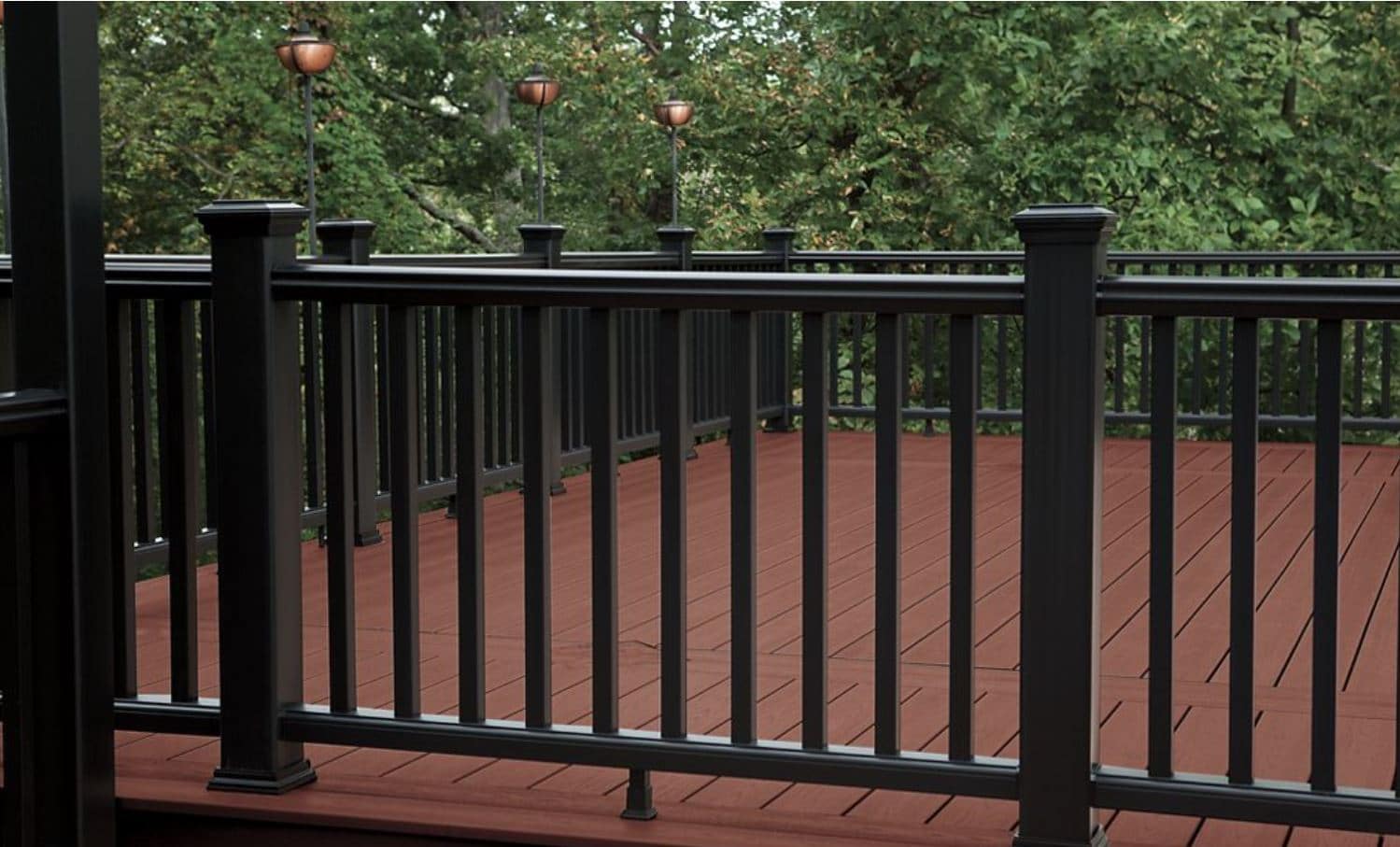 The Trex Select decking is the middle tier product in the Trex collections. This flooring is easy to install and has high-performance shell technology. There are five color options for you to pick from for a classic or rustic appeal.
Trex Select boards come in various widths and lengths with either grooved or square-edge profiles. This decking comes with a 25-year residential limited warranty for scratches and fading. These boards have a soft, splinter-free finish, so you can walk on them safely.
The Trex Select decking is mold-resistant and can withstand the elements, so it's perfect for patios and balconies. Trex Select decking pairs well with the brand's railings and hideaway fastening systems.
PROS
Easy to clean
Offers grooved and square-edged boards
Highly durable
CONS
Doesn't offer many colors
Low scratch-resistance ratings
---
Trex Enhance Line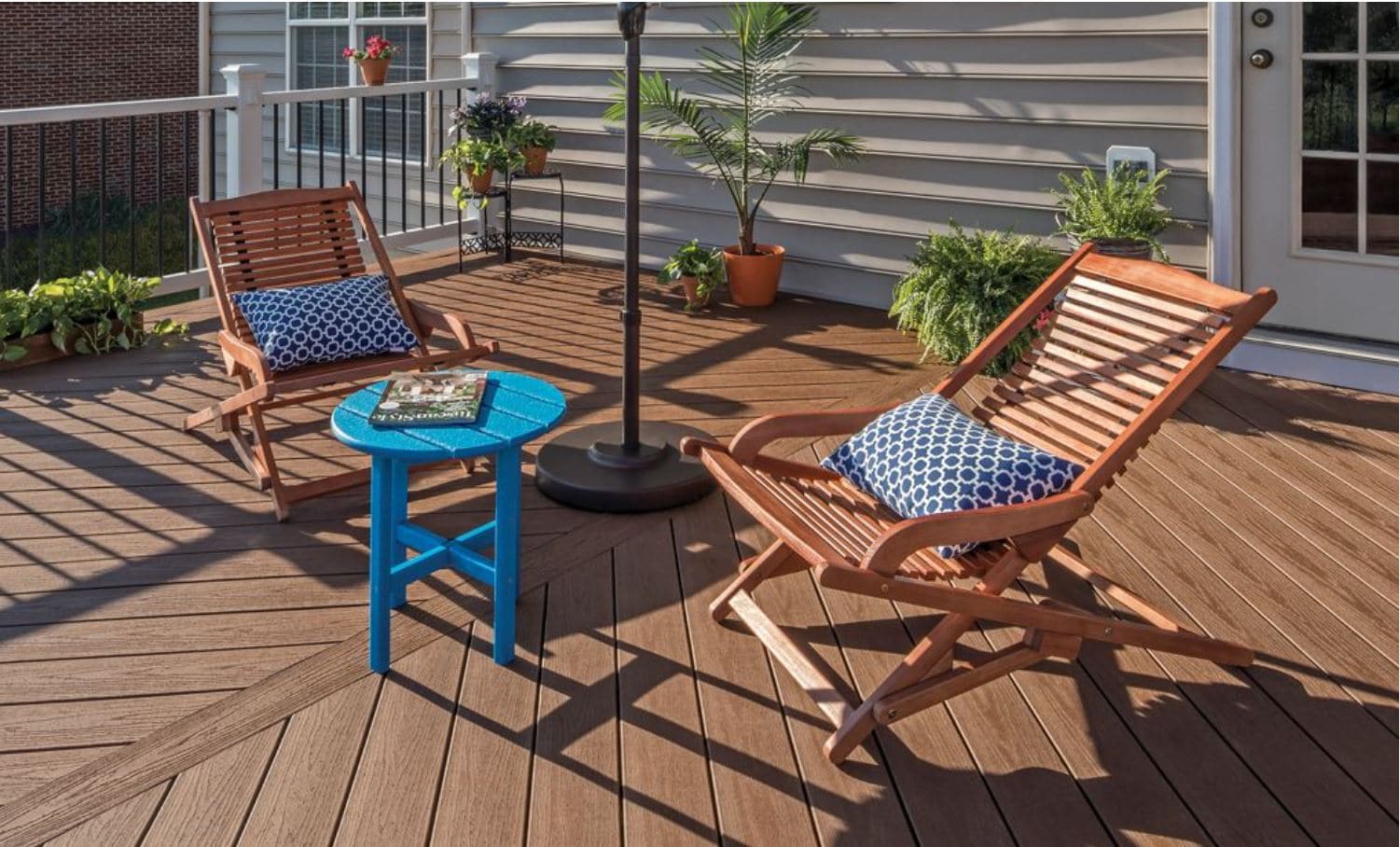 Trex Enhance is the budget level decking product from the brand that still provides great durability and versatility. These decking boards can be used indoors and outdoors. Furthermore, the decking pairs well with Trex railings for a neat and classic outdoor appeal.
There are two collections under the Enhance range called Basics and Naturals. For easy maintenance and affordable, authentic-looking decks, pick Basics. On the other hand, if you want high-quality wood grains and five natural color options then pick Enhance Natural.
These Trex boards come with hidden fasteners for a streamlined look. The boards are made with 95% recycled plastics, and this flooring has a 25-year limited warranty of stains and fading.
The Trex Enhance range pairs well with the brand's railings, so you can create a consistent design throughout your space. All of the Trex decking boards have realistic wooden patterns, so you can create a classic or rustic aesthetic inside and outside of your home.
PROS
Easy to maintain
Affordable
Splinter-free finish
Comes in classic earth tones
Easy to install
CONS
Limited profile options
Screws are close to the edges
Floor Critics Winner: TimberTech

Both brands offer a wide variety of styles, patterns, and colors that should meet your decking needs. However, TimberTech has some more color options and patterns that give it a slight advantage.
7. Installation
TimberTech and Trex decking can be installed as a DIY project. But note that if you have never done a deck installation, there are many things that need to be done to prep the site so it's best to leave it in the hands of a professional. Incorrect installation can also cause your warranty to be void.
If you don't want to install the decking yourself, you can opt for a professional to come and do it for you. TimberTech and Trex both work with trained contractors who will install your decking with the utmost care and precision. Going with a certified installer also allows for a longer labor warranty.
TimberTech Installation
Below is a helpful video and guide on how to install TimberTech decking.
Trex Installation
You can install your Trex decking on various subfloors such as timber, steel, and sandy ground. Since Trex decking is resistant to pest and termite infestations, it's safe to install directly on top of the sand outside.
Trex boards are easy to cut to size, so you can fit them into any space. When you've cut your decking boards, it's important to coat the edges with a sealant. Once you've laid your boards out in the pattern you want, you can start securing them in place with nails.
Below is a helpful video on how to install Trex composite decking.
Floor Critics Winner: Tie

Installation comes down to you doing your diligence and selecting a certified installer or properly following instructions if doing it yourself. Both products are fairly similar and the installation process is almost the same.
8. Maintenance & Cleaning
Lets look at cleaning and maintenance differences between TimberTech vs Trex.
How To Maintain TimberTech Flooring
TimberTech decking can get dirty, but the advantage is that it doesn't require extensive cleaning. Simply rinse your decking every week to prevent the buildup of dust and debris. When you rinse your TimberTech, ensure there's proper drainage in order to prevent mold growth.
Avoid using rubber mats on your TimberTech decking or leaving carpets on it for extended periods. Leaving mats on this type of decking will discolor the surface of the boards. There are certain products, such as sunblock or insect repellent, that can cause discoloration. If you spill this type of product on TimberTech decking, wipe it off immediately with a cloth.
Products to That Can Be Used
TimberTech DeckCleaner™ or another all-purpose cleaner such as Chomp® Gutter cleaner, Zep® 505, or Krud Kutter®
Stiff natural fiber brush
Ice removal: most products containing calcium chloride chloride in flake or pellet form can be used
Pet friendly options: most products containing magnesium chloride are safe
Products to Avoid
Rubber-backed mats, tarps, pool toys, and other non-porous items as they can cause discoloration
Sunblock and insect repellent can sometimes alter the decking surface
PVC glue
Corte Clean®, Thompson's® Water Seal® Oxy Action, Olympic® Premium Deck Cleaner, or other cleaners specified as composite deck cleaners
Ice removal: metal shovels or plastic shovels with a metal leading edge will damage the surface
We in doubt, contact the manufacturer (1-877-275-2935) to ensure the product warranty does not become void. In addition, always test any cleaning product on a scrap piece.
How To Maintain Trex Flooring
Maintaining your Trex decking boards is quick and easy. A bucket of warm, soapy water and a mop or a brush is all you need to rid your decking of dirt buildup. You can use a cleaning aid that's safe for composite decking, and you're able to use a pressure cleaner to loosen dirt between the boards.
To rinse your decking, you can wash away soap or debris using water from your hose. If you have stubborn water stains, use a soft cloth and some white vinegar to wipe away the stain. Sometimes mold can grow in between your decking boards, so use vinegar and a scrubbing brush to loosen the mold, and then rinse it away using water from your hose.
If you spill food and drink on your Trex decking boards, you must clean it immediately to avoid staining. The boards are scratch-resistant, so you can use a soft-bristled brush to scrub away any sticky or stubborn marks.

Products to That Can Be Used
Mr. Clean®, Magic Eraser® Original or Magic Eraser® Extra Power or color transfer issues
Dupli-Color Scratch Seal™ Clear Sealer Pen for scratches and scuffs
Irwin Strait-Line® Dust-Off Marking Chalk (purple) for chalk lines
White vinegar
Pressure washer with no greater than 3100 psi
Ice removal: plastic shovel and calcium chloride or rock salt to melt the snow and ice
Products to Avoid
Acetone or other solvents
Use caution when using rubber-backed mats
Products containing bleach or acid will lighten the surface
Floor Critics Winner: Tie

As both products are made from similar composite materials, they require very similar maintenance practices.
Frequently Asked Questions
Which Is Better, Trex Or TimberTech?
TimberTech is considered a superior choice to Trex. This is because TimberTech offers more realistic-looking decking boards and they're covered by a longer warranty period. TimberTech also offers a variety of sizes and colors for you to pick from.

On the other hand, Trex is also an excellent product, and the brand's Transcend range is considered one of the most durable composite products on the market. However, it's covered by a shorter warranty period than TimberTech, and there aren't as many colors or designs to pick from.

Which Is More Expensive, TimberTech Or Trex?
If you look at TimberTech vs Trex pricing, you'll notice that TimberTech is more expensive than Trex. But that doesn't mean Trex is a low-grade product. You'll simply have to pay more if you pick TimberTech for your decking.

Lower-tiered Trex and TimberTech decking is on par, but higher range TimberTech decking is more expensive. You can expect to pay between $7 and $11 per square foot of TimberTech decking. For Trex decking, you can expect to pay between $5 and $8 per square foot.

Does TimberTech Get Hot?
No, your TimberTech decking won't get extremely hot. TimberTech states that their decking will stay cool to the touch. This is because heat affects TimberTech decking similarly to how it affects natural wooden decks. What's more, TimberTech makes their decking boards with colors that are highly reflective and inorganic pigments that reduce heat buildup.

So you can rest assured that if you pick TimberTech products for your decking, your outside area will stay cool. It's perfect for residential settings as well as for restaurants and outdoor entertainment areas.

Is Trex Worth The Money?
When you look at the most notable beneficial features of Trex, you'll know that this product is worth the price you pay for it. The Transcend composite decking boards are very durable and they come in a variety of stunning colors.

Trex decking boards are also easy to install, and effortless to maintain. This decking material is suitable for outdoor and indoor use. This flooring is also water-resistant, so it's able to withstand rain and high humidity. 

You'll love how stylish Trex decking is, and there are many finishes and patterns that allow you to create an elegant or rustic aesthetic in and around your home. Trex is an eco-friendly brand that provides authentic-looking decking boards.

What Is The Most Durable Decking Material?
The most durable decking material is aluminum, but this is by far the most expensive and you may experience heat buildup. The second most durable decking material is composite flooring, which is a blend of wood fiber and plastic.

Composite decking can last between 30 and 50 years. This decking material will give you the aesthetics of wooden decking but without the drawbacks you experience with natural wood flooring. A composite decking material is suitable for gardens because it's resistant to termites and other types of pest infestations. You can get water-resistant composite decking that won't swell or rot when exposed to water.

Both Trex and TimberTech are the most popular composite decking materials on the market because of their durability, long service life, and realistic wood finishes.
The Verdict
After reading the Trex vs TimberTech reviews, which one have you decided is the best composite decking for your needs? We recommend using TimberTech if you want better choices in design and sizes for your decking. You can create unique patterns for your patio or balcony, and their brand offers frames too.
On the other hand, if you're on a tight budget and you're looking to spruce up your home without breaking the bank, then Trex is for you. There are earth-toned colors for you to pick from, and the embossing gives you an authentic wooden aesthetic. Bear in mind that Trex does have a shorter warranty period than TimberTech, but this decking has a higher scratch-resistance.
Based on the information you've read in today's reviews and guides, which composite decking are you going to pick? Have you used TimberTech or Trex products before? If you have, let us know what your experience was by leaving a comment below. You can also share your finished flooring via social media. We look forward to hearing from you.
Back to Top