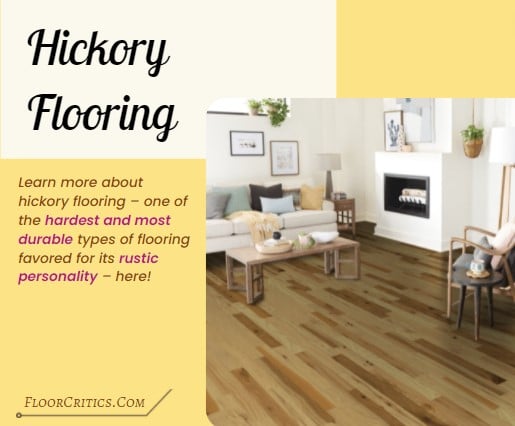 Hardwood floors never go out of style even though people have been using them for centuries. With their durability and unique timeless look, they remain the most popular choices when it comes to stylish flooring.
Here, we will discuss everything you need to know about one famous type of hardwood flooring – hickory flooring. From the basics to the types, pros and cons, installation, and care tips, we've got you covered!
Basics of Hickory Flooring
Hickory, a common wood species in the United States, has been a hot trend in the hardwood flooring industry along with oak. Consisting of 8 species in the US, some can even yield edible nuts such as pecans.
Hickory floors are very hard and have a dramatic character and graining that does an excellent job in creating a more rustic atmosphere. They are also durable and provide a lot of benefits. Although they have their own flaws too, most of these are drawbacks of hardwood floors in general. We'll discuss more on this later.
Is Hickory Good for Floors?
Absolutely yes! It is among the hardest and most durable hardwood flooring options available. Plus, it is low-maintenance and water-resistant with a distinctive charm and appearance.
However, it is not that common because some people do not prefer its rustic look. Moreover, you will have a variety of options to choose from depending on your preferences.
Types of Natural Hickory Hardwood Flooring Species
As we've mentioned, Hickory floors are made from 8 species of wood divided into two different groups:
True Hickory Hardwood
Mockernut
Shellbark
Pignut
Shagbark
Pecan Hickory Hardwood
Nutmeg Hickory
Water Hickory
Bitternut
Pecan
In the hardwood flooring business, both categories of hickory are used because they all have similar characteristics and appearance.
Hickory Wood Floors: What Are Your Options?
If you want hickory floors, you will most likely encounter the following options:
#1 Unfinished Hickory Hardwood Flooring
Unfinished hardwood floors are made from raw hickory and cut into planks. You need to sand and refinish them on-site before installing.
Although they are still available in the market, many people now prefer prefinished hickory wood floors because of their durable finish and outstanding stain.
#2 Prefinished Hickory Hardwood Flooring
As opposed to unfinished hardwood, this flooring has been finished in factories before being delivered to the installation site.
They have been sanded, stained, and coated which eliminates the tedious process of installing unfinished flooring on-site. All you need to do is simply install the planks and you're good to go.
#3 Solid Hickory Flooring
This type of flooring is made of a single layer of solid hickory wood. They are very durable which makes them ideal for high-traffic areas. Their most notable advantage is that they can be refinished and sanded multiple times throughout their lifespan.
#4 Hickory Engineered Hardwood Flooring
Engineered hickory hardwood floors are cheaper versions that look like solid hickory. They are made using multiple layers of wood to create a sturdy core. The top layer is a thin layer of hickory bonded over another material such as plywood, birch, or fiberboard.
Unlike solid hickory, engineered prefinished hickory hardwood flooring can only be refinished and sanded once because of the thin top layer of hickory. However, they are suitable options for humid areas like basements.
#5 Hand Scraped Hickory Hardwood Flooring
Hand-scraped hickory floors are designed to look old, kind of worn or distressed, through hand scraping. The distressed texture offers a rustic look to improve the visual appeal of your home if you want a more classical atmosphere.
#6 Wide Plank Hickory Hardwood Flooring
Wide hickory planks are more preferred when it comes to flooring because they showcase the unique pattern of the wood better. These come in widths ranging from 5 to 14 inches but most come in 5-8 inches. They also tend to be longer.
Hickory's Janka Score: How Hard Is Hickory Solid Hardwood Flooring?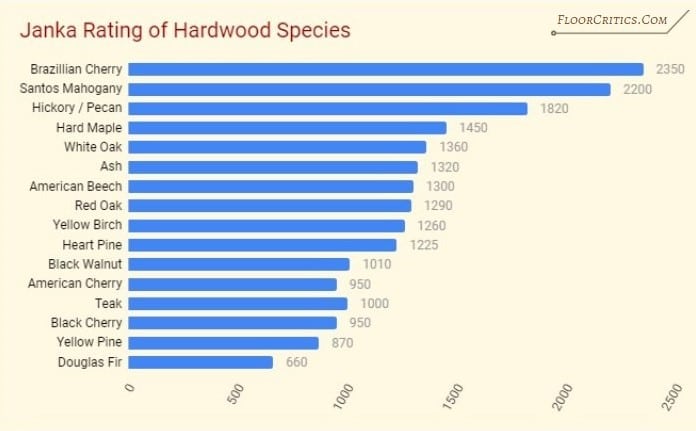 The Janka Scale is used to measure the hardness of wood species and is a good way of comparing floors. According to BuildDirect, Hickory has a Janka score of 1820 which is harder than Red Oak (1290) – the industry median for hardness. So if you are looking for durable flooring with great aesthetics, solid hickory flooring is your best pick!
Hickory Hardwood Flooring Cost
The price of hickory wood floors will depend on the following factors:
Brand
Thickness
Color
Installation method
Finish type
Other features
But, average retail prices can range from $3-$8 per square foot or $50-$200 per case with one case containing 19-35 square feet of hickory planks.
Although hickory is more expensive than other common types of hardwood flooring, your investment will surely be worth it. Since it is durable and can resist damages, you won't be spending much on maintenance costs.
You can reach out to us for a free hickory flooring installation quote.
Hickory Hardwood Flooring Pros and Cons
Now, let us also discuss the benefits and problems with hickory hardwood flooring.
Pros

#1 Durability
Highly resistant to grime, dirt, scratches, marring, water damage, and weather conditions
Takes finishes and stains extremely well to create a gorgeous grain
It is super hard (harder than the hardwood flooring industry's standard – oak)
It can last for decades with proper care
Requires little maintenance
Does well in humid areas
#2 Aesthetic Appeal
Its bold grains and knots help keep a natural look even when waxed or stained
Available in various options including laminates and planks
Comes in a wide variety of hues from creamy to golden brown
The lighter shade and tones of natural hickory can brighten rooms
Waxing reflects natural light which adds a warm glow to the space to make it look more elegant
#3 Cheaper than Rare Hardwood
Less expensive compared to imported woods
Among the cheapest options if you are looking for premium hardwood flooring
#4 Increases Home Resale Values
Since authentic hickory flooring is more expensive than common hardwood floors, it can increase home resale values.
NOTE: Not all love the natural look of hickory flooring. So even if they can increase resale values, it can be hard to find potential buyers.
Cons

#1 Aesthetic Conflicts
The unique grains of hickory doesn't appeal to all people
Scuff marks can occur in high-traffic areas due to the wood's light shade
Marks from sanding and cutting will be more visible
They don't always work well in rustic designs (again, due to the light shade)
#2 More Expensive than Common Hardwood Flooring
Hickory has a small supply, so it is pricier than more common wood floors like oak
Prefinished hickory is even more expensive
#3 Not Recommended for DIYers
The hardness of hickory makes it difficult to cut and sand (oak is softer)
Water-popping is required for stains due to the density
Although it holds stains better, you might need a wood conditioner to get even stains
You can go for pre-finished or pre-engineered options to make your installation easier but you will need to pay higher
NOTE: Hickory flooring is hard to install and replace. So unless you are considering a semi-permanent floor, don't choose hickory.
#4 Prone to Warping
You need to dry the wood properly to ensure that it won't swell or contract which makes the installation process slower
Acclimating the wood a few days before installation is necessary
#5 They Are Often Cut Wider
Most hickory planks are wider to show the wood's unique grain pattern which can be an issue to others (though you can go for thinner hardwood strips)
The Verdict
Hickory is a highly appealing type of flooring, but its unique qualities also make it unattractive to some. Also, it is a very durable hardwood flooring option and thus, is more expensive than normal wood floors.
Although installing it can be challenging, buying engineered and prefinished options as well as hiring a professional can make the process easier. That is, of course, if you have the budget.
In short, your final choice of whether to choose hickory floors or not will depend on your personal preferences and budget.
Installing Hickory Hardwood Flooring
We mentioned that hickory is very hard. Though this is its major advantage, it can also be a downside because it makes it hard to install. Regardless, checking moisture content is recommended before you install your hickory floor.
First, the recommended subfloor moisture content should be:
For narrow planks: ≤ 12%
For 5″ wide planks: ≤ 10%
Also, the moisture levels of your hickory flooring should be within the following values of your subfloor's moisture level:
For narrow, strip flooring: ≤ 4-5%
For 3¼″ and wider planks: ≤ 2-3%
Installing hickory flooring is pretty much the same as installing hardwood floors in general. For an easier guide, we have a video below that you can take a look at:
If you need help with your hickory floor installation and plan to hire a professional installer, feel free to contact us!
NOTE: If you are having moisture problems in your home or you don't have an air conditioning system, better use engineered hickory hardwood planks.
Best Hickory Flooring Brands: Where Can You Buy Hickory Flooring?
As for the best brands to buy hickory floors, you can check out Mohawk Industries and Shaw Floors.
Mohawk is the largest manufacturer of flooring products and is among the best hardwood flooring brands worldwide.
On the other hand, Shaw is the main competitor of Mohawk in the industry that also sells a variety of superior quality hardwood flooring including hickory.
How to Care for Hickory Floors
Caring for hardwood floors, such as hickory, can help extend the life of your flooring. Below are a few tips you can follow for hickory floor maintenance:
Use a spray cleaner and a damp (not wet) microfiber mop to prevent saturating your floor with water.
Mop leaks and spills immediately.
Use small rugs on areas that are prone to spills.
Refinish your floor periodically. (You can re-sand engineered hickory planks with thicknesses between 2-4 mils.)
FAQs
Is hickory hardwood flooring durable?
Yes, hickory floors are durable. Hickory got a score of 1820 on the Janka hardness scale which is around 25% harder than the more common white oak flooring (1360). It is also resistant to scratches, impacts, and shock.

Is hickory better than oak?
As among the hardest hardwood, hickory is far better than white or red oak when it comes to durability. Softer oak is more prone to scratches and dents which makes them not ideal for high-traffic areas, unlike hickory that can withstand damages.

Is hickory flooring more expensive than oak?
Generally, oak is cheaper compared to hickory because hickory is far more durable compared to white and red oak. Plus, it has a low supply. However, remember that affordability shouldn't always be your basis because quality is more important. Take note, also, that prices may vary depending on the board width, finish, installation method, and others. 

Is hickory a good floor for dogs?
Hand-scraped hickory floors are great options as they can withstand wear and scratches. Their extraordinary durability and striking color variations can even hide damages done by your pet's nails well.

Does hickory flooring yellow over time?
If you have coated your floor with oil-based polyurethane, then it will absolutely yellow over time. Oil polyurethane finishes look semi-transparent originally, but will drastically change in color in the course of time when exposed to sunlight.
Final Thoughts
In summary, hickory flooring is an excellent choice if you want premium quality flooring that can last for decades. However, it is not DIY-friendly, is prone to warping, and is expensive. Hopefully, you were able to find what you are looking for in this guide.
Back to Top