Marble is a material that radiates luxury, elegance, and beauty. It's a popular flooring option for numerous reasons and can be used in various rooms of your home. If you're interested in marble flooring and want to know more, here's a comprehensive guide that will help you through the decision.
Everyone interested in marble stone as their flooring choice should know more about this natural stone's pros and cons. Below you can read the advantages and disadvantages of marble and see if it will bring value to your home.
You'll also get familiar with the costs and the process of installation. If you're not quite sure where to purchase marble tiles and mosaics, I included three trusted brands with a fantastic selection.
What Is Marble?
Marble is a natural metamorphic stone that delivers some of the most beautiful flooring options on the market. Each slab of marble is unique, as are the tiles derived from this stone.
If you choose marble tiles for your floors, you have to know that the grain size determines the pattern. A heavy grain will deliver a more uneven color palate, while the fine grain is responsible for a more even color palette.
Let's dive into the most significant advantages and disadvantages of this flooring alternative before you decide whether it's a good choice for your home.
Pros
Stunning Look
This natural stone will upgrade the appearance of any room in your house. You can choose from the various designs and patterns, and whichever one you opt for, it will be gorgeous without a doubt. Marble does not have a uniform pattern; instead, every single tile is different and unique.
Also, marble can be used for many rooms in your home, and flooring is not your only choice. It can be installed on your walls, or you can create unique mosaics, a fireplace, tabletops, and more. As you can see, this is quite a versatile material that enhances your home's interior and provides a dose of timeless elegance.

Increased Home Value
Who wouldn't want marble floors in their house? People are obsessed with this flooring and are on the lookout for homes that already have it installed.
Every single project that you do should make your house more valuable. Look at things in the long-term before you decide which materials to use, especially for flooring.
Aside from delivering a stunning aesthetic, marble will also increase the value of your home. Yes, it's an expensive initial investment, but you'll end up getting your investment back when you decide to sell the house.

Unique
As I mentioned before, it's hard to find two marble tiles that look the same. This material is a work of art by nature, so you will get unique results when it's installed.
The tiles are not produced to be the same because factories use enormous marble slabs, then work them into tiles. The ones that you'll choose will feature a similar appearance, but they will not be precisely the same.
You might not be able to find the same product after a few months or years, which is why it's wise to order an extra box or two just in case anything happens to your beloved floors. The chances are you won't find the same marble design when you need to fix the damage.

Natural Stone
Marble is a natural stone that is more environmentally-friendly compared to synthetic flooring materials. The production of marble doesn't include harmful chemicals, nor does it release toxins and waste.

Translucent
Floors made of marble will have a gorgeous translucent finish. This quality makes marble even more desirable among people when they're choosing a material for their floors.
Cons
Expensive
One of the biggest reasons why people rarely opt for marble as their choice is because it's costly. It's one of the most beautiful natural stones, but unfortunately, not everyone can afford it.
The price depends on the type, but even the most affordable marble is expensive when compared to other flooring types. The fact that it's a natural, durable stone with the most stunning appearance justifies the high price. If you can pay for it, you will be more than happy with your purchase.
Once you buy the marble slab or tiles, other costs make the expenses even higher. Don't forget that you'll need to pay for installation, sealants, coating materials, and maintenance.
As a delicate natural stone, marble requires attention when you're taking care of it. The maintenance can be costlier than other flooring alternatives because of the gentle approach and special products you'll have to purchase.

Installation
Marble is a flooring type that requires professional installation. If you decide to splurge a small fortune on marble, you should definitely stay away from DIY installation projects. Marble is a gentle stone that can easily be damaged if you don't know what you're doing.
The marble floor installation process requires experience and planning, special tools, materials, underlayment, and much more.
Improper installation can lead to cracks, damage, and breakage. You should hire professionals who have long-term experience with marble floors so that you get the perfect result.

Scratching
This stone has a porous surface prone to scratching, stains, and other damage if not cared for properly. The best way to protect marble floors is by sealing them and polishing them regularly.

Softness
Although marble is a hard stone, it's still softer compared to granite, for example. The pores that are a part of its structure make it more vulnerable to scratches and water damage.
This softness is one of the reasons why marble needs to be sealed after installation. Sealing will not only prolong the life of your new floors but will also prevent damage.

Slippery
Marble is slippery, especially when it's polished. You have to be very careful with these floors and keep them dry at all times. If you decide to install them in areas that are humid or near pools, these floors will be a genuine hazard. You should stay away from polished marble when choosing floors for your kitchen or bathroom as well.

Sensitive To Acids
Marble has an alkaline pH, meaning that acids can easily damage it and cause stains. If your floors ever get in touch with acids of any kind, you should clean them right away. The discoloration that acidic substances can cause is, in most cases, permanent.
Cost & Installation
Cost
Marble is a costly purchase. Just like with any other flooring type, you'll be able to find cheaper and more expensive marble, but even the most affordable one can cost a lot compared to ceramic tiles.
The average cost of marble tiles is between $5 and $20 per square foot, depending on the design. Marble floor tiles are usually the least expensive, while special requests and designs such as mosaics and large slabs can cost a small fortune. Some types of marble can go as high as $40 per square foot.
Next, let's talk about the installation costs. These can vary between $3 and $9 per square foot, which is very similar to the installation costs for ceramic tiles. Once again, if you expect a more unique, complicated design that will take more time, the installation will cost you more.
The costs for materials, polishing, and sealing are not included in the installation, and they vary depending on the size of the area you'll be covering.

Installation
Leave this installation job to the pros! Marble is such a precious and gentle stone that it should only be handled by people who know what they're doing.
The installation process is similar to other natural stones, but let's not forget that marble is gentle and brittle. That's the main reason why you should avoid installing it yourself, and you might end up doing a lot of damage.
The first and most important thing is that the subfloor has to be perfectly flat, without imperfections. If it's not flat, the installer can fix it with a leveling material.
Cement board is one of the most common underlayment types used under floor tiles because it protects natural stones from moisture damage.
The next step is to glue the tiles using a specific adhesive. Once the product is dry, the joints between the tiles are filled with un-sanded grout. Sanded grout is not an option for marble because it can cause damage to the surface.
Next up is sealing the entire surface of the marble floors. This process is how you'll be sure that your precious natural stone is protected from damage. It's something that you should do once or twice a year, depending on the traffic frequency in the room where the floors are installed.
If you were wondering how to install marble tile, there's your answer. Don't experiment with DIY projects, especially if this is your first experience with this material. Hire skilled professionals to do the job, and your marble floors will be properly placed and protected.
Maintenance
Once you install marble, it's essential to know how to maintain it. The cleaning process is quite simple, but still, there are a few things to keep in mind.
The regular everyday maintenance includes a dust mop with a microfiber cloth. The mop should only be damp, but you need to dry the floors entirely after you're done mopping. You can also use a vacuum cleaner only with soft attachments.
Feel free to sweep it daily with a soft-bristled gentle brush. If you don't remove dirt and sand from the surface, it can damage and scratch the floors.
When it comes to products, use only gentle ones created for marble stone. These shouldn't be acidic chemicals because marble is sensitive to acids.
Protect the marble floor in high-traffic areas with rugs and mats. This gentle stone is prone to scratching, and you can avoid damage in high-frequency spots around the house by placing mats where people will wipe their shoes and rugs to collect the dust, dirt, and debris.
If a spill happens, take care of it right away. As I said before, this is a porous stone, and liquids can cause stains that are almost impossible to remove. That's why you should grab a clean cloth right away and blot the spill.
Don't wipe the spill because you will only spread it more. Don't stop blotting until the surface is completely dry. Water will not cause stains, but it can make marble appear dull after some time.
Since it's prone to scratching, stains, wear, and tear, marble should be sealed and polished regularly. It's recommended that you seal it once or twice per year and polish it when needed.
Best Marble Floors Brands
Floor & Décor is a trusted seller of marble stone flooring. This retailer has numerous locations all over the USA and an impressive selection of marble tiles and mosaics. You will have a hard time choosing your favorite from the almost 500 designs that the retailer offers.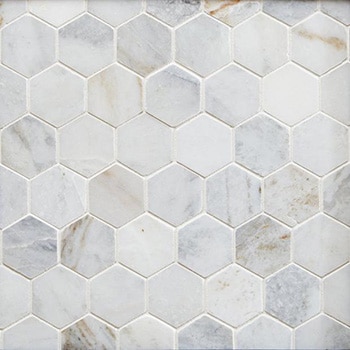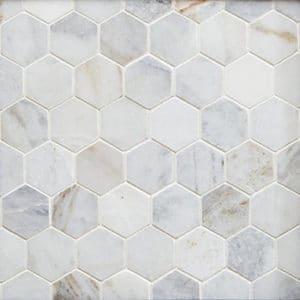 One of the best things about Floor & Décor is that you can use their site to narrow down the search for the perfect marble floors by choosing the color, finish, shape, brand, product type, and approximate size from the sidebar.
Once you use the filters, you'll find it much easier to make a decision and purchase the tiles that you like. They offer installation and delivery services, free 14-day storage, and free consultation with their professional designer team.

The Tile Shop is another place to visit if you're looking for the most stunning marble wall, floor tiles, and mosaic tiles. Their selection is quite broad as well, with over 520 various designs from which to choose.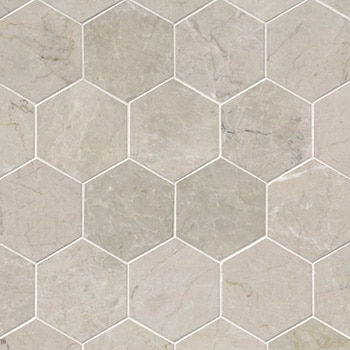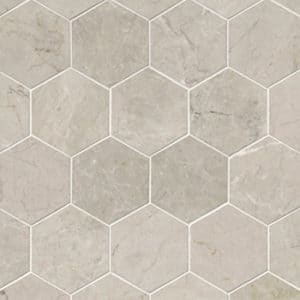 The Tile Shop network includes over 100 locations all over the country, all offering the best customer service, high-quality tile products, and expert advice.
One of the best things about this retailer is that they allow free returns of unused tiles within 90 days after your purchase. You can also use their free designing services to help you create the floor of your dreams.

The marble selection at Daltile is not as diverse as the selection in Floor & Décor and The Tile Shop, but they have some of the most unique and show-stopping products you'll ever see.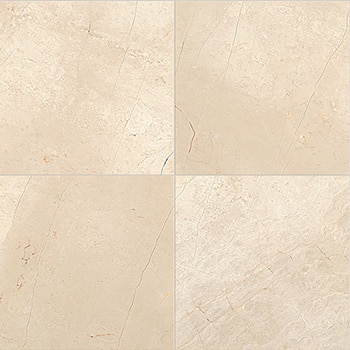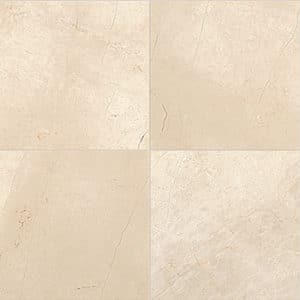 This manufacturer and distributor only sells products made in the USA, which means their collections are manufactured, designed, and developed here.
You can visit one of their showrooms to get answers to all of your questions, get professional help from designers, and enjoy free home samples.
FAQs
How Long Do Marble Floors Last?
Marble floors can last for more than three decades if you maintain them properly and regularly. These floors' average life is around 25 years, but remember that they require love and care.
Most people are disappointed when they notice that the marble in their hallway lost its shine two or three years after the installation. What they forget is that they should polish them preferably once a year. If polished marble is installed in high-frequency areas, it can look lifeless and lose its shine.
Polishing is a regular part of the maintenance, so you will extend your stunning floors' lifespan if you do it regularly.

Is Marble Bad For Bathrooms?
Your bathroom is not the best place to install marble. It's not that marble is bad for bathrooms, but the maintenance process will be more time-consuming, and marble can be less durable in a humid environment.
There are more suitable alternatives for your bathroom because marble is porous and can easily stain from products such as soaps, makeup, hair dye, acidic substances, and more.
If you decide to use it in a bathroom, make sure that the surface is as dry as possible at all times to avoid slippage, and don't forget to seal the surface yearly.
Conclusion
Marble is one of the most stunning natural stones for your floors. Aside from the unique appearance and translucent finish, these floors are durable, eco-friendly, and will increase the value of your home.
There is no doubt that marble is expensive, as it can cost between $5 and $20 per square foot. The installation process is also more complicated because of the natural stone's gentle nature, so professionals should install it.
Finally, the maintenance of these floors is simple, but you have to be very careful and only pick products designed for marble. Finally, don't forget that you should polish it regularly and seal it once or twice a year.
If you have any comments or first-hand experiences with marble floors, please post them below or share your pictures via our social media.
Marble is a fantastic flooring option that has its advantages and disadvantages. It's a porous natural stone that comes in many colors, designs, and patterns.
The biggest pros include a stunning look, increased home value, unique appearance, natural origin, eco-friendliness, and translucent finish. The cons are the high cost, more complicated installation, proneness to scratching, sensitivity to acids, and slippery nature.
Some of the best brands for marble floors in the US are Floor & Decor, The Tile Shop, and Daltile.
Back to Top