Seeing scratches on your beloved laminate floors is so frustrating! These streaks and scratches can easily ruin the aesthetic of your rooms. If you've been worried and want to know how to fix scratches on laminate flooring, this article will be of tremendous help.
Although laminate is a durable flooring type, great for high-traffic areas, dents, scrapes, and damage can still happen. People love it because it can last for decades, it's aesthetically pleasing, and requires only some easy maintenance. However, laminate can't be sanded or refinished, meaning that you should find a way to deal with these imperfections.
Thankfully, you can try fixing the damage yourself without having to call a professional. I've included various methods here that will work, depending on how extensive and deep the scratches are.
Below, you will find multiple solutions that have proven effective. But first, you'll learn how to prepare your floors so that you can continue to the next steps. Unfortunately, laminate planks with major, extensive damage might need a replacement, and things such as wax or putty won't be of any help.
Keep on reading to find out what you can do to get rid of those scratches you hate seeing.
How To Prep The Floor
One of the best tips that you'll ever get when it comes to laminate flooring is to purchase an extra box in case some of the planks get damaged in time and can't be repaired. Laminate is a type of floor that is affordable and looks stunning, but unfortunately scratches can still happen even to durable materials. The thing about laminate is that it can't be refinished or sanded, so you need to replace it when there's extensive damage.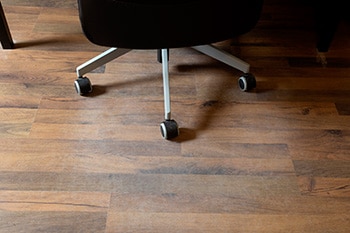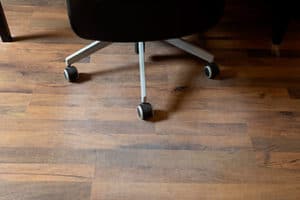 If you didn't get a chance to buy an extra box and you want to try and repair scratches, or you simply love DIYs around the house, prepping the floor is the first step you need to take.
Before you start repairing the scratches, you have to clean your laminate floor. If you don't, you might end up with even more scratches from sand and small rocks that might be present on your floors.
Start by sweeping the floor with a soft-bristled brush or a dust mop. This is a gentle approach that will remove dirt, dust, and debris without causing any more scratches. You can also use a vacuum if that's what you prefer.
The next step is to mop the floor with a wet mop, mild cleaner meant for laminate flooring, and warm water. Dry the floor with a clean microfiber cloth, and you're ready to go.
Match The Color
Before you figure out which method will work best for your floors, it's essential to match the color of the tool that you'll use to the laminate in your home. You don't want to use a color that is too dark or too light because it can make the damage even more apparent.
Floor manufacturers also produce repair kits that feature the colors of their laminate flooring types. That's why you need to remember the manufacturer so that you can easily find a kit that will perfectly match the color of your floors. These kits can include touch-up pencils and markers, colored putty, wax, and more.
Don't forget to keep the receipt and the manual with instructions you'll get when you purchase the flooring. It will feature not only advice on how to best take care of the laminate but also information on the type, number, color, and more.
If you can't remember where you got the laminate or who the manufacturer was, there is no need to worry. There are numerous products to choose from and a wide variety of shades.
Now, let's find out which methods you can use when you want to repair scratches on laminate floors.
6 Ways To Fix Scratches On Laminate Floors
1. Touch-Up Markers And Pencils
This is one of the easiest and most affordable ways to take care of minor, superficial scratches on laminate floors. All you'll need is a marker or pen that fits the color of the laminate. Thankfully, these products are wildly available, and you can find them in various shades.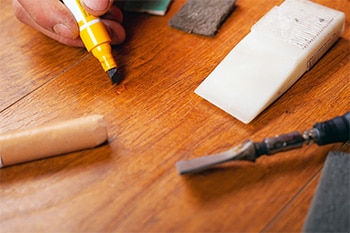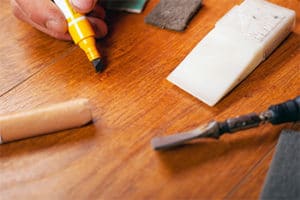 The process of using these markers and pens is relatively straightforward. After cleaning the floor, you need to make sure that it's completely dry. You can now start using the marker or pen.
It's pretty much like coloring. Just go over the scratch from one end to the other with light strokes. The more layers you add, the darker the color will become. When you're happy with your work, get a cloth and buff over the scratch so that the new color blends well with the original laminate color.
The touch-up pens usually come in packages of three and are meant for more delicate and detailed work. You can use the three shades to imitate the laminate's look and hide the scratches very well.
This is not a permanent solution; you have to be aware that the color of the marker/pen can fade, but you can go over the scratch again and fix it as often as needed. It's simple, quick, and cost-efficient.

2. Wood Wax
If the scratch is deeper and the marker simply won't cut it, you can try wax filler sticks. You can purchase these kits from the same manufacturer that makes your laminate flooring. If you don't have that information, you can turn to any home improvement store and find wax sticks that will fit the color.
These kits usually include several shades of the same color and also come with an applicator. To fill in the scratches in the flooring, you'll need to heat up the wax to start melting and then use the applicator to add it to the surface.
Wax filler sticks can be a bit tricky to apply and take more time, but they give excellent results. You will also have the chance to play around with different shades until you achieve the perfect look.
Use a putty knife to remove any excess wax and create a flat surface. When you're done, go over the area with a damp cloth.

3. Crayon
Using a crayon to fix scratches might sound ridiculous, but it's very similar to using a wax filler stick. Find the right hue, then melt the crayon in the microwave.
Now you can add it to the gaps and scratches! Use a putty knife to create a flat surface and clean the area with a damp cloth.
This method is not as efficient as using wood wax kits, but it's a good idea for when you can't pull off any of the other methods.

4. Burn-In Sticks
Burn-in sticks are part of a kit that is specialized for laminate floor scratch repair. These sticks are actually a filling that is more suitable for deeper scratches that pencils and markers can't fix.
You can also find them from the same manufacturer that made your laminate floors, but there are other variations that you can purchase from the closest home goods store.
The kit includes these burn-in sticks, available in many different shades so you can fit them to your needs. Before you start using it, go over the instructions very well so that you're sure you know how to use it.
The sticks require that you heat them up with an electric knife, and then you can apply them to the scratches as a filler. When you fill in the scratch, you should remove any excess filler and wait for the material to dry out.
These kits, though not as easy to use as the previous methods, can repair scratches successfully. After you're done using them, you won't even be able to tell there was damage to the floor.

5. Colored Putty
Colored putty kits are best for deep scratches and dents. Each kit comes with instructions that will help you figure out how to use the putty.
When the floor is clean, prepare the putty and add it to the affected area. Use a putty knife to apply it evenly so that it doesn't stand out from the rest of the floor. Go over the putty with the knife to make sure the surface is flat.
Remove the excess with a cloth while the putty is still fresh, because if it dries out, you'll find it harder to remove.
As I mentioned, most manufacturers sell colored putty kits that match their laminate. There is also the option to purchase colorless putty and prepare the shade yourself.

6. New Plank
If the damage is extensive and the scratches and scuffs are major, you will need to install a new plank. None of the methods that I mentioned above will be able to fix the problem. You can do this yourself, or even better, consult a professional.
How To Prevent Scratches On Laminate Flooring
If you know how to protect your laminate floors, you won't need to worry about repairing scratches. These are all straightforward tips that you can easily try, and they can turn out to be lifesavers. As I mentioned, laminate is great for high-frequency areas, but things such as furniture, pets, and debris can still cause damage.
Check out the simplest tricks that you can employ in your household to protect yourgorgeous laminate floors.

Pad The Furniture
Adding pads to the furniture can save you so much trouble. Self-adhesive pads from the store are so cheap, but they will prevent scratches and dents on the floors.
Cut these pads into shapes that fit the bottom of your furniture's legs, and voila!

Regular Cleaning Routine
Cleaning your laminate flooring regularly can prevent scratches. It's the easiest and most effective tip that will not only keep your house in order but also save you money from getting new floors installed.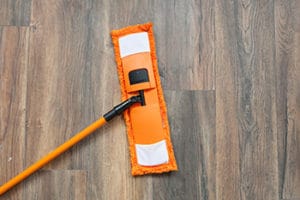 If you bring dirt, sand, and little rocks inside your home on your shoes, they can easily cause damage to the floors when they move around. That's why it's so essential that you clean the floors using gentle products, a soft-bristled brush, a microfiber mop, and microfiber cloths.
Sweeping once or twice a week should do the job. Feel free to mop as often as you can; just make sure that you're not using too much water, that you always let the floors dry out completely, and that you only use products meant for laminate floors.

Invest In A Rug
Rugs are so in right now! Add a breath of fresh air to the high-frequency rooms in your home with an area rug. These are the spots where the laminate flooring can be damaged the most, so why not protect them in style?
Carpets are functional but not as aesthetically pleasing. That's why you can opt for throw rugs, which you should place in areas where your kids and pets love playing as well. Also, make sure to place the furniture on the rugs when possible.

Don't Drag Furniture
Don't ever drag your furniture. Instead, lift things up. Dragging the sofa on the laminate flooring will not stay unnoticed. Once you spot those ugly scratches, you'll want to turn back time, but it will be too late.
Always lift up the furniture, especially items like chairs that you use daily. When you need to move something heavy but you're all by yourself, just wait until you have someone to help you.

Trim The Nails Of Your Pets
Your pets might be causing more damage to your floors than you think. If you're tired of finding tips on how to remove scratches from laminate flooring, you need to start trimming their nails regularly.

No Shoes Inside
This is a rule that you will probably want to implement in your household. Walking around the house with shoes on is one of the worst things you can do when it comes to maintaining your floors.
You are not only bringing bacteria inside, you're also bringing in sand and rocks that can damage the floor.
Everyone in the family should start leaving their shoes outside. Also, you can add a doormat that will capture most of the dirt and dust, so you'll have to clean less often.
FAQs
How Can I Remove Scuff Marks From Shoes From My Laminate Floors?
Seeing scuff marks from shoes on your beloved floors can be so frustrating. Did you know that these marks are not always permanent, and you can remove them with a very simple trick?
The streaks are usually black and a sore sight for your eyes. The good thing is that you can take a pencil eraser and get rid of the problem right away. You probably already have a pencil at home, so why not give it a try?
If this doesn't work and the streaks are more extensive, a special stain remover product is what you should try next.
If your shoes caused both marks and scratches on the floor, you might need to put in more work to restore it back to its old glory. In this case, you first need to remove the streaks, just like I described above.
Once you're done with that, you can continue to fix the scratches. These will most likely be only superficial scratches, so you'll be able to fix them using a marker or a pencil.
Conclusion
How to get scratches out of laminate flooring is a common question among people who have these floors installed in their homes. Although laminate floors are durable, scratches can unfortunately still happen. This is when you need to put the methods I mentioned above into action.
It all depends on how extensive and deep the scratches are. Superficial scratches are easy to deal with. All you need is a touch-up marker or a pencil, and you're done. If the scratches are a little deeper, use a wood wax kit, burn-in sticks, or crayons.
The deepest scratches will give you more trouble, but they can still be taken care of. You will need a colored putty to fill in the scratch and create an illusion of a perfectly smooth and scratch-free surface. Major scratches and damage are not worth repairing, though. Instead, try replacing the laminate plank with a new one.
Scratches on laminate flooring can be successfully fixed as long as they're not too extensive and too deep.
The methods you can use for superficial and medium-deep scratches are touch-up markers and pencils, wood wax kits, burn-in sticks, and crayons. Deeper scratches are best repaired with colored putty. When there's major damage, change the laminate plank for a new one.
To prevent getting scratches on your laminate flooring, you should protect the furniture with pads, start a regular cleaning routine, avoid walking into the house with shoes, trim your pets' nails regularly, add area rugs, and more.
If you have any comments or first-hand experiences with removing scratches from your laminate flooring, please post them below or share your pictures via our social media.
Back to Top