Your toddler has dropped their dry Cheerios on your laminate floors for the third time this morning and the last thing you want to do is break out your trusty dust pan, yet again.
In a huff of frustration, you let the dog eat the cereal on the floor and flip open your laptop with the intent of purchasing the first vacuum for laminate that pops up in your google ads.
Before you hit that one click shop button, think to yourself: is that really the vacuum for me?
If you've never heard of vacuums specifically designed for laminate, that's fine because most people haven't. Thankfully for you, there are dozens of models on the market to make your pre-daycare morning routine a whole lot less stressful.
We've got you covered. We're here to give you nothing but the latest and greatest in laminate vacuum technology.
Here's a list of our top 6 vacuums for laminate, curated just for you.
Showcase: The 3 Best Vacuums for Laminate
We've finished our search and rounded up the best of the best in vacuums for laminate floors. Get ready to see a whole lot of vacuums that suck (literally, but not figuratively, of course).
Here's our best overall pick, our best high end pick, and our best budget pick: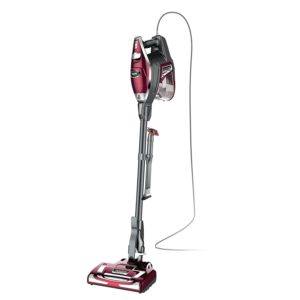 Do you want it all and do you want it now? Here's good news: Shark has your back.
This vacuum will replace your broom, your Swiffer, your regular ol' carpet vacuum, and any handheld you have lying on your closet floor. This is the ultimate all in one cleaner.
With the mid-range price point and amazing versatility of this product, you will truly not find anything else of the same caliber.
It wasn't difficult to make our number one choice on this list the number one choice of thousands of families who have already fallen in love with the Shark Rocket themselves.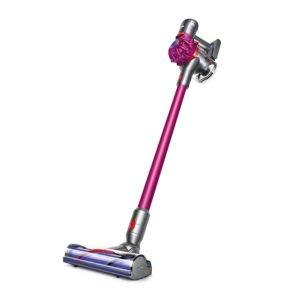 I heard that you want a cordless vacuum that can pick anything up after a single pass. Good thing the Dyson V7 is on the market.
With the V7 and the included accessories, you'll be vacuuming your way into nirvana in no time. There are no cords to trip on, there's no bulky body to push around, and there is no limit as to what floor you can use the V7 on.
With care, your Dyson vacuum will be able to last you year after year after year and will pay for itself in no time after you realize that you won't be blowing through cheap $30 – $100 vacuums every other month. Dysons are built with love and good craftsmanship.
If you want a cleaning companion that will stand the test of time without losing any suction, the Dyson is your number one.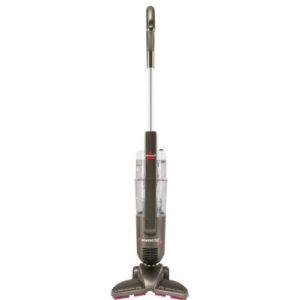 If your laminate is the only thing that you need to vacuum and you want a product that will clean just that, here is your product.
The Bissell PowerEdge is unique in that its V shaped head is designed specifically to replace any broom and dustpan needs that you may have.
Though this won't work on every flooring (sorry, all in one lovers), your sparkling laminate will be the envy of your neighbors when you use this specialized tool in your home.
At this price point, you won't find anything close in quality to the Bissell, which is why it's our number one pick for those on a budget.
What to Look For in a Vacuum for Laminate?
Do you have only laminate flooring in your home? What about carpeted rooms or area rugs?
When you're searching for a vacuum for your laminate, you have to make sure that you consider everything you want your vacuum to do for you. If you want an option that can clean all of the floors in your home without switching products (and who wouldn't), that's a big factor to consider.
Also consider how much effort you want to put into cleaning your laminate.
Determining the weight of your vacuum is another critical factor to look into. Lighter doesn't mean lower quality like it used to, now it just means that your workload will be lighter (literally).
There are now also cordless and fully automated vacuums on the market, which can make your cleaning experience an enjoyable rather than exhausting one.
There are generally 3 different types of vacuums for laminate floors:
Hard floor only: You won't be able to transfer from floor to floor with this vacuum, so you'll need another tool to clean your rugs and carpets in your home. These can be corded or cordless.
All in one: You can switch between carpet cleaning and hard floor cleaning with the touch of a button. These can be corded or cordless.
Automated: These cordless self-charging robots can clean your home without you lifting a finger. They can typically switch between hard floors and low pile rugs.
No matter what your preferences or lifestyle are, there's a vacuum for laminate out there for you.
What to Expect When Spending More
When going with a higher end vacuum for laminate, you'll be getting much more functionality and versatility for the price.
Lower end models usually are specialized for a single kind of floor, whether that be hard flooring or carpet. Most lower end models won't boast that they can transition from floor to floor without difficulty because most of them don't.
Mid range models are those that will start to offer more functionality, which means you'll be looking at all in one tools. These usually have 2 or more brush settings to transition from floor to floor without scratching or damaging anything in the process.
The budget busters are those that are incredibly expensive, but have the warranties and functionality to justify the price. Here, you'll find robotic models and extremely effective featherweight vacuums that strive to make you feel like you're not vacuuming at all.
We've picked a range of vacuums for you below, including but not limited to a budget dust buster and the swankiest little robot you've ever laid eyes on.
Rankings and Reviews
This is what you've been waiting for: the best of the best. Here's your detailed list of the top 6 vacuums for laminate floors.
We'll break down the info vacuum by vacuum so you'll have everything you may need to buy the perfect vacuum for your home that won't suck (figuratively, of course).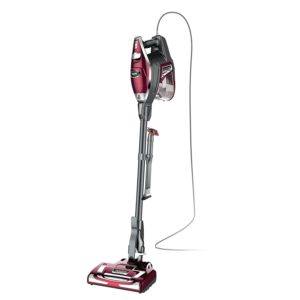 Weight of vacuum: 8.6 pounds
Power source: Corded
The high points: You can vacuum essentially everything with this single tool
The not-so: You need to work around the cord, may be loud
This mid-range priced vacuum is our best in show, and for good reason. With this Shark vacuum, you're getting 3 products in one, which will leave your laminate (and every other nook of your house) glistening.
With the Shark, you'll be able to transition from laminate to area rugs faster than you can say… well, anything really. All you need to do is push a button to change the roller speed.
The vacuum is also a hand vacuum, so you can make all of those hard to reach places not-so-hard to reach at all.
If that wasn't enough, you'll also be able to switch out the roller for a microfiber pad to go over your floors after vacuuming to pick up every last speck of dirt.
Self proclaimed neat freaks, this one is "the one" for you.
What Reviewers say about it?
Reviews are outstanding for this small but mighty vacuum. Even if a part breaks or malfunctions on your product, which is highly unlikely, Shark's exceptional customer service is worth the price of the product.
What reviewers love most is the versatility of the vacuum. Some remarked that they can clean every aspect of their kitchen, from floors to crown molding, from the same spot without any extra hassle.
This product is an all-in-one that delivers it all in one.
What's good?
If you like having the convenience of never having to change products, the Shark is your savior. There are multiple rotation options that will allow you to move from rug to laminate with the push of a button.
Since you have multiple settings, you don't need to worry about your precious floors being scratched by a product that claims that it can vacuum on hardwood or laminate when it really can't. Shark's simple system is so easy to figure out, you can even trust your messy Cheerio loving child with the chores.
When I say the cord is long, I mean it's "clean your entire kitchen and living room without unplugging" long. We see this as a pro, so you don't need to waste time reaching around sofas and unplugging accent lamps to finish the job.
There's also a quick release pedal, which transforms your Shark from full-sized to mini. Now, even the smallest of dust bunnies will have nowhere to hide.
What could be better?
Remember how long I said the long cord was? Some think that it might be a bit too long, and that they would prefer a vacuum that was cordless.
All vacuums have this built in feature to let everyone on the block know that you're cleaning your home. Some may say that the Shark is a bit louder than the average vacuum, however, others say that it's not louder than any vacuum they've used in the past.
Aside from these two small criticisms by some, this vacuum is a solid choice when it comes to cleaning your laminate.
How does it compare in value?
Most other vacuums of this quality on the market are more expensive than this model. This vacuum will for sure give you the most bang for your buck.
At this price point, you're getting a product that has been tested by thousands and is still regarded as one of the best on the market. The extra money you'll be investing when buying this compared to budget brands will show in how little work you need to put in to keep your home clean.
Is it a bit more than the Swiffer that you've been using on your laminate? Of course.
Is the difference in price worth the difference in how much easier your life will be? Absolutely.
How has it improved?
The earlier version of this vacuum had a much smaller dust cup. Now that the dust cup has been expanded by twice the size, you can continue vacuuming for longer without interruption.
This vacuum also has LED lights which help shine your way to a sparkling laminate floor. The earlier model didn't offer this illuminating feature, which we find dazzling.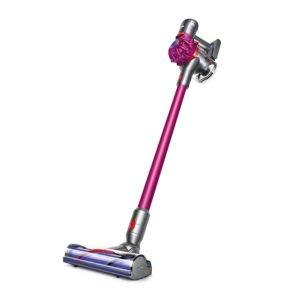 Weight of vacuum: 5.45 pounds
Power source: Cordless battery power
The high points: Cordless, battery is only used when you press the power button down
The not-so: Gets warm after extended use, only 30 minutes of max charge
Though expensive, the Dyson V7 cordless is more than worth the investment. With Dyson, you won't be buying just a vacuum; you'll be buying a lightweight cleaning companion that will make your life a whole lot easier.
This Dyson is versatile, transforming into a dust buster or an extended handheld to clean your crown molding in seconds. With the attached accessories, you'll be able to get into every crevice with this single device.
The best part is that you can go from laminate to carpet to hardwood to tile without changing tools or plugging a single thing in. I don't think cleaning gets easier from here (unless you hire someone else to do it for you).
The Dyson V7 is small but mighty and is enough of a superstar to be the best of our high-end picks.
What Reviewers say about it?
Reviewers are obsessed with this vacuum, especially because of how light it is and how simple it is to clean the dust canister.
Clocking in at a whopping 5.45 pounds, this Dyson is anything but bulky. Because it's small, users say that it doesn't even feel like they're working when using this beauty.
Because of the lightweight nature of the vacuum, the canister in this Dyson is small. Yes, you may need to empty it once or twice per cleaning, but users say they are thankful every part of the canister is easily accessible.
What's good?
No longer are the days where you need to plug and unplug your vacuum twenty times to reach every dirty nook of your house. The best part of this vacuum is since it's cordless, you're not tethered to the wall and limited in where you can go.
Battery life on any object can be killed easily, especially if you forget to turn off it off before plugging it back in to charge. When the maximum battery life for an object is 30 minutes, the last thing you want to do is shorten its lifespan.
The Dyson V7 is unique in that it only uses battery when you press the button down. By using power only when you need it, you'll be able to clean more of your home on a single charge (which means even less time cleaning for you).
What could be better?
Cordless vacuums are still in their infancy, which means that there are bound to be a few kinds to work out. Because of this, the battery life isn't the longest.
If you have an apartment, this vacuum will get all of the cleaning done in one fell swoop. If you have a larger home, cleaning the upstairs one day and downstairs the next may be the best way to clean your home without running down the battery.
It's advertised that the vacuum will last 30 minutes on a single charge, but the longer you have the vacuum, the shorter the battery may last.
After 30 minutes of vacuuming, your Dyson may become hot and need some cool down time. It's recommended that you let your vacuum rest once the battery is dead instead of immediately plugging it back in for more juice to finish the job.
How does it compare in value?
It is one of the most expensive models out there, but that's to be expected as Dyson has a reputation of being one of the industry's most elite (and costly) vacuum companies.
If you're looking for something that's cheap and will get the job done for a few years, the V7 is not the model for you. But, if you're wanting to make an investment in a vacuum that will last for decades, Dyson has your back.
If you want to spend money to alleviate hassle, to buy something that will be with you for a long time, and to get you something that won't have an expensive upkeep with replacement parts, this is a great value for your money.
How has it improved?
Compared to the earlier Dyson V6 cordless, the V7 is the strongest a cordless Dyson has ever been. The V7 has 75% more brush bar power than the previous V6.
The extra oomph the V7 gives while cleaning makes cleaning time a fraction of what it used to be; because of that, your battery will last longer, too. The new brush bar is a win all around.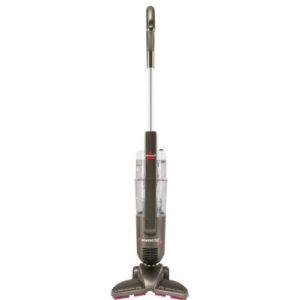 Weight of vacuum: 7.1 pounds
Power source: Corded
The high points: Uniquely shaped swivel head, great for pets
The not-so: No removable vacuum head, only designed for hardwood
I heard you're looking to save a bit of money while finding a vacuum that will clean your luxurious laminate well. Lucky for you, you've come to the right product.
The Bissell PowerEdge may look a bit odd at first, but the science behind the product is all in the strange shape.
Designed specifically for hard floors, the PowerEdge will act as both your broom and vacuum and suck up the large and small stuff alike. For those looking for an all in one, this specialized product isn't for you.
Arguably the best part about this PowerEdge is that it's perfect for cleaning after your furry friends. Fur and dandruff from Fido won't stand a chance when you use this vacuum.
Dust bunnies, you can't hide in the cracks of hardwood anymore. Meet your worst enemy.
What Reviewers say about it?
Reviewers, especially those with pets, say that the PowerEdge is the perfect fit for them and their home.
Even after months of use, users say that they have never experienced any scratching on any kind of hard flooring. This vacuum will clean without you needing to worry about hurting your laminate.
The only thing that users say that's not so great about the product is the cord length. If it was just a little bit longer, cleaning larger areas, such as a connected kitchen and living room, would be a breeze.
What's good?
If you've never seen a V shaped vacuum head before, same here. The first time that we saw this vacuum, we were as intrigued as we were confused.
This uniquely shaped head is designed the way it is to pick up larger debris in the center and smaller dust particles on the outer edges. This means it's perfect for Cheerio filled mornings.
The V also helps you clean around chair legs with ease. If you think this might be a weird feature for a vacuum to have, go check the dust bunnies that are currently forming near your sofa legs and tell us the feature isn't necessary.
When you have the word "pet" in your name, it's kind of self explanatory that you need to optimize your products for cleaning after furbabies. The PowerEdge vacuums pet hair without clogging, which is a continual struggle for most pet parents.
What could be better?
Sometimes you just need a tiny vacuum head to fit into the smallest parts of your home. Though the Bissell PowerEdge will do mostly everything for your hard floors, the lack of a removable head to clean small spaces is the major downfall.
If you read about the Bissell, you'll see that it keeps mentioning that it's fantastic for hardwood. Most vacuums for hard surfaces also vacuum on carpet, so what's the deal with the PowerEdge?
This vacuum does not do well on any sort of carpeting. Whether that's shag in the living room, or a low pile area rug. If it's not solid, you won't want to use this vacuum on it.
It's best to keep your regular vacuum when you purchase this product to keep your carpets neat and to get those hard to reach places, too.
How does it compare in value?
If you're in the market for a vacuum that's specifically for hard floors, this is perfect. The price point is low, but the quality of this little vacuum is incredible.
There are other models out there that are both for hard floors and carpeting at this price point, but they won't work nearly as well as the Bissell PowerEdge does.
Save yourself the headache in trying to find a vacuum that can "do it all" at this price point, and spend your money on a specialized product that will do the job it was created for exceptionally well.
How has it improved?
This Bissell is the only one with the unique V shaped head, which means that this product is innovative in itself, even if it hasn't gone through major renovations.
The V shaped head is designed to pick up only what a broom and dustpan can, which means you can kick your ratty old set to the curb.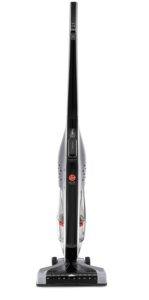 Weight of vacuum: 12 pounds
Power source: Cordless; Lithium ion battery
The high points: Cordless, can change batteries without taking vacuum apart, two brush settings
The not-so: Must remember to not store batteries in the charger
The Hoover Linx is the secret weapon you need hiding in your closet. With this, you'll be able to clean any hard or carpeted surface in your home with a switch of a button.
There are no need for any pesky cords, as the Linx is totally battery powered. It's recommended  to buy a second battery if you have a large home, just in case you need more power to finish the job or you forget to charge it after use.
With this Hoover, you'll have no boundaries. Without cords or flooring limitations, nothing can hold you back from the spotless home you deserve.
What Reviewers say about it?
Reviewers are loving the fact that they don't need to pay a fortune to find something that can clean as well as the Linx can.
They love that the low profile of the Linx can fit under chairs and tables without any extra hassle. There's even an extreme recline handle to help your vacuum limbo under any obstacles in your path.
What's good?
If you're hesitant to trust that your vacuum will clean the house on a single charge (which this vacuum most likely will), you can purchase extra batteries and charge those in case you need a little extra juice to finish the job.
If you have rugs and hard floors in your home, this vacuum has two brush settings. One is more gentle for your hard floors, and the other has a bit more oomph to pick up dirt that may be creeping in your carpet.
What could be better?
If you leave your computer plugged into the charger for days on end and never give it a second thought, this vacuum may not be the best choice for you.
When you charge the battery for the Hoover and leave it in the charger for an extended period of time, you'll essentially kill any battery longevity it may have. You need to be vigilant enough to remember to take it off of the charger after a few hours and then store it in your vacuum until the next time you use it.
If you don't, you'll need to order new battery and have to borrow your neighbor's vacuum until it comes in the mail, which I know no one wants to do.

Weight of vacuum:  7 pounds
Power source: Cordless
The high points: Can vacuum on hard floors and carpeting, handle folds, can switch from hand vacuum to stick vacuum in seconds
The not-so: Suction is not the best on hard floors
If you're looking for the jack of all trades of vacuums, this is it. With more functions to list than a swiss army knife, the Bissell Lift-Off is a great choice if you want one vacuum for everything.
Not only does the Bissell clean hard floors, it also works on carpeting, and is detachable to become a handheld. The folding lever increases accessibility while making it easier to store, making it perfect for small homes or apartments.
What Reviewers say about it?
Reviewers say that the Bissell is great for daily cleaning and tidying up. The charge on the Bissell will last you throughout a quick sweep over the floors in your home.
They also say that the Bissell may not be the best option if you're looking for something that can do some serious deep cleaning. It struggles to get the pesky fine food particles between tiles and planks.
What's good?
Cordless vacuums are all the rage and they have a right to be. Given how annoying both short and long vacuum cords are, we can all agree that we're better off without them.
The toggle function between rotating bristles and static bristles allows the transition from cleaning rugs to tiles a breeze.
You also have functionality to ditch the handle entirely and make quick dust busting trips with just the body of the vacuum. This is great, especially for small table top messes that you'd rather not pick up by hand (AKA those Cheerios).
What could be better?
According to reviewers, the versatility of this product may not be the greatest. When you make a product that seems to be too good to be true, sometimes that is actually the case.
The Bissell has a lot of functionality, however, the suction power isn't as strong as some of its more specialized counterparts on the market. It's a great little vacuum, but its not nearly as strong on laminate as it is on carpeting.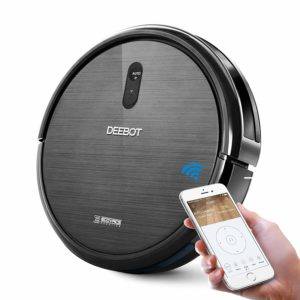 Weight of vacuum: 6.7 pounds (0.0 pounds that you need to push around)
Power source: Cordless and automatic recharging
The high points: You don't need to think about vacuuming ever again
The not-so: It may be hard to initially set up
This is it: robots have finally taken over. However, we never thought that the takeover would be this cute.
Deebot is a fully self-automated vacuuming system that makes your low pile rugs and hard floors spotless. With over 100 hours of battery power on a single charge and anti-collision technology, Deebot is the robot you'll want to adopt into your smart home next.
What Reviewers say about it?
Aside from the fact that this little robot is completely adorable, reviewers say this vacuum is perfect for the person that despises any act of cleaning. Deebot takes care of everything for you (and you never have to think about it again).
They love that Deebot self charges, can be scheduled to clean at certain times during the day, is quiet, and can fit into tiny spaces a normal vacuum can't. The fact that they don't have to lift a finger to do it doesn't hurt either.
What's good?
Do you genuinely enjoy vacuuming and seek out opportunities in which you can vacuum even more than you already do? We don't.
Deebot is the cutest little floor cleaner that we've seen on the market, and he's the most functional, too. He charges himself, can be scheduled in advance, and can be controlled from the comfort of your smartphone.
If you have money to splurge and want to eliminate cleaning the floors from your chores without hiring a maid, consider bringing Deebot into your life.
What could be better?
Some say that the little Deebot may be difficult to initially set up. Reviewers gave us the advice to stand as close to your wireless network as possible when booting up your robot for the first time.
If you have a pet at home, make sure Deebot has a safe spot to rest away from them. Some users say that their cats have accidentally turned Deebot on by playing with the buttons on top.
Also, be sure to use Deebot only on low pile rugs and hard surfaces. Plush and fluffy carpeting gives Deebot stage fright, and won't perform well if put in a room with those surfaces.
What do you think?
This concludes our comprehensive guide on the best vacuums for laminate, ranging from fully automatic to best for your budget.
We've chosen options for you no matter what you're looking for including all in one tools, those specifically for hard floors, and those that are great for picking up after pets.
It's your turn to decide now. It's time to head back to google to buy the vacuum for laminate you've been dreaming of.
After all, those Cheerios won't clean themselves.
Do you have a favorite vacuum for laminate? Let your voice be heard in the comments below.