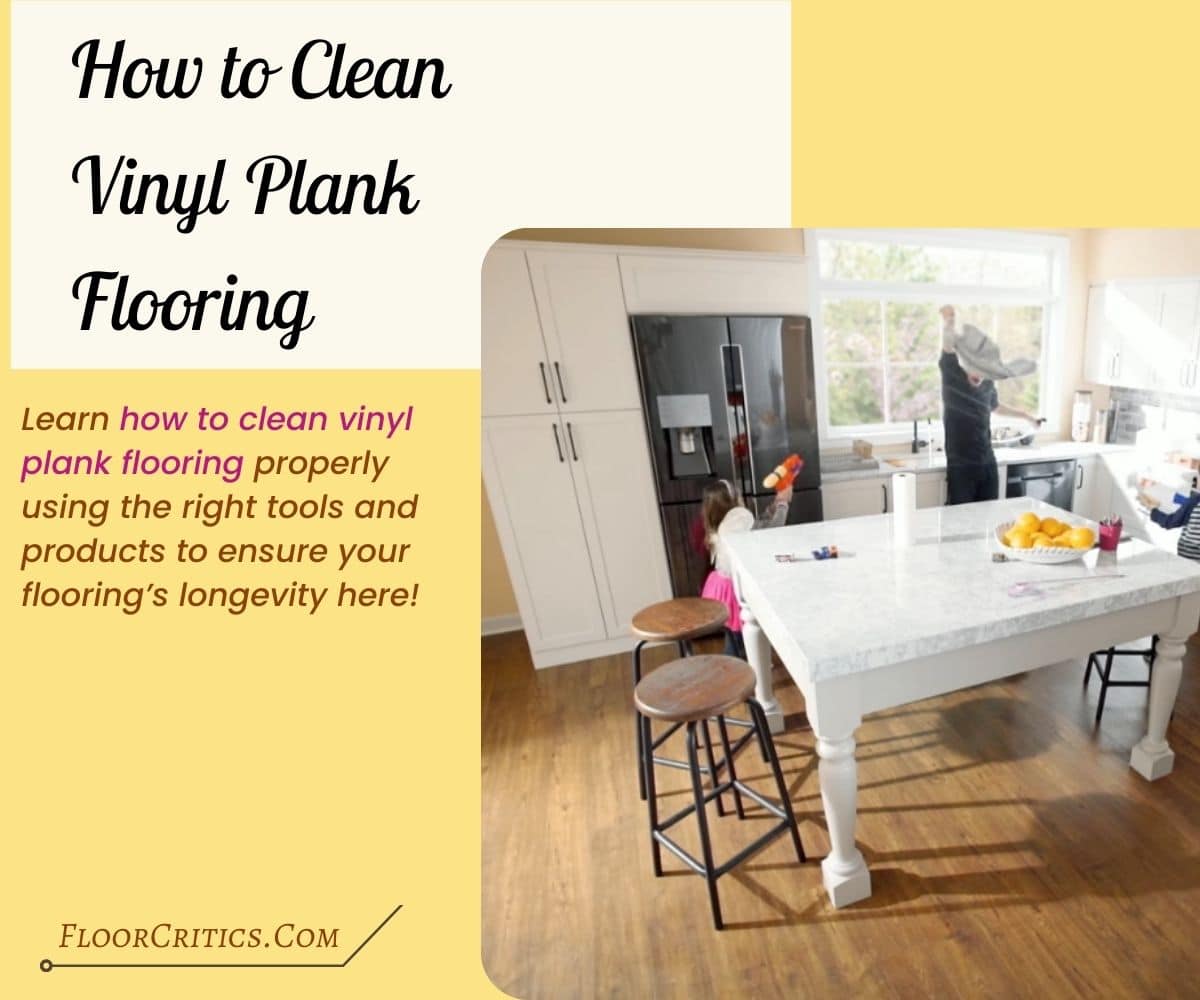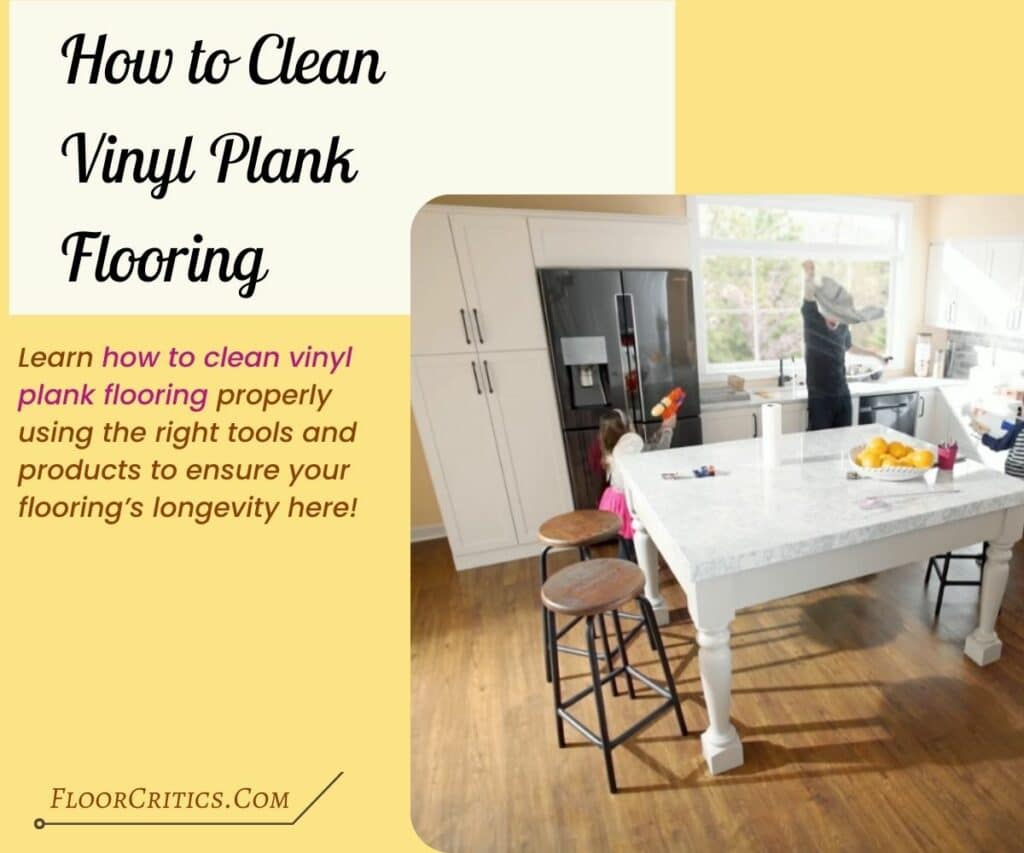 Vinyl plank flooring is a great option for many reasons. It is easy to clean, durable, and cost-effective. However, how do you clean vinyl without damaging it?
In most cases, it only needs modest upkeep and maintenance. Several natural or heavy duty vinyl floor cleaners can be used on vinyl floors – but how do you know which one will work best?
In this guide, we'll answer all these questions. We'll also show you how to clean vinyl plank flooring, list the best cleaner for vinyl plank floors, and some professional tips you can follow!
Vinyl Flooring Cleaning Advice: Best Way to Clean Vinyl Plank Floors
Vinyl flooring is a popular type of budget-friendly but durable flooring that was originally made as a better alternative to linoleum flooring. It can withstand a lot of abuse which makes its ideal even for high-traffic areas and can last for a long time with proper care and maintenance.
So to maximize the longevity of your flooring, we've listed the best cleaning methods you can follow here including how to clean waterproof vinyl plank flooring.
What You'll Need
Mop
Vacuum
Soft-bristled brush
Dustpan
Microfiber cloth or vinyl floor cloth
A basin
pH neutral floor cleaner for luxury vinyl
Melamine sponge
Note: It is critical to use a vinyl floor cloth. Vinyl flooring is porous and will soak up any cleaning solution you use. Using a vinyl floor cloth helps keep the moisture away from your vinyl plank floors so they stay nice longer.
Steps on How to Clean Vinyl Flooring: Using a Dry Mop and Vacuum for Light Cleaning
"There is a common misconception that it's ok to go straight into mopping floors as that cleans up all the dirt in your home," explains Sharon Yap, Head of Technology Development at Dyson. "If dust isn't removed fully prior to wet cleaning, then it can be smeared across hard floors when mopping your floors, potentially leaving a dirtier rather than a cleaner floor."

Sharon Yap
Step #1: Dry-Mop or Vacuum Your Floor to Remove Surface Dirt
When cleaning vinyl plank flooring, you always want to start with a dry clean.
Remove all furniture in your room first for a thorough cleaning and then dry mop or vacuum the floor, removing any dirt and debris that can scratch or dull your vinyl. You can then use a pH neutral floor cleaner for luxury vinyl to remove grime or damp-mop for deeper cleaning.
A. Using a Dry Mop
We suggest using a dry, flat microfiber mop or dust mop to remove large debris as well as fine particles from high traffic areas.
Tips on Dry-Mopping Vinyl Plank Flooring
Always start around the edges of the room and sweep all the dirt towards the middle to make a pile of debris.
Going in an infinity pattern while you bring dirt toward you is the best technique to avoid missed spots and ensure that the entire floor is clean.
Once the mop has gathered debris, shake it off and then discard the debris using a soft-bristled brush and a dustpan.
Clean all parts of the room – including floors, walls, and baseboards – because even these can accumulate dirt over time which may show up on newly cleaned surfaces!
Dry-mop daily to maintain the quality of your floor.
We do not suggest using a broom as it pushes dirt around and the bristles are often rough which can damage the floor. Brooms work better for very large pieces of debris.
B. Using a Vacuum
Vacuum cleaners are a great way to clean your vinyl plank floors to pick up smaller debris that dry mopping was not able to remove. But there are some things you should remember when using one. Here is a list of tips to help make the process easier:
Tips When Using a Vacuum Cleaner on Vinyl Floors
Use the right settings on your vacuum. For vinyl plank floors, you need to use low suction and a brush attachment that will not damage or scratch your floors. If the setting is too high, there's a risk of scratching and damaging your floors while trying to clean them if they are dirty.
Only use a vacuum cleaner with a beater bar if there are any areas with pet hair or dirt build-up. The beater bar will agitate the dirt and get rid of it.
Make sure to get underneath furniture, especially couches or chairs where pet hair may accumulate over time.
Invest in a quality vacuum built for dealing with pet hair if you have dogs or cats, you won't regret it.
Step #2: Damp-Mop to Remove Grime
After vacuuming or dry-mopping, we recommend damp-mopping to remove stubborn dirt and grime and to deep clean your flooring.
For this, you'll need the right cleaning solution (either a vinyl flooring-approved floor cleaner or a DIY one). We'll talk about the recommended cleaning solutions more later.
After preparing the cleaning solution, just dampen your mop with it and then mop in the direction of the grain of the planks.
How to Clean Really Filthy Vinyl Flooring
Normally, using a floor cleaner is enough for getting rid of all the filth. However, if your floor does need deeper cleaning, you can use a string mop and a solution of dishwashing liquid. The steps are included in our DIY solutions.
Tips on How to Mop Vinyl Plank Flooring
Better use a flat microfiber mop with vinyl floor cleaners because these mops reduce water usage than can cause damage and allows for easy cleaning under your furniture.
We recommend damp-mopping weekly. But for kitchens, you might need to mop more often.
We do not recommend using a flat mop for deeper cleaning using the dishwashing liquid solution as you'll only end up smearing dirt everywhere. This will make a huge mess and you'll end up with a lot of wet microfiber pads.
When using a string mop, make sure to wring the mop properly. It should be damp and not soaking wet.
Always rinse your floor after mopping with a soapy solution to prevent a soapy film on your floors.
Change the water and wring the mop often when rinsing to avoid build-up that can cause haziness to your floor.
Can I Use a Steam Mop on Vinyl Plank Flooring?
A steam mop on LVP is not recommended. It is only a great solution for carpet cleaning but not for hard flooring including vinyl planks. Too much moisture and hot temperature is the worst enemy of vinyl floors as these can cause warping if you're not using your steam mop carefully.
In addition, steam mopping can void your warranty. So before you steam mop your floor, better verify with your manufacturer first. Because although most vinyl plank brands prohibit steam mopping, a few manufacturers (like NuCore) do allow steam mopping but with residential steam mops only and the use of the lowest setting.
Step #3: Remove Stubborn Stains and Grease Buildup
If damp-mopping wasn't able to completely remove stains and grease from your floor, using DIY solutions such as baking soda or rubbing alcohol would be the best solutions. We will discuss more on how to clean using these solutions later.
Step #4: Air Drying
After damp-mopping, allowing your floor to completely dry before moving your furniture back and walking on it is recommended. You can open your windows so that your floor can dry more quickly. Also, better avoid moving around while your floor is drying.
Also Read: How to Clean Hardwood Floors
What to Use to Clean Vinyl Plank Flooring: Best Vinyl Floor Cleaners
Here are our suggested vacuum, mop, and cleaning product for vinyl floors:
Cleaning Tool
Our Product Picks
Why We Like It
Vacuum
Shark Navigator
– Anti-allergen technology with a HEPA filter that can trap up to 99.9% of allergens and bacteria
– Lightweight and easy to use
– Does a good job at sucking pet hair
Mop
Swiffer Sweeper Dry+Wet Mop
– Budget-friendly
– Can be used for dry and wet mopping
– Traps dirt efficiently using a magnet strip
Commercial Cleaning Solution
Pledge Multi-Surface Floor Cleaner
– Our best cleaner for LVP floors as it is the most affordable option in our top picks of the best floor cleaners
– Doesn't leave streaks, residues, or buildup
– Designed for various types of flooring including vinyl, tiles, laminate, and hardwood
Tips When Choosing and Using Cleaning Products Safe for Vinyl Planks
To find the best cleaner for vinyl plank flooring, we suggest that you follow our tips below:
Many products you can purchase are becoming more environmentally friendly and are free of parabens, formaldehyde, ammonia, phthalates, phosphates, and gluten. Just be sure to read the bottle and find one that is specifically labeled as safe for use on vinyl flooring.
We recommend using a ph neutral cleaner that won't leave any residue or suds behind which could dull and damage the finish on your vinyl plank flooring over time.
Make sure to read how many times you should be cleaning per week and how often these types of commercial cleaners are recommended.
Always follow the recommended dilution formula for your cleaner because even the ones that say non-sticky residue can leave a sticky residue if not diluted properly.
Also Read: How to Clean Slate Floors
Cleaning Vinyl Plank Flooring With DIY Solutions: Homemade and Natural All-Purpose Cleaners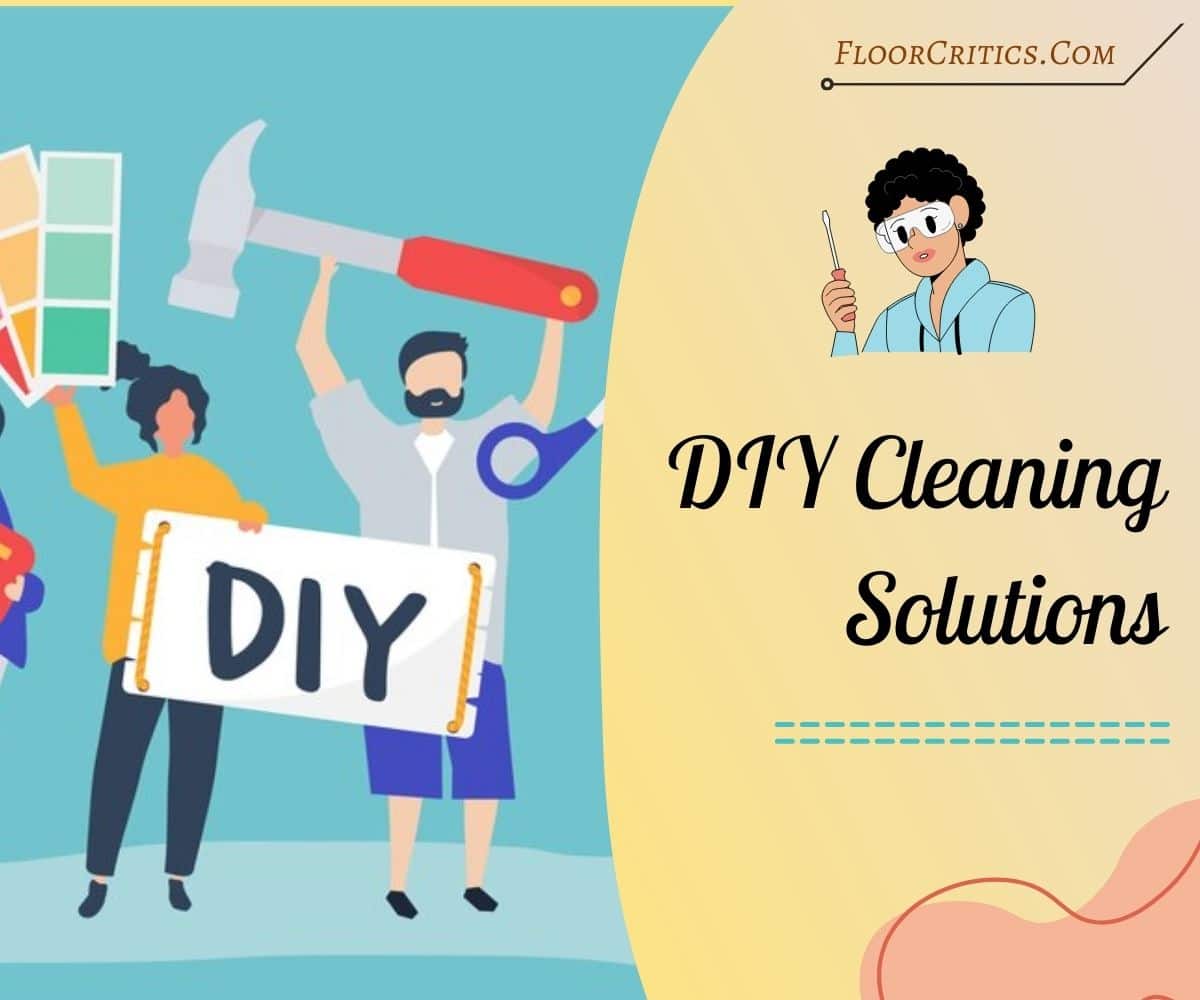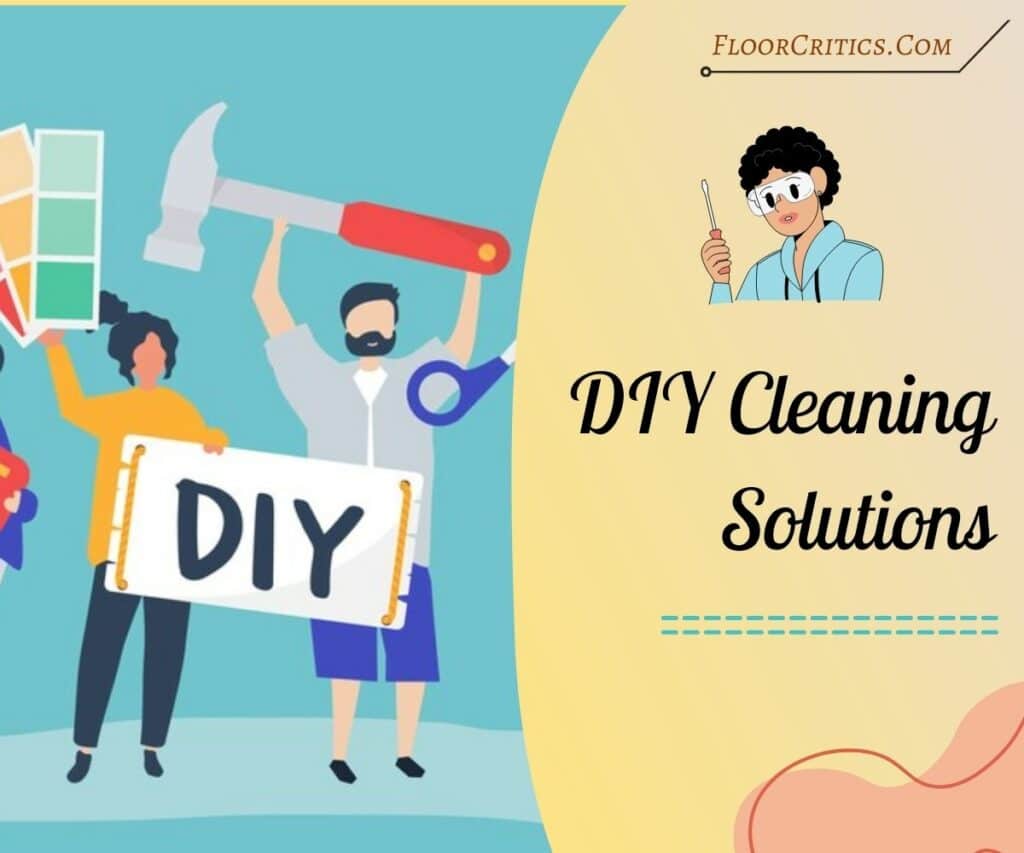 If you don't have the budget to buy a commercial cleaner, there are plenty of homemade and natural cleaners that can be used on vinyl plank floors.
All-purpose cleaners can be used on a variety of surfaces in your home, including vinyl plank flooring. However, not all all-purpose cleaners are safe to use on vinyl. The key is finding the right one!
Below are two DIY solutions that should be safe to use on vinyl floors:
1. Vinegar Solution
Apple cider vinegar or white vinegar, when properly diluted, can do an excellent job in dissolving stubborn stains, dirt, and grime without leaving behind a sticky residue, unlike soap. It also helps in making your flooring dry quicker and in terminating bacteria from your floor.
Dilute 1 cup of vinegar in 1 gallon of hot water.
Add a few drops of essential oil into the mixture if the smell bothers you. Don't put too much as this will cause your floor to become sticky.
Mop your floor just like how we instructed earlier and be sure to rinse the mop often with plain water as you don't want any vinegar residue left on the floor.
Note:
While vinegar is a good deodorizer and disinfectant, it's not effective at removing scuffs and stains. But, it does do a great job at melting grease from your floor.
Only use diluted vinegar occasionally as extended use can result in fading or dulling.
Undiluted vinegar is too corrosive for cleaning vinyl flooring.
2. Dishwashing Liquid Solution
We've mentioned earlier that you can use a dishwashing liquid solution for deeper cleaning. Just follow the steps below:
Mix one bucket of warm water with a few squirts of liquid dishwashing soap.
Get your string mop and soak it in the solution.
Wring the mop to remove excess water.
Go back and forth with your mop in the direction of the planks' grains.
Rinse your floor with clean water.
Also Read: How to Clean Bamboo Floors
What Not to Do When Cleaning Vinyl Flooring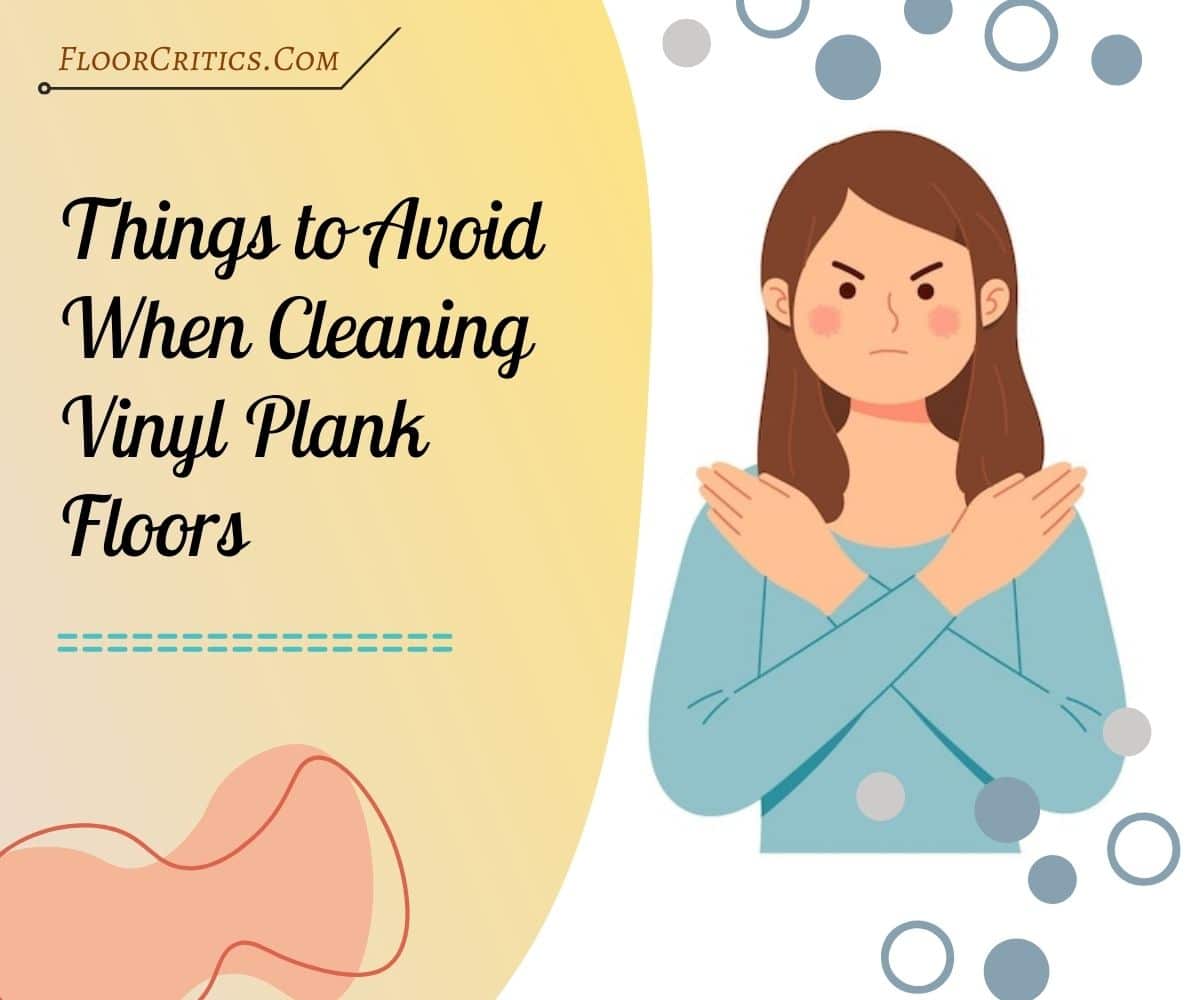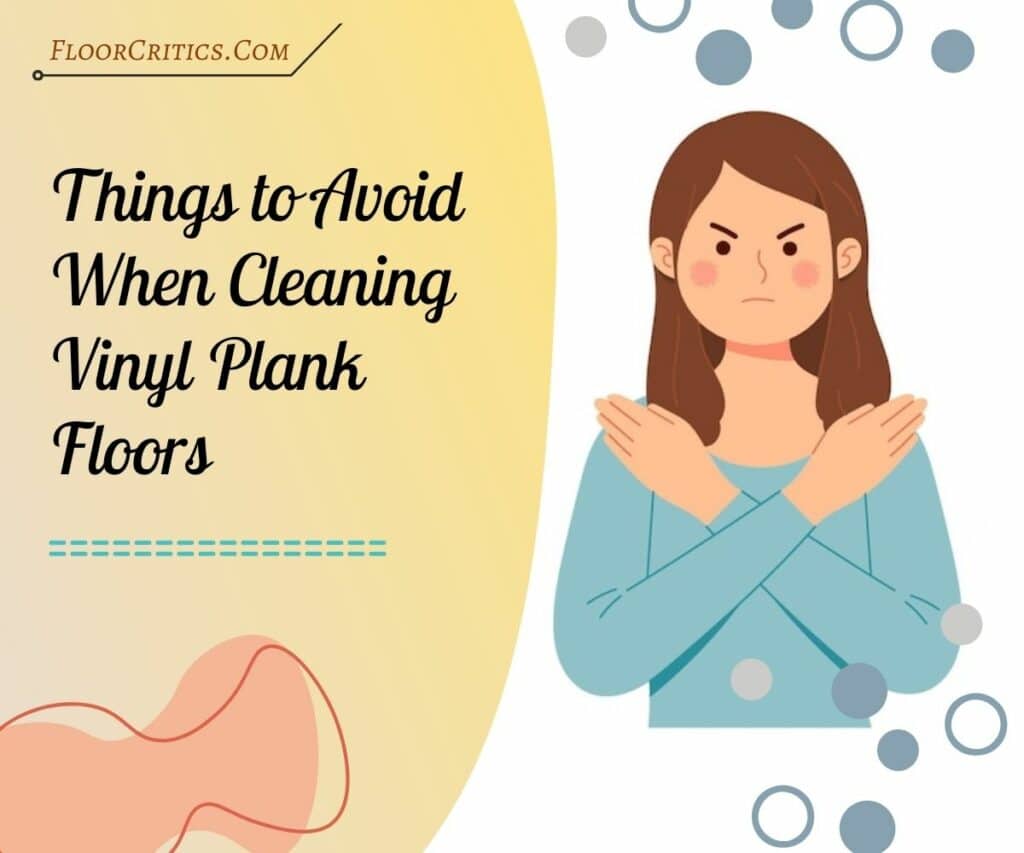 We've mentioned a lot of things that you should use on your vinyl floor, but you should also be aware of the things that you should avoid. These include the following:
1. Mop and Shine Products, Abrasive Cleaners, and Detergents
Using these products can leave a dull film on your vinyl floor.
2. Steam Mopping
Steam cleaning is good for carpets, but they are not designed for vinyl floors. Excessive moisture and hot temperatures can penetrate the planks' seams which will cause warping, bending, and loosening up of the glue holding them together. It can even void your warranty.
3. Highly-Abrasive Cleaning Tools
Rough materials like abrasive sponges and steel wool can scratch the protective coating of your flooring which will leave it vulnerable to damage.
4. Solvent-Based Polishes and Wax
Vinyl planks are already coated with polyurethane that protects their surfaces. Using solvent-based polishes and waxes can damage the coating and leave a dull build-up. Waxing can also leave a sticky residue that will become a magnet for dirt.
5. Ammonia
Ammonia is corrosive and will strip off the finish of vinyl floors making them look faded or dull. Using dishwashing liquid and water is still a safer option if you really need a deeper cleaning.
6. Too Much Baby Oil
Some websites, including us, have recommended the use of baby oil to add extra shine to your floor. However, make sure not to use too much as it can make your floor slippery and leave streaks because it's not completely soluble.
Also Read: How to Clean Linoleum Floors
Preventive Vinyl Flooring Care Tips: Dos and Dont's on How to Care For Vinyl Plank Flooring
As with any surface, how you clean your vinyl plank flooring will make a difference! Here's what to do and not to do when it comes to cleaning vinyl floors.
Dos
Use a pH-neutral cleaner and warm water when diluting your floor cleaners.
It is important to keep vinyl flooring clean. Sweep or vacuum regularly to remove any dust or dirt that may cause damage over time.
Spills should be cleaned up immediately so they don't have a chance to soak in and cause staining.
Furniture pads are a great way to prevent any damage to your vinyl plank flooring. Place them under all of your heavy furniture, especially chairs and sofas, which can cause indentations over time. Also, try not to buy furniture with rollers.
Another great way to protect your vinyl floors is by using doormats at every entrance to your home. This will help keep dirt and debris from getting on your floors.
Use non-slip mats and rugs in high-traffic areas.
Take your shoes off to limit dirt that comes into contact with your flooring.
Vinyl plank floors are sensitive to UV rays which can cause the floors to look dull. It is important to clean and protect your floors as much as possible.
Don'ts
Scrub the floor too hard or use abrasive scrubbers or steel wool.
Clean your vinyl floors with commercial cleaners too often (once per week is best).
Wet mopping, steam mopping, and waxing.
Use cleaners that are too sudsy or contain solvents such as ammonia.
Dragging anything across your floor.
Rubber and latex mats that will cause discoloration.
Using too much water regardless if your vinyl floor is waterproof or not.
Also Read: How to Clean Engineered Hardwood Floors
Expert Vinyl Plank Flooring Care and Maintenance Advice: How to Restore Vinyl Flooring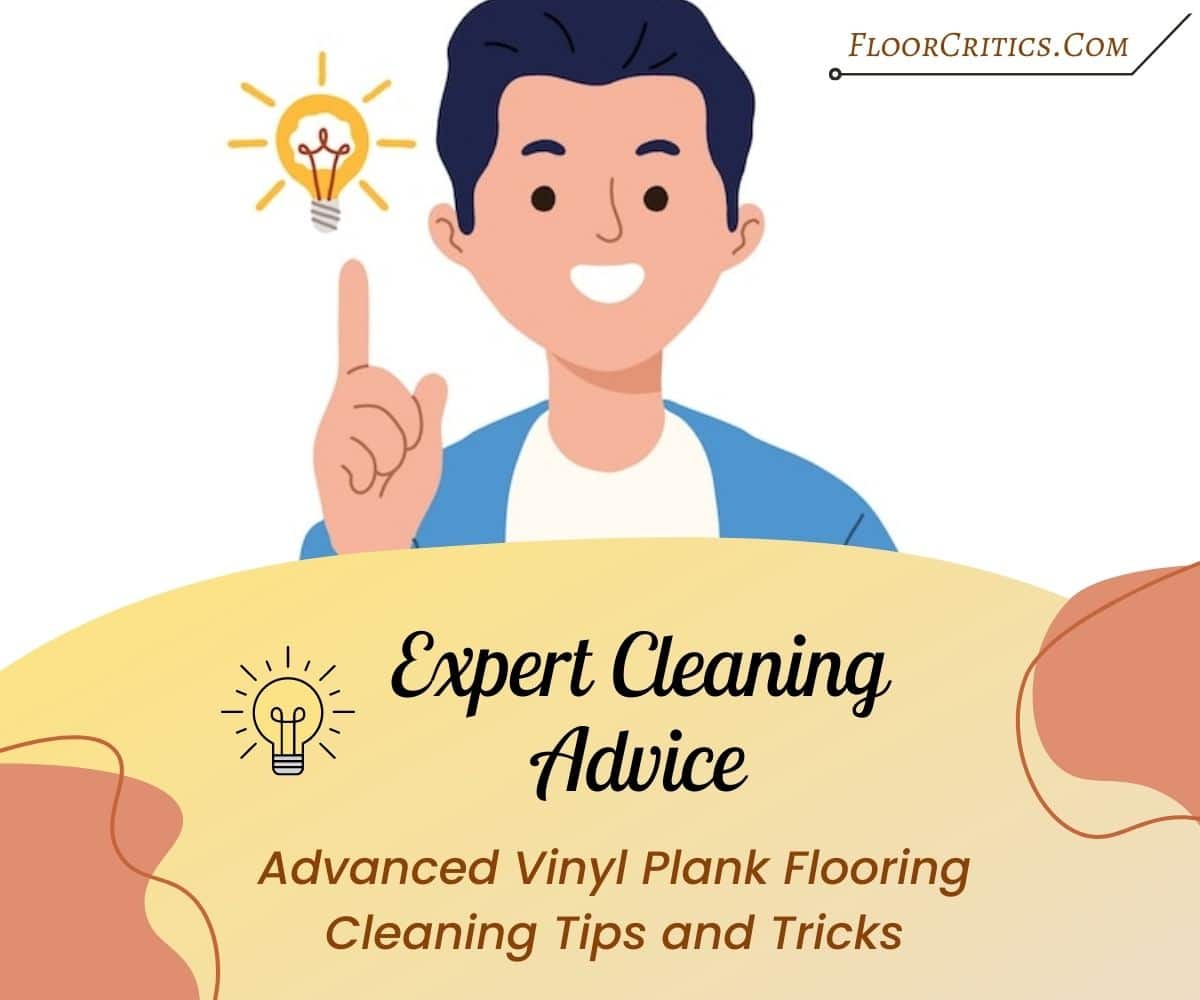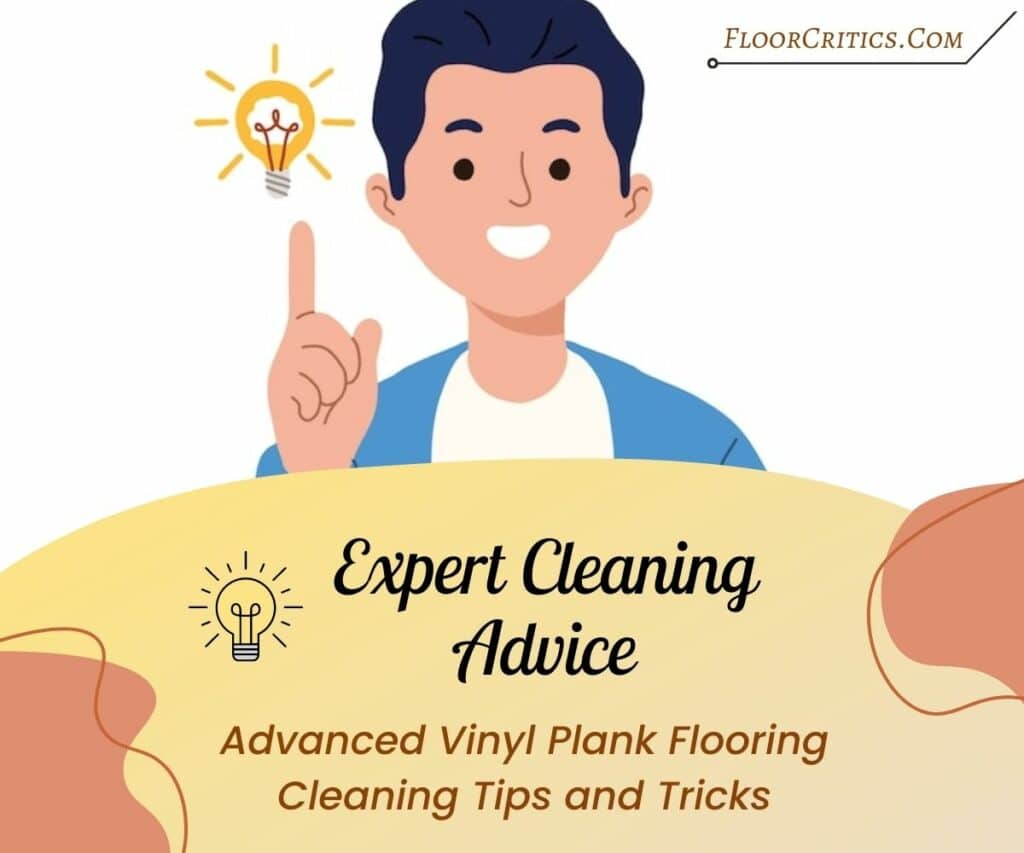 Now that we've gone over how to clean your vinyl plank floors with some simple tools, it's time to move on to the more strenuous solutions. Below are our expert tips to follow so you can keep your vinyl plank flooring looking great for decades.
How to Fix Scratches and Scuffs on Vinyl Plank Flooring
If you have any scratches or scuffs on your vinyl plank flooring, there are a few ways to fix them.
You can try using a Mr. Clean Magic Eraser for small scuffs. Wet the eraser and rub it over the scratch or scuff until it is gone.
Spot-clean scuffs gently using WD-40 or olive oil by adding some to a soft cloth and directly rubbing it on the affected areas. You can clean the oily residue left with a diluted vinegar solution.
Gently buff the scuff out using a melamine sponge.
Another option for fine a scratch is to use a toothbrush and some nail polish remover. Dip the toothbrush in the nail polish remover and rub it over the scratch to remove it.
If none of the above options worked, you may need to use fine grit sandpaper (360 and above) on your vinyl plank flooring. Be sure not to get too close to the color though! If you're still having difficulties, the scratches may be deep and the vinyl plank may need to be replaced.
How to Make Vinyl Plank Floors Shine: Using Polish for No Wax Vinyl Floors
Vinyl floors are easy to clean, but it can be difficult to get them truly looking their best.
Mopping should be able to help in making your floor shiny again since vinyl planks already have a top coating on them. But if you want more ideas, here are some of the best vinyl plank flooring polish products and ways to get your vinyl floor to shine:
Use Murphy's Oil Soap diluted with warm water (about ½ cup of soap to one gallon of water). Then add a few drops of baby oil. Wipe the floor down and let it sit for about 15 minutes before rinsing well. Be sure not to saturate the floor with cleaner, as this could damage the vinyl.
For a streak-free shine, use a commercial polish for vinyl floors and a vinyl floor cloth to buff the floors in a circular motion. This will help remove any streaks or marks and give your vinyl plank floors a shine!
Note that if your floors are really dirty or have any wax build-up, you may need to strip them first using a strong cleaner.
How to Remove Stains from Vinyl Floors
For stubborn stains that normal damp-mopping can't remove, you can get rid of them using baking soda paste, diluted bleach, or rubbing alcohol. As always, be sure to rinse the floor and mop with clean water to remove any traces of residue after removing the stain
1. Baking Soda Paste for Removing Food Stains
Baking soda paste is perfect for stubborn stains. If you have any stubborn food stains like ketchup or mustard on your vinyl plank flooring, baking soda paste is a great solution.
Just mix three parts of water with one part of baking soda until the mixture forms a thick paste.
Apply it to the stain and let it sit for about 10-15 minutes before scrubbing away with a wet soft rug or sponge.
2. Rubbing Alcohol
You can use rubbing alcohol to remove stains from lipstick, hair dye, and ink.
Apply rubbing alcohol to a cotton ball or cloth and dab at the stain until it's gone.
Be sure to test this method in an inconspicuous area before using it on the actual stain, as some types of ink may be colorfast.
3. Bleach (Your Last Resort)
Most vinyl plank manufacturers do not recommend bleach because it is a harsh cleaner that can damage to planks' finish and lead to corrosion. However, we have found that Mohawk does recommend spot cleaning stains using a diluted bleach solution (10 parts water and 1 part bleach).
Also, a lot of people who tried the right mixture said that bleach does a good job in getting rid of stains even if they use it all the time. For instance, the video below said that bleach is safe as long as it doesn't touch anything aside from your floor like your furniture:
The tutorial video recommends a mixture of 1 teaspoon of bleach and 1 gallon of water. But, some have used more than a teaspoon like ⅕ cup of bleach and 1 bucket of hot water mixed with a drop of scented dishwashing liquid which seemed to work great.
Just follow the steps below:
Soak a clean white rug in the bleach solution, wring it out, and set it on top of the stain.
If after a few minutes the stain is still there, try covering the wet rug on the affected area with a plastic wrap and leave it overnight. This will create an air-tight seal and prevent the substance from evaporating.
Wipe the stain off. You might need to scrub it a little to fully get rid of the stain.
Things to Note When Using Bleach
If you have light-colored flooring or are worried about yellowing, use less bleach.
Don't use the solution in areas where you are using other types of cleaning products or mix it with other cleaners to avoid any issues.
Better wear rubber gloves and a face mask and open all windows before applying the solution as bleach can release toxic fumes.
Using too much bleach can erode the wear layer of your vinyl floor and cause flaking. This damage is irreparable and you will need to replace your flooring.
Only use bleach if other alternative methods didn't work for you.
Specialty Vinyl Flooring Cleaning Advice
How to Clean Pet Urine From Vinyl Plank Flooring
1. Wear gloves and blot up the urine using clean paper towels.
2. Use an enzyme cleaner and follow the instructions that came with your product.
3. Remove the enzyme cleaner residue using an old rug.

To remove pet stains, follow these steps:
1. Clean the area.
2. Mix ½ cup of vinegar, 1 gallon of warm water, and a few drops of dishwashing liquid.
3. Gently scrub the solution on the stain using a soft-bristled brush.
4. Rinse the area with clean water.
How to Deep Clean Vinyl Floors
1. Dry mop or vacuum your floor.
2. Mix 1 cup of white vinegar or apple cider vinegar with 1 gallon of water in a bucket.
3. Use a microfiber mop to clean your floor using the solution.
4. Rinse your floor after.
How to Disinfect Vinyl Floors
Use the same vinegar solution we've mentioned above.
How to Clean No Wax Vinyl Floors
1. Dust mop your floor before damp mopping with plain water.
2. You can use a pH-neutral cleaner or a no wax vinyl floor cleaner to spruce up your floor.
3. If your floor really needs a deeper cleaning, find cleaners that are below 8 or 9 on the pH scale.

Note: Generally, no-wax vinyl floors don't need as much effort as traditional vinyl floors because you don't need to wax or buff them as they already have a coating applied on them.
How to Get Rid of Footprints on Vinyl Plank Flooring
1. Mix 1 gallon of warm water, ½ cup of vinegar, and a few drops of dish detergent.
2. You can also mop with recommended vinyl plank floor cleaners and dry with a microfiber cloth immediately.

You should know that in most cases, the common cause of footprints that are hard to remove on vinyl floors is using specific types of cleaners that contain oils and wax. These can make footprints (along with shoe prints, paw prints, and fingerprints) visible overtime after mopping your floor.

Also, it depends on the brand and finish of your flooring. Matte finishes tend to show footprints more and some products from vinyl plank brands (such as COREtec and Shaw) show footprints easily which a lot of users are complaining about.
Best Way to Clean Textured Vinyl Flooring
1. Remove dirt using a vacuum or a dry mop.
2. Use the vinegar, warm water, and dish detergent solution we've mentioned earlier to mop your floor.

Note: Textured vinyl floors are more susceptible to mud, grease, and dirt as well as particles left on them after cleaning. Since they have an irregular surface, it is easier for contaminants to get stuck in the pits.
How to Clean White Vinyl Floors
Cleaning white vinyl floors is the same as cleaning other types of vinyl floors. However, using strong or acidic cleaners such as bleach can cause yellowing to light-colored vinyl floors. So if you are going to use any cleaner, better make the solution more dilute.
Also Read: How to Clean Concrete Floors
Professional LVP Floor Cleaning Advice
If you don't have time to clean your vinyl floors or if they are extra dirty, there are professional floor cleaning companies that can help. These companies use specialized equipment and solutions to get your floors looking their best.
Some of the most popular professional floor cleaning companies include:
Each of these companies offers a variety of services, so be sure to find the one that best meets your needs. They can help with everything from deep cleaning vinyl floors to wax removal and furniture moving.
Vinyl floor cleaning is typically charged by room and you can expect a minimum charge of $100 to $150 per room. If you would like an instant flooring cleaning quote, contact one of our preferred vendors.
FAQ's on How to Clean Vinyl Plank Flooring
What Is the Best Broom for Vinyl Plank Floors?
You can use any household broom to sweep very large debris from vinyl floors. But, brooms with microfiber dusting pads will do better.

What Should You Not Clean Vinyl Plank Flooring With?
Do not use mop and shine products, ammonia-based cleaners, steam mops, or vinyl wax as they can damage the vinyl. Instead, use a soap and water solution or a commercial floor cleaner. Abrasive cleaning tools like steel wool and sponges are also not recommended as they can scratch your flooring.

Will Vinegar Damage Vinyl Floors?
Although there are vinyl plank brands that do not allow the use of vinegar as a cleaner for their products, a lot of people seem to find it effective. In fact, diluted vinegar (white vinegar or apple cider vinegar) is a popular vinyl floor cleaning solution and is okay for most vinyl floor brands. It does a great job in disinfecting your floor and dissolving stubborn dirt, grime, and grease.

However, you need to use the right mixture to avoid damaging the top surface of your floor. Mixing 1 gallon of warm water with 1 cup of vinegar would be the best proportion. Also, only use it occasionally to avoid dulling.

Can You Use a Swiffer Mop on Vinyl Plank Flooring?
Yes, Swiffer (including Swiffer WetJet) is safe to use on vinyl plank floors. In fact, it is one of the best mops for vinyl planks. The mop (paired with an appropriate cleaning solution) is non-abrasive so it won't damage the surface and will effectively remove dust, dirt, grease, and stains. It is a quick and easy solution to clean vinyl plank floors and the cleaning pads are disposable.

Note: Swiffer WetJet is safe to use on sealed vinyl flooring but always make sure to mop up excess liquid right after cleaning and don't use abrasive cleaners with it.

Can I Use Pine Sol for Vinyl Plank Flooring?
You might have read about Pine-Sol being safe for vinyl floors as long as you only use multi-surface cleaner options and that you dilute the solution properly to avoid damaging your floor.

However, although you can indeed use Pine-Sol, it is NOT approved for vinyl floors as it may cause discoloration as well as cause an oily and sticky texture over time. Too much usage can also break down the flooring's material and lead to cracks and degradation. It can even leave streaks and cause dulling.

Can You Wax Vinyl Plank Flooring?
No, luxury vinyl flooring does not need waxing as it has a clear polyurethane coating which wax will not adhere to. In fact, solvent-based polishes and waxes can damage your flooring's topcoat and cause dulling. Instead, vinyl floors can benefit from an acrylic finish.

Can You Vacuum Vinyl Plank Flooring?
We recommend vacuuming your vinyl plank floors daily to remove surface dirt that can damage your flooring. Vacuuming makes cleaning cracks and gaps easier than just simply sweeping your floor.

However, make sure to turn off the vacuum's rotating brush or beater bar by choosing the hard floor setting on the device to avoid scratching your floor.

Can You Use Bleach on Vinyl Floors?
You can use bleach on vinyl floors but you need to take precautions as improperly diluted bleach can erode the planks' wear layers and cause them to flake off.

A mixture of ⅕ cup of bleach and ½ bucket of hot water should work. But if you have white or lighter floors, dilute the mixture more. You can also add a drop of dishwashing liquid if you want.
Final Thoughts
We hope you found this guide on how to clean vinyl plank flooring helpful. Remember, although vinyl plank floors are durable and can stand up to any damage, using inappropriate cleaning methods can harm your floor.
Ensuring that you're using the right methods and products can help you save on expensive repairs and replacements. If you have vinyl plank flooring in your home and would like to share some tips on how you care for your LVP floors, be sure to leave a comment below.
Back to Top