Our expert editors independently review, test, and recommend products to help you make an informed decision. We may earn commissions on purchases made from our product links.
Welcome to our guide on how to clean vinyl plank flooring.
One of the key advantages of vinyl flooring is that it is easy to clean and maintain. Vinyl plank flooring is actually one of the lowest maintenance flooring types you can install in your home.
What is the best way to clean vinyl plank flooring?
You can handle most jobs by following the three simple steps below.
Use a dry mop to collect easy to pick up dirt and dust off the floor. If you have not cleaned your floor in a while, a vacuum (without a beater bar) can be used.
Look for areas that have stains and create a mixture of warm water and dish detergent or mix one gallon of hot water with one cup of apple cider vinegar. Dip a soft bristled brush in the mixture and scrub the area.
Go back over the floor with a clean wet mop to get all of the extra soap and vinegar off of your vinyl plank floor.
What should you use to clean vinyl plank flooring?
You will need a combination of the following tools and ingredients. Luckily, most of you will already have these handy.
Mop and Vacuum for Vinyl Floors
As far as mops and vacuums go, you should be using one daily to upkeep your vinyl plank floor. When you're using a product that often, it needs to be good.
If you're more old school and sweeping is therapeutic, the Spot Less Flat Floor Mop will attract any dust and hair on your floor. Our experts found it to be the best mop for vinyl floors due its dual chamber so it can be used as a dry or wet mop. In addition it comes with five cleaning pads!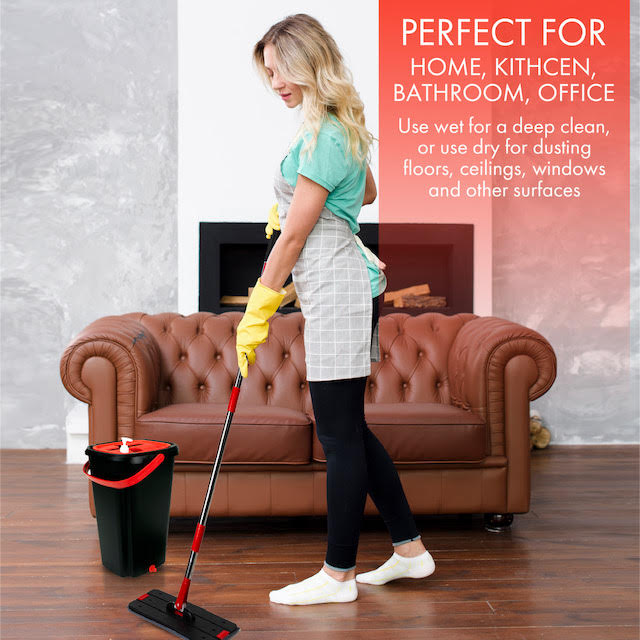 If the hum of a vacuum is music to your ears, the Shark Navigator is our recommendation for the best vacuum for vinyl plank floors. Pro-tip: invest in a quality vacuum built for dealing with pet hair if you have dogs or cats, you won't regret it.
Cleaning Solutions for Vinyl Floors
You can create your own cleaning solution by mixing one gallon of hot water with one cup of apple cider vinegar.
If you prefer to purchase a cleaning solution, the Bona Hard-Surface Floor Cleaner is an excellent choice for vinyl floors. This product meets the EPA Safer Choice standard.
What should you not use on vinyl plank flooring?
Before doing anything to your floors other than vacuuming and sweeping, it's a safe bet to go and read your floor warranty for floor specifics to ensure you do not void it. You'll be able to look up exactly what cleaning products your manufacturer suggests to use so you get the most out of your vinyl plank floors.
Below are some things you should avoid when cleaning vinyl plank flooring:
Avoid steam cleaning vinyl plank flooring. Your LVP is built tough, and while the material is waterproof, it's not meant to withstand steam.
Don't use vinyl wax. The vinyl plank flooring already has a layer of protective material and could eat away at the coating.
Ammonia-based solutions can cause your floor to crack
Be wary of any abrasive cleaners as they are leave a film on your floors and make them look dull
Any overly wet mop can affect the glue holding the floor down
How to make vinyl plank floors shine
Getting your vinyl floor to shine is relatively simple. You can create one of the following solutions to help shine up your floor.
Mix one part rubbing alcohol (70% or 91%) with four parts distilled water which helps eliminate hard water stains and streaking
Add 50 grams of baking soda to warm water, mix together, and apply
Mix one gallon of hot water with one cup of apple cider vinegar and add a few drops of baby oil
Vinyl plank floors are sensitive to UV rays and harsh chemicals which can cause the floors to look dull. It is important to clean and protect your floors as much as possible.
How to remove stains from vinyl floors
The most important thing you can do to prevent a stain is to clean it up as soon as possible.
Equally as important is to use the correct type of cleaning solution for the type of stain you are dealing with.
Wine, ketchup, sauce stains: use a baking soda and water mixture
Ink from pens and markers or beauty products: use a rubbing alcohol and distilled water mix
Nail polish: use a cotton ball or soft cloth with nail polish remover
If you have a really tough stain, bleach can be tried as a last resort. Note that this may damage your floor so proceed with caution.
What is the best vinyl floor cleaner?
Our top 3 choices for the best vinyl floor cleaner are below. These cleaning products are safe for vinyl planks.
The best cleaner for vinyl plank flooring is a mixture of apple cider vinegar in a gallon of warm water. Vinegar is a natural disinfectant that removes grime and dirt easily. The benefit of using vinegar to clean your vinyl floors is that it doesn't leave behind soap residue, which means it won't leave behind unsightly streaks on your floor. Since vinegar is a natural cleaning aid, it won't destroy the integrity of your vinyl plank flooring.
How often should you clean vinyl floors?
Flooring is a large investment and it is very important to care and protect your floor. Follow the simple schedule below to keep your floors looking great.
ASAP: Cleaning stains
Daily: sweeping and vacuuming
Twice a month: wet or deep cleaning
How to fix scratches and scuffs on vinyl plank flooring
For light scratches, use a melamine floor pad (open-cell polymeric foam) and repeatedly buff the scratches until it comes out. Alternatively, you can try to use a dab of olive oil while buffing.
For deeper scratches, clean the surface area and use a fine grit sandpaper to sand the affected area. You can follow using a medium grit sandpaper. Ensure not to press too hard and frequently check the area to see if it feels level.
How to clean vinyl floors with natural methods
The easiest way is to create a mixture of warm water and dish detergent or mix one gallon of hot water with one cup of apple cider vinegar. You can then dip your mop into the solution and clean your vinyl floors.
An effective method to get acidic stains out is to mix water and baking soda. Once the mixture is in a paste-like consistency, rub it on the floors with a soft towel.
Also, note that many products you can purchase online are becoming more environmentally friendly and are free of parabens, formaldehyde, ammonia, phthalates, phosphates, and gluten.
How to clean vinyl floors with ground in dirt
Ground in first can be difficult to get out fully especially if your planks are uneven or have small gaps. The best method is to use a professional grade cleaner like Bona Hard-Surface Floor Cleaner and gently scrub the floor with a soft brush or towel until the dirt loosens.
Vinyl floor maintenance tips
Though these tips aren't specifically related to cleaning, they're vital to increasing the longevity of your floors. You'll want to keep these tips in mind when living with luxury vinyl plank flooring.
Do:
Keep your furniture on felt pads to avoid scratches if they're moved across the floor
Put down plywood when you need to roll large items into your home, like a new couch or fridge
Use a soft cloth or a nylon bristle brush to get stuck on stains off of your floors
Use a floor mat near all doors
Don't:
Buy furniture with rollers because these will scratch your floor (unless the furniture is on an extra large area rug of some sort)
Don't assume that your floors can handle the impact of large items being dragged across the floor because spoiler alert: they can't
Use a knife or an abrasive cleaner to scrub away any stains because you'll end up scrubbing away the laminate top of your vinyl plank along with it.
Apply vinyl wax, vinyl plank flooring already has a layer of protective material and could eat away at the coating
Use ammonia based cleaning solutions
How much does professional floor cleaning cost?
Residential floor cleaning is typically charged by room and you can expect a minimum charge of $100 to $150 per room. Companies such as ServiceMaster or Coit are options you can consider.
FAQ
Can you use a Swiffer on vinyl plank flooring?
Yes, a Swiffer is a very easy and effective way to clean vinyl flooring. It is non-abrasive so will not damage your LVP flooring.

Is Murphy Oil soap good for vinyl floors?
Yes, Murphy Oil is a good choice for clean vinyl floors. If it is diluted properly, it will not leave a residue.

Is Bona vinyl floor cleaner good?
Yes, the Bona floor cleaner is a highly rated product that does a great job cleaning vinyl flooring. It has a streak-free and residue-free formula and an added benefit is that the spray bottle is refillable.

Is white vinegar safe for vinyl floors?
Yes, it is safe for vinyl flooring. But vinegar should not be used on hardwood, no-wax floors, and unsealed grout.

Can you use a steam mop on vinyl plank flooring?
No, a steam mop should not be used on vinyl plank flooring as it can damage the adhesive and cause moisture damage.

Does vinyl need wax?
No, luxury vinyl flooring does not need wax as it has a clear polyurethane coating which wax will not adhere to.
More floor cleaning tips
We hope you found this guide on how to clean vinyl plank flooring helpful. Here are some of our other cleaning guies we think you may like.
If you have vinyl plank in your home and would like to share some tips on how you care for your LVP floors, be sure to leave a comment below.
Back to Top