Have you noticed that some floors in your home are more susceptible to dirt and debris? Is keeping up with the cleaning in those high-traffic areas presenting quite a challenge? Many homeowners facing the same problem are choosing to upgrade floors in their high-traffic spaces to brick flooring.
Have you looked at your face-brick walls and wondered how that look and durability would translate to your floors? Perhaps you've seen brick tile floors in a home renovating catalog and thought it was something you could get used to.
Bricks have been used as earthen building blocks for thousands of years. But just how much thought have you given to brick tiles for your floors? Read my guide below on brick flooring and why it's become even more popular in modern homes.
What Are Brick Tiles?
Brick tiles, sometimes called brick veneers or brick slips, refers to thin slivers of regular brick that can be used as ceramic tiles. Made with clay, concrete, or calcium-silicate, these tiles are usually rectangular-shaped.
Why Is Brick Flooring So Popular?
Brick flooring is becoming popular because of the durability it offers. High-traffic areas connecting to outdoor spaces are the perfect places for brick flooring. Aside from the durability, it's also a great way to downplay tracked-in dirt.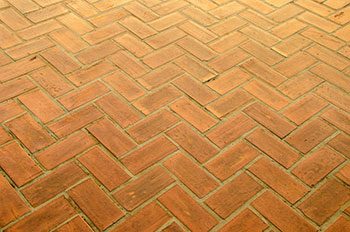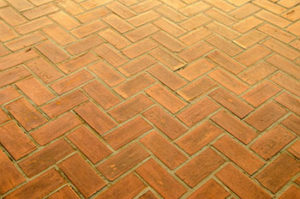 How much do you know about brick flooring? What is the cost of brick tiles? Read on to find out if brick flooring is the alternative you've been looking for.
Types Of Brick Flooring
Brick flooring is available in three different types, which include the following:

Pavers
Generally, flooring bricks are referred to as pavers. Standard thickness averages between 1¼" to 1⅜" and is made using thinner construction-grade materials. Pavers are ideal for flooring because they don't raise the level of the floor. They also place remarkably less weight on the lower subfloor.
Since pavers are fired at a higher temperature than construction-grade bricks, they become resistant to moisture. This "overburning process" also makes the surface material more resistant to wear.

Engineering Bricks
With a standard size of 7 ⅝" x 3 ⅝" x 2¼", these are typically the bricks used in the construction of buildings. Because of their size, they'll raise the level of your floor and will add extra weight to your subfloor. This might ultimately damage your subfloor.
Despite being resistant to stains, these types of bricks might be susceptible to water damage if they're not sealed properly. This will lead to erosion and pits forming in the floor over time.

Recycled Brick Flooring
If you like the aesthetic appeal of old, weathered bricks this might be an option to consider. A new flooring installation could take years to develop that weathered look. Instead of waiting for that to happen, you can get that weathered charm immediately by installing reclaimed brick flooring.
In most instances, these bricks are taken from old houses or apartment buildings. This process is eco-friendly since it doesn't require new materials to be used in the manufacturing process. However, this option can be more expensive than buying new brick tiles.
Brick Tiles Have Different Uses
Brick tiles are versatile. They can be used for several purposes around the home. The most common is brick flooring in high-traffic areas such as the laundry, kitchen, or patio area.
Another common use for brick tile is using it as a backsplash against the wall where your stove stands. Since brick tiles are cheaper than both ceramic and marble tiles, it's becoming a popular choice among homeowners not only for floors but for wall spaces as well. As long as there's a wall surface or subfloor to lay the tiles on, installation should be a breeze.
Installation Is Easier Than You Think
There isn't much difference between installing brick tiles and installing regular tiles. It only takes nine easy steps to have your high-traffic area totally transformed. Read on to see just how easy it is.

Step 1: Level And Clean The Subfloor
The first step in installing brick flooring is leveling and cleaning the subfloor. It's also important to ensure the subfloor is sturdy enough to carry the weight of the bricks. The last thing you want is your new flooring to sag or dip because the subfloor is damaged or hasn't been prepared correctly.

Step 2: Locate The Center Point Of The Room
Knowing where the center point of the room is will ensure you lay the tiles straight, as it will be difficult to restructure them once they're down. An easy way to find the center is to identify your main wall. This wall forms your focus point in the room. Consider this as your base wall to work from.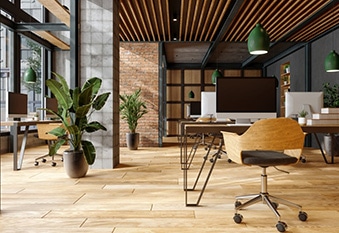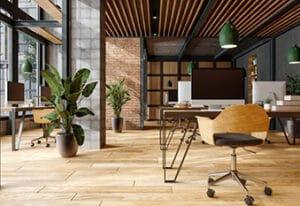 Now measure 3 inches out from your main wall at both ends and draw a chalk line between these two marks. Then measure the length of the wall and divide it by two to determine the center and mark that with chalk as well.
Draw a line that's perpendicular to the line that's parallel to the base wall. Start at the center mark and and draw a line toward the middle of the room. You now have a chalk line that bisects the room from wall to wall. Measure this bisect line and divide it by two to establish the center of the room. Make a mark on the floor so you know exactly where the room's center is when installing your bricks.
It'll now be easier to calculate the number of tiles needed. You'll also know how many tiles need to be cut to fit in the smaller spaces. Always buy a few extra tiles to fit into the smaller spaces on your floor.

Step 3: Mix The Thin-Set Mortar
Once you have your tiles laid out and measured correctly, it's time to mix your mortar. Mortar should be mixed to the consistency of toothpaste. Ideally, you don't want to mix more than you can apply in 20 minutes.
Mortar is very dusty, so it's best to mix it outside. Ensure the room has sufficient ventilation while you're laying the tiles. It will help the mortar and grout dry properly. For mixing, follow the instructions on the mortar packaging.

Step 4: Apply The Mortar
Use a manufacturer-approved mortar tool to spread the mortar. Holding the trowel tool at a 45° angle will enable you to produce a leveled bed of mortar with enough grooves to keep the bricks in place. Remember to work relatively quickly as you don't want the mortar to dry out between spreadings.

Step 5: Lay The First Brick
Start laying the bricks from the center of the room. Press firmly and twist the bricks slightly to set them securely in the mortar. Use a basket weave pattern when laying down your tiles.
The pattern will make it easier to keep the bricks in place. Use small plastic spacers to ensure the bricks are evenly spaced. Ensure you buy a lot of these spacers so you have enough when laying down your tiles. Leave the spacers in until the floor is completely finished and dry.
Plan ahead and have patience. As eager as you'll be to get the job finished and view your handiwork and your new floor, rushing the job will leave you with tiles that aren't installed correctly.

Step 6: Cut The Bricks To Size
Depending on the layout of the floor, some bricks might have to be cut smaller. This will probably also be necessary for the corners. Cutting the bricks is best done with a wet saw since it features a diamond-lodged blade cooled by cold water.
Doing this provides a smooth and even edge. If you need to cut out a corner notch to fit your wall space, simply raise one of the bricks as you push it toward the corner you've already cut. This should give you a precise square notch.

Step 7: Apply The Sealer
It's important to apply a sealer to bricks so that they don't absorb too much moisture from the grout. To do this, use a paintbrush, sprayer, or short-nap roller. The bricks need to cure for about 24 hours before use. When buying the supplies, be sure to ask the store for the correct sealant for your type of bricks.

Step 8: Apply The Grout
If you've ever installed tiles, you'll be familiar with this next step. Simply use a rubber grout float to push as much grout out and into the joints as possible. It's easier if you hold the float at a 45° angle to the grout lines you placed earlier.

Step 9: Clean The Bricks
Once you've applied a section of the grout, it's best to allow it to cure for several minutes. Use a clean, soft sponge to wipe down excess grout. Rinse the sponge for the next section. Don't use the sponge without rinsing it off because it will spread the grout over your tiles and it will be more difficult to clean.
If the bricks still have excess grout or grout marks on them, give them another once over with the sponge. Wait a few minutes for the grout to dry. Buff off any hardened grout residue that has formed on the set bricks.
I also recommend following the instructions on the grout packaging to ensure the grout cures properly. When grout doesn't cure properly, you'll be left with loose bricks and a messy mortar, which will involve starting the process all over again!
The Cost Of Brick Flooring
One of the first questions homeowners ask when considering this option is, "What does brick flooring cost?" Depending on the quantity required, brand, and type, brick flooring can be cheaper than most other flooring options.
On average, brick flooring will cost you less than $11 per square foot. Other flooring options like marble can cost as much as $20 per square foot. This makes brick flooring a much more economical option.
That doesn't include installation of course. But if you're up for a DIY project, you can easily install your own brick floors. On average, you would expect to pay an additional $4 to $8 per square foot for professional installation.
You can also check with the stores or manufacturers you purchase the product from, to see if they can recommend local installers with experience in installing their products.
Brick Tiles Are Available In A Variety Of Colors And Designs
Brick flooring comes in a host of different colors and designs. The normal rectangular terracotta brick that we all know has been drastically recreated in a variety of designs and sizes. It's no longer simply a building brick!
Another fun feature of these bricks is that you can easily buy different colors and designs and mix and match them to make your own unique pattern for your floors. Standard colors range from light tan to ruby red and even charcoal. For the more adventurous homeowner, bricks can be dyed in an assortment of colors such as blue, green, and black.
The texture of these bricks can also be varied to add a different look and feel to your floors. Bricks can be polished, ribbed, rough, or even mottled. It's important to note that the rougher textures won't be as comfortable under your feet. But it's nothing a small, well-placed rug can't fix.
Cleaning And Maintaining Brick Floors
Once your brick flooring has been installed, it's easy to maintain them. Unlike vinyl or wood floors, brick slips don't need a protective coating. You can leave them with their natural look or you could paint them in your preferred color.
To clean brick floors, simply sweep or dust. Areas with no major dirt can be wiped down with a wet cloth or mop. For more thorough cleaning, scrub with warm water and detergent. Air the area out to dry and your brick floors will look good as new!
The Advantages Of Brick Flooring
Another reason brick flooring is gaining so much popularity with homeowners needing to upgrade their floors is the many advantages they have. Let's look at several of them:
Brick pavers are easy to install
Exposed brickwork adds a sense of warmth and ambiance to the space
A variety of colors and styles means you're guaranteed to find tiles suited to your decor
They're easy to maintain and clean
Their lightweight, which means they can be installed on different surfaces
Bricks retain warmth, turning an ordinarily cold room into a warmer space if there's exposure to the sun during the day
Suitable for indoors and outdoors
Much lower cost than other flooring options such as marble, wood, and ceramic
Unless polished, bricks are also slip-resistant
FAQs
Are Brick Floors Cheaper Than Wood Or Ceramic Tiles?
In general, brick pavers typically cost between $5 and $11 per square foot. Depending on the brand, store, and type, you could find brick tiles at a low price of $3 per square foot. But make sure you're not sacrificing quality for a bargain price!
Pavers are also considerably less expensive than ceramic tiles or even natural stone installations.

Can I Use Brick Tiles Inside As Well As Outside?
Yes, you can! Brick tiles can easily be applied to any pre-existing floor, wall, or surface. This applies to both indoors and outdoors. As long as there is a concrete surface on which to place the tiles, you're good to go. This means you can install them in your outdoor entertainment area easily.

What Is The Best Way To Clean Brick Floors?
To keep your brick floor tiles clean, simply vacuum or sweep them daily to remove grit and dirt. No special broom is required, and if you prefer to vacuum, use a machine set for hard floors. Be sure to check the mortar and grout between the bricks as this is where the most dirt and dust tend to accumulate.
Washing requires a mop, warm water, and a mild detergent. Simply mop the floor with the soap solution and allow it to air dry.

Can I Use Brick Flooring Throughout My House?
Brick floor tiles are a great option because of their durability. However, they aren't very comfortable on your feet. Standing for extended periods in a kitchen laid out with brick flooring can become uncomfortable if you have selected the rough finish.
Therefore, if you're going to install brick flooring in areas other than your laundry or patio, you might want to consider getting a few throw rugs so the flooring is more comfortable to walk on. A few rugs placed in the spots where you stand for long periods of time will provide more comfort for your feet.
Final Thoughts
Brick flooring is both durable and versatile. Upgrading your dated and old high-traffic floor areas to some quality brick tiles will ease the burden of cleaning and maintenance. It'll also add a rustic aesthetic to your decor. I find that these types of floors add warmth and ambiance to those often neglected spaces.
With brick flooring costing considerably less than marble, laminate, or ceramic, it's probably the most economical way to give your floors a new lease on life!
If you have any comments or firsthand experiences with brick flooring, please post them below or share your pictures via our social media. 
Back to Top