When you are undertaking a home improvement project, every penny counts. And in the case of the humble penny floor, this phrase becomes quite literal. Those who are searching for a truly unique-looking floor that can be easily DIYed without breaking the bank find what they are looking for in penny floors.
What could be more retro, bespoke, and unique than a penny-covered floor? Once upon a time, penny flooring was exclusively reserved for the crafters and the—pardon the pun—penny pinchers among us. These days, though, penny flooring is trending everywhere, from commercial spaces to Kat Von D's home.
But before you waste your time and money—and I mean that literally—you should continue reading. Here you'll learn all about the advantages of penny floors, precautions for installation, the cost, legality, and expected lifespan of these types of floors, and the ins and outs of installing them.
I will also be sharing some of the top penny flooring ideas I've come across, so you really are going to find out everything there is to know about this eclectic style of flooring. As the old saying goes, in for a penny, in for a pound.
Advantages Of Penny Flooring
Extremely durable flooring option that holds its own in high-traffic areas
Various installation options to choose from
Can be used in any area, in and outside the home
DIY-friendly endeavor (for the most part)
Infinite design possibilities available
Adds interest and visual appeal to a space
A flooring option that promotes up-cycling, if you use old pennies or those that you find on your own
Disadvantages Of Penny Flooring
While affordable, it is not as cheap as you may expect and can end up costing you more than what the pennies themselves are even worth.
Money aside, every aspect of a penny floor will cost you A LOT in time too.
But is the time it costs worth it? Who am I to decide? I will let you make up your own mind by seeing what penny flooring looks like in real homes around the world.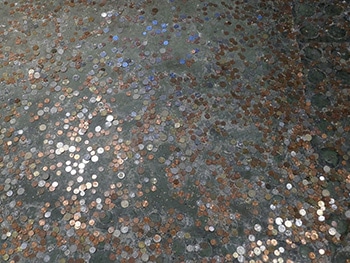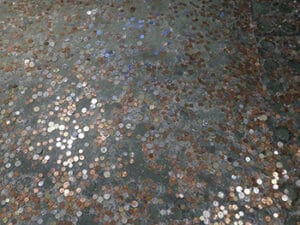 Product Precautions
The only real precautions you need to take while installing a penny floor are those that are associated with other types of flooring. Know that it takes a lot of time and effort to plan, lay out, and complete. If you do not feel you'll be able to dedicate the amount of time needed, don't begin this project in the first place.
Secondly, know that penny floors can be as slippery as hardwood flooring. You should keep this in mind when deciding where to install your penny floor. For example, I wouldn't recommend using this type of flooring around pools.
Also, be sure to follow the necessary safety precautions and don the proper PPE when working with materials like epoxy.
Besides those precautions, making a penny floor is a straightforward process that I encourage anyone to try.

15 Penny Flooring Ideas
You now know all about the advantages and disadvantages of penny flooring, but before you go ahead and make a decision regarding this material, you need to know what it looks like.
Think you know exactly what a penny floor looks like? Think again. Here are 15 penny flooring ideas to show you just how wonderful this style of flooring can be.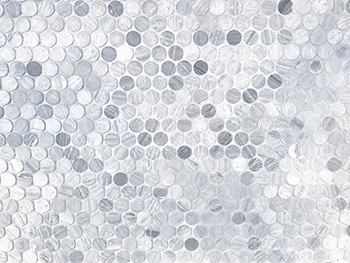 1. 3D Cubic Penny Floor
Next Luxury – This first idea is a great way to show you just how creative you can get with your penny flooring designs. If eye-catching is what you're after, opt for a bold design idea like the one seen here. To avoid looking "too busy," I recommend only using this type of design in smaller spaces such as bars, walkways, closets, or pantries.

2. Moody Office Penny Floor
Concrete Decor – Penny floors are not exclusively reserved for use in bathrooms or bar areas. This charming home office is proof of that. The dark-toned, 44,000-penny floor adds appeal and interest to this space that would otherwise be boring. I also love that, instead of opting for lighter, shinier pennies, the installers used deep, dark pennies to create a moody ambience.
3. Sleek And Shiny Penny Floor For Kitchen
USA Love List – In stark contrast to the image above, the penny floor in this kitchen is shiny, sparkly, and practically glowing. I also think the spotlights on the ceiling reflect perfectly off the floor, making it appear even shinier.

4. Complex Penny Floor Design
MSN – This photograph shows perfectly how complex a pattern pennies can achieve. While I don't even want to know how long it took this woman to color code and sort 7,500 pennies, I will say that the end result is nothing short of astounding. Even though pennies are round by design, this image proves they can be used to create sharp, linear angles with ease.

5. Natural Penny Shower Floor
A Building We Shall Go – While all of the images you have seen so far are nothing short of masterpieces, they are pretty complex and look very clearly man-made. So I thought I would show you that penny flooring can also look quite natural in the right setting, and that is personified by this image. The pennies of this shower floor pair so beautifully with the surrounding stone wall, and the two materials work coherently together. Also, is it just me or does that floor make you think of sandy beaches?

6. Soft And Stunning Penny Bathroom Floor
Our Irish Manor – Again proving that pennies can be used to create incredible patterns is this community bathroom. Although pennies are hard and round, the way in which they're used in this space makes them seem soft and flowing. This is definitely one of my favorite penny floor ideas to date.

7. Snakeskin Penny Floor
Sunflower River – I am in love with the precise pattern and complex design pictured in this community bathroom. Everything about this space just works, from the intricate connective circles to the contrasting tones of the pennies. To me, it looks just like a snakeskin pattern and I cannot get enough of it.

8. Penny Floor Stairway
Josi Ryke Realtor – If you love the look of penny flooring but do not want to commit to covering an entire floor in this unusual material, consider installing pennies on your staircase instead. As you can see here, the pennies look absolutely magnificent without being too overbearing. Personally, I would have covered the steps themselves in pennies too, but that's just me.

9. Pennies In The Bedroom
The Penny Floor Project – Remember when I said that penny floors don't just belong in spaces like that bathroom? Well, why not try this trend out in your bedroom! I'm obsessed with the overall effect here. Not only does the penny floor add texture and dimension, but the colors coupled with the clever lighting evoke the feeling of warmth, which is crazy because pennies are so cold to the touch. Love it!

10. Golden Penny Floor
DIY Thought – 27,000 pennies have never looked so good, right? This penny floor is so reflective and shiny, it almost looks like it's submerged under crystal-clear water. The clever scattering of the pennies also helps this kitchen floor to look gorgeously golden, with just the odd dark penny here and there.

11. Stunning Silver Penny Floor
Next Luxury – If you are really up for trying something different, why not consider creating a penny floor made entirely of silver pennies? As you can see from this shower floor, this works exceptionally well and will fit in with any modern, transitional, industrial, or contemporary bathroom with no problems. These pennies are a little more difficult to get a hold of, but I am sure you will agree that the end justifies the means.

12. The Penny Floor Compass
Patio Supply – If you don't know which direction to go with regards to your penny floor design options, perhaps a more literal approach is what you need. This stunning compass design is breathtaking and is as unique as it is shiny! I love the gold tones and warmth this floor achieves. This is one penny floor idea I can picture in my own home, perhaps under my skylight, without a moment's hesitation.

13. Penny Floor In Small Spaces
Next Luxury – Personally, I think penny floors work exceptionally well in small spaces. Provided the rest of the room is fairly finished in a minimalistic style, of course. Otherwise, it will look too cluttered and the room will appear even smaller. In this picture, you can clearly see how the addition of a penny floor turns this tiny toilet room into an industrial haven.

14. Wavy Penny Floor
Next Luxury – If you are looking for a complicated all-penny pattern to pull off, look no further than this wave-inspired space. The darker pennies look almost black, while the shiny ones look as though they are brand new, and this mix-n-match of new and old works very well. Overall, I love the simple yet complex nature of this design and think it could work anywhere, but specifically in a lounge area or bathroom.

15. A Penny Floor Tree
Next Luxury – Even though the tree is not totally finished in this image, I'm sure your imagination can fill in the blank. I for one am in love with this design and am blown away by how well it works. This would be perfect for children's bedrooms, guest rooms, kitchens, patios, and entryways.
FAQs
How Much Is A Penny Floor Per Square Foot?
Although it is difficult to say for sure, the average penny floor cost per square foot is around $2.50 to $2.78. Approximately 250 pennies make up a single square foot, but I always recommend that you purchase an additional one or two square feet of pennies to make sure you have enough to complete the job, as not every penny looks the same or has the same level of shine.

In addition to the cost of the coins, you will also need to purchase epoxy and mesh or fiberglass sheets for installation.

Is A Penny Floor Illegal?
No, penny floors are not illegal. Using pennies as a building material is perfectly legal. Contrary to popular belief, you can even damage the pennies or melt them down completely in order to create the penny floor of your dreams.

However, what IS illegal is trying to use the damaged coins to commit fraudulent activity. In addition to this, you are only allowed to melt pennies for the purpose of creating a penny floor and not for the metal content.

How Do You Make A Penny Floor?
Making a penny epoxy floor is easy in theory but takes plenty of time and hard work. All you really need to make a penny floor is epoxy, a little bit of adhesive, a lot of copper pennies, and even more patience. The very first thing you need to do is a practice round to make sure you have the skill and patience required and to be sure you even like the "finished" look. I recommend creating a penny end table or even covering a loose plank of wood in pennies before turning your attention to the floor.

Once you have confirmed that a penny floor is indeed for you, you need to get your pennies together, which is not always easy. This task alone can take anywhere from a couple of days to months, as a single square foot of flooring requires 250 to 300 pennies, depending on how tightly you plan on packing them in. You can ask your local bank to help you out with the pennies, but be mindful that you may need to pay them multiple penny-seeking visits. You can also purchase pre-polished mesh tiles of pennies online.


You will also need to plan your installation method now. Will you be gluing the pennies directly to the floor? Will you be making "penny sheets" to stick to the floor? Will you be purchasing the pre-polished mesh tiles of pennies I mentioned?

So, if you are flooring a 4'x4' area, you will need between 4,000 to 4,800 pennies, which is not exactly chump change. Once you have sourced all the pennies you'll be needing, it's time to measure down to the inch and begin planning your layout. Unless you have an already straight and smooth floor, I recommend leveling the surface using a self-leveling compound for small problems or covering it with plywood if it is extremely problematic. Be sure to sand the plywood until it is smooth should you choose this option.

Next, you will need to use a sealant to cordon off your edges and make sure that once you pour your epoxy, it only goes where you intend it to go—otherwise you will be left with one heck of a mess to clean up! Now before the fun starts, you need to ensure that your surface has been thoroughly cleaned and is free from dirt, dust, polish, or wax.

Once your floor is clean as can be, it is finally time to turn your bare floor into a penny floor! You do this by gluing the pennies to the floor using a quick-curing clear standard adhesive such as Elmer's glue, Gorilla Glue, or West System G5 Five-Minute adhesive. Many people prefer cleaning and polishing the pennies prior to sticking them down, but personally I feel that the quantity of pennies you will be dealing with will make this an extremely arduous, unpleasant task.

Lay your pennies out in the exact pattern you want for your floor. Do you want an organic pattern that looks as though the pennies just "fell" into place? Or do you want a structured, geometric pattern that will impress anyone who sees it? Do you want to create a lifelike image? Get to work, because your pattern is about to become permanent.

After achieving the perfect penny floor layout, it's time to pour clear epoxy over it to make it a permanent addition to your home. You will need at least a couple of gallons of epoxy to do this, but you'll have a stunning, sparkling penny floor to show for it.

Are Penny Floors Slippery?
Yes, penny floors are slippery. But they are not excessively slippery and your socked feet will glide over them in the same way they would over hardwood or terrazzo flooring. In other words, a penny floor is slippery enough that you should exercise caution when wearing socks or walking on the floor after polishing, but not so slippery that it is not a viable bathroom option.

I personally do not like having a penny floor near a pool or hot tub, as slipping while getting out of the water is highly possible.

Do You Grout A Penny Floor?
If you are installing a resin penny floor as opposed to a regular epoxy one, you will need to grout it. The process is pretty much exactly the same as that of epoxy penny flooring but, instead of calling it a day after gluing your pennies and applying your epoxy, you will have to complete a few more steps.

First, you will need to wait until the pennies are completely dry before moving onto your next step. Once they're dry, you need to grout the pennies using a squeegee. The reason for this is threefold: Grouting helps the pennies stick to the floor better; it creates a seal so that resin cannot leak down between the gaps of the pennies; and it creates a flatter surface, which is very important to a penny floor.

Wipe away any excess grout with a soft, damp cloth before vacuuming over the surface to make sure no dust or dirt has a chance to settle. The grout must be fully dried before moving onto the resin. You will need to mix the resin, portion it off into individual batches, and work one area at a time, pouring and spreading approximately half an inch of resin atop the grouted pennies. Leave to cure.

How Long Does A Penny Floor Last?
Considering that the average penny lasts around 25 years and epoxy flooring has a typical lifespan of two to three years, you can expect penny flooring to last for a while. Because the trend is relatively new and nobody really knows for certain where it originated from, it is tough to give an approximate life expectancy, although I would say that it should last for approximately three years.

If there is one thing you should know about a penny floor, it is this: This is not flooring like laminate that you can just chop and change and remove as you wish. Uninstalling a penny floor is no easy feat, and the general recommendation is not to install a penny floor unless you are prepared to have it around for life.
Conclusion
There is no denying that penny floors make for a truly beautiful addition to any home. Sure, it may take a while, but for most people the end result of the time-consuming job is well worth it. Some people even find the installation process therapeutic … but I don't know about that.
All I know is that penny flooring looks good, is cheaper than other flooring options, and is definitely a conversation starter. They're incredibly unique and can be used in all kinds of rooms, from the basement to the bathroom, and can be pulled off in all kinds of shapes, styles, and sizes. But while penny floors are trending right now, they might not be in three months, so I don't recommend hopping aboard this trend-train if you aren't genuinely in love with the idea of a permanent penny floor.
A penny for your thoughts? If you have any comments or firsthand experiences with penny flooring, please post them below or share your pictures via our social media.
Back to Top