Our expert editors independently review, test, and recommend products to help you make an informed decision. We may earn commissions on purchases made from our product links.
Carpet is an attractive and comfortable flooring option, but it can be difficult to maintain, and carpet fibers tend to hold onto debris, germs, and odors. But that should not be a problem if you know how to clean carpet flooring.
The best way to keep your carpets looking good, free of dirt and allergens, and to extend its life is to clean it regularly. In this article, we will go through everything you need to know to keep your cozy and soft carpets smelling fresh, looking new, and lasting, virtually stain-free for years.
We will go through the tools and products you need and the right way to use them and also what not to do to avoid damaging your carpets.
Tools & Supplies Needed
First and foremost, you will need a carpeted floor. Before you can clean your carpet, it's important to know what kind of carpet you have.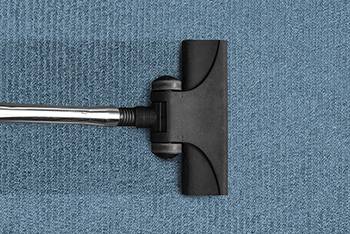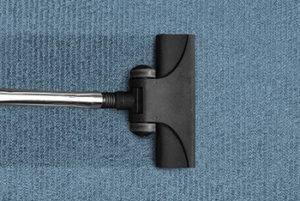 As you may have learned while shopping for new carpets, not all carpet fibers are created equal. While there are general guidelines when it comes to carpet cleaning, the specific type of carpet fiber and backing you have may require special considerations. You will want to check with the manufacturer if you aren't sure.
Floor Protection
Protecting your carpet is often overlooked when you first consider care and maintenance. In fact, this is the least expensive proactive measure you can take to keep your carpet looking new and fresh.
Invest in a few high-quality doormats and place them at every entrance to your home. Whether you choose the exterior or interior type, this is an easy way to leave dirt at the door. Remember to clean these periodically as well, so you aren't walking through dirt depositories.
If you have an active family, consider adopting a "no-shoe policy." Trade your work or outdoor shoes for a pair of cozy slippers. This will not only keep your carpet cleaner, but it will also offer a pleasant end-of-day ritual to look forward to.
Another way you can protect your carpet is by installing curtains or blinds in large, sunny windows. Over time, UV exposure can fade or discolor your carpet. If you'd rather not obstruct the view from your picture window, consider a UV-blocking film, sheer curtains, or getting your windows professionally tinted.
Product
Features
Walk-off mats interior and exterior, generic

Inexpensive and easy way to keep your floor clean
Widely available at most department stores
Can be thrown away and replaced if worn
Can double as decor

Gila Gray Tinted UV-Blocking Film

Available in several different tints
Easy DIY for a smaller amount of windows
Blocks UV but does not obstruct view
Removable

Professionally applied residential window tinting, 3M or other

Lasts exponentially longer than window film
Does not obstruct view while blocking UV
Warrantied when applied by authorized dealer
Blocks some heat and glare
Vacuums
When a large portion of your home is carpeted, a high-quality vacuum is a must. While you may swear by the durability of your grandmother's decades-old hundred-pound Kirby, there are new models on the market that offer all the cleaning power with a fraction of the arm workout.
If the thought of lugging a heavy vacuum around isn't enough to make you think about a replacement, there is something else you should consider. Heavy vacuums can severely damage the carpet fiber. This is especially true of the newer, softer carpets that are so popular today.
Look for a lightweight vacuum with an adjustable beater bar and adequate suction. Models that also feature a dirt cup and washable HEPA filter save you money and are better for the environment than disposable bag and filter models.
If you've recently purchased and installed new carpet, keep in mind that many manufacturers have a list of approved carpet vacuums and sweepers for use on their products to maintain the warranty. So, if you aren't sure, check with the manufacturer first.
Spot Cleaning And Stain Treatments
If you have an active home with kids or pets, you may find yourself spot cleaning and reaching for carpet stain treatments more often. With the right products and cleaning frequency, no one will be able to tell the amount of grape juice and mud that has been dragged across your floor.
Figure out what type of carpet fiber you have and make sure the cleaner is designed for your type of floor. For example, something that works well on polyester might be too harsh and damage a wool carpet.
While there are hundreds of spot cleaners and stain treatments on the market, a few of these are tried and true favorites that have been around for years. It's always a bonus when the product is effective and eco-friendly.
In addition to the cleaning solution, you should also have empty spray bottles, clean cotton rags, and a bucket on hand for spot cleaning.
Deep Cleaning Carpet
When it comes to deep cleaning your carpet, you may have considered buying a carpet shampooer and doing it yourself to save money. While these DIY machines' manufacturers make lofty claims about being equivalent to a professional machine, most that are available to consumers to either buy or rent don't quite come close.
A good quality carpet washer will feature a two-tank washing system with a heating element and enough suction to remove the moisture that could otherwise become trapped in your carpet and cause problems.
Keep in mind that these machines are best for spot cleaning and refreshing your carpet between professional cleanings. However, these are not meant to take the place of a yearly professional hot water extraction.
Product
Features
Bissell Spot Clean Professional Portable Carpet Cleaner

High-powered portable spot cleaner
Good for small messes or small spaces
Easy to use on stairs
Works on furniture
Dual tank
Crevice and upholstery tool kit

Bissell ProHeat 2x Revolution Max Clean Pet Pro Full Size Carpet Cleaner

Lightweight, low-profile design for maneuverability
Has max and express cleaning modes
Penetrates deep into carpets for maximum stain removal
Rapid 30-minute dry time
Removes pet hair, stains, and odors
Best for large messes
5-year warranty

Professional Hot Water Extraction Service

Should be completed once a year
Best to keep your carpet looking new and smelling fresh
Can remove spots and stains other machines can't
Required to maintain carpet warranty
How To Clean Carpet At Home: What To Do
1. Protect Or Remove The Furniture From The Area To Be Cleaned.
It's easy to let your vacuum get away from you and accidentally ram your heirloom grandfather clock. You can use blankets, furniture coasters, or spare cardboard to create buffers on priceless or easily-damaged furniture.
If you want to deep clean, this is where it helps to plan ahead. If you live in a smaller space, you can enlist the help of a friend to shuffle all the furniture from one side of the room, clean it, then repeat the process on the other side.
2. Inspect The Vacuum.
It's always a good idea to inspect your vacuum before each use. For safety reasons, this should be done before you plug it in.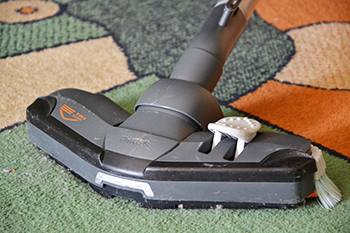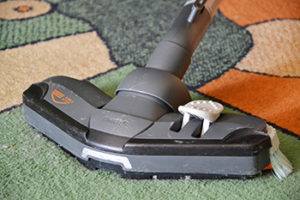 Check the bag or dirt cup first and empty the cup or change the bag. This is also an excellent time to check and clean the filter or replace it if it is damaged.
Next, set the vacuum on its side and inspect the beater bar. Carpet fibers and hair love to get tightly wound around the beater bar. You can either remove the beater bar to clean it or carefully use scissors to cut away the stringy mess.
Additionally, you can check for dirt blockages in the hose. This also occurs where the bag or canister attaches to the head.
As you unravel the vacuum cord to plug it in, it's a good idea to check it for fraying, exposed wires, or cracks in the plastic. If you find that the cord is no longer in safe working condition, it may be time to consider a replacement or a trip to the vacuum repair shop.
3. Set Your Beater Bar.
If you've used your vacuum elsewhere recently, like on a hardwood floor, you should reset the beater bar. An easy way to do this is to set the bar on the highest setting then slowly lower it as you make a few passes. Stop when you feel the vacuum start to tug forward on its own.
If you have ultra-thick, high-pile, or shag carpet, you may want to remove your beater bar completely or opt for a vacuum without one.
4. Vacuum The Carpet.
While some folks really enjoy vacuuming, it's not everyone's favorite pastime. It's very tempting to rush through your vacuum job when you'd rather be watching football passes than making vacuum passes.
Like all good things in life, take it slow. Work in sections where you are easily able to make slow, steady passes with the vacuum. Ideally, your passes should slightly overlap so you can capture dirt that may have been pushed aside by the wheels.
A slow vacuum will have more time to suck out dirt and ultimately get your carpet cleaner. However, if you are short on time, you can maximize your effort by making two passes over high traffic areas and one pass everywhere else.
Utilize your crevice tools to clean around the baseboards and corners where the vacuum head may not reach. This is a favorite hiding place of dust bunnies and allergens.
Lastly, utilize your stair or crevice tool to make a few passes over each step. This is typically a high-traffic area and needs some extra attention. Make sure to get into the corners of the stair stringers and where the tread meets the riser.
5. Spot Clean The Carpet.
Performing regular spot cleaning is the easiest way to keep your carpet looking new and fresh. Spot cleaning and stain treatment methods are very similar, but the products you use may differ.
Ideally, spot cleaning is done after vacuuming. This ensures that dirt and grime doesn't become further embedded in the carpet.
As always, make sure to test any new cleaner on your carpet in an inconspicuous place like a corner or closet. Let the cleaner sit for a minute or two then dab up with a cloth as you would normally. Then, inspect the area for discoloration, delamination, or fraying or melted carpet fibers.
Once you have determined the cleaner is safe to use, spritz a small amount on the soiled area. Use just enough that the carpet will dry quickly.
Then, use paper towels or an absorbent cotton cloth such as a clean shop rag or old T-shirt to dab at the spot. The idea is to absorb as much moisture and dirt into the towel as possible.
Once the area is completely dry, give it another vacuum. The surfactants from the spot cleaner often bring dirt to the surface where you can lift it away with the vacuum.
If you find that your carpet is still stained after conventional methods, consult your carpet manufacturer for additional information, methods, or products.
6. Deep Clean The Carpet.
With weekly vacuuming and spot cleaning, you should only need to deep clean your carpet every 12 to 18 months. However, if you have an active family with kids or pets, your carpet may get soiled to the point that you just can't wait that long.
As we discussed earlier, hiring a pro will get you the best results possible when it comes to deep steam cleaning your carpet. However, you can still use your carpet shampooer or rental machine for a mini refresh between professional hot water extraction treatments.
However, not done correctly, you could be doing more harm than good. It's best practice to follow your carpet washing machine manufacturer's instructions completely.
Yet, when it comes to detergent in these machines, less is more. Use less solution in the clean tank to keep your carpet fibers free of residue.
Some machines or detergent call for a neutralizing solution to be applied afterwards. You can also make your own by diluting a tablespoon of vinegar into a gallon of water.
Like the vacuuming process, slow is the way to go when it comes to washing your carpet. This will allow the machine to suck up as much moisture as possible.
If you accidentally saturate your carpet, you can make a couple more passes with the water off. Then, provide air circulation to the area via fans, a dehumidifier, or run your air conditioner on low.
Lastly, wait six to eight hours before walking on the carpet and up to twelve or fifteen before moving furniture back into the area.
Even an expensive DIY machine or hardware store rental lacks the heat and power to deep clean your carpet like a professional machine. You should have your carpet professionally cleaned with a hot water extraction once a year to keep it looking like new.
If you recently had new carpet installed, many carpet manufacturers require this to maintain the carpet warranty. So, make sure to save your receipts in the event you must file a warranty claim.
7. Finally, Stand Back And Admire Your Freshly Cleaned Carpet. Grab A Cold Drink And Turn On The Game, You've Earned It.
How To Clean Carpet At Home: What Not To Do
Now that you know how to properly clean a carpeted floor, let's talk about what not to do.
First and foremost, you shouldn't go to town on your carpet with your vacuum's beater bar on the lowest or hard floor setting. This may seem like it would get your carpet cleaner, but it can cause your carpet to look worn beyond its years. Over time, the fibers can fray, mat down, and fall apart.
Furthermore, avoid using any product on your carpet that isn't designed for it. Even products that claim to be designed for all carpet may wreak havoc on your specific carpet.
In the worst case scenario, an inappropriate cleaner can cause delamination of the carpet backing, discoloration, or even melting of the carpet fibers. Therefore, the spot test is very important.
As a rule, a few things to keep away from your carpet are any products containing bleach, ammonia, acetone, certain oil-based solvents, oil soaps, furniture polish, waxes, and colorants, among other things.
Finally, the most common mistake made when cleaning carpet is oversaturating it with water. Whether you are spot cleaning or deep cleaning, this is one thing you should always avoid. Oversaturation can cause moisture to become trapped in the carpet and pad leading to mold, mildew, and even rot.
Over time, excessive moisture can also cause your carpet to pucker and ripple which requires professional re-stretching. Sometimes, the carpet becomes moisture-damaged beyond repair and must be replaced.
FAQs About Carpet Cleaning
How Do I Clean My Carpet Myself?
If you want to clean your carpets at home yourself, you will need to rent or purchase a carpet cleaning machine. Your carpets should probably be cleaned every 12 to 18 months.

But before you do anything with that machine, you should clear the area that is to be cleaned of furniture and other items, vacuum thoroughly, and treat any deep stains with a pre-treatment or spot cleaner.

You are then ready to clean your floors. The exact process will depend on the machine you are using, but make sure you follow guidelines carefully when it comes to what cleaning liquid to use and how much. If in doubt, less is more.

Finally, make sure you wait 6 to 8 hours before walking on the carpet, and 12 to 15 hours before returning furniture to the area.

What Is The Best Homemade Carpet Cleaning Solution?
Homemade carpet cleaning solutions can be detergent, vinegar, ammonia, or solvent-based. The most natural solution, which is highly effective, is vinegar-based – mix ¼ cup of white vinegar with ¼ cup of water.

The solution should be placed in a spray bottle and lightly misted over the offending stain. If using as a spot cleaner, blot dry with a paper towel. You can also use it as a pre-treatment when using a carpet cleaning machine.

How Can I Clean My Carpet By Hand?
If you choose to shampoo your carpet without a machine, you will need a bristled scrubbing brush, a damp rag, two buckets, warm water, and your preferred cleaning solution. Mix the cleaning solution in the water and use the brush to rub it into the carpet. You want to use enough water to make the carpet moist, but not saturated.

Empty the bucket and fill it with clean water. Use the damp rag to pick up the soapy water from the carpet and ring it out into another bucket. You will want to make two passes of the carpet in this way to ensure you have removed all of the cleaning solution. Ensure the carpet is completely dry before returning furniture to its place.

How Do I Deep Clean My Carpet?
While it is possible to deep clean your carpet by hand, the best way is to use a carpet cleaning machine, which can be bought or hired, or you can enlist a professional. This is because it minimizes the amount of water needed. If too much moisture penetrates the carpet pad, it can result in mold and mildew. Carpets should be deep cleaned at least once every 12 to 18 months.

Does Vinegar Discolor Carpet?
White, colorless vinegar will not stain carpets, though brown vinegar certainly can. While white vinegar is very good for cleaning carpets, you should consider the acidic quality of the stain before adding white vinegar. Vinegar is acidic, so it works best on alkaline stains. It will not be effective on acidic stains, such as ketchup, and may, in fact, make the stain worse.

What Is The Best Carpet Stain Remover?
We think the best carpet stain remover is Folex Carpet Spot Remover, which works on most stains that you can come across, and it doesn't require any scrubbing. It produces no odors and also does not contain any dangerous chemicals of VOCs. All in all, it is an affordable and effective solution for both spot cleaning and pre-treatment for carpet cleaning.

What Household Items Can I Use To Clean My Carpet?
Homemade carpet cleaners can be made from a variety of different household items including vinegar, baking soda, dishwashing detergent, household solvents, and ammonia. In all cases, the product should be diluted in warm water.

How Do You Make An Old Carpet Look New?
Vacuuming weekly, spot cleaning regularly, and deep cleaning your carpets at least every 12 to 18 months are all the best ways to ensure your carpets stay looking new for longer. But if you want to do more to uplift old carpets, you can try sprinkling baking soda on carpets the night before vacuuming and lightly spraying a white vinegar and water mist over your carpets.

To remove marks and dents from carpet, place a damp towel over the area, and then run a hot iron over it for about a minute. After this, you can also use your fingers to fluff up the area of the carpet.
Conclusion
Keeping your carpet looking fresh, and free of odors and stains, doesn't have to be hard or time-consuming. If you commit to a regular cleaning schedule using the right tools the right way, you can significantly extend the lifespan of your carpet.
Your cleaning schedule should include picking up dirt and dust with a high-quality vacuum on at least a weekly basis, spot cleaning stains as they come up, and deep cleaning for carpet every 12 to 18 months. Committing to this routine significantly extends the 10-year lifespan of most carpets.
Now that you know how to clean carpet flooring, tell us in the comments about your carpet cleaning triumphs and tribulations. What has or hasn't worked for you?
Back to Top