All cordless vacuums are not created equally. Some have higher suction power but less battery life, and others come with a broader selection of attachments and tools. Since there is no single type of cleaning situation, we've listed our choices for the best cordless vacuums across a variety of cleaning categories.
Your choice should be made based on why you want a cord-free machine. Something you use to deal with occasional small messes doesn't need to run as long, but you might want more power to suck up things like cereal, pet food or sand. Many units have more than one type built in, like a stick with a handheld lift-off vacuum.
Before you make your cordless vac decision, it's a good idea to time a cleaning test run for how long you need the vacuum in one pass. Figure on a smaller width in the brush head and a bit less power than a full-sized vacuum. With that in mind, you'll be prepared to review our comparison of the best cordless vacuums for typical household use.
8 Best Cordless Vacuums
PRODUCT

Best Overall

Shark ION P50 Powered Lift-Away Cordless Upright

Works well on tile floors
Works well as a car vacuum
HEPA filter and foam filter are both washable

View On Amazon →Check Our Review

Best for Heavy Traffic

Dyson V11 Animal Cord-Free Stick

Longest possible run time on our list
An LED screen posts the cleaning mode
One-touch dust bin release

View On Amazon →Check Our Review

Best for Pets and Carpets

Bissell Adapt XRT Pet Cordless Stick

Combo of stick and small handheld unit
The brush head can be turned off
LED lights

View On Amazon →Check Our Review

Best for Solid Floors

Hoover Linx Signature Cordless Stick

Electronic brush roller can be adjusted with a fingertip switch
Removable battery
Reclines to get under furniture

View On Amazon →Check Our Review

Best Upright

Hoover Air Cordless Upright Vacuum Cleaner

Great suction power
Power boost mode
Good for basic carpet hair and for solid floors

View On Amazon →Check Our Review

Best For Smart Model

Tineco Pure ONE S12 Plus Smart Cordless Stick

Features iLoop(TM) Smart Sensor Technology
Ultra high performance 500W motor
Lightweight, cordless design

View On Amazon →Check Our Review

Best Large Head

APOSEN Cordless 18KPA Vacuum Cleaner

100% confidence to offer a clear air
Ultra-quiet & 250W powerful suction
With an ergonomic handle

View On Amazon →Check Our Review

Best For Budget

Eureka 95B 2-in-1 Stick and Handheld Cordless

Nice price-to-value compromise
Washable filter
Removable dust cup

View On Amazon →Check Our Review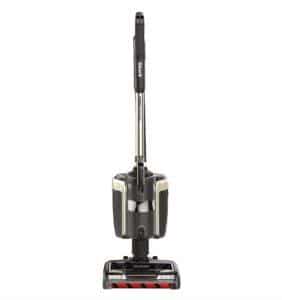 Style: Upright + stick + handheld
Ergonomics/Ease of Use: A
Cleaning Effectiveness: A
Battery Life: 50 min.
Accessories: B+
Weight: 12.0 lbs.
It's not always easy to find a selection of cleaning capabilities on par with big canister vacs all in a cordless, but Shark's done it. Given this kind of suction, this is a great vac for pet hair ground in deep carpets and works well on tile floors. Users note that the carpet brush is always in the down position, even when off, so this is not recommended for delicate hardwoods.
Fully loaded as an upright, this vacuum takes care of all kinds of debris. Use it as a stick for quick pick-ups or under furniture and on stairs. In the handheld mode, it works well as a car vacuum, or for drapery rods, dust and anything in between.
The total battery life of 50 minutes is based on using the ION™ power mode. Using higher suction settings reduces that time between recharges.
If you think your regular use might exceed this, you can buy a second battery; the removable interchangeable battery can be charged in the vacuum or plugged in directly to the wall charging unit.
In addition to an easy-to-empty dust cup, the HEPA filter and foam filter are both washable, further controlling your ongoing costs, while covering cleaning needs for households with allergies to dust and dander.
It stores standing up, making it easier to keep in a closet. With the single drawback of not being the best vac for hardwoods, this Shark vacuum ticks more all-around boxes than any other cordless on our list.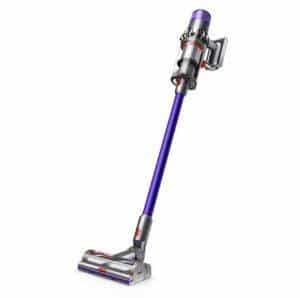 Style: Stick + handheld
Ergonomics/Ease of Use: A
Cleaning Effectiveness: A
Battery Life: 60 min.
Accessories: A
Weight: 6.7 lbs.
Dyson was something of a pioneer in cordless technology, and coupled with its power suction advances, it has owned the cordless stick market on and off for years. Its newest entry is no exception to the manufacturer's drive to always find better ways to tackling cleaning needs.
Often, a cordless vacuum's weight comes from the battery pack. Dyson vacuums have found a way to make lithium ion batteries lighter while increasing the total possible run time.
This model has the longest possible run time on our list when in eco mode; the two other settings eat through power more quickly.
Higher suction due to its proprietary cyclone technology translates into being able to pick up larger pieces of debris and not have them stall in the vacuum tube. An LED screen posts the cleaning mode you're in and any maintenance alerts. The High Torque cleaner head has a smart sensor to adjust to the surface, and it is said to be safe for cleaning laminate or wood floors.
The one-touch dust bin release wins praise from some users and complaints from others. The unit transforms into a handheld vac by removing the vac tube, and either the full length or the handheld portion can be used with the various electronic tools.
Some users note that removing the tube or the head can be difficult if the push lever does not operate smoothly. All in all, however, this V11 will probably rule some comparisons in the future as more people test it.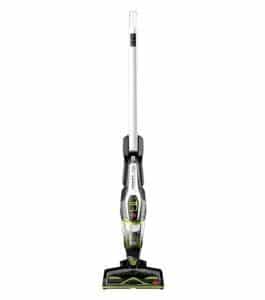 Style: Stick + handheld
Ergonomics/Ease of Use: A
Cleaning Effectiveness: A-
Battery Life: 40 min.
Accessories: B+
Weight: 7.9 lbs.
The Bissell cordless entry is a combo of stick and small handheld unit. The hand vac is a lift-off and brings the dust cup and motor with it. The head on this part is a tube vac working with the various attachments for quick pick-ups or tight spaces.
The stick portion features an articulating handle to work under furniture. Bend it down at the brush head and up at the handheld spot and you can reach without having to bend over as far. The brush head can be turned off to vacuum laminate or hardwood floors, and it sucks up pet hair with ease.
Users note the 40-minute battery life must be what's available under ideal conditions. The unit does not always last as long, but there's no mention of what power level was being used. It must then be plugged into the wall for recharging, with a full charge taking eight hours. Battery life is the chief complaint from reviewers overall.
The swivel head maneuvers well around obstacles and the LED lights help you see what areas you might be missing in your cleaning. Its light weight keeps many people happy. With the easy to remove and replace handheld unit, this Bissell can fulfill many cleaning needs for the average household with pets.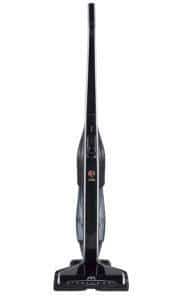 Style: Stick
Ergonomics/Ease of Use: A-
Cleaning Effectiveness: A-
Battery Life: 20 min.
Accessories: F
Weight: 7.3 lbs.
While this Hoover works well on carpets, users rave about its performance on solid surfaces. Hardwoods, laminate and other solid surfaces remain safe with the electronic brush roller that can be adjusted with a fingertip switch for the surface it's on. Changing from cleaning carpet to solid surface and back again is an easy and effective transition.
The battery is removable and charges in a stand you can put close to any electrical outlet while you store the vac in a closet. Short battery life is the chief complaint from users. A battery life indicator under the fingertip controls at the handle let you know how much time you have left.
Buying an extra battery is a good idea to avoid running out of power when you're cleaning. This is a bagged vacuum, so expect an ongoing replacement cost. Filters are also replaceable, though there have been no significant issues around short life for those.
This vacuum reclines to get under furniture. A bumper edge-to-edge technology allows you to get tight against walls and molding and pick up hidden debris without slinging it away from the brush head. No attachments are available, but for solid floor cleanup, this Hoover does the job.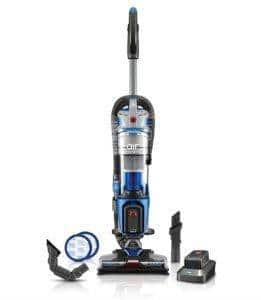 Style: Upright + handheld
Ergonomics/Ease of Use: A-
Cleaning Effectiveness: A-
Battery Life: 50 min.
Accessories: B+
Weight: 12.4 lbs.
The usual benefits of an upright vac are greater suction power, a wider brush roller and greater dust bin capacity. On all three counts, this Hoover does not disappoint.
Note that the handheld portion is actually a canister of everything except the brush head, so it is not small.
The buttons to control the power boost and the brush roll surface settings are located on the top of the dust bin and motor on the handle. Some users note this isn't the easiest placement to use. Another issue is the lithium battery life remaining indicator, which is on the front of the vac above the brush head.
This unit is not the lightest vacuum on our list, with two pounds of that coming from the rechargeable battery. Buying a second one is a good idea if you have a lot of space to clean or plan to use the power boost mode. Batteries charge in a freestanding cradle you can plug into any electrical outlet, even when you store the unit in a distant closet.
Reviewers note this machine is good for basic carpet hair and dust and for solid floors, but a regular complaint is that it does not pick up larger particles, even in boost mode.
Others say they've had difficulties in getting Hoover to honor their warranty on broken parts or overall system failure. However, many customers are delighted with their models, recommend it to others, and are repeat buyers.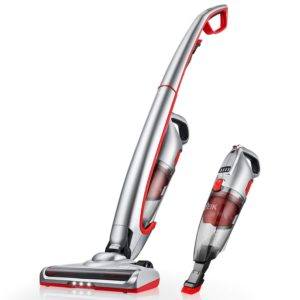 Style: Stick + handheld
Ergonomics/Ease of Use: A-
Cleaning Effectiveness: B+
Battery Life: 35 min.
Accessories: B
Weight: 4.9 lbs.
Matching versatility in cleaning with small-space-friendly battery life is sometimes difficult, but this upgraded version of the Deik two in one met the match.
Two speed power settings allow you to adjust for the kind of surface you're cleaning, though it should not be used on delicate hardwoods. LED lights on the brush head help you see dirt you might miss in dark corners.
The unit converts to a handheld with a single click. Since the full stick is in itself lightweight, you can clean your apartment or condo from top to bottom without too much strain. A limited number of accessories add furniture vacuuming, dusting and crevices to that list.
The battery is replaceable, though it must be charged inside the vacuum. Filters can be washed to help with suction. Though it works well for light messes, it might not pick up sand or large debris, though not everyone agrees that is an issue.
The handheld unit is deemed to be great for cleaning car interiors, RVs and boat cabins. Reviewers mention this is a good vacuum to buy in multiples if you have a house with more than one story and don't want to move your vacuum between levels. At a per-unit friendly price, that might be a great recommendation.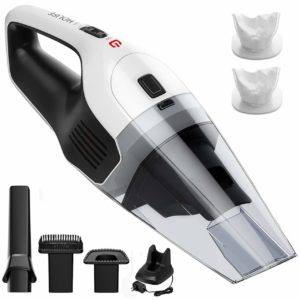 Style: Handheld
Ergonomics/Ease of Use: A
Cleaning Effectiveness: B+
Battery Life: 30 min.
Accessories: B+
Weight: 4.1 lbs.
Yes, this is a handheld by itself, but it's so much more than a ho-hum cereal sucking machine. It picks up dry debris, including larger particles and chunks, from hair to sand. Three sizes of vacuum tube make wider or more targeted cleaning easy.
What sets this apart, though, is the liquid cleanup. It sucks up wet debris along with the dry. The vacuum tube, dust cup and filter are all washable and the filters are inexpensive to replace when needed.
Power level is controlled with a push button on the grip handle. While the overall weight isn't completely light, it also doesn't exhaust you while cleaning due to its balanced design. The battery charges when you plug the unit into its charging cord.
This vacuum won't replace a larger unit for regular whole house cleaning, but if you have a full-sized model that doesn't have a handheld lift-off, this is an excellent addition. One user notes it's even great for removing insects that crawl indoors.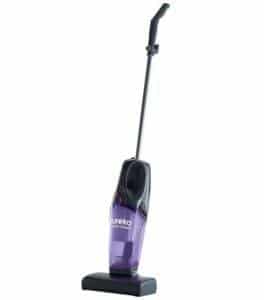 Style: Stick + handheld
Ergonomics/Ease of Use: B+
Cleaning Effectiveness: B+
Battery Life: 15 min.
Accessories: C
Weight: 4.7 lbs.
This Eureka is a nice price-to-value compromise if your cleaning needs are not heavy-duty. The battery is a NiMH which should not be stored completely charged or left completely discharged.
That lessens its ability to recharge, which is the most common complaint among users. This battery needs to be used according to the instructions to last any length of time at all.
To convert to a handheld, you remove the handle. This means it's probably more like a handheld unit to which you can add an extended handle rather than a true stick. Reviewers say the conversion is easy and the handheld unit weights about four ounces less.
The machine has a dust cup you remove from the front of the unit to empty. The washable filter inserts inside this. It can suck up everything from fine dust to things like cereal, so the ability to wash the filter and dust cup is a nice benefit.
While this is no a machine for heavy duty use, it does pick up materials on multiple surfaces. People recommend it for houses with toddlers or for those of us who like dry mess art projects (think glitter). It's a good basic machine for those kinds of special uses.
The Complete Cordless Vacuums Buyer's Guide
What You Need to Know About Cordless Vacuums
Not so long ago, cordless vacuums were known for their short battery life, light suction power, and lack of durability. Advances in batteries and design technology changed what's available to vacuums that have completely replaced corded units in some homes.
If you're looking for a vacuum for a smaller house, apartment or condo or a secondary unit to deal with a single story of a larger place, a cordless vacuum can often meet all your cleaning needs.
Not only do batteries last longer, but they have more power overall, and that means more suction. Brush heads have all of the functionality of larger corded uprights and canisters, and even dust bins have grown more substantial as electronics elsewhere are miniaturized. Of course, all of this latest and greatest also creates higher production costs, and you see that in the price tag.
What do you need to know about cordless vacuums to make a well-informed buying decision? It usually comes down to how well it handles and how much of your typical types of debris it can pick up. There's a lot more to these cordless models than you'd first think, based on size and looks alone.
Cordless Sticks
If you're looking at a cordless vacuum, it's a sure bet your choices are the model type known as 'stick'. It is self-explanatory: it has a motor and dust bin on one end, brush head on the other, and a long stick (the tube where debris flows) in between. This design is great for overall weight, but does not necessarily have the best cleaning strength.
The reason is motor size. More substantial suction comes from a larger motor, and that needs more power to run, draining the battery faster. In a perfect world, each end of the machine is in balance with its opposite and the wand part is easy to move, but that's not always the case.
Cordless sticks are notorious for twisting due to length or shifting in your grip due to weight distribution. For large cleaning jobs, they might have the power you need to cover the complete floor or do the furniture work you desire.
They have a sweet spot to fill in most homes, though, and that's where you have one unit on each level of your house or use it for touch-ups.
Cordless Handhelds
This is often thought of as a subset of the regular cordless stick vacuum because it is a piggybacked system packed into the same unit.
Generally, the lift-off portion contains the motor, dust bin and nozzle for small accessories or tools. However, they have come into their own as a series of small models designed for specific uses.
Handhelds are primarily used for tight-fitting spaces and small expanses. They have limited battery power to make them lighter. Their compact size is good for cleaning the inside of your car, vacuuming small messes at home, or doing quick pickups that haven't spread far.
Cordless Uprights
Where the handheld is a mini-stick, cordless uprights are like a stick on steroids. They feature wider brush heads and larger dust bins. Sometimes they sport larger batteries too, which translates into longer cleaning time between charges.
These uprights are not necessarily adequate for cleaning your whole house, though. Think of places where you need to do a quick vacuuming, but not all of your floors and carpets. High-traffic areas or localized larger cleaning jobs would be good applications.
Maneuverability
While you'd logically think a cordless vacuum is light and easy to move, that's not always the case. Too much suction on some surfaces can make the head difficult to pass back and forth.
A brush head with small wheels can get stuck in deep pile. Even the infamous ball head on one model can track too well in grooves or refuse to reverse against a wall.
No model is problem-free under all circumstances. An added tip is to remember that you're using your arm to hold the weight of the machine, and your shoulder guides the movement. This puts a lot of pressure on those joints, so if shoulder or elbow pain is chronic in your life, think twice about buying a cordless stick.
Air Filtration
If you live with pets or in a dusty area, you probably have a light coating on your floors and furniture at most times. Pet hair and dander, pollen, and dust are the usual culprits thwarting your attempts to keep the interior of your house pristine.
Add grass clippings, leaves, and anything else the dog or cat dragged in to what we track on our shoes, and you have fine particles and larger pieces ready to challenge any vacuum.
Cordless vacuums come with different types of filters, and only HEPA filters are rated for an allergy-free, dust- and dander-proofed environment.
All vacuums provide some level of air filtration, achieved with their filters. Some are the kind you can wash and replace in your unit, and others need to be replaced altogether when the time comes.
Looking for a system that scrubs as much out of the air sucked inside the machine before releasing it again is your target. Search for a machine that has the best allergy reduction. If you have severe allergies in your household, buy a system with a HEPA filter, even if you have to replace it every few months.
Brush Heads and Rollers
On larger machines of the corded variety, you can find brush heads and rollers that offer an anti-hair cutting system. This keeps the roller free of unwanted human and pet hair tangling in the brushes. Let's face it, there's a certain 'ew' factor in cleaning that off.
On cordless units, the brush heads attempt to mimic their larger cousins, but they can't really contain much more in terms of features.
They don't have the room for the hair-stripping gadgets, though many have the mechanics to turn brushes off and on or lift them based on the surface you're cleaning. Luckily, most have brush heads that are easy to remove and clean.
What cordless vacs can do, though, they do well. Bristles on the brushes are as dense and strong as corded units, and some heads are wider and larger too. Anything that picks up more debris will cut down the time you spend vacuuming, and that's always a good thing.
FAQs about Cordless Vacuums
By now, the world of cordless vacuums has matured from the original flimsy, one-off units. Models are known for reliability, power and durability. The quintessential cordless suction power pioneered by Dyson years ago spawned a market filled with vortex designs and competitive claims about cleaning capabilities.
Today you can expect longer battery life, sturdier build quality and cleaning efficiency that is often on par with larger corded systems. That doesn't mean these vacuums are perfect, however. Here are some of the questions people frequently pose about cordless vacs.
Does a cordless machine have the power to clean my whole house?
If your house is small or you're concentrating on one floor in a multilevel structure, a cordless can complete the task.
If the battery life is long enough and you aren't using the machine on a power booster setting to pick up heavier objects, you can clean a typical surface in slightly more time than you would with a corded model. It depends on the width of the brush head and tracked in dirt might be.
For example, using the booster setting which applies more suction to the surface uses up battery power faster. Having a more powerful machine in terms of suction means you have more weight for a bigger battery or less time before recharges. If heavy-duty cleaning is your need, you're better off buying a corded unit.
Can cordless vacs be used for heavy debris?
Cordless vacuums are not what we think of traditionally as shop-vacs. They aren't made to suck up heavy objects (though sometimes they will inhale thins you don't want them to move, like a light rug). Using these cordless systems for work other than regular housecleaning destroys the brush rollers, filters, dust bins and microelectronics.
If you need a vacuum for wood dust and chips or metal shavings, buy something designed for that. If you have excessive large pieces to clean away, you'll want a bigger corded vacuum too. While cordless systems are not delicate little violets, they also are not behemoths designed for heavy debris.
How long can a cordless battery last on a charge?
This depends on the brand and machine. Each model has a stated battery life. That reflects normal non-boosted use and a full charge to begin with.
Over time, batteries may lose some of their charging capability. Some of the cells inside the battery fail, and while you can still get a charge, it won't last as long.
Other machines come with replaceable batteries, but for most of us, we would use this as a reason to replace the machine and enjoy newer technology and greater capabilities.
How long does it take to charge a cordless battery?
This depends on the charging station (how it hooks into power to recharge) and the battery itself. For example, a lithium ion battery might charge more quickly than a standard cell type (NiMH). The length of time it takes to charge the battery has little to do with how long it will last in use, too.
Does the battery lose power if it's not in use?
There was a time when batteries not in use lost power at a rather fast rate. Some people will also say that once the battery is charged, you should disconnect it from the charging station or risk battery cell failures.
Neither of these is the case with lithium ion batteries, which are the norm in cordless vacs. However, one on our list has a NiMH battery that requires special treatment.
A battery will slowly leak the charge, but it's so slow, you wouldn't notice it unless you didn't use the machine for a month or more. Even then, it would still work for a time before stopping.
Charging stations are made for vacuums to be plugged into them all the time these days, and that way, you're always ready to clean when you have the time to do so.
Can cordless vacuums work with attachments?
Attachments and accessories to vacuums come in two categories – passive ones, like a crevice tool which is a shaped extension of the suction tube, and powered ones like a rotating mini brush head.
The first one doesn't use any power, so you can put it on any machine of any vac with the same diameter tube. The second needs the right connection in the tube or hose to be able to work.
If your machine has a power connection in the head, you will have the ability to attach (or add) different power tools. For the most part, because of battery life and overall size, manufacturers have not made an array of powered attachments to go with their machines.
What's not to love about cordless vacs?
Because cordless vacuums rely on battery power, they are never going to feature the same high wattage suction you find with corded units. That doesn't mean they can't clean well, but you won't be sucking in little rocks or heavier wood chips unless you use the turbo boost setting. At that level of power, the battery life will be significantly less.
Selection Criteria for Cordless Vacuums
Since the chief complaint people have had about cordless vacuums is power or the lack thereof, we focus a lot of our criteria on battery life and charging. The cleaning efficiency of the machine is also of keen interest. Power equals suction, and suction equates to how much vacuuming strength your unit will have.
People also want to know how easy it is to use the machine. That focuses us on the weight of the machine and its ergonomics. While a long handle is nice for reaching places without stooping, if it doesn't lock into place easily or wiggles when you use it, you'll be putting more effort into cleaning.
Finally, in the past these smaller machines had less room for sound control. Machines were noisy, though that is not as much of an issue with updated models. Here are the selection criteria we used to put together our comparison.
| | | | | | | | |
| --- | --- | --- | --- | --- | --- | --- | --- |
| Cordless Vacuum | Best For | Style | Ergonomics/Ease of Use | Cleaning Effectiveness | Battery Life | Accessories | Weight |
| Shark ION P50 Powered Lift-Away Cordless Upright | Best Overall | Upright + stick + handheld | A | A | 50 min. | B+ | 12.0 lbs. |
| Dyson V11 Animal Cord-Free Stick | Best for Heavy Traffic | Stick + handheld | A | A | 60 min. | A | 6.7 lbs. |
| Bissell Adapt XRT Pet Cordless Stick | Best for Pets and Carpet | Stick + handheld | A | A- | 40 min. | B+ | 7.9 lbs. |
| Hoover Linx Signature Cordless Stick | Best for Solid Floors/ Hardwoods | Stick | A- | A- | 20 min. | F | 7.3 lbs. |
| Hoover Air Lift Cordless Bagless Upright | Best Upright | Upright + stick | A- | A- | 50 min. | B+ | 12.4 lbs. |
| Deik Cordless Stick and Handheld, 2019 Upgrade | Best for Small Spaces | Stick + handheld | A- | B+ | 35 min. | B | 4.9 lbs. |
| HoLife Handheld Rechargeable Cordless | Best Handheld | Handheld | A | B+ | 30 min. | B+ | 4.1 lbs. |
| Eureka 95B 2-in-1 Stick and Handheld Cordless | Best for Budget | Stick + handheld | B+ | B+ | 15 min. | C | 4.7 lbs. |
Style
Cordless vacuums come in three sizes, each labeled as its own style. Handhelds are the smallest and lightest, and uprights are the largest, often with the heaviest battery. In between, we have the popular stick styles most of think of as the typical cordless vac today.
Ergonomics/Ease of Use
If the stick flexes when you use it or you can't control its direction well, vacuuming will be a frustrating chore. On the other hand, if your machine responds to your commands without strain, you're more likely to use it and that means you'll have a cleaner home.
We rate ergonomics and ease of use with a letter grade to indicate how well these machines work in normal use, and expand on any features in our comments.
Cleaning Effectiveness
Poor suction means you will be making multiple passes with your vacuum to pick up dust and debris. Similarly, some brush heads are not made with the same density or structure of bristles to pick up the ick. We rate cleaning effectiveness with a letter grade and expand on advice from users and reviewers in our comments.
Battery Life
Battery life in minutes is a rating provided by the manufacturer for normal use with a full charge to begin with. If users realize significantly shorter times, we note that in our comments. Recall that some degradation in battery life will occur with age of the machine and frequency of use.
Accessories
The letter grade for accessories is based on whether or not they are available, and if they are, how many there might be. A better grade means you have more flexibility in these tools.
Weight
Clearly, one of the reasons we use cordless machines, aside from convenience from the lack of a power cord tether, is lighter weight. This can be something of a trade-off with ergonomics, because a system could be light but unstable, or heavier but better balanced. Consider this statistic together with the ease-of-use grade.