We've researched & scoured our sources to come up with this Floor Critics' guide to the 6 best vacuum cleaners for carpet.
Oh, carpet, how we love thee; a cushion of a puffy cloud under our feet. Shag and frieze, berber and plush, you possess the unique ability to trap every last particle of dust.
And so the challenge ensues to find the best cleaning appliances to return our beloved carpets to the clean, comfy surfaces we so desire. We're talking serious suctioning devices designed to eliminate the microscopic invaders in our carpet fibers.
We'll dabble in the dirty details of each vac, from suction power to cord length to things we never even considered, like height adjustments and swivel steering.
From traditional, old fashioned-like-apple-pie uprights to little robots that do our dirty work for us; we'll explore the ins and outs of removing all of the yuck from all of our carpets. Hold on to your smartphones folks, we're about to dive into the ever evolving world of the best vacuums for carpets.
Rankings
For the Siberian Husky herders, the St. Bernard sanctuaries, and the large percentage of the public who have conceded to their cats and now just clean up after them, there are pet hair vacuums out there begging to make your hairied lives a little bit easier.
For those who take out their woes on the carpet scene with therapeutically-cleansing vacuuming sessions, or those with no time for sucking dirt from floors, there are vacuums on the market seeking to satisfy your need (or, lack-of-need) for carpet cleaning interactions.
How We Ranked the Best Vacuums for Carpet
From the first push to the emptying of the debris container, the experience and efficiency in removing the microscopic but compounding debris from our carpeting is what determines a vacuum's effectiveness and value.
The nature of carpet can create quite a challenging task for cleaning. While most vacuums remove the noticeable surface debris, it takes a super-sucker to really get into the depths of the carpet construct to get it truly clean. Different manufacturers have tapped into different methods of elevated suction, agitation and even powered drive heads to successfully perform this task.
Pet hair, dander and allergens are all big players in the targeted spectrum of particulate violators. The ability to remove allergy-inducing invaders and keep them contained during the cleaning process can be an important factor for those sensitive to these little microscopic defectors.
Convenience and the vacuum have reached a new age. Robotic floor suction devices are really getting their talons into the market and have continued to gain in popularity. With WiFi programming capabilities and vacubots returning themselves to their charging stations, it's safe to say that we've arrived at the dawn of a new era.
Factoring in the many variables involved in determining the best vacuums for carpet, here is a list of factors considered when pursuing the seemingly best choices on the market.
Ease Of Use

Power Source (rechargeable battery vs. power cord)
Weight and Maneuverability
Dirt containment/handling

Value

Features and benefits

Filtration (HEPA)
Attachments
Noise levels
Supporting technologies

Price

Cleaning Power
What to Expect When Spending More
As the price tag increases, so should features like HEPA filters, attachments, adjustability and automation.
Easy mobility, with light weights and long cords should be a standard in most decent vacuums. Obviously, we're also looking for suction capabilities and the good ol' "vacuum tracks," so expect to find multiple setting options to customize the carpet vacuuming experience.
Whether bagged or bagless, dirt removal should be flawless, as the primary goal here is eradicating tiny particles from our premises. Some higher end models accomplish this, and even a couple budget vacs have this under control.
With a rising price, cordless functionality and even robotic automation could begin coming into play. With a bump up in price, the convenience of just grabbing the vac from its charging station as needed or hitting a button on an app to control your automated suction assistant should be expected.
Rankings & Reviews
So, we don't want to be judgy, but we judged. Carefully scanning the features and price tags, consumer reviews and manufacturer sites, conclusions were drawn. Decisions were made.
In our determinations for the best vacuums for carpet (note: these are not carpet sweepers, another category of cleaning tool altogether), we've zoned in on the top six vacuums to hit our radar while researching the many variables that go into a quality suction system.
Carpet is a different beast than any other floor covering, and the following vacs offer the best features and price points to cover its cleaning needs for the majority of consumers.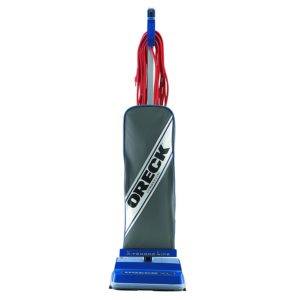 Dirt Containment Style: Bagged
Power Source: Corded
The high points: Simplicity, low profile, lightweight
The not-so: No attachments, no added features or adjustability, some maintenance needed
After scouring various websites for the ins and outs of vacuuming carpets, the Oreck Commercial XL2100RHS rose to the top. It's simple, it does one thing, and it does it well. It sucks debris from carpet at an extremely forceful rate, and contains it in a large bag.
Pretty straight-forward. Refreshing, right?
While other manufacturers are zoning in on carpet level settings, attachments and multi-head brushes, Oreck just does suction, especially designed for carpet.
The low-profile capabilities of the XL2100RHS allow it to easily fit under most furniture and tight spaces. The handle lowers to almost parallel with the floor, making it a great upholstery sucker, too.
The feather-light XL2100RHS is one of the lightest upright vacuums on the market, if not the lightest. When using a powerful suctioning device on plush, high pile carpeting, lightweight is key – unless you're seeking a cardio workout while ridding your carpet of dust mites.
Containing the disgustingness that arises from the depths of most carpet fibers should really be priority number one here. Keeping that stuff in the bag is the goal, and Oreck does it well, with a massive bag that's easy to replace without poofing a cloud of dust back into the house.
What Reviewers Say About It
Oreck owners should have a club. Maybe there is a club? Many of the reviewers report to have dabbled in other suction methods and returned to the classic design of the Oreck. They all have their reasons for leaving, but most sing praises to the simple design and easy part replacements.
Various reviewers rave about the capacity of the containment bag. Being able to go months between bag changes makes for many-a-happy house-cleaner.
Another common report is the quality of the freshly vacuumed floor. Reports like 'it feels like I'm walking on new carpet after I vacuum' and 'the carpet looked like it had just been shampooed' pepper most reviews, and lend to the constant theme of the suction power of the Oreck.
One reviewer noted that due to the lack of attachments, the XL2100RHS really can't be considered an all-in-one vacuum, and may require a secondary vacuum for stairs and hard to reach nooks & crannies.
What's Good?
Oreck has really focused on one goal here: to be a great vacuum cleaner for all floor types, especially carpets. Though the aesthetics are pretty… er, classic, we'll call it… the product does what it sets out to do.
This really is your grandma's vacuum. And most grandmas I know are usually big fans of a lack of debris in their carpets, and they wouldn't settle for a subpar suction system. The Oreck XL2100RHS's low profile capabilities, 35 foot power cord and wide 12" cleaning path makes it versatile and capable of getting the job done in an efficient, no bells-and-whistles kind of way.
The weight of the Oreck is probably its strongest feature. Motoring around the living room with this 8 lb feather of a vacuum will be fun and almost feel like a beachy vacation. Okay, it won't. But your arm probably won't get tired very fast, and moving the vac between levels of the home won't be a huge undertaking.
What Could Be Better?
The lack of attachments can be a demerit for the XL2100RHS. If you're looking for far-reaching suction capabilities and brush attachments that will reach in cracks and crevices, this is probably not the vacuum for you.
This may not be the vacuum for applications involving carpeted stairs. Though it's lightweight, its general design doesn't allow for great mobility in the stair vacuuming arena and may make for some awkward positioning and balancing to get the job done.
There are various bag options available, including the allergen-reducing HEPA style, though they are not necessarily easy to acquire. In the day and age of Amazon Prime shipping, it'd be helpful if the XL2100's HEPA and other bags were readily available to be delivered to our doors in 2 business days or less.
How Does It Compare in Value?
The XL2100RHS is a pretty serious value in the marketplace, all things considered. Its low price combined with its ability to obliterate dust, dirt and doggy (and kitty) hair from the plushest of carpets has it sitting pretty high on the scale.
It has to be noted again, though, that for a consumer looking for some of the added value features that other vacuums offer, the XL2100RHS might not really be comparing apples to apples. There is a time and a place for attachments and brushes, and the XL2100RHS just does not play on that field.
How Has It Improved?
Not much has changed in the Oreck Commercial Upright Vac realm over recent years. Some upgraded filters have been added to the lineup, and some tweaks to cord length have been made.
Because these lightweight commercial vacs have been designed with one purpose and one purpose only, there simply hasn't been much to change.
The Next Best:
Dirt Containment Style: Bagless
Power Source: Cordless, battery
The high points: HEPA filtration, lightweight, deep powered suction setting
The not-so: Requires charging between uses, time limit on usage
Dyson is known in the industry for its suction capabilities. The V8 Animal brings some nice features to the table and is a modern day take on the traditional vacuum.
The cordless, lightweight design of the V8 Animal, combined with powerful suction and even a turbo mode, should definitely be a consideration in the quest for a new suction system.
This compact vac can be docked on its charging system and stowed away with a minimal footprint. Quickly available for an unexpected spill or for a whole house deep clean, the V8 Animal can get a broad spectrum of jobs done.
The HEPA filtration system helps in keeping tiny dirt from sneaking its way back into the home and helps to eliminate dander and allergens that are trapped within the carpet. The V8 Animal is designed especially for pet owners, and does a great job of destroying the evidence of even the hairiest of creatures.
The price tag on the Dyson V8 Animal lands it right in the middle of the budget spectrum most residential vacuums. And for the price, a consumer gains a lot of high-end performance and mobility.
What Reviewers Say About It
Most reviewers report positive feedback on the easy maneuverability and portability that the V8 Animal offers. With no cord to cut productivity short, reviewers seem to like this vacuum for quick cleanups and whole house maintenance, alike. The V8 Animal is also a favorite for carpeted stair applications, unlike the above Oreck.
While this Dyson vac gets some pretty high marks from owners, there are some complaints, too. The convenience of the cordless, lightweight V8 Animal comes at a cost. A user has to pay the charging tax; that is, a good 3-4 hour charge between uses. Those hours equal about 30-40 minutes of solid suctioning time, and while that seems like it should be adequate for most applications, it can certainly cut cleaning sessions short sometimes.
Another common concern is the on/off switch. According to reviewers, the fact that the on switch, which is like a trigger, needs to be held constantly while operating and can be cumbersome.
What's Good?
The Dyson V8 Animal is supreme at suction and capable of digging deep into the fibers of carpet using the MAX mode. This allows the user to customize the level of cleaning needed for various applications.
The versatility of the V8 Animal makes it a multi-use tool able to handle an array of dirty situations. The wand collapses down to a mobile handheld size, allowing the vac to be used in tight spaces & even double as an automotive interior vacuum.
Keeping the collected dirt and debris contained is a huge factor in the quality experience with a vacuum. Dyson does a great job of this with its standard HEPA filter, almost completely eliminating the passage of particles back into the room. The Dirt Ejector is also a key feature that helps when it comes time to empty the collection bin. It allows for a one step, "no touch" dirt evacuation.
What Could Be Better?
Battery life is probably the biggest potential weak point with the Dyson V8 Animal. While the company advertises up to 40 minutes of use on a full charge – in reality, this will probably hit closer to 30-35 minutes. The use of the MAX turbo cleaning mode will lessen the timeline even more. So, as with most things in our world, more battery power is key.
As many reviewers have cited, the on/off switch needing to be held constantly during operation seems like an improvement that could easily be remedied by a simple flip down mechanism of sorts, to hold the trigger in the "on" position. This isn't anything that a crafty user can't overcome with, say, a rubber band, but it still is something to overcome. And at this vac's price, that type of issue shouldn't be something a user needs to deal with.
The dirt containment bin could be bigger. There's probably a power usage vs. weight balance that comes into play when determining the size of said bin. But, most people want (or, need) to store more debris.
How Does It Compare in Value?
The price tag on the Dyson plants it in the midst of the mid-range carpet vacs on the market. Some of the high tech features incorporated into its design certainly justify its price.
The versatility of the V8 Animal does allow a user to possibly eliminate one or two other suction devices and become a one vac household. The handheld option, coupled with with ability to increase suction in carpet deep cleaning scenarios make this vac a valuable multi-tool to have in the house cleaning arsenel.
How Has It Improved?
Dyson has upgraded various features throughout the development of their cordless V series vacs. The V8 features improved power, with a 15% power boost over the previous V6 and V7 models.
Better carpet agitation ability is another improvement that was made in the development of the V8 Animal. The addition of the direct drive motor head, designed to turbo brush carpet fibers, has improved carpet cleaning capabilities by up to 150%.
One step dirt elimination was also a big improvement introduced with the V8 series vacs. A pull of a lever releases dirt from the bin in one step, allowing the user to drop the debris without ever having to touch it.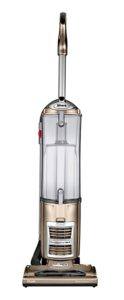 Dirt Containment Style: Bagless
Power Source: Corded
The high points: Price, quiet, large debris collection bin
The not-so: Lack of durability, tips easily when attachments are being used
The price and mostly glowing reviews pushes the Shark Navigator Professional N70 Upright Vacuum to the top of the list.
While probably not the most durable upright on the market, this value-built vac has a lot of premium features and is serious about carpet debris extraction.
The Shark Navigator Professional N70 addresses some of the main concerns that residential consumers encounter when operating their vacs. With its large debris collection bin, a 25' power cord and the ability to choose different suction settings, the affordably priced  N70 packs a serious punch.
Not only is the N70 great on carpeted floors, it is also a decent hard surface vac. The brush roll shutoff function allows the user to easily go between floor surfaces and get maximum performance from the vac.
While not equipped with as many attachments as some uprights, the N70 does come with a few key tools needed to adequately remove dust and debris from baseboards and other nooks and crannies.
What Reviewers Say About It
Reviews on the Navigator Professional N70 tend to reflect the budget price point of the vac & shockingly strong suction capabilities.
A few consumers report that suction can get a little too serious, and raises caution to other vacuum operators when encounters between the vac and a throw rug occur. According to a few reviewers, the N70 likes to eat rugs and its suction power can almost be too much in these situations.
Many reviewers report being surprised at how quiet the vac can be while still providing high levels of suction on even the plushest of carpets. Naptime is now prime vacuuming time. Those with less ambition to maintain clean carpets than others in the home can rest assured that their TV time won't face much interference.
Some of the less-than-positive reviews complain of warranty issues not being handled to their expectations, while others complain of short life spans on the vacuum in general. Also, according to many reviewers, the N70 is susceptible to performance issues due to lack of maintenance, pertaining primarily to filter cleaning and replacement.
What's Good?
The best thing about the Shark Navigator Professional N70 is its entry-level price tag. For the average consumer looking for high quality carpet cleaning results, the Navigator Professional N70 does not disappoint.
The attachments that come with the N70 vac are adequate for beyond-the-surface tasks. The wide pet upholstery tool can quickly eliminate stubborn pet hair clinging to couches and curtains, and the dusting brush can contend with dusty blinds and shelves. The crevice tool will open up access to sucking behind those hard-to-reach spots without much struggle.
The N70's large debris bin is a big plus and extends vacuum time and suction power far beyond a lot of other vacs in its class. Its relatively long 25' power cord means not as much effort put into cord considerations while performing the artful act of high powered debris removal.
What Could Be Better?
The Shark N70 can be a little top heavy with its attachments and has a tendency to tip when attachments are in use. Some sort of counterbalance could go a long way when it comes to keeping the vacuum grounded.
Hair can jam the roller brushes and bring pro-suction (see what I did there?) to a sudden halt. While the brush bristles definitely have a purpose, it'd be helpful in eliminating some serious headaches to somehow thwart this situation.
Emptying debris containers tend to be a weak point in lots of bagless upright vacuums. This Shark vacuum seems to fall in the middle of this dusty, dirty spectrum. On the plus side, it has a lot of dirt storage capacity, but this also means a lot of dust and debris to contend with during the emptying process.
How Does It Compare in Value?
This powerful, budget-friendly vacuum is pretty high on the value scale. The combination of highly sought-after features, super suction capabilities and its versatility in cleaning multiple floor surfaces drives it up our value rankings.
Important note: this vacuum can potentially be a case of "getting what you pay for," with reports of its lack of durability and longevity. So while it has a friendly price tag, it's also reasonable to expect some corners may have been cut to deliver a low price on this model.
Overall, if properly used and maintained, the Shark N70 will give most users quite a few years of use.
How Has It Improved?
The N70 has incorporated some serious improvements to its design compared to previous models in the lineup. Convenience and ease of use seem to be the primary theme in this model's updates.
The swivel steering provides added mobility and ease of operation. The new supersized XL dust containment bin carries users a bit further between dealing with dirt and debris. The Anti-Allergen Complete Seal System and HEPA filtration also adds a new level of quality dust and allergen containment.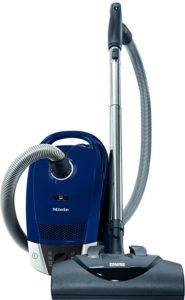 Dirt Containment Style: Bagged
Power Source: Corded
The high points: Completely sealed system with HEPA filtration, 6 suction-control settings
The not-so: Mid-high price tag, short cord, bulky
The Miele Compact C2 Electro+ canister vacuum is a well oiled, German engineered machine that is top in its class when it comes to air filtration and allergen containment.
Carpets are an allergen magnet, posing a seemingly endless battle with maintaining a relatively allergen and dander-free household. The Miele Compact C2 Electro+ vac strives to eliminate dust, debris and microscopic allergens from your world, one vacuum swipe at a time.
The six power settings and five height adjustment levels allow the user to customize the suction power to most effectively clean the surface below. The Electro+ floorhead gets in deep and drives the littlest, most stubborn particles out of your carpet fibers and into the bagged dirt canister.
What Reviewers Say About It
The Compact C2 Electro+ gets rave reviews about its (relatively) whisper-quiet operation and its convenient, lightweight maneuverability. The canister can be a bit bulky to move from room to room. But cleaning is a breeze with the C2 Electro+ during active vacuuming with the removable wand.
There's a somewhat shocking situation reported by the vacuum itself, though. No really, it shocks users who aren't holding the hose on the handle. Shocks are minor, but clearly annoying and not something that vacuum operators are looking to encounter during cleaning sessions.
What's Good?
The high quality materials, engineering and construction of the Miele Compact C2 Electro+ make the investment in this canister vac feel justified. While there are some nice features incorporated into the design, there's a lot to be said of having a quality-built product on hand for precision floor debris removal.
For allergy sufferers and pet owners, the C2 Electro+ really delivers on the allergen eradication front. Miele is not messing around with its completely sealed filtration system, filtering all of the air before sending it back into the room.
Quiet operation, lightweight mobility and an easy to change containment bag makes the C2 Electro+ a reliable, friendly machine for your dirt and hair removal needs.
What Could Be Better?
Seriously, the handle shock situation needs to be addressed. Some of us get caught up in our suctioning and forget where to precisely hold our handles. A literal snap back to reality is the last thing we need when lost in vac-ky land.
The power cord could be longer. Since the canister part of the vac can present a somewhat awkward handling situation when moving throughout a room, a longer cord would help to eliminate the cumbersome, constant need to be aware of both the canister and power cord locations.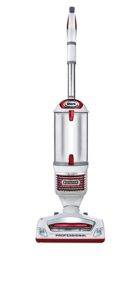 Dirt Containment Style: Bagless
Power Source: Corded
The high points: Lift away design allows for versatile usage, 5 attachments, reasonable price
The not-so: Somewhat shorter life spans, dirt bin emptying can be messy
The Shark Rotator Professional Lift Away upright vacuum is an affordably priced vac that provides high quality suction and some added features that aren't often found at its price point.
Washable filters and a HEPA filtration system are two upper level features that make the Shark Rotator Professional Lift Away deliver clean-aired, super sucky results. Five attachments present a broad spectrum of tools to allow the user to conquer more than just your average floor cleaning operations.
The lift away wand feature, as noted in the name of the vacuum, allows for a breakaway lightweight experience. Carpeted stairs are no match for this handy handle.
What Reviewers Say About It
The Lift Away leaves the highly sought after "vacuum tracks." These tracks offer visual proof that the carpet fibers have been fully sucked and dirt and dust have been heavily extracted.
While the suction is usually reported as being pretty amazing, some reviewers report a drastic drop in velocity after a few uses. However, most users find that a thorough cleaning of their vac's filters gets them back up & sucking.
The longevity of the Shark Lift Away seems to be a concern among some owners. A few reviewers referenced that the vac can be hard to work on, and replacement parts are sometimes pretty pricey.
What's Good?
The advanced swivel steering and lift away wand makes operating across multiple surfaces and obstructions easy. The long 30' power cord reaches into the commercial vac realm, allowing a wider range of operation.
The five attachments included with the Shark Lift Away vacuum make it a versatile cleaning machine. Those with pets will appreciate the pet power brush for elevated, concentrated hair and dander removal.
Oh, and it's a pretty vacuum, if I do say so, myself.
What Could Be Better?
The durability and serviceability of the Lift Away may be a weak point. While the vac is at a relatively low price point, most users want to be able to form a long term relationship with their go-to floor suction device.
The span of time between filter washings could be improved. Having to chase the suction quality every few uses can become a bit annoying.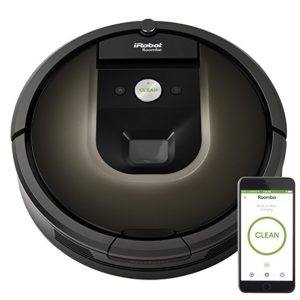 Dirt Containment Style: Bagless
Power Source: Cordless, battery
The high points: Hands free operation, app controlled, three stage cleaning system
The not-so: Needs direction sometimes, small dirt containment bin
We have to have a robot somewhere on the list, right? The iRobot Roomba 980 vacuum may just be the ultimate, less expensive alternative to a housekeeper.
OK, that may be a stretch. But, it's still very handy.
Reports also support that these Roombas become fast friends and confidants, occasional pet transportation devices & baby entertainers. This little vacuum might just be your new best friend.
What Reviewers Say About It
Most reviewers have named their vacuum bots, and seem to visit with them daily. This isn't necessarily a bad thing, but it is kind of… a "thing."
Most reviews rave about the convenience and time saved by have this cleaning bot at their beckon call. Cleaning schedules can be set at midnight and the work is literally done while users sleep.
The Roomba 980 does not do well with black, ever. According to some consumers, black carpets, pitch black rooms, and the like – the Roomba is clearly afraid of the dark. So, those with extreme darkness in their homes should heed warning. The Roomba 980 may have some blips in those specific applications. If this sounds like your house, vacuuming during daylight hours may be the only option.
The major downside to a robotic vacuum is that it wants to clean too much, sometimes. Even if it involves a doggy accident or a hairball, the Roomba 980 is up for spreading that around and attempting to suction it clean. Unfortunately, things don't work quite that easily, and some owners have come home to… dicey… situations, spread across various rooms.
So, a note for pet owners: maybe don't let your Roomba operate when you're not around.
What's Good?
Full control and scheduling capabilities are performed through a Roomba app, accessed via smartphone.
What does this mean? Well, the user can tell the Roomba 980 what to do while grocery shopping or laying on a beach. Whoa.
Now, this controlling method is not for everyone, so it must be assumed that someone in the market for a robotic vacuum can also navigate a smartphone and enjoys the gifts that modern technology has given us.
The three stage cleaning system that the Roomba 980 utilizes will agitate, brush and suck, for optimal debris and hair removal from carpeted floors.
When the 980's journey is complete, it motors itself on back to it's charging device and docks itself to prepare for its next assignment. If the previously scheduled job was not completed prior to needing to charge, the Roomba 980 will return to where it left off.
What Could Be Better?
The Roomba 980 sometimes gets stuck or lost. On rare occasions, this poor bot can lose its way, or throw itself off a staircase. Yikes.
There are methods of handling such situations, but at times, it can feel like we (the humans) are working harder to make the technology work, as opposed to just doing the actual job ourselves.
The small dirt containment capacity is tough to overcome. While the automation is nice, having to regularly manually empty the container can get a bit annoying. As always, we want bigger dirt bins. Is that so much to ask?
The price is pretty high. Though we're not saying it's necessarily unjustified, the cost definitely limits the amount of consumers able to get on the robot vac train – especially with a model of this caliber.