Your floors are a wreck, you're on a tight budget, and it seems nearly impossible to find the right vacuum, which is why you're here: to see the 6 best vacuums under $200. Stop listening to door-to-door salesmen and TV advertisements telling you that overpriced vacuums are the only way to keep your floors clean and sanitary—this simply isn't true.
There are a variety of inexpensive vacuums that can keep your floors looking their best, whether you live in a small apartment by yourself or a large home with pets and children. If you want to keep your home looking its cleanest without breaking the bank, you're in the right place. The six vacuums on this page are built to perform as well as (or in some cases, even better) than their more expensive counterparts at a fraction of the cost.
Rankings
Ranking
Product
Weight
Attachments
Type
Review
Price
#1
Hoover T-Series WindTunnel Rewind Plus UH70120
16.5 pounds
Extension Wand, Crevice Tool, Upholstery Brush, Powered Hand Tool
Bagless Upright
Read Review

See Price on Amazon

#2
Shark Navigator NV352 Upright Vacuum
12.5 pounds
Pet Brush
Bagless Upright with Detachable Hand Vac
Read Review

See Price on Amazon

#3
Bissell 9595A CleanView with One Pass
15 pounds
Extension Wand, TurboBrush, Dusting Brush, Crevice Tool
Bagless Upright
Read Review

See Price on Amazon

#4
Ovente ST2000 Bagless Canister Vacuum
12 pounds
Pet Brush, Floor Brush, Crevice Tool, Bristle Brush, Telesopic Wand
Bagless Upright
Read Review

See Price on Amazon

#5
BLACK+DECKER BDPSC103 POWERSWIVEL
8.8 pounds
2-in-1 Crevice Tool and Small Brush
Bagless Upright
Read Review

See Price on Amazon

#6
Eureka FloorRover NEU562A
16.75 pounds
Crevice Tool, Upholstery Tool, Pet Brush
Bagless Upright
Read Review

See Price on Amazon
Finding a Vacuum That Fits Your Needs (and Budget)
You're here because you've had it with your old, clunky vacuum that pushes more dirt around than it picks up. Maybe you want an option that can move from carpets to hard floors without having to pull out the dust mop, or you've just purchased your new home and you're overwhelmed with the models, designs and price points of vacuums.
Regardless of your reasons, you want to find the best bang for your buck with a quality vacuum priced under $200. If you've made up your mind about making this purchase, it's time to move on to the next step: researching products. We've done the legwork for you, so before you pull out your wallet, ask yourself these questions:
Do I Want an Upright or Canister Vacuum?
An upright vacuum is the model that we traditionally think of as a "typical" vacuum. These models have the motor, attachments, bag and other components all on one unit.
A canister vacuum features two separate parts: a rolling unit that contains the bag, motor, and other components, while the handle and vacuum head are a separate unit that attaches to the canister.
Traditional upright vacuum cleaners can be easy to maneuver and are easier to empty than most canister vacs. Traditional models do require more storage space and can be heavy and bulky.
Canister models are great for use on stairs and typically require less storage space, although this varies by model. Because you pull the canister behind you, using a canister vacuum can be strenuous, especially in larger homes.
It's best to weigh out the pros and cons and consider aspects of your own home to choose the right model for you.
What Attachments Are Most Important to Me?
Vacuum attachments can certainly come in handy. Whether you're trying to reach into tight places (think corners or under your furniture), remove pet hair from your sofa, freshen up your dusty curtains, or thoroughly vacuum your stairs, attachments are a must.
With that being said, you don't need 100 different attachments. Typically, a crevice tool and upholstery brush are all you need for most cleaning jobs. However, you may opt to select a model that comes with different attachments to fit your vacuuming needs—the choice is entirely up to you.
What Type of Flooring Do I Plan to Vacuum?
Most people immediately think of carpet when it comes to where to use a vacuum. However, today's models are designed to glide across a variety of floor surfaces.
If you have hardwood flooring, laminate, tile, vinyl, or other hard flooring, you can use a vacuum in place of a broom. However, please be aware that not all vacuums have this functionality. You have to make sure that you purchase a model that is designed for use on hard floors.
These models allow you to change the settings to vacuum over different surfaces. These units are certainly worth the investment if you want to clean your floors with one appliance. However, if you only have carpets or you prefer to clean your hard floors using other methods, you can often save money by purchasing a basic model of vacuum that's just for carpets.
Do I Want a Bagless or Bagged Model?
Whether you choose a bagless model or not is entirely up to you and is typically just a matter of personal preference. However, each has their benefits and drawbacks that you should be aware of before making your purchase.
Bagless models cost less money over the long term because you're not having to purchase disposable bags. You never have to worry about running all over town to find bags that fit your model, and they're a more eco-friendly option.
Bagged models tend to hold more dirt and release less dirt in the air than emptying a dust cup. These models typically require less maintenance, do not require frequent emptying, and are the preferred choice for many allergy sufferers.
Selection Criteria: How We Ranked the Best Vacuums Under $200
You'll find plenty of vacuums that come with multiple attachments and perform many different functions at an affordable price point. However, such a wide selection can have its drawbacks. With so many affordable models, which is right for you?
Instead of taking a gamble and spending your hard-earned cash on a vacuum that lacks in performance and features, we've done the hard work for you by carefully selecting the top six vacuums that outperform their competitors.
The best part is that each of these models cost just $200 or less. It's time to shelve that old belief that you have to spend more for quality and take a look at the features we considered when choosing the best of the best.
Weight
The weight of the vacuum is likely important to you if you have to haul it up and down stairs. Cleaning is tough enough without breaking a sweat just by moving your vacuum around. Don't just discount a vacuum because its light weight makes it feel "cheap"—many modern units pack a lot of punch in a smaller, lighter package.
Accessories/Attachments
It's amazing how much your vacuum can really do, from dusting your drapes and curtains to helping you clean up messes from snack time in the backseat of your vehicle. This may not be necessary if you plan to vacuum a room or two, but if you want a vacuum that does it all, there's an accessory for that.
Price
All of the vacuums on our list are less than $200, making them very budget-friendly. However, maybe your budget is around $100 or $150. No matter what your budget, this list covers it all.
Best Uses
If you want to just vacuum a few rooms of carpet, any vacuum will do the job. However, if you want to vacuum different types of flooring or even be able to easily use your vacuum for small spaces, cars, or other special uses, you'll want to look for a model that offers these features.
Vacuum Type
Do you want an eco-friendly bagless vacuum or a bagged model equipped with HEPA filtration? Do canister models appeal to you for your home with lots of stairs, or would you prefer an upright model that's easier to maneuver around your furniture? Deciding what type of vacuum you want is an important step because you make your purchase.
Frequently Asked Questions (FAQ)
I have pets and a LOT of pet hair. Do I really need to buy a specialty pet vacuum?
Pet owners have been using "traditional" vacuums for many years without a problem, so you don't have to have a specialty vacuum. However, pet hairs and dander can get deep into carpet, even if it looks clean on the surface.
Manufacturers design specialty pet vacuums with this in mind, offering deep cleaning power in the unit and any attachments to more effectively remove pet hair and dander. Most people with pets that shed frequently recommend purchasing a vacuum designed to clean up after pets.
I don't have carpets. Why would I need a vacuum?
Gone are the days when vacuum cleaners are simply for cleaning carpets and rugs. Many of today's models are not only designed to cut through the dirt in your carpet, but they perform well on a variety of hard surfaces.
Some models come with various settings and heights so you can get the cleaning power you need on any type of flooring from hardwoods to vacuuming laminate to ceramic tile and vinyl.
Of course, you could always just use a broom and dustpan, but why leave dirt and dust behind and get a sore back from bending over? Many vacuums allow you to transfer easily from carpets to hard flooring, eliminating pet hair, dirt, dust and other debris that prevents your floors from looking their best.
How do I maintain my vacuum to protect my investment?
To get the most out of your vacuum, make sure to invest in a high-quality model that's built to last—such as one of the models on this list. However, no matter which model you choose, there are always maintenance steps you can perform to make sure your vacuum performs as it should for years to come.
Always make sure to regularly change the bag for bagged models, and ensure that you purchase the correct-sized bags and install them according to manufacturer's specifications. If you have a bagless model, empty the dirt cup regularly. Make sure that you check and replace filters and belts regularly, and always check hoses, rollers, and other components to ensure they're clean and in working order.
My vacuum isn't performing as well as it once was. What's the problem?
Even the most expensive vacuums require some level of maintenance (see the previous question for some quick tips.) Failure to maintain your vacuum or use it properly can result in a damaged product or even dangers like fire or electrocution, so please take the time to maintain your vacuum.
If you notice that your vacuum isn't running as well as it once did, the first thing you should do is check the bag (in bagged models) or the dirt cup (in bagless models.) Emptying the cup or changing a full bag can help improve performance dramatically.
If the roller underneath the vacuum isn't turning or you notice a burning smell, unplug the vacuum and check the belt. That is because the belt is broken, it will need to be replaced. If this doesn't remedy your issue, check the hoses and filters for blockages, as well as the height and settings of the vacuum.
If all else fails, take your vacuum to a local repair shop. Taking apart your vacuum yourself can not only be dangerous but could potentially void your warranty.
Research & Reviews
We've combined our expertise with extensive research to compile this list of the 6 best vacuums under $200. We're going to examine the pros, cons and dirty details of each of these models to help you make the most educated purchasing decision.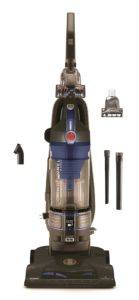 Weight: 16.5 pounds
Vacuum Type: Bagless Upright
The High Points: Lightweight design makes it easy to maneuver. The included HEPA filter traps over 99% of dirt, dust, and allergens, making it ideal for allergy sufferers. This model can transition easily from plush carpets to hard flooring. It also comes equipped with multiple tools for a variety of cleaning purposes. This model offers various height settings for the cleaning of different floor types.
The Low Points: The bulky canister makes it difficult to get around or under furniture. Hose suction is lacking when compared to more expensive models. There is no light available for cleaning under furniture and in dark spaces.
The price of the Hoover T-Series WindTunnel Rewind Plus UH70120 is so low, you may wonder if it performs well. Don't let price fool you because this model packs a lot of features into one
inexpensive, lightweight package
. From carpets to hardwoods, light cleaning to removal of pet hair, this model does it all at a fraction of the cost of the competition.
The UH70120 features Hoover's WindTunnel Technology that goes beyond just picking up surface debris. This feature works hard to suction up deeply embedded dirt and pet hair in your carpet. If you need to switch to hard floors, don't worry—this unit comes with 5-position height adjustment to handle messes on any type of flooring.
The UH70120 comes with a HEPA filter that traps 99.97% of allergens. The included filter is washable and reusable, and this eco-friendly feature helps you save money throughout the ownership of this vacuum. This model is bagless and includes a dirt cup that you can empty, replacing the need for expensive vacuum bags.
If you want to move beyond floors, the included tools are ready to take on the dirtiest jobs. Each model comes with a 12-inch extension wand, crevice tool, upholstery brush, and a powered hand tool, each of which can be used with the 8-inch stretch hose.
You also won't have to worry about the cord being tangled when not in use. This model features Cord Rewind that retracts the 25-foot cord inside the unit with just the tap of a foot pedal. All of these features and the high-power suction that's ideal for deep cleaning looks even better when considering that this model costs just around $100.
You won't have to worry about getting stuck with a lemon, either. Hoover provides a 2-year limited warranty to protect against defects in the product, ensuring you have a vacuum that will last through years of cleaning.
What Reviewers Say
Reviewers were overall very favorable about the Hoover UH70120. Many had previously owned more expensive models from competitors including Dyson vacuums, and said that the cleaning power was very comparable at a much lower price point.
Reviewers liked the overall suction power of the vacuum, as well as the included tools. Pet owners were overall very pleased with performance and were astonished by the amount of pet hair picked up by this model that their previous vacuums missed. Everyday cleaning of dirt and dust was also satisfactory, and reviewers found no problems switching from carpets to bare floors, nor did they notice any decrease in performance based on flooring type.
There were a few drawbacks pointed out by reviewers. Even though the unit is equipped with a bumper guard to protect furniture, the bulkier canister made it hard to get into tighter spaces and could ding furniture if care isn't taken. The model is also not equipped with a light, making it difficult to see when vacuuming in darker spaces, such as closets.
The suction of the hose also had its benefits and drawbacks, according to reviewers. The suction is very strong, so it does an incredible job of cleaning. However, some reviewers felt that the suction was a little bit too strong, making the hose and tools difficult to control.
Features and Considerations
The Hoover UH70120 is not a self-propelled vacuum. However, it is just 16.5 pounds and users find that the lighter weight makes it easy to maneuver even without this feature.
You never have to worry about manually checking for a dirty filter again when you use this vacuum. It comes equipped with an indicator that alerts you when the HEPA filter needs to be cleaned or checked.
Maintenance is also a breeze with this model. The UH70120 comes equipped with Easy Belt Change System and Brush Roll Access. This allows you to change the belt or clean out your brush roll just by flipping two levers.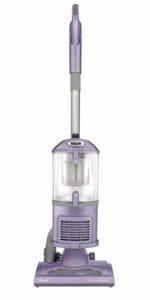 Weight: 12.5 pounds
Vacuum Type: Bagless Upright with Lift-Off Hand Vac
The High Points: This model is a great choice for anyone who has allergies, as it comes equipped with Anti-Allergen Complete Seal Technology and a HEPA filter. This vacuum is one of the most lightweight on the market, making it easy to maneuver from room to room or up and down stairs. It features a brush roll shutoff option for the cleaning of bare floors. It comes equipped with a pet brush for thoroughly and efficiently cleaning pet hair off of upholstery. The lift-off canister makes this model a 2-in-1 vacuum and gives you more bang for your buck.
The Low Points: Because the model is a bit top heavy, they may easily tip over when stored or when removing attachments. The company does not offer repair parts, which could lead to costly repairs or replacements in the future.
Shark has become a leading brand in floor care appliances, and the Shark Navigator NV352 is one of its standout products. This bagless upright vacuum cleaner is very lightweight and comes loaded with features that make it easy to maneuver from room to room, around and under furniture.
You'll enjoy lots of power to clean even the plushest carpets and rugs. This model also features a reusable HEPA filter and Anti-Allergen Complete Seal technology to remove 99.9% of dust and allergens around your home. Use the vac on your carpets, or use the Brush Roll Shutoff function to tackle your bare floors.
The swivel steering combined with the model's 12.5-pound design makes it a breeze to vacuum your entire home. If you own pets, you'll get great usage out of the wide pet upholstery tool included with your purchase, which allows you to easily remove pet hair from your furniture.
One of the best features of this model is that it features a lift-off canister. With just the push of a button, you can detach the canister to take on stairs, tight spaces, and other areas for a home that's cleaner than ever.
This model offers a lot of power in one easy-to-store unit. The best part for anyone on a budget is that this unit costs under $150 (significantly making this Shark significantly more affordable than a comparable Dyson vac). It provides incredible performance at a cost that's far less than its competitors.
What Reviewers Say
Reviewers of the Shark Navigator NV352 were generally happy with the high amount of power. However, some said that there was a little too much power when cleaning their area rugs.
Overall, emptying the dust canister was easy, and reviewers liked that they could easily remove, wash, and reuse the HEPA filter. The removable canister was also a big hit with reviewers.
Many reviewers said that their floors were noticeably cleaner and their homes even smelled fresher after use. The NV352 is a pet owner's dream, picking up deeply embedded pet hair, cat litter, and other messes with ease.
Another positive aspect reported by reviewers was how the Shark vacuum picked up dirt and debris in one pass. While this would normally shorten cleaning time, reviewers also report that the narrower vacuum head added to cleaning time.
Another problem reported by reviewers was that the top-heavy design made the vacuum prone to tipping over if nudged too hard (such as when removing or adding attachments.) Another common complaint was that some of the plastic parts broke after multiple uses, and Shark does not offer replacement parts, leading owners to have to pay for repairs.
While reviewers report that the dirt cup has to be emptied after each use, they also noted that removing the cup for cleaning was quick and easy.
Features & Considerations
The Shark Navigator NV352 does not have a height-adjustment feature. However, it can still be used on other types of flooring because the brush can be turned off.
This model features a 25-foot cord, which is a common size. However, if you have a larger room, you may have to change outlets as you work.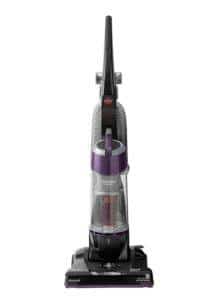 Weight: 15 pounds
Vacuum Type: Bagless Upright
The High Points: This model features a large-capacity dirt container that's easy to empty. The washable filter helps keep your house fresh and clean while sparing you the expense of purchasing new filters. It comes equipped with multiple attachments for cleaning and dusting your floors, furniture, and more. It's lightweight enough to move from room to room or up and down stairs but features Bissel's multi-cyclonic system that gives you the cleaning power needed to fight the toughest messes.
The Low Points: Filter must be cleaned after every few uses (and in some cases, after every use.) Failure to keep the filter clean or properly in place will result in damage to the motor. While the dust canister is easy to empty, doing so can be messy.
The Bissell 9595A is a high-performing, low-cost machine that does justice to the Bissell name. This model features a multi-cyclonic system that sucks up embedded dust, dirt, and pet hair with ease. The lightweight unit is easy to maneuver, helping to reduce your time spent cleaning.
The unit's system separates dirt and debris so your filters stay fresher longer. The included HEPA filters are washable, reusable, and filter out over 99% of dust and allergens.
In addition to being a powerful force to tackle messy carpets, this machine is capable of cleaning bare floors. This can be done by adjusting the height of the machine.
You can also freshen up your furniture, walls, drapes, and more using one of the many included attachments. This model comes equipped with an extension wand, TurboBrush tool, dusting brush, and crevice tool.
You won't have to worry about purchasing bags with this model, which features a large-capacity dirt tank. The dirt tank is easy to remove and empty, although emptying it can get messy, so emptying it into a trashcan or bag outside is ideal.
This is also one of the most affordable vacuums, priced well under $100. Bundles are also available at an additional cost, with available bundles including extra belts and handheld vacuums.
What Reviewers Say
Reviewers were pleased with the easy assembly process of this vacuum. Many had their unit assembled and ready to use within minutes.
Some reviewers were astounded by the amount of dirt, pet hair, and debris that were picked up by this lightweight, budget-friendly vacuum. Many reported that this model picked up much more than their previous, more expensive models.
The height-adjustment feature allows you to clean beyond just carpets. Most reviewers reported that the Bissell 9595A performed just as well on bare floors as it did on carpets and rugs.
Some reviewers were not impressed with the length of the hose and wished that it could be longer. Others were displeased with the filter positioning, and some complained that it is easy to misplace or incorrectly install the filter, which could lead to damage including motor failure.
Features & Considerations
This model features a 25-foot cord, which works for most homes. However, if vacuuming a larger room, you may need to switch outlets.
This model is designed with OnePass technology. This allows you to pick up most debris in one pass, dramatically shortening the length of time you spend vacuuming your floors.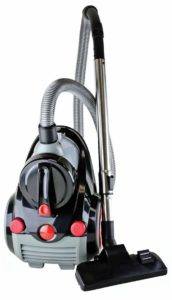 Weight: 12 pounds
Vacuum Type: Bagless Canister
The High Points: This is one of the most affordable canister vacuums on the market. The bagless design means you don't have to keep purchasing expensive bags. It comes with multiple attachments for cleaning your floors, furniture, and more. The auto cord rewind and canister design make it easy to store. It features a 1200-watt motor for ultimate power and suction.
If you're looking for an affordable canister vacuum, look no further. Why pay $300 or more for a canister vac when you can purchase the Ovente ST2000 at a fraction of the price? Don't let the
under-$100 price tag
fool you, though, because this extremely portable vacuum is
very powerful.
You won't have to go back and forth over the same spot over and over again with this unit. You'll find that its cyclonic action and nonstop suction allows you to get the deepest clean with just one pass. This includes picking up surface debris, as well as pet hair and dander hiding under the surface.
If you suffer from allergies, you'll be happy with this vacuum. It features a multi-level filtration system that removes over 99.9% of airborne particles and allergens. This model also comes with an LED alert system that lets you know when you need to clean the filter, as well as a light that indicates when the dirt container is full.
This unit packs many features that make it easier than ever to vacuum your entire home. It features a step pedal for turning the unit off and on, and it has a swiveling hose which you can use with one of the many included attachments. These attachments include a pet brush, floor brush, crevice nozzle and bristle brush and telescopic wand.
Storage is also a breeze. Once you're finished, the automatic cord rewinder keeps your cord stored and free of tangles. It's also extremely easy to maneuver, weighing just 12 pounds and featuring a canister design that makes it easy to navigate from room to room and from level to level.
What Reviewers Say
Reviewers raved about the ease of use of the Ovente ST2000. Not only was it easy to use but the performance in most cases exceeded expectations, especially when considering the price point.
Removing and emptying the dust canister was easy, and reviewers also praised the performance of the included filter. The lightweight and portable design also got positive marks.
Pet owners say that the Ovente ST2000 performed well in picking up pet hair from carpets, while the attachments worked well on upholstery. It also got high marks for use on hard floors.
Where the vacuum falls short is primarily in its design. Reviewers complained about some of the plastic parts, which felt "cheap." However, the majority of reviewers felt as though the price and performance outweighed this particular complaint.
Others said that while this vacuum is supposed to be a quieter model, it is just as loud if not louder than other vacuum models. Other complaints about this model include the hose falling off, reduced performance on high-pile carpeting, and a filter that fills up too quickly and needs to be cleaned often.
Features & Considerations
The cord length on the Ovente ST2000 is just around 16 feet, which is shorter than the average cord. This could prove to be an inconvenience when cleaning in a large room or an older home with fewer power outlets.
This model comes backed with a 1-year limited warranty, ensuring that you get a quality product free of manufacturer's defects. It is also loaded with features found on more expensive models, including a step pedal to power the unit off and on and an array of attachments.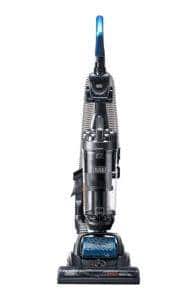 Weight: 8.8 pounds
Vacuum Type: Bagless Upright
The High Points: This model is available at an excellent price. It features a large dirt container so you don't have to empty it as frequently. It boasts multiple features that make it easy to maneuver, including swivel steering. Washable filters and a bagless design save you money over the long term. You can use it on multiple surfaces. Assembly is quick and easy. It's ideal for pet owners.
The Low Points: The cord is fairly short. The suction is very powerful and can be too powerful, making it difficult to vacuum. Hose and attachments are shorter than average, making it difficult to clean higher places.
If you're looking for a lightweight model, you won't get much lighter than the BLACK+DECKER BDPSC103. Weighing in at just 8.8 pounds, this is easily one of the lightest machines on the market. With such a low weight and budget price point, you might not expect much from this vacuum, but everything this little vacuum has to offer will surprise you.
One of the standout features of this vacuum is the patented Airswivel Technology. This provides 170-degree swivel steering for easily maneuvering around furniture and into tight spaces.
This bagless upright model comes with a washable dust cup that holds 2 liters of dirt, dust, and debris. It's easy to remove the dust cup, making cleanup faster and more efficient.
If you need to clean under your furniture or in other often-neglected areas, you can so with the included attachment. The 2-in-1 crevice tool and small brush works perfectly to clean under furniture, throughout tight spaces, and other hard-to-reach areas.
As previously mentioned, this model features a lightweight design. Not only is it easy to move it around while in use, but it's perfectly portable for going up and down stairs, while its compact size makes for easy storage.
What Reviewers Say
Reviewers were very happy with the performance of this machine, given its compact size and low price. Pet owners were particularly happy with how much pet hair it picked up.
Some reviewers used their old vacuums first, then followed using the BDASL202, finding that the new model picked up lots of hair and debris that the vacuum missed on the first pass.
Reviewers were positive about the ease of assembly. They praised the removal and emptying of the dirt cup for being so easy. Reviewers also gave the lightweight design positive remarks.
One of the things that was regarded by some reviewers as being negative was the lack of features on this model. Simple things like cord retraction and height adjustment were things that reviewers wanted to see on this model.
A few reviewers complained that the vacuum heated up after use. This excessive heat has led to belts breaking, while some reviewers worry that the heat may cause the plastic housing or other parts to melt or become damaged.
Features & Considerations
This model is very powerful. So powerful, in fact, that you may want to avoid using it on small rugs that can become damaged due to the suction.
The cord is 20 feet long, which is a little shorter than average when compared to other vacuums. This may be a consideration if you live in a home with large rooms or a home that does not have many power outlets.
The stretch hose measures just 6.5 feet. While this is fine when using the attachments to clean baseboards, under furniture, or other low areas, keep in mind this could be a problem if trying to vacuum up cobwebs off walls or ceilings or dust drapes and curtains.
While this model does not feature height adjustment, it can be used on hard surfaces in addition to carpets. The BDASL202 also comes backed with a 1-year limited warranty.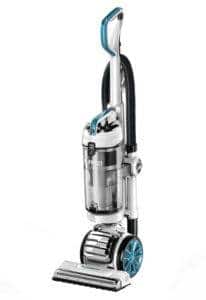 Weight: 16.75 pounds
Vacuum Type: Bagless Upright
The High Points: This model comes with multiple attachments to vacuum and freshen up any area of your home. The HEPA filter helps allergy sufferers breathe easier. It comes equipped with an extra-long cord, reducing the time spent changing outlets. It's easy to steer and maneuver with features such as easy-glide wheels and swivel steering. It's extremely powerful and is ideal for use on all types of flooring.
The Low Points: The cumbersome design makes it difficult to store. The unit may fall over when the hose is in use. The roller can trap pet hair and will require cleaning. The hose you use with attachments could be a little longer.
The manufacturer designed the Eureka FloorRover with power in mind. It's one of the most powerful vacuums created by this industry-leading company. Pet hair, debris, dirt, and more are no match for the NEU562A. This unit gives ultimate cleaning power in a modern package.
The NEU562A is a bagless upright model that reduces the need for vacuum bags. The dirt cup is easy to remove from the unit for emptying and cleaning. The design also makes it easy to see when the container is full and you need to empty it.
This Eureka vacuum comes with a HEPA filter that filters out over 99% of dust and allergens, allowing you to have a cleaner, healthier home. It's also a great choice for pet owners. In addition to having extreme suction, it comes with a Pet Turbo Brush for cleaning upholstery, stairs, bedding, and more.
The Pet Turbo Brush isn't the only tool that comes with it. Additional attachments that come with your purchase include a 2-in-1 upholstery tool and a crevice tool.
This vacuum is easy to navigate around any room. The design features advanced swivel steering, an extra-long cord, and an ergonomic handle for easy, comfortable cleanup. It also has Big Wheel technology that makes it easy to push over plush carpets or hard flooring surfaces.
What Reviewers Say
Many reviewers said, "This vacuum sucks," but in the best possible way. The suction power of this vacuum is unparalleled, reviewers claimed.
People were able to pick hair up easily with this model. However, one drawback was that it was too powerful to use on rugs.
The vacuum was easy to assemble, and reviewers liked that it was quieter than other vacuums they had used. The ease of emptying the canister, as well as seeing when it was full, were features that reviewers praised.
Many reviewers liked the overall design, with some stating it was "futuristic." The performance as well as the modern design were great, especially given the price point, many reviewers said.
Some reviewers complained about the weight of this machine, stating that the weight made it a bit cumbersome to push over high-pile plush carpeting. Others were displeased with the lack of adjustable height settings, while features like a cord rewinder would have been nice to have.
Features & Considerations
This unit has a 30-foot cord, which is longer than the cords of any other vacuum on this list. This makes it easy to vacuum an entire room or even several rooms without having to stop to change outlets.
The vacuum does not include with height settings for different flooring types. However, there is an option to turn off the brush roll so that you can use the vacuum on bare floors.
This unit has one of the best warranties in the business. It comes backed with a 5-year limited warranty.