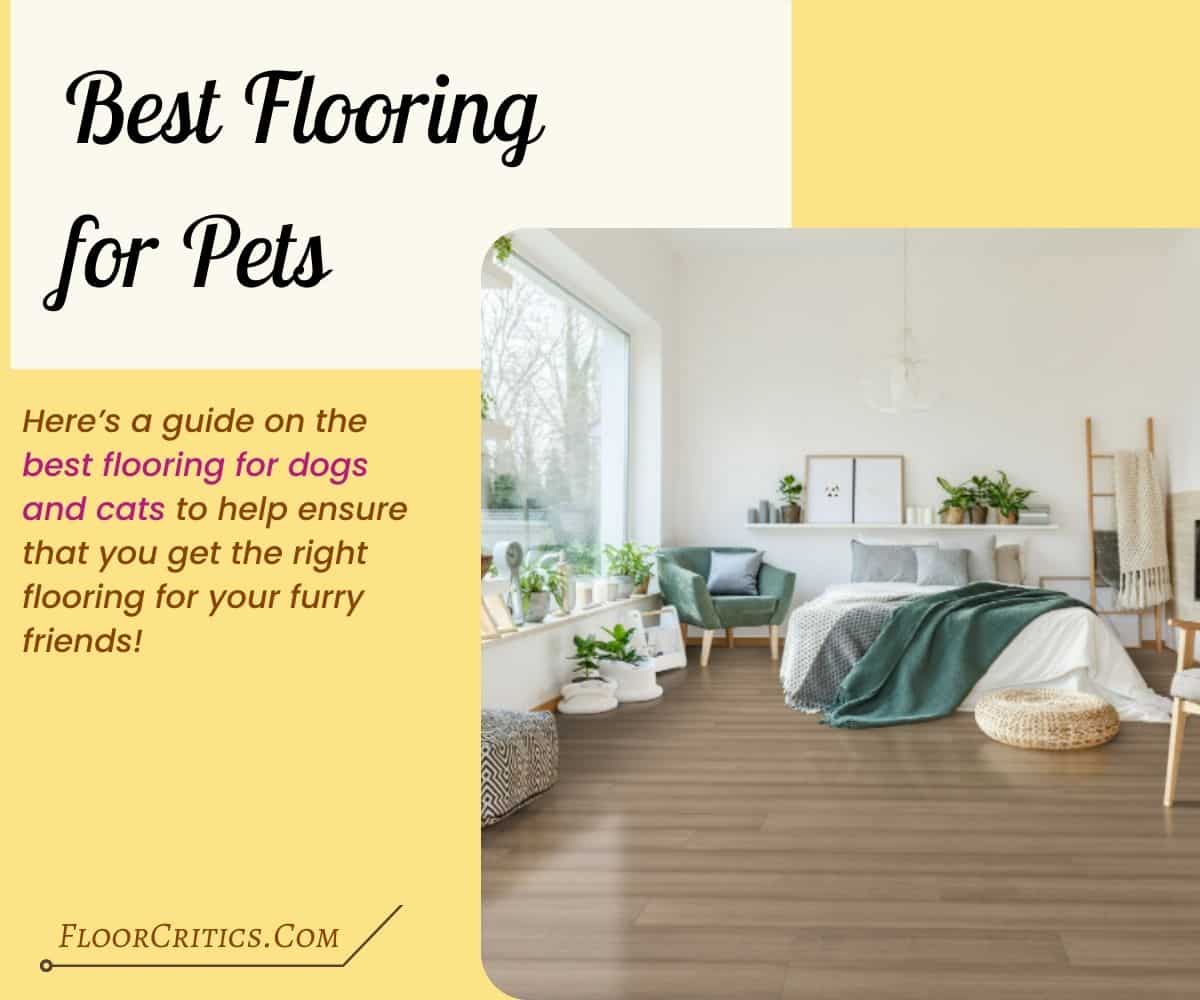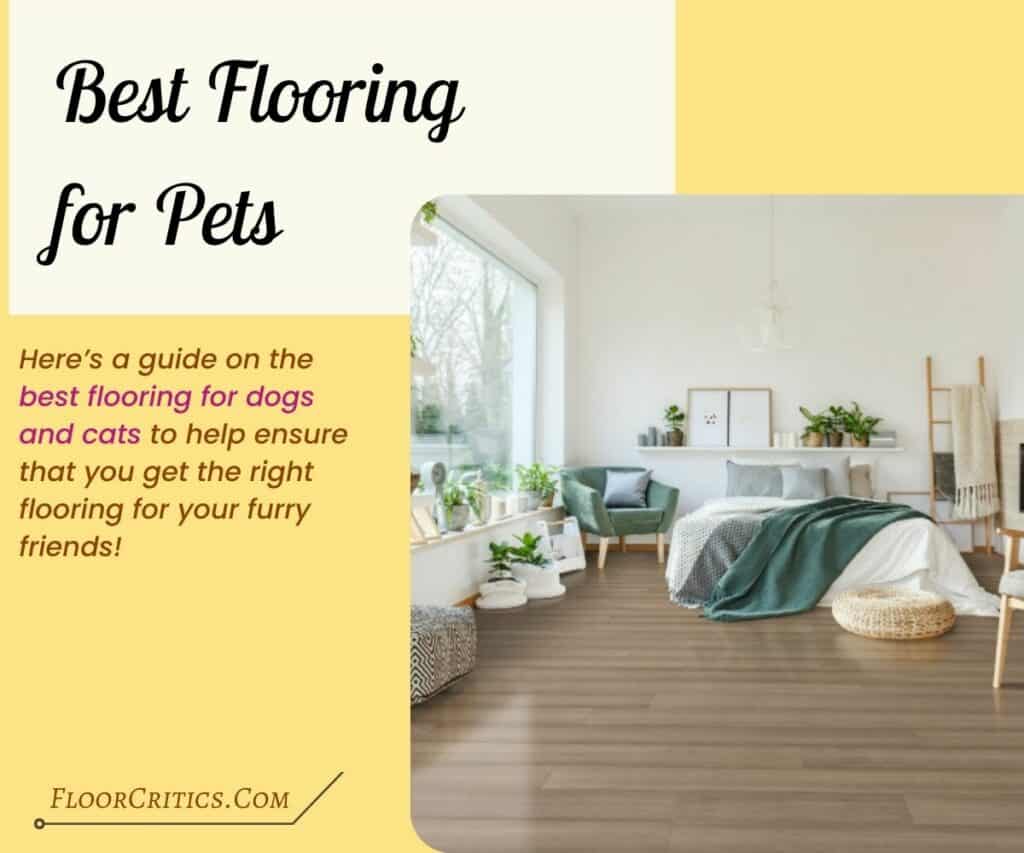 Pets such as dogs can be heavy on floors so choosing the best flooring for dogs is important. Their nails can leave scratches. Accidents can cause staining and result in odors that just won't dissipate. Shedding means floors need to be cleaned regularly and thoroughly.
So, unless you plan on banishing your best friend to the backyard and if you don't want your new floors ruined quickly, you do need to invest in the best flooring for dogs.
Here's our list of the best flooring for dogs including urine proof flooring, best flooring for dog kennels, and factors to consider along with the best flooring brands you can choose from.
7 Best Pet Friendly Flooring Options
To help you find flooring that you love and that can stand up to the wear and tear inflicted on it by your pets, we have come up with a list of the best types of flooring for animal homes.
Each option has pros and cons, but with a little perseverance, you will find the perfect flooring for your home.
1. Tile and Stone Flooring: Best Waterproof Flooring For Pets
Tile and stone flooring are definitely our top picks if you are looking for the best scratch-resistant flooring that is also waterproof. However, they are not the most comfortable for your pets, so make sure to add softness and warmth for them.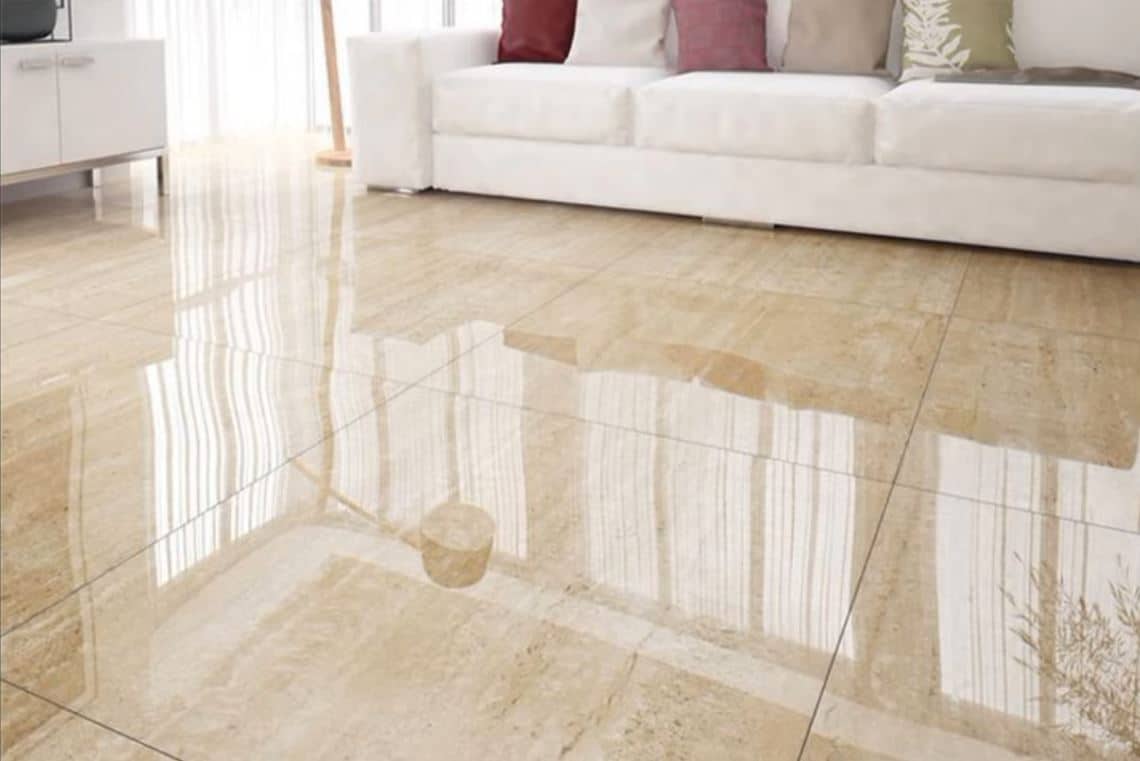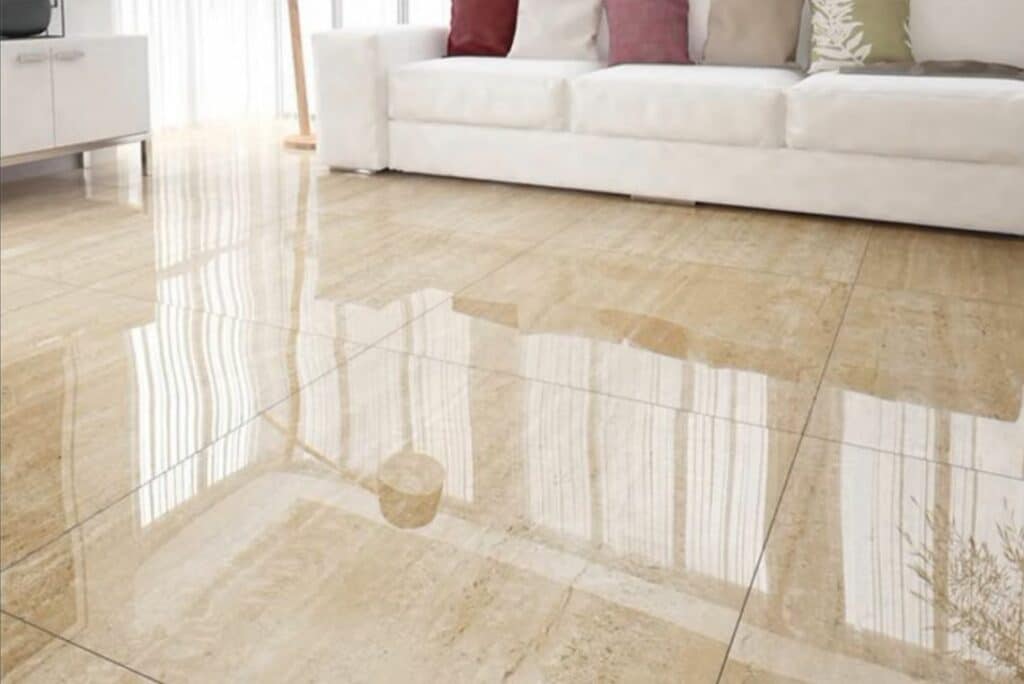 Water-resistant, stain-resistant, and easy to clean, tile and stone flooring can hold up to whatever your pet dishes out. It is one of the best options when it comes to pet-friendly flooring.
If you know your pet is prone to accidents or loves bringing mud and water into the home, you may decide that you need waterproof flooring. Tile and stone flooring are the best waterproof options, as they won't be damaged or retain stains.
Stone and tile for pets work well for pets of all ages. Whether you have a new puppy that is still learning to potty-train, or an older dog who has trouble controlling its bowels, these floors are very forgiving.
And if you forget to trim your pet's nails, you don't have to worry about them scratching or damaging your floors. Tile flooring can be highly affordable, costing from as little as $1.00 per square foot, though good quality tiles can set you back as much as $30.00 per square foot.
Now, the downside is that while tile (including wood-look tile) and stone are convenient for you, they aren't the most comfortable flooring for your pet. These floors are hard and cold.
Pros
Cons
– Waterproof
– Stain-resistant
– Highly scratch-resistant
– Easy to clean
– Affordable options are available
– Can be cold underfoot and drain warmth from the room in colder climates
Tips When Using Tile and Stone Flooring for Pets
Cats can easily find a cozy couch or chair to rest in. But if you have dogs, make sure that they have soft area rugs or a dog bed somewhere in the house for them to lie down on.
If you live somewhere that gets cold in the winter, you may also want to consider installing a radiant underfloor heating system. Radiant heating will add warmth for both you and your pet.
2. Cork Flooring: Best Comfortable Flooring for Aging Pets
While cork flooring is not entirely "pet-proof", it is an option that provides a natural warmth similar to hardwood flooring, yet it is more resistant to many pet-related flooring challenges.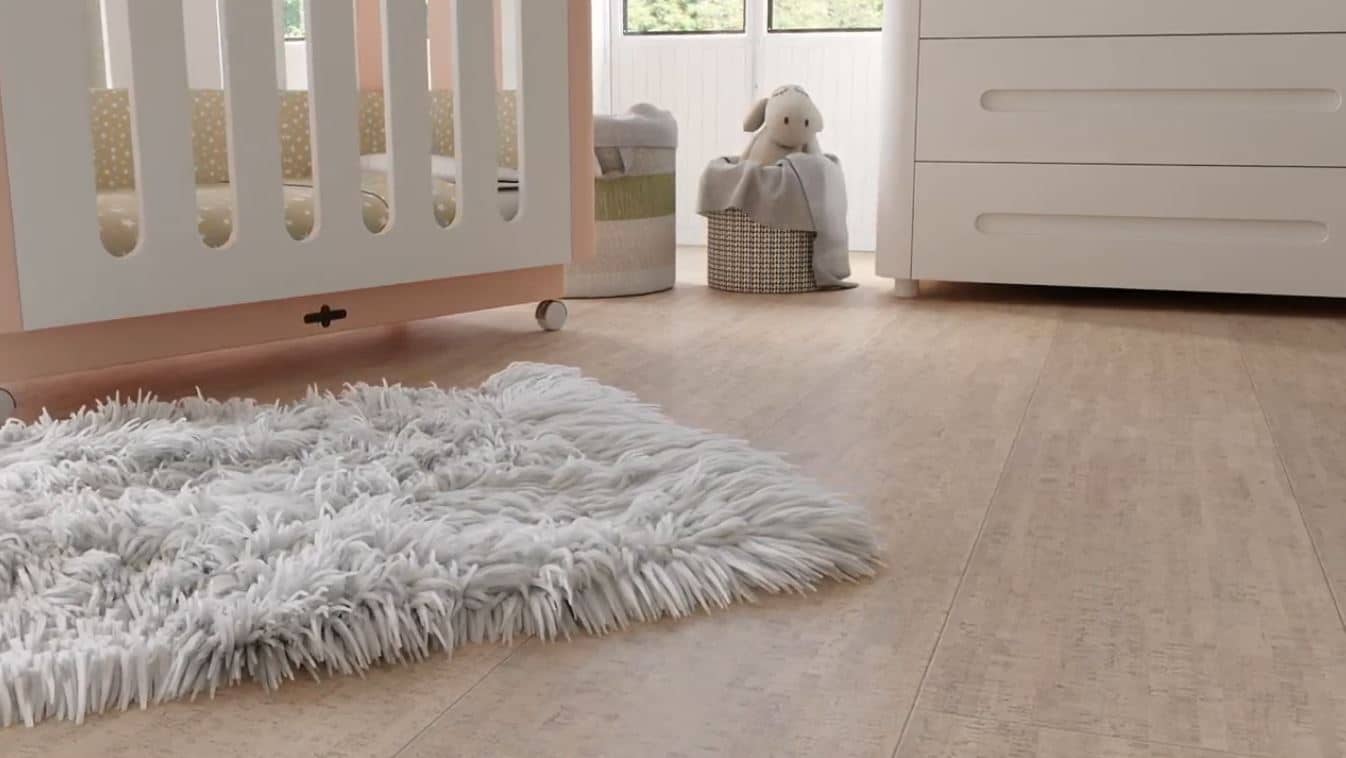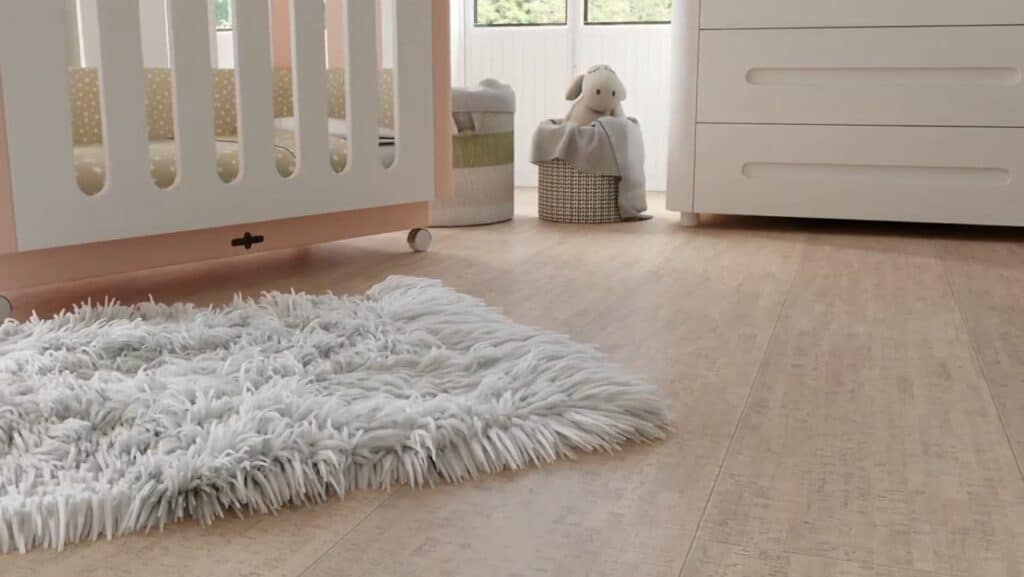 Cork flooring is an excellent choice for pet owners. It is attractive, resembling hardwood flooring, and it is also antimicrobial.
What does that mean? If your pet has an accident on the floor, antimicrobial flooring is less likely to develop bacterial growth, mold, or other harmful allergens. So, while you want to clean it up quickly, if you don't discover the accident right away, you can still remove it safely.
Another benefit of cork is that it absorbs sound. If you love your pet, but you are not a fan of the sound of feet as it traipses noisily through your house, cork is a good option.
Moreover, cork is also scratch-resistant. However, this doesn't mean it won't scratch. Keeping your pet's nails trimmed is still a good idea. It is also a highly affordable flooring option, costing between $2.00-$7.00 per square foot, and you may be able to find good options online for even less.
Pros
Cons
– Microbial resistance to bacteria and mold
– Absorbs sound
– Affordable
– Scratch-resistant, but less so than tile and stone options
Tips When Using Cork Flooring for Pets
Choose a lighter shade of cork flooring to minimize the look of scratch marks. And make sure to finish it with a tough, scratch-resistant finishing product.
3. Bamboo Flooring: Best Pet-Friendly Hardwood Alternative
Overall, bamboo flooring is an excellent choice at a great price point for a home with pets, as long as you choose one that is hard and durable.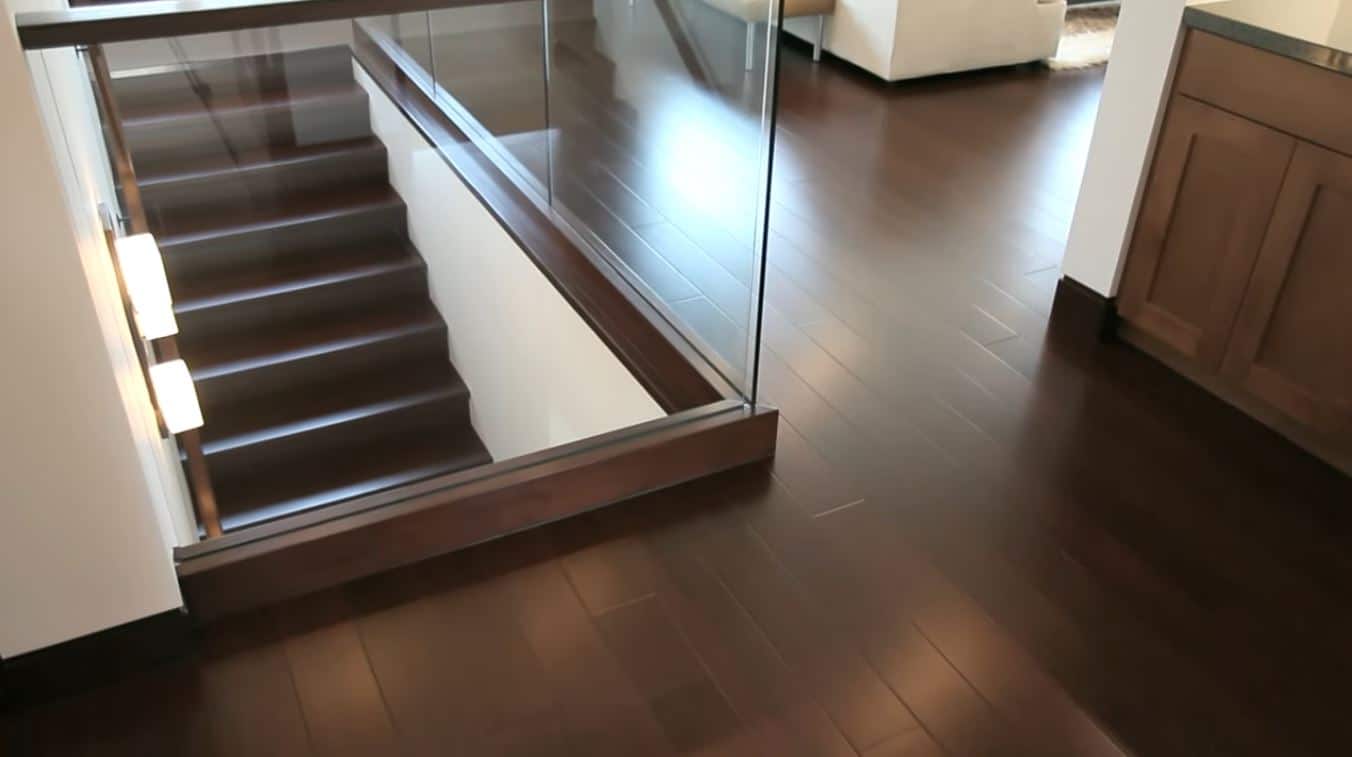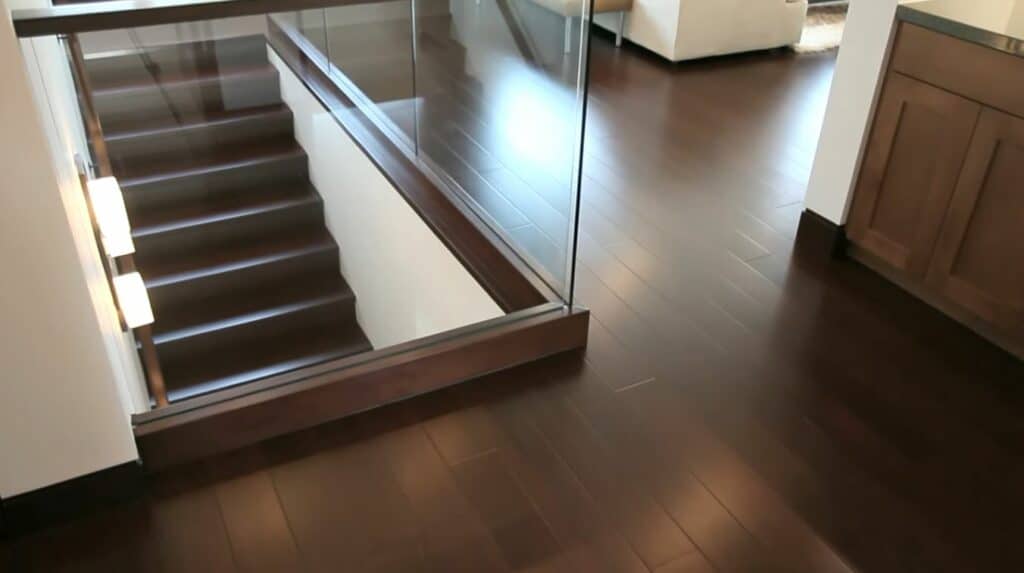 Like cork, bamboo flooring is another great option if you want a natural, wood-like look with pets. It is extremely durable, stain-resistant, and scratch-resistant. So, you can feel at ease as you watch your pet run across your brand-new floors.
While bamboo flooring costs as low as $2.00 per square foot, you probably need to spend between $4.00 and $7.00 per square foot for decent quality bamboo flooring.
Bamboo flooring is also easy to maintain. So, whatever your pet drags into the house from the outside is easy to clean up.
Food and water spills or pet accidents won't damage these floors either if cleaned up promptly and thoroughly. Plus, bamboo is very sustainable. So, you are also doing something good for the environment when choosing bamboo.
Pros
Cons
– Most are stain-resistant
– Environmentally friendly
– Easy to maintain
– Very sustainable
– Need to be careful when selecting this type of flooring as bamboo floors can vary greatly in quality
– Not entirely scratch-resistant
Tips When Using Bamboo Flooring for Pets
Bamboo is durable, but make sure to choose the right bamboo flooring as not all bamboo is created equal. Choose one that has a high rating for hardness according to the Janka test.
Strand woven bamboo floors hold up better than other types of bamboo flooring.
4. Luxury Vinyl Flooring: Best Scratch Resistant Flooring for Pets
Luxury vinyl flooring is the best flooring for high traffic areas and pets. It can mimic the look of natural stone, tile, or hardwood, but it is much easier on your pets (and your budget).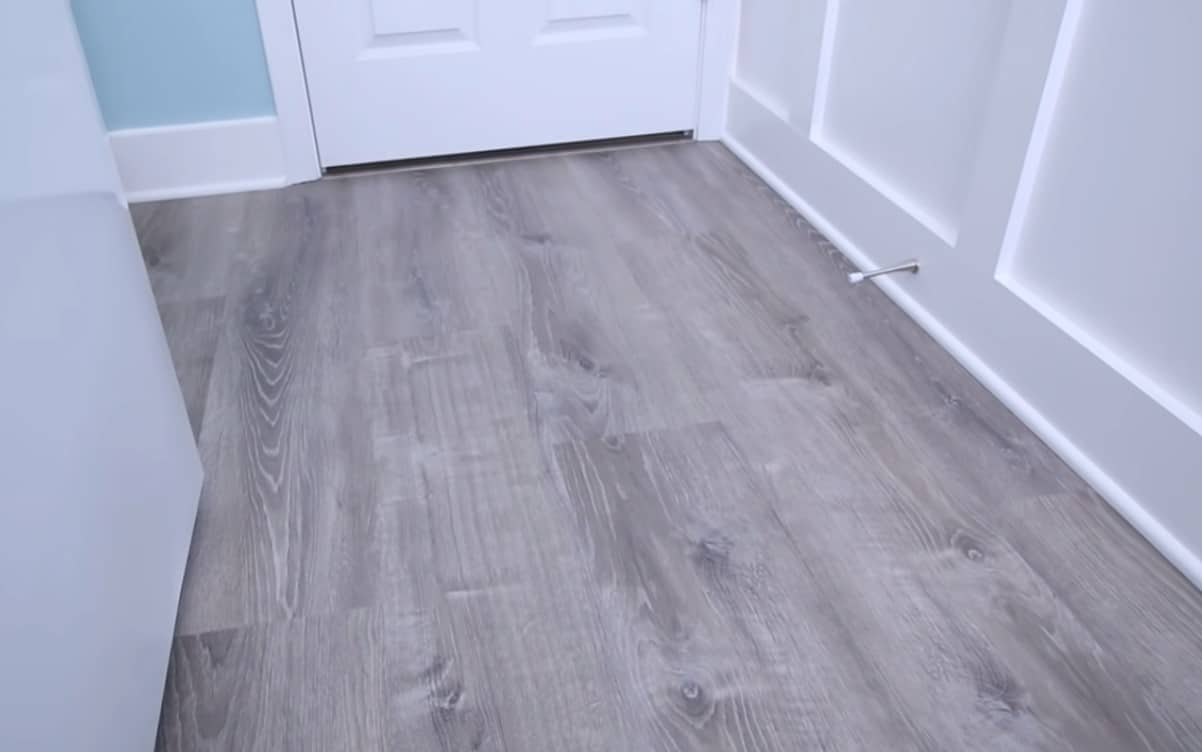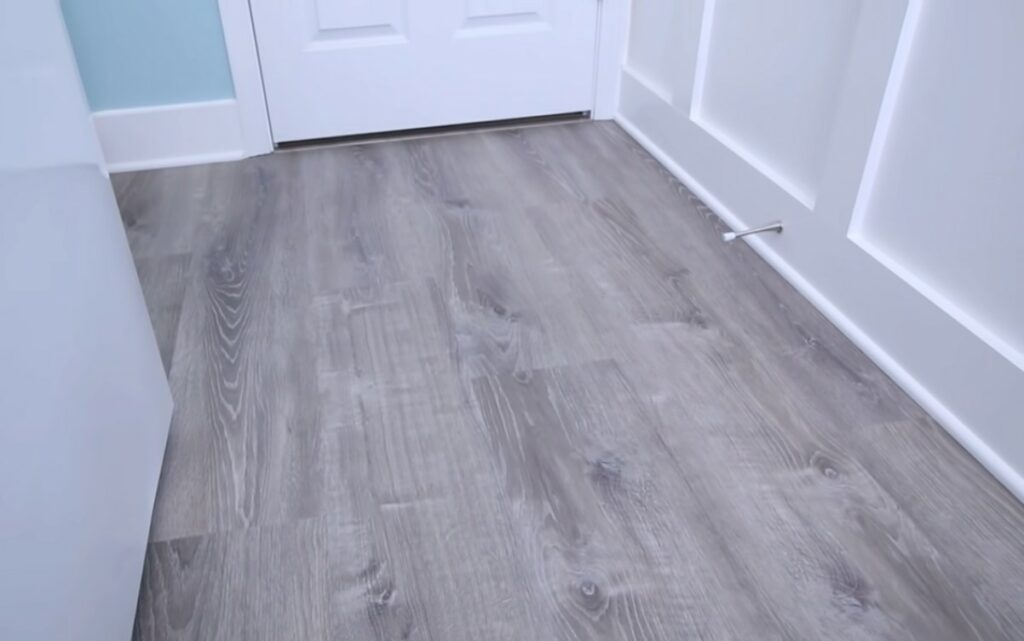 Luxury vinyl comes as either luxury vinyl planks (LVP) or luxury vinyl tiles (LVT).
LVP and LVT work well with pets for many reasons.
First, luxury vinyl is very durable. If you use a good quality product and install it correctly, it can withstand many of the challenges that come along with pets and it won't scratch or tear. This makes it the best flooring for large dogs as it can also handle high traffic.
It also holds up well against accidents and food or water bowl spills. Most luxury vinyl is water-resistant, and some varieties are even waterproof.
Second, it is easy to maintain and clean. Plus, it is soft underfoot so you and your pets will be comfortable while walking and resting.
Thus, if you are looking for budget-friendly flooring that you and your pets will enjoy, luxury vinyl is an excellent choice. You can find quality LVP flooring for between $3.00-$7.00 per square foot.
Take note that while most LVP is water-resistant, you do need to pay more for waterproof options. This is worth it. Most LVP floors will be fine if you clean up any spills within 30 minutes. But if your dog has an accident when you are out, spills could be sitting there for much longer which will require more waterproof options.
Pros
Cons
– More affordable than other pet-friendly flooring
– Scratch and water-resistant
– Great even for large dogs and high-traffic areas
– Easy to clean and maintain
– Soft underfoot
– Less desirable when it comes to resale value
– You need to look for low-VOC options as some can contain phthalates which can affect indoor quality
Tips When Using Luxury Vinyl Flooring for Pets
Luxury vinyl plank (LVP) flooring can be an excellent option for pet-friendly households, but you do need to be careful about which LVP you choose. While LVP is promoted as an affordable flooring option, you will want to be looking at the higher-end LVP flooring options if you have pets at home.
You will also want to go for an option with a thick wear layer. This is the top layer that determines how durable, stain- and scratch-resistant a floor is. If you have pets at home, you are probably looking for a wear layer of 20 mil or more.
5. Engineered Hardwood Flooring: Best Wood Flooring for Dogs
Engineered hardwood flooring for dogs provides the timelessness of solid hardwood but with more resistance to extreme temperature changes. Though it can be expensive, it's your best pick if you're considering home resale value.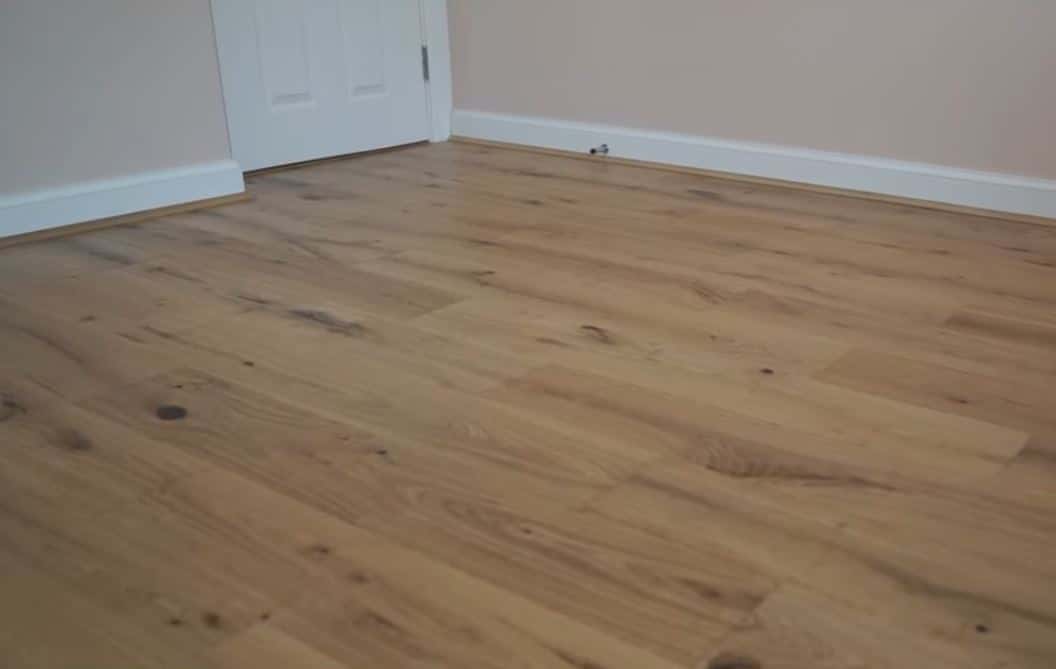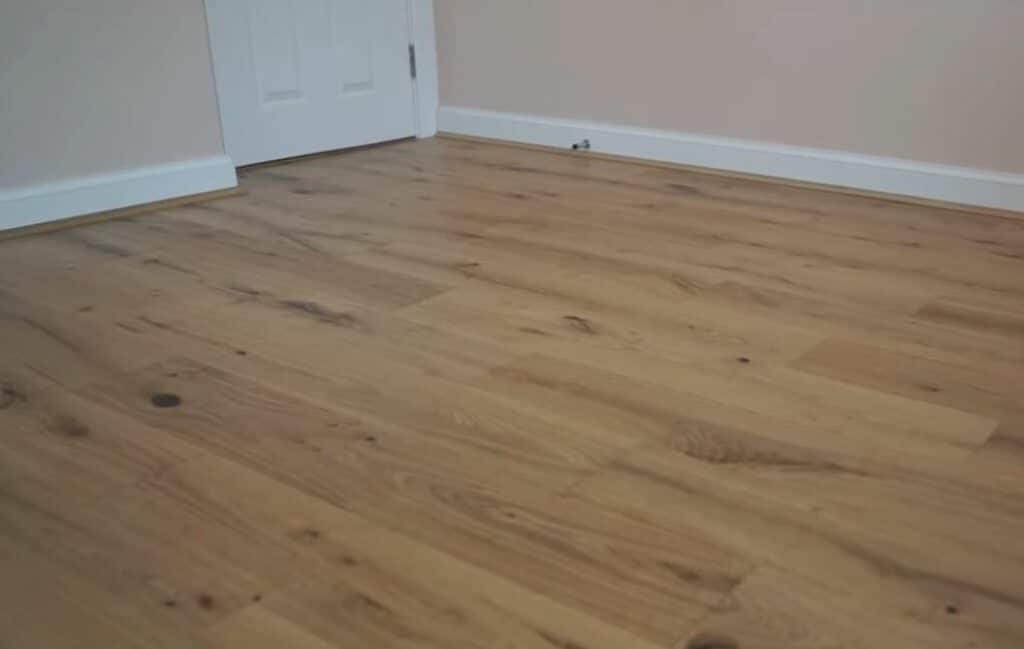 Generally speaking, solid hardwood floors are not recommended as pet-friendly, but engineered hardwood works better than other types. So if you must have hardwood, then go with engineered hardwood.
Engineered hardwood is designed to deal with the disadvantages of solid hardwood like warping and limitations in the installation. So if you want the timeless and rustic look of wood flooring without the limitations of hardwood, engineered hardwood would be your best pick.
Engineered wood flooring can also be installed over in-floor heating if you live in cold areas. However, take note that maintaining it can be as challenging as maintaining solid hardwood.
Prolonged exposure to liquid can also result in decay and bacterial/mold growth, so remember to clean up any accidents or spills immediately to protect your floors. And though it's aesthetically pleasing, it is susceptible to scratches and dents and will fade under direct sunlight. It also costs more than other options.
While you can expect to get standard engineered hardwood for $4.00-$7.00 per square foot, expect to pay $7.00-$12.00 per square foot if you are looking for the best quality. If you don't mind spending a little more on high-quality engineered hardwood, it is possible for pets and hardwood floors to coexist in your home.
Pros
Cons
– Desirable when considering home resale value
– More water-resistant than traditional hardwood floors
– Compatible with radiant heating
– Not as water or scratch resistant as other options
– It will fade over time when exposed to sunlight
– High-maintenance
– Expensive
– Can be slippery
Tips When Using Engineered Hardwood Flooring for Pets
To make sure that you buy durable hardwood flooring for dogs, make sure to choose one that rates high on the Janka test such as Brazilian cherry or white oak.
You can coat your flooring with polyurethane to make it tougher and more scratch-resistant.
In case your pet does scratch through the finish, go with planks that have a thick veneer. If the top layer is thick, you can sand it down and refinish it a few times.
Another way to help hide scratch marks is to choose flooring that already has a "rustic" or distressed look. These styles already look worn, and any scratch marks will naturally blend in.
The best floor color to hide dog hair better is a light one. Lighter floors also do well in hiding dark pet hairs better than dark floors. Matte finishes and floors with more details are even better.
6. Waterproof Laminate: Best Budget-Friendly Dog Flooring
Although laminate may not be your best option when it comes to water and scratch resistance, waterproof laminates can do a great job for pets.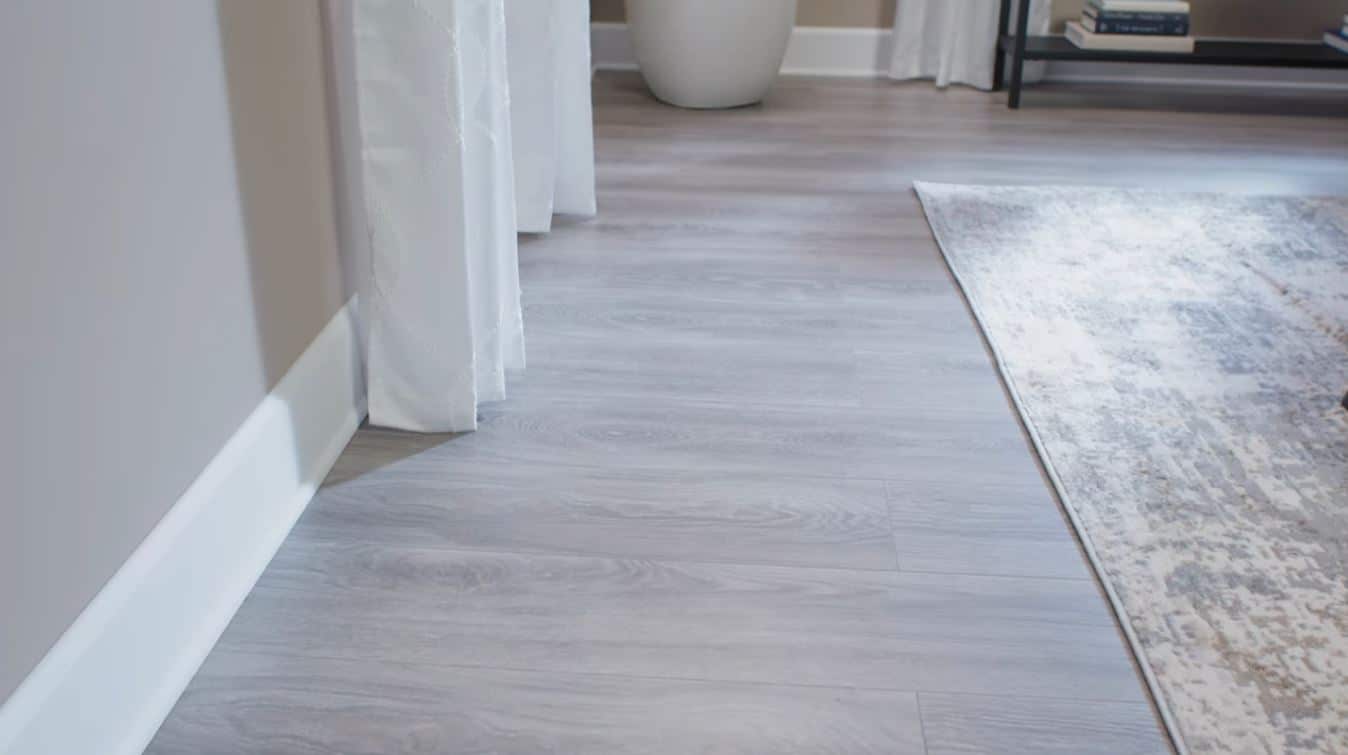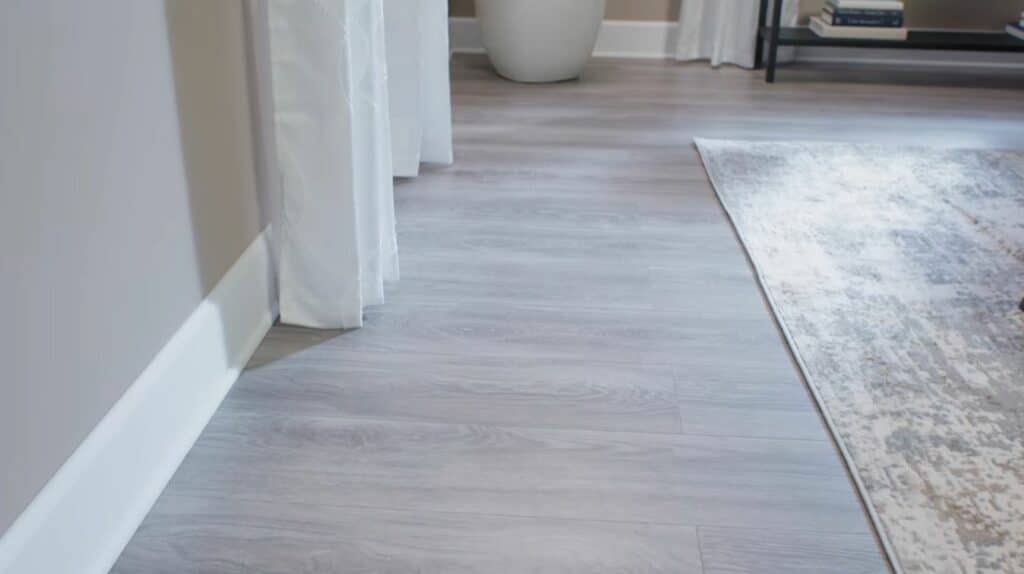 Laminate has not traditionally been considered a good choice for pets. It can warp if it gets wet unless you manage to get your hands on one of the waterproof laminate options manufactured recently.
Plus, its texture can be slippery for pets. This can be troublesome, especially for dogs who may be prone to hip injuries.
However, recent technological advancements in the industry have spurred us to review a few laminate flooring for pets. Laminate is worth considering if you are looking for a cheaper alternative to hardwood that can give you the same rustic feel due to its realistic-looking design that mimics hardwood.
Pros
Cons
– Durable
– Waterproof options are available
– Cheaper to buy and replace
– It is scratch-resistant, not scratch-proof
– Warps if it gets wet
– Can be slippery
– It can release toxic formaldehyde gas
Tips When Using Laminate Flooring for Pets
Choose waterproof laminate for your pets.
Clean up urine accidents immediately.
Consider area rugs and slip-proof mats to avoid turning your home into an ice ring for your pets.
7. Rubber Dog Kennel Flooring: Best Flooring for Dogs Non Slip
Rubber is an extremely durable and versatile flooring that can handle high-traffic areas which makes it ideas for dog kennels and other doggy facilities. It's also slip-resistant, softer, and quieter.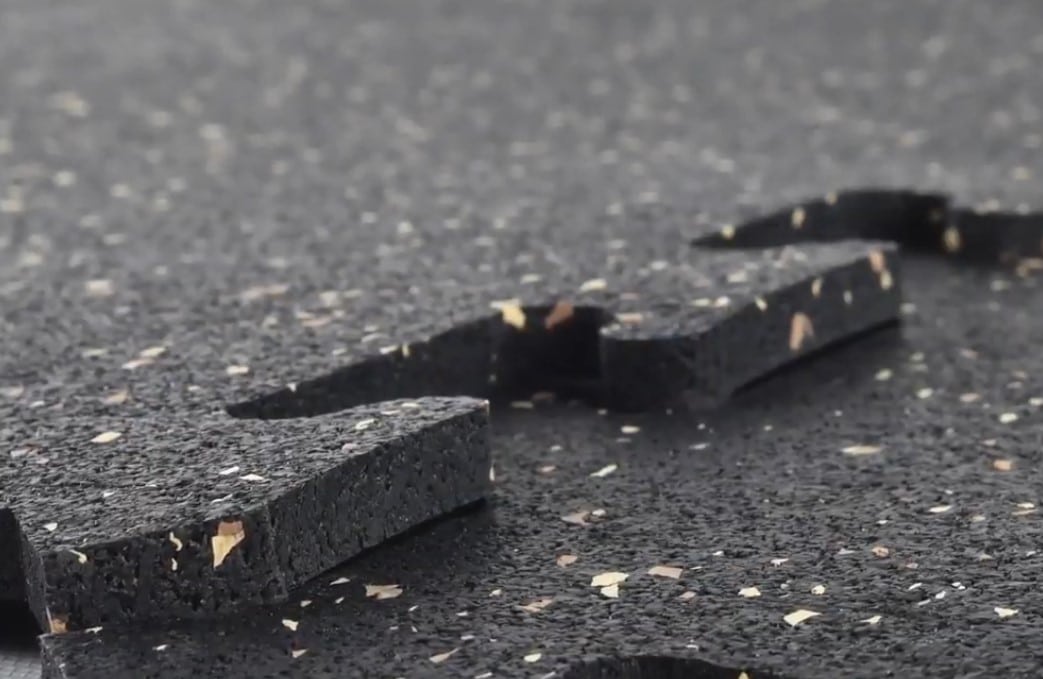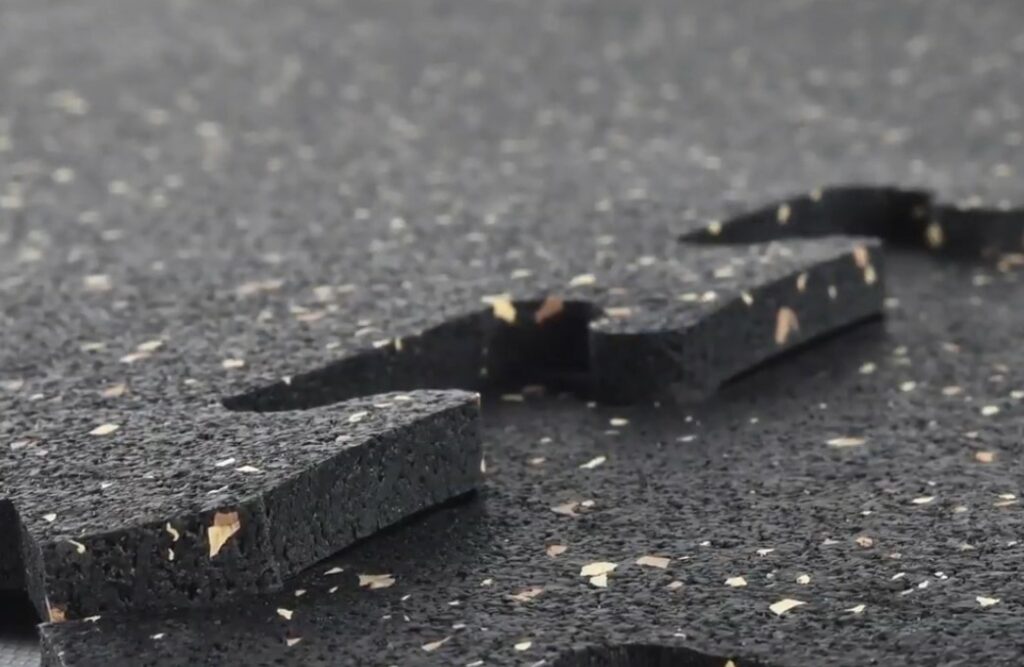 Rubber flooring is your best option if you are looking for the best flooring for outdoor dog kennels. Because of its durability, it is often used in high-traffic applications including training facilities for dogs and doggy daycares.
See our guide on the best dog kennel flooring.
Rubber is comfortable to walk on and because it is softer, it is also quieter. It is also naturally slip-resistant which makes it safer when many dogs are walking around. As for water resistance, it has great waterproof capabilities as it won't absorb liquids.
However, though they come in different color and texture options, there are only limited designs to choose from. Plus, they can emit a strong smell that some people won't be pleased with. But the good thing is, it comes in sheet and tile options.
Also, while rubber flooring can be as low as $4 per square foot, the average cost is $10 and can reach up to $15 per square foot which makes it expensive.
Pros
Cons
– Easy maintenance
– Naturally water-resistant
– Can hold up well in high-traffic areas
– Resistant to indentation caused by heavy objects
– Comfortable and quieter
– Slip-resistant
– Expensive upfront costs
– Limited designs
– Installation requires dry fitting
– Can be smelly
Tips When Using Rubber Flooring for Pets
Rubber rolls are recommended for pets because they have fewer seams which makes them water-resistant. They are also less likely to move around than tiles and are ideal for permanent installations.
Key Factors to Consider When Choosing the Best Flooring For Pets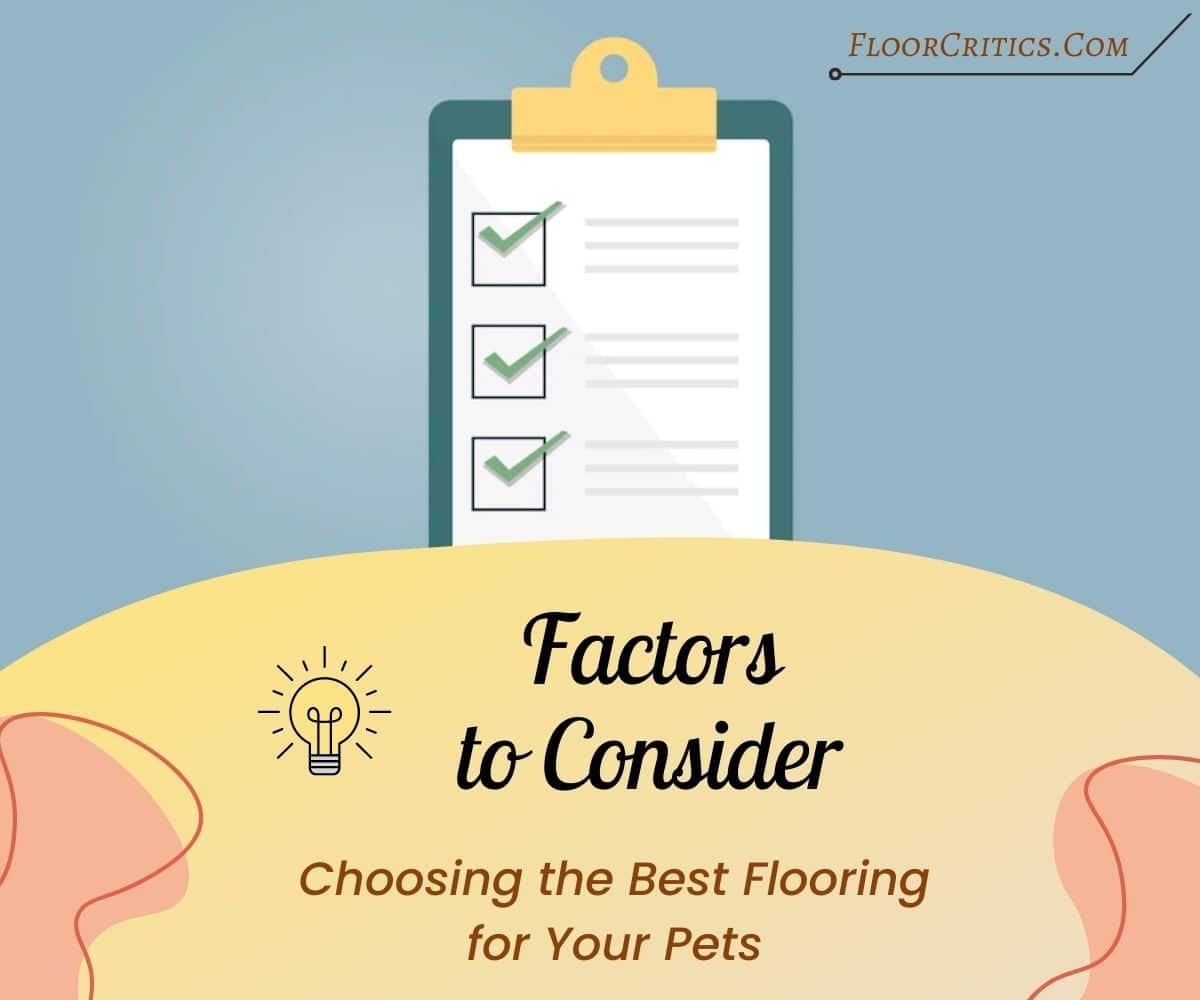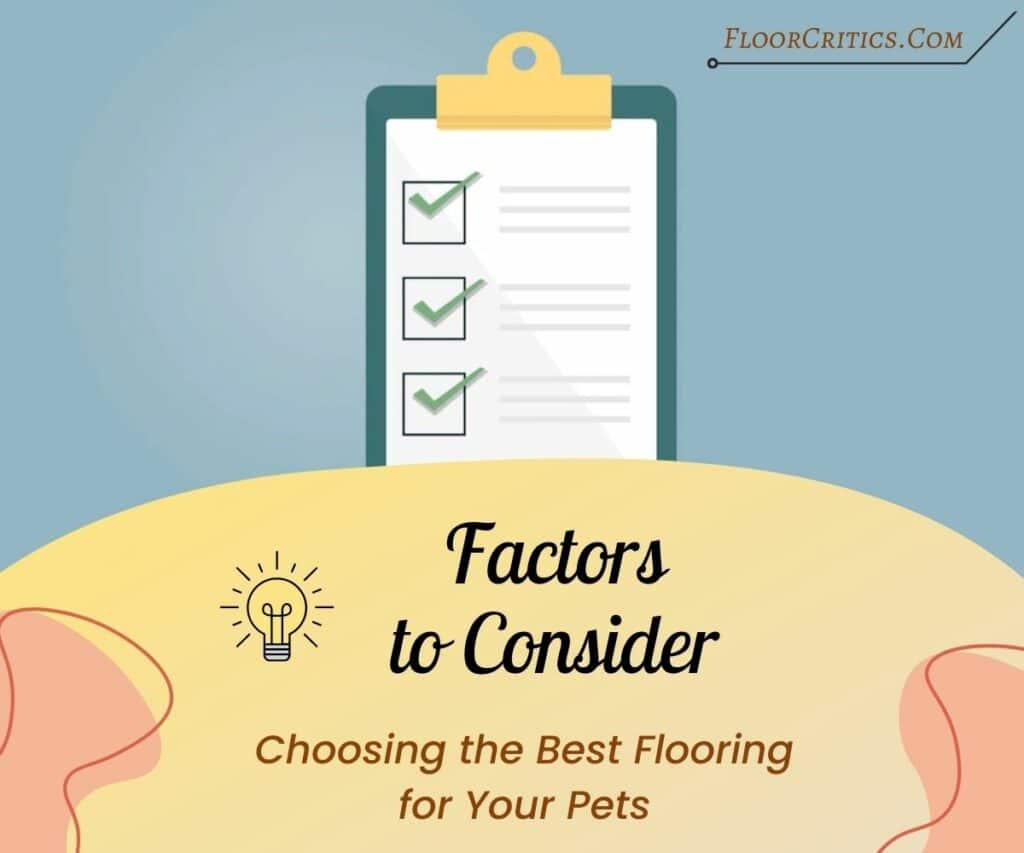 Whenever you are upgrading your floors, there are always lots of factors to consider when making your selection. Also a pet owner? Ensuring that you pick the best flooring for cats and dogs should be near the top of your list.
When you are looking for pet-friendly flooring, the five most important considerations are:
1. Durability & Quality
For durability and quality, consider water, stain, and scratch resistance as well as comfort and anti-slip feature:
A. Water and Stain Resistance
No matter how well-trained your pet is, accidents happen. And, accidents are not the only way that pets bring water into the home. Food and water can spill out of their bowls, they can bring in mud on their feet and legs, create a mess after a bath or swim, and let's not forget that some dogs drool, a lot.
Some floors can be permanently damaged by even a small amount of water if it is not cleaned up immediately. Waterproof, or at least floors with a high level of water resistance, are necessary for any pet home.
B. Scratch Resistance
Unlike our nails, dogs' and cats' nails make contact with the ground when they walk. This alone can cause scratches on fragile floors as their nails are much harder than your own. Add to that the natural clawing and scratching instincts of both cats and dogs, and they can make short work of a soft floor.
Pet-friendly flooring should be scratch-resistant since there is not any such thing as scratch-proof. This generally means hard floors. It is also a good idea to look for floors with a strong protective layer on top, so they can be refinished.
Also, it can be a good idea to go for designs where scratches will blend in rather than stand out.
C. Comfort and Anti-Slip Feature
If you have aging dogs, it is crucial to consider comfort and anti-slip flooring. Senior dogs might have trouble with slippery flooring, so better find ones with an anti-slip finish.
Laminate is slippery, but textured laminates can provide better traction. Adding runners and rugs can also make them less slippery. On the other hand, you shouldn't be that concerned about tile, vinyl, bamboo, carpet, hardwood, and rubber flooring as these are suitable for most pets.
2. Price
Your flooring is an important part of your home, so it's crucial that you find options that can give you a good ROI while still meeting your budget. Among the most budget-friendly options are laminate and vinyl flooring with engineered floors being the most expensive ones on our list.
3. Care & Maintenance
Choosing flooring that's simple to clean and maintain should be among your top priorities to make cleaning messes, stains, and odors easier.
Nonporous and hard flooring types such as tile, vinyl, and laminate are easier to clean and maintain. You can easily mop them to get rid of messes and fur will not stick to their surfaces.
On the other hand, carpet, hardwood, and bamboo will require more maintenance:
Carpets will need diligent cleaning with a good vacuum, especially if you have shedding dogs. Cleaning liquid messes will be tougher to choose stain-resistant options.
Hardwood flooring is among the hardest to maintain and requires polishing and refinishing aside from cleaning.
Bamboo flooring also needs to be refinished and requires frequent cleaning to prevent the build-up of dirt and debris that can damage your flooring.
Bonus: Tips for Maintaining And Cleaning Your Pet-Friendly Floors
Whatever type of flooring you choose, keeping it clean is important. Animals track dirt and debris inside the house. They also leave pet hair and dander.
And even if you have a cat who never ventures outside, it may leave a trail of litter that can harm your floors. So, here are some tips to help keep your floors clean:
Create a routine for whipping out your pet hair vacuum, and sweep often.
Mop hard surfaces on a regular (though less frequent) basis.
Clean up accidents such as pet urine immediately. Use homemade remedies or purchase a special pet product to neutralize it.
Place a mat under food and water bowls to prevent spills from making contact with your floors.
Some floors need refinishing every six months to a year. Mark your calendars and keep up with this to protect your floors.
With a regular maintenance routine, you can keep your floors in good shape, even with pets.
4. Health & Environmental Safety
Choose flooring that is low on VOC emissions. GreenGuard certified options are better. This ensures that you and your pets will be safe.
Pets can have allergic reactions to certain flooring materials too. In fact, carpet allergies are common because this type of flooring can harbor dust mites and fleas as well as mold and mildew. Also, take note that most pet allergies are associated with the chemicals in the floor cleaners you use.
5. Installation
Choosing something that is easy to install is also worth considering, especially if you are saving on money and don't have the budget to hire a professional.
You can easily install cork, bamboo, vinyl, engineered hardwood, and rubber flooring via click-lock installation. And while you can install tiles yourself, hiring a professional is recommended to ensure proper installation.
Our Top Picks of the Best Pet Friendly Flooring Brands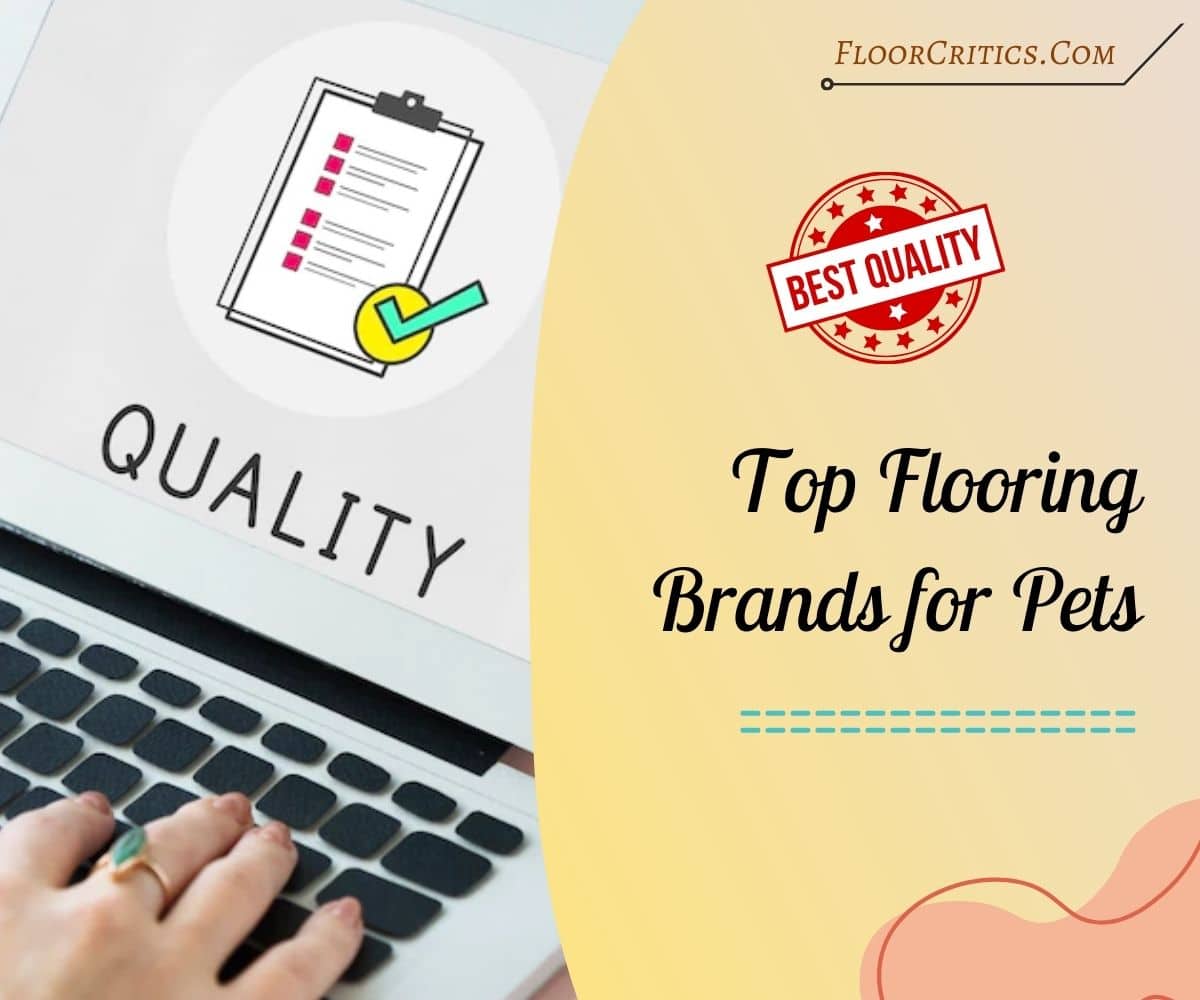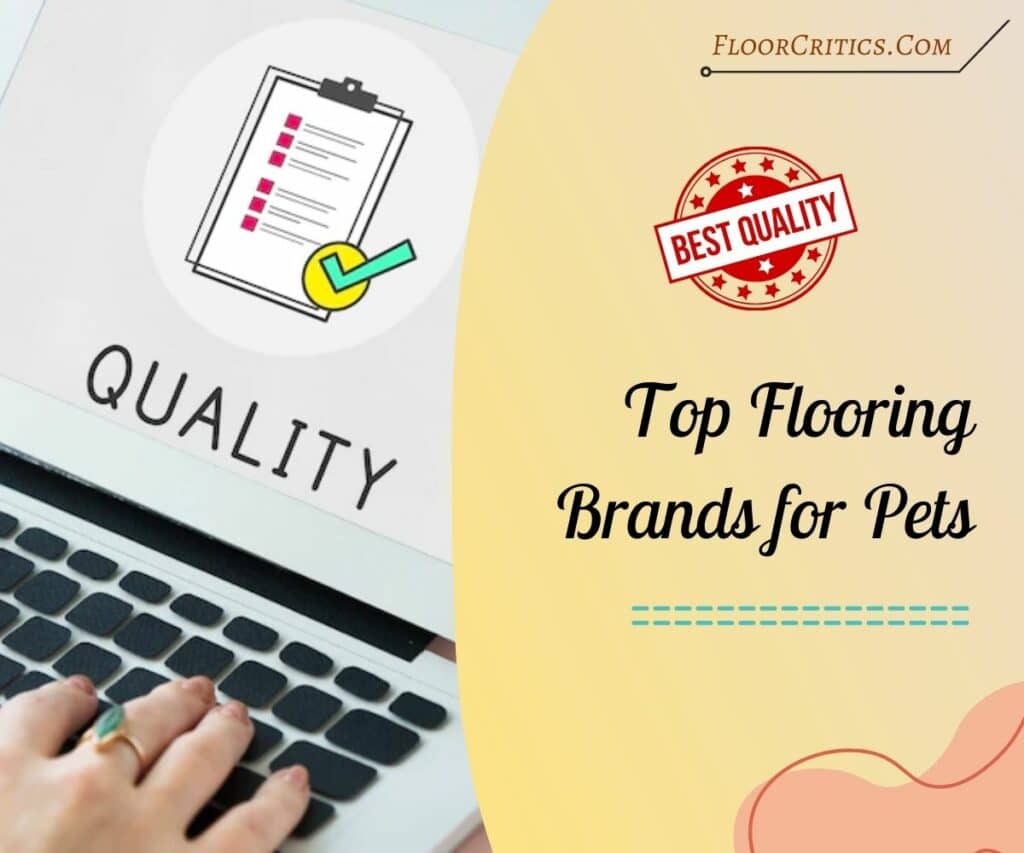 There are plenty of pet-friendly flooring options on the market for your next home improvement project, but we recommend the following brands:
1. Best Flooring for Dogs That Pee
American Olean
According to Lifestory Research, American Olean is the most trusted ceramic tile flooring brand. So if you are looking for urine proof flooring tile for dogs, American Olean (which is part of Mohawk Industries) can give you what you are looking for. Because this is Lowe's favored brand when it comes to home improvement, it tends to be cheaper than other tiles.
DuraCeramic Tile
DuraCeramic tiles are worth considering if you don't want to use cold ceramic tiles. They are made of polymer composites and limestone with HD-printed top layers protected by durable urethane wear layers.
They are soft and warm underfoot as well as water, stain, scratch, and fade-resistant. They can even withstand above average contraction and expansion. But, take note that it is not meant to replace ceramic tiles as you can't install it in excessively wet areas.
2. Best Flooring for Living Room With Pets
Globus Cork Flooring
Globus colored cork products are the most eco-friendly cork flooring line in the market as the company is a pioneer in sustainable cork floor manufacturing. Globus has also received numerous awards and positive reviews due to the quality of its products. While some companies use vinyl top layers, Globus uses 100% cork with edges that won't peel or separate.
iCork Flooring
iCork flooring is sustainable, hypoallergenic, and often longer wearing compared to other hard flooring types. What sets them apart from their competitors is the three-layer polyurethane varnish that keeps the flooring more water-resistant. Their products also have a cellular memory which means that they will spring back from compression over time.
3. Best Flooring for Bedrooms With Pets
Cali Bamboo
Cali Bamboo flooring goes through what they call a Fossilized manufacturing process that gives the planks twice the density of hardwood floors according to the company. This is why many pet owners, even big dog owners, have chosen Cali Bamboo because it is among the most durable in the market. Plus, it has a multi-coated scratch-resistant surface.
Trinity Bamboo
Trinity's solid and engineered products are Clean Air-verified and FloorScore-certified which means that you don't have to worry about indoor quality. They offer strand-woven bamboo flooring which provides the most durability, but even their other options can offer great durability with multiple coats of UV-cured polyurethane and an aluminum oxide wear layer.
4. Best Vinyl Plank Flooring for Pets
LifeProof
LifeProof vinyl planks offer great durability performance with noise-reducing and anti-microbial as well as dent, stain, scratch, and water-resistant features. The most notable feature of their planks is their rigid cores that are lighter but still stronger than sheet vinyl. However, many people have encountered problems with DIY installation.
COREtec Plus
COREtec Plus LVP offers more realistic options than its competitors. It's also at the higher end when it comes to durability and quality with high-performance cores that are patented. It is also 100% waterproof and pet-proof, quieter, safe for sensitive pets, and offers a lot of styles to choose from.
5. Best Hardwood Floors for Dogs
Proximity Mills
Proximity Mills engineered hardwood comes in waterproof options that are guaranteed to be waterproof top-down for up to 72 hours and from any side for up to 36 hours. In short, they can withstand spills impressively which is great for pet accidents. However, you can only find their products in selected stores.
Somerset
Somerset offers some of the market's thickest engineered planks and the brand is known for being sustainable. Their planks have thicker veneer layers compared to other brands which enhances the durability of their products. Also, the company specializes in Appalachian hardwoods in various widths, textures, and colors.
6. Best Laminate Flooring for Dogs
Pergo Outlast+Laminate
Pergo's Outlast + Laminate is a waterproof option that the company confidently recommends for spill-prone areas including kitchens and bathrooms. It has an AC4 rating which means that it is stain, dent, and scratch-resistant and can even withstand steam mopping. But because it has a smooth finish, you need to place runners and rugs.
Tarkett's Fresh Air laminate
One of Tarkett's biggest sellers is their Fresh Air laminate line which is phthalate-free and certified pet-friendly. It is harder than most affordable options which makes it ideal for busy households with pets. Plus, you have rustic designs that mimic sun-faded, distressed, reclaimed, and hewn planks to choose from.
Flooring To Avoid With Pets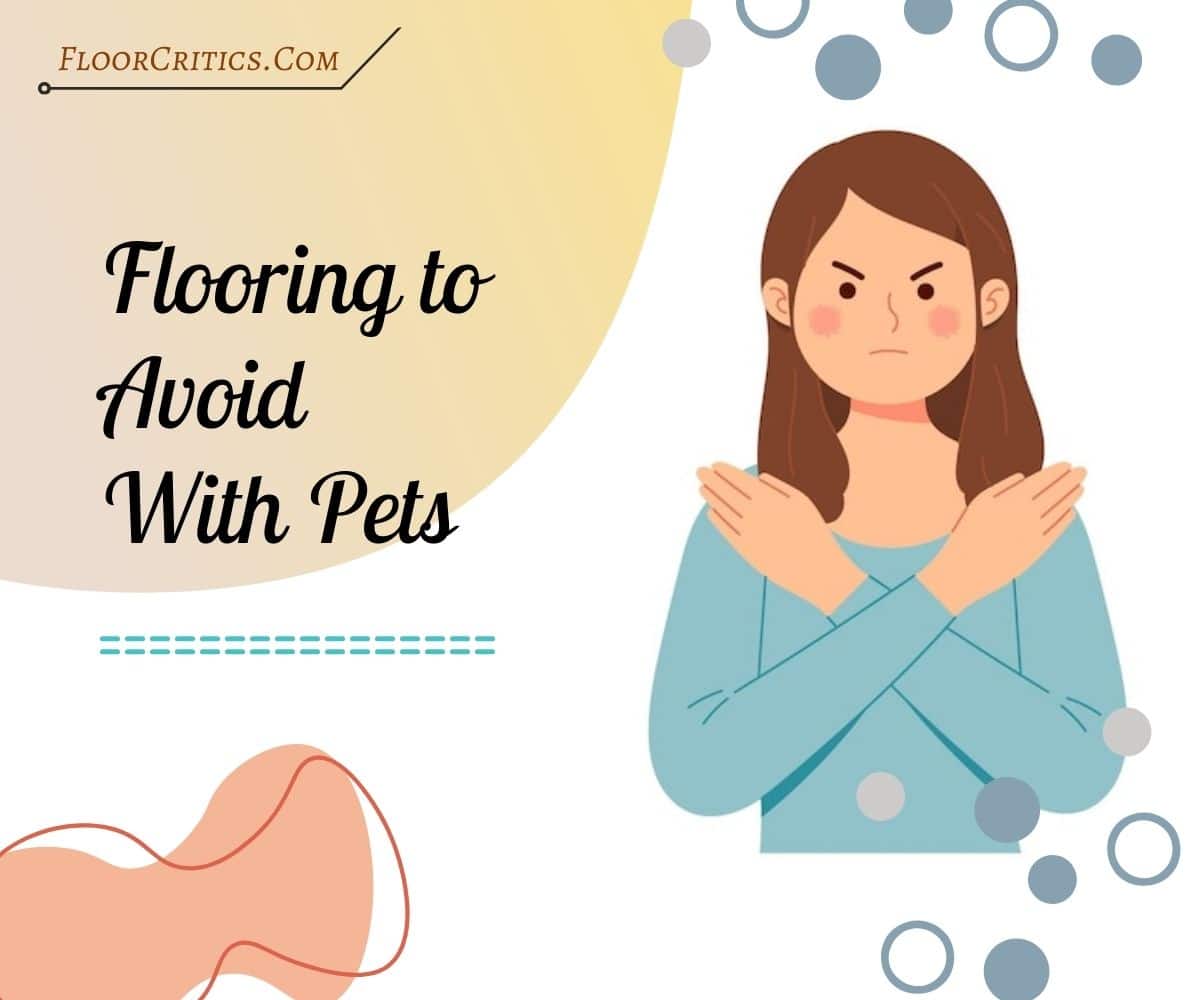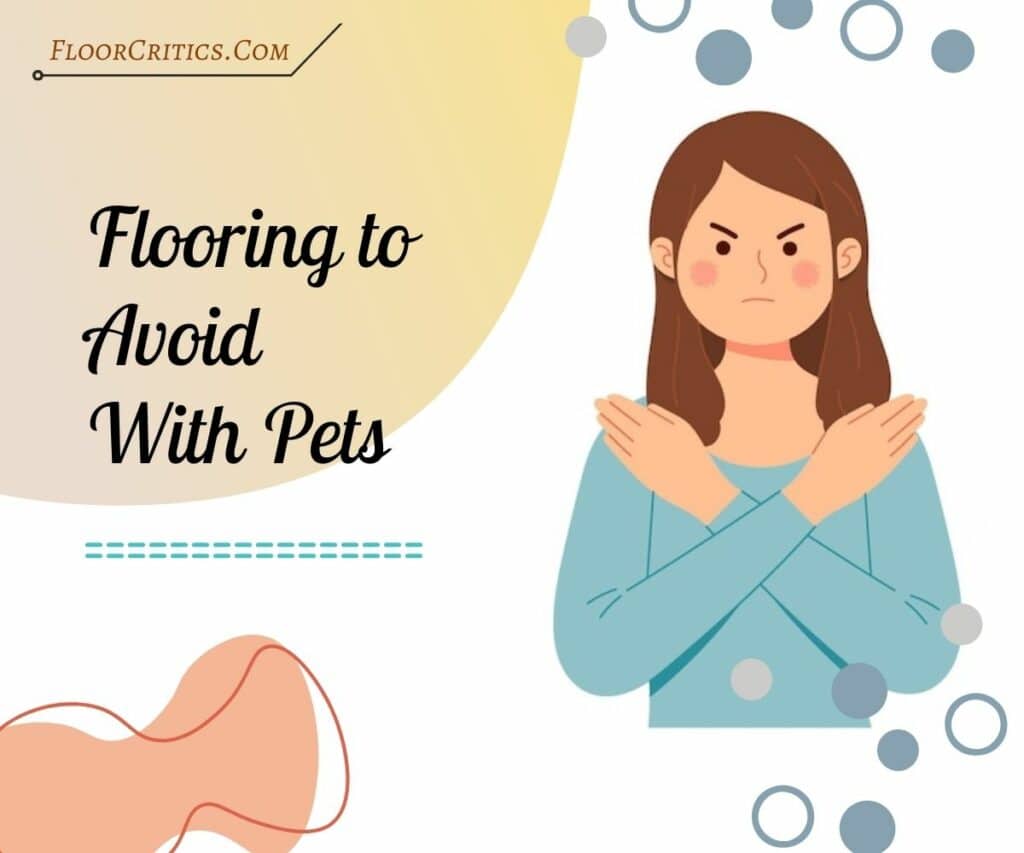 If there are best types of flooring for dogs, there are also types of flooring that are best avoided.
Now, if you have your heart set on any of these floors, you can still have them. Just keep in mind that you may have to make some compromises or work extra hard to maintain them.
1. Carpet Flooring
The first, and probably most obvious of these, is carpet. Especially thick, plush carpets, unless you choose a carpet specially designed for pet owners.
Carpet stains easily, is not moisture-resistant, and can trap pet hair, dander, fleas, and others. Plus, cats like to claw at it and dogs like to chew on it.
But if you really want the cozy feel of carpet, you can look for stain-resistant and water-repellent options. You can also find higher-quality carpets that come with pet stain warranties. However, this doesn't mean that maintaining higher-end options is easier.
2. Solid Hardwood Floors
Solid hardwood flooring should also be avoided because these supple floors tend to be easily damaged by pets' nails, and any kinds of spills can cause permanent damage and staining. If the spill is big enough, the floor can even become warped.
But if you do have your heart set on hardwood flooring, engineered hardwood can be a possible option. Rather than being a single plank of wood, engineered hardwood layers thinner planks of wood. This makes it better at dealing with moisture, as it warps and flexes less easily with moisture.
Tips To Minimize Pet Accidents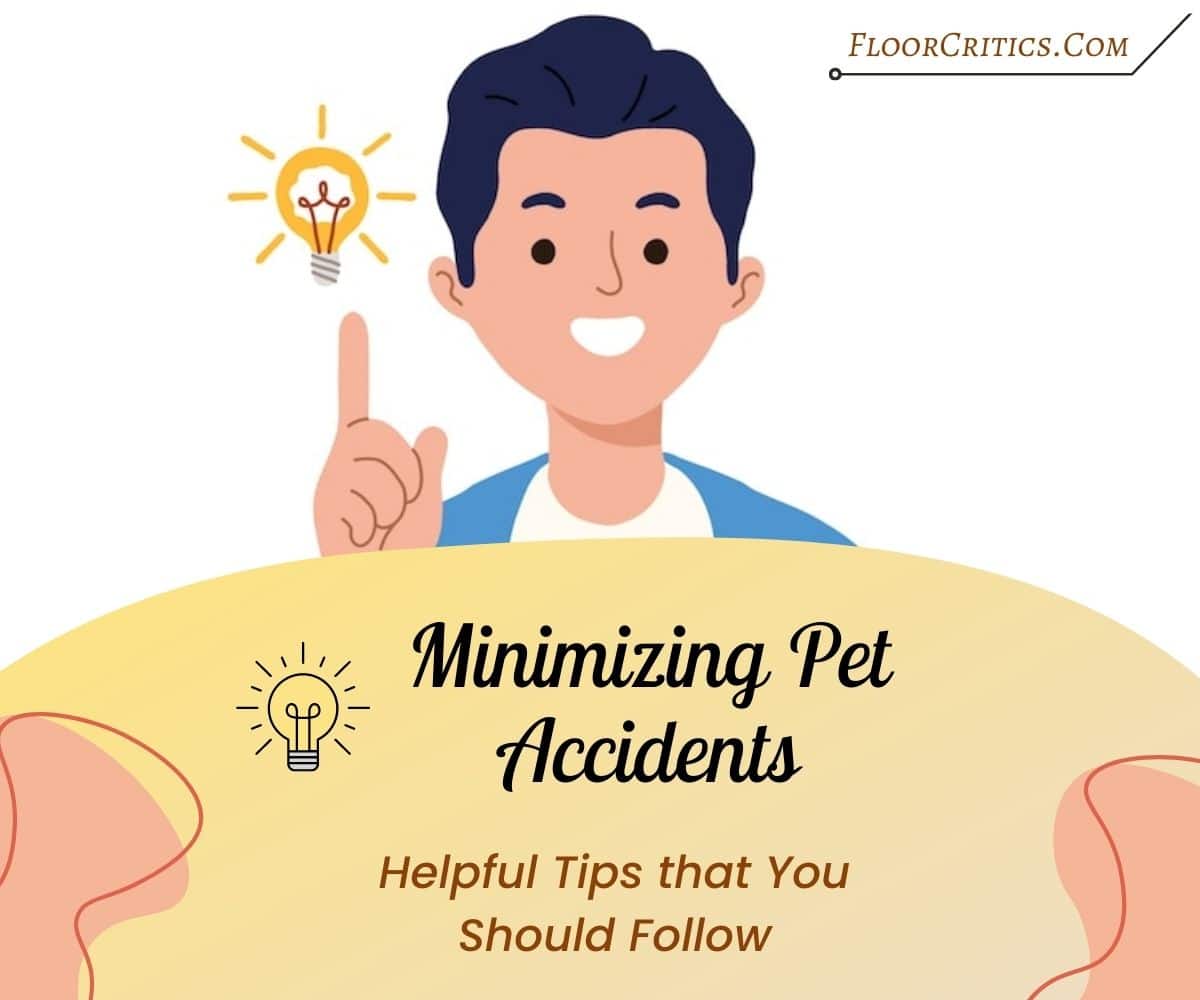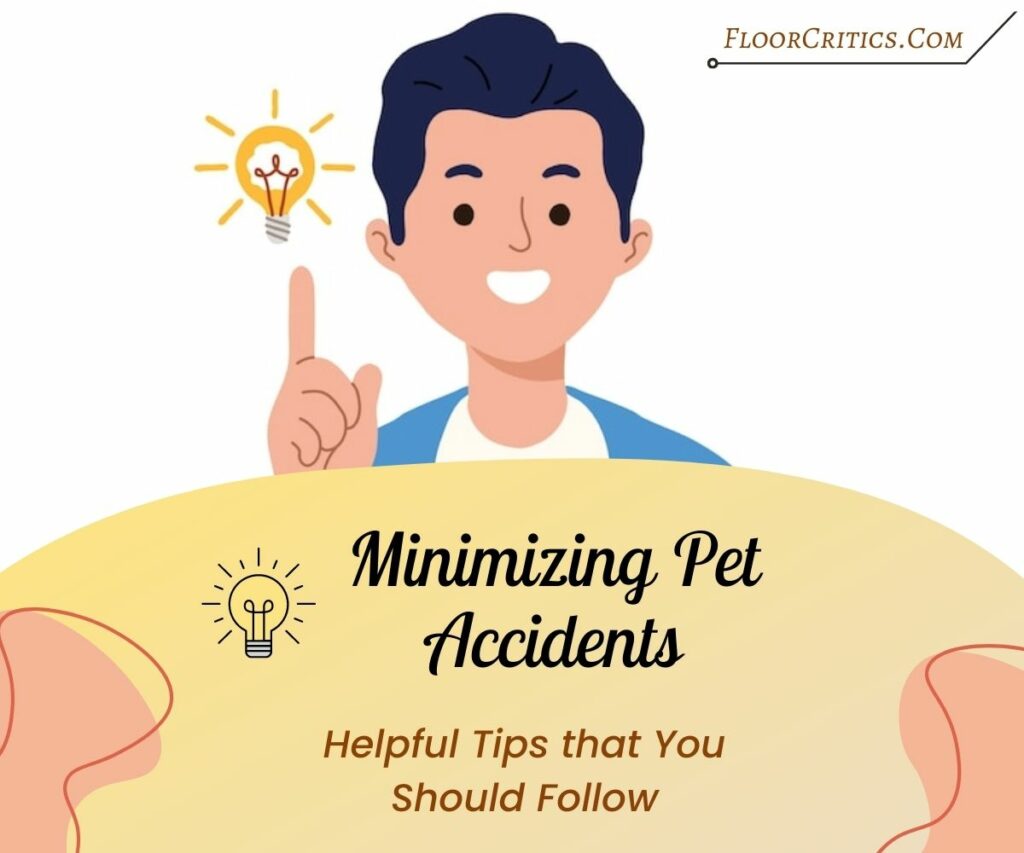 If you have pets, you can expect the occasional accident. It will happen.
Dogs may not be able to wait as long as you need them to. Cats can miss the litter box, or refuse to use it in protest. However, there are some ways that you can minimize the frequency of accidents:
First, if you have a new puppy, make sure to read up on house training and be patient. Or, you can hire professionals to train the puppy for you.
If your dog is older and starts having accidents, it may be a sign of a medical issue. The best place to start is by having your pet examined by a vet.
Stress can also cause dogs to have accidents in the house. If there are changes in the home that are stressing out your pet, try to find ways to help it through this time.
Cats may go outside the litter box for many reasons. If the litter box is too dirty, the cat may avoid it. Clean the area thoroughly with an enzyme cleaner so that they cannot detect their new spot anymore. If necessary, rearrange furniture and close doors so they can no longer access it. Try cleaning and changing the location of the litter box too.
Sometimes behavioral or medical issues are to blame. If the reason is behavioral, cats will typically go to the same place repeatedly.
If your cat goes in different places outside the litter box each time, it could be a urinary tract infection or another medical issue. You may need to take the cat to the vet.
Just remember, if you have pets, you will probably have accidents on your floor. Try to be patient with your pets and figure out the root cause of the accidents. And, clean your floors up immediately to prevent damage to them.
FAQs
What Is The Best Flooring For Dog Urine?
If you are concerned about pet urine, then it is worth considering waterproof flooring. The best options for this are tile and stone flooring or waterproof luxury vinyl plank flooring.

These floors should not be permanently damaged or stained by pet urine, and they should also not retain nasty odors.

What Is the Best Flooring for Pets?
If you're looking for a durable flooring option that will last for many years, your choice should be either stone tile or ceramic tile.

Ceramic and porcelain tiles are excellent flooring choices for households with dogs. They are scratch-resistant, extremely durable, and easy to maintain. However, if your dog doesn't like the cold feeling of tiles, you should consider other alternatives.

Vinyl and laminate are other options to check out. Both are scratch-free, water-resistant, gorgeous, and won't cost a lot. With vinyl, you can also try installing the flooring yourself, and both options are available in many colors, designs, and varieties.

If you don't want to compromise between durability, price, and appearance, you should consider luxury vinyl. This is a much more affordable flooring that comes in a wide range of colors and designs. Finally, the greenest alternatives are bamboo and cork.

What Is the Most Durable Flooring for Pets?
The best options that will require minimal upkeep and will look almost the same even after years of use are stone tile, ceramic tile, and concrete. Another more affordable alternative is luxury vinyl. People love purchasing it because it's fairly durable and isn't as cold as stone and tile.

Is Luxury Vinyl Plank Good with Dogs?
Yes, vinyl plank flooring is an excellent alternative for homes with pets. Regardless of whether you own cats or dogs, this flooring alternative will look fabulous, won't cost you a fortune, and, even more importantly, is scratch-free. Essentially, it checks all the boxes for a floor that won't need fixing after a few months with your furry friends.

One downside of vinyl plank flooring is that it won't significantly raise the value of your home. However, it's very easy to maintain, and it will be one of the best choices you've made.

What Is the Best Floor for Pet Accidents?
Vinyl is your optimum choice when it comes to pet accidents. It is extremely durable and water-resistant, so it can handle pet accidents very well. It can also withstand any damage when installed correctly and comes with waterproof but more expensive options.

Is Laminate Or Vinyl Better For Dogs?
When it comes to vinyl vs laminate flooring with pets, vinyl is better than laminate. 

Laminate might seem like a good option on paper since it seems like it would be easy to clean, but in fact, it can warp quite badly when it gets wet. Some new water-resistant options are slowly becoming available on the market.

Furthermore, laminate can be very slippery underneath dogs' paws. This can lead to accidents. Plus, they are more likely to dig their nails into the floor in order to steady themselves.

Vinyl flooring should feel secure underfoot for both you and your dog. Most vinyl flooring options are water-resistant, and if you are willing to pay a bit more, you can also get waterproof options. It is by far a superior choice for dog owners.
Final Thoughts
While there is no such thing as a dog-proof flooring, there are certainly options that hold up better in pet-friendly households. The best flooring for pets depends on your taste. As you want your home to be pet-friendly, it is still your home. You want it to reflect your style and preferences, and fit your budget.
If you want the easiest, most durable pet-friendly flooring, ceramic or stone tile might be your best bet. Just remember it is hard and cold, so provide a soft rug or pillow for your pet to cuddle up on.
For green options that can accommodate your pets, cork and bamboo are great choices. But don't skimp on the materials; cheap versions of these floorings can easily be damaged.
The most budget-friendly and easy-to-maintain flooring for pets is luxury vinyl. However, this option may not help you with the resale value of your home, so if you plan to move in the near future, keep this in mind.
Hardwood flooring is considered the best for resale, but it is not the most pet-friendly flooring. If you do want hardwood, look for engineered hardwoods that can better handle the challenges of pets.
Lastly, rubber is your best pick when it comes to slip resistance. Rubber dog kennel flooring is ideal in doggy training facilities and doggy daycares.
Whichever option you choose, just remember that accidents will happen and scratches are always a possibility with certain types of floors. Try to keep your pets groomed and trim their nails frequently. With regular upkeep of your floors and your pets, you can have nice floors in a pet-friendly home.
If you have any comments or first-hand experiences with pet flooring, please post them below or share your pictures via our social media.
Back to Top