Laminate was promoted in the 1970s as the next big thing in flooring. Affordable, durable, and easy to clean, laminate flooring seemed too good to be true—and it was. It simply could not hold up under any moisture at all.
But technology has moved on significantly in the last 50 years, and it is now possible to get waterproof laminate flooring.
If you are keen on laminate but worried about moisture, this is the flooring you have been waiting for.
Read on as we go through what differentiates waterproof laminate flooring from traditional laminate flooring or laminate flooring that has been waterproofed.
We will then introduce you to some of the best waterproof laminate flooring brands on the market and answer all your questions about this new, improved flooring option.
The Usual Laminate
You've already heard all about solid and engineered hardwood floors, but what's the deal with legitimate laminate?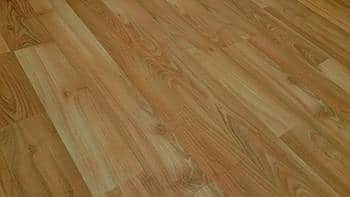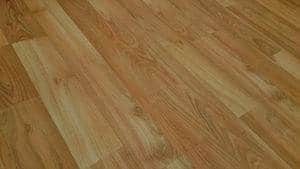 Laminate floors are traditionally made of layers of mixed wood fused together with a printed layer and a plastic wear layer on top for protection and durability.
The result is something that is highly affordable, relatively durable when it comes to scratches and scuffs, and easy to clean.
But the floor is also very susceptible to water damage.
Not-So-Water Resistant
Many laminate floor brands say they're water resistant. That's great if you live in a normal household that drops a glass of juice every so often.
What many of these brands don't tell you is that if you leave any water or liquid on the floor for even a few minutes, your laminate will be doing the time warp while you're left figuring out how to fix your new fun-house-esque floors.
When water gets between the laminate planks, the shiny top layer will be unbothered. The reason your floor will start to bubble up like a casserole is because the fiberboard core will crumble when exposed to any sort of liquid.
That's certainly a huge downside, which is why many people stray away from using laminate in water prone areas like kitchens, bathrooms, basements, and laundry rooms.
But wait: If you're a diehard laminate fan and have been waiting to use it in every nook and cranny of your house, there's hope for you yet.

How To Waterproof Water Resistant Laminate
One option to make laminate the future feature of your kitchen is to talk to a professional about waterproofing your existing laminate. Because the problems with laminate occur when water gets through the cracks, this solution normally involves caulking between each and every board.
If that sounds like a tedious and time-consuming process, that's because it is a tedious and time-consuming process. Companies thought there had to be a better way to waterproof laminate … and now there is.
Welcome to the market, 100% plastic laminate floors.

Waterproof Laminate
People wanted waterproof laminate, so flooring companies delivered.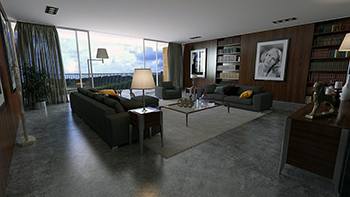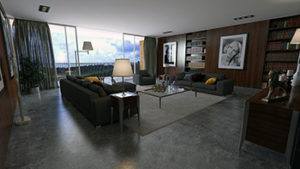 These new lines are designed to waterproof from the "top down", which means the top plastic wear layer is designed to prevent water from soaking into the more water-sensitive wood layer underneath. This is in contrast to vinyl floors, which are designed to be waterproof from the bottom up, preventing moisture from sublayers affecting the floors laid on top of it.
This means that waterproof laminate is great for kitchens, where spills may come from above, but is not as well suited to basements, where moisture is likely to come from underneath. Though a lot can be achieved with the installation of a good moisture- resistant sublayer.
The resulting flooring still doesn't approach the likes of tile or vinyl when it comes to waterproofing, but it is a significant improvement on what has previously been available in laminate.
While some waterproof laminate lines can be purchased for a little as $2.00 per square foot, expect this to be more "water-resistant" than waterproof. For serious moisture protection, expect to pay between $3.00-$4.00 per square foot.

Waterproof Laminate Brands
There are a variety of brands that specialize in making wood-look floors without any of the hassle that comes with caring for traditional wood, vinyl, or laminate.
Here are some of the brands out there that specialize in waterproof laminate flooring:

AquaGuard
AquaGuard really does set the bar in terms of waterproof laminate. It comes with a 15-year commercial/lifetime residential warranty and promises not to become stained or warped even if liquids are left on its surface for up to 30 hours.
You can wet mop or steam mop these laminate floors without voiding your warranty. There are over 100 different style options available.
The laminate flooring is also waterproof from below, thanks to a durable melamine balance back layer that sits under the wood-based fiber core, which has also been sealed to add water resistance. The top wear layer is made from AC-5 protective aluminum, which is both highly durable and waterproof.
AquaGuard is only available online via the Floor and Decor website. Expect to pay between $2.50 and $3.50 per square foot.

Audacity By Armstrong
While this line markets itself as water-resistant rather than waterproof, it does a very good job. It similarly promises not to be damaged by normal spills and moisture from above, even if it is left in place for up to 72 hours (though, of course, they don't recommend leaving any liquid for that long).
You can wet mop this floor, but avoid steam cleaning as this will void the warranty. The floor is also not covered in the event of major floodings, such as a burst pipe or continuous leak.
Audacity uses a rigid, non-absorbent core covered by a multilayer sealer applied to edges in order to stop water from soaking in. Therefore, they are able to offer a lifetime residential warranty and 15-year commercial warranty.
There are five collections to choose from, each with a range of styles and colors on offer. It is available from most good floor retailers or online direct from the manufacturer. Expect to pay between $2.50 and $3.50 per square foot.

Tarkett AquaFlor
If you are looking to spend a little less, Tarkett AquaFlor is a good choice. It is quite a bit cheaper than its competitors and can be purchased for $2.00 and $2.50 per square foot.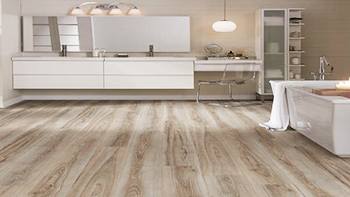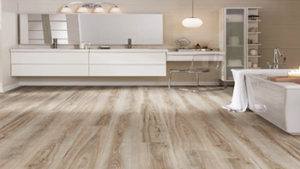 It offers similar protection against spills from above, promising not to be damaged, even if reasonable water debris is left to sit for up to 24 hours. It achieves this with an angle-drop locking system that joins the planks tightly enough that moisture cannot get through.
Cleaning with a lightly damp cloth is permitted, but wet mopping and steam cleaning are not recommended, though it is not explicitly stated that this will void the warranty. This product comes with a 10-year commercial and lifetime domestic warranty.
AquarFlor is only available from Menards. With this affordable range, you make sacrifices on choice, as there are relatively few style and color options. But it is a great choice if you can find something that suits you.

FAQs About Waterproof Laminate Flooring
Is Waterproof Laminate Any Good?
While, as a general rule of thumb, laminate flooring is not waterproof and should not be used anywhere that it is likely to be exposed to moisture, there are lines of waterproof laminate flooring available.

Is Waterproof Laminate Flooring Really Waterproof?
Laminate flooring that claims to be waterproof is waterproof from the top but not from the bottom.

This is because the protective waterproof layer has been added to the top of the planks and the joints, to prevent any water from above soaking down into the lower layers of the floor. But the lower layers are not waterproof and therefore are still sensitive to water coming up from below.

For this reason, do not install waterproof laminate flooring in areas where it can be exposed to moisture from below, such as basements, unless a good waterproof layer has already been installed.

Which Brand Of Laminate Flooring Is Best?
If you are looking for waterproof laminate flooring, we recommend AquaGuard, which is as close to 100 percent waterproof as you can get with laminate flooring. It combines a premium synthetic resin with a honeycomb structure to create something that is not only waterproof, but also wear and scratch resistant.

Can You Mop Laminate Flooring?
While you cannot use steam cleaners or wet mops with traditional laminate floorings, they are acceptable to use with waterproof laminate flooring. You should check the details of your warranty, though, as cleaning in this way may still void the warranty.

How Do You Protect Laminate From Water?
The main issue when it comes to moisture and laminate flooring is water seeping into cracks between the flooring and getting to the underlayer, where it can cause a lot of damage. The best way to prevent this is with a silicone caulking gun, which can be used to fill any cracks. This should not be necessary with waterproof laminate flooring, but may still be desirable for extra protection and peace of mind.

How Long Does Waterproof Laminate Flooring Last?
When properly installed and cared for, you can expect waterproof laminate flooring to have a lifespan of 15 to 25 years.

Does Laminate Flooring Add Value To Your Home?
Even if you purchase quality waterproof laminate flooring, do not expect it to add value to your home. It has a relatively short lifespan and cannot be refreshed or resurfaced. It also lacks "prestige" as far as floors go, and does not have the same desirability of solid wood or tile flooring.
The Verdict
For anyone who is looking for the affordability and convenience of laminate but has been reluctant in the past due to lack of water resistance, there is finally a product available on the market.
But while fully waterproof laminate flooring has been popular in Europe for a number of years, it still feels relatively new in the United States, which makes it difficult to find a range of quality brands to choose from.
Shop around for viable options, and pay close attention to just how waterproof your selection is. Just because it says it is waterproof in the headline advertising does not mean it is completely waterproof in the fine print. Make sure you are not installing or cleaning in a way that might void your warranty.
If you have any comments or first-hand experiences with waterproof laminate flooring, please post them below or share your pictures via our social media.
Back to Top