Choosing the best flooring for bathrooms can be challenging. It needs to stand up against a lot of water exposure and fight mold development. It also needs to be slip-resistant for safety purposes and, of course, look good!
Opinions differ on what's considered the best, but there are certainly some that are relatively good choices and some flooring types you should steer clear of no-matter-what.
Below, you will find a list of the best options for your bathroom, as well as a few to avoid. Plus, we'll share some top tips for installing and maintaining your bathroom floors.
What Flooring is Best for a Bathroom?
1. Porcelain and Ceramic Tile
Why do so many people choose tile for their bathroom? With porcelain and ceramic tile, you won't need to worry about water or moisture damaging your flooring. Plus, there are so many different options to choose from. You can opt for smaller tiles, big tiles, medium-sized tiles. If you're a fan of hardwood floors, you can even find ceramic tiles that look like wood.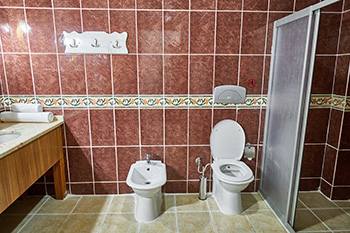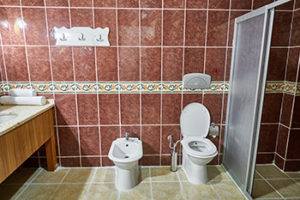 And it's true – tiles can feel cold and hard. So, either wear slippers or invest in a radiant floor heating system. Here's an EPA.gov article covering its benefits.
Tile flooring generally has a life expectancy of 75 to 100 years if cared for properly, and it is one of the floors that can add value to your home if installed correctly. This is why it is always a good idea to get a professional installer for tiles. It is not just about laying the tiles straight and evenly; it is also about arranging the tiles so the variable pattern looks good. Badly laid tiles could have a detrimental impact on the value of your home.
Advantages of Porcelain and Ceramic Tile:
Many styles and colors to choose from
Easy to maintain
Durable, waterproof, and stain-resistant
Moderately priced
Disadvantages of Porcelain and Ceramic Tile:
Difficult to install
Feels cold and hard to the touch
Read more: Ceramic vs. Porcelain Tile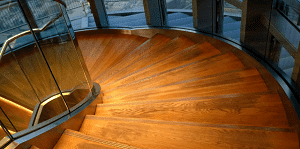 2. Natural Stone Tiles
Natural stone provides a luxurious, high-end look to a bathroom. And it comes in many beautiful choices such as marble, travertine, granite, and slate. You can also choose from various textures including etched, sandblasted, and tumbled. So, the possibilities here are truly numerous.
It is also a highly durable floor. However, it will require regular cleaning and reapplying sealant to keep it in its best shape. Stone tile stands up well to the moisture and humidity in a bathroom. So, it is a good, long-term investment in your home.
Advantages of Natural Stone Tile:
Many different kinds of stone available
Available texture variations
Highly durable
Disadvantages of Natural Stone Tile:
Higher maintenance than ceramic or porcelain
Requires regular cleaning and sealing
Can be pricey
Read more: Marble Stone Tile
3. Cork Flooring
Cork flooring is a very eco-friendly (highly-sustainable), attractive flooring that can be used in bathrooms. It is very easy to install, so it's a good option for the do-it-yourselfer, plus it's very easy to clean. People like it for bathrooms because it not only looks good, it also feels good on your feet. Cork is also warm and soft when you step on it.
This bathroom material also has antimicrobial properties, and it resists both mold and mildew. So, it is a very healthy choice. Note that Cork is water-resistant, but it is not waterproof. You must liberally seal your cork floors with multiple layers of polyurethane to protect them from water and other damage. Otherwise, your flooring can crack or warp.
Cared for correctly, cork flooring should have a lifespan of about 25 years before it needs replacing. For this reason, it probably won't add much value to your home in terms of the resale price.
Advantages of Cork Flooring:
Easy to install
Low maintenance and upkeep
Warm to touch and soft to walk on
Highly sustainable and green flooring
Mold and mildew resistant
Disadvantages of Cork Flooring:
Unfinished tiles require multiple layers of polyurethane
Water-resistant, not waterproof
Read more: Cork Flooring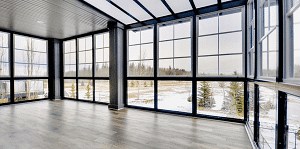 4. Engineered Hardwood
If you have your heart set on hardwood flooring throughout your home, even the bathroom, then engineered hardwood is a great option. It is real engineered wood, but because it is made of multiple layers with a veneer top, it can often go places that solid hardwood planks cannot.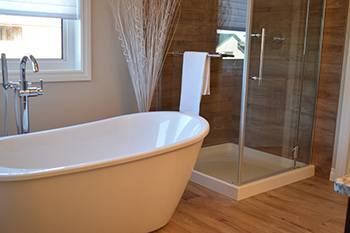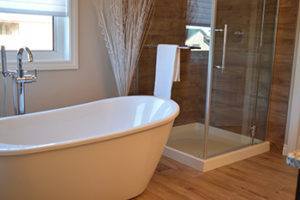 Engineered wood can hold up in rooms with higher humidity and moisture. And like its solid wood counterpart, there are countless species, colors, and styles to choose from. This type of flooring can also be installed as a floating floor over existing flooring. So, it works well for remodeling jobs.
It is one of the more expensive flooring options for bathrooms. Expect to pay as much as you would for solid wood, and in some cases, you may even pay more. Also, keep in mind that engineered hardwood is another option that is water-resistant but not waterproof. If there is a leak in the bathroom or the boards are not properly sealed, water that finds its way between or under these boards can cause damage. And damaged planks are difficult to replace.
Cheaper engineered wood might last 20-30 years, while higher-quality lines can last 50-60 years. The floors can also be refinished once or twice if they need refreshing during their lifetime. Engineered hardwood generally does add value to your home, as wood floors are still one of the most prized features among home buyers.
Advantages of Engineered Hardwood Flooring:
Made of real wood
Withstands heat and moisture
Variety of options
Can be installed over existing flooring
Disadvantages of Engineered Hardwood Flooring:
Tough to repair damaged boards
Water-resistant, not waterproof
Read more: Engineered Hardwood Flooring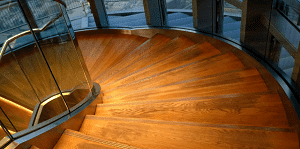 5. Luxury Vinyl
Luxury vinyl tile or plank flooring can give a bathroom a high-end look for a fraction of the price. It often comes in beautiful wood and natural stone-look options. You can find both water-resistant and waterproof planks – a plus in bathrooms where moisture is always a factor.
Vinyl bath flooring also feels soft and warm. So, you will enjoy stepping on it, even on cold days. This is another bathroom floor that can be installed directly over an existing floor. So, it is another good option for remodeling projects.
However, while it is great for your budget, bear in mind that these floors only have a life expectancy of 10-20 years. Also, it will not likely improve the property value of your home. If you are remodeling for the purpose of selling your home, keep this in mind.
Advantages of Luxury Vinyl Bath Flooring:
Water-resistant and waterproof options
Looks like higher-end products
Feels good to walk on
Can be installed over existing flooring
Disadvantages of Luxury Vinyl Bath Flooring:
In many cases, does not improve property value
Can look cheap if not installed correctly
May emit VOCs
Read more: Luxury Vinyl Plank Flooring
6. Concrete
Like tile, concrete bathroom floor is a great option as it cannot be damaged by water and is very easy to clean and maintain. It is a very cost effective option that can last you 20+ years.
Advantages of Concrete:
Resistant to water damage
Cost effective
Numerous options to style and paint
Disadvantages of Concrete:
Hard and slippery
Cold to touch
What is the Best Flooring for High-Traffic Bathrooms?
When it comes to the best bathroom flooring for high-traffic bathrooms, vinyl is often the most common option. You can either opt for luxury vinyl tile (LVT) or vinyl plank flooring in bathroom areas.
Vinyl flooring is moisture-resistant, easy to clean, and is also warm on wet feet. Since it's easy to maintain, it's ideal for bathroom floors that see a lot of traffic. Vinyl designs can resemble wood planks, ceramic tile or even stone.
Another alternative for high traffic areas is waterproof laminate flooring for bathrooms. These types of floors have a moisture-resistant core, making them an ideal choice.
What is the Best Waterproof Bathroom Flooring Option?
Porcelain tile flooring is the best waterproof bathroom flooring option. The biggest benefit to tile is that you will not have to worry about water damage if installed properly. The flooring is very durable and comes in a variety of styles. The peace of mind of having a long-lasting, waterproof floor outweighs the disadvantages of of the floor being cold or more difficult to install.
What is the Best Flooring for a Small Bathroom?
The best flooring options for a small bathroom are:
Ceramic tile
Porcelain tile
Natural stone tile
Luxury vinyl tile
Having larger sized tiles in a small bathroom reduces the number of grout lines and makes the space feel larger while reducing the time to install. In addition, using light colors such as white, gray, or pastel blue will make your bathroom feel bigger.
Flooring To Avoid In A Bathroom
While we can recommend the above flooring options for bathrooms, there are also a few flooring types that should generally be avoided, mainly because they are easily damaged by water, moisture, and heavy foot traffic.
Carpet
Perhaps this goes without saying, but carpet is a terrible choice for wet areas as the moisture can easily damage the carpet. Even if you go for short fiber, tightly woven carpets that do a little better with water, they are breeding grounds for mold and can let water seep through and damage your sub-layer.
Also, why you might think that carpet will feel nice underfoot, imagine how nice it will feel when it is damp between your toes. (No, thank you from me!)
Solid Wood Floors
Though they might be the most attractive flooring on the market, solid wood floors (including Bamboo floors) are not a good choice for bathrooms. Hardwood flooring in a bathroom tends to buckle and warp when they are exposed to water, so yes, you will have squeaky floorboards in a matter of no time.
As a natural material, they can also be a breeding ground for mold when they are exposed to constant moisture in the air.
You might be able to get away with these floors for a few years, but they will need constant care, and the life of the flooring will be more than half of what it would be in better conditions. Sold hardwood floors look stunning, but they won't be as good if the upkeep costs an entire fortune.
You are better off choosing an engineered wood, which looks just as good and also adds value to your home but holds up better under water exposure.
Laminate Flooring
Laminate flooring is made from wood, so it has the same tendency to warp, though some newer models have features that make them more water-resistant.
But laminate flooring also has a tendency to chip at the edges, and these small chips can allow water to enter the flooring planks, where it can do significant damage from the inside out.
Linoleum Tiles
While linoleum tiles are water-resistant, they don't tend to be durable enough to hold up under heavy foot traffic, and when they are damaged, they are significantly more susceptible to water damage.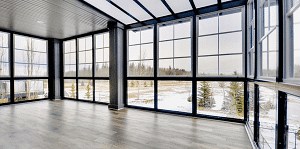 What Are Some Unique Bathroom Flooring Options?
While ceramic tiles might often be among the best bathroom flooring options, they might not be your first choice. You might be looking for a different option to complement your current style décor, or for a different price point or installation method.
Fortunately, there are some quality alternatives you can consider. Read on to learn about a few different choices that can also be considered as the best flooring for bathrooms.
Pebble Tile Bathroom Flooring
Pebble tiles, often referred to as river rock tiles, are made of natural stone mosaic. For the most part, these pebble tiles are mesh-mounted in an interlocked pattern to create a complete floor.
Pebblestone floors add an earthy look to your bathroom floors, but stone options are often more expensive than some of the other choices. This type of flooring also isn't completely waterproof, so it will need to be resealed every couple of years.
Recycled Glass Tile Bathroom Flooring
Recycled glass tiles are created by melting down waste glass in exceptionally hot furnaces. This molten glass is then shaped into its final form. With a wide selection of colors, shapes and mosaic designs, the style options are endless.
Since glass refracts light, it can make a smaller space appear larger. This makes this type of tile a great choice for small bathrooms. The benefits of glass flooring for bathrooms are that the tiles are easy to clean, and are also resistant to mildew, stains, and most allergens. Many homeowners regard glass as the best tile for bathroom floors.
Rubber-Based Bathroom Flooring
It might sound unusual to consider rubber as a bathroom flooring option; however, rubber flooring typically has anti-slip properties. Rubber is an ideal waterproof bathroom flooring option since it maintains traction even when wet.
Rubber flooring is an ideal option for households with small children or pets. With its durability and anti-slip features, rubber is often considered one of the best bathroom flooring choices. It's also a unique way to add personality to your bathroom.
Buyer's Guide for Bathroom Flooring
With numerous options to choose from, how do you narrow down the field to the best option for your bathroom? First, determine your priorities.
Why are you in the market for bathroom floors? Is it for a new home, to restore an existing bathroom, or are you remodeling for resale? Each scenario can potentially impact the type of flooring you choose.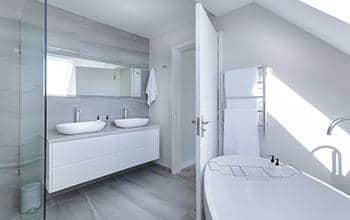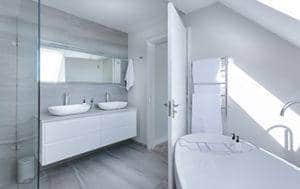 How Much Does Bathroom Flooring Cost?
Budget and personal preferences also play a role. Your options may be limited by what you can afford.
With all these different options for bathroom flooring, what can you expect to spend for each one? The answer depends on how big your bathroom is and whether or not you plan to hire someone for the install or do it yourself.
Here's a guideline based on average prices around the country. Your specific cost may be more or less depending on where you live, the brands you choose, and the level of difficulty of the installation.
Ceramic and porcelain tiles – Ceramic and porcelain prices range from less than $1 to over $8 per square foot, plus $4 to $8 for installation.
Natural stone tiles – Depending on what natural stone you choose, prices range from $5 to $10 per square foot, plus $7 installation.
Cork flooring – Prices vary from $3 to $8 a square foot, plus $1 for installation.
Engineered hardwood – The price really depends on the quality of the engineered hardwood flooring you choose, and prices range from $3 to over $14 a square foot, plus another $3 to $8 for installation.
Luxury vinyl – Prices are based on the level of quality luxury vinyl you choose, and range anywhere from $2 to $5 a square foot, plus around $1.50 for installation.
Moisture
Stick to a bathroom flooring option that can handle the moisture and humidity of a bathroom. If you decide to go with hardwood, choose engineered hardwood over solid hardwood. Always consider waterproof flooring for bathroom floors. If you're leaning toward a wood finish, plywood for bathroom floors are a good option because they're durable and stable.
Bathroom Flooring Color
Choosing the best type of flooring for a bathroom also involves the right color. Here you have a few options to consider; you can either choose a bright color to make the existing décor pop, or you can choose a more natural approach that will blend well with any future color or décor changes.
A general rule of thumb is to keep the flooring darker than the ceiling and walls. This will create enough contrast to not have the floor overpowering the rest of the décor. When it's time to get down to choosing the right color for your bathroom space, consider the following tips:
Lighter colors make the space look bigger
Bright options like pink floor tiles for bathrooms can add a pop of color to a white or neutral décor finish
Consider the general style, décor, and current accessories
Dark tiles show dirt easier than light tiles
Laminate tile flooring is a popular option for bathrooms because of the style options available
Finish and Texture
It's important to choose a finish that's not only waterproof, but also easy on the feet. Bear in mind that you'll need to walk on this floor barefoot, and possibly when it's wet.
Floor choices that provide traction and grip are the better options for bathrooms, but if you're considering stone tile options, make sure they aren't too rough on your feet. Choosing the best tile for the bathroom floor will give you a smooth finish. Whether you're choosing vinyl, ceramic, or stone tiles, ensure that they're quality floor-rated materials. From a décor point of view, choose a texture that complements the rest of your décor.
Which Flooring Options are the Easiest to Maintain?
Each of these bathroom floor choices has its benefits. However, if low maintenance and easy to clean is what you are looking for, then there are two that stand out from the crowd. Ceramic tile and luxury vinyl.
Ceramic tile is not only waterproof but stain-resistant as well. So, virtually any messes or spills can easily be cleaned up.
It is also extremely durable. Bathrooms get a lot of traffic, but with ceramic tile, you'll never have to worry about scratches or dents in the flooring.
Luxury vinyl is also very low maintenance. It comes in both water-resistant and waterproof options.
So, water or any other spill cleans up easily. And regular sweeping & mopping is all you need to maintain these floors.
Where to Buy Bathroom Flooring Online?
The good news is, whether you're looking for the best flooring for a bathroom remodel or installing a floor for the first time, you can buy all the materials online.
A few popular online flooring options include Build.com, BuildDirect, Wayfair, Lowe's, and ProSource.
If you're not sure about the more intricate details of selecting your flooring options, you can enlist the help of a Floor Critics expert to help you with everything you need!
How Do I Clean My Bathroom Floor?
Most bathroom floors can be easily cleaned with a tile mop and warm soapy water. Ensure that you don't use too much soap, as that could make the floors look dull. It could also make them slippery. A cup of vinegar can be added to the bucket of water to wash off any grime, and cleaning the floors regularly will prevent grime build-up. If your bathroom has windows, ensure you open them often to ventilate the space and dry the floor.
The Spot Less Flat Mop is our top pick for a bathroom mop.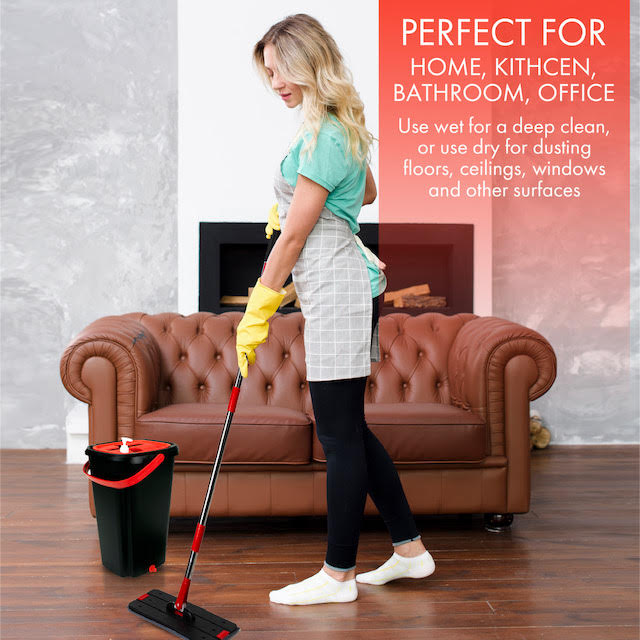 Bathroom Floor Installation
What is the Easiest Bathroom Floor to Install?
If you want to install a new bathroom floor yourself, there are plenty of options to choose from. And, of course – some to avoid.
First, unless you are a big fan of This Old House and know how to use a wet saw, stay away from any kind of tile flooring. Your three best DIY bathroom floor options are cork, engineered hardwood, and luxury vinyl. Why?
Cork flooring (cork plank flooring, in particular) is very easy to install. Just snap planks together to create a floating floor. Cork planks do need a thin layer of underlayment. However, you can find some cork tiles that come with this already attached to their base.
Engineered hardwood is another relatively simple flooring to install. Choose prefinished planks and attach over a foam-rubber underlayment to create a floating floor.
For the look of natural stone tiles without the hassle, luxury vinyl tiles are a much simpler option to install yourself. They are easy to cut, and you can even grout the tiles for a realistic stone tile-look in your bathroom.
Tips For Installing And Maintaining Bathroom Floors
Installing a new bathroom floor is about more than just choosing the right flooring option. You also need to prepare your subfloor appropriately and also maintain your flooring once it is in place. The subfloor is the structural floor that sits beneath your chosen flooring. The flooring you lay on top is not just for aesthetics; it is also to protect the structural integrity of this subfloor.
In most houses, the subfloor for a bathroom will be made from wood or concrete. Considering how vulnerable wood is to water damage, appropriate protection for your subfloor is easy to understand. But concrete can also be problematic. If the concrete is porous, it can easily soak up water. If the water then gets trapped in the concrete, the concrete can be damaged and crack over time.
So, in both cases, you want to add additional water protection to your floor; this generally means applying a waterproofing membrane appropriate to the flooring type. With concrete, any cracks should be properly patched before you lay your new floor, and the concrete sealed to stop it from absorbing water.
And regardless of what the subfloor for bathroom is, make sure it is clean and free of debris before you lay your new floor on top.
When it comes to maintenance, while your floor should be waterproof, or at least highly water-resistant, that doesn't mean you want it to be constantly wet. Mop up spills rather than let them sit, and try and minimize the amount of water in the air in the bathroom by ensuring the space is ventilated with windows or an extractor fan. You might even invest in a dehumidifier if the air is very moist.
Clean floors regularly based on manufacturer's guidelines, and don't let dust and debris sit. When mixed with water, this can easily become mud, which is much more labor-intensive to clean than a quick sweep.
Should You Install Bathroom Flooring Yourself or Have a Professional Do It?
If you have DIY experience, you can easily install your own bathroom flooring. If you prepare the base floor correctly and use the proper adhesives and tools recommended by the manufacturer, you can turn it into a weekend DIY project.
However, if you're not the DIY type, it's always best to enlist the surface of professionals. It's important to remember that professional installers have experience and skills that you might not have learned in your weekend projects. Having a professional do the job sometimes also comes with a warranty that a home project won't have available.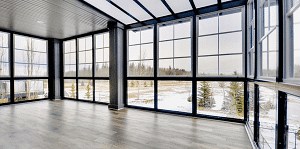 FAQs for Best Flooring for Bathroom
What Are The Best Waterproof Bathroom Flooring Options?
Porcelain is the best waterproof flooring for your bathroom. This material is heated at higher temperatures during production, which helps it to be water-resistant.

In general, porcelain tiles that are used for bathrooms have an absorption rate of less than 0.5%.

What Is The Best Type Of Flooring For Bathroom Remodel?
All of the options we mentioned can be great for a bathroom remodel. It all depends on how much you're willing to spend and what kind of effect you want to achieve.

For example, luxury vinyl is very easy to install, and you can do it yourself without the help of professionals. If you want to keep the existing floors, then engineered hardwood might be a much better choice because it can be installed on top of existing floors.

Porcelain and ceramic tile is always a good idea because of its durable character, waterproof nature, easy maintenance, and versatility. You can opt for smaller tiles, bigger designs, bright or dark colors, and choose from many prints.

Cork is another popular option at the moment that is gaining traction because of its unique look and easy installation.

Natural stone tiles are the most luxurious and perfect for a remodel if your budget allows it.

What Is The Best Type Of Flooring For A Bathroom?
While it is debatable which type of flooring is best for bathrooms, and what is right for you depends on your home and personal preferences, tiles are probably the overall best bathroom flooring option. Tiles are waterproof and will both protect your subfloor and resist water damage. They are also highly durable, so they won't be easily damaged by heavy daily use.

These days there are a lot of different tile designs available, so you can achieve pretty much any look you like, including a solid wood floor look if you so desire.

Is Vinyl Plank Flooring Good For A Bathroom?
Water-resistant and waterproof vinyl plank flooring options are appropriate for bathrooms as they will not be easily damaged by water exposure or warp due to high moisture levels. There are also lots of design options available, so you can achieve a number of different looks with ease.

However, bear in mind that while vinyl plank flooring is marketed as an affordable flooring alternative, to get fully waterproof planks, you will need to get the more expensive planks, minimizing your savings. Also, vinyl flooring is very unlikely to add any value to your home in the long run.

What Is The Best Type Of Tile To Use In A Bathroom?
Porcelain tiles are the best options for bathrooms as they are denser and less porous than other tiles, which means they are better at keeping water out, and they are less likely to stain. Most porcelain tiles are also compatible with underfloor ambient heating, though check the manufacturer's guidelines for your particular choice.

Are Woods OK In Bathrooms?
It is generally not advised to install wood flooring in bathrooms as wood tends to expand and contract with water exposure and drying, and over time, they can warp and become unstable. As a natural material, mold also likes to grow on damp wood.

If you have your heart set on wood, look at engineered hardwood planks. These are specially made by layering thin cross-sections of wood at angles to make them resistant to moisture warping. However, it is a good idea to dehumidify the bathroom with these floors to avoid mold development.

What Is The Best Color For A Bathroom Floor?
As bathrooms tend to be relatively small and have few windows, it is generally recommended to use light-colored flooring to make the space appear bigger and lighter. Whites, grays, and creams are by far the most popular color choices on the market.

Do You Put Flooring Under The Shower?
Whether your flooring should extend underneath your shower and other areas, such as the bathtub, depends on the flooring. Tile flooring can go underneath the shower as it is fixed flooring, but floating floors, such as vinyl plank, should not extend under the shower as the floor does need to be free to float.

What is the easiest flooring to install in a bathroom?
Vinyl tile is one of the easiest flooring types to install in your bathroom. The tiles are reminiscent  of natural stone, you can cut them yourself, and you can put them together after doing some basic research.
 
Another easy-to-install alternative is cork, which is a favorite for many people. Finally, if you're obsessed with hardwood you can try engineered hardwood for your bathroom. It's available in prefinished planks that you just add on top of the underlayment and attach one to another.

What flooring makes a bathroom look bigger?
Tiling is not only one of the most popular flooring options for bathrooms, but it can also be used to make a small bathroom appear bigger. The secret is to opt for light-colored tiles such as white, nude shades, light grey tones, etc. In most cases, it's smarter to avoid printed tiles and opt for plain choices.
 
Another thing to remember is to use large tiles because small designs feature numerous grout lines that will make the room appear even smaller. Ensure that you ask for the tiles to be installed in horizontal lines and install them all the way to the ceiling.

What is the cheapest bathroom flooring?
Vinyl is one of the most affordable bathroom flooring choices. One thing to keep in mind is that bathrooms require a waterproof vinyl type that generally costs a little more than regular vinyl. Luxury vinyl is another great alternative if you're willing to pay slightly above the minimum.
 
Ceramic and porcelain tiles are moderately priced but are more durable compared to vinyl. Linoleum can do an excellent job in bathrooms, plus it comes at a great price. This flooring option is meant for people who prefer greener options over man-made materials.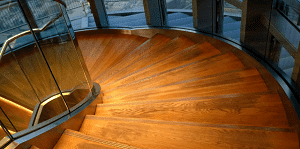 The Verdict
Today, there are so many more flooring options for damp spaces like the bathroom that homeowners finally have a choice when it comes to decorating the throne room.
But the best flooring for bathroom options need to be waterproof, or at least highly water-resistant, and also durable enough to put up with the heavy foot traffic that most bathrooms see.
This means the best options are tiles and porcelain or natural stone, which are waterproof, durable, and have lots of options to achieve a unique look.
However, if you have your heart set on wood, which holds notoriously badly in moist conditions, you do now have options. You can invest in engineered hardwood, which is real wood manufactured to be water-resistant, or vinyl plank flooring, which is an artificial flooring designed to look and feel like real wood.
Another great option is cork flooring, which is not only water-resistant but also a sustainable and environmentally-friendly choice.
Whatever you choose, appropriate maintenance is the key to making sure your floors last and look good for years to come. Just because a floor is "waterproof" doesn't mean it should be sat in water for hours on end. Regular cleaning and good ventilation are key.
If you have any comments or first-hand experiences with bathroom floors, please post them below or share your pictures via our social media.
Back to Top