What is VCT flooring? VCT stands for vinyl composition tile, a commercial grade vinyl flooring material. Slowly making a move from hospitals, schools, libraries, and public areas to residential use, this vinyl floor is the ideal choice for high-traffic rooms.
With that transition, though, come questions. Can you install it everywhere? How much will it cost? We have prepared a comprehensive guide to teach you all about the features of this flooring option, the expected and unexpected expenses, and even its history.
If you're intrigued and want to know all there is to know about vinyl composition tile, you've come to the right place. Now keep reading to see whether it's an aesthetic that will fit your home and your free time.
What Is VCT Tile?
Have you ever seen VCT floors? The chances are good that you have, because this floor is all over public areas, especially in school and hospital hallways.
Although primarily used for industrial purposes, VCT is slowly becoming a go-to choice for residential buildings as well. Vinyl composition tile is one of the most commonly used flooring types for schools, hospitals, and other high-frequency areas. If you're intrigued by VCT and want to know whether it will be a good fit for your home, we need to start with vinyl's history and VCT basics.
VCT first appeared in the 1920s when Waldo Semon discovered this flooring material by accident. His primary goal was to create an adhesive, but when he realized the material's potential he decided to make tiles out of it.
Semon's first product was a vinyl composition tile, and it was named Vinylite. Since then, vinyl has been used to create various flooring types, including vinyl tile, luxury vinyl tile, vinyl composition tile, and solid vinyl tile.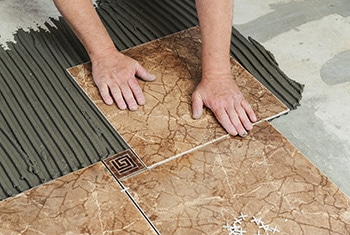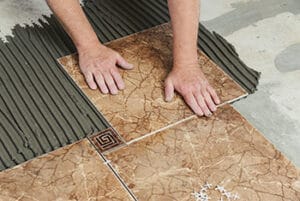 These tiles are porous because of how VCT is made, and what it's made from. This is a solid material that contains around 65% limestone. The remaining 35% of the tile is made of vinyl and various other filler materials. Because of the content, they have to be waxed, polished, and protected.
One of the most common uses of VCT is for high-traffic areas such as school and hospital hallways, retail stores, and other public spaces. Actually, these tiles are one of the most frequently used flooring options globally.
Pros
Now that you know about the VCT flooring meaning, it's time to learn more about its pros and cons. Who should install these tiles, and who should stay away from them?
Vinyl composition tile is a frequent option in public locations, especially corridors, but recently it's also become a frequent residential choice because of the low price. Is this a flooring type you should consider for your home?
Vinyl composition tile is a durable material resistant to impact and will take years before it shows signs of wear. In general, you can expect this flooring option to last between 15 and 20 years.
VCT isn't hard to install; therefore, it's an excellent alternative for people who prefer DIY projects. As long as you follow the manufacturer's instructions, you shouldn't have any problem installing this floor.
Vinyl composition tiles aren't noisy at all. Unlike other tiles that tend to create sounds when you walk on them, VCT is quiet and very pleasant for indoor spaces.
This flooring option is highly resilient, which makes it an excellent alternative for high-traffic rooms. As we mentioned before, it takes years before these floors show signs of wear and tear, so you can feel free to install them in your hallways and other parts of the house.
It's an eco-friendly alternative. Although it's not a 100% natural flooring type, these tiles are recyclable. When their time is over, you can recycle them and not feel bad about polluting the environment and creating waste.
There are various designs, patterns, and colors to choose from. Unfortunately, it doesn't come in as many varieties as LVT, but you'll still definitely find something you like.
It's affordable. VCT is one of the most affordable flooring options, and is therefore a common choice for many households. One thing to think about before installing it, however, is the frequent upkeep costs. This flooring type requires polishing and waxing, so this will add to the final cost over the years.
VCT is resistant to fading and is stable under UV radiation, so even if you install it in spots where it will be exposed to heat and light, this flooring type will look the same after years.
Cons
While some significant benefits make VCT an alluring flooring choice for homeowners, there are still some drawbacks you need to know about before you decide to invest. Back in the day, this flooring type was usually used in industrial and common areas, but now it's becoming a more frequent choice for residential areas as well.
The subfloors have to be even. Even though the installation process is straightforward, the preparation before installing VCT can be tricky and time-consuming. The subfloors have to be completely level; otherwise, you'll encounter problems after installation. The surface won't be even, and the irregularities will be evident. Because these issues will be so obvious, there shouldn't be any holes, bumps, or uneven surfaces that can change the final appearance of the floors.
VCT is difficult to remove. VCT is installed using a strong adhesive that fastens the tiles tightly to the subfloor. It becomes even more attached to the subfloor as time goes by, making it hard for you to remove. When you want to install new floors, you need to spend hours removing the old tiles using various techniques.
If you live in very cold areas, that's bad news! Unfortunately, these tiles are sensitive to low temperatures and can show signs of damage fairly quickly in cold regions.
Most brands offer a five-year warranty for VCT. When compared to other flooring types, that's a significantly shorter warranty period.
If you don't install these floors properly, they can trap dust and dirt.
Even though we mentioned that this flooring type is resistant to UV radiation, continuous exposure to sun rays can affect its shine.
Cost
One of the primary reasons why vinyl composition tile is one of the most popular flooring types globally is its low cost. It's one of the most affordable alternatives that are durable and resilient.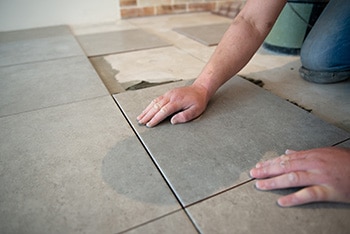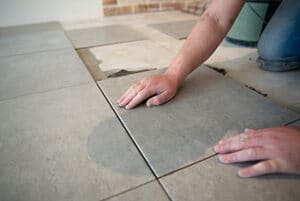 On average, you can expect to pay around $2 per square foot for vinyl composition tiles. As with other flooring types, there are more expensive, higher-end VCT options that will cost you more than $2 per square foot, but the most inexpensive styles of VCT start at around $0.99 per square foot.
Getting the vinyl composition tiles and installing them usually costs between $2.50 and $5.00 per square foot, depending on the type of tiles you'll choose.
One of the hidden costs many customers don't know about or don't consider when calculating is the maintenance cost. Even though this floor is durable, you will have to reseal it at least once a year. In addition, as time goes by, VCT might require more frequent polishing and waxing.
Aesthetic
Is VCT's aesthetic one of the reasons why homeowners are more and more commonly interested in this flooring type? VCT provides a gorgeous appearance; however, there is one downside you should know about.
Since this flooring material hasn't been used too often for residential purposes and it's made of 65% limestone, the design and color options are limited. This doesn't mean that you won't be able to find a style to match your home, but you shouldn't expect too much.
On the other hand, LVT offers many styles, finishes, and colors, and that's why some homeowners with specific style preferences choose it over VCT. People's interest in vinyl composition tiles is on the rise, though, so we expect companies to release more styles and patterns in the near future.
Durability
How durable is VCT floor tile? One of the most important factors that influence a homeowner's decision when buying flooring is its durability. This is possibly the most popular resilient flooring installed in commercial buildings because it is affordable and suitable for high-frequency areas.
It's undeniable that VCT is a durable flooring option; however, you should remember that it requires a lot of upkeep. It's considered a resilient flooring that works great in high-frequency areas, but the more people use it, the more it needs to be waxed and polished. Once the wax is gone and the surface is exposed, the tiles aren't protected anymore and can be damaged.
The truth is that this vinyl composition tile can last for 20 to 25 years, but as time goes by you'll have to wax it so frequently that it will become a big investment. At that point, it's much better to install a new floor rather than maintain the old VCT.
Maintenance
Is VCT vinyl tile hard to maintain? You're not going to like what you're about to read. Although this vinyl flooring type can be quite durable, it requires a lot of care. When we say care we don't mean in terms of daily maintenance, but regular stripping and resealing.
Let's start with the basics. How should you take care of your new VCT floors? This part is quite simple and straightforward.
Daily Maintenance
Daily maintenance consists of sweeping and mopping up all the dirt, dust, and debris accumulated on the floor surface. This will prevent damage from particles and will prolong the life of your floors.
You can also use a vacuum, which is an even faster and easier way to take care of dirt and dust. You can finish the cleaning session off with a damp mop and a cleaning solution made for this flooring type. Larger industrial areas usually use an auto scrubber to clean large surfaces covered with VCT.
Waxing
The next step is routine maintenance that includes removing the wax, scrubbing the floor, and applying a new layer of wax. Since vinyl composition tiles are installed in high-frequency areas, this coating is gradually stripped away so that the floors need another layer after a time.
Experts recommend that you complete this procedure once a year. The first step is to remove the existing wax by deep scrubbing the floors and then applying a new layer on top. Ensure that the scrubbing agent isn't too aggressive, though, because it can affect the adhesive used to bond the tiles to the subfloors.
You should opt for three to five coating layers, and a high-quality polishing product specifically meant for vinyl composition tiles. Sealing VCT is essential because of its porous surface.
Matting
Another tip we have to share, especially if you're looking into VCT for your home, is matting. Covering areas of the floors with gorgeous mats or rugs will help you preserve their appearance. Mats will protect the surface and prevent dust, dirt, debris from getting directly on the floors and causing damage.
One thing to keep in mind is to tackle spills right away. The surface of these tiles is porous, so if any parts aren't sealed properly, they can be damaged by liquid.
Installation
The VCT tile you'll get will come with installation instructions. The process is straightforward, as long as you're familiar with all the basics. After you level the subfloors, you can start laying the tiles.
The first step is to find the room center and create a grid that will help you position the tiles. Remember to leave small spaces between the tiles. Another thing you should do is leave the VCT in the room for at least two to three days before installing them.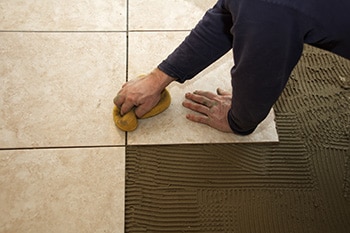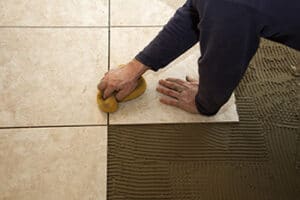 During the next step, you can start applying the VCT adhesive. Apply it evenly on the subfloor, then start positioning the tiles. The easiest way to pull this off is to work in sections and avoid covering the entire floor with adhesive at once, so that it doesn't dry before you reach that area.
Lay the tiles, paying attention to the pattern you want to achieve. You can then go over the installed tiles with a floor roller to ensure that they're well-adhered to the subfloor.
FAQs
What is the difference between VCT and LVT?
Although both are considered great options for high-frequency areas, LVT and VCT are two different flooring materials. The main difference between the two is in the way they're constructed.  LVT is made of vinyl and has a much harder core and wear layer. That makes it more durable than its opponent. On the other hand, VCT is made of mainly limestone, a smaller amount of vinyl, and other filler materials. That means this material is porous and has to be properly protected so that it doesn't wear out. 

Is VCT or LVT more expensive?
VCT is the most affordable option of the two; however, there's one factor not many homeowners think about in advance, and that's maintenance. As we mentioned several times before, vinyl composition tile requires waxing and polishing, which means that you'll have to cover those costs as well.
On the other hand, LVT is surprisingly simple to maintain and doesn't need any waxing or polishing. So, the initial cost for LVT is higher, but when you add the maintenance cost for VCT, these two flooring options become similar in price. 

Generally, LVT is a more affordable flooring alternative than other types, including hardwood floors, concrete, etc. 
Conclusion
Is VCT flooring the right choice for your home? If you've been looking at vinyl composition tile, but you weren't sure whether it's a suitable choice for your rooms, we hope this guide explains everything you needed to know about this flooring type.
VCT is an excellent option for high-traffic areas, as long as you're aware that it requires proper maintenance. This might be an affordable flooring choice; however, you have to know that you'll need to invest in stripping and waxing it at least once a year. With proper maintenance, this flooring can last for decades.
The truth is that there are several downsides to installing VCT at home. Still, as long as the homeowners know them beforehand and are ready for the upcoming maintenance costs and obligations, this can be an exquisite flooring type to choose.
If you have any comments or first-hand experiences with VCT flooring, please post them below or share your pictures via our social media.
Back to Top