When comparing SPC vs WPC, which one should you choose? As the flooring industry continues to introduce new flooring alternatives, engineered vinyl floors are very highly rated among homeowners. SPC and WPC belong to this group of floors, and today you'll learn all about them!
If you're on the hunt for durable floors that won't break the bank, both of these options will be high on your list. Although SPC and WPC are considered waterproof, we will explain in-depth what this means and in which rooms you can install them.
This guide will take you through all the important features of the two flooring types, including durability, cost, thickness, installation, style, and much more. We also talk about their drawbacks, so keep on reading to find out!
SPC vs WPC Vinyl
Before we get into detail about the features of these two flooring types, we wanted to do a detailed comparison of their significant advantages and disadvantages.
WPC and SPC vinyl floors are similarly built and both belong to the group of engineered vinyl flooring options. Wood Plastic Composite, or WPC, is a durable, waterproof flooring type and a go-to for many homeowners. WPC has a core layer made of plastic composites mixed with wood pulp.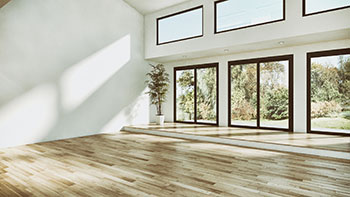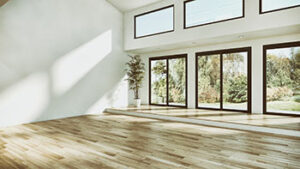 Here are the main pros and cons of this flooring type:
WPC Vinyl Pros
Durability: this is one of the most durable flooring types because of the way it's built.
Waterproof: WPC vinyl floors are waterproof and won't show signs of damage when exposed to liquids. These planks are waterproof both from the bottom and the top, meaning that you can use them in rooms like the basement, bathroom, and kitchen.
Easy to clean and maintain: this vinyl flooring is straightforward to maintain. All you need is a broom and a mop once or twice a week to keep it clean.
Quiet and comfortable to the feet: WPC vinyl is much more comfortable to walk on and is quieter than SPC. Since this flooring is thicker, it provides better sound insulation and a softer landing surface for your feet.
Various designs and styles to choose from: if you want stylish flooring that will remind you of hardwood, stone, or tile, you'll definitely find it among the many WPC variants, designs, and colors.
Simple to install: DIY-ers will love this vinyl floor! The installation process is straightforward and to the point, and nearly all brands include an installation manual together with the planks. In addition, most designs feature a click-and-lock system, so the installation will be very straightforward.
WPC Vinyl Cons
Costlier than SPC: the price difference is slight; however, WPC vinyl is more expensive than its counterpart. The good news is that numerous brands have joined the WPC trend, so you can expect the industry for this flooring type to be more competitive and the prices to go lower in the future.
More susceptible to scratches and dents: although we listed durability as one of the biggest WPC pros, this flooring is more sensitive to scratches and dents than SPC. Be careful not to drop sharp or heavy objects on the floors, because they'll leave their mark.
SPC flooring, also known as rigid core luxury vinyl flooring, is one of the most durable vinyl floors. SPC stands for Stone Plastic Composite and is made with a rigid core of polyvinyl chloride, natural limestone powder, and stabilizers.
Although it's very similar to WPC (in both appearance and features), there are still a few differences that we have to highlight to make your choice easier.
SPC Vinyl Pros
Very durable: if you think that WPC is durable, you should see what SPC can do! Thanks to the rigid core, this flooring is superior to WPC in durability. It's actually the most durable vinyl variant on the market.
Many designs and styles to choose from: just like WPC, rigid core vinyl floors are available in many different designs, styles, and hues. In addition, some variants look like natural wood materials, stone, or tiles. The best thing is that SPC is significantly more affordable than all these natural flooring variations.
Waterproof: the rigid core of SPC floors is completely waterproof and is resistant to warping and damage from liquids.
Can be installed everywhere: thanks to the rigid core, this flooring can be installed anywhere you can think of. In other words, it's ideal for rooms exposed to moisture, but you can also consider it as an excellent alternative for uneven subfloors and homes with pets.
Easy to clean and maintain: SPC and WPC are equally straightforward to clean. Grab your broom and a damp mop once or twice a week, and your floors will look as good as new.
Simple installation: these planks usually feature the click-and-lock installation system, and they're ideal for people who prefer to install their floors without the help of professionals.
More affordable than WPC: SPC is a cheaper alternative than WPC. This flooring type is also more present in the market, so the prices are more competitive.
SPC Vinyl Cons
Louder than WPC: the core of SPC is tougher and denser, so this flooring is slightly louder than WPC. It's not a significant difference, but if it's something that bothers you, you should keep it in mind.
Not as comfy to the feet: once again, the rigid core makes this vinyl floor a bit less comfortable and tougher to your feet.
Colder to the touch: vinyl floors aren't the best solution if you want warm feet; for this, WPC is the better and warmer alternative since SPC planks are thinner.
WPC vs SPC Flooring: Features
Thickness
Aside from the component differences, thickness is the second biggest differentiator between WPC and SPC vinyl floors. Again, this is a category where WPC takes the lead because these planks generally vary from 5.5 mm to 8 mm. SPC planks are usually thinner and range between 3 mm and 7 mm.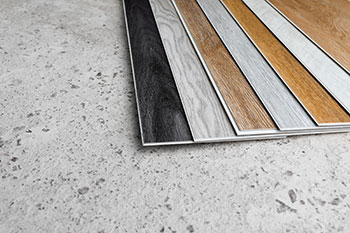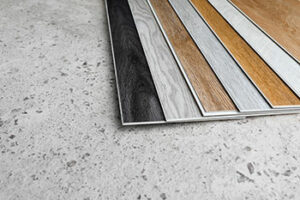 Why is thickness an essential factor in this case? First of all, thicker planks are usually comfier to the feet, warmer, and aren't as loud. We'll talk more in-depth about foot feel further along in the article.
Style & Look
If you're looking for floors on a budget, but you still long for the stunning appearance of hardwood floors or natural tiles, then both SPC and WPC are excellent options. These floors are available in many different colors, patterns, and designs that resemble natural flooring materials.
How do these man-made floors imitate wood and natural stone so well? The flooring pattern is printed on the vinyl layers of the planks, and thanks to technology advancements these prints are becoming more and more natural-looking and intricate.
There isn't a significant difference between WPC and SPC when it comes to style and looks. Both look stunning and come in numerous textures, designs, and colors; however, SPC is much more readily available, so there's usually more to choose from.
Another thing you'll want to know is that these days the plank sizes are much more diverse, so you can find floors of various sizes as well as patterns. Vinyl tiles are also available in broader size ranges, meaning that it will be simpler to imitate natural stone.
Stability & Durability
Rigid core luxury vinyl flooring, or SPC, is the more durable alternative between the two. Actually, this floor is the most durable vinyl floor on the market. Thanks to its rigid core, the flooring is harder, tougher, and lasts longer.
As we discussed before, its core is made of polyvinyl chloride, natural limestone powder, and stabilizers that make it stronger and denser, even though it's thinner. Because of these advantages, SPC planks and tiles are more resistant to scratches and dents, especially when they are hit with sharp objects.
On the other hand, WPC's core contains wood pulp, and it's slightly less durable than SPC. This flooring is thicker, but that doesn't make it as tough or dense. Unfortunately, WPC vinyl isn't as resistant to dents and scratches as its counterpart, so you should be careful when handling sharp objects.
Waterproof
This section will explain better what waterproof means when it comes to these two flooring types. Although we've already mentioned several times that they're waterproof, the truth is that you shouldn't risk exposing them to water and liquids for long periods.
If you place a WPC or SPC plank entirely underwater, over time it will damage and warp, but it's safe to say that these floors are water-resistant. There's no need to be worried about spills that you handle right away, though. They won't harm your floors, but you have to ensure not to leave any mess on the floors for hours or days.
Since these floors are stable when exposed to temperature changes and moisture, they're suitable for rooms like bathrooms, kitchens, laundry rooms, etc.
Installation Indication & Process
Which rooms are WPC and SPC vinyl floors suitable for? Both types have diverse applications because of their durability and water resistance. There are residential and commercial types of SPC and WPC, so before buying, ensure that you know which type you need.
If you're looking at these floors for your home, you can install them in pretty much any room. Since they're resistant to water damage, they're excellent contenders for rooms exposed to moisture, but they will also be an excellent fit for living rooms, halls, bedrooms, etc.
The installation process is very straightforward because SPC and WPC vinyl floors mainly use a click-and-lock system and can be installed using a floating floor method on top of all subfloors and floors. If your subfloors aren't even, you should opt for SPC over WPC.
Cost
Typically, SPC is the more affordable alternative between the two! Although the price difference is not significant, it's still a factor worth mentioning. If you're on a budget but want durable, beautiful floors, solid core vinyl should be at the top of your list.
In general, you can expect to pay between $3 and $6 per square foot for SPC and between $4 and $12 per square foot for WPC. Good hardwood floors cost between $5 and $14 per square foot, but the prices will go much higher when you add the installation and material costs.
The installation costs for SPC and WPC aren't included in the prices we listed, but they're the same for both flooring types. The average labor cost starts at $1.6 and goes up to $6 per square foot. The favorable part of buying vinyl floors is installing them yourself and saving time and money.
If you opt for these floors, you avoid the costs of adhesives, other materials, and tools that you would need to buy to install hardwood floors.
Foot Feel
Comfort is one of the many factors homeowners seek when looking for new floors. Of course, you can't expect vinyl to be as welcoming and warm as hardwood floors, but WPC will definitely feel nice and comfy on your feet.
Due to the softer core and thickness, WPC vinyl provides more insulation and cushioning. That's why your feet will feel more comfortable and warmer when walking on these. The core also retains heat much better and has better sound insulation.
The difference with SPC isn't significant; however, it does exist. If you're more interested in SPC but are concerned with the increased volume of sounds in your home, you can add an acoustic backing to make it quieter.
WPC is a better alternative for work spaces where your employees will have to be on their feet for many hours during the day.
Sustainability
Volatile organic compounds (VOCs) are harmful chemicals present in SPC and WPC vinyl floors. Unfortunately, these two flooring types aren't sustainable or eco-friendly. The good news is that as the industry advances, brands are releasing low-VOC alternatives that are less harmful and toxic.
Best WPC Flooring Brands
Shaw Floorté
Shaw Floorté is an excellent choice for WPC flooring. They offer a variety of styles and are 100% waterproof. See our in-depth review of Shaw Floorté.
SmartCore Ultra
SmartCore Ultra is a premium WPC line exclusive through Lowe's. It can be installed on top of most surfaces due to its glueless floating floor design. See our in-depth review of SmartCore Ultra.
Mannington Audra Max
Mannington vinyl plank has an affordable line of WPC flooring with above average quality. It's easy to clean, very durable, and installation is quick. See our in-depth review of Mannington.
Best SPC Flooring Brands
Mohawk SolidTech
Mohawk SolidTech comes from a brand that has been around since 1878. is an excellent choice for WPC flooring. SolidTech comes in three diverse collections with each being scratch resistant and waterproof. See our in-depth review of Mohawk SolidTech.
Proximity Mills
Proximity Mills is a newer flooring brand that makes a high quality product that is affordable. They have wear layers that go all the way up to 22 mil thick so if you have pets of high traffic areas, this floor can handle it. See our in-depth review of Proximity Mills.
SPC vs WPC: Our Winner
Which of these two floors is today's winner? If we had to choose one, we'd go with SPC flooring. The deciding factors are the durability, cost, and the fact that it can be installed on top of any subfloors, even if they're uneven.
Although both floors offer a variety of designs and colors and can be a great fit in your home.
FAQs
Is SPC flooring bad for health?
No, since SPC does not use glue, it does not contain toxic chemicals like formaldehyde and benzene.

How long can SPC floor last?
With proper care and maintenance a quality SPC floor should last at least 20 years. It is important to choose brand with a high wear layer.
Conclusion
Both SPC and WPC flooring types are durable alternatives for your home. Either would be a good choice, but if you're looking to choose between the two, our go-to is SPC. After discussing the different pros, cons, and features of these two flooring types, you probably already know why we prefer SPC over WPC.
SPC is a denser floor, which makes it more stable and durable. It's also the more affordable alternative, so it will fit within everyone's budget. This doesn't mean that WPC is a bad flooring type, but SPC is definitely a superior alternative, in our opinion.
A bonus is that rigid core luxury vinyl floors can be installed over uneven subfloors and floors, so their application indications are more diverse.
If you have any comments or first-hand experiences with SPC or WPC vinyl flooring, please post them below or share your pictures via our social media.
Back to Top