Have you been wanting to add a bit of Italian flair to your home, but aren't sure how to go about doing this in a way that is subtle, sophisticated, and oh-so stylish? I come bearing good news: a terrazzo floor may just be what your home needs.
Praised for its versatility and durability, terrazzo has a long and rich history. Ever popular, it's used as flooring everywhere from museums to corporate buildings and from bedrooms to bathrooms.
But just what is terrazzo flooring and where does it come from? What are its pros and cons and dos and don'ts? How much does it cost and what styles can it be pulled off in? How easy is it to install and maintain?
You have got the questions and I have the answers. For the answers to all of these questions and more, keep reading because today's article will fill you in on what you need to know about this type of flooring.
Are you ready to be floored?
Advantages Of Terrazzo Flooring
Adds aesthetic appeal and interest to your home's interior
Has an average lifespan of 75 years
Environmentally-friendly as many manufacturers make use of recycled materials
Easy to clean – just give it a sweep and mop it; you will enjoy it for years
Available in an assortment of color and design options
Can be used in any area of the home, no matter how much traffic the area sees
Incredibly durable
Retains heat well, so it can be used in conjunction with radiant underfloor heating
Resistant to mold, water, stains, and other microbes
Can be used in outdoor environments
Disadvantages Of Terrazzo Flooring
They are more expensive than other flooring options. Terrazzo flooring costs between $15 to $30 per square foot on average.
Although easy to clean, its overall maintenance requirements can seem daunting to many – and rightfully so to be honest.
Sans underfloor radiant heating, the tiles can feel cold and hard during cold winter months.
When not installed properly, terrazzo floor tiles are prone to cracking. These cracks can be quite difficult to deal with, as you will note further down in my FAQ section, and as such, professional installation is recommended.
Product Precautions
Now that you have seen for yourself just how stunning terrazzo flooring can look, you probably can't wait to get your hands on some for your own home, right? But before you go ahead, you need to know that installing terrazzo flooring is no breeze. Unfortunately, this is not a DIY-friendly floor solution and instead requires professional installation.
It is also worth noting that terrazzo flooring that has been recently installed or polished tends to be quite slippery. If you have young children at home or if you're planning to install a terrazzo floor in a high-traffic area, you may want to consider throwing down a rug or runner until the slipperiness subsides. You should also avoid using all-purpose sealers or general surface waxes to ensure your floor doesn't stay slippery for too long after a polish.
Other than the above, there are no real precautions you need to take when installing terrazzo floor tiles or pouring it in situ. (I'll be explaining this term below.) It can weigh up to 50% less than other materials, so it is an ideal option for multi-story buildings. You can use it in any room of your home or even outside in areas like patios, walkways, and pools.

What Is Terrazzo Flooring?
While you may have only recently encountered dreamy-looking interiors finished off with terrazzo flooring, it has been around for quite some time and its popularity ebbs and flows. With roots tracing back as far as the ancient mosaics of Egypt, the terrazzo flooring we all know and love of today comes from 18th century Venice.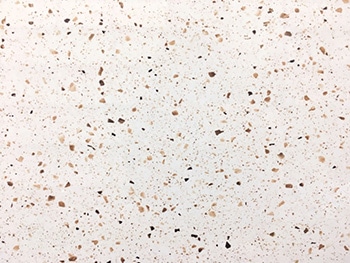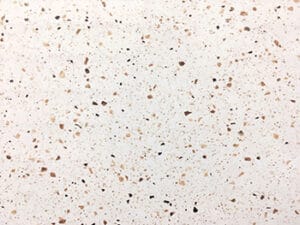 Even though it was first introduced to residents of the United States in the late 1890s, it only became popular in the 30 years to follow thanks to the invention of the electric grinding machine and divider strips. Have you ever heard of a little thing called the Hollywood Walk of Fame? That right there is terrazzo in action.
Terrazzo is a composite made up of a combination of cementitious binder and polymeric, which is mixed with granite, marble, quartz, glass, or other materials.
The best part about these materials? More often than not, they are scraps leftover from other projects, which makes this an extremely sustainable and environmentally-friendly flooring choice. On top of this, because of its natural composition, no volatile organic compounds are found in it, meaning there is no need to worry about harmful substance emissions.
As a flooring material, terrazzo is seeing a resurgence in popularity because it is incredibly versatile. In addition to the materials listed above, aggregates such as chips of abalone shells, mother of pearl, and various types of metal can be added to create a visually appealing floor. Because of this, you can have your pick from all sorts of styles and even create your own unique designs.
These days, terrazzo can be installed in situ, which is where it is poured like a concrete or as a tile. The most common types of terrazzo flooring installation includes terrazzo tiles, monolithic terrazzo, sand cushioned terrazzo, and thinset terrazzo.
Terrazzo tiles are similar to regular porcelain or ceramic tiles in that they are installed by means of a grout and adhesive system. This is a cost-effective option for those who want the terrazzo look but don't want the accompanying price tag.
Monolithic terrazzo is cement-based and poured directly onto an existing concrete subfloor. Sand cushioned terrazzo is a cement-based method similar to the traditional method of installing terrazzo flooring and consists of layering down sand over a cement base.
Thinset terrazzo is perhaps the most versatile of the bunch seeing as it can be installed over concrete floors and plywood subfloors alike. This is a ⅜-inch layer of epoxy-resin terrazzo that is poured over an existing surface.

11 Terrazzo Flooring Ideas
Although it's most commonly used in commercial spaces such as offices, hospitals, hotels, and even government buildings, residential terrazzo flooring gives you many opportunities to flex those interior design muscles.
Looking to make a splash with a bold and vibrant floor? Or looking for a flooring style to complement your Scandinavian or minimalistic interior?
Either way, terrazzo flooring can be used in almost any room to complement any interior design style. Wondering how this flooring looks after all is said and done? Here are 11 terrazzo flooring ideas to inspire you and help get those creative interior decorating juices flowing.

1. Morrocan Magic Bathroom
We Are Scout – Here you can see how terrazzo flooring can completely transform a space. In this Morrocan-inspired bathroom, blush, gold, and soft terracotta terrazzo covers the floor and the back wall, and it creeps up the wall like a skirting. Like I said, this is one versatile material.

2. Black, White, And Beautiful
Fancy Decors – This image perfectly portrays just how unique and eye-catching a terrazzo floor can be without being overwhelming. I am a huge fan of this simple yet striking, scattered pattern and the classic black and white color scheme. This particular terrazzo flooring idea is a firm favorite of mine.

3. A Floor For The Bold And The Brave
MIRIS Windows and Doors – One for the bold and the brave, here terrazzo flooring is used to complement the plethora of colors, shapes, and textures found in this kitchen. While it acts as a standalone focal feature, it does not detract from the rest of the interior nor does it make the space seem "too busy."

4. Terrific Terrazzo Staircase
Fancy Decors – If you love terrazzo but do not want (or cannot afford!) too much of it in your home, consider adding a strategic splash of terrazzo to create impact. As you can see by this photo, the clever usage of terrazzo has transformed this staircase into a centerpiece and adds some much-needed visual appeal to what would otherwise be a bland space.

5. Gorgeous In Gray
Tegels en Laminaat – In this lounge area, terrazzo is used on the floor and a fireplace feature wall to create an astounding space that is modern, minimalistic, and slightly industrial-looking, all in one.

6. Fun And Fresh
Dyke and Dean – The usage of terrazzo in this contemporary cafe space is inspired. Visual interest is already achieved thanks to the very usage of this material; however, the shades of pink, blue, orange, and black lend this floor a playful feel. I think this would look incredible in a child's room or playroom.

7. A Nod To Traditional Terrazzo
Medium – Here, terrazzo is paired with simple furnishings and a statement rug to achieve a look that feels very traditional. The visible grout of the tiles adds a linear aspect and sense of structure to this space. If you are attracted to more traditional terrazzo flooring, you should definitely consider this idea.

8. Beach Design With An Edge
Architects Journal – Do not be fooled into thinking that terrazzo can only be used in homes with a contemporary, modern, industrial, or Scandinavian design aesthetic. Because that couldn't be further than the truth. In this photo, the terrazzo had been made using flint and other local materials. The end result is simply stunning and manages to transform this beach-inspired house into something a little more interesting.

9. A Breath Of Fresh Air
Hanse – Yet again, we see how effortlessly terrazzo can change the entire look, feel, and design scheme of a space. In this lounge area, the speckled style and bright colors seen in the terrazzo give this room life. And is it just me or does it feel slightly flirty?

10. Divide And Conquer In The Bedroom
Home Edit – This is why divider strips are so popular – because they allow terrazzo to end up looking like this. The divider strips in the gray- and white-flecked terrazzo flooring as seen in this bedroom create an astounding design. I'm also head over heels in love with the use of gold in the divider strips, which gives the space a gentle touch of luxury.

11. Bring It Back To Basics
Deavita – Here, you can see once again how striking a black and white terrazzo floor can be. It is used in this lounge area to add dimension, texture, and a bit of fun into a practical space. And just look at how the sectional coffee table is reflected on its shiny surface!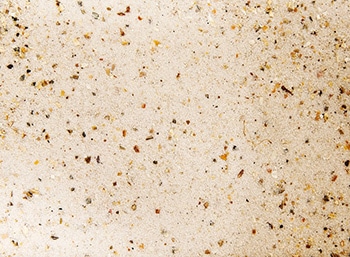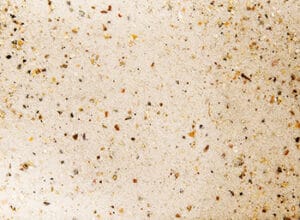 FAQs
Are Terrazzo Floors Expensive?
Yes, terrazzo floors are expensive. In fact, it is one of the most expensive flooring options available to the modern-day homeowner. In situ terrazzo flooring costs between $5 to $20 per square foot for the labor alone with the actual material costs amounting to between $25 to $70 per square foot.

Terrazzo floor tiles, on the other hand, cost between $15 to $70 per square foot and less than $10 per square foot for labor, bringing the average installation cost to $25 to $80 per square foot.

– The pricing of terrazzo floor tiles is dependent on the following factors:
– The manufacturer: Some manufacturers charge more than others and are known for producing high-quality terrazzo made from high-quality materials.
– The overall surface square footage of the installation area: The bigger the area that needs installation, the lower the overall installation cost per square foot.
– The condition of the subfloor and how much preparation is required: If your subfloor is in good condition and does not call for much preparation, the cost will be much less than that of a subfloor that requires extensive prep work.
– The complexity of your design: The more complex and complicated your design, the more expensive the overall cost. Simple designs or naturally occurring ones will cost much less.
– The materials used: The materials used in the terrazzo impacts the overall cost of the job. It's simple: if the raw material is expensive, the terrazzo will be too.
– The labor required: A big portion of the cost to install terrazzo flooring comes down to the installation itself. You only want someone who is qualified and experienced to complete your installation, which is why this cost isn't something to haggle on or complain about.

If you are working with a tight budget, terrazzo flooring will not be the ideal option for your needs. Instead, I recommend opting for a more affordable floor material option such as luxury vinyl planks (LVPs) or ceramic tiles.

Can You Still Get Terrazzo Floors?
Yes, you can still get terrazzo floors. However, because they are not as popular as they once were due to the complicated and expensive cost to install them, you may have a hard time getting a hold of tiles at your Big Box hardware store or local flooring company.

Thankfully, since 1931, there has been a nifty association called the National Terrazzo & Mosaic Association (NTMA), and they have a fantastic map of suppliers.
In terms of terrazzo floor tiles, you can find them in store or online via sites such as TrendTerrazzo.com, Terrazzco.com, Nurazzo.com, Lowes, and through various sellers on Amazon.com.

How Thick Is Terrazzo Flooring?
Although it varies slightly according to manufacturer, materials used, and the installation technique and process, the typical thickness of a terrazzo floor topping is anywhere from ½ to ¾ inches thick.

Thin-set terrazzo flooring is generally between ¼ and ⅜ inches thick while monolithic terrazzo, sand cushioned terrazzo, and bonded terrazzo flooring is ½ inches in thickness.

Bear in mind that these are not the only measurements worth noting. Mortar beds are normally around 1 ½ inches thick and often rests on a ¼-inch layer of asphalt paper or cushion of sand.

How Long Does Terrazzo Last?
If you are looking for a long-lasting floor option, look no further than terrazzo. Terrazzo flooring can last anywhere from 75 to 100 years – sometimes even longer than 100 years with the proper care.

Considering that this flooring can realistically last longer than the structure it is placed in, it should come as no surprise that the material and installation is almost always covered by a lifetime warranty.

Why Is Terrazzo A Good Material For Floors?
Terrazzo is a good, if not great, material for floors for many different reasons. I am just going to highlight my personal top three reasons. Firstly, its incredible level of durability is tough to top and you can expect it to last a long while.

Secondly, once sealed, terrazzo is resistant to water, stains, and even mold and other microbes, so you never have to worry about any of those inconveniences ever again. Thirdly, this material is incredibly versatile and extremely customizable with many manufacturers creating bespoke designs and even 100% original designs on a per-order basis.

How Do You Keep Terrazzo Floors Shiny?
A large contributing factor to the resurging popularity of terrazzo flooring is the overall shininess that comes hand-in-hand with this flooring. And keeping terrazzo floors shiny is actually pretty easy when you know what you are doing. If you are more of a hands-off homeowner, you can opt to call a professional floor polisher who will generally charge around $3 to $7 per square foot.

If you are not afraid to get your hands dirty as you clean your floors, then you will be pleased to note that the process is straightforward. Begin by mopping the floor using a microfiber mop and a solution of water and pH-neutral terrazzo-specific cleaner. Allow the floor to dry by air before applying an even layer of terrazzo sealer.

Again, allow the sealer to dry before using a soft-pad buffing machine and polishing powder to get to work at polishing the surface. This powder will form a slurry, so do not be surprised if it looks as though your floor is covered in a sludgy mud-like substance.
When it looks as though the majority of the powder has been absorbed, proceed to mop the floor again using a damp microfiber mop. If your floor is not as shiny as you would like it to be, simply carry on buffing it with the polishing powder until the results are satisfactorily shiny.

Can Terrazzo Be Repaired?
Improper installation, poor cleaning and maintenance, as well as unlikely accidents such as dropping or dragging an extremely heavy object on the flooring can lead to cracking and chipping. Luckily, terrazzo can be repaired professionally and small jobs can even be repaired in a DIY manner.

Let's start with professionally. There are numerous companies out there that specialize in the reparation and restoration of terrazzo flooring. The average cost to repair or restore terrazzo flooring is around $5 to $8, depending on the severity of the job.

DIY-wise, you can tend to fine lines by using epoxy, coloring, and a toothpick. Mix the epoxy and coloring solution with the toothpick and apply the mixture to the fine lines. Make sure that nobody walks on the floor for a full 24 hours post-repair.

For bigger cracks, you will need to use a paint stripper to remove the surrounding sealant before applying an oil-based paint to fill in the crack. Once the paint, which should be similarly colored to the terrazzo, has been applied, you will need to seal it back up.

For in situ flooring, you will need to prepare the area by using fine-grit paper. Once the area has been sanded, it needs to be coated with cement grout mixed with coloring by means of a trowel. Allow it to dry overnight, and once dry, use 40-grit sandpaper to sand the "patch" down to the level of the rest of the flooring. Seal once sanded.
Conclusion
If you have the budget available and are looking for an option that's long lasting and durable, I highly recommend opting for terrazzo flooring. Its seemingly endless design options, superior level of environmental-friendliness, and its stunning shiny finish make this a fantastic option for any home and any design style.
Of course, this type of flooring is not ideal for everyone and even those with substantial home-improvement budgets may find it too expensive. But when you consider the potential century-long lifespan, terrazzo flooring more than justifies the hefty initial cost to purchase the materials and install it.
What do you think of terrazzo flooring? Has my article helped you decide if this is the ideal flooring option for your needs? Or has it eliminated terrazzo flooring as an option?
I love hearing from you, so if you have any comments or first-hand experiences with terrazzo floor tiles, please post them below or share your pictures via our social media.
Back to Top