Have you ever worked on a home improvement or renovation project? Then you will know first-hand that a large chunk of your budget is often gobbled up by the floor. Because it is typically such an expensive undertaking, people are constantly on the lookout for new, more cost-effective solutions.
Those very same people are very surprised to discover that the answer to their home improvement prayers is not something new, but rather something that has been around for quite a long time: peel and stick flooring.
Are you one of those people considering peel and stick flooring? Then you are in luck because today's article is written with you in mind. To make sure you do not get yourself into a sticky situation and waste your hard-earned cash, read my comprehensive review.
What does my review have that other peel and stick floor tile reviews don't? Everything! I will be covering everything you need to know about this resurging product, including where to buy it, how to install and care for it, its pros and cons, and even more, so stick around.
What Are Peel And Stick Floor Tiles?
As the name suggests, peel and stick flooring refers to tiles that are installed by means of a simple peel and stick installation. Also known as self-adhesive tiles, vinyl tiles, or vinyl plank flooring, this type of flooring is made from vinyl material that is between 0.3 mm and 0.5 mm thick. In addition, if you are looking for a very versatile, easy to install, and cost effective choice then look no further than carpet tiles.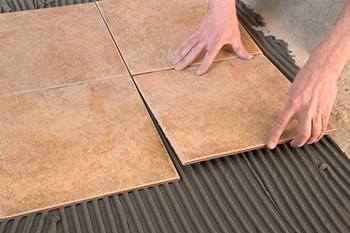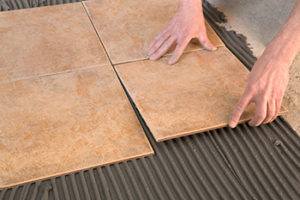 This type of flooring works particularly well in low-traffic areas such as guest bedrooms, laundry rooms, and playrooms, but can easily be installed in any area of the house. It is continuously praised for its versatility. An added bonus is that this flooring is warmer to the touch compared to traditional tiling and, as such, is bare-feet friendly.

How Much Does Peel And Stick Flooring Cost?
As is the case with other types of flooring, the cost of peel and stick flooring is calculated on a square foot basis. Naturally, the cost of peel and stick tiles varies from manufacturer to manufacturer with the cost per square foot ranging from $0.20 all the way up to $2.50 and the average cost per square foot is between $0.60 to $1.20.

What are the Benefits of Carpet Tiles?
Key Benefits:
Self adhesive: Just peel and stick and you are done installing!
Extremely durable: Carpet tile can be used in residential, commercial, and outdoor applications. It naturally resists stains, soils, and fading so there is minimal time spent maintaining.
FusionLock: Most brands are guaranteed to never fray, zipper, or unravel
Variety of colors: There are many colors and styles to choose from or you can mix and match
Eco-friendly fiber: 100% PET fiber made from purified recycled bottles
Top Carpet Tile Brand:
After extensive research, we found Newton carpet tiles to be the best and our top pick for carpet tiles. They are a trusted brand and are backed by a 5 year warranty. Cost ranges from $1.30 – $3.29 per square foot making it a cost effective solution for your basement. The carpet tiles come in sizes of 18″ x 18″ or 24″ x 24″.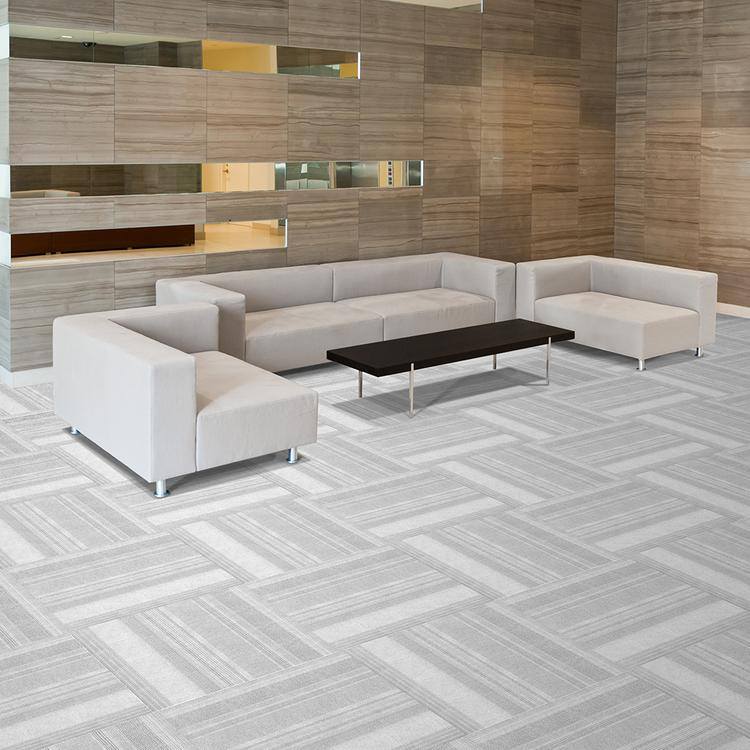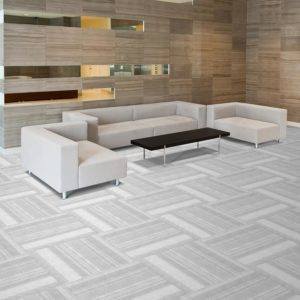 Where To Purchase Peel And Stick Floor Tiles?
Peel and stick flooring was once incredibly popular and a staple in plenty of homes up until the 1980's. Today they remain a highly sought-after product for those who have budget constraints.
There are thousands of options available to you that can typically be found on shelves all over. Peel and stick flooring can generally be purchased anywhere from the Mom and Pop hardware store down the street to your local big box store. The products are also carried by retailers such as Lowes, Walmart, and Home Depot.
In addition to the stores listed above, you can also get your hands on peel and stick flooring online. You can buy peel and stick flooring online through e-commerce sites, including Amazon.com, Wayfair.com, AliExpress, DHGate, and even Etsy.
There are many different types of peel and stick flooring. The main types include vinyl composition tiles (VCTs), vinyl enhanced tiles (VETs), and solid vinyl tiles (SVTs).
VCTs are the most common type of peel and stick tile that are available in numerous styles. VETs are just like VCTs but are more durable and have a higher level of abrasion resistance. SVTs are the strongest of the bunch and, because of this, they are more suited towards commercial usage.
Your style options are pretty much endless. You can choose peel and stick tiles in styles ranging from traditional-looking hardwood flooring to tiles that closely resemble real porcelain tiles. You can even get stone style tiles that look almost as good as the real deal. Peel and stick tiles come in an assortment of patterns, ranging from plain to floral and everything in between.
The same goes for your color options. You can find tiles that are stark white, slate gray, deep brown as well as more unusual color options such as blue, yellow, and pink. And on the off-chance that you're unable to find your preferred color option, you can easily paint over peel and stick tiles with acrylic floor paint.

Pros And Cons Of Peel And Stick Floor Tiles
Pros
Quick and easy to install
Inexpensive to purchase
Endless color, texture, pattern, and style options to pick from
Readily available
Water resistant properties
Can be installed atop other flooring
Very easy to clean and maintain
Bare-feet friendly
Cons
Not the most durable
Adhesive can wear down over time
Not suitable for usage in high-traffic areas
How To Clean And Maintain Peel And Stick Floor Tiles
A factor that largely contributes to this type of flooring is its minimal cleaning and maintenance requirements. To get the most out of this flooring, you should sweep it a few times a week to make sure no loose dirt or dust has a chance to settle. It will benefit from regular mopping once a week or so and being left to air dry naturally.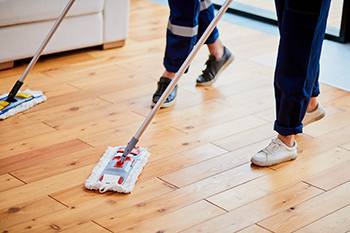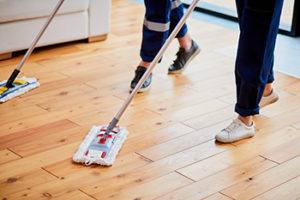 When mopping your peel and stick tiles, avoid using harsh chemical cleaners as the ingredients found within them can cause damage to your flooring and lead to premature loosening. Instead, use a solution comprising everyday household ingredients such as white vinegar, dish soap, and warm water.

How To Install Or Use Peel And Stick Floor Tiles
Peel and stick tile flooring reviews are quick to point out that in almost all circumstances installation is nothing short of a breeze. It is a DIY-friendly endeavor in every sense and, while it does not require any special tools, that does not mean it doesn't require any elbow grease. All you will really need to install peel and stick tiles is a standard utility knife and a tape measure.
The installation process can be divided into three simple segments: preparation, planning, and peel and sticking! Firstly, you will need to give the surface a thorough scrubbing to dislodge any debris and then vacuum it for good measure. If you want a super snug fit, removing the moulding around the edges of your wall is a good idea.
Next, you will need to lay down the flooring as you plan on installing it to make sure you have enough tiles to cover the area as well as to ensure the final look will be an attractive one. Lastly, you will need to peel the backing off the tiles and position them properly before gently pressing down on them to ensure they stick to the surface.

Summary Of Warranty/Return/Damage Policies
Even though peel and stick floor tiling is a quick and convenient option, you should still pay careful attention to the manufacturer's warranty and return policies. There is no industry standard warranty offering with some manufacturer's like TrafficMASTER offering a limited lifetime warranty on residential flooring while others like Armstrong offer 5 and 10 year tiered warranties.
Cheaper peel and stick tiles produced by smaller, less established manufacturers typically range from 5 year to 10 year warranties. Always remember that the warranty is essentially the manufacturer's way of indicating how confident they are in their products.
As I'm sure you can imagine, returning used peel and stick flooring tiles is no easy feat and, as such, many manufacturer's don't have a return policy in place for their customers. Wallpops allows you to return your unused flooring for free within a 45-day post-purchase period and only charges a 25% restocking fee. If your Wallpops product is damaged or defective due to manufacturing defects or shipping damage, the tiles will be replaced at zero cost to you.

FAQs
Is Peel And Stick Floor Tile Any Good?
Definitely! In my opinion and if other peel and stick vinyl plan flooring reviews are anything to go by, the opinion of many others. They're an affordable way to spruce up your home's flooring and increase its overall aesthetic appeal.

They are incredibly easy to install and cleaning them is a pleasure. On top of that, they are also fairly durable. You can expect your installation to last anywhere from 5 to 25 years depending on the tile you pick, the manufacturer, and how much traffic the area of installation sees.

Unlike other types of flooring, you are spoilt for choice when it comes to the different options available. Peel and stick tile flooring comes in an assortment of color, pattern, texture, and style options, so all you need to do is pick the right one.

What Is The Best Quality Peel And Stick Flooring?
Because peel and stick flooring is still such a popular option, the market is flooded with different options, so you need to make sure you pick the right one. More often than not, the key to determining the quality of peel and stick flooring lies in which brand manufactured it.

There are a number of key players in the peel and stick flooring game. Armstrong is a reputable brand that has earned its reputation as an industry leader and currently offers its customers 26 different peel and stick tile products at affordable prices. TrafficMASTER is also a well-established peel and stick flooring manufacturer that falls under Shaw's umbrella and offers its customers a limited lifetime warranty on its impressive product range.

Other great peel and stick flooring options include WallPops, Achim, and Stainmaster.

Are Peel And Stick Tiles Good For The Bathroom?
Yes, peel and stick tiles are good for the bathroom but this would not be my recommendation of the optimal place to install them. This is purely because they are water-resistant and not waterproof.

In other words, you can get the top of the tiles wet and they will not be damaged but all water should be cleaned up promptly to avoid the water reaching the flooring underneath. Of course, there are workaround options such as placing a bath or shower mat on top of the tiles.

How Do You Prepare A Floor For Peel And Stick Tile?
Preparing a floor for peel and stick tile is easy. The floor needs to be thoroughly cleaned before installation. Peel and stick tiling sticks wonderfully to floors made of wood or concrete but you will need to do a little more preparation for other materials or if your flooring is not in good condition.

If your floor has any gaps, cracks, or holes, it will need to be filled in with a floor patching compound for best results. Once the compound is dry, sand the patches until the entire surface is smooth and then lay down your flooring.

If your floor is waxed, you will need to prepare it a little differently as you will be required to remove all wax before laying down your tiles. In most cases, you can do this using a quarter cup of ammonia mixed with a gallon of warm water.

Can You Put Self-Adhesive Vinyl Tile Over Linoleum?
Yes, you sure can install self-adhesive vinyl tile over linoleum. However, there are numerous aspects you need to be aware of before doing so. For starters, linoleum tends to be uneven, so before you stick your vinyl tile over a linoleum surface, you may want to even it out using a sheet sander.

But this can only be done on linoleum floors that were built after the 1980s; if your floor is older than that, you will have to call in the professionals in case any Asbestos is present. In all honesty, you may be better off going with a pro from the get-go on this job.
Conclusion
Peel and stick flooring is a great option for those who are short on time, cash, energy, or even all three! While it is not the world's most durable option and is not known for faring well in high-traffic areas, its typical 5 to 25 year expected lifespan is not something to scoff at. This type of flooring is inexpensive to purchase, which means it will easily fit into the budgets of most people.
It is available in a multitude of styles, so the right tile for your home's aesthetic is bound to be out there. On top of all this, it is easy to install and even easier to maintain. If you have been looking for a quick, cheap, and easy way to improve your home's flooring, look no further than peel and stick tiles.
What are your thoughts on peel and stick flooring? We would love to hear from you. If you have any comments or first-hand experiences with peel and stick flooring, please post them below or share your pictures via our social media.
Back to Top