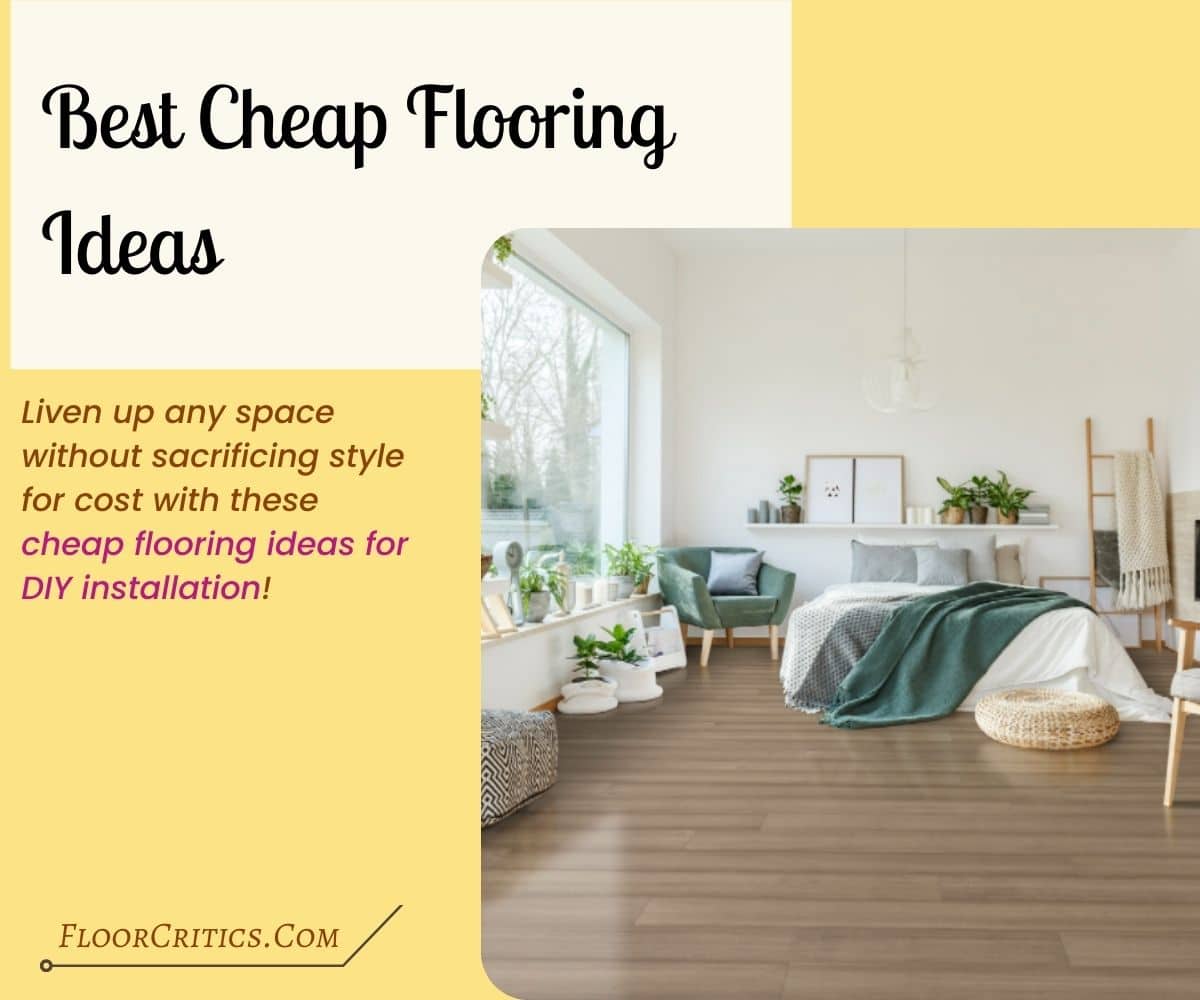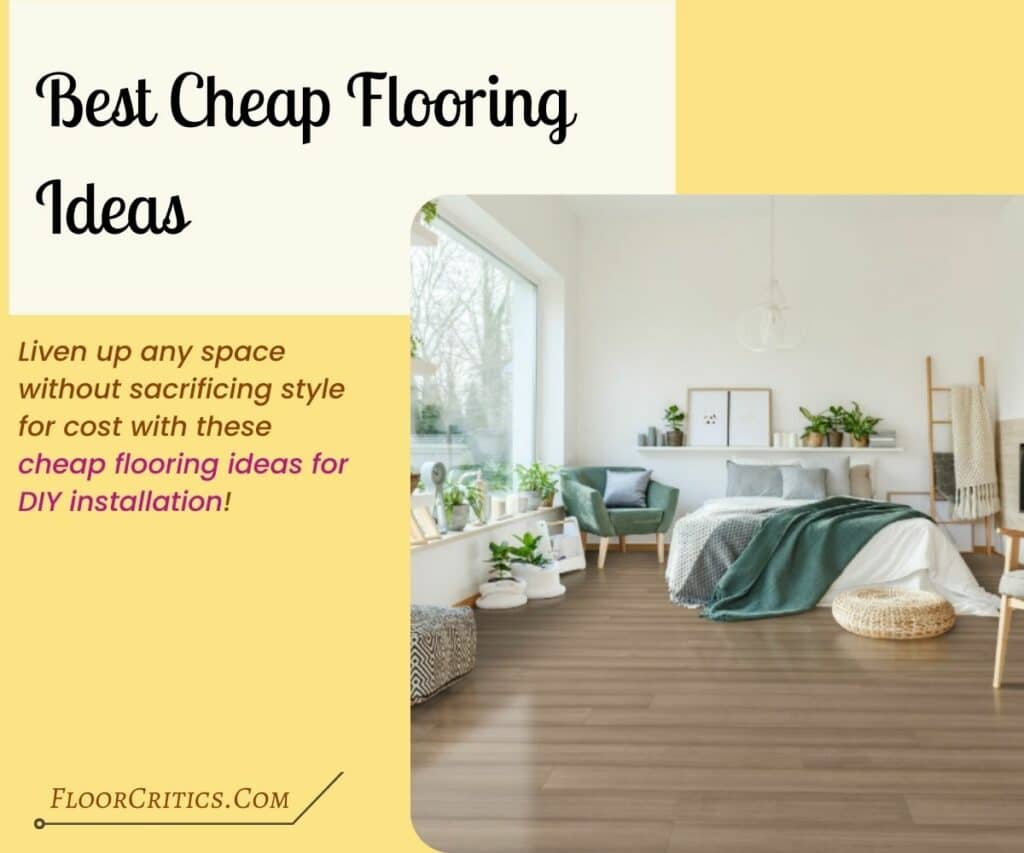 So, you need to spruce up your flooring, but your budget is tight. What can you do? We have pulled together a list of the 14 best cheap flooring ideas that allow for easy DIY installation for you to make attractive flooring at an affordable price here.
We also have a few tips on refreshing your existing floors without the need to lay new floorings, the best flooring types for specific rooms, and tips on how to save on installation and find the best deals.
8 Top Cheapest Flooring Options
So how do you do a cheap floor? Here's our list of the best types of cheap DIY flooring ideas for house you can consider:
1. Cheap Vinyl Flooring (Sheet Vinyl)
Average Materials Price: $1.00 – $2.00 per sq. ft.
Average Labor Cost: $1.00 – $2.00 per sq. ft.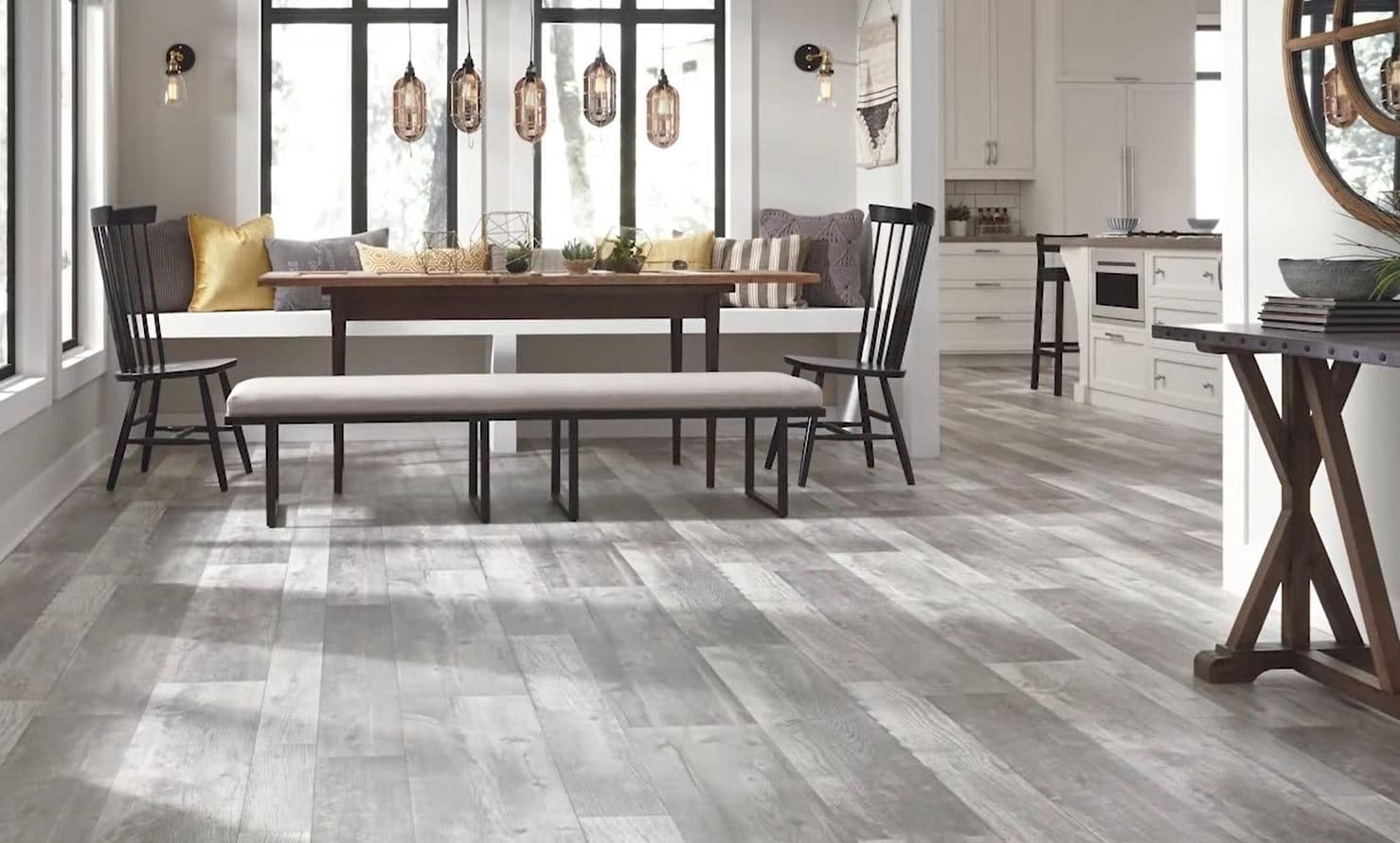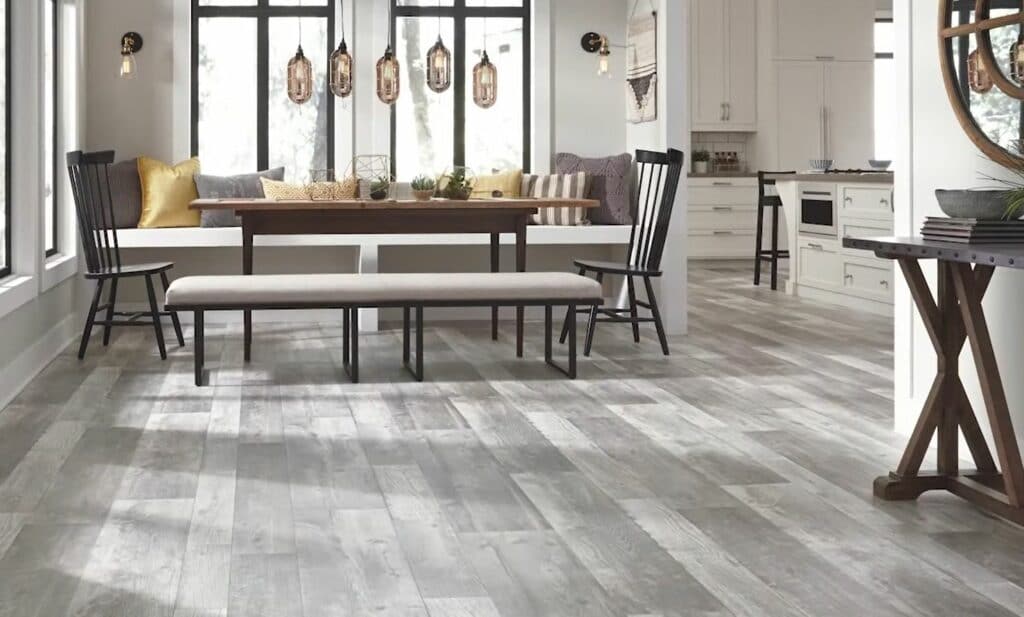 For the cheapest flooring per square foot, you can't beat vinyl sheet flooring. Not only is it inexpensive, but it is also super easy to maintain.
It is extremely durable and water-resistant. If taken care of, these floors can easily last 15-20 years. This would be your best pick when it comes to affordable waterproof flooring. Since it comes in a roll, it doesn't have seams which prevents water from seeping into your subfloor.
Sheet vinyl can be installed over all sorts of subfloors, even those that are uneven or have cracks. Just make sure the subfloor is clean and smooth before installation. Otherwise, you will see bumps on your floor from debris left underneath the sheet vinyl.
One downside to sheet vinyl is that it can stain or turn yellow. Rubber from floor mats or the bottom of your shoes can create a chemical reaction that may permanently stain the floor.
Overexposure to the sun may also cause your floors to fade or yellow. You can find sheet vinyl that is resistant to discoloration, but you may have to spend a few extra bucks to do so.
It is also not a very green option. Sheet vinyl is made of PVC and may omit volatile organic chemicals. Check with your manufacturer for their statement on VOCs.
Finally, sheet vinyl is not biodegradable. So, when you decide to upgrade your flooring, your old sheet vinyl may end up in a landfill somewhere.
Pros:
Many options that resemble both stone and wood: Sheet vinyl comes in many styles, colors, textures, and patterns, so you can easily find one that will work for your interior.
Extremely durable and water-resistant: Vinyl sheet flooring can last up to two decades and is resistant to water and other liquid spills.
Very easy to keep clean and maintain: All you need to do is sweep it with a broom or mop it to keep it clean.
Excellent choice to install over uneven or cracked subfloors: You can install this flooring type over most subfloors, even if they are slightly cracked or damaged.
Cons:
Sheet vinyl tends to discolor: When exposed to direct sunlight, this flooring type can, unfortunately, fade and change color.
Difficult to repair: Unfortunately, if your sheet vinyl floors are damaged, you'll very likely have to replace the entire floor. Another way to go is to remove the damaged area and add a patch; however, this part of the floor can become prone to water damage.
Definitely not one of your greener options: Sheet vinyl might be an inexpensive flooring, but it's definitely not a green one. Since it's made of PVC (polyvinyl chloride), a synthetic material that's not biodegradable, this flooring type isn't an eco-friendly alternative.
Installation Guide
If you're all about DIY flooring installation, you'll love working with sheet vinyl. Aside from being on the list of really cheap floors, vinyl sheet is quite simple to install.
Things You'll Need
These are the materials and tools you'll need:
Sheet vinyl
Adhesive
Utility knife
Tape measure
Floor roller
Trowel
Underlayment (Optional)
Installation Steps
Before you start installing the floors, remove all the furniture from the room, take out the doors, and remove the floor trim moldings and nails that can get in your way.
Once the subfloors are clean, level, smooth, and dry, start installing the underlayment.
When the underlayment is done, get the vinyl flooring sheets. The usual width of the sheets is 6 or 12 feet, so you'll have to fit it to your floor size.
Leave the vinyl sheet inside the room for at least one day so that it can acclimate to the conditions.
Measure the floors, then cut the vinyl sheet three inches longer on each side. Place it on top of the underlayment, making sure it's flat, and trim the excess off the sides. You can also create a template of the floor and cut the vinyl accordingly.
Apply adhesive to the entire floor, then slowly place the vinyl floor on top of it. Use the floor roller to flatten the sheet, ensuring that it's well secured.
Here's a video on how to lay sheet vinyl flooring:
Installation Tips
You can also install sheet vinyl over existing concrete, linoleum, or vinyl flooring given that they are in good condition.
Although underlayment is often not needed for vinyl flooring, you'll need to install one for hardwood, cushioned, embossed, uneven, or buckled floor.
2. Luxury Vinyl Planks And Tiles
Average Materials Price: $2.00 – $3.00 per sq. ft.
Average Labor Cost: $1.50 – $3.00 per sq. ft.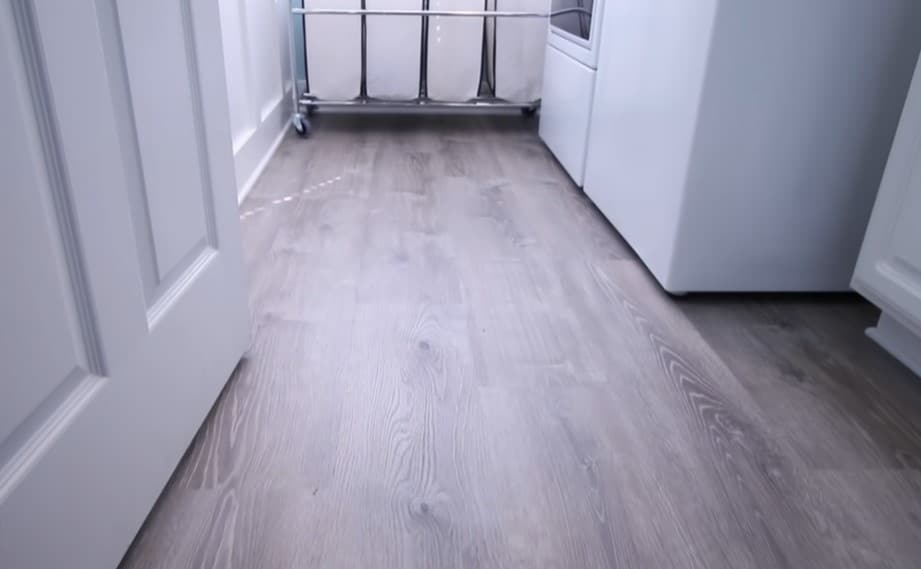 Luxury vinyl planks (LVP) and luxury vinyl tiles (LVT) are really popular these days, and they are certainly one of the more affordable options.
The cheapest vinyl planks and tiles that still fit into the luxury category are often priced for less than $1 per square foot. Most of the options this cheap have a wear layer of 2 mm or less in thickness.
If you are willing to spend up to $2 per square foot for thicker vinyl plank, you can find more options with a wear layer 3 mm or 4 mm thick.
LVP and LVT can give your home the look of wood or natural stone flooring for a fraction of the cost. And, unlike laminate, it feels good to walk on. Plus, it can handle humidity and moisture quite well which makes it also ideal for outdoor flooring. It can do a great job for those who are looking for cheap patio floor ideas.
The downside is that most luxury vinyl has issues when it comes to the environment.
It's not biodegradable and it can emit VOCs. So, if you have health concerns, LVP and LVT may not be your top inexpensive flooring choices.
Pros:
Gives your floors a wood or natural stone "look" without the hefty price tag: Luxury vinyl plank and tiles are affordable flooring options that imitate natural wood floors or natural stone tiles without you having to pay a fortune.
LVT and LVP can easily be installed over any type of subfloor: These versatile floors are so popular among homeowners because they don't require a specific subfloor and can be installed on top of concrete, vinyl, wood, tile, etc.
Feels soft to touch and walk on: If you're looking for an inexpensive flooring that will be comfortable to walk on, this is it.
Holds up well against moisture and humidity: You don't have to worry about your LVP or LVT floors being damaged from water because the material is resistant.
Cons:
Isn't an eco-friendly choice: Just like the vinyl sheet, luxury vinyl planks are made of synthetic materials that aren't biodegradable.
Can discolor from too much sunlight: When continuously exposed to sunlight, these floors tend to get yellow and will show signs of discoloration.
Sharp objects can scratch or gouge it: You have to be careful with sharp objects and furniture because dragging can cause scratches and damage.
Installation Guide
If you're looking for the easiest flooring to install, luxury vinyl is a strong contender.
Things You'll Need
The materials and tools you'll need include:
Vinyl plank
Crowbar
Level
Utility knife
Sander
Crowbar
Chalk line
Tape measure
Installation Steps
Leave the vinyl planks inside the room where you'll install the floors for at least two days before the procedure so the planks can adapt to the temperature.
Next, remove the baseboards using the utility knife and remove all the nails you can see. The subfloors should be clean and level.
Measure the room and use the tape measure to mark the center. Start with the first row of planks, placing it right next to the longest wall. The tongue of the planks should be facing the wall, and remove the tongues with the utility knife.
Place each plank at a slight angle so that you can fit them properly until you hear a clicking sound.
Start the second row, ensuring that the staggering pattern allows a 6-inch distance between the joints. You can use the cut plank from the first row or cut a new plank to place as the first one in the second row. Use the same techniques for all the remaining planks.
Here's how to install luxury vinyl planks from Shaw Floors:
Installation Tips
There's no need for underlayment for LVP and LVT flooring but you can install one to minimize noise.
Leave around ¼ inch expansion gap between your floor and the wall as the flooring can expand with variations in humidity and temperature.
It is better to test for moisture before installing your flooring to prevent future problems.
3. Laminate Flooring
Average Materials Price: $2.00 – $3.00 per sq. ft.
Average Labor Cost: $2.50 – $3.50 per sq. ft. (including underlayment)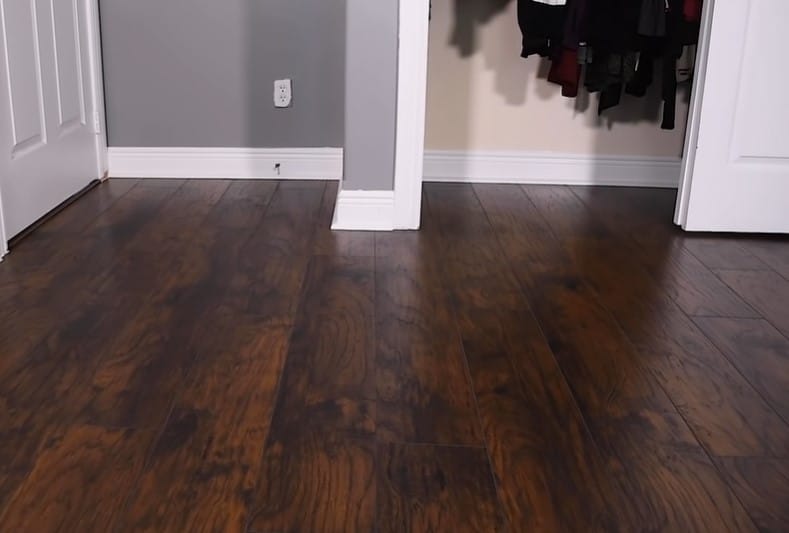 Yes, most laminate flooring falls into the moderate category of pricing. However, there are some very inexpensive options out there.
You can often find thin laminate for less than $1 per square foot if you are willing to make a few compromises. Generally, the thinner the product, the cheaper it is. If you're looking for a good/low price, look for laminate flooring that is less than 8 mm thick.
One of the best things about laminate is that it is very low maintenance. It cleans up well, resists mold and mildew, and it won't fade from sun exposure. However, if you use a cheap laminate in a high-traffic area, it will wear out faster than other materials.
To save even more money, consider installing laminate yourself.
Note: Even though it looks like hardwood, laminate often sounds & feels hollow to walk on. Some also complain that when you touch it, laminate floors feel "fake."

However, if you are in the market for low-cost wood flooring alternatives, you do have to make some compromises.
Pros:
Variety of options to choose from that resemble hardwood, cement, and stone flooring: There are so many laminate styles, textures, colors, and patterns to choose from.
Planks snap together and are easy to install: When you're looking for DIY flooring projects, laminate comes with installation instructions everyone can follow.
Do not fade from sun exposure: Even if you install it in a room with constant sun exposure, laminae won't show signs of discoloration.
Low maintenance and easy to clean: Sweep it with a broom or vacuum it—it's that effortless to maintain.
Mold and mildew resistant: Laminate isn't a breeding ground for mold or mildew, even if you install it in a humid room.
Cons:
Wears out faster than other flooring, especially the more affordable varieties: Don't expect laminate to last as long as hardwood floors, so it can be an investment having to replace it after five to 10 years.
Sounds hollow and "fake" when you walk on it: Laminate isn't the loudest flooring; however, it does make a sound when you walk on it.
Some laminates are made of formaldehyde and can release VOCs: Because it's made of synthetic materials, it can release toxic compounds that are present in the adhesives. Thankfully, there are non-toxic laminate floors you can find.
Installation Guide
Laminate flooring is another easy-to-install flooring, but you'll need to install underlayment.
Things You'll Need
The tools and materials you'll need for the procedure include:
Laminate flooring
Underlayment
Silicone sealants
Floor spacers
Molding
Jigsaw
Level
Tape measure
Hammer
Pull bar
Installation Steps
Check the subfloors to make sure they're clean and level, then install the underlayment.
Take out the laminate planks and mix them from different boxes.
Place spacers on all the walls and tape them to the baseboards.
Start with the first row of planks, laying it next to the longest wall. The first row of planks should face the wall with the tongue side; however, you should remove the tongues with a knife.
Then, place each plank at an angle with the tongues into the grooves to the previous one until it clicks. You need to create a pattern with at least six inches between the joints for the second row. If the planks don't fit the last row, you'll need to cut them with a saw.
Here's how to easily install laminate flooring for the first time:
Installation Tips
Better lay your laminate flooring perpendicular to your joists.
We recommend installing a foam backer rod in all your floor's perimeters to maintain the space allocated for expansion and contraction as well as keep debris out.
Find out more laminate flooring installation tips here.
4. Builder-Grade Hardwood Flooring (Cheapest Wood Flooring)
Average Materials Price: $1.00 – $2.00 per sq. ft.
Average Labor Cost: $3.00 – $9.00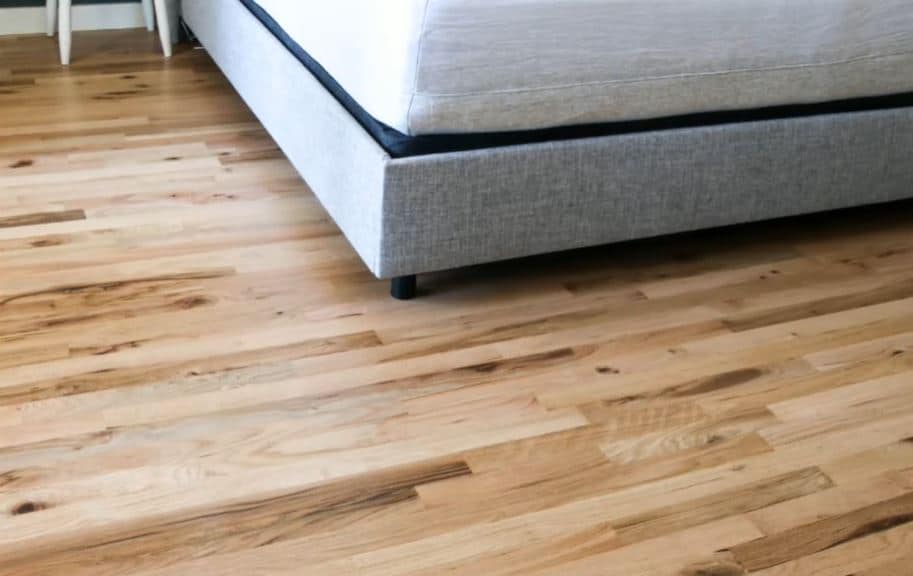 If you are really set on installing a hardwood floor but need a super cheap product, go with builder-grade hardwood. Depending on where you buy it, it is also called utility-grade or rustic hardwood.
This type of affordable hardwood flooring is not finished, so be sure to factor in the price of finishing your hardwood into your overall budget. Builder-grade hardwood is sold by the bundle (not the box) and is very rugged. You will probably not be able to use every piece that comes in your bundle.
Some will be broken or split, and some will have knot holes that you could stick your finger through to the other side. However, it is 100% solid wood, and it is likely the most inexpensive wood flooring you'll find if your heart's set on hardwood floors.
You can find this type of hardwood for less than $2 per square foot. Sometimes, you can even find builder-grade under $1 per square foot, but you're really rolling the dice on quality.
You can also look around for reclaimed wood, which can be as cheap as $1.00 per square foot but can also cost $10.00 per square foot. It is about shopping around. But you can also feel good about your environmentally-friendly investment.
There is no warranty with builder-grade wood. However, if you don't mind a few compromises, this is likely your best bet for installing solid wood floors extremely cheaply.
Pros:
100% solid wood flooring: These floors are made of 100% solid wood, with 70% natural and 30% rustic wood.
Look and feel warm and natural: These are natural wood floors that are comfy to the feet and will feel warm and cozy when you walk.
Increases your home's resale value more than any other flooring product: As you probably already know, hardwood floors are an investment that will increase your home's value because everyone wants them.
Low maintenance and easy to clean: Sweep your floors with a broom, then vacuum them with a hardwood floor vacuum. That's all you need to do to keep them clean.
Looks good with most styles and décor: This is a beautiful wood floor that gives a warm and expensive feel to your rooms.
Cons:
Some builder-grade boards may have splinters: Since this isn't the same grade as hardwood floors, you might encounter splinters
Expect to find up to 20% of the boards in your bundle unusable: Some of the boards in the packaging can be damaged, even broken.
Knots, holes, and other imperfections in the boards are common: The wood might not be perfect, but that's the beauty of it.
This grade of solid hardwood does not come with a warranty: Unfortunately, you don't get a warranty for these floors, so you should expect damaged boards that you won't be able to exchange.
Installation Guide
Installing builder grade hardwood is just the same as installing other types of hardwood flooring.
Things You'll Need
These are the tools and materials you need for the installation process:
Builder-grade hardwood floors
Saw
Tape measure
Underlayment with moisture barrier
Utility knife
Wood glue
Spacers
Installation Steps
After you install the underlayment with a moisture barrier, start the first row with the tongue side toward the center of the room.
Secure the space between the wall and planks with spacers.
Drill small holes 1/4–inch from the plank (its narrow side) and every six inches on the long sides of the boards. Now you need to face-nail and blind-nail the boards.
Install the second row, ensuring that you use the tongue and groove system of the boards. Finally, nail the last few rows by hand.
Below is a more detailed installation video for installing builder grade red oak flooring for your reference:
Installation Tips
You can still use boards with small knot holes by taping the bottom of the holes with packing tape to avoid the finish from running through the holes.
Fill any knots and gaps using a DIY putty by mixing sawdust and floor finish. Feel free to add a dark stain for dark-colored knots.
5. Ceramic Tile
Average Materials Price: $2.00 – $5.00 per sq. ft. (for cheaper options)
Average Labor Cost: $5.00 – $8.00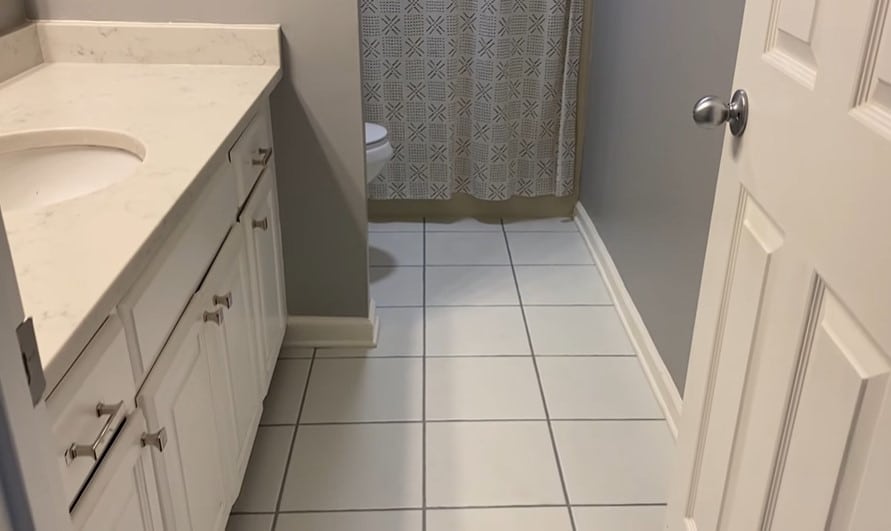 For the cheapest durable flooring, among the recommended options of Flooring America are ceramic tiles which are go-to flooring choices for moisture-prone areas. When it comes to ceramic tile, you can spend a small fortune, or you can spend next to nothing.
Ceramic tile prices can be as cheap as under $1 per square foot. Even the tightest of budgets can afford them. Even at the lower price points, you have many choices in color and style.
However, similar to builder-grade wood (and any other type of flooring, for that matter), the cheaper you go, the more likely you are to run into quality issues with your new floors.
Once installed, ceramic is easy to maintain and keep clean. Ceramic tiles are good for anyone suffering from allergies because dust and other particles do not penetrate the tile's surface.
Pros:
Highly resistant to water and humidity: These tiles are perfect for kitchens, bathrooms, and laundry rooms because they don't get damaged by water.
Extremely durable: Tiles can last up to a century when adequately maintained, so they can be the
Easy to maintain and keep clean: This isn't the cheapest flooring on the list, but it's one of the easiest to clean because you can use a damp mop.
Tons of designs to choose from: Ceramic tiles come in many colors and styles, so you'll find one that fits your room.
Cons:
Can feel hard and cold to the touch: Unfortunately, tiles are cold and made of dense material, so they're not very comfortable to the feet.
Difficult to install: Tiles require certain expertise for installation, so DIY-ers might find them a little challenging to install.
Unglazed tile requires sealing: Although these tiles will be sealed during the installation process, you'll need to repeat the sealing procedure every few years.
Installation Guide
While you may save on the square footage price, you will have to spend a little extra for installation. Ceramic tiles can be a difficult DIY project.
Things You'll Need
The tools and materials you need are:
Ceramic tiles
Tile cutters
Tile saws
Mortar mixer
Tile throwers
Grout floats
Spacers
Installation Steps
After you make sure that the subfloor is level and prepared, measure the room and mark the center. Also, divide the room into four quadrants and mark them on the floor with chalk.
Start installing the first row in the first quadrant, starting from the center.
Mix the adhesive or the mortar and apply it to a dry subfloor.
Next, lay the tiles, ensuring that each one is spaced equally using spacers.
When you're done with the installation you have to do the grout lines. Grout usually comes as a powder, and you should follow the preparation instructions from the manufacturer. First, fill the spaces between the tiles with grout, then clean the mess with wet towels or cloths.
Here's a video from Home Depot on how to prepare and lay tile flooring along with some helpful tips:
Installation Tips
Go with a glazed option to avoid the extra cost of sealing and protecting your tiles.
Ceramic tile is inexpensive and durable, but it is also hard and cold. If you are considering tile in a room you plan to stand in often, keep this in mind.
6. Cork Flooring
Average Materials Price: $2.00 – $7.00 per sq. ft.
Average Labor Cost: $5.00 – $10.00 per sq. ft.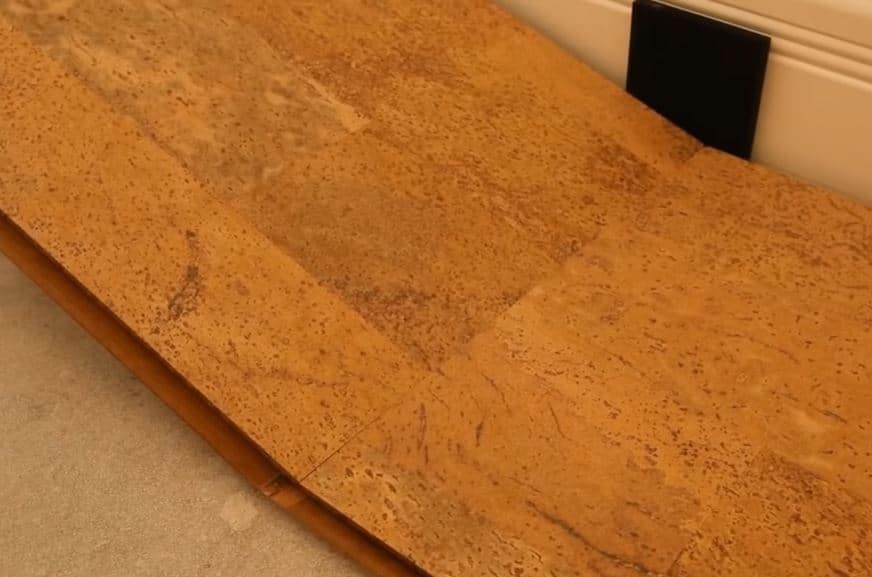 Cork floors are a great option because they are durable and easy to maintain, they can even be resurfaced and restored a few times. They also feel soft underfoot, retain heat, and are hypoallergenic.
Cork can be noise dampening, so it can be ideal for upstairs places where someone is padding around with heavy feet. Add to this that they are one of the most sustainable and environmentally-friendly flooring options on the market, and what's not to like?
Well, they can't be installed in moist or humid areas as they are sensitive to temperature and moisture levels and will warp. They will also stain if they are allowed to absorb liquids.
Fading in sunlight is an issue for cork, and they can also be scratched by sharps. This can make your floors look old, and they may also be aged by the fact that they are "trendy" rather than classic.
Pros:
Durable: Cork flooring can last for decades when properly maintained.
Easy to maintain: You need to sweep it and vacuum it weekly to keep it clean.
Environmentally sustainable: It's a natural and eco-friendly flooring type.
Noise dampening: Cork is comfortable to walk on and silent, unlike most other low-cost flooring ideas.
Soft and warm underfoot: This natural flooring type is very pleasant to the feet, and will keep them warm and comfy while you walk.
Hypoallergenic: It's a perfect choice for people who struggle with allergies because it doesn't contain VOCs.
Possibility to refinish: If your cork floors are damaged, you can try to refinish them.
Cons:
Difficult to install: Unfortunately, cork flooring can be tricky to install if this is your first time installing.
Can quickly look dated: Cork can fade over time when exposed to the sun; therefore, it might look dated after a while.
Not appropriate for moist areas: Although cork is durable, isn't suitable for all the rooms, especially bathrooms and laundry rooms.
Installation Guide
Cork is tricky to install, so there can be extra costs associated with professional installation.
Things You'll Need
Here's a list of tools and materials you'll need during the installation:
Cork flooring
Utility knife
Mallet
Tape measure
Installation Steps
The first row of planks should be installed against the longest walls, with the tongue side facing the wall. Remove the tongues and lay the first plank.
Place the second one at an angle until you hear a clicking sound.
Start the second row with the piece of plank that's left from the first row, but only if it's longer than 10 inches. If you don't have a piece of plank that long, cut one. You should place the tongues of one plank into the grooves of another plank.
Repeat the process for all the remaining rows. Then, use a mallet to tap lightly on the planks to ensure that you've installed them correctly.
You can also refer to the cork flooring installation video below:
Installation Tips
If you are using leveling compounds, make sure they completely dry first before installation to ensure good adhesion.
Acclimatize the cork tiles, varnishes, and adhesive at the installation site for at least 24 hours before installing your flooring.
We recommend varnishing your cork tiles after installation to seal joints and improve wear resistance. Use approved cork varnish.
Read more professional tips on laying cork floor tiles here.
7. Cheap Carpet Flooring (Peel-And-Stick Carpet Tiles/Squares)
Average Materials Price: $1.00 – $3.00 per sq. ft.
Average Labor Cost: $2.00 – $8.00 per sq. ft.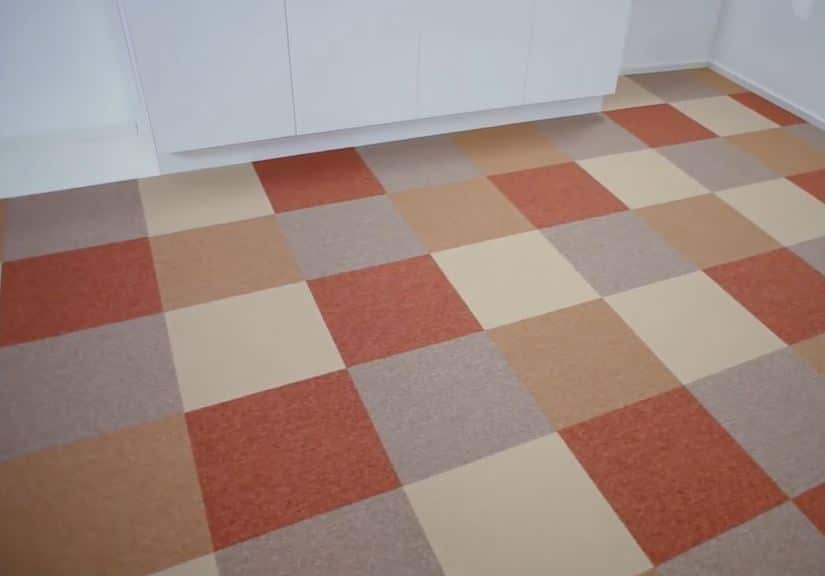 Carpet tiles or squares are another best budget flooring options that can last for up to 15 years, but their longevity will depend on a few factors. They come in a lot of styles which will allow you to take your creativity further.
These easy floor tiles are also soft to walk on and very cost-effective to install with minimal waste. They are ideal if you are installing in a hurry and if you want a hypoallergenic flooring option.
However, take note that carpet flooring can easily wear when installed in high-traffic areas depending on the materials you will choose. But the good thing is, they are easy to replace.
Pros:
Various styles to choose from: You'll have tons of styles, thicknesses, colors, and sizes to choose from.
Essay to install: You won't be needing any adhesive because the tiles come with a special backing that can also prevent the growth of mold, mildew, and bacteria.
Hypoallergenic carpets are available: The Carpet and Rug Institute (CRI) said that carpets can improve indoor air quality by trapping particles like dirt and debris.
Easy to maintain: Cleaning and removing stains from carpet flooring is easy. Replacing them is also easier and faster.
Cons:
Seams can be visible: Depending on your carpet's pattern and texture, the seams can be very noticeable.
Can easily wear under heavy foot traffic: You might notice wear patterns at the edges of the tiles like fraying and loose fibers, especially in high-traffic areas.
Installation Guide
The final result of an installed carpet tile flooring will look the same as wall-to-wall carpeting, but the installation is easier. You only need to lay them side-by-side instead of laying a heavy roll of carpeting.
Things You'll Need
Carpet Tiles
T-Square
Sticky Tabs/Adhesive Dots (If the tiles come with these)
Knife
Installation Steps
Make sure the floor underneath is solid, clean, dry, and free of wax.
Find the center of the room by marking the center of the four walls to create a cross pattern.
Lay down a baseline row of tiles temporarily along the edges of the cross pattern. Check the baseline row in case adjustments are needed.
If you are satisfied with the layout, attach the tiles next to each other using the sticky tabs.
Continue laying down the tiles until you've covered the whole room.
You can follow the detailed steps in the video below for installing carpet tiles:
Installation Tips
Repair cracks, holes, unevenness, dust, or damp issues on the subfloor before installing the carpet tiles.
Starting in the middle is better to ensure that your tiles will be straight when installed.
8. Linoleum Flooring
Average Materials Price: $3.00 – $7.00 per sq. ft.
Average Labor Cost: $4.00 – $5.00 per sq. ft.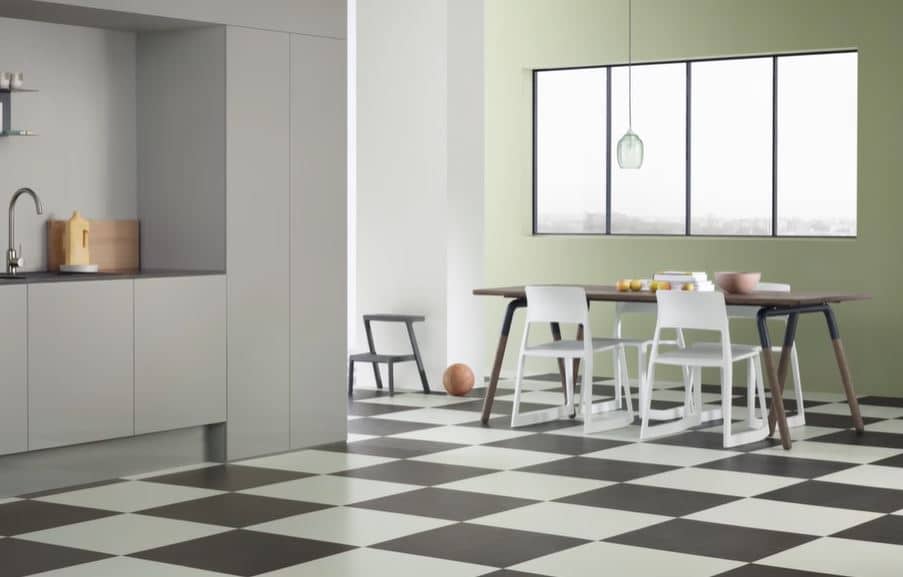 Linoleum flooring may be a bit more expensive than the other options here, but it is among the most eco-friendly options aside from cork flooring. Its price is due to its versatility and durability which makes it resilient to damage.
Linoleum flooring also comes in sheet, modular tile, and click-together plank/tile options in different patterns, textures, and colors you can choose from, including those that look like wood. The price will depend on which type you will be buying, but the cheapest ones are sheet and modular tile options.
However, linoleum requires frequent cleaning and maintenance, is not ideal for pets, and can turn yellow over time.
Pros:
Versatile due to its many style options and durability: Linoleum can reach up to 40 years with proper care and maintenance and comes in different styles to suit any application.
Eco-friendly and emits low VOC: This flooring type is made from natural materials so it is biodegradable and doesn't emit harmful chemicals.
Resilient with a self-healing property: It is springy so small dents can pop back up through time and small cuts won't be that noticeable.
Continuous color all the way through: Unlike laminate and sheet vinyl, the color of linoleum runs all the way through which makes dents and dings less noticeable.
Cons:
High-maintenance: The flooring will require frequent cleaning, waxing, polishing, and stripping which can be time-consuming.
Yellowing can happen over time: Uneven sun exposure and the use of rugs or laying heavy furniture on your flooring can cause discoloration.
Not pet-friendly: Linoleum is soft which makes it not ideal for large pets as their claws and paws can scratch the flooring.
Installation Guide
Among the three types of linoleum, click-together options are the easiest to install and are recommended for DIY installation. Here's how to install these types of linoleum flooring:
Things You'll Need
Linoleum Click Tiles
Underlayment (Optional)
Tape Measure
Utility Knife
Saw
⅜-inch Spacers
Installation Steps
Remove undercut door jambs and base moldings.
Acclimate the tiles and adhesive you will be using for two days.
Make sure the subfloor is clean, dry, even, and firm.
Install a moisture insulating underlayment.
Start at the left side of the longest wall and place spacer blocks along the room's baseboard.
Create the first row by orienting the tongue of the first tile toward the wall and against the spacers
Attach the next tile by clicking it to the previous one at an angle of 45° and pressing it down.
Continue laying tiles until you finish the first row. Trim excess tiles at the end of the row if necessary.
Continue until you finish the whole room.
Check out the installation guide for a patterned click linoleum flooring below for your reference:
Installation Tips
Better buy 10-20% more tiles to accommodate for cuts.
Install a vapor barrier first if you are going to lay down linoleum tiles over concrete.
6 More Good Cheap Flooring Ideas for Refreshing Existing Floors
When your floors are starting to look a bit old, laying new floors is not your only option; you can also refresh your existing floors and give them a new lease of life. Below are more cool flooring ideas you can try:
1. Cheapest Way to Cover Concrete Floor
Are you dealing with a concrete slab, maybe in a garage or playroom? Some cheap flooring ideas over concrete you can try is to make your original concrete slab look stylish by painting it, either with a sealer that gives it a natural shine or a run color with concrete floor paint.
You can read our guide to the best concrete floor coatings and coverings here.
Here's a video on how to coat an existing concrete floor with epoxy:
2. Refinishing and Painting Wood Floors Ideas
Wood floors can also be refinished, which is part of their attraction. You can expect to pay between $1.50 and $4.00 per square foot for a professional to sand down and apply several coats of new finish to your hardwood floors. So, if you are lucky enough to have hardwood, make the most of it.
If you don't currently have the budget to refinish, a layer of varnish or even a lick of paint over the floors can give them a new look. Whitewashing is always a good look. This won't prevent you from refinishing the floors further down the line when you have more budget available.
You can read more about the cost of refinishing solid wood floors here.
Also, check out how to whitewash and seal wood floor below:
3. Painted Plywood Floors
Plywood has been used mainly for subfloors, but it can actually make a great affordable flooring by painting it. This is a great long-term idea unless you are planning to sell your house in the future.
Painted subfloors can be a problem if this is the case because potential buyers won't be pleased with them. Also, if you prefer glossy flooring, the shininess can highlight imperfections on your painted plywood floor which is unattractive.
All you have to do is remove your existing flooring, prepare the subfloor and paint it using your preferred color or design. Among the cool floor ideas we ca give you is to stencil your floor which hides dirt and dust so well.
We liked what Carrie did on her stenciled plywood subfloor here after removing her existing stained carpet.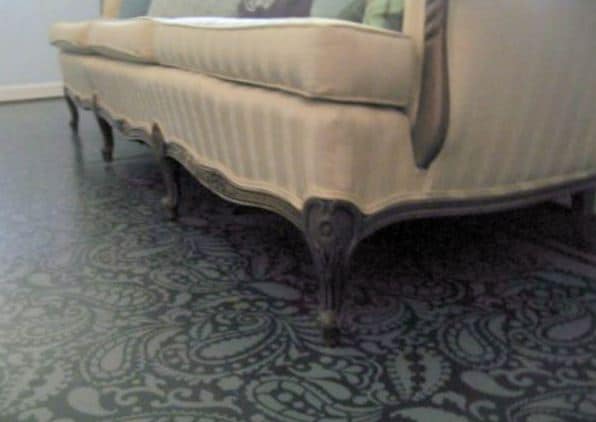 4. Refreshing Tile Floors
Tile flooring lasts 100 years, so if you have tiles that are starting to look old, take a closer look. Is it the tiles that aren't looking good or the grout? Grout is much more porous and less durable than tile, so it is usually the first thing to start to go.
You do have the options to deep clean your grout, which may be enough, and also install new grout on top, which can make the entire installation look new.
You can read our guide on cleaning tile flooring here
In addition, stenciled tile flooring will also look great which creates a cement tile effect without having to replace your flooring.
You can check out the guide below on how to paint and stencil tile.
5. White Flooring Ideas Using Paper Bag Floor
If you are into unique flooring ideas, you might want to try a white paper bag floor. You can actually use any color of kraft paper or construction paper, but the most popular ones are brown paper bag floors.
For this unusual flooring, you'll only need kraft paper or construction paper, glue, and a polyurethane sealer and you're ready to go! Moreover, you can stain the paper bags to look like wood and you won't even be able to tell the difference.
NOTE: Paper bag floors can last for several years and can even withstand heavy traffic if you coat them with enough polyurethane.
Paper bags can produce aesthetic results despite their cost-effectiveness just like this awesome colorful paper bag floor below that looks like a stained glass window:
6. Tile Floor Stickers
Tile floor stickers are another very easy-to-install types of flooring. They are also called self-adhesive or peel-and-stick tile stickers and are great options for updating your outdated tile flooring.
They are usually made of vinyl which is durable, waterproof, and scratch-resistant. These make them ideal even for moisture-prone areas.
Just clean and dry your existing floor tile, repair imperfections, renew grout lines, and then you can lay out the floor stickers.
Here's a tutorial from Home Depot on how to install peel-and-stick vinyl tile flooring with some important tips:
Really Cheap Floors for Specific Types of Rooms
In addition to the ideas we've listed, below are more creative flooring ideas for specific types of rooms:
Cheap Kitchen Flooring Ideas
Kitchen flooring is prone to spills, so it would be better to choose moisture-resistant ones. The best affordable kitchen flooring you can choose from are:
Sheet vinyl
LVP or LVT
Ceramic tiles
Linoleum click planks
Sealed cork flooring
Cheap Bedroom Flooring Ideas
You can use almost any type of flooring for bedrooms since they are not prone to moisture and don't deal with heavy traffic. However, the most suitable flooring types are the following to provide more comfort:
Carpet squares
Plywood flooring
Cork flooring
But, you can also use:
Sheet vinyl
LVP or LVT
Laminates
Living Room Flooring Options
For living rooms, the flooring should be durable and can withstand constant traffic as well as comfortable underfoot. Among the preferred living room flooring choices are:
Carpet
Cork floors
Hardwood
Laminate
Vinyl (sheets of planks/tiles)
Ceramic tiles
Linoleum
Small Entryway Flooring Ideas
The entryway is another area that deals with high traffic, especially in a busy household. The best floors for entryways can withstand dirt and moisture and are easy to clean to avoid stressing yourself out about puddles or mud.
Below are affordable options we recommend:
Cement floor
Ceramic tiles
LVP/LVT
Laminate
Polyurethane-coated wood floor
Polyurethane-coated vinyl tile floor stickers
Low Cost Backyard Flooring Options
Backyards are located outdoors, so choose something that is designed for outdoor use and can stand up to various weather conditions. The best options would be:
Ceramic tiles
Concrete
LVP/LVT
Carpet tiles approved for outdoor use
Inexpensive Basement Flooring Options
Basements are prone to moisture, so make sure that you install flooring that can withstand the conditions in the room. The most durable basement flooring choices include:
Ceramic tiles
Epoxy coated concrete flooring
LVP/LVT
Properly sealed linoleum
Waterproof laminate
Inexpensive Garage Flooring Ideas
Garage flooring undergoes high pressure because of the movement of heavy vehicles. Thus, you will need flooring that is durable, hard, and resilient. It should also be resistant to stains and can withstand any weather.
For this, we recommend the following flooring types:
Polished concrete flooring
Epoxy-coated concrete floor
LVP/LVT for low-traffic areas
Cheap Patio Floor Ideas
If you are looking for cheap outdoor patio flooring ideas, you might want to consider concrete flooring. Concrete might be the most affordable choice you have. Other options would be:
Builder-grade hardwood
Vinyl flooring
Outdoor carpet
Artificial grass is also a great option.
Cheap Attic Flooring Ideas
If you want to convert your attic into a living space, the type of flooring you will choose matters. Among the most suitable options are:
Carpet squares
Laminate flooring
Vinyl sheet flooring
Luxury vinyl flooring
Note: Make sure that your attic flooring can handle the required weight depending on your local building code requirements. Also, the joists should be able to hold the flooring you are going to install.
Not all attic spaces are suitable to be converted into a living space. Consult a structural engineer before taking any step. You might also want to consider installing adequate insulation. You can read this guide on how to finish an attic for more information.
Bonus: Cheap Rustic Flooring Ideas
For those who love rustic interior designs and want DIY flooring on a budget, the best way to go is to use natural-looking flooring like stone and wood-look flooring. Aside from the most common hardwood flooring choice which features detailed grains and attractive knot patterns, you can also consider the following:
Light wood-look laminate flooring (wide planks are better)
Wood-look vinyl or tile flooring with high color variations
Stone-look vinyl or tile with earthy tones like travertine, slate, and granite
A Few Tips When Choosing What Type of DIY Flooring to Install
If you like the look of hardwood flooring, go with realistic-looking luxury vinyl planks, laminate, or sheet vinyl that resembles wood. Or, you can even get the real thing by choosing builder-grade solid hardwood.
For a nice, stone look, choose from an array of styles in ceramic tile, luxury vinyl tile, or sheet vinyl.
Show off your green credentials by installing cork flooring, and then you will also always have a talking piece whenever anyone comes to visit.
As with any type of flooring, some of these easy DIY floor ideas are not suitable for every room in the house. Below are the recommended applications of the types of good cheap flooring we've mentioned:
Sheet Vinyl
– Water-resistant, durable, and can be installed over slightly imperfect subfloors so you can install them anywhere.
LVP and LVT
– Extremely versatile and can work in just about any room in the house.
– They are easy to walk on and, since they resemble wood and natural stone, they look good in any setting.
Laminate
– Looks good in any room; however, it does have a few limitations (especially cheap laminate). Since inexpensive laminate is often quite thin, it can wear down easily in high-traffic areas.
– If you install laminate in a bathroom, it is always best to lay a moisture barrier between the planks and the subfloor.
Builder-Grade (or any other grade of solid hardwood)
– Not recommended for rooms with high humidity and moisture. You'll likely want to avoid installing any type of wood in bathrooms or basements.
Ceramic tiles
– Highly durable and easy to maintain. From this standpoint, they can work in any room.
– Tile is hard and cold. So, if you are thinking about installing ceramic tiles in your bedroom (for instance), you may also want to invest in a large rug.
Cork Flooring
– You can't install cork in humid or moisture-prone areas. Better install a moisture barrier if you want to use cork in damp areas like basements.
– Sealers can make them more waterproof.
Carpet Flooring
– Ideal for rooms where you prioritize quietness.
– Not ideal for moisture-prone areas.
Linoleum Flooring
– Susceptible to water damage. So if you are going to install it in moist areas, you might need to seal it periodically.
How to Get the Best Deal on Flooring
You can find the best deals at most of your major home improvement and flooring stores.
Home Depot and Lowe's will often offer clearances on boxes of overstocked inventory. So, if there is enough of what you are looking for to cover your floor, this can be a great deal.
BuildDirect offers many of these flooring options at extremely cheap prices, but you must order a minimum amount to get the best deal.
Lumber Liquidators (LL) is a great place to find cheap laminate and builder-grade solid hardwood. They offer options in both of these flooring products for under $1 per square foot.
Note: LL also has cheap versions of luxury vinyl plank flooring.
And for really cheap ceramic tile, you might consider the options available through Floor & Décor.
Where to Buy Used Flooring
You can also buy used flooring from Habitat for Humanity ReStores. This nonprofit organization sells both new and gently used home improvement and building materials that all came from donations to fund their housing programs.
There are over 1,200 ReStores across the United States and Canada where you can find used flooring like ceramic tiles, porcelain tiles, hardwood flooring, and laminate at very cheap prices.
Professional Flooring Installation
Cheap flooring can save you tons of money. If done right, this investment can give your home a high-end look at a fraction of the typical high-end flooring shopper's cost.
The key phrase here is "if done right." Cheap flooring can look like its more expensive counterparts if it is installed correctly. Otherwise, it just looks plain cheap.
If you are doing the job yourself, be sure to factor in the cost of the proper tools and other materials, such as underlayment and trim, to your overall budget. Put simply, do not skimp on installation.
Or hire a professional to install your floors for you, especially for the more challenging-to-install flooring types.
Of these cheap flooring options, the ones most suitable for a DIY project are carpet tiles, linoleum tiles, luxury vinyl planks, luxury vinyl tile, and laminate flooring. They snap and lock together and can be placed on top of any type of subfloor.
Hardwood flooring and ceramic tile are simply better left to the pros. They require more tools and are considerably more labor-intensive to install.
Finally, sheet vinyl, while cheap to buy, can also be difficult to install on your own. As always, when in doubt, we'd recommend hiring a pro who can help make sure your sheet vinyl install goes smoothly.
FAQ
What Is The Easiest Cheapest Flooring To Install Yourself?
Aside from self-adhesive flooring, any kind of floating floor is going to be easier to put down than flooring that requires gluing or nailing down. A lot of modern floating floors, such as vinyl planks and engineered hardwoods, work with a click and lock system, which makes them extremely easy to install.

Floors such as vinyl that don't expand are also easier to put down as there is no need to leave space for expansion.

While everything depends on the quality you go with, sheet vinyl is generally the cheapest flooring on the market, followed by laminate and vinyl plank flooring.

Is Vinyl Cheaper Than Laminate?
Vinyl and laminate flooring costs much the same, with options from as little as $2.00 per square foot up to $7.00 per square foot. Vinyl has waterproof and many styles available. Though laminate tends to have a slightly longer lifespan at 15-25 years, vinyl will probably last 10-20 years.


Is Laminate Cheaper Than Carpet?
The cost of carpet is highly variable depending on what you go for, but affordable carpet is generally cheaper than laminate per square foot. However, laminate lasts longer and is easier to maintain, so your investment should last longer.

Is Carpet or Vinyl Flooring Cheaper?
When it comes to price, there is not much difference as carpet tiles cost an average of $1.00 – $3.00 per sq. ft. while cheaper vinyl planks/tiles cost $2.00 – $3.00 per sq. ft. As for the installation, vinyl is cheaper to install. The price of carpet installation will also depend on the types of carpet you will be buying.

Find out more in our vinyl plank vs carpet flooring comparison.

What Is a Cheap Alternative to Wood Flooring?
The best low-cost alternatives to hardwood flooring are laminates, wood-look vinyl planks, cork flooring, painted plywood, and wood-look linoleum. Ceramic tiles and carpet tiles are also great options.

What Type Of Floor Adds The Most Value To Your Home?
Solid wood floors are still the most prestigious flooring and add the most value to your home. This is because they are classic and also have a long lifetime. They can last more than 100 years with refinishing.

Cheaper wood alternatives such as engineered hardwood and builder-grade hardwood can also add value to your home if installed correctly and maintained.
Final Thoughts
It can be frustrating when you need to refresh your flooring but you simply don't have the budget to do what you want. But there are definitely options on the table; it just means shopping around and thinking outside the box.
You may not get exactly what you dreamed of, but with some compromises and creativity, you can get something you'll be more than happy with.
Also, remember that getting new flooring is not always the answer. Depending on what you have underneath, there are affordable ways to refresh your existing flooring and have it looking like you.
Have you installed flooring on a tight budget? What recommendations do you have for saving money? Share your experience in the comments section below.
Back to Top