You have decided to go with laminate flooring for your next home improvement project as an affordable and durable alternative to hardwood floors. But how much exactly does laminate flooring cost, and how much can you expect to spend on additional services such as installation?
In the following article, we go into the detail of exactly what you can expect to spend on purchasing and installing a new laminate floor, whether you choose to hire a professional or do it yourself.
We will go through everything you need to know in order to put together a detailed budget and know exactly what to expect for this home improvement project.
Laminate Flooring Cost Factors
The number of square feet you plan to cover
The quality of laminate you choose
The brand of the laminate
Where you buy it
Shipping, delivery, and sales tax
Laminate flooring is inexpensive to moderately priced. And for many people, it is a great flooring option.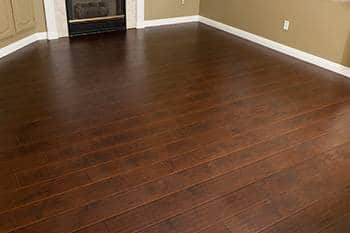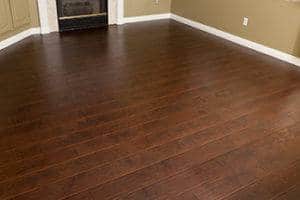 There are a few factors to consider, though, when determining its cost. First, how much do you need?
Measure your floors to help you figure out the amount that you will need. And then add another five to 10 percent to this number to account for waste and trimmed pieces.
Once you know how much you will need, you can begin to look at the different options that are out there. The quality and brand you choose will impact your final cost.
Each brand typically carries selections at different quality levels. The higher the quality product, the more it will cost you.
Prices generally run anywhere from $1 to $5 per square foot. And most laminate flooring costs between $2 and $4 per square foot.
Since quality is a major factor in the price, what criteria determine the quality of the laminate?
Laminate's wear layer, overall thickness, and type of bottom layer all impact the quality of the flooring.
Cheap laminate may only cost $1 per square foot; however, it is about 1/8-inch thick and has an extremely thin top wear layer. This type of laminate is not recommended in high-traffic areas as it will wear down much quicker than other options.
Medium-quality laminate is generally in the $2 to $4 per square foot range. It has a thicker wear layer on top, and overall is about 3/8-inch thick.
And high-quality laminate usually costs between $3 and $5 per square foot. It has the thickest top layer and an overall thickness of around 1/2-inch.
Some laminate flooring also includes a vapor barrier or attached underlayment as a bottom layer. This will increase the price of the laminate flooring; however, it can save you money in the long run.
Not only does the quality impact the price of your laminate, but different brands also have different prices for their laminate flooring.
Armstrong, Mohawk, Quick-Step, and Shaw have their basic laminate flooring collections priced between $1 and $3 per square foot. And their premium collections cost between $2.80 and $4.25 per square foot.
BerryAlloc, Bruce, Mannington, and Pergo basic laminate flooring is priced at around $1.55 to $3.60 per square foot. Their premium laminate flooring collections range between $3.50 and $5.25 per square foot.
Where and how you choose to buy your flooring is another factor. While most major retail and online stores are priced competitively, you can watch for sales or other discounts and save a few dollars.
Just make sure to factor in shipping, delivery, and tax into your final cost.
If you order online, you can plan on paying a shipping fee. If you purchase the product in a store, you have the option of taking it home on your own, or you can pay extra to have it delivered.
And, if you live in one of the 38 states that charge sales tax, include this fee in your calculations. In some cases when you order online, you may not have to pay sales tax; however, it is still a good idea to factor it in.
Laminate Flooring Installation Cost Factors
Who installs it
The complexity of the job
The condition of your subfloor
Removal of old flooring
Additional materials needed
Where you live
The first factor in determining how much an installation will cost is who does the installation: you or a professional?
Many laminate flooring options come with click-lock or tongue-and-groove technology, which makes it a realistic DIY job. So, you can save significantly if you are able to install it yourself.
But if you are not a do-it-yourselfer, you will need to factor professional installation costs into your overall budget.
When you use an installer, there is a price per square foot installation fee. Average basic installation fees range from around $1 to $3 per square foot.
However, this price can go up depending on the complexity of the job. If the laminate is going around plumbing, electrical, or HVAC equipment, this will cost extra.
If laminate flooring is going in small, tight spaces, this will also cost extra because planks will have to be cut to fit the space.
Another factor that can impact the cost is the condition of your subfloor. Fortunately, laminate can be installed over most existing floors as a floating floor.
However, you may need to (or choose to) remove the existing flooring. If your contractor disposes of it for you, they will probably charge you for it.
And if old nails, dried glue, or other debris need to be removed or the subfloor must be leveled, these are also added expenses.
In addition to the cost of the laminate flooring, there will be other materials you may need to buy. For example, if your laminate flooring does not have an attached underlayment, then you'll need to purchase underlayment.
Things like baseboards, caulking, or transition pieces also cost extra to buy and install.
Another factor that affects your overall cost is where you live. If the installers must drive a long way to a remote location for the job, then you can expect an additional trip charge.
How To Measure For Laminate Flooring
Measuring your home for laminate flooring is the first step to getting an idea as to what it is going to cost you to install it. And fortunately, it is pretty easy to do.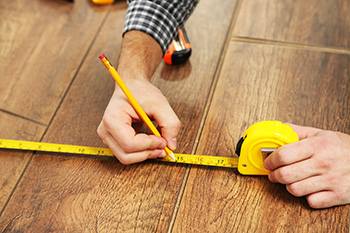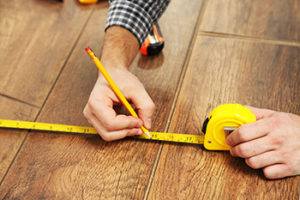 You'll need a measuring tape and a pen and paper (because no matter how good your memory is, there's still a chance you will forget these measurements if you don't write them down).
Measure the room as you would a rectangle. If the room is L-shaped, then measure it as two separate rectangles.
In case it has been a few years since you took geometry, the formula for calculating the square footage of a rectangle is width x length = square feet.
So, if your room measurements are 15 x 25 feet, then your total square footage for it is 375 square feet.
And remember to factor in an extra five to 10 percent of square footage to account for waste and pieces that require trimming. That means that for a 375-square-foot room, you should purchase about 394 to 413 square feet of materials.
Where To Buy Laminate Flooring
Laminate flooring is a popular flooring choice, and there are many options for where to buy it. You can order it online through various online retailers or visit a local flooring or home improvement store.
One benefit of buying online, especially from an online-only retailer, is that you may save some money. Since online stores do not have the same overhead as those with a storefront, their prices are generally lower.
Plus, if the online retailer is out of state, you may save on taxes because some online purchases from other states do not require you to pay sales tax.
And, your flooring will be shipped directly to your home. So getting it home from the store is not an issue.
The downside to this is that you may not see exactly what you are getting until it arrives at your door. So if you go this route, make sure you order from a reputable company with a good return policy.
Also, some of these companies offer installation services, but with others you may have to find contractors on your own.
Some popular online flooring stores are iFloor.com, BuildDirect, Wayfair, and Empire Today.
The company iFloor.com was the first online flooring store. They have a price-match guarantee, do not charge sales tax (unless you live in Georgia or Washington), and will let you return the flooring within 30 days if you are not satisfied with it.
BuildDirect is one of the leading wholesalers and manufacturers of flooring and building materials in the world. They offer a very large selection of laminate flooring and will refund your money within 30 days if you are not happy with the products you order.
With an easy website to navigate and extremely competitive pricing, Wayfair is another popular site to order flooring. However, their advertised "free shipping" policy for orders over $49 does not apply to flooring.
Empire Today offers a unique service. You can use their online store to select laminate flooring you are interested in, then schedule an in-home consultation.
A trained salesperson will meet you in your home with the flooring samples you selected and help you decide on what to order. They will then provide you with a free, professional estimate and even schedule the installation for you.
In addition to these options, many of the large flooring stores and home improvement stores offer both online and in-store services. Some of the more popular ones include Home Depot, Lowe's, Lumber Liquidators, and Floor & Décor.
Home Depot and Lowe's are the two largest home improvement stores in the country. They each offer a wide selection of laminate in the stores or online.
They provide trained sales associates who can guide you through the selection process. And they offer installation as part of the package.
Lumber Liquidators and Floor & Décor are both flooring stores that specialize in hard surface flooring (meaning they don't sell carpet).
Both stores have local retail locations and online stores. They both offer installation and have very competitive pricing.
Ways To Save On Installation Costs
Shopping around for laminate flooring is a great way to cut costs on the product itself. But what about installation?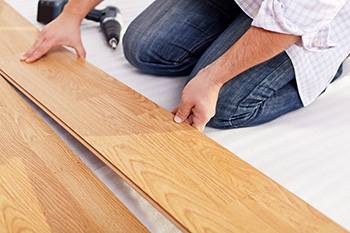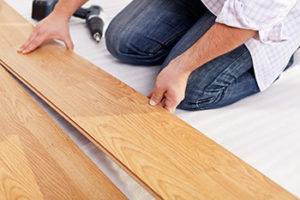 There are several ways that you can save on installation fees as well. The first and most obvious is to do the job yourself.
If you are handy at home and like DIY projects, installing your own laminate flooring is not a difficult task. However, if you prefer to pay someone to do it, you can still do some things to help reduce how much you'll have to spend on the installation.
First, if the old flooring has to be removed, then do this job yourself. And let your contractor know you are removing it so that they do not include it in your cost.
You can remove nails, glue, and other debris from the subfloor. And remove any baseboards in advance of the installation so your contractor doesn't have to.
If it is concrete and needs to be patched or leveled, this is relatively easy to do on your own too for extra savings. And if the subfloor is wood, replace warped or damaged sections and sand down any parts that are not level.
Also, remove all the furniture from the room before your installer arrives; otherwise, you will get charged for this.
Another interesting and not as well-known way to save on installation is by scheduling the job toward the end of winter. Why does the season impact the installation price?
Because most people tackle home improvement projects in the fall, just before the holidays when contractors are very busy.
However, once the holidays are over, business slows down and you have a better chance of getting a lower rate for the work. And always remember, get at least three quotes from three different licensed and insured contractors.
Opportunity Costs
While laminate is an excellent, affordable alternative to hardwood floors, buyers should be aware of the "opportunity costs" involved with choosing laminate over more expensive hardwood floors.
First, laminate flooring has a relatively short lifespan. You can expect it to last about 10 years in a residential setting. This is in comparison to a 100-year lifespan for hardwood floors, and a 30- to 40-year lifespan for engineered wood floors. So, you will need to fork out some funds to replace your laminate floor sooner.
Secondly, if your laminate floors are damaged, there is no way to repair them. The only solution is to replace the damaged planks. This will probably mean investing in and storing additional planks so that you can be sure to find matching planks—though they may still look out of place due to natural fading.
Finally, laminate flooring will not add value to your home. Unlike hardwood flooring, it is not considered desirable by the real estate market, so it will not drive up the resale value of your home.
FAQs
How Much Does It Cost To Install 1,000 Square Feet Of Laminate Flooring?
You can expect to pay $5,000-$6,000 to have 1,000 square feet of mid-range laminate installed.

Exactly how much it costs to install laminate flooring depends on the quality of the laminate that you choose, and whether you choose to install it yourself or pay a professional installer.

You can expect laminate flooring to cost anywhere between $1-5 per square foot, with most decent options costing $3-4. You need to purchase five to 10 percent more material than the actual area of your floor to account for wastage.

If you choose to hire a professional installer, expect to pay $1-3 per square foot depending on how complicated the project is.

Is It Cheaper To Use Carpet Or Laminate Flooring?
The cost difference between carpet and laminate flooring is negligible, and also depends greatly on the level of quality that you go for. The deciding factor should be how appropriate the flooring is for your installation.

Laminate flooring is more durable and better for rooms with moisture, while carpet is warmer and feels better underfoot.

Does Laminate Flooring Increase Home Value?
While replacing old and unsightly floors will always increase the value of your home, no, laminate flooring will not in and of itself increase the home's value.

Unlike hardwood or natural tile, it is not considered a desirable flooring material by the real estate market. It also has a relatively short lifespan, so buyers will probably be considering that they will need to replace the floor relatively soon.

How Long Does Laminate Flooring Last?
In residential installations, laminate flooring generally has a lifespan of about 10 years, though this can be extended if properly cared for, for as much as 12 to 25 years.

How Soon Can You Walk On Laminate Flooring?
Since laminate is a floating floor, it can be used pretty soon after installation—though you should avoid walking on the new floor for at least 24 hours in order to give it a chance to properly settle.

What Are The Disadvantages Of Laminate Flooring?
The main disadvantages of laminate flooring are that it has a relatively short lifespan and does add value to your home in the same way as the hardwood floors they imitate.

Also, while laminate flooring does better in moist and humid conditions than hardwood, there are other alternatives that are even better to use in these conditions, such as Luxury Vinyl Plank (LVP) flooring.

Can You Put Heavy Furniture On Laminate Flooring?
Laminate flooring holds up better under heavy loads than many other flooring options, so it is a good choice in a space with heavy furniture.

Do Laminate Floors Scratch Easily?
Laminate floors are highly scratch-resistant and are unlikely to scuff and scratch even under heavy traffic, including pets' paws. But no floor is entirely scratch-proof. If the floor does get scratched, it cannot be refinished and the damaged planks must be replaced.
Conclusion
Laminate has become a popular flooring option in recent years as an affordable and durable alternative to hardwood floors. Improved manufacturing technology also means that the floors look better than ever.
But exactly how much your new laminate floor is going to cost you depends on the quality that you go for. You can get cheap planks for as little as $1 per square foot, but you shouldn't expect these to look authentic or come with additional extras such as attached underlayment.
If you are willing to spend more, say around $5 per square foot, you can expect authentic-looking planks that come with an easy-to-install click-in-place system, integrated underlayment, vapor barrier, and other bells and whistles.
As with most things in life, the fact is that you get what you pay for, so you should expect to pay between $2-$4 per square foot for your floor. And don't forget to purchase five to 10 percent more laminate than you need to account for wastage.
Unlike genuine hardwood floors, laminate flooring is relatively easy to install and can be installed as a floating floor over most existing floors. That means that it can be a great DIY project that saves you money.
If you do choose to pay for professional installation, expect to pay $1-$3 per square foot depending on how complicated the project it is.
But, while choosing laminate as an affordable flooring alternative, make sure that you are also aware of the "hidden costs."
Laminate flooring has a relatively short lifespan of only about 10 years. It also can't be resurfaced if it gets damaged, and planks will need to be replaced. Finally, laminate won't add value to your home in the same way that hardwood does.
So, just make sure that you are also aware of the opportunity costs of installing laminate.
Have you purchased and installed laminate flooring? Share your experience with the community in the comments section below and via our social media.
Back to Top