Are your laminate floors looking old and shabby? Then it's time to replace your worn laminate flooring with Quick-Step. Today, I'm giving you a complete Quick-Step laminate review so you can learn more about the flooring company. Additionally, this review will help you pick the ideal Quick-Step laminate flooring for your home.
So whether you're renovating or you want to replace carpets with laminate flooring, Quick-Step is the solution. The company offers many different types of laminate flooring that will complement your interior decor. What's more, Quick-Step is one of the easiest products to laminate your floors with.
If you want laminate flooring that looks like real hardwood floors, then you'll appreciate all of the design options available from Quick-Step. There is an array of colors and patterns for you to pick from. Keep reading to find out more about Quick-Step's benefits and the floor options available.
What Is Quick-Step And Who Is Mohawk?
In 2005, Quick-Step was a company acquired as a division of Mohawk Industries, a flooring industry giant that sells just about every kind of flooring through numerous subsidiaries. After becoming part of Mohawk, Quick-Step moved much of their production to the United States. Today, they manufacture most of their products in the U.S.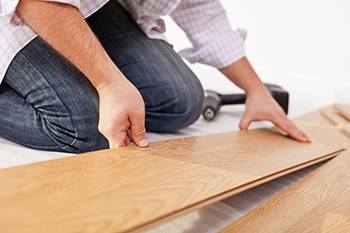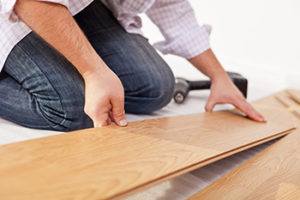 A company called Unilin originally invented Quick-Step's technology in Belgium. They introduced the first glueless click-and-lock floating floor system in 1997. This system was marketed with the patented Uniclic Locking System.  
The Uniclic system simplified installation, and DIYers found a floor they could easily install in an average-sized residential room in a day or less. Competitors have since popped up, and click-together flooring is no longer as novel as it once was. But Uniclic is the original, and still one of the easier systems to install.
Quick-Step has always produced a number of different products. These products varied depending on the finish/color, price, and other properties. But in 2018, all of Mohawk's laminate flooring products were reorganized and some were re-engineered.
The downside of this facelift is that the Mohawk Industries product lines are now confusing, including the offerings from the Quick-Step division. To make matters worse, some Mohawk divisions sell products similar to Quick-Step's under different names. Finding helpful information on the actual product you want and need can be difficult.
But fear not, we did the legwork for you. Pertinent highlights follow to make it easier to understand the Quick-Step laminate flooring options.
What Are The Quick-Step Laminate Floor Options?
If you visit the current U.S. website for Quick-Step, you will find four major categories in the drop-down flooring tab: Wood, Resilient, Carpet, and Studio. Under the wood category, product lines listed include NatureTek, NatureTek Plus, and TrueTek. So, you may ask: which one of these is the laminate flooring?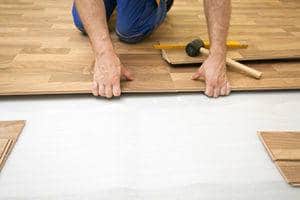 Great question, since it seems many product names have been changed. Therefore, a quick introduction to the laminate flooring products Quick-Step makes is in order. (For the record and as an added bonus, those who liked the old engineered hardwood line called Q-Wood will find it is now called TrueTek.)
NatureTek is Quick-Step's line of laminate flooring, sold through dedicated flooring distributorships. It is available in two versions: NatureTek and NatureTek Plus. NatureTek is water-resistant but cannot withstand being wet for long periods.
If you want an upgrade from NatureTek floors, the NatureTek Plus product is a waterproof laminate. So it can take spills, as well as moisture that snow and rain may track indoors. You can clean this waterproof laminate with a wet mop or laminate-friendly mop, as well. Further, it comes with a limited lifetime warranty against water and pet damage.
For those who like the big box stores, you can buy Quick-Step Studio as a DIY laminate. Lowe's carries this product. This particular product has not reviewed well, as many felt it was too sensitive when exposed to moisture. For a home office or bedroom, the Studio product may be a good choice, but you may want to skip this product in a kitchen or bathroom.
Which Quick-Step Product Is Best?
If you have an extra bedroom that does not get much traffic, the Quick-Step Studio product may suffice. It is easily installed. It includes a pre-attached underlayment on each plank. But avoid using this product in high-traffic or damp areas, especially kitchens and bathrooms.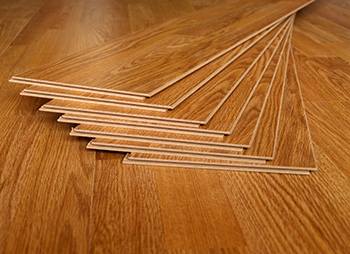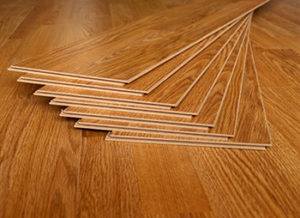 The Quick-Step NatureTek line incorporates a water-resistant core, an improved protective wear layer, and tight-fitting joints, making this an interesting product. If it lives up to the durability claims made by Quick-Step, this could be a welcome product in the flooring market.
But Quick-Step also went one step further with NatureTek Plus, engineering a waterproof product that is warrantied against water and pet damage for life. If you have an area that is occupied by pets or regularly gets wet, the NatureTek Plus product line is designed to work where other laminate floors struggle. For those who simply want the ultimate durability in a laminate floor, this may be it.
As for appearance, the NatureTek products mimic wood well. Details like wide planks that are up to 80 inches long add to the realistic look. Competing products are often narrower planks that are only 48 inches long.
Another NatureTek detail is a feature called GenuEdge, where the texture and color "roll over" the edge for a more realistic wood look. But why does this little detail make the floor look better? Glad you asked.
With many products, a small V forms between boards created by a bevel on the edge of the planks. This detail adds dimension to the floor. It also masks any small differences in edge alignment between planks.
But with many laminates, the bevel is a different color than the wear surface, making the V even more pronounced. NatureTek solved this problem with GenuEdge technology.
Will NatureTek Cost Me An Arm Or A Leg?
In general, lower price is one of the biggest selling points for laminate flooring when compared to hardwood. So, with all these improvements, is NatureTek still more economical than solid hardwood?
Happily, the answer is an emphatic yes. NatureTek and NatureTek Plus easily fall within the oft-quoted two to eight dollars per square foot installed, which is definitely less than solid hardwood. Also, you should be aware that depending on where you buy the products, you will find the NatureTek Plus does run about $0.50 to $1.00 per board more than NatureTek.
Keep in mind when shopping for both NatureTek products, you will need to put down an underlayment. This adds about $0.60 per square foot to the materials cost of your laminate floor.
And you will need to trim for things like thresholds, as well as to cover gaps at the perimeters of laminated areas. Quick-Step offers a quarter round, stair nose, and a versatile five-in-one molding for transitions and thresholds.
These accessories are well-designed and they work well. However, they are pricey. It typically costs from $45 to $50 for a seven-foot length of the five-in-one molding.
FAQs About Quick-Step Laminate Floors
Is Quick-Step Laminate Good?
Yes, Quick-Step laminate flooring is an excellent option for home improvement. Since the boards are made with water-resistant technology, it's ideal for people who have children and pets. These laminate floorings come in a variety of designs and colors that give you a real wood aesthetic.
Light, medium, and dark-toned colors are available in cool and neutral shades suitable for all types of decor. The textured finishes are made from molds that were created from the grain of real wood. This means you'll have laminate flooring with real wooden textures.
Furthermore, the Quick-Step laminate floors are incredibly durable. This is because all edges are coated with a hydroseal and patented sealer. Then the GenuEdge technology provides an additional coating on the edges for more protection.
Lastly Quick-Step products contain a low percentage of VOC (volatile organic compounds). Quick-Step laminate flooring is certified by FloorScore, which is a company that certifies floors based on the amount of VOC they release. Quick-Step has been tested for over 35 VOCs and is certified as a low-VOC product.
So if you want a laminate flooring that's effortless to install, comes in a variety of designs, and has a low VOC rating, then you'll appreciate Quick-Step.

Is Quick-Step Laminate Flooring Waterproof?
No, not all of the Quick-Step laminate floor ranges are waterproof. The NatureTEK laminate flooring range from Quick-Step is not 100% waterproof but the other lines from the brand are.
If you still want the design and the aesthetics that the NatureTEK range offers, then pick NatureTEK Plus. The NatureTEK Plus series is water resistant since the boards have a hydrophobic surface coating that prevents water from penetrating the core of the floorboards.
What's more, the Uniclic design is a locking system that prevents water from seeping through the joints of the planks. Every NatureTEK Plus board is coated with a hydroseal patented sealer. As mentioned before, the GenuEdge technology is wrapped around the edges for added protection so water won't damage the laminate flooring.
If you're looking for 100% water-resistant flooring, take a look at Quick-Step laminate flooring reviews to find out more about the brand's ranges.

Where Is Quick-Step Laminate Manufactured?
Most Quick-Step laminate flooring is manufactured in South Carolina, but a select few Quick-Step products are sourced from manufacturing facilities in Belgium. The manufacturer responsible for the designs and durability of Quick-Step is UNILIN.
The UNILIN company specializes in making engineered wood, laminate, and vinyl flooring. The manufacturer also makes flooring for brands such as Balterio and Pergo. Quick-Step is popular because it's made with a patented Uniclic installation system, making it easy to install.
UNILIN makes moisture resistant HDF (High Density Fibre) core boards that consist of wood fibres and melamine resin. There are layers that make up the Quick-Step laminate floorboards.
The first layer is a wear-resistant overlay that's transparent. This makes your Quick-Step flooring resistant to stains, wear, scratches, dents, and burns. The melamine resin is pressed on to the HDF core board using high pressure and temperatures. The design layer is then finished with a texture called registered embossment.
Lastly, there's the backing layer, which is moisture resistant and perfectly balanced so it doesn't create uneven flooring.

What Is Quick-Step Laminate?
Quick-Step laminate flooring is layered flooring built around an HDF board that's watertight. These are floorboards that have Uniclic technology to prevent water from getting under the boards.
This brand makes various types of laminate flooring features that look and feel like natural wood. The boards have authentic wood grains that reflect the boards' bevels and joints. Quick-Step offers high-quality laminate floors that are easy to install and suitable for every area of your home.
If you're looking for highly water resistant laminate flooring, then take a look at the brand's Impressive collection. Reviews of Quick-Step laminate flooring show that Impressive is the most water resistant collection from the brand, so it's suitable to install in bathrooms.

Can You Mop Quick-Step Flooring?
Yes, you can mop Quick-Step flooring but you must use a damp mop. Although Quick-Step flooring is waterproof, you'll get the best results cleaning your floors with a damp mop or microfiber cloth.
Quick-Step has a laminate cleaning kit that provides all the tools you need to clean your floors without damaging them. The cleaning kit contains a mop holder and a microfibre mop that won't scratch your floors. What's more, you'll get a cleaning product from Quick-Step that's designed for laminate flooring and won't leave a residue behind.
The cleaning mop from Quick-Step is easy to use and may be used dry or damp. This way you can sweep away dust and debris from your laminate floors without scratching them. It's advised that you use a dry mop instead of a hard-bristled broom to prevent damaging the finish of the floors.

How Do You Install Quick-Step Laminate?
Quick-Step is one of the easiest laminate floorings to install. Select the design you want, then you can opt for a flooring installer to assist you or you can DIY the project. You don't need glue or special power tools to get the job done.
Start by placing your first floorboard down. Then add the second board by sliding and clicking it into place so that it joins to the first board you placed on the floor. Additionally, you can join Quick-Step floor boards horizontally. This helps when you have corners that are oddly shaped.
You'll love how seamlessly these floorboards all fit into place. The tongue fits perfectly into the groove so that all boards are level, which will prevent wear on the edges. Quick-Step also offers a variety of underlays that retain heat or reduce sound when the floors bear weight.

How Thick Is Quick-Step Laminate Flooring?
Quick-Step offers five thicknesses between seven and 12 millimeters. So if you want sturdy floorboards that feel like real hardwood, then pick the thicker laminate boards. But if you're on a budget and you're looking for floorboards that are durable but at an affordable price then pick the seven-millimeter Quick-Step laminate flooring.
The thicker boards are more durable, but may not be as easy to install. The thinner boards are easy to install and work well if you have underfloor heating. If you pick the thinner laminate flooring, make sure you put underlayment first before installing your boards to soundproof your floors.

How Do You Install Quick-Step Underlay?
The only tool you need to install your Quick-Step underlay is a sharp knife. Start by rolling out the underlay across the length of your room and use a board to press it against the walls. Make sure the end of the underlay is slightly higher than the edge, which will protect your floors against rising moisture.
Use your knife to trim excess underlay against the walls. These edges will be covered with skirting boards. Don't overlap underlayments because doing so will cause an uneven surface. Now you can start adding your laminate floorboards.
The underlay will help to soundproof your floors and prevent rising moisture. Additionally, your underlay will eliminate small irregularities when you install your floorboards.
The Bottom Line
The new NatureTek products look surprisingly like solid hardwood with details like longer, wider boards and GenuEdge technology. It still incorporates the old Uniclic technology while embracing newer improvements.
And if the new NatureTek line lives up to Quick-Step's durability claims, these American-made products should make a big impression in the laminate floor market.
In particular, NatureTek Plus is very interesting. A water- and pet-proof laminate that does not need to be babied in the bathroom or kitchen is a welcome addition to flooring options for these spaces. Plus, the cost for NatureTek Plus is competitive with other laminate floors, meaning it costs less than solid hardwood.
Also, it is not an exaggeration to state the NatureTek Plus lifetime warranty that covers water and pet damage is a game changer in laminate flooring. This product is still new to the market, so we have yet to see actual long-term performance. It will be interesting to see how time supports or disproves this new technology from Quick-Step, and whether the company's bold warranty is over-hyped or real.
We hope you learned a lot in our Quick-Step laminate review. Have you used Quick-Step laminate flooring before? What was your experience? Let us know by leaving a comment below. We are always excited to learn more from our readers.
Back to Top