Have you recently looked down at your current flooring and decided it's time for an upgrade? Have you heard that floating floors are a sustainable option? This might leave you wondering – what is a floating floor?
The thought of ripping out your current floors and finding a suitable and durable option that matches your current decor can be daunting. Fortunately, a floating floor is not only affordable but comes in a variety of designs, making it easy to find the perfect option for your space!
We've done the legwork and compiled an informative guide giving you all the essential information you need to know about floating floors. We'll be covering how these floors are installed and the types available. Our guide will also detail the pros and cons so that you can decide if this is the right flooring for your home.
An Extensive Look At The In's And Out's Of Floating Floors
When you hear the term "floating floors," it might sound a little "space age-y." You might even be wondering how this concept can fit into your busy home. Let's start with a look at the basics.
What Is A Floating Floor?
If you enjoy building puzzles, this DIY job is for you! Essentially, floating floors are made of different materials that lock together to form a solid floor surface. The bond created when the pieces are interlocked is strong enough to provide a durable floor.
Back To Top
What Is Floating Floor Construction?
When a floor's materials aren't nailed or glued down to a subfloor, the installation is referred to as a "floating floor construction." The floor material isn't attached to the subfloor surface but merely "floats" or "lies" on top of the insulation layer.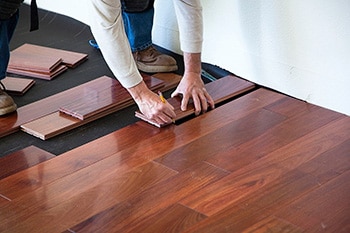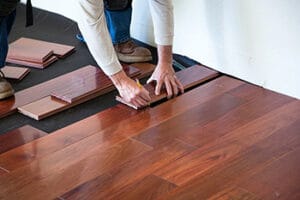 The construction is made up of different layers. The backing or core layer provides stability and strength. The top layer is the color and finish you select to complement your space or decor.
Back To Top
Different Types Of Floating Floors
The good news about floating floors is that they come in different applications. That makes it easier to select an option best suited to the type of subflooring you already have. The five basic floor types are listed below.
Laminate
The laminate option is by the far the most popular choice of floating floors. Laminate planks are joined together using a tongue and groove click-lock system. This means that instead of gluing or nailing pieces together, the parts are locked together almost like puzzle pieces. This option has different design choices with tile- and wood-like finishes.
Engineered Wood
Unlike laminate, engineered wood flooring is constructed by adding multiple layers of wood and a final layer of solid wood. Since the bottom layers are often made of pressed or recycled wood sheets, it's often an extremely sustainable choice.
An advantage of this type of material is that it can be purchased as a click-lock system as well as nail- and glue-down options. Engineered wood is a durable and lightweight floating floor option.
Cork Flooring
Many homeowners opt for cork floors because they're much quieter than other options on the market. Cork absorbs sound waves and cushions loud footsteps. Another plus point is that cork is fire retardant and has a much higher insulation value.
Cork is also popular because it has a natural and organic look. With an array of patterns, shapes, and colors, your floor will have a natural earthy look and feel.
Tile Floating Floors
When it comes to high-traffic areas, many homeowners would like to opt for tile flooring; however, it can be costly, especially if there's a larger area to cover. This makes the tile floating floor option a good alternative.
Tiles that snap together are a perfect solution for kitchens and bathrooms or other areas where spills are frequent. A variety of colors and designs make it likely that you'll find the perfect option to match your style and decor preference.
Luxury Vinyl
This type of floating flooring is available in two options. LVP (Luxury vinyl plank) mimics a luxury wooden floor. The other option, LVT (luxury vinyl tile) imitates a ceramic tile or stone floor. As with the previously listed options, luxury vinyl is available in the click-lock system which easily snaps into place.
These types of floors also have a glue-down alternative if you prefer a more stable floor. Vinyl is resistant to water, and is more durable and requires much less maintenance than most other floor types. This makes it a popular choice for kitchens and bathrooms.
Back To Top
Pros And Cons Of Installing Floating Floors
As with everything else you install in your home, there are pros and cons. Ultimately you'll choose a type of flooring that suits your budget, personal style, and ticks most of the boxes of your personal needs. Read on to see the pros and cons of floating floors.
Pros
Budget-friendly – more affordable than most other flooring options
DIY-friendly – any avid DIY enthusiast can easily install this type of flooring
Easy to replace – the interlocking system allows a piece to be removed and a new one inserted
Cons
Amplify sound – The gaps between the subfloor and flooring can cause some sounds to be magnified when walking across the floor.
Might not be possible to refinish – Some options can't be refinished after installation because of the material used on the top layer.
Can expand with humidity – Floating floors tend to expand and contract with different humidity levels.
Back To Top
The Cost Of Floating Floors
Overall, the cost of installing floating floors is considerably cheaper than their nail- or glue-down counterparts. This is largely because installation is both easier and much quicker.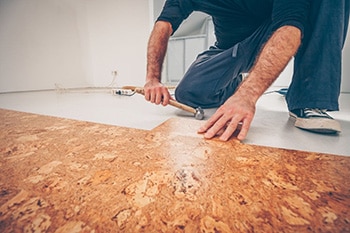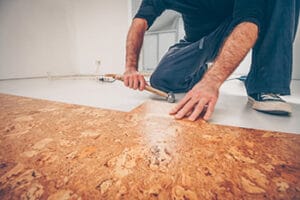 The exact cost varies based on the type and finish chosen. Average costs vary between $5 and $10 per square foot using average-grade products.
Back To Top
Cleaning And Maintaining Floating Floors
When it's time to upgrade or replace floors, one of the first questions we tend to ask is, "how do we keep it clean?" Let's face it, no one wants a flooring option that is going to be difficult to maintain. This is especially true if the floor will be in a high-traffic area where pets and children are running back and forth all day.
Fortunately, cleaning floating floors is as simple as installing them! Let's have a look at the simple steps you'll need to follow to keep your floor sparkling clean:
Sweep the floor regularly
Wipe up any stains or spills
Mop using a small amount of hot soapy water to remove any dirt or residue
Buff and allow to air dry
Don't use steam cleaners or abrasive mops as these will damage the floorboards
Back To Top
The Effects Of Heavy Furniture On Floating Floors
Many people have the misconception that since the floor is "floating" it might get damaged when you place heavy furniture on it. The truth is, heavy furniture doesn't damage or shift floating flooring.
The trick is to prepare and move the furniture properly. If your furniture has sharp edges or metal feet, be sure to pick it up and place it down as opposed to dragging it across the floor. The rule of thumb is that any furniture under 500 lbs should be fine if not dragged.
Back To Top
Installing Floating Floors
Some floors need to be installed by a professional installer. This is especially the case when it involves ripping out previous floors, preparing subfloors, and laying down some form of insulation or underlayment.
Fortunately, floating floors are simple enough for any DIY enthusiast to install themselves in a matter of hours. Have a look at the following steps to see just how easy it is!
Step 1: Establish The Amount Of Flooring Needed
It's crucial to determine the amount of flooring you'll need. Remember to add a few extra pieces to compensate for damage or shortage.
The simplest way to do this is to measure the width and length of the room. Multiply those figures and add 10% for any possible wastage or broken pieces. Be sure to check with the store you're buying from for a list of everything you'll need to complete the job.
Step 2: Prepare The Space
Preparing the surface you need to install the floor on is crucial to ensuring that the result is perfect. Remove the old flooring or carpeting, wall base, shoe trim and any moldings.
Check if the new flooring will be the same height as the original flooring. If the new floor appears to be higher, you'll have to cut the casings where necessary. Clean the floor and ensure it's free from dust and dirt. Let the floor air dry to ensure there's no damp areas before you set the floating floor down.
Step 3: Install An Underlayment
The next step is to install an underlayment. This is a thin foam padding that needs to be placed under any installation of laminate flooring. Underlayment's main purpose is to correct the minor irregularities in the current subfloor.
Start in one corner and unroll the underlayment in the same direction as the new floor. You'll want to trim the edges to make sure there's no overlapping. Since the underlayment is soft, it will be easy to cut it around doors, walls or structural bases.
Step 4: Tape Down The Underlayment
Use duct tape to tape the seams of the underlayment. This will ensure you create a moisture barrier to prevent dampness from building up between the underlayment and the new flooring. This is particularly necessary when installing over a concrete subfloor.
Step 5: Double-Check Your Materials And Products
Before you start laying your new floor, unpack the boxes and double-check your quantities and condition. Make sure there are no damaged pieces and that you have the correct number of boards or tiles. The last thing you want is to be almost finished and find you are out of materials!
Step 6: Plan And Cut
When you're ready to cut, remember the first row must always be placed along the most visible wall. It should also be placed parallel to the longest wall in the room.
Leave a quarter-inch space between the flooring edges, walls or bases of cabinets to provide the floor with space to contract and expand. Many manufacturers will provide you with necessary spacers as guides to make this process easy.
Step 7: Start Installing
Work from right to left in the first row. Place the flooring with the tongue side facing the wall. When the first board is placed down, align the next board so that the tongue and groove fit snugly together. Ensure the pieces lock together.
Remember to leave a ¼ inch space between the wall and the flooring. Ensure the planks are placed in a way to provide a clean, symmetrical look. Use a hammering block or small hammer to gently tap pieces into place. Seams need to be tight.
Step 8: Install The Remainder Of The Rows
Continue installing each row the same way you did the first one. Make sure the tongue always fits snugly into the groove. Continuously check to make sure the flooring is straight and has tight seams.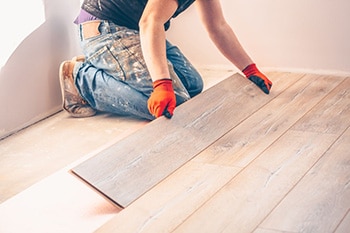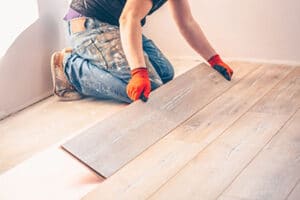 If you don't want pattern repeats for several rows, open three or four boxes and alternate the pieces you lay down. This will ensure you have different patterns in different places.
Step 9: Cut Around Obstacles
If you have to cut around obstacles in the room, such as door jambs or cupboards, the trick is to make a template out of cardboard. Simply trace the outline of your handmade template onto the floor material. This will ensure you cut the correct shape.
If you're struggling to interlock pieces around corners, use a utility knife to cut some of the bottom of the material off to fit the pieces together. You can also add some glue to the corners; just make sure the glue dries for about 30 minutes in those hard-to-reach areas.
Step 10: Finalize The Last Row
Depending on the shape of your room, the last row might be narrower than the rest. If this is the case, you might have to cut the material lengthwise to ensure it fits. If you have to cut the tongue off the last row to get it to fit, then you will have to use glue to secure the last row. Use white wood glue and allow the pieces to dry for about 30 minutes once you've clamped them in place.
Step 11: Install The Shoe Molding And Baseboards
When the flooring is completely done, add the molding to cover any gaps. Add baseboards along the wall. Once the floor has a tight seal, you can give it a gentle wipe down.
Yes, it's that simple!
Back To Top
FAQ's
How do you stop a floating floor from moving?
Since the flooring isn't permanently fixed to the subfloor, it can shift. A dip in the subfloor can be one reason for this. The best way to counteract this is to use a transition strip of molding fill. 

Simply fill the gap between the floating floorboards and the subfloor. Once you've added a drop of construction adhesive to the gap, slide the strip into place. This will go a long way toward keeping the floor in place. 

Are floating floors noisy?
One of the disadvantages of floating floors is that they are notoriously noisy when you're walking on them. Because the flooring doesn't attach to the subfloor, it's prone to creaking. One of the best ways to lessen the noise is to install an underlayment pad.

Do floating floors settle after a while?
Newly laid floating floors require a few months to settle. The settling process refers to floors and glue or interlocking bonds becoming accustomed to the weight that's being placed on them. 

During this process, there might be some noise when you walk on the floor. The good news is that this noise should quiet down after a few weeks of use. After settling, the floor should still have the same amount of bounce as when first installed. 
Back To Top
Final Thoughts
Deciding to upgrade your floors doesn't have to be the start of a very long nightmare! By opting for the floating floor type, you'll be saving money and time.
Here are a few reasons to consider this option:
Floating floors are a budget-friendly option
They're easy to install
Ideal for high-traffic areas
Variety of colors, styles and designs available to suit any decor
Floating floors are the perfect solution to your floor upgrade! You'll have stunning new floors in no time!
If you have any comments or first-hand experiences with installing a floating floor, please post them below or share your pictures via our social media!
Back to Top