Are you looking for information on nylon vs polyester carpet? Then you've come to the right place. Nylon and polyester are synthetic fibers that are used to make wall-to-wall carpets, rugs, and carpet tiles. There are benefits to both carpet fibers, but there are also some drawbacks.
Today I'll be going through the most important features of nylon and polyester carpets and the pros and cons of each type of fiber. Additionally, I will include three of the top brands for both polyester and nylon carpet so you know where to find the type you're looking for.
If you want to know more about each carpet fiber and which is better of the two, then refer to the FAQ section below. I'll assist you with selecting the right carpeting for your home, so keep reading to find out more.
Nylon Versus Polyester Carpet
So what is the difference between nylon and polyester carpet? The only way to compare the two is to look at the pros, cons, and features of each type of fiber. In this section, I'll be discussing which fiber is more durable, absorbs less water, and has the highest stain resistance.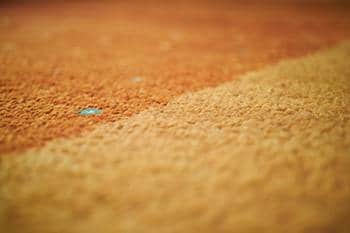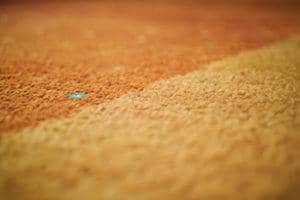 By looking at the features, pros, and cons of nylon and polyester, you'll know exactly which one will be ideal for your home and which carpet is easier to maintain.

Nylon Pros And Cons
Pros:
Suitable for high-traffic areas
Has excellent retention
Easy to clean
High stain-resistance
Pet-friendly
Easy to maintain
Resistant to mold and mildew
Doesn't induce allergic reactions
Cons:
More expensive than other synthetic carpets
Produces a lot of static electricity
Not as soft as other carpet options
Polyester Pros And Cons
Pros:
Inexpensive
Low static electricity
Eco-friendly carpeting
Soft, velvety texture
Absorbs less water
Resistant to mold growth
Pet-friendly
Cons:
Low retention
Not stain-resistant to oil spills
Sensitive to UV rays
Features Of Nylon Carpeting
Nylon carpet is the most popular choice for residential use. It's highly sought after because nylon is easy to maintain, it's durable, and it comes in a variety of style options. A nylon carpet will stand up well to daily wear and tear, so it's suitable to place in areas with high foot traffic

Durability
The secret to nylon carpet durability is its retention. That is, the fibers won't hold compression marks from heavy furniture for long because they bounce back up to their original state. Carpet durability is also important if you have pets that scratch your flooring.
Nylon carpets are ideal for entertainment areas, hallways, and bedrooms.

Level Of Stain-Resistance
Another benefit of nylon carpeting is that it has a high stain-resistance. So whether you spill coffee or wine on your nylon flooring, it won't leave a permanent mark behind. To get stains out of your carpet, use a detergent that is safe to use on nylon.

Maintenance
Maintaining your nylon carpet is effortless because it has a hydrogen molecule, which is easily revived after steam cleaning the fibers. So if your nylon carpet fibers flatten over time due to heavy furniture or high foot traffic, you can revive it by heating the floors with a steam cleaner. To maintain your nylon carpet, simply vacuum it every week and steam clean it every 12 months.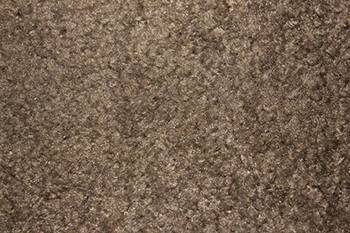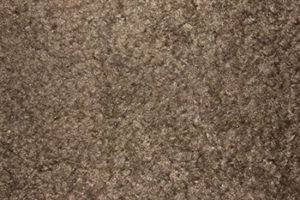 Additionally, you can use a mild detergent that's safe to use on nylon carpets to clean up spills. Don't use bleach on your nylon fiber flooring because this type of fiber is sensitive to most harsh chemicals.

Texture
The texture of nylon can either be rough or soft. By making thinner fiber strands, a manufacturer is able to make plush carpeting out of nylon. However,the thinner strands may not be as durable as denser nylon carpeting. So most nylon carpets are therefore dense with a rough texture.

Cost
Compared to other synthetic carpets, nylon is the most expensive. This is because it's the most costly fiber to produce compared to, say, polyester. You can expect to pay between $2 and $5 per square foot of nylon carpeting. If you want to add carpet padding, you can expect to pay an additional $1 to $2 per square foot.
Features Of Polyester Carpeting
Polyester carpets are the second most popular synthetic flooring on the market. Additionally, polyester fiber is the cheaper alternative to nylon. If you want an eco-friendly carpet in your home, then polyester may be a suitable choice for you.
Let's go through the features of this fiber.

Durability
The low durability factor may be the reason why polyester is a cheaper alternative to nylon. A carpet made from polyester has a life expectancy of 5 to 15 years, as the carpet starts to show significant wear in high foot-traffic areas.
Polyester carpeting also doesn't have high retention, so the fibers won't spring back up once they've been compressed by furniture or foot traffic. With the proper care, though, you can extend the life  of your polyester carpet.
On the other hand, polyester has a higher water-resistance and will dry more quickly after you've washed it. As a result, the carpet won't have mold growth in the fibers.

Level Of Stain-Resistance
Polyester is highly stain-resistant but not against oil-based products. So if you spill oily lotions, food, or liquids on your polyester carpet, it may leave a dark stain on the surface. You'll have to get a professional company to come and clean your carpets if you have oil stains on them.

Maintenance
Maintaining your polyester carpet can be easy if you do it regularly. It's important to vacuum your carpets regularly to prevent wear from debris. You should also not allow direct sunlight to shine on polyester carpets because they will fade over time.
It's advised to clean spills immediately with a mild detergent to prevent stains from setting in.

Texture
Polyester has a soft, velvety texture that's comfortable to walk on with bare feet. So if you want to add extra padding to hard floors, then polyester is an excellent choice. You can also install polyester flooring in children's rooms for added safety. Or install this type of flooring in your living room to create a warm and comfortable environment.

Cost
As mentioned before, polyester carpeting is the most affordable flooring on the market. If you want to install wall-to-wall polyester carpeting, you can expect to pay between $1 and $3 per square foot.
Top 3 Best Nylon Carpet Brands
1. Invista
Invista is a carpet brand that makes the most superior stain-resistant nylon carpets on the market The Stainmaster carpet is now part of the brand's line, and it's fast becoming a popular buy among homeowners.
The Stainmaster carpet from Invista is made with a special type of nylon called 6.6. The carpet strands are made with dual carbon fiber that allow it to keep its retention. This  prevents the strands from matting down and fraying in high traffic areas.
Invista is an excellent choice if you're looking for a nylon carpet that's highly stain-resistant and that comes in a variety of styles and textures.

2. Shaw
Shaw is a company that sells a variety of different types of flooring such as decking, laminate, and wall-to-wall carpets. The best nylon carpet you can find from Shaw is the ANSO Nylon. This carpet comes in a variety of styles, colors, and textures for you to pick from.
The ANSO Nylon carpet is stain-resistant and can withstand harsh environments. What's more, it holds up well against pet stains, so it's an ideal carpet to have if you own cats and dogs. All nylon carpets from Shaw, including the ANSO Nylon, can be recycled

3. DuPont
DuPont is an industry leader in the carpet business. That's because nylon carpeting was invented by Wallace Hume Carothers in 1935. Wallace was the head of DuPont's research facilities. The brand started making nylon carpets in the mid 1950s, and they quickly became popular.
The company is known for making the softest and most durable carpets in the industry. DuPont's carpets are also water-, stain-, and mold-resistant.
Top 3 Best Polyester Carpet Brands
1. Beaulieu America
Beaulieu America is a new carpet brand on the market that makes a variety of flooring. But if you're looking for polyester carpeting in an array of styles, textures, and colors, you will love the products from this brand.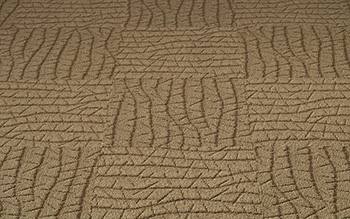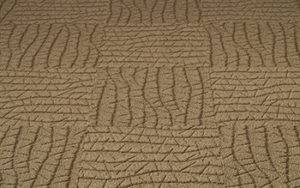 The carpet company offers excellent warranties on all polyester flooring. Beaulieu America carpets have a higher stain-resistance than any other type of polyester flooring brand. This company offers various polyester cut piles and loops for you to choose from.

2. Atlas Carpet Mills
Atlas Carpet Mills offers affordable polyester carpets in a wide variety of styles, patterns, and colors. So if you want to carpet your home and have a limited budget, this brand may be ideal for you. Atlas Carpet Mills also offers customizable options for you if you want a unique look in your home.

3. Mohawk Industries
Mohawk Industries is the oldest carpet brand on the market. Since its inception in 1878, the company has had professional designers make the most luxurious carpets on the market. This brand's polyester carpets are stain-free and resistant to wear and tear.
FAQs About Nylon vs Polyester
Which Carpet Is Best, Nylon Or Polyester?
Nylon is considered the better product of the two. This is because nylon has a reputation for being the most durable synthetic carpet in the industry. Carpets made from nylon are resistant to any type of stain, and the fibers have the ability to keep their shape well. This type of flooring is easy to maintain and holds up well to high foot traffic.
On the other hand, polyester is also a popular choice because it's a cheaper alternative to nylon. The polyester fiber is not as durable as nylon, but it does absorb less water. As a result, carpets made from polyester won't harbor mold.

Is Nylon Or Polyester Carpet Softer?
Polyester carpets are softer than nylon. However, if nylon fibers are made thinner, they can be made into a plush carpet, but it will lose some of its durability. There are brands that make soft nylon carpets such as Durasoft.
But if you are looking for soft carpets that are affordable, then polyester flooring is the best option. There are plush polyester carpets that come in a variety of cut piles and loops for you to pick from that may add to the texture you're looking for.

How Long Will Nylon Carpet Last?
A nylon carpet will last between 12 and 15 years with the proper maintenance and care. This will depend on the quality of the carpet, too. That's why it's important to buy nylon carpeting from a reputable brand that makes high-end flooring.
It's important to use the correct detergents when cleaning your nylon carpet, to prevent it from losing its color and integrity. You can steam clean your flooring once every 12 months to revive the nylon fibers if you've noticed a loss in retention.

How Long Will Polyester Carpet Last?
Polyester carpets can last between 5 and 10 years. Low-quality polyester carpet can lose its retention in a short amount of time, especially in areas where there's high foot traffic. Some homeowners have stated that there was even a loss in color when buying cheap polyester carpet.
The life expectancy for polyester fiber carpet will also depend on the upkeep. If you don't take care of your carpet, it will wear quicker even if it's an excellent quality product. To prevent wear from debris and soil, you must vacuum your carpet regularly.
To prevent the color in your carpet from fading, you shouldn't allow direct sunlight to shine onto your floors. Don't use bleach to clean your polyester carpet because it will destroy the color.
Polyester also doesn't hold up well against oil spills, so if you spill food or oily products on your carpet, clean it immediately with a mild detergent. Cleaning the spill immediately will prevent the carpet from staining.
It's important to buy high-end polyester carpeting from a trusted brand such as Mohawk Industries. You want to buy polyester fiber flooring from a company that offers products made to last. Therefore, pick a brand that offers excellent warranties on their products.

Is Nylon Or Polyester Carpet Better For Allergies?
Nylon is the best anti-allergy carpet fiber on the market. This is because nylon fibers are resistant to dirt and mold growth. These carpets don't harbor harmful dust particles that can irritate your allergies. If you vacuum your carpet regularly, you can rid your carpet of dust and dirt easily, which will reduce allergic reactions.
There are natural fiber carpets on the market made from wool, but this type of flooring is not ideal for allergy sufferers. Woolen fibers retain moisture and result in the growth of mold, and they also trap dust. These carpets are also difficult to keep clean, so you will be sneezing often if you have wool carpet in your home.
So although nylon carpets are expensive, the cost of the flooring is well worth it. The carpet won't induce allergic reactions, and it's effortless to keep clean because dirt doesn't get trapped deep within the fibers.
Conclusion
As you can see, nylon is definitely the superior choice when it comes to selecting carpets for your home. If you want carpet that will last for up to 15 years, doesn't cause allergies, and is pet- friendly, then nylon is the ideal choice. What's more, nylon carpet can be recycled. So if you want to buy new carpet in a couple of years, you can recycle your old one.
If you live in a region where it rains a lot or has high humidity levels, then nylon carpet is also the perfect choice for your floors. The fibers are water-resistant, so it won't grow mold within the fibers. Furthermore, if you notice the fibers losing their spring, simply use a steam cleaner to revive the strands. The fibers will bounce back up after being heated up with a steam cleaner.
On the other hand, if you are on a budget, polyester carpeting can work, too.This type of fiber is also stain-resistant and doesn't absorb a lot of water. It's not as durable as nylon, so it's advised to install your polyester carpet in an area with low foot traffic.
So, which do you think is better based on the nylon vs polyester carpet comparison you've just read? Do you have polyester or nylon carpeting in your home? What are your experiences with both carpet fibers? Leave a comment below with your answers. It's always great hearing from our readers.
Back to Top