Laminate flooring is becoming increasingly popular in modern homes. It might be because this type of flooring offers an array of designs and colors and is easy to install. Before you install your flooring, you'll need top-quality laminate underlayment to place under the boards.
Underlayment is a layer of material that covers imperfections on the subfloor, reduces sound, and may provide other advantages such as adding extra cushioning underfoot.
The laminate you choose may already have an underlayment attached, so be sure to check so you won't end up buying excess materials. If you're not sure whether the laminate flooring you've ordered has an underlayment attached to it, you can consult the store you purchased from.
However, if the flooring you choose doesn't have an underlayment already, or if you simply want the additional qualities that underlayments offer, you'll want to consider purchasing and installing one of the products we cover below.
There's a lot to consider when you're deciding which underlayment will be best for you, and we've done our best to cover all the questions you might have about the various products available.
In today's article, we'll be giving you a more in-depth look at what types of laminate underlayment there are, what each type's advantages are, and how much various options will cost.
Additionally, we're also giving you the top brands to look out for when buying high-quality laminate underlayment. Keep reading to find out more.
Foam
What Is It?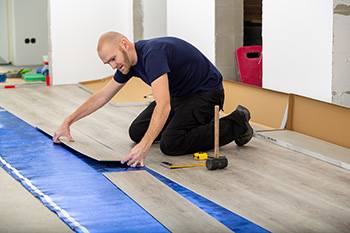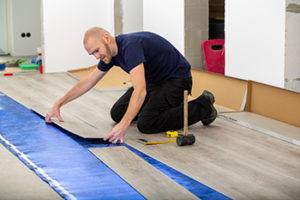 Foam is the most basic variety of underlayment. This type of underlayment comes in a variety of thicknesses from 3mm (1/8") to 6mm (¼") and usually comes in rolls of varying widths and lengths. Foam underlayment offers you the best selection of products for your laminate flooring.


Advantages
Many types of foam underlayment include a moisture/vapor barrier that won't save your laminate from flooding, but can protect your subflooring. You can also find types of foam underlayment that include fibers and rubber that help absorb sound.
Foam underlayment is easy to install, even for those who are new to installing laminate floors. The reason most people prefer foam underlayment is because it comes in large rolls, so you can cut the specific lengths and widths you want.

How Much Does It Cost?
Basic foam underlayment usually costs between $0.22 to $0.30 per square foot. For sound-reducing or moisture-blocking foam, you can expect to pay between $0.30 and $0.45 per square foot.

Best-Selling And Most Popular Brands
QEP Roberts is a popular brand of foam underlayment, and offers more than one kind, including types that offer the moisture barrier and sound absorption that we've mentioned above. For those concerned about the environment, Courey Eco-Friendly foam underlayment is made with 100% post-consumer recycled rubber tires. It's not only recycled, but it is also 100% recyclable.
Cork
What Is It?
Cork is a natural type of underlayment made from the bark of cork trees. Much of the high-quality cork on the market originates in Portugal. Cork underlayment is usually available in 3mm or 6mm thicknesses. If a moisture barrier is important to you, then cork underlayments will be ideal to prevent damage to your laminate flooring.

Advantages
One of the biggest advantages of cork is its capability of absorbing sound. If you are installing laminate on an upper floor or in an apartment with downstairs neighbors, the cork underlayment will help to absorb the sound of footsteps.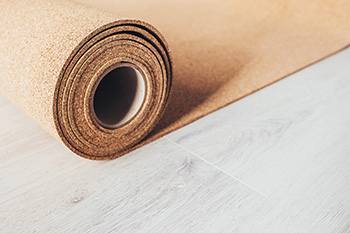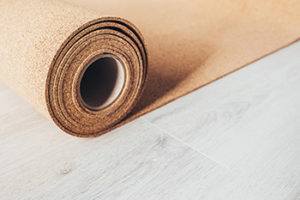 Cork is also an effective way of adding insulation to your home. Cork underlayment keeps both heat and cold inside by providing a barrier to prevent cold and hot air from escaping through the floor.
Cork is also an ecologically sustainable choice, because it's a natural material harvested from the bark of trees. When the cork is harvested, the tree is unharmed and the bark can grow back over time. Cork is also extremely durable, so it won't need to be replaced often.
Cork also has hypoallergenic properties that make it a good choice for households with allergy sufferers. The antimicrobial nature of cork inhibits the growth of bacteria, mold, and mildew, which can create a healthier home environment.
Finally, cork is fire-retardant, offering an additional safety benefit.

How Much Does It Cost?
Cork underlayment runs anywhere from $0.50 to $0.75 per square foot.

Best-Selling And Popular Brands
QEP Roberts and a variety of other companies sell cork underlayment, such as AcoustiCORK, and WidgetCo. Eco Cork, interestingly, offers a hybrid cork/foam product called Eco-Cork Foam that offers advantages of both types of underlayment.
Felt
What Is It?
Felt is considered the gold standard of underlayment and is the most commonly-selected choice. This type of underlayment is made from recycled fibers and is generally 3mm thick. It is significantly heavier, and easier to smooth compared to foam or cork underlayment.

Advantages
The heaviness and density of felt makes it an excellent sound absorbent. Out of all three underlayments, felt best muffles the sound of footsteps on laminate flooring. Most reviews and installers find this to be the main selling point of felt underlayment.
Felt also works as an excellent insulator, keeping your heating and cooling inside the house where you want it to stay. This creates a perfect home temperature environment for all seasons.
Many feel that felt also does a superior job cushioning the floor and providing more comfort for walking and standing.
Since it's made of recycled fibers, felt underlayment is also a LEED certified and an eco-friendly choice.

How Much Does It Cost?
You can expect to pay between $0.75 to $1.25 per square foot for felt underlayment.

Best-Selling And Popular Brands
QEP Roberts offers a popular felt underlayment with a moisture barrier and handy tape strips for attaching the underlayment to the barrier layer. Bellawood Flooring also offers a popular and widely-available underlayment that comes with an antimicrobial treatment.
Top Underlayment Brands For Laminate Flooring
TrafficMaster
TrafficMaster is a top competitor in the flooring industry. It's a popular laminate flooring brand, but the company also sells durable underlayment. The company's most popular underlayment product is a 3-in-1 engineered foam underlayment for laminate flooring.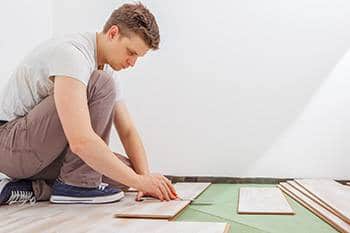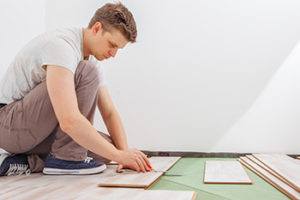 Each foam underlayment has a three-inch overlap with an adhesive strip, which prevents moisture from seeping under the flooring. TrafficMaster underlayment generally costs in the neighborhood of $0.25 per square foot. You can purchase this underlayment at Home Depot.
The advantage of TrafficMaster underlayment is that it's extremely durable, and thus suitable for high-traffic areas. These foam underlays add extra cushioning to your laminate flooring because they come in .80-inch thicknesses.

Technoflex
Technoflex is another leading brand when it comes to underlayment for laminate flooring. The company manufactures and distributes recycled post-consumer indoor and outdoor flooring products.
TechnoFlex Acoustics is a durable rubber product, perfect for any type of subflooring. It's 3mm thick, which is the standard thickness for laminate flooring. The rubber provides an even surface to ensure your laminate flooring is level when you install your boards over the underlay.
TechnoFloor Acoustics also offers a sound barrier for quieter walking. You can also install this underlayment on concrete subflooring because it offers a moisture barrier to protect your flooring from moisture damage.
This underlay is a multipurpose product because you can place it under carpets, vinyl, or plywood. For TechnoFloor Acoustics products, you can expect to pay $0.59 per square foot, which is a bit more expensive compared to TrafficMaster, but it's also more durable.
If you want a longer-lasting underlay that doesn't need regular changing, then you may want to consider using TechnoFloor Acoustics from TechnoFlex. You can buy this product from any Home Depot store.

QEP
QEP is a popular brand of underlayment, especially for use with laminate flooring. However, any underlayment from QEP is expensive. This brand's speciality underlayment is their line of cork products. The QEP underlayments are made from eco-friendly cork that doesn't produce VOC.
Unlike foam, cork has a flat, even surface, which makes installing your laminate floorboards a lot easier. The QEP underlayments are suitable for high-traffic areas such as restaurants, shops, hair salons, and more.
You can either buy a cork underlayment roll, or individual sheets from QEP. Most customers prefer the rolls because you can customize the dimensions you want to use. The cork sheets are easy to cut if you have a sharp knife.
For the QEP cork sheets, you can expect to pay $157 for a pack of 25, which will cover 150 square feet. These sheets are 6mm thick. For the rolls you can expect to pay $0.85 per square foot. The cork rolls are 6.35mm thick.
If you'd like to use QEP underlayment for your floors, you can buy their products from Home Depot or directly from the QEP website.
FAQs:
What Is The Best Type Of Underlayment For Laminate Flooring?
This will depend on the type of subfloor you have. If you have a concrete subfloor, you'll want an underlayment with a moisture barrier. Moisture can damage the links connecting each laminate floor board so pick an underlayment such as cork for concrete subfloors.

Foam is ideal for timber subflooring and it's perfect for under-floor heating and sound insulation. However, foam is not suitable for high-traffic areas because it is a low-density underlayment. As a result the foam will wear over time.

Felt underlayment is ideal for any type of subflooring. It's rigid, so its strong points level out your floors. Just like foam, the felt underlayment is excellent for heat and sound insulation.  Felt is a high-density product, so it's suitable for high traffic areas.

How Thick Should Laminate Underlayment Be?
Standard underlayment is 3mm or ⅛ inches thick. This thickness is ideal for any type of subflooring. However, if you're installing laminate flooring in high-traffic areas or if you want more cushioning underfoot, you may want to pick a thicker underlay that is at least 6mm thick.

What Is The Best Flooring Underlayment?
The best laminate underlayment that you can get on the market is QuietWalk. This underlay is 5mm thick, so it will add cushioning to your floors. What's more, this product is a vinyl underlayment made from recycled rubber that absorbs sound to eliminate the sound of footsteps. This makes QuietWalk a great product if you live on the top floor of an apartment building.

This underlayment eliminates moisture too so you can use it in basements as well as kitchens before installing your laminate floors. You'll also appreciate that the QuietWalk vinyl underlayment is an excellent insulator to regulate the temperatures in your home.

If you want to add underfloor heating, QuietWalk underlay will work especially well. It's a durable product that won't wear from the underfloor heating and it's suitable for high traffic areas.

Does Laminate Require Underlayment?
Yes, putting an underlay on your floor before installing your laminate flooring is extremely important. Since laminate is a floating type of flooring, it won't be laid evenly if you don't have an underlay. The underlay ensures that your laminate flooring is evenly distributed across your subfloor. 

Additionally, an underlay provides stability to the flooring to prevent premature wear. It also reduces noise when people walk over the floor which is an important feature if you have downstairs neighbors.

A durable underlayment also provides support for the interlocking mechanisms of the laminate floorboards to prevent them from coming apart. You don't want gaps in between your laminate flooring because water can get inside and cause damage.

You want a sturdy floor with no bumps or hardness from your subflooring. The only way to achieve this is if you have proper underlayment under your laminate flooring.

What Happens If You Don't Use Underlayment Under Laminate Flooring?
If you don't use underlayment under your laminate flooring you won't get the full benefits from your flooring. There will be a lack of support for your laminate flooring and as a result the boards will start to split, crack, or warp. 

You also won't have a moisture barrier so you may have a problem with mold growth under your laminate flooring. Walking over your laminate floors without an underlayment underneath can be noisy because it will be hollow and the sound of your footsteps will echo. Your flooring will also be uneven and you may feel the hardness of the subfloors underneath the laminate boards.

Don't try to save on money by not getting an underlayment for your laminate flooring. Instead, choose a laminate flooring retailer that sells boards with underlayment attached to them.

Buying laminate flooring with pre-attached underlayment will save you money and time on installation.

Can You Use An Underlayment That's 2mm Thick?
You can use an underlayment that's 2mm thick for laminate flooring but this thickness is typically used for thinner floorboards. 2mm underlayment is also suitable for areas that don't experience high foot traffic.

The standard thickness for underlayment for any type of subfloor and laminate flooring is 3mm thick. It's best to stick with industry standards to prevent premature wear and tear.

What Type Of Underlayment Offers The Most Variety In Thicknesses?
Foam is the best type of laminate underlayment that will offer you the most variety in terms of thicknesses and size. You can buy foam underlayment that's between 3mm and 6mm in thickness. Rolls of foam underlayment come in different widths and lengths that you can cut easily with a knife.

It's best to get a roll with bigger dimensions so you can customize the size of your underlayment sheets. This way you can fit the underlayment in corners of your home that don't have the traditional shape where two sides meet.

For example, if you have a rounded wall, the floor at the bottom will also be round. You must be able to cut your underlayment to the exact shape of your floor so you can create an even layer to put your laminate flooring on. So buy a roll of underlayment with more width and length and cut it to size.
Our Conclusions
If you are installing laminate flooring, it may come with underlayment pre-attached to each board. So before buying, check to see if the laminate boards come with underlayment attached to them.
On the other hand, if your flooring doesn't come with pre-attached underlayment you should consider the three above choices. You may want to buy underlayment that provides the sound-dampening, health, and/or comfort advantages mentioned in today's article.
Foam is your cheapest option, but the least eco-friendly. Cork is a great middle option because it's a natural product that features health and safety benefits. Felt is the traditional industry standard, offering many of the same benefits as cork, but at a higher price.
If you have any comments or first-hand experiences with felt, cork, or foam underlayment, please post them below or share your pictures via our social media.
Back to Top