In today's article, I am going to look at the best coatings and coverings to keep your garage floor in the best condition so they continue to look good.
While you might think of the concrete flooring in the garage as one of the easiest to maintain, it is a very challenging area of the home. Oil stains and other chemical stains pop-up easily; there is no way to hide cracks and no easy way to polish it once it starts to look worn.
You are also more limited in your options when it comes to the garage, as your floor needs to deal with more dramatic changes in temperatures and humidity than inside your home, and as such, it needs to be durable enough to deal with garage traffic.
So, what can you do when your concrete garage floor needs a facelift?
There are a lot of great garage floor coatings and coverings out there, which can both protect your floor from damage and give your garage an entirely different aesthetic from that of a concrete box.
Below, I am going to go through the best coating and covering options, the pros and cons of each, and when to use them. I'll also talk about what to consider when choosing the best flooring for your garage and how to prepare your concrete garage floor for whatever coating or covering works best for you.
But first, a word on coatings vs. coverings…
Coatings vs. Coverings
When you are looking to refresh your garage floor, you have two options: a coating or a covering.
Coatings are thin coverings that adhere directly to your concrete floor slab. Think sealer, paint, or epoxy. These are designed to modify your concrete floor, but pretty much keep it as is.
Coverings are installed on top of your concrete floor and are similar to the flooring options you might use in other parts of your home. The difference is that, unless you are converting your garage for a different use, these coverings need to be more durable than what you use inside of your home. You won't want to install Vinyl Plank flooring in the garage, for example.
They need to be able to deal with the weight of a car, plus all the debris brought in by the car or blown-in when the garage door is open. Your garage floor also needs to be able to deal with more serious spills, such as oils and chemicals.
The flooring you use in your garage also needs to be less susceptible to moisture damage and warping in changing temperatures. This is because the garage tends to be less insulated against these elements than other areas of your home.
These factors have traditionally meant less aesthetically pleasing floors in your garage than in the rest of your home. But the reality is that there are a lot of garage flooring coating and covering options out there; these can be both functional and attractive.
Let's take a look at some of them.

Best Garage Floor Coating And Covering Options
Rollout Mats
Our team reviewed a new product that recently hit the market that we absolutely love! The product is called Garage Grip and is made by a 100 year old company based in Dallas, TX. Here is what sets this product apart from any competitor:
Durability: The material has been specified as ultra-rugged spill containment and is the same material used by the largest oil and gas companies on their sites.
Waterproof backing: No need to worry about damage to the base floor underneath
Self extinguishing: Yes, you read that right!
Stain resistant: Our testers put gasoline and drain oil on the mat and it did not stain or discolor
Easy to install: Free float, double sided taped, or TPO Adhesive
Polyester scrim reinforced: Unlike polyvinyl sheeting that uncontrollably expands and contracts with temperature swings, Garage Grip can handle all weather conditions
Non-slip surface
Made in the USA
Where to Buy?
Products can be found directly at Garage Grip. Depending on the size of rollout mat you go for, you can expect to pay between $2.50-$4.00 per square foot. For the quality you receive, our reviewers rank this product high on value.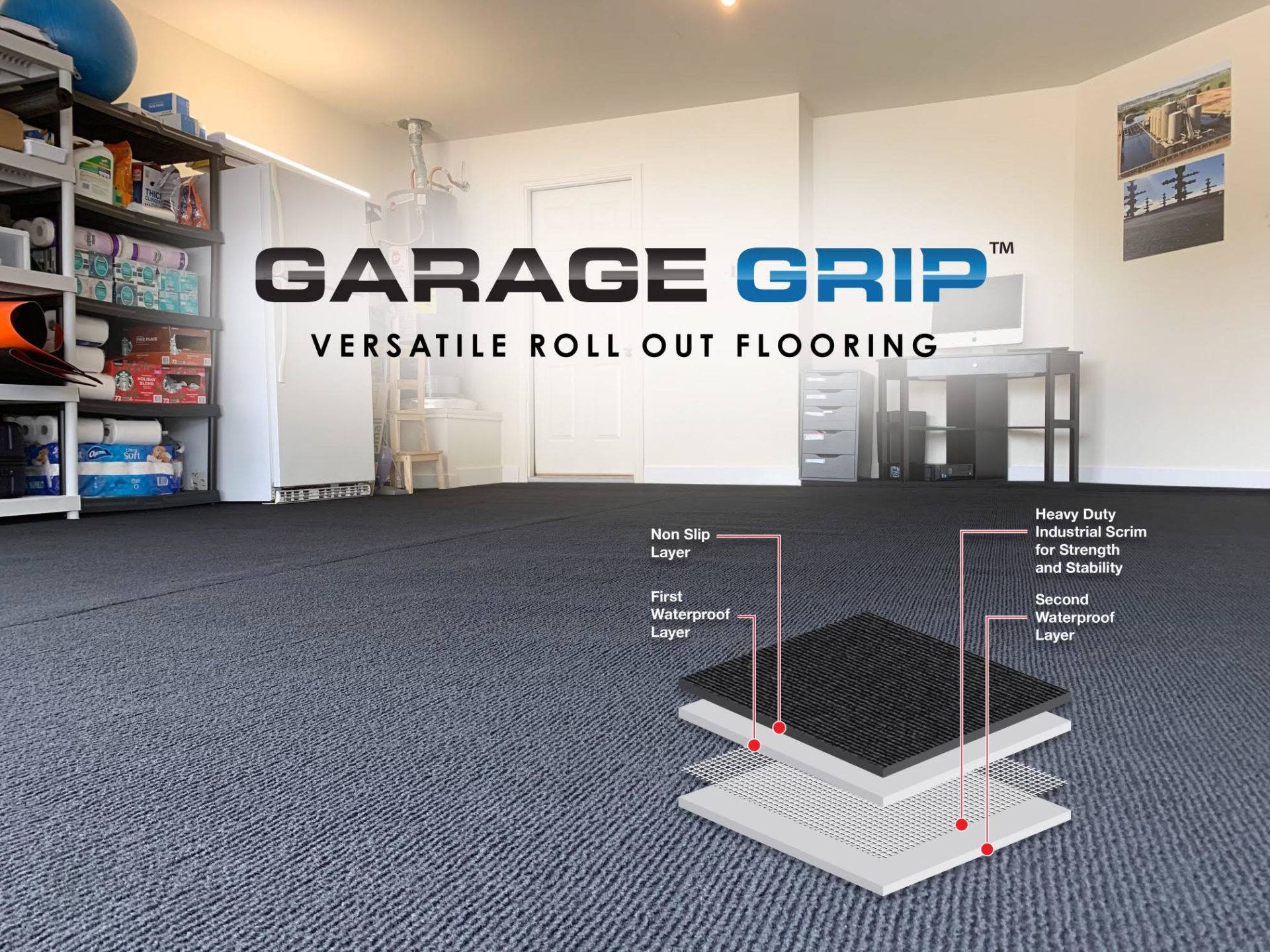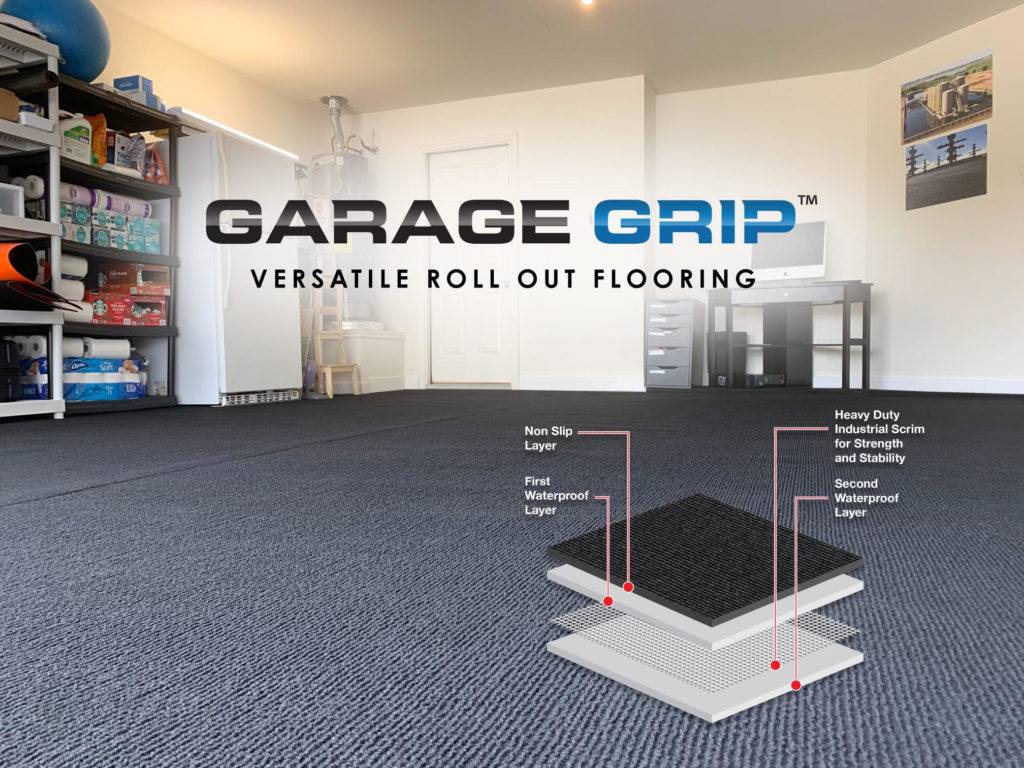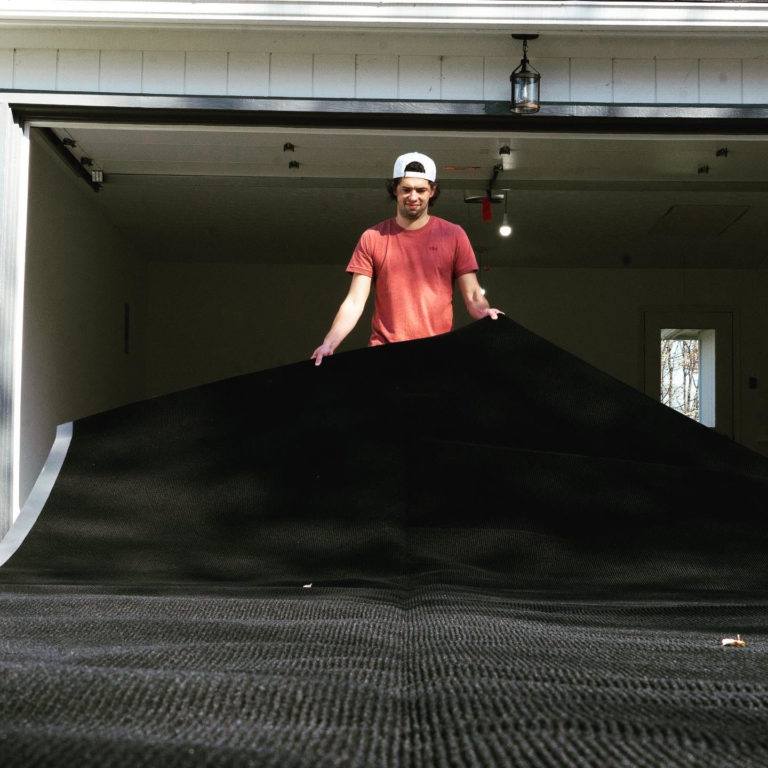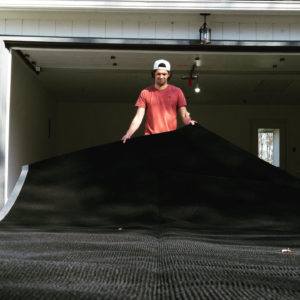 Concrete Sealer
If you are struggling with a dowdy looking concrete floor in your garage, but your budget is tight, simply sealing your concrete floor with concrete floor sealer is an affordable option that might be enough to make a difference.
The sealer itself will ward off future stains, while the slight sheen in the sealer can make your floors look that little bit fresher and more stylish.
You will need to choose between a solvent-based and a water-based sealer. The former offers the best protection and will last longer, but the latter releases fewer chemicals into the air, so it is worth considering if your garage is not well ventilated.
While concrete sealer is an affordable and easy DIY option, there are a few cons to bear in mind: the resulting floor can be slippery. Since this is not a long-term solution, the floor will need to be resealed every few years.
Concrete sealer will set you back just $0.15-$0.25 per square foot, and as we have already said, it is a DIY job so there are no hidden expenses.
While manufacturers will warrant the quality of the product upon installation, it is unlikely to be accompanied by any further warranty.
Concrete sealer won't revolutionize your garage floor, but if you are having issues with your floor and you don't have the budget to deal with them, then it is a viable option.

Concrete Floor Paint
If your main concern with your garage floor is aesthetics, rather than any real damage, then concrete floor paint is a quick and affordable way to give your floor a dramatic facelift.
Naturally, you will need to prepare your floor before painting, which means cleaning and filling any cracks. But if any deep oil stains won't come up completely, floor paint can cover them up. The painting itself is a DIY job; all you need is a paint roller and the right kind of paint.
You will need to choose between latex and oil-based paint. Latex paint is easier to apply as you can use it out of the can, and it dries with a matte, low-sheen finish.
Oil-based paint gives a high-gloss finish, but you will need to use a primer coat. But the resulting floor coating will be stronger than what you get with latex. Whichever way you choose to go, ensure to pick an option with a non-slip finish.
But while concrete floor paint is a simple and affordable way to give your garage floor a dramatic new look, it won't last. Paint is susceptible to solvents, salts, and other caustic materials, so you should expect to have to retouch or repaint every one to three years.
Concrete floor paint costs between $0.15-$2.00 per square foot depending on what you go for.
A simple, generic color is going to be much cheaper than a high-gloss metallic finish. But the beauty of floor paint is you have so many options. There is something for every taste and every budget.

Epoxy
If you are looking for the strongest and most durable coating for your concrete floor, you will be looking at epoxy. Just like paint, it comes in a variety of different color and style options, such as matte or high-shine, so it is both a practical and an attractive solution.
While epoxy is also applied like paint, it works quite differently, and therefore, delivers different results. While paint hardens through the process of evaporation of its solvent, epoxy coatings harden through a chemical reaction between a resin and a hardener. The result is a much more durable and long-lasting coating.
There are two main types of epoxy available for coating concrete garage floors:
Two-Part Epoxy With 100 Percent Solids
This is the best of the best as it does not contain any solvents, which means a harder, thicker, more durable finish. It dries quickly with a high-sheen finish within about 24 hours.
The chemicals in this option are stronger than the other varieties, so you do require excellent ventilation. This is also the most expensive epoxy option on the market.
Two-Part Water-Based Epoxy
This option is good if you are looking for a lower chemical output, perhaps because the space is not well ventilated. It will need longer to dry, two to three days, and the resulting coat will be thinner and less durable. It is also cheaper, so you will need to refresh the flooring more often.
With both options, you can go for a solid color or you can add extra slip-resistance and character to the floor with color flakes specially designed to work with epoxy. All you need to do is sprinkle them evenly over the surface while the epoxy is still wet. Afterward, you can simply sweep off the loose flakes, then scrape the floor with a metal floor scraper to get any flakes that are sticking up, and then sweep again.
Depending on the type of epoxy you use, the coating can make your concrete floor up to eight times stronger. You should only need to refresh the coating every 7 to 20 years. It is water-resistant, fire-resistant, and also resistant to germs and bacteria. But the toxic fumes that can accompany epoxy flooring should not be overlooked. It can also be quite slippery when wet.
Epoxy coatings are quite a bit more expensive than paint, and you can expect to pay between $3-$7 per square foot, with solid options at the top end of the range and water-based options at the lower end of the range. But you can save money as it can be a simple DIY project. Most manufacturers will offer a five-year limited residential warranty when epoxy is used in indoor spaces.
If you are looking for serious protection for your garage floor, as well as a swanky new look, epoxy coatings are by far the best coating option on the market.

Rigid Tiles
Moving from coatings to coverings, rigid tiles are another option that can be laid over the concrete floor and they offer a strong, stable base that is hard underfoot.
These types of tiles are usually made from very hard plastic, such as PVC, that can stand up to heavy weights, such as those that might be exerted when you are using a tire jack or kickstand. They also tend to be resistant to chemicals, oils, and grease, all of which are commonplace in the garage.
These tiles also won't expand and contract a lot with changing heat and humidity conditions. This can be important in the garage, as they do not tend to be as well insulated against the elements as the rest of your home.
Rigid plastic tiles generally come in sizes from 12×12 inches to 24×24 inches and they are about ¼ inch thick. They will snap together, which means they are both easy to install over a prepared concrete floor and easy to remove. There are many different styles available and it can create a very dramatic look.
The biggest problem with these tiles is that the snaplock seams are not airtight. This means liquids can seep underneath and cause mold problems between the concrete and the tiles.
This type of flooring isn't cheap, starting at about $2.50 per square foot for the most basic options and going up from there. The average price for these tiles is closer to the $4.25 per square foot mark. You can expect these tiles to come with about a 10-year residential warranty.
These rigid tiles are a great option if you are dealing with a cracked floor, and so coating simply is not enough. But be wary of proper installation to ensure against moisture issues beneath the tiles.

Flexible Tiles
If your garage is more of a workshop than a storage area, then a hard floor underfoot can be killer on the joints after a few hours. If this is the case, a flexible tile covering is a better option.
These work in a very similar fashion to rigid tiles, but they are made from flexible rubber or plastic, often in cool colors that resemble Lego bricks, but there are a lot of options out there.
They are installed with a simple snap-together system that tends to be more watertight than rigid tiles, meaning you are less likely to suffer from water seepage and mold. They are also the least slippery flooring option on this list.
However, unlike rigid tiles, these flexible tiles are susceptible to expansion and contraction in changing temperatures. This is something to be wary about when installing and when maintaining the temperature of your garage space. But, if you are using your garage as a workshop, this is something you might already have in mind.
These tiles cost about the same as rigid tiles, between $2.50-$5 per square foot. Many brands of these durable tiles offer a limited lifetime residential warranty, and you certainly shouldn't buy any tiles that come with less than a 10-year warranty.
When you need a durable floor to deal with car traffic, but you also want a comfortable floor to utilize your garage as a workspace, then flexible tile flooring is the best option for you.
Buying And Installation Guide
Main Factors To Consider
When choosing between these different solutions, there are a few questions you should be asking yourself to help you decide which option might be best for you.
What Is The Conduction Of My Concrete Floor?
If your base concrete floor is in pretty good shape, then the world is your oyster and you can paint, coat in epoxy, or cover as you see fit. But if you have quite a bit of damage to your floor, such as non-structural cracks, you will probably be better off with a covering than a coating to render these cracks invisible.

What Do I Use My Garage For?
Is your garage just a place for parking your car and storing other items, or do you also use it as a workshop for your weekend DIY projects?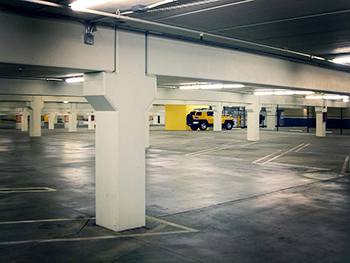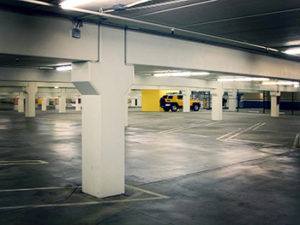 If it is the former, you are probably going to want the most durable option possible so it holds up for a long time under car traffic. If it is also your workshop, you are going to want to think about your knees and joints and go for one of the softer, but shorter-lived, options.

What Look Do I Prefer?
When you are coating with paint or epoxy, you get a lot of color options, but you are looking at a block color. If you are keen on a patterned option, then you are going to look at covering with tiles rather than a coating.

How Easy Is It To Install?
All of the coating and covering options on the list are easy to install and are a DIY job for any half-decent home handyman. The biggest challenges you are faced with are getting your coatings even and leaving space for expansion with your flexible tiles. So, unless you are a complete DIY novice, this probably is not a major factor.

How Easy Is It To Maintain?
None of these floors is difficult to maintain, either with regular sweeping and occasionally running a mop over the floor to keep them in relatively good condition.
Garage floors tend to have to put up with a lot of wear and tear, and sections can easily become stained. With coated floors, this may just be a case of recoating, and with coverings, it is not complicated to replace tiles when they get damaged.

Preparing Your Floor
Whether you go for a coating or a covering for your garage floor, this is not a solution for fixing damaged concrete slabs. Cracked and broken slabs will still be cracked and broken under an epoxy coating or a tile floor, and this can undermine the strength and stability of your garage floor. Your coating or covering choice will also do nothing to deal with moisture problems.
These are all things that need to be addressed before you apply your coating or covering.
First and foremost, you need to ensure your concrete slab is structurally sound. If you are dealing with major cracks and unevenness, it is time to call a professional.
You should also conduct a moisture vapor transmission test on your concrete to determine if you are dealing with significant moisture problems that may require professional attention before proceeding.
You can do this by taking a 16×16 inch piece of plastic sheet and taping it down around the borders to your garage floor using duct tape. Let it sit for 24 hours, and then peel it up. If there is condensation on the plastic or black spots on the concrete, then you may have a significant moisture problem.
If you have a moisture problem, none of these coatings or coverings are a good idea, beyond a rollout mat. If you apply paint when moisture is coming up from your concrete, the paint will quickly peel. If you apply epoxy when you have a moisture problem, it will create a layer which the moisture can't pass. But this means that the moisture builds up within the concrete itself, and it can cause structural problems.
Applying a tile floor directly on top will simply create a space between the concrete and the tile where moisture accumulates, creating mold.
But assuming your concrete is in good condition and just a bit worn, start by thoroughly sweeping the floor and clearing it of all dust and debris. This should reveal any cracks in the concrete that should be filled and patched with patching materials or mortar mixes. These are generally suitable for cracks up to ⅛ inch wide.
Once these repairs have been done, you will want to smooth the surface and sweep it again, before scrubbing thoroughly and leaving it to dry. You are then ready to apply your coating or covering.

FAQs About Garage Floor Coatings
What Is The Best Garage Floor Coating?
Epoxy is the most durable material available for coating tile flooring. Solid epoxy, which does not contain any solvents, can increase the strength of your concrete slab up to eight times. There are a variety of color options available, and you can also embellish the floor with colored paint flakes.

The main thing to look out for with epoxy is that it can release harmful chemicals in the air for a few weeks after application. For this reason, solid epoxy should only be used in well-ventilated spaces. If ventilation is a problem, it is best to use an epoxy solution that contains a water-based solvent.

What Are The Disadvantages Of Epoxy Flooring?
The main disadvantage with epoxy flooring is that it releases toxic chemicals into the air when applied, which can take a while to dissipate, and therefore, represents a health risk.

The other thing to be wary of with epoxy is that it should not be applied onto concrete that has a high level of moisture. It creates a water-tight barrier, which protects your concrete floor from water from above. But it also traps any water coming up through the concrete within the concrete itself. As water fills the porous spaces within the concrete, it can cause significant structural damage.

How Long Will An Epoxy Treated Garage Floor Last?
Once you apply epoxy to your garage floor, you can expect it to last i 5 to 10 years and stay in reasonably good condition.
The Verdict
There are a lot of options out there if you want to refresh your garage floor, protecting your concrete slab in the long-run and adding some character and style to your space.
Your first option is to coat your floor. If you are just looking for color, you can do this with simple concrete floor paint. If you want to create a firmer protective layer and add some color and style, then epoxy is a fantastic solution that will create a durable and attractive surface. Just watch out for toxic chemical vapors when installing in a poorly ventilated space.
If you prefer to cover your slab, perhaps better protecting and masking cracks, then there are several plastic tiles options on the market. There are rigid, durable plastic tiles that can hold the weight of a car jack with ease or flexible rubbery plastic tiles, which will feel better underfoot if your garage is also your workshop.
Whatever you go for, all of these options are easy to install and maintain, and they can completely transform the aesthetics of this often-overlooked corner of the home.
But remember, there is no kind of coating or covering that can deal with serious structural or moisture issues with your garage's concrete slab. If you are looking for a solution to this problem, it is time to call a professional.
If you have any comments or firsthand experiences with covering or coating your garage flooring, please post them below or share your pictures via our social media.
Back to Top