You're on the hunt for high-quality flooring, and you encounter SFI luxury vinyl plank flooring in your search. As a smart consumer, you want to know more about this flooring and whether it's a good investment for your home. Instead of spending hours doing your own research, we've got you covered with our detailed SFI luxury vinyl plank flooring review.
In this article, we'll take a look at SFI luxury vinyl plank, also known as LVP. This flooring is distributed by Southland Floors, Inc., a residential and commercial flooring distributor that has provided flooring to consumers since 1974. Southland Floors specializes in a variety of flooring types, including laminate, carpet, and tile, but in this post, we'll focus on the benefits, drawbacks, and features of SFI luxury vinyl plank.
We have encountered so many positive SFI flooring reviews. So we decided to deliver an in-depth article about luxury vinyl planks from this retailer, while also answering some of your most-asked questions. The thing is that there are other products similar to luxury vinyl planks, and people want to know more about the differences, pros, and cons.
If you're also wondering whether you should opt for luxury vinyl planks or luxury vinyl tiles, keep on reading and you'll learn about the major differences.
Is SFI Luxury Vinyl Plank Flooring Durable?
No one wants to spend thousands of dollars on flooring that is easily damaged over a short period of time. If you invest your money in new flooring, you expect to get at least a few years of use out of it. When you purchase SFI luxury vinyl plank flooring, do you get a high-quality flooring product, or does it fall flat?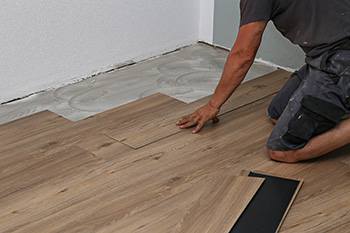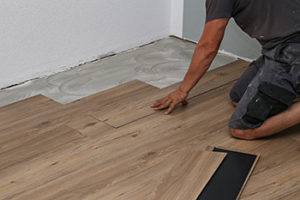 SFI LVP flooring is comparable to other high-quality brands of luxury vinyl plank. Consumers who have purchased this flooring in the past state that the quality is much higher than products available at big box stores.
Like other types of LVP flooring, SFI LVP flooring has several advantages over other bare flooring options like hardwood and laminate. With SFI LVP, you get the beautiful look of natural wood. However, this flooring is also resistant to scratches and even water – a claim that neither hardwoods or laminate can boast.
SFI LVP is waterproof, so it can be installed in rooms with high levels of moisture and humidity, like your bathroom or laundry room. It can even be installed in below-grade rooms like basements. SFI LVP is also very resistant to scratching.
However, this flooring isn't completely without drawbacks. Over time, SFI LVP – similar to comparable LVP products – may dent under the weight of heavy furniture or appliances. Furniture coasters or protectors can help prevent this problem.
Sharp objects should also be kept away from your floors, as these may lead to rips and tears. Use leg protectors on your furniture, runways when moving furniture, and remove high heels when walking on your floors. Also, keep pet nails trimmed to prevent them from damaging your floors.
Over time, your SFI LVP may fade in areas where it is in the path of excessive sunlight. You can avoid this problem by using rugs in these areas, or using window treatments to limit the amount of sunlight hitting your floors. If you use rugs, make sure to use rugs that do not have rubber or latex backings.
Even though there are a few precautions to take with your SFI LVP floors, these products are extremely durable. You won't have to worry about objects easily scratching your floors, and you also don't have to worry about staining, warping, buckling, or the risk of mold if it is exposed to water.
All SFI LVP flooring products also come with a manufacturer's warranty. This protects your investment from issues that may arise due to a manufacturer's defect in craftsmanship.
Is SFI Luxury Vinyl Plank Flooring Affordable?
If you're like most consumers, you have a budget in mind for your floors. If you're a budget-conscious shopper, how does SFI LVP stack up to other brands, as well as other flooring types?
Before we get into LVP pricing, please note that this is just a range of costs and not exact pricing. The price you pay for your product depends on the style selected, where the flooring is purchased, and other factors.
On average, though, expect to pay around $1 to $4 per square foot for SFI luxury vinyl plank flooring. Compare this to an average of around $2.50 per $4.50 per square foot for other LVP floorings, and you'll see that SFI's products are very competitively priced.
You can see even more savings when you compare SFI's LVP to other types of bare flooring. For example, hardwood flooring can be as cheap as $3 per square foot, but costs could rise to over $10 per square foot for exotic species.
Is There A Good Selection Of Colors & Styles?
You want to purchase flooring that fits your style and complements your home. When shopping SFI luxury vinyl plank flooring, does this brand offer a wide selection, or are its choices of colors and styles limited?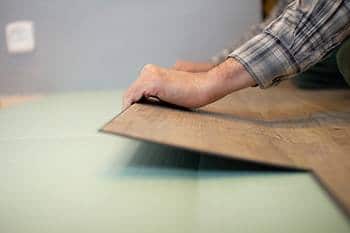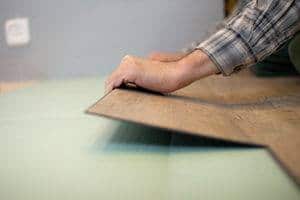 No matter what color or style you're looking for, you can find it with SFI's LVP products. SFI offers a wide range of collections, colors, and styles to fit the needs of any consumer. From sleek and modern to rustic and chic, you can find what you're looking for with SFI LVP.
SFI LVP comes in a variety of style collections including Belfour, Berkeley Plank, Berkeley Plus, Brussels, Equinox, and Cambridge Plank. There are plenty to choose from. Go light and bright with colors including Mahogany, Blanched, or Burled Oak, or go deep and dark with shades like Chocolate Oak and Mocha.
SFI LVP comes in many different styles, whether you want a deeply textured, aged look or one that is more timeless and classic. All SFI LVP products are designed to mimic the look of real wood at a fraction of the cost.
Is SFI Luxury Vinyl Plank Easy To Clean & Maintain?
Like other brands of LVP flooring, SFI's products are extremely easy to clean and maintain. You won't have to worry about using special products or avoiding wet mops like you would with laminate, hardwoods, or other types of bare flooring.
For daily cleaning, you can use a broom or hard floor vacuum to remove dirt, dust, and debris. If you need a little extra cleaning power, a wet cloth and water can do the job.
For those extra-tough jobs, you can use a rinse-free cleaner to keep your floors looking their best. Avoid cleaners containing soaps and detergents, as these can leave behind a film that dulls the surface of your flooring. You can use a wet tile mop on your SFI LVP floors since they are waterproof.
You also want to avoid the use of any waxes or oils on your floor. If you prefer to skip chemicals and cleaners altogether, you can invest in a steam mop that cleans your floors using just water.
The only real drawback to LVP is that when it becomes worn or damaged, you can't refinish it like hardwood flooring. Instead, you have to remove the flooring and replace it. This can be time-consuming, and it can also be expensive, depending on how often you have to replace your flooring.
However, with proper care, you should expect your SFI LVP flooring to last approximately 10 to 20 years. Just remember to keep in mind the tips given earlier in this article for how to protect your new flooring.
Can I Install The Flooring Myself?
How you install your SFI LVP flooring varies based on the product you select. People install some types as a floating floor without the use of glue or adhesives. People also glue down other products to the subfloor beneath.
One of the major drawbacks of SFI LVP flooring is that the distributor does not make installation instructions readily available. Most manufacturers and distributors have product installation instructions available on their websites. This is where SFI falls short.
You can, of course, use general guidelines that you find online to install your LVP floors. Unlike with hardwood or tile installation, you will not need any special tools. You can also install the flooring yourself if you simply take your time and follow the general instructions for installing LVP.
However, if you don't have the skills or time to install the flooring yourself, you can hire a contractor to do the job. The price for floor installation is measured by square feet and on average, you should expect to pay about $4 to $7 per square foot for professional installation.
How Can I Install Luxury Vinyl Flooring?
As mentioned, you don't actually need a floor installer if you decide to opt for a luxury vinyl plank from SFI. Wood floors, for example, require expertise, but that doesn't apply to luxury vinyl.
Start by educating yourself on the topic. These days there is so much useful information available online that you can use to install the floors you've purchased. You'll be happy to know that this flooring type is actually one of the easiest to install.
Now, how does the installation actually work? And will you be needing any tools or chemicals before you start the process?

Plan
The first step of your mission is to plan how you'll apply the flooring in the room. It should be properly aligned, and look pleasing aesthetically. You can't just choose any direction and start placing it, this should be a strategic plan that will make the job easier for you.
All of the pieces of flooring should be parallel to the walls and between each other. One of the problems that you might encounter is finishing off with a row that is not parallel, but the chances are it's not your fault. Not all rooms are equally built and not all walls are perfectly parallel.

Clean
You need a clean surface to lay the floor on. Remove all the parts of the surrounding walls that are moldy or any portions that stick out.
If you can, take the doors out, you'll have much more accessible space. Doors can only bother you while you're installing the vinyl plank.

Prepare
After cleaning, you need to prepare the old floor the SF luxury vinyl will be installed on.
There shouldn't be any problems placing the vinyl plank on top of any kind of floor. But you need to know that there shouldn't be any protrusions or holes before you start. That's why you need to buff irregularities and fill any holes.
The smoother the surface is, the easier installation will be for you.

Start
You can officially start working on the first row of planks. Choose the wall where you'll begin and you're ready to go. The best tip you can get is to plan the size of the planks beforehand.
You can cut the vinyl planks to your liking and according to the size of the room. As I mentioned, it should be a pleasant view to the eye. Place the longest plank in the center and use the shorter ones on both sides.

Go!
Now that you've determined the size of the planks and cut them, you can start installing them. Most of the luxury vinyl planks have a special system that works with the fold-and-lock method.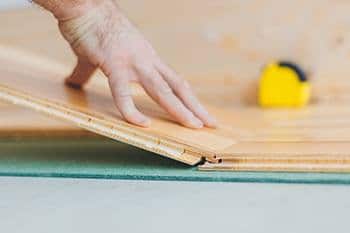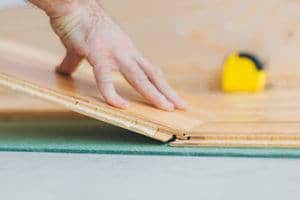 It all depends on the type of luxury vinyl planks that you'll purchase. Some have an end-to-end principle of installation, while other types feature an edge-to-edge installation.
All you need to do is place the first plank on the floor. Add the second one right next to it, but place it at an angle, so that the two planks can click. When you lock them, that's when you know that you can continue to the next one.
Can you imagine finishing an entire room in only a few hours? Yes, that's how easy it is with luxury vinyl.
SFI is a great flooring company that offers the best installers, in case you don't have the time to do it yourself or simply it isn't as easy as you expected.
FAQs:
Is Luxury Vinyl Plank Flooring Better Than Laminate?
When it comes to flooring, it's all about personal preferences. I can only compare these two flooring types from my personal point of view, and then you'll need to make a decision.
Appearance
To start off, these two look very similar when you first take a look. Although they are made of two completely different materials, it's easy to notice the similarities. Both of these flooring alternatives mimic the appearance of wood, making them look very realistic (and sometimes expensive).
Installation
Many ask whether LVP is easy to install. The answer is that this is an easy flooring to install, especially if you have previous experience with flooring installation. Even if you don't, you can watch tutorials online and learn how to do it.
The same thing applies to laminate, so there aren't any major differences in this category.
Price
Usually, luxury vinyl is a bit more expensive than laminate flooring. But still, you can find so many alternatives that this doesn't have to be the case. SFI, for example, offers products at different price points, making it easier for customers to adapt to their budget.
Care
Luxury vinyl planks are easier to maintain than laminate. If you were concerned about maintenance, feel free to turn directly to SFI Flooring and get their recommendations.

What Is The Difference Between Luxury Vinyl Tile And Luxury Vinyl Plank?
The main difference that most people will notice between a luxury vinyl plank and a luxury vinyl tile is the appearance.
Luxury planks are meant to copy the look of wood flooring and are used in different rooms around the house including high-frequency areas. This floor plank is very durable, which makes it great for kids and pets.
Luxury vinyl tiles, on the other hand, are supposed to mimic the appearance of ceramic tiles or stone tiles. They can also be used in almost all of the rooms you can think of. These tiles come in a wide array of colors, similar to ceramic or stone tiles.
Just like planks, the tiles are very durable and easy to maintain, but you might want to think twice before installing them yourself. After all, these are tiles and require more skill and patience to install.

How Long Does Luxury Vinyl Floor Last?
The reason why so many people opt for VLP is that this is a very durable material. Aside from looking very much like expensive wood floors, this flooring type can last for generations in your house. Luxury vinyl planks are resistant to scratches and stains, so they will look new in your home even after several  years of use.
There is no right answer on how long VLP will last, but in most cases, it can last up to 20 years. Impressive, right? The secret to this long lifespan is, of course, proper maintenance. You don't have to scrub or clean it every single day, just avoid using harsh chemicals.

Does Luxury Vinyl Plank Need Underlayment?
In simple words, LVP does not need underlayment. This is a type of floor you can simply put on top of your already existing one.
The whole point of using underlayment is to improve the sound barrier, better comfort, improve the moisture barrier, and reduce noise. Certain flooring materials need this, so the entire job becomes much costlier than predicted.
Now that you're considering getting luxury vinyl planks for your home, you're probably worried whether you'll also need to spend on the underlayment. The good news is, you probably won't need to. The great thing about this flooring is that you can install it on top of your existing floor.
There are still things to consider, such as filling any prominent holes or removing parts that stick above the surface. You can consult professionals before making any installation decisions, if doing so eases your mind.
If you decide to add underlayment before installing LVP, make sure it's a dense material. Softness is not the best friend of this type of flooring, it can easily cause spaces and dents between the planks.
Final Verdict
Overall, SFI luxury vinyl plank flooring is very comparable to other top brands in the LVP space. Not only is it extremely durable and easy to maintain throughout the years, but it also has a very competitive price.
Yes, you can find LVP in retailers such as Home Depot, or Lumber Liquidators, but we're so happy with this flooring company that we'll always recommend SFI floors to everyone we know.
The wide selection of colors and styles helps SFI stand out among other brands. There is a great selection to choose from, and most consumers should find flooring that will look great in their home or business.
One area where SFI LVP falls a little short is its lack of installation instructions. This could be a problem for homeowners that want to tackle their installation as a DIY project. However, you can find general guides and tutorials online that outline the tools and steps that need to be taken for a successful installation.
We also included a short guide on how to install LVP, which can be very helpful, even to those who are trying home installation for the first time. After watching a few tutorials and reading our step-by-step instructions, you won't have any problems installing the LVP flooring you ordered from SFI.
If you have any comments or first-hand experiences with SFI LVP floors, please post them below or share your pictures via our social media.
Back to Top