Over time, your hardwood flooring will start to tarnish and age. You'll need to refurbish your wooden floors to make them look new again. But what are hardwood refinishing costs, and can you afford it?
Today's article will address both questions.  Find out what the benefits of refinishing your hardwood floors are and what to consider before you get started. Learn how much it will cost you to refinish your hardwood floors yourself and determine if it's cheaper to hire a professional for the task.
We'll answer all your questions about hardwood refinishing, so continue reading to find out more.
Benefits Of Refinishing Your Hardwood Floors
If you want new floors and are debating whether to refinish your existing hardwood floors or replace them entirely, then consider your budget. The benefit of refinishing your existing floors is that you will save a significant amount of money.
Even if you hire someone to refinish them for you, the cost is still less than installing new hardwood.
However, if you have no plans to replace your floors and are just curious about the cost of sprucing them up, there are still benefits to refinishing them. Your home will have a new, lively feel to it with fresh floors.
And if you are considering putting your home on the market anytime soon, then nice hardwood floors will certainly add value to the price of your home.
But before you call up a contractor or head to the home improvement store for supplies, there are a few factors to think about.
Things To Consider
First, you'll need to check the thickness of your existing hardwoods. If you are in an older home, these floors may have been refinished multiple times already.
And at some point, they could become too thin to sand down and refinish again. It is best to have at least ¾' thickness or more before you start.
Also, keep in mind that humidity can impact the rate that your stain and finish dry. The more humid the environment, the longer it takes.
If you live somewhere with a lot of humidity, it might be best to wait until the weather cools down and becomes drier.
Finally, it will be messy.
Dust will be everywhere. And the smell of stains and finishes will impact the air quality in your home throughout the project.
You may want to consider moving your family to a hotel or staying with friends or relatives while the floors are being refinished.
DIY Cost To Refinish Hardwood Floors
If you are on a tight budget or enjoy doing home improvement projects, then you can save significantly by refinishing the floors yourself. This is a relatively easy project,especially if you are a seasoned do-it-yourselfer.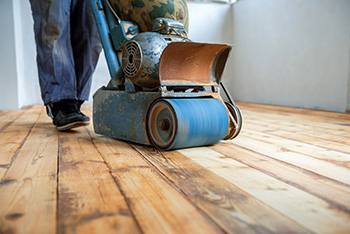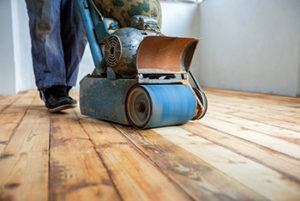 You can rent the sanding equipment and buy sanding pads from your local home improvement or hardware store. This generally costs between $300 and $400.
Additionally, you'll need to buy stain, finish, and brushes or sprayers to apply these products to your floor.
Wood stain is not expensive;it generally costs under $10 per quart. And each quart can cover around 275 square feet.
Finish is a little costlier, but getting a good finish is important because it is what helps to protect your floors so that you don't have to refinish them again anytime soon. It prevents scratches, stains, and scuffing
The price for finish generally ranges between $50 and $90 and covers about 700 square feet. (Keep in mind, you will have to apply several coats to your floor.)
By these standards, if you were to refinish your hardwood floors yourself, it would likely cost less than $500 for 275 square feet of space.
Cost To Have Your Floors Refinished
DIY projects are not for everyone. Even if you choose to pay someone to refinish your floors, it still comes out to be less expensive than replacing them with new ones.
So, what does it cost to have your floors refinished by a professional? On average, you can expect to pay between $1.50 and $5.00 per square foot.
This may sound like a broad price range; however, there are several factors that can impact the overall cost of having your hardwoods professionally refinished.
The labor costs will include the amount of time required to prep the area, plus the cost of sanding, staining, and refinishing the floors.
The size of the space also impacts the price.
This may surprise you, but sometimes smaller spaces end up costing more than larger spaces, particularly in tight areas like bathrooms or laundry rooms where sanding equipment cannot fit.
If you have old flooring such as carpet that needs removing,, or furniture that must be moved to another room, you can expect a charge for these services as well.
Refinishing a staircase can also increase the cost of the project – sometimes by as much as 50 percent. This project generally costs anywhere from $40 to $75 per stair.
Finally, you may incur a trip charge if you do not live in or near a major metropolitan area.
FAQs
Is It Cheaper To Refinish Or Replace Hardwood Floors?
Ultimately, refinishing your floors will cost less than replacing your hardwood boards. If you decide to replace your hardwood flooring, you'll spend money on removing your old floorboards by ripping them out. Then you'll have additional costs for buying new hardwood floors and installing them.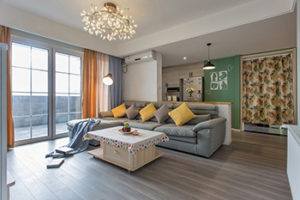 There may be a few hardwood floorboards that you can replace if you really can't salvage them. But replacing your entire floor with new hardwood will cost you a lot of time and money. You can expect to pay between $2,495 and $6,750 to redo your hardwood flooring, which will probably exclude labor costs if you're having it done professionally.

How Much Does It Cost To Refinish Hardwood Floors Yourself?
The average cost to refinish hardwood floors yourself ranges between $50 and $90 to cover 700 square feet of flooring. But you'll have to factor in other costs for coatings, labor, and sometimes replacements for parts that are severely damaged. Therefore, if you're refinishing your floors yourself, it may cost you up to $499 to refinish 275 square feet.
If you refinish your own hardwood flooring the DIY way, you won't have to factor in labor costs. Simply ensure you have the correct equipment so that you don't damage your wooden flooring. Your refinishing project may take some time when doing it on your own, but you'll save a lot of money doing it yourself.

What Is The Cheapest Way To Refinish Hardwood Floors?
The cheapest way to refinish hardwood floors is to do it yourself, but such work requires the correct equipment and products. First, you'll need to strip the old finish off of your wooden floors. To do this, you'll need to buy or rent an industrial floor sander. These sanders will remove stains and finishes fast and without hassle.
After you've sanded down your floors, you can clean up the dust with a vacuum cleaner. Then you can apply a floor polish, using an orbital buffer to work the product into the wood. Allow your floor to cure for two to three weeks so it can become durable and waterproof before you move furniture back into the room.

How Much Does It Cost To Strip And Refinish Hardwood Floors?
Stripping and refinishing hardwood floors can cost you an average of $1,746, or $3 to $8 per square foot. For large and complex rooms you can expect to pay between $600 and $4,000 for 500 square feet. Cost will depend on the size of the room you're working on and how severe the damage is.
If your hardwood floors are only slightly worn, you could get away with simply recoating them without sanding the wood. This will cost you $1 per square foot of flooring. For complex finish jobs that include sanding and applying stains or finishes, you can expect to pay between $4 and $5 per square foot.

Can You Refinish Wood Floors One Room At A Time?
No, you can't refinish hardwood floors one room at a time if the floorboards continue into another room. You must sand the entire area so that you can strip the floorboards evenly. Then you'll need to apply your coating and inish to the floor without missing spots.
If you decide to work on one room at a time, your floors will have an uneven finish, which will make them look different. You want the aesthetics of your wooden flooring to be consistent throughout your home, so it is ideal to refinish your entire floor at once.
On the other hand, If you want to work on one room at a time, you'll have to install a transition piece that separates all the rooms. Additionally, you'll be able to refinish one room at a time if each area has a different type of hardwood flooring.

How Long Does Refinishing Hardwood Floors Take?
It will take you from three to five days to refinish your hardwood flooring. It will also depend on how many coats of product you'll need to complete the refinishing and how long it will take to dry.
After you've completely refinished your hardwood flooring, you'll have to stay off the floors for at least 24 hours so that it can dry properly. For at least 48 hours, you should refrain from walking on the floors with shoes. Wear socks when walking on your newly refurbished hardwood floors to avoid shoe prints all over the new coating.

Is It Worth It To Refinish Your Hardwood Floors?
Yes, it's worth refinishing hardwood floors instead of replacing them. Refinishing is cost-effective, it's quicker, and it's a lot easier because it requires less labor.
If you want to replace your hardwood floors, you have to rip them up and find a way to dispose of the boards. Then you have to find an excellent retailer that sells high-quality hardwood flooring. Additionally, you'll either have to install the floorboards yourself or get a professional to do it for you.
Refinishing your hardwood flooring doesn't require as much labor, and you only need sanding machines and a floor polisher, which you can rent. You'll then need proper coatings or stains of your choice. A refinishing project takes less time and effort and, if done properly, can make old flooring look brand new. So it's certainly worth refinishing your wooden floors.

Can You Pick A Different Color Stain When Refinishing Hardwood Floors?
Yes, you can choose a different color stain for your hardwood floors. When you sand your floors down, you're basically removing old stains and finishes. Once sanded, your floor will have its natural wooden surface exposed. That way you can pick any stain color you want for the project.
Make sure the stain you pick complements the aesthetics of the room and your interior decor. Avoid low-grade wood stain because it can negatively impact the durability of the wood. Low-grade wood stains may also cause mold growth and may fade over time.
There are high-quality wood stains on the market that will add a thin layer of protection to the surface of your floors. A high-quality stain will protect wooden floors from surface soiling and UV degradation.
You can expect to pay $79 for a gallon of high-quality wood stain for your floors, which is much cheaper than buying brand new hardwood floorboards.

What Is A Hardwood Floor Screen And Recoat?
A screen and recoat is when you give your hardwood floors an extra sheen. Screening means to buff your floors before applying your coating, which will protect the surface of your floors.
Screening is done with an industrial floor buffer to smooth out the surface of the wood with an abrasive pad. Buffing allows the coat to adhere to the wooden surface more effectively. The screen and recoat process restores the glow of the wood for a new and improved look.
In Conclusion
Now that you know more about hardwood refinishing costs, you can start planning to do the task yourself or get a professional to do it for you. Refinishing your floors the "DIY way" will cost you a lot less, and it's easy enough to do yourself.
All you have to do is buy the correct products, such as stains or coatings, and rent the equipment you need, such as orbital sanders or polishing machines. Make sure you remove all furniture and rugs from the room before you start.
It may take you some time to refinish your wood floors, and your home may have an odor afterward from the coatings you pick, but it will all be worth it in the end. You'll also have to spend time away from the rooms after you refinish your floors, but afterward they'll have durable coating on the surface.
There are many advantages to refinishing your hardwood floors, such as giving your home a stunning new look. If you've done the refinishing correctly, it will look as if you've replaced your hardwood floorboards.
Do you think the hardwood refinishing costs are worth it? Do you think replacing your wood floor is the better option? Let us know what your thoughts are by leaving us a comment below. We would love to hear about our readers' experiences with refinishing or replacing hardwood flooring.
Back to Top