Are you considering vinyl plank flooring as an affordable alternative to hardwood floors? Vinyl is quickly becoming extremely popular as a way to get the hardwood look without the hardwood price, and it also holds up better than natural woods in moist conditions.
But how affordable is it really to install vinyl plank flooring? There are the planks themselves, underlayments and extras, removing your old floor and prepping your substrate, and then laying your new floors, either as a DIY project or with the help of a professional.
How much is it really going to add up to?
The final cost of installing vinyl plank flooring is going to depend on the decisions you make about a variety of features. But we are going to dive into each element and discuss the real costs, so that you can get a good idea of how much it is likely to cost you to install your new vinyl plank flooring.
Cost Of Planks
SPOILER ALERT! Planks cost $4.00–$7.00 per square foot, and you will need to buy 10–20% more than your actual square footage. You can expect a warranty of around 20 years for residential installations.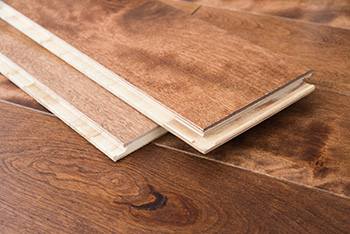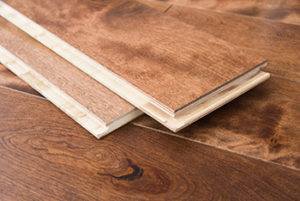 The first question you will face when pricing your floor is choosing your planks. This is often a matter of "pay now or pay later."
Vinyl planks can cost as little as $2 a square foot. But, as with anything, you tend to get what you pay for. You may find the least expensive options won't meet your needs, and you might have to replace them sooner than you'd expect.
If you want your floors to hold up over time, it's worth opting for a mid-priced plank. Luxury vinyl planks are waterproof and have better wear resistance. Unfortunately, they can cost almost double the price of bargain materials, costing at least $4.oo per square foot.
Your local big box store might offer cheaper solutions, but you'll run the risk of lower quality and less support. Higher-priced planks feature better padding, thick topcoats, and longer warranties. Look for a brand that's up-front about their manufacturing, certifications, and the durability of their products.
If you're using planks in a high-traffic area, it's worth spending more on quality materials. Cheaper planks are prone to staining and scratching, and actually installing them can be a nightmare.
In reality, you should be budgeting between $4.00–$7.00 per square foot for decent vinyl plank flooring.
Here are some example costs from some of the leading vinyl plank flooring brands:
Most of these manufacturers provide a warranty at around the 20-year mark for residential installations, though cheaper options with a thinner wear layer may only offer 10 years of coverage.
Also, remember that you will want to buy 10 t0 20% more flooring than you need in order to accommodate for trimming and corners.
This means that for a standard master bedroom around 12-by-12 feet, you should expect to pay at least $700 just for your vinyl plank flooring, before we even look at other materials.
Necessary Extras
SPOILER ALERT! The cost of necessary extras depends very much on the floors you have chosen and where you will install them. Have you selected boards with an integrated underlayment, or will you need to buy that separately? Are you installing somewhere with moisture and will therefore need a vapor barrier?
At a minimum, you should expect to cover the cost of trimmings, which cost between $0.50–$3.00 per square foot. Also, consider the costs of necessary tools if you are planning on doing the installation yourself.

Underlayments
If you want vinyl planks that reduce noise, add a layer of padding to the subfloor. Underlayments are especially beneficial when adding planks to a second story. If the kids are playing upstairs, they won't sound as if they're falling through the ceiling.
Underlayments keep your floors warmer and double as underfoot cushioning. Although many installs don't require it, your feet will appreciate the softer layer.
Some vinyl plank flooring options come with an underlayment attached to the bottom of the board, so that there is no need to buy or install a separate underlayment. While these will cost you a bit more, they also offer a serious economy both in material and installation costs.
If you are looking to buy underlayment separately, it can cost anywhere from $0.20 to $5.00 per square foot depending on the thickness and the quality you select.

Vapor Barrier
If you're installing vinyl planks in humid or damp areas, use a vapor barrier. Over time, these layers protect the planks from mold and mildew.
A multi-ply vapor barrier designed to sit between a subfloor and a new floating floor can cost between $.025–$1.50 per square foot.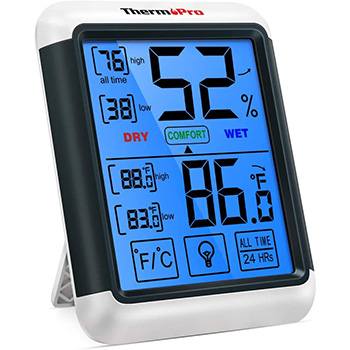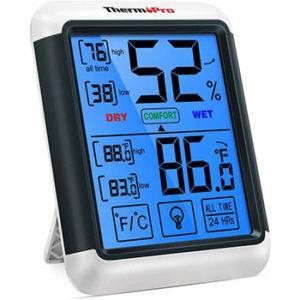 Do you have a way to monitor humidity levels? If the humidity level isn't right, you'll risk ruining your floors and voiding your warranty. You can buy a decent indoor monitor for less than $20.

Installation Tools
If you are planning on installing the floor yourself, there are a number of essential tools you will need.
A successful installation requires tools including:
You might also want to splurge on a pair of knee pads, as you will spend a lot of time on the floor during the installation process. Your knees will thank you for this later.
It is worth considering the costs of all these extras when assessing the cost of a professional installer.
If you're gluing your vinyl planks, buy the recommended adhesive and have a way to vent the fumes. Study the installation guide before starting, as this method is tricky and permanent.
Luckily these days, most vinyl plank flooring doesn't require gluing, as it comes with click-and-lock installation methods, which means you can just click the boards together and then tap them with the mallet to lock them into place.
There is some debate over which of these installation methods is best. As a general rule, gluing is recommended for high-traffic areas, while these floating click-and-lock floors are more suitable for secondary spaces.

Trims
Remember to include the costs of wall trim, transition strips, and stair nosing if applicable. You can expect trimmings to cost an average of $0.50–$3.00 per square foot depending on the options you go for and the difficulty of corners and other features.
Demolition, Disposal, And Preparation
Many people fail to plan for the disposal costs and demo time needed to do the job. If you're removing carpet or resilient floors, you might need a dumpster and an extra pair of hands. Depending on how much help you have, demo and disposal can take an entire weekend.
A dumpster can cost anywhere between $300 and $700 depending on the size you need and where you are located.
If you're removing floors with mold or asbestos, you'll need a certified expert to do the job. It's mandatory to handle these materials carefully to avoid exposure to harmful toxins. You might be tempted to remove it yourself, but don't., The health risks aren't worth it.
You can expect professional floor demolition to cost between $2.00–$3.00 per square foot, though expect to pay $30–$50 per square foot for demolition if there is asbestos involved. This is required to cover the cost of safety equipment and safe removal of the asbestos.
When installing vinyl planks over tile, you'll need to fill in any slopes in the flooring. Check that the subfloor is level to the manufacturer's specifications. If it isn't, be prepared for your planks to buckle and shift.
Lastly, inspect your subfloor to ensure it's clean and free of debris. Go over the surface with a heavy-duty vacuum before starting your installation.
Professional Installer
SPOILER ALERT! Vinyl plank flooring is relatively easy to install, so anyone with good DIY skills can potentially save money doing the installation themselves (especially if you already have the tools). If you need to bring in a professional, expect to pay between $2.00–$10.00 per square foot, though a minimum cost of $6.00 per square foot is more likely.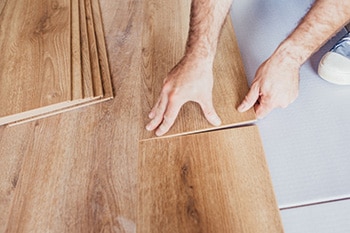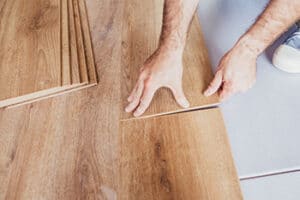 One of the benefits of vinyl plank flooring is that it is easy to install, so it's something you can do as a DIY job if you have a relatively good understanding of home DIY tasks.
But if you aren't up for doing it yourself, it's time to look at hiring a professional.
Look online to get an accurate picture of what professional installers in your area charge. Some websites enable you to submit information to receive custom bids. Referral sites like Homeadvisor and Angie's List also include reviews from past customers.
As a general rule of thumb, you can expect to pay between $30–$50 per hour for a professional. This works out at anywhere between $2.00 and $10.00 per square foot.
You can save money by looking for contractors who include the extras, as well as labor and disposal, in their estimates. An installer can knock out the floors in half the time it takes the average weekend warrior. Hiring a pro means never wondering if you have the time or ability to install your planks.
Installers guarantee their work from start to finish. If the planks are shifting, they'll often fix them without charge. At first, the up-front expenses might seem discouraging, but hiring an installer can work to your advantage.
FAQs
How Much Does It Cost To Install Vinyl Plank Flooring?
How much it costs to install vinyl plank flooring depends on a number of factors, primarily the type of vinyl planks you choose, and whether you choose DIY installation or decide to pay a professional.

Vinyl plank flooring generally costs between $2.00-–$7.00 per square foot, with better quality options starting from $4.00 per square foot. More expensive options often come with underlayment attached, so you can save a bit of money by not needing to purchase underlayment separately.

Hiring a professional installer can cost anywhere between $2.00–$10.00 per square foot, or $30–$50 per hour.

Is Vinyl Plank Flooring More Expensive Than Laminate?
Vinyl plank flooring and laminate flooring cost about the same, though top-quality vinyl plank flooring tends to be a bit more expensive.

Does Vinyl Plank Increase Home Value?
As a general rule, no, vinyl plank flooring will not add value to your home. If it is replacing a particularly terrible floor, it may add some value, but it does not have the same prestige on the market as hardwoods or tile flooring.

Does Vinyl Plank Look Cheap?
Whether or not your vinyl plank flooring looks cheap depends on the brand you go for. As a rule of thumb, if you go for discount options that cost less than $4.00 per square foot, they are probably going to look quite cheap. But more expensive options use sophisticated printing techniques that can give the genuine look and feel of hardwood or tile floors. When properly cared for, they do not look cheap.

What Are The Disadvantages Of Vinyl Plank Flooring?
The main downside with vinyl plank flooring is that it does not add anything to the value of your home. This is because it does not have the same prestige as other options, in particular hardwood, and also does not have the same longevity. If you look after your vinyl floors, you can expect them to last 20 years.
However, if they do get damaged, there is no refinishing them—they need to be replaced.

Vinyl is also a synthetic material, which means its creation has a negative environmental impact. Most vinyl plank flooring is also not biodegradable, so it could potentially sit in a landfill forever. Also as a result of its synthetic manufacture, vinyl can give off VOCs (volatile organic compounds), which are hazardous to your health.
In Summary
If you are looking at vinyl flooring because you are on a budget, you will want to have a firm idea of the costs before you start investing. But remember that costs don't just include the planks themselves and potentially the time of a professional installer to install them.
Remember that you will need 10–20% more planks than your square footage, and that you will need to purchase trim separately. Consider underlayments and vapor barriers. If you are installing yourself, do you already have all the tools or will you need to buy them? If you are paying a professional, will you also want them to remove your existing floor, and is asbestos a factor?
If you plan out your project carefully, you can get a good idea of what exactly you can expect to pay for your new affordable vinyl plank flooring.
Do you have any experience installing vinyl plank flooring in your home? Share your experience and advice in the comments section below.
Back to Top