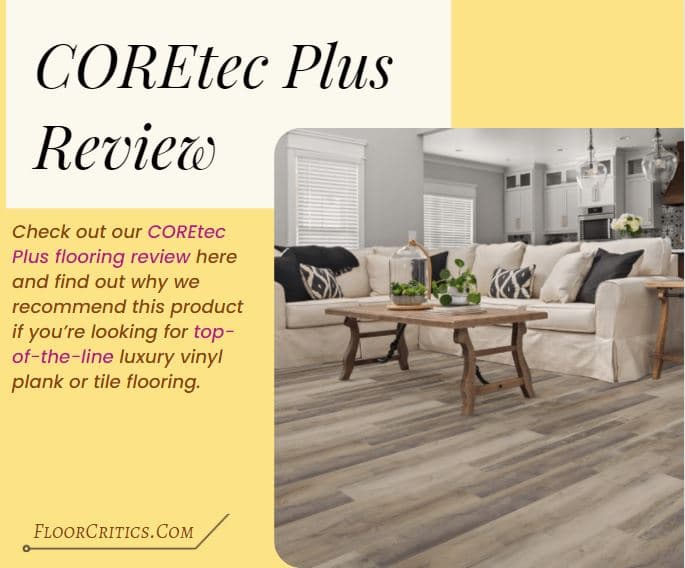 COREtec Plus LVP flooring looks and feels more realistic than its competitors, and it is at the higher end of the market when it comes to quality. In addition, COREtec Plus has done a lot to deal with health and environmental issues often associated with LVP flooring.
In this guide, we're going to take a look at the benefits and drawbacks of COREtec Plus vinyl plank across 9 key criteria.
Our Overall Rating of COREtec Plus Vinyl Plank Flooring
Below are our ratings for COREtec Plus flooring across 9 criteria. Keep reading for more details.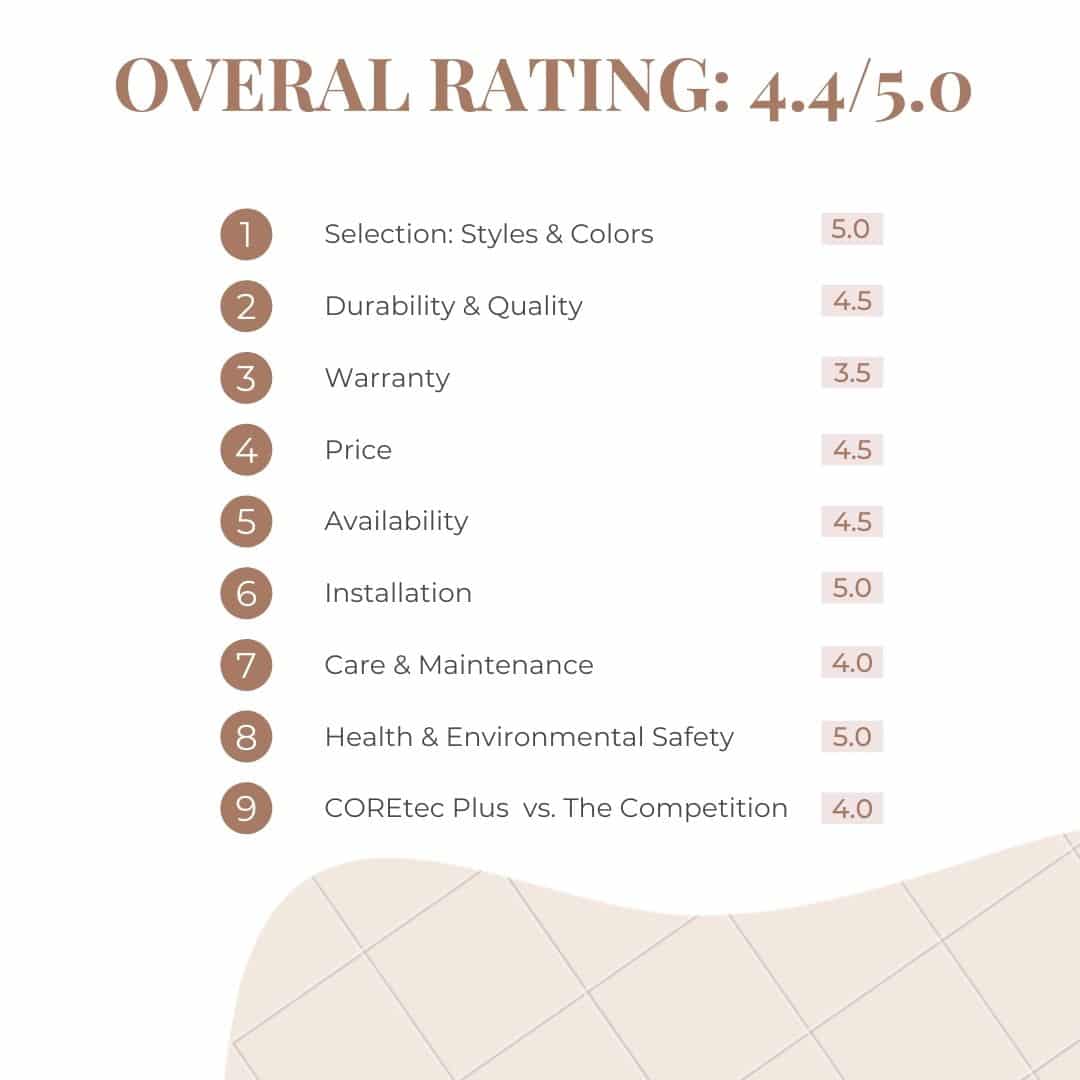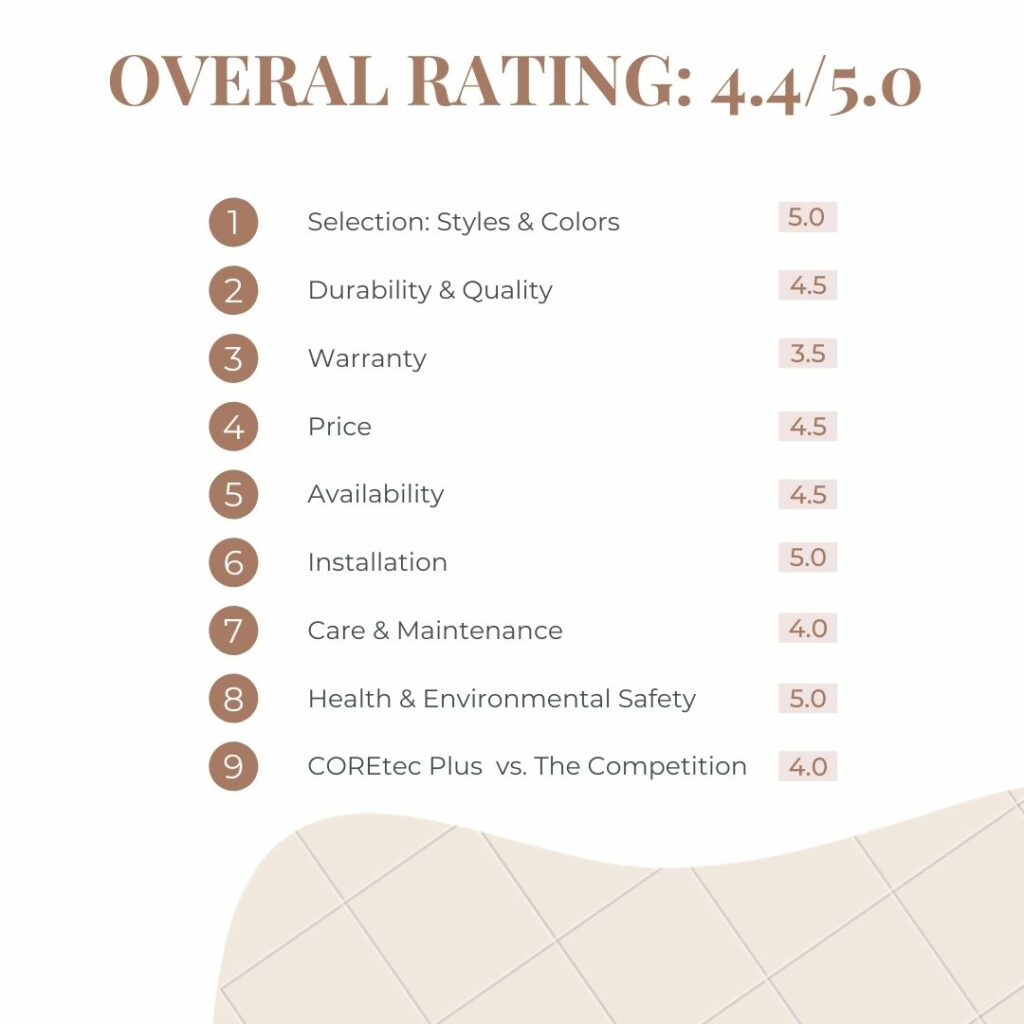 Pros
Cons
– 100% waterproof, kid-proof, and pet proof
– Uses a high-performance patented COREtec technology
– Absorbs sound for a quieter flooring
– A lot of styles, colors, and sizes to choose from
– Easy to install and maintain
– Very safe even for sensitive people even for children and the elderly
– More expensive than comparable products, but much cheaper than hardwood
– The planks are a bit dull-looking and will lose their sheen over time
– It is scratch-resistant, not scratch-proof
– It can be hard to claim a warranty in case you encounter problems
COREtec Plus Flooring Manufacturer Overview
This particular line of LVP flooring is made by USFloors, which opened in 2001 and began selling domestic floors in 2008. They are the leading producer and importer of sustainable, eco-friendly floors in the United States.
But in 2017, Shaw Industries purchased USFloors and the manufacturing trial runs of COREtec flooring were done at Shaw's manufacturing facility in Ringgold, Georgia. COREtec products are currently being manufactured in China.
The Complete COREtec Plus Luxury Vinyl Plank Flooring Buyer's Guide
1. Selection: Styles & Colors
COREtec Plus is available in more than a hundred styles and colors that mimic the authentic look of hardwood through their innovative Embossed In Register technology that produces defined grain patterns and perfectly coordinated grout lines.
There are many reasons why you might decide that wood floors are not appropriate for your home. It could be expense, or it could be durability, heating, or moisture concerns. But that doesn't mean you cannot achieve a wood look.
While most LVP flooring is designed to resemble hardwood flooring, COREtec does a better job of this than most. When you open the box, you could be forgiven for thinking that you were looking at engineered hardwood planks.
COREtec Plus HD
Sherwood Rustic Pine

COREtec Plus Premium 7
Pinnacle Oak

COREtec Plus Premium 7
Penmore Walnut

Source: COREtec
What Is COREtec Plus?
COREtec Plus is a high-quality luxury vinyl plank (LVP) flooring. This is a type of flooring made from polyvinyl chloride resins (PVC) and is manufactured by:
Melting down and combining the PVC with a series of other elements, such as stabilizers and fungicides, to produce durable and resilient materials
Pressing the mixture into multi-layer planks, designed to resemble hardwood floors
Most COREtec Plus lines come in planks but you'll also find tiles (they only come in two sizes). Moreover, COREtec Plus belongs to the COREtec Original collection that includes other COREtec Plus line varieties:
If you are looking for the best quality, check out the COREtec Plus HD line. It is extremely realistic-looking because it uses a registered embossing technique. The surface of each plank mimics the graining of wood. It also has thicker planks at 8.5 mm and comes with realistic-looking four-side painted micro-beveled edges.
COREtec Plus XL and XL Enhanced are the largest luxury vinyl planks on the market at 9 inches wide by 6 feet long. Because these planks are larger, they are among the more expensive options.
NOTE: Many people complain about darker colors making dirt more noticeable and the planks having a dull finish. So if you don't want to clean often, choose lighter colors.
Features of COREtec Plus
COREtec Plus comes in a variety of beautiful wood grains including rustic looks, multi-tone planks, and even extra-wide and extra-long planks. So, there are plenty of different design styles that will work with COREtec LVP.
Unlike some of the other LVP products on the market that use simulated graphics, COREtec has real texture and real graining. The Embossed In Register technology allows COREtec Plus to realistically mimic hardwood like Hickory, Walnut, Pine, and Oak.
These planks also have a micro bevel edge for a true, hardwood flooring look. But unlike solid wood and engineered hardwood flooring, you do not have the same maintenance issues.
COREtec comes in 4 to 12-inch wide planks that are 2 to 6-feet long. With this style, you can create a custom, authentic-looking floor design.
Design Services
COREtec offers a style guide and a modern visualizer tool for you to see your flooring choice in your own room instantly. The visualizer is very easy to use and includes sample rooms you can choose from.
2. Durability & Quality
COREtec Plus is 100% waterproof, pet-proof, and kid-proof. It can also withstand staining and wear through its strong core and thick wear-layers as well as absorbs sound for a quieter flooring.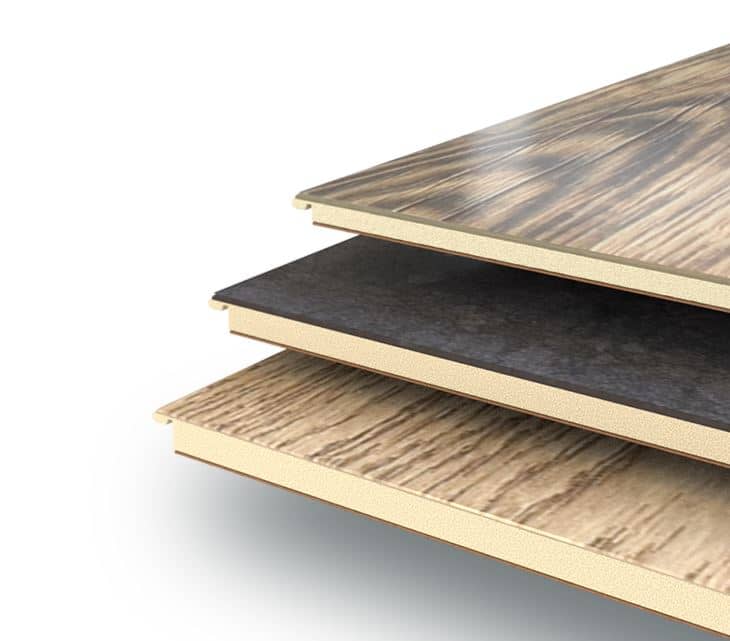 LVP is more durable than wood flooring, so it will not scuff and scratch as easily under daily use, and it is water and heat-resistant. This means that it is compatible with moist spaces and underfloor heating.
COREtec Plus is not an exception. In fact, it is an exceptional product that has put wood composite flooring on the map when USFloors was granted a patent for its COREtec technology.
"[COREtec] carries additional features that set it apart – water resistance, noise reduction, and minimal prep requirements." — Billy Mahone III, Atlas Floors Carpet One Manager
100% Waterproof
The manufacturer claims that all COREtec Plus products are 100 percent waterproof, rather than just water-resistant. This means they are appropriate to use in wet rooms, bathrooms, and basements (unlike real wood flooring).
They won't warp, peel, or buckle due to moisture and even buckets of water. So, no more worries about splashes and spills at your home!
100% PetProof
The thick wear layers of COREtec Plus LVP can also resist scuffs and scratches from your pets. These include stains from pet vomit, feces, and urine.
100% Kidproof
Got playful kids in your home? COREtec Plus is always playtime-ready with its noise-reducing cork backing regardless of how "energetic" your kids are.
NOTE: Although scratches may appear from sharp objects, they won't be noticeable unless you look closely at your flooring.
Proprietary Technologies
COREtec LVP is made using a patented construction method that makes it highly durable and extremely attractive.
The innovative COREtec technology is an extruded waterproof core that can be designed with various surface appearances. This core doesn't contract or expand which eliminates the formations of gaps and peaks as well as hides subfloor imperfections.
Construction
COREtec Plus lines are made with five layers with each layer contributing to the overall durability performance and quality of the planks:
The top layer is coated with a durable finish that provides cleanability and superior stain resistance.
The maintenance-free wear layer protects your flooring against stains and excessive wear. The wear layer is probably the most important factor you need to consider when it comes to LVP flooring. The most common wear layer thicknesses you can find for LVP flooring in the market are 8, 12, and 20 mils.
On the other hand, each style of COREtec Plus vinyl planks features a 20 mil wear layer that protects your floors even in high traffic or commercial areas. Thus, we can say that COREtec is among the best in the industry.
As a bonus, it also helps make this product easy to clean and maintain.
Luxury Vinyl Design Layer
Underneath the wear layer, COREtec vinyl planks have a luxury vinyl top layer. This layer is highly resilient and made of virgin vinyl.Also, the design layer has beveling and detailed embossing for a more authentic hardwood look.
Below the layer of vinyl is the heart of the matter – COREtec's core structure. This inner core is very stable and will not expand or contract in normal conditions, unlike many other products.
The core makes the flooring 100% waterproof, soundproof, comfortable to walk on, and easy to install.
Attached Cork Underlayment
This LVP also comes with underlayment made out of cork. The cork layer adds extra insulation to your floors and absorbs sounds, making it quiet to walk on.COREtec's cork underlayment also helps to hide any subfloor imperfections.
Based on our research, we recommend COREtec Plus if you have pets and little kids at home and want durable flooring that is highly resistant to moisture and has soundproofing capabilities.
"COREtec answers a void in the market and bridges the gap between the thinner LVT/LVP products that can give you issues with floor conditions and laminate flooring that can give you issues with edge curl when moisture is present." — Nick Freadreacea, president of The Flooring Gallery
Does COREtec Wear and Stain Easily?
All COREtec Plus products are guaranteed to resist staining (even those caused by pets) and wear from light to moderate foot traffic in residential homes. There is also COREtec's high-durability option, Pro Plus, that is designed for high-traffic applications but these are made for commercial settings.
Does COREtec Flooring Fade?
If you are wondering if COREtec Plus problems also exist, we are going to say to you that it does have its own disadvantages.
Just like wood floors, COREtec LVP floors will fade when exposed to sunlight. It is recommended to use curtains or blinds to limit exposure to direct sunlight. Fading is not covered by the COREtec warranty.
3. Warranty
It is good to know that COREtec Plus vinyl planks come with a Lifetime Limited Residential Warranty and a 10 to 15-year commercial warranty. However, this doesn't include scratch resistance and claiming a warranty might be a problem.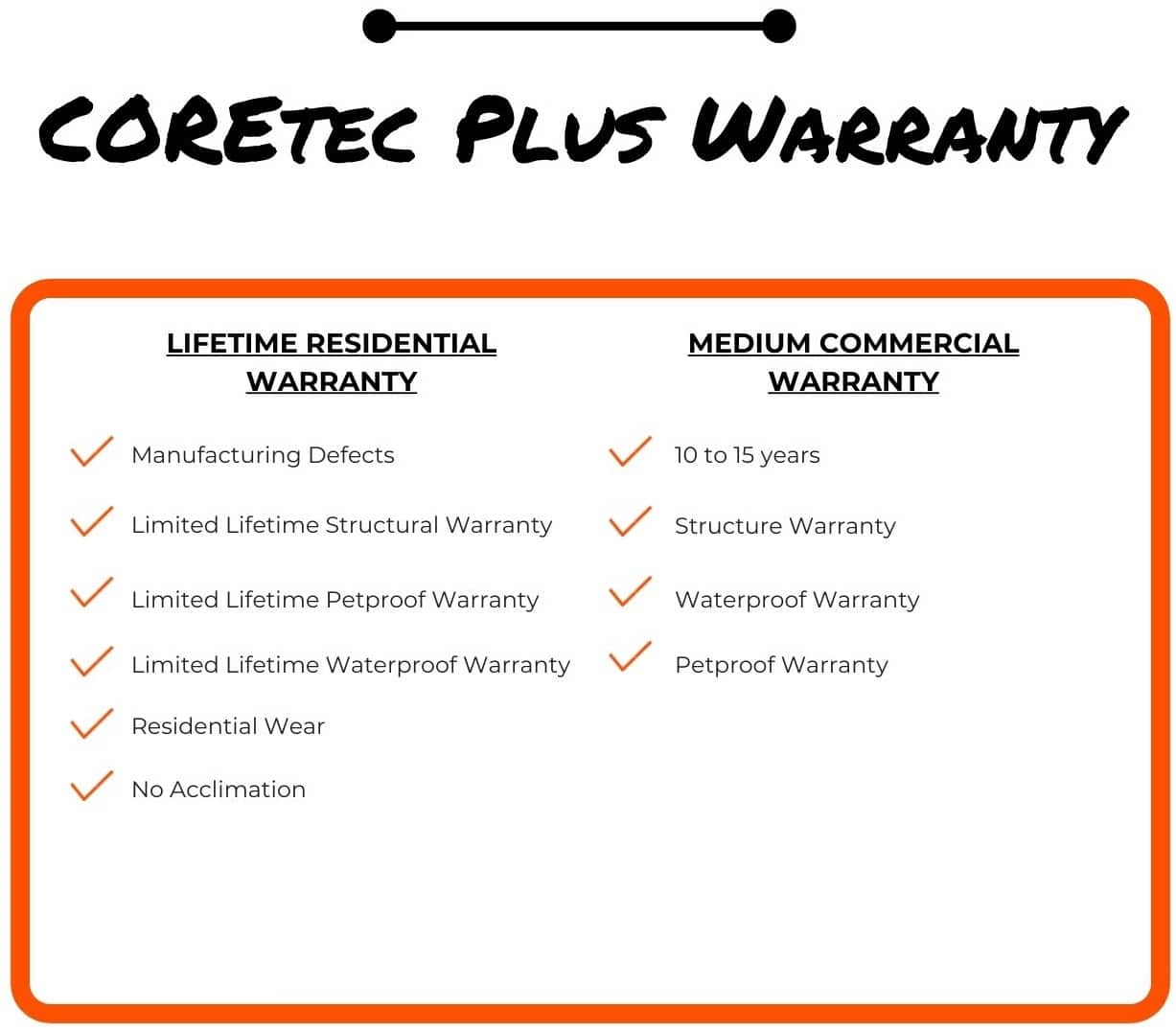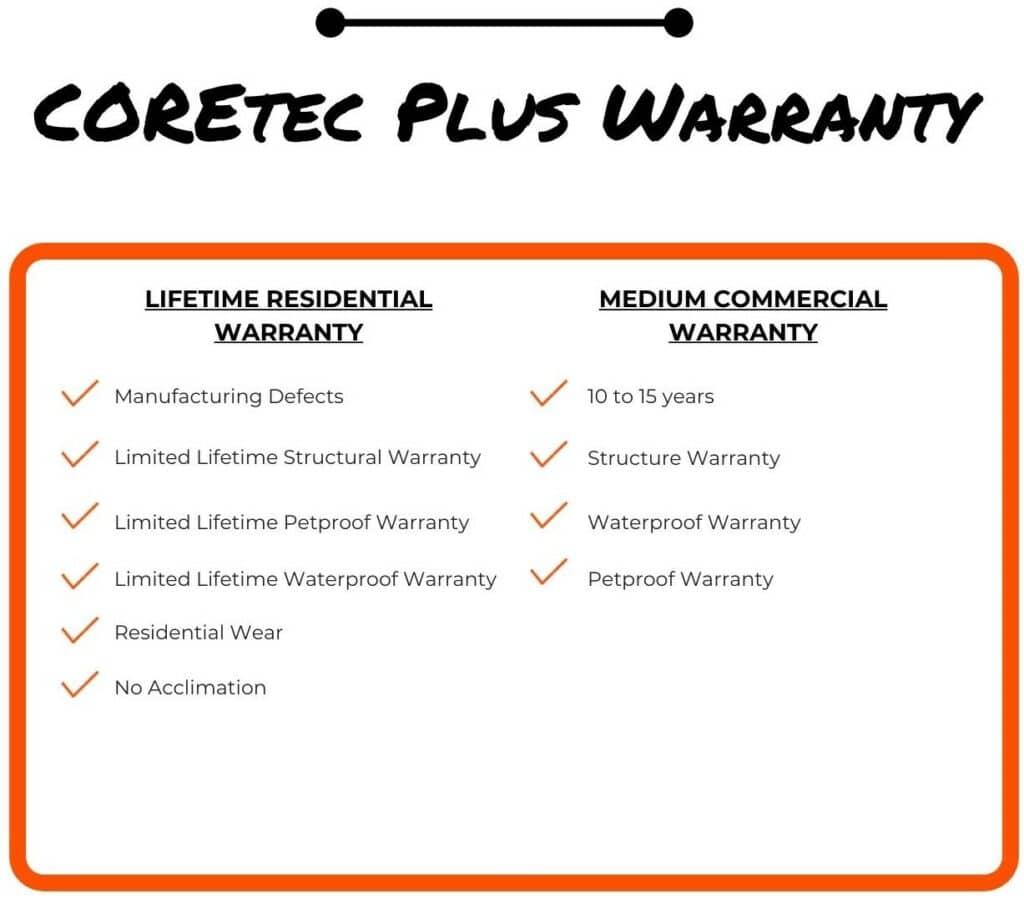 Length of the Warranty
While you should always check the details of the warranty with your retailers as they may vary, in general, COREtec comes with a limited lifetime warranty for residential installations and a ten-year limited warranty for commercial installations.
What the Warranty Covers
Considering that you followed the recommended usage of COREtec Plus flooring in residential applications with light to moderate traffic, the warranty will cover the following:
Manufacturing Defects – Includes delamination, dimensional stability defects, thickness variation, and core voids.
Residential Wear – The plank's vinyl layer is warranted to be wear-resistant under normal residential use. Wear-through means that the inner layer is exposed and does not cover a loss of sheen.
Limited Lifetime Waterproof Warranty – The floor is also warranted to be 100 percent waterproof, though it does not cover damage caused by continued and excessive exposure to water. Your product won't crack, swell, cup, or crack due to normal moisture levels, moisture from household spills, and normal cleaning methods.
Limited Lifetime Petproof Warranty – The flooring can resist staining due to pet (domestic dog or cat) stains including feces, urine, and vomit.
Limited Lifetime Structural Warranty – Covers manufacturing defects after you have installed your flooring.
No Acclimation – Shaw also warranties COREtec Plus to be installed without acclimation as long as your house is climate controlled and acclimated according to their guidelines. (Proceed to our Installation of COREtec Plus section for more details.)
On the other hand, the medium commercial warranty only covers structural, waterproof, and pet-proof warranties.
NOTE: The warranty is only for the original purchaser. It is NOT transferable.
What's Not Covered?
Outdoor installation
Thermal heat and U.V. light damage
Fading, crackling, soiling, and warping
Damages caused by items like golf shoes and roller skates
Problems due to excessive moisture
Crackling, popping, or squeaking for floating floor installation
Dents, shading changes, scratches, and gloss reduction in the finish
Vomit, feces, and urine stains that are not of pets
Damages from improper installation and maintenance
Proration Schedule
In addition, it's great news that Shaw will also replace or arrange a credit according to your product's original purchase. However, there is a limit to what they will be paying when it comes to labor costs:
| | |
| --- | --- |
| Year | Covered |
| Within 1 year | Reasonable labor costs |
| Between Year 1-2 | 50% of reasonable labor costs |
| After Year 2 | None |
Also, if any defect was found after installation, the company will repair the affected area. In case repair isn't practical, they will either replace the affected area or give you a refund. They will be paying labor and freight costs too.
Full details of the warranty are available here.
NOTE: There are many issues reported about COREtec not following their warranty policies where they have often rejected warranty claims after professional inspections and blamed it on improper installation instead.
However, most complainants didn't mention the product line they have installed. We did find some who mentioned what product they had, but these are not COREtec Plus. Thus, they might have bought less durable COREtec products or did not follow proper installation and care and maintenance procedures.
4. Price
While COREtec is more expensive than many other LVP brands, it is top of the range both in terms of look and style, and quality and durability. They also come with financing options for more payment flexibility which not many flooring brands can offer. But if you have a strict budget, COREtec might not be for you.
COREtec Plus is a quite expensive floor costing between $.7.79 and $10.99 per square foot, which is at the higher end for LVP flooring, but this is significantly cheaper than solid wood or engineered hardwood floors.
It also comes with integrated cork underlayment and is suitable for DIY installation, both of which offer savings. Some LVP flooring doesn't come with underlayments and requires professional installation, so COREtec Plus is still worth your money.
Below are the prices for the different COREtec Plus lines:
| | |
| --- | --- |
| Line | Price per Sq. Ft. |
| Plus Design | $10.99 |
| Plus Enhanced Tile | $9.29 |
| Plus Tile | $8.89 |
| Plus 5″ Plank | $7.79 |
| Plus Enhanced Planks | $8.89 |
| Plus 7″ Plank | $7.79 |
| Plus HD | $10.79 |
| Plus XL Enhanced | $10.79 |
| Plus XL | $10.29 |
| Plus Enhanced Herringbone | $9.49 |
Note that the prices above are for planks/tiles only. They don't include installation costs.
If you want a more accurate estimation of the total installation costs, check out COREtec's product calculator. You can also read our vinyl plank installation costs and expectations blog for additional information. In case you are looking for a contractor that can meet your budget, we can provide a quote for free.
Financing Your Floor
Buying COREtec products is made more flexible through their special financing options. This is subject to approval, of course. This means that planning for your budget is easier, especially if you need to install your flooring at the soonest possible time.
COREtec's retail network offers competitive financing choices through Wells Fargo. You can also apply through their financing page and receive a credit decision faster.
5. Availability
Although you can't find COREtec products in big box stores, you can get reliable expert advice and full services through their network of professional retailers. This is better, though, than buying from a big box store that can't give you enough information for your flooring.
Where To Buy COREtec Plus
COREtec Plus can be bought directly from their website or from most flooring retailers around the United States.
It is worth looking out for partners that are listed as White Glove Retailers. Some resellers have been trained as specialists in COREtec flooring, and they can give the best advice, and as a result of their relationship with USFloors and Shaw, they offer cheaper prices on all COREtec options.
Find your closest retailer with the Find A Retailer application on COREtec's website.
Buying Tip:
We recommend that you buy 10% more than you need to accommodate for installation errors and unexpected problems. COREtec's price calculator can make the computation for the extra planks you will be needing for you. Just tick the "Add Wiggle Room" checkbox beside the approximate number of square feet you need.
Where to Get COREtec Flooring Samples
COREtec can provide you with up to three samples of any collection including COREtec Plus lines. Go to their Samples page, choose your favorite style/s, and then they will ship you your sample kit within 24 hours after confirming your order.
6. Installation
COREtec floors are designed for easy installation over your existing floors (floating installation) through their angle-tap system. It's a great thing that you can do it yourself, but make sure to install it according to the company's guidelines to avoid voiding the warranty.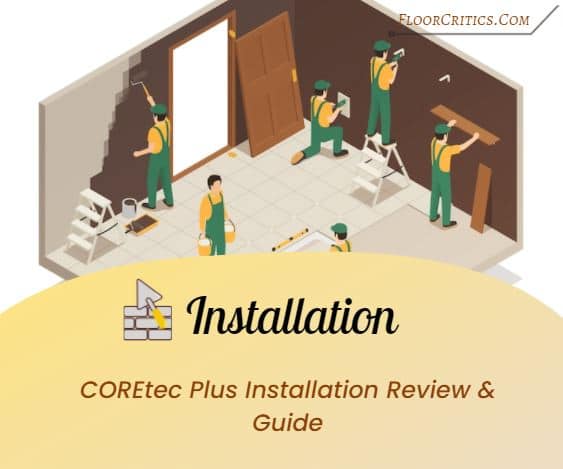 The Angle-Tap Installation is Suitable for DIYers
A great benefit of COREtec LVP is that although it looks like hardwood flooring, it is much easier to install. If you are somewhat handy, you can even do it yourself and save even more money on your flooring project.
The floor "clicks" together using a handy tongue and groove system, which helps you get the spacing just right.
Unlike many of the other types of luxury vinyl, COREtec planks do not require any acclimation. Plus, there is very little floor preparation needed before laying the planks. Also, since they come with attached cork underlayment, you don't even need to lay one first.
NOTE: Always fix moisture problems on your subfloor before installing COREtec over it because problems that will arise due to this will not be covered by the warranty.
In addition, unlike standard LVP planks that need 24-36 hours of dwell time before you can move your furnishings, you can immediately use COREtec.
Where Can You Install COREtec Plus?
You can install this line anywhere in your home. Since COREtec is a floating floor, you can easily install them over your current hard surface flooring. and even on imperfect subfloors. The company said they even work with radiant-heated subfloors.
How to Install COREtec Flooring
To install COREtec vinyl planks, make sure that your subfloor is clean, dry, and clear of debris. Your subfloor must be flat and structurally sound.
Tools Needed
You'll need a few simple tools (most of which you probably have already) like the following:
Tape measure
Hammer
Blue painter's tape
Crosscut power saw
Tapping block
Once you have your COREtec planks and supplies, the process is pretty simple.
NOTE:
Using the spacers is highly recommended because regardless of how dimensionally stable COREtec is, it can still expand or contract with temperature changes. In fact, COREtec requires you to leave a ¼-inch space between your flooring and your walls.
Below are two installation videos you can refer to for more details:
Full instructions from the manufacturer on how to install these floors can be found below including herringbone installation:
Did You Know That You Can Install COREtec on Your Walls?
Most COREtec styles are available for installation on walls if you want to create eye-catching wall accents. These include the Plus lines. If you want to use it for your walls, you can follow the steps in the link provided.
Installation Tips
Since COREtec is meant for indoor installation, you should store or install it in a temperature-controlled environment and maintain a 55 to 85-degree Fahrenheit (13°C – 29°C) temperature.
COREtec also offers matching trim and transitioning options for their products for a more professional look.
7. Care & Maintenance
COREtec vinyl planks are highly durable and easy to maintain. But if you want to get the most out of your floors, there are a few general rules to follow to prevent damage. Also, make sure to follow the recommended cleaning and maintenance procedures if you don't want to void your warranty.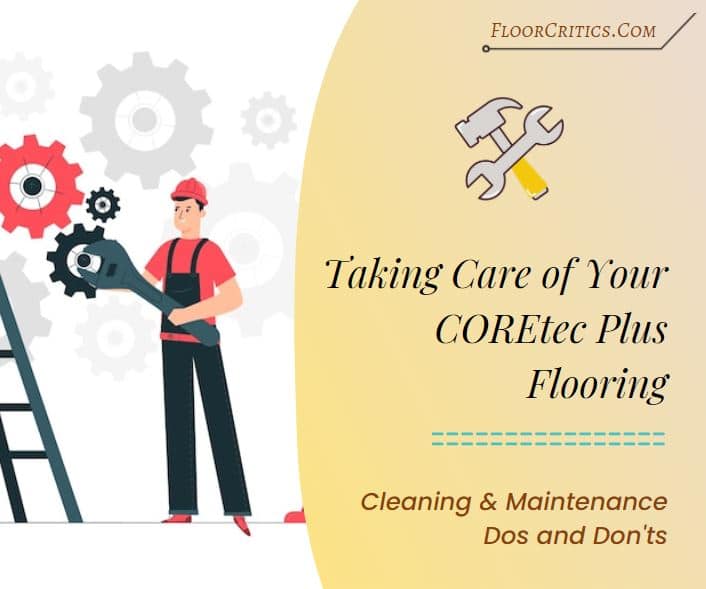 How to Clean COREtec Flooring
To clean your COREtec floors, simply use a broom, dry mop, or vacuum with a hard surface attachment. For deeper cleanings, a damp mop works well.
However, you should avoid harsh cleaning products and chemicals. Instead, use a diluted pH-neutral cleaner like Bona or Hilway. You can also use their recommended Encore Cleaner which is a good cleaner because it doesn't need rinsing.
Allow your floors to dry after mopping and make sure to clean up any spills quickly.
Removing Spots and Spills
Absorb spills by blot drying with cloth or paper towels. If the spots are hard to remove, just use rubbing alcohol and then blot dry.
Cleaning Tips
Clean affected areas immediately. Or else, they will be harder to remove.
Perform wet cleaning periodically to maintain your floor's appearance but always dust mop or pre-vacuum your floor before wet cleaning.
Can You Use A Steam Mop On COREtec Flooring?
Even though COREtec Plus floors are 100 percent waterproof, it is not recommended to use steam mops on these floors. Using one will likely void the product warranty.
COREtec only recommends using a slightly damp mop that is well-wrung and to use a neutral pH cleaner mixed with cool water.
How to Maintain COREtec Flooring
First, when you move furniture on your floors, always use a hand truck or furniture dolly. It's also a good idea to put felt pads under pieces of furniture that you frequently move. Better use non-staining protectors under your furnishings. Plus, we recommend using mats without rubber or latex backings to prevent discoloration at doorways and entrances.
For floors in sunny areas, use drapes or blinds to shield your floors from sun damage.
Polishing Your Floor
Your flooring might need polishing over time as it starts to lose its sheen. The company recommends high-quality floor polishes like Hilway Direct for high-traffic areas to protect your flooring for up to one year. You can apply 2-3 coats after cleaning your floor and allow it to dry before using it.
Things That You Should Not Do
Use abrasive cleaners or detergents and treated dust mops as these can dull your floor.
Use steam mops and mop and shine products.
Use a vacuum with rotating beater bars.
You can find a more detailed care and maintenance guide for COREtec Original Collections here.
A Few Things to Note
You might have read reviews about COREtec products where customers complain about their flooring cupping, being easily scratched, showing marks easily, and others. However, what we can say is that COREtec has different products and not all are the same.
For instance, most COREtec Plus reviews from people turned out to be very satisfactory. Although they did experience the same problems from other lines like dirt easily showing on darker colors, dry-looking floors, water marks, and footprints, not all are really bothered by these. Plus, our feet have oil and it is expected to show prints!
Moreover, we have installed COREtec Plus and it is easy to maintain and scratches don't really show that much despite the some water stain marks. Although a bit hard to remove, you can use a mop and COREtec's Encore Cleaner to get most of the marks.
Also, professionals recommend using a cleaner that doesn't require rinsing because it will be hard to remove all the residue on your LVP flooring. This is applicable to ALL LVP flooring, not just COREtec.
In summary, if you just follow the manufacturer's recommended installation and care and maintenance tips, you'll most likely get the flooring you want.
8. Health & Environmental Safety
If you are looking for green flooring but prefer more affordable vinyl flooring than wood, COREtec Plus is your best pick because it does better than the competition when it comes to eco-friendliness.
COREtec Plus lines have achieved a GreenGuard Gold Indoor Air Quality Certification which is GreenGuard's most stringent requirement for VOC emissions. This means that they are very safe even for children and the elderly who are more sensitive to chemicals.
There are also lines that are FloorScore-certified. Regardless, all COREtec Plus lines are GreenGuard Gold-certified which has a higher standard than FloorScore.
Moreover, COREtec Plus floors are better than most LVP, being made exclusively from low emitting virgin vinyl and being coated with a zero-VOC natural oil. And with its resistance to mold and mildew, your family is protected from the effects of these allergens. So, if you are worried about VOCs, you can breathe easy with COREtec.
Also, COREtec flooring does a better job than most companies when it comes to making LVP flooring as environmentally friendly as possible. For example, they use recycled wood and bamboo in their core layer, which is also biodegradable.
So, while it is hard to call LVP flooring green, COREtec is one of the greenest brands on the market.
9. COREtec Plus Vinyl Plank vs. The Competition
One of the biggest differences between COREtec Plus and the competition is that it is at the higher end of the price spectrum. But considering its performance and quality, we can say that it is still well-priced. Also, it has among the widest collections of board styles and sizes.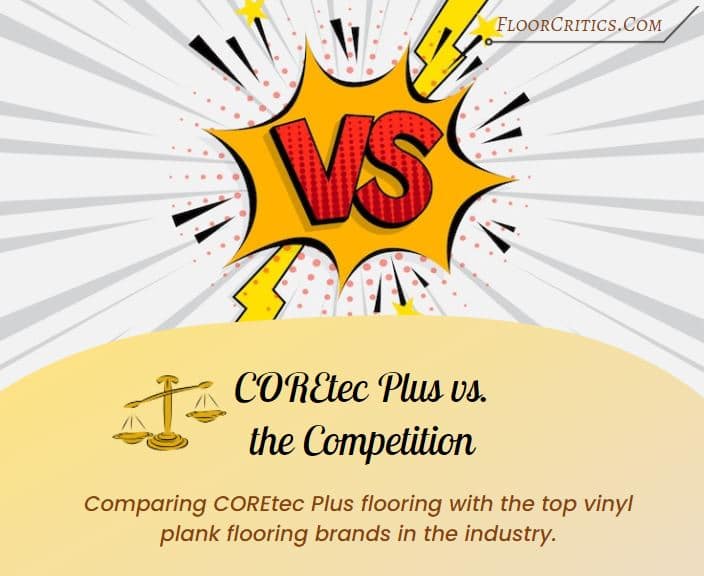 Key Differences:
COREtec is more expensive than LifeProof but is more innovative.
Since COREtec is made of more layers, it's more resistant to scratches.
You'll have beveled planks with COREtec which LifeProof doesn't offer.
Both are noise-reducing, but LifeProof's underlayment is softer.
LifeProof is more DIY-friendly.
Key Differences:
When comparing Mohawk RevWood to COREtec Plus, we found the products to be very comparable in the durability and performance categories.
We give the slight edge to Mohawk for for their selection.
Mohawk is a cheaper option.
Key Differences:
COREtec offers more styles and colors, but NuCore has high-gloss options that COREtec Plus doesn't have.
COREtec has thicker boards and a lot more size varieties.
Key Differences:
COREtec Plus has more collections and is thicker compared to SmartCore.
SmartCore has limited board sizes, unlike COREtec's wide range of sizes.
COREtec Plus Pros and Cons
While everything we have said about COREtec flooring sounds pretty good, what are the main reasons you should consider this flooring? Also, no floors are perfect, so what are the drawbacks? Let's have a look at the pros and cons.
Pros of COREtec Plus
Price
If you are looking for the wood floor look, but can't afford the price tag, then COREtec LVP offers an excellent alternative. It looks and feels just like wood but for about half the price that you can expect to pay for solid wood or even engineered wood flooring.
Durability
Price is not the only reason many people avoid wood floors. Wood floors scratch and scar easily, and they so often end up looking ragged pretty quickly when dealing with significant foot traffic or pet paws.
LVP flooring is significantly more durable than wood when it comes to scratches, marks, and scars. COREtec is also among the most durable with a 20 mil wear layer on their standard planks.
Versatility
Another issue with wood is that it is not appropriate to install everywhere. It does not work well in spaces that are wet or have a lot of moisture; wood tends to warp with moisture. Wood also isn't generally compatible with underfloor heating, as the changes in temperature can also cause the planks to warp.
While all LVP flooring is more water-resistant than wood, COREtec is marketed as 100 percent waterproof, so it should be suitable to use in bathrooms, kitchens, and basements. There should also be no underfloor heating problems, as long as heating is kept below 140.
Installation
Not only is wood flooring expensive to buy, but it is also expensive to install, as it is not really something that you can do yourself. You need a professional.
COREtec Plus was designed with the weekend warrior in mind. It's simple tongue and groove system makes it easy to install, and the attached cork underlayment means there is no need to mess around with underlayers. If you know how to prepare the subfloor, installing COREtec Plus on top should be easy and affordable.
Sound and Comfort
Other issues that are often raised with wood floors are, first that they are noisy and conduct sound around the home, and second, that it can be hard on the limbs to spend a lot of time walking on hardwood.
COREtec Plus' cork underlayment helps deal with both of these issues. It helps muffle sound and also provides a level of bounciness that is kinder on the limbs than hardwood.
Low VOCs
Many people choose to steer clear of synthetic flooring such as LVP because it can emit gasses and volatile chemicals, called VOCs, into the home. While this is regulated, even the small amounts that come off some floors can be problematic for individuals with respiratory or related medical issues.
COREtec Plus, on the other hand, emits low VOCs and is better compared to most LVPs in the market.
Environmental Impact
The fact of the matter is that synthetic flooring like LVP is not biodegradable, so it will sit in landfills forever. The materials are also incredibly difficult to recycle. So, when compared to wood floors, LVP floors are a major environmental issue.
However, COREtec is better than other companies in terms of environmental friendliness. They use biodegradable core layers and are among the market's most eco-friendly brands.
Cons of COREtec Plus
Resale Value
The key issue with LVP flooring is resale value. Wood flooring is considered highly desirable, and both solid wood and engineered wood will add considerable value to your home.
LVP flooring, and even incredibly realistic options like COREtec, will add almost no value to your home's resale value.
Limited Lifetime
Solid wood floors, cared for properly, can have a lifespan of well over 100 years. Engineered wood flooring should last at least 40 years. For LVP flooring, a maximum of 15 to 20 years is realistic.
While COREtec provides a lifetime warranty on residential installations, this is for the structural soundness of the boards. They will lose their sheen, scratch (they are scratch-resistant, not scratch-proof), and otherwise start to look dowdy at around the 10 to 15-year mark.
Unlike wood floors, that can be sanded and refinished, there is no way to breathe new life into LVP floors. It is time for a replacement.
FAQs
What Is The Difference Between COREtec Plus and COREtec Pro Plus?
While COREtec Plus is approved for home and commercial spaces with relatively light traffic, COREtec Pro Plus is the brand's solution for heavy traffic commercial spaces.

Pro Plus also has a lower profile, making it more versatile for installing in commercial spaces, but it maintains the high 20 mil wear layer. Also, it features extra impact and scratch resistance and a more rigid and denser core layer.

Is COREtec Plus Scratch-Resistant?
When compared to wood flooring, COREtec's LVP flooring is extremely scratch-resistant. It comes with a 20 mil wear later as standard. This is the clear top layer that protects the plank underneath.

But that is not to say that COREtec Plus is scratch-proof; there really is no such thing. Extremely heavy objects and sharp objects can leave scratches and marks on the floor. But shoes and pet's paws should do very little damage.
Final Thoughts
If you are looking at luxury vinyl plank flooring, COREtec Plus is one of the best and most reliable brands on the market and should certainly be on your list of options to investigate.
LVP looks like real wood but is almost half the price of wood flooring. It is also DIY-friendly when it comes to installation, which can save you further.
While the limited lifespan of LVP flooring and the problem impact of resale value continue, COREtec has done a lot to deal with some of the key issues raised about LVP flooring.
Specifically, they use environmentally-friendly material that makes the construction and disposal of LVP flooring less environmentally damaging and limits the likelihood of LVP flooring releasing damaging gasses into the air of your home.
If you want wood-look flooring that looks and feels authentic, you can't really go wrong with COREtec Plus.
If you have any comments or first-hand experiences with COREtec Plus flooring, please post them below or share your pictures via our social media.
Back to Top