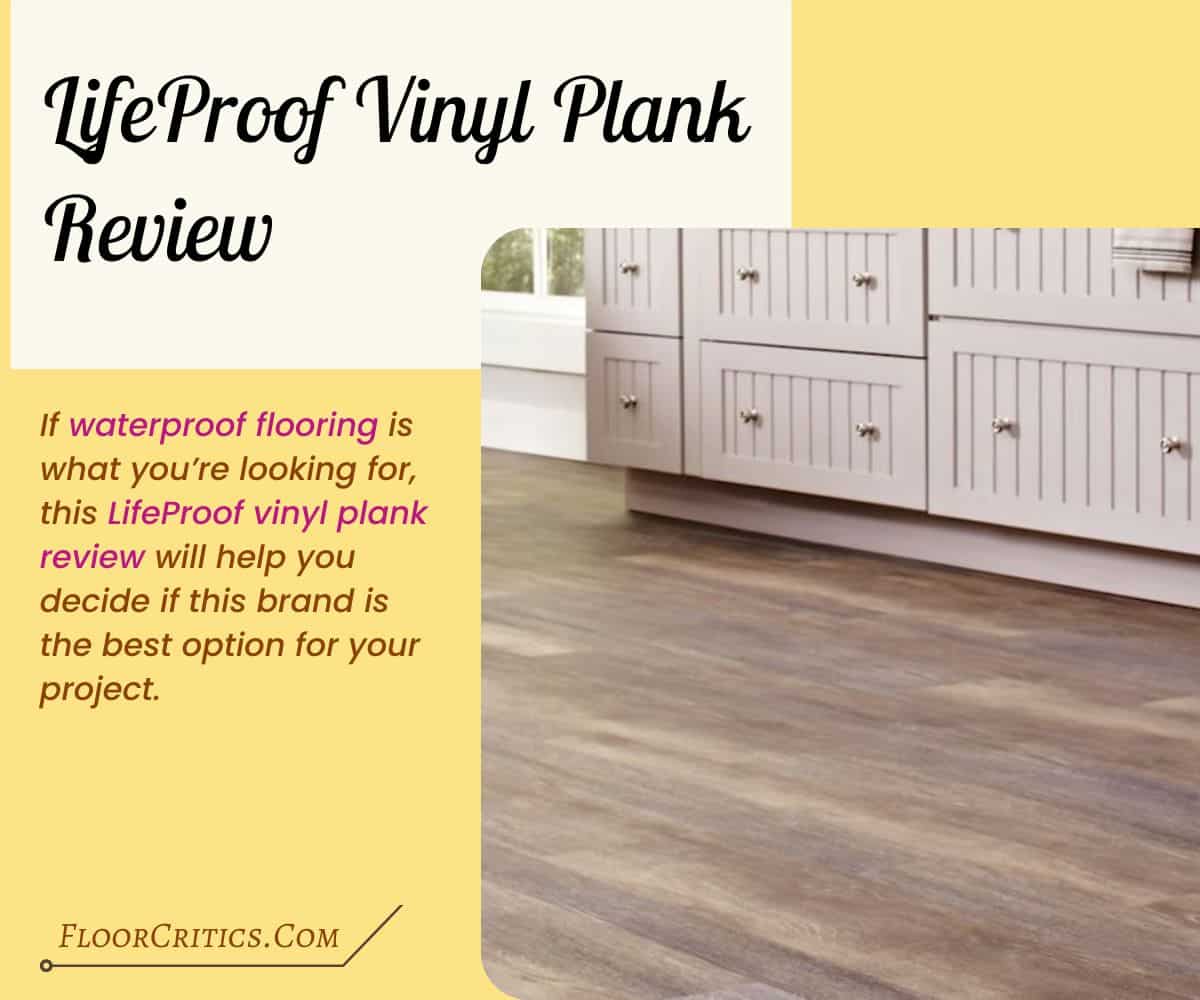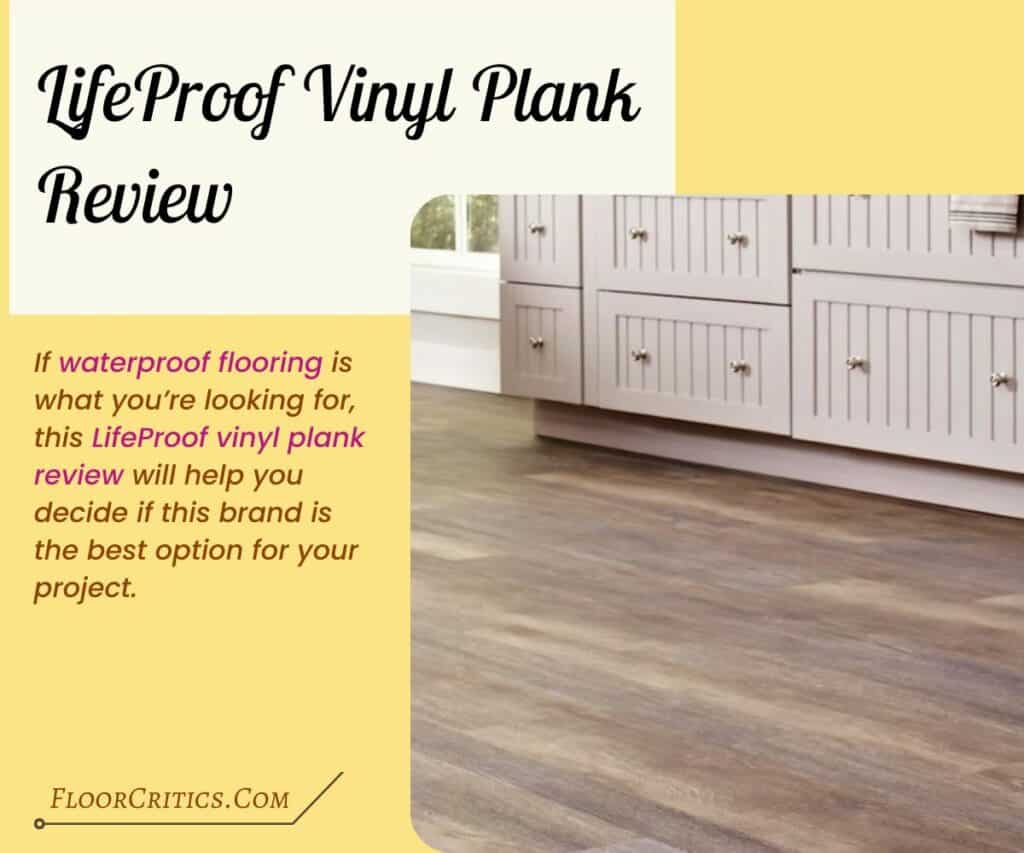 LifeProof vinyl plank flooring, formally known as Allure flooring, is an excellent choice in LVP. It has many features that will appeal to both your senses and your wallet.
In this guide, we're going to take a look at the benefits and drawbacks of LifeProof vinyl plank across 9 key criteria.
Our Overall Rating of LifeProof Vinyl Plank Flooring
Below is a summary of our rating for LifeProof luxury vinyl plank flooring across 9 criteria. Keep on reading for more details.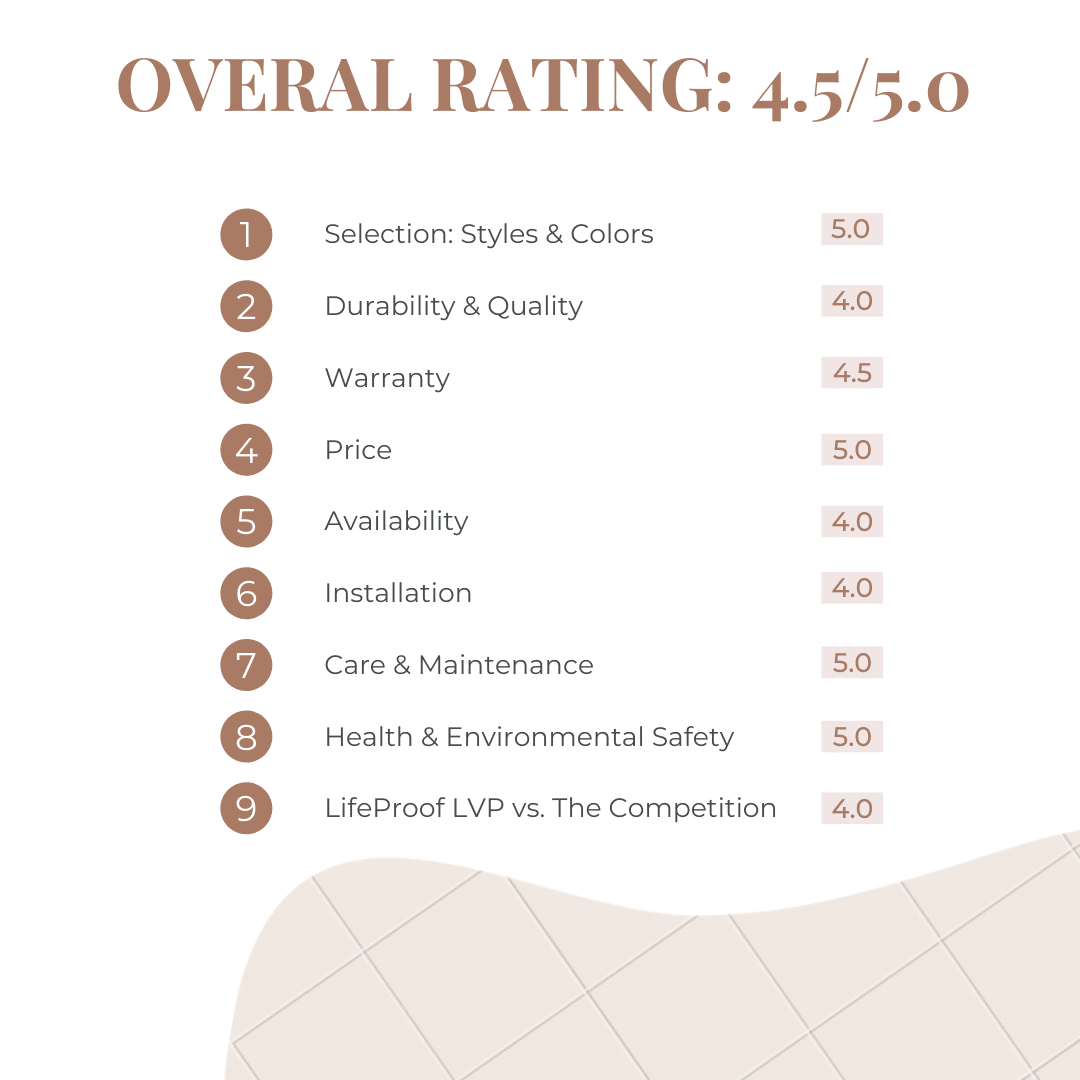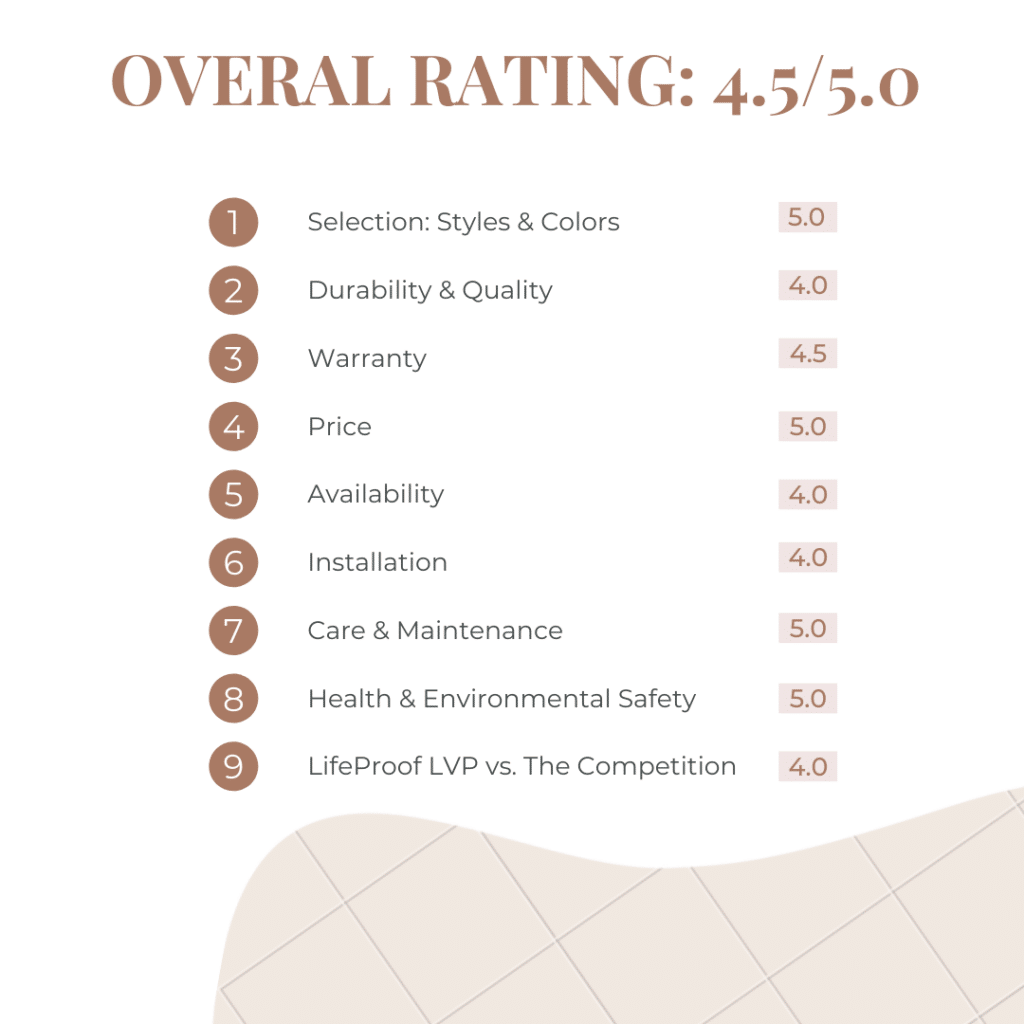 Pros
Cons
– Quality construction
– Easy to install
– Works with radiant heated floors
– low VOC
– Low-maintenance vinyl flooring
– One of the largest ranges of vinyl plank flooring colors
– Authentic texture comparable to hardwood
– Warranty applies to the first owner only
– Interlocking tabs are weak
– A lot of problems are reported with DIY installation

LifeProof Flooring Manufacturer Overview
LifeProof is not a company but a flooring brand manufactured by Halstead New England – the largest member of HMTX Industries. Halstead has been supplying special order LVT, vinyl plank flooring, and luxury vinyl tile across Canada and the US for over 30 years.
The company is based in Norwalk, Connecticut, USA and has green-certified offices in Rincon and Calhoun, Georgia as well as associated offices worldwide. Although Halstead is an American company, they do their manufacturing processes in China including their LifeProof Flooring.
The Complete LifeProof Luxury Vinyl Plank Flooring Buyer's Guide
1. Selection: Styles & Colors
LifeProof offers both luxury vinyl plank and tile flooring options. Although they offer four main color categories for each flooring type, you'll find them in a ton of different colors and finishes that mimic hardwood, stone, and marble tiles. We can assure you that you'll surely love their flooring design varieties!
When choosing colors and styles for your flooring, make sure to consider your existing home design. This makes sure that you will be choosing one that complements your walls, furniture, and other decorations. LifeProof sure gives you a lot of options to choose from to suit any interior design theme.
Below are the major categorizations of LifeProof's luxury vinyl plank and tile flooring:
Vinyl Finishes and Wear Layers
In addition, although most LifeProof LVP flooring colors come in a single width option, you will also find beautiful multi-width options. This is great if you don't want their standard rectangular planks. Plus, they are deeply embossed to resemble natural wood grains like oak, hickory, and pine.
Various Lifeproof Flooring Colors and Finishes To Choose From
These LVP planks can look aesthetically pleasing throughout your home. They come in stunning shades of gray like Rustic Wood or Lighthouse Oak, and beautiful brown hues like Heirloom Pine and Shadow Hickory. LifeProof also offers traditional wood finishes in addition to more trendy and rustic looks.
If you can't decide which color or finish to choose, you can request free samples of this flooring to take home. You can also return the planks for up to 90 days after purchase.
2. Durability & Quality
LifeProof vinyl planks provide great durability performance using their Ceramic Bead, Ultra-Fresh Layer, and ISOCORE technologies. They are water, scratch, stain, and dent resistant as well as antimicrobial and noise-reducing. These make the planks ideal for creating flooring that will last for years.
Many people choose luxury vinyl flooring because of its durability and waterproof features. It is far thicker and more resistant to damage compared to traditional sheet vinyl which is only made of a thin layer of flexible vinyl. Thus, LVP flooring, including LifeProof's, is expected to perform well against scratches and weather-related damages.
However, one major problem encountered by installers is LifeProof's weak interlocking tabs that break easily because of the light plank material. So if you are looking for more durable options, we recommend buying heavier options.
Proprietary Technologies
LifeProof flooring products use four main technologies that enhance their durability and performance:
Ceramic Bead Technology: These planks have a solid virgin vinyl layer and a ceramic-bead-enhanced wear layer that make them extremely durable and resistant to scratches.
Ultra-Fresh Layer: The underlayment and top layers of the planks are treated with Ultra-Fresh technology that eliminates odor and prevents stains, mold, and mildew. The technology is permanent and is built into the products.
ISOCORE: The cores of the planks (called by LifeProof "ISOCORE") are made of closed-cell PVC foam that gives strength and rigidity to the planks. This foam core is usually found in thicker materials to make them lighter but still stronger than traditional sheet vinyl flooring. It also works as a barrier to moisture and water.
Mil Wear Layer Thickness
The thickness of the wear layer is important when buying new vinyl plank flooring. A thicker wear layer means a more durable flooring. LifeProof offers three kinds of wear layer thicknesses for different rooms, including high-traffic ones: 6 mil, 12 mil, and 22 mil.
Below is a comparison of these three rigid core wear layer varieties based on their performance:
| | | | |
| --- | --- | --- | --- |
| | 6-mil Wear Layer | 12-mil Wear Layer | 22-Mil Wear Layer |
| Thickness | 6.5 mm or 7 mm | 6 mm | 6.5 mm |
| Anti-Microbial | Yes | Yes | Yes |
| Scratch Resistance | Superior | Superior | Extreme |
| Temperature Resistance | 50°F – 100°F | 50°F – 100°F | -25°F – 155°F |
| Application | Low – Medium | Medium – Standard | High-Traffic |
The thickness of the wear layer makes the planks resistant to scratches, marks, and skids. Therefore, LifeProof LVP is a good option for homes with children or pets. Though for those with an active home, I would recommend looking for a 12 millimeter (or higher) wear layer to protect your floors.
Pre-Attached Underlayment
You'll also appreciate that there is a pre-attached underlayment on each board, which means they are warm and comfortable to walk on. (They are also quiet, unlike hard tiles.)
The noise-reducing underlayment is made of a 1mm HDPE plastic pad. Therefore, this vinyl flooring is perfect to install in top-floor apartment units because it will minimize noise of footfalls heard by neighbors below. It's also cost-effective because with other vinyl flooring brands, you may need to buy your underlayment separately.
Does LifeProof Wear, Stain, & Fade Easily?
The proprietary technologies used in LifeProof make it wear and stain-resistant. However, we recommend not installing your flooring under direct sunlight because it may fade, buckle, or form discolorations.
100% Waterproof
Another feature that you'll appreciate is that these floors have a rigid PVC core and are 100% waterproof.
If you are looking to floor a room prone to wetness, such as a kitchen, bathroom, or laundry room, then LifeProof vinyl plank floors will give you the look of natural wood while holding up much better under the elements.
Also, the backing doesn't collect moisture and deteriorates over time. In fact, Home Depot tested the waterproof capability of LifeProof LVP planks by installing them on a shrimp boat. If it was able to withstand the damage-causing factors in this setting, then it will surely withstand the conditions in your home.
Is LifeProof Luxury Vinyl Flooring Good?
Yes, LifeProof vinyl floors are an excellent choice for both residential and commercial settings. This vinyl flooring is easy to install because it has a floating and interlocking installation type. What's more, LifeProof is 100% waterproof so you can install the flooring in humid environments.
LifeProof vinyl flooring is durable thanks to the thick wear layer made from ECB (enhanced ceramic beads). But let's not forget about the authentic embossing on each vinyl plank. These finishes have a real hardwood floor aesthetic, so you can have the look of real hardwood floors at a fraction of the cost.
Is LifeProof Vinyl Flooring Good For Basements?
LifeProof flooring is an excellent choice for basements. When it comes to durability, nothing comes close to LifeProof luxury vinyl planks.
Since LifeProof is also waterproof, it's the best choice for basements or anywhere water may come into contact with your floors. LifeProof vinyl flooring is floating, so you can install the planks on almost any subfloor, including concrete. The planks are also treated to prevent stains and odor.
So if you're creating an entertainment area in your basement, the vinyl flooring will add a lovely aesthetic to your space, especially if you pick sterling oak. LifeProof vinyl floors are scratch-resistant, so they will hold up well in high-traffic areas.
Lifeproof LVP can last up to 15 years if you maintain your flooring carefully and follow the installation guide.
3. Warranty
Companies often offer a lifetime or 10 to 20-year limited residential warranties and a 10 to 15-year commercial warranty for their luxury vinyl planks. On the other hand, the LifeProof vinyl plank floors come with a lifetime limited warranty for residential use and a 5 to 20-year warranty for commercial use. However, it is not transferable.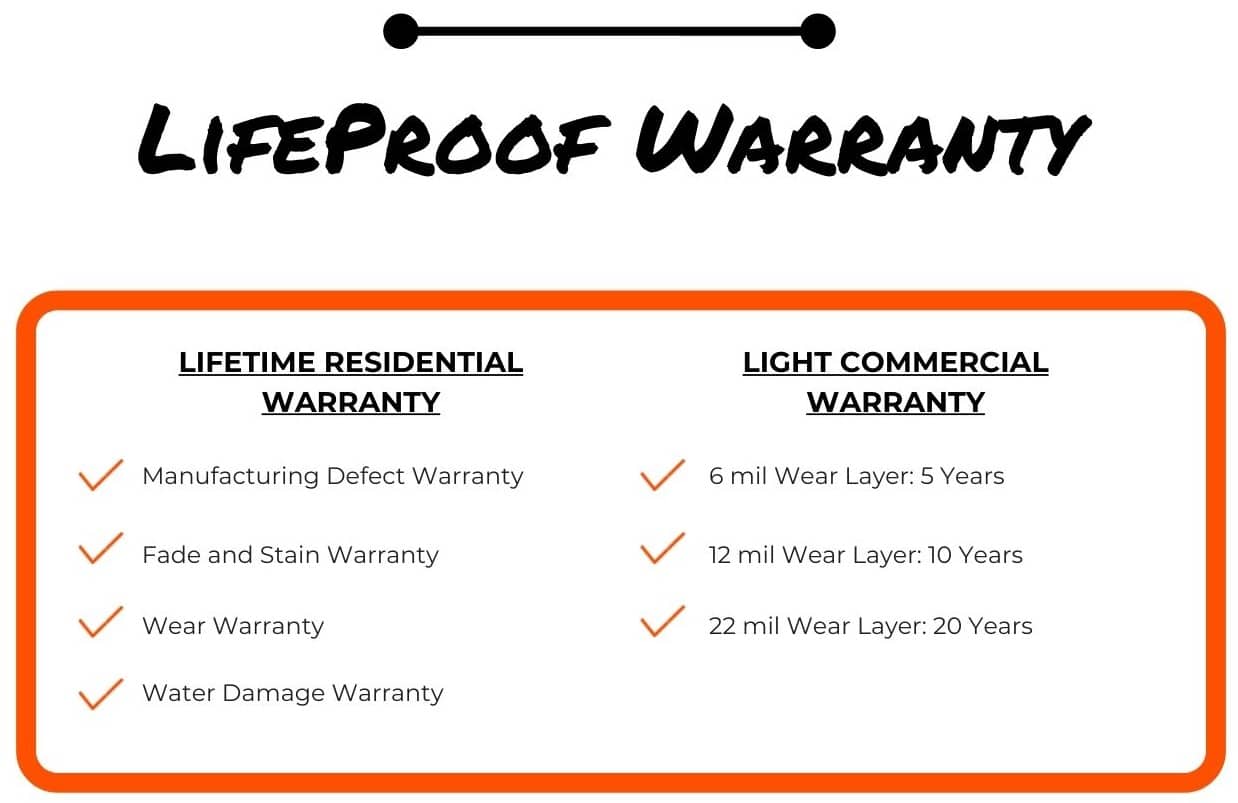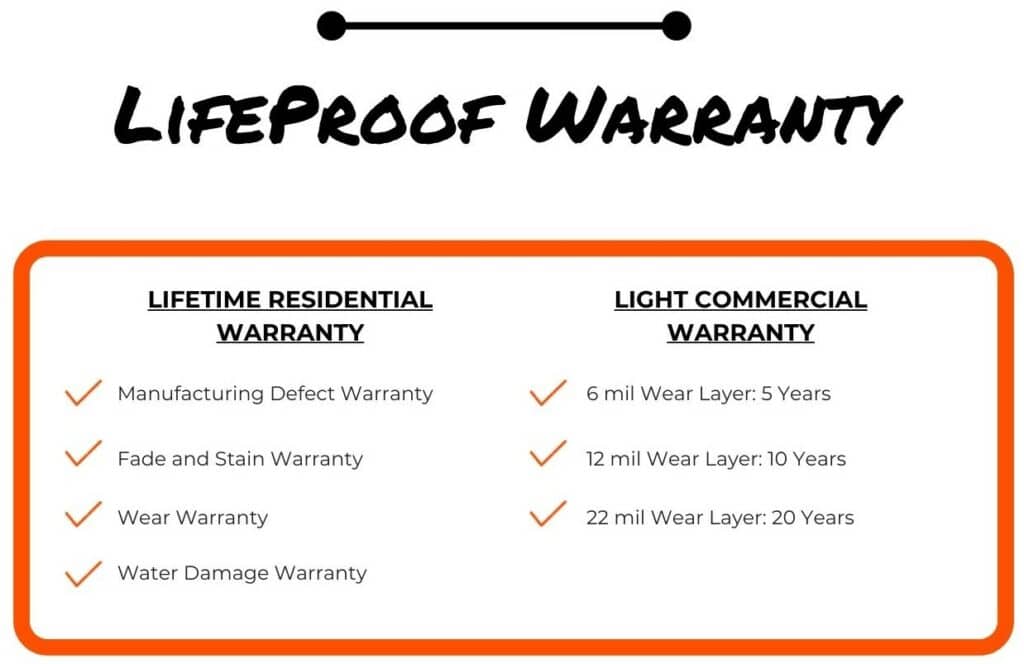 LifeProof offers the same lifetime limited warranty for residential use, but they have different light commercial warranties for the three wear-layer thicknesses ranging from 5-20 years. Their warranty covers manufacturing defects, stains, fading, wear, and water damage but they have set conditions before they can approve your claim.
Additionally, to benefit from this warranty, wearing must be through the wear layer to the point where the printed pattern is altered. Fading must be to the point where the flooring is completely discolored. Stains must be from normal household routine cleaning aids, chemicals, or routine maintenance.
The warranty also covers water damage that affects the structural integrity of the flooring; however, it doesn't cover flooding.
What's Not Covered?
The following are not covered by the LifeProof warranty:
Damage caused by fire or burns
Construction or installation
Damage due to improper installation
The use of improper cleaning aids
Damage caused by heeled shoes
Any scratches, dents, or scuffs caused by vacuum cleaners
Fading caused by exposure to sunlight
Loss of gloss on top of the planks
Minor color differences between planks
This warranty only applies to the original buyer of the LifeProof flooring and at the original installation site. The LifeProof vinyl flooring warranty is non-transferable.
Things to Note
Doing the following will void your LifeProof flooring's warranty policy:
Gluing down, nailing, or fastening your LifeProof flooring to your subfloor.
Using any additional underlayment for sound suppression.
You can find more information about LifeProof's warranty here.
4. Price
You'll get considerable savings with LifeProof flooring while still getting that excellent performance that more expensive brands offer.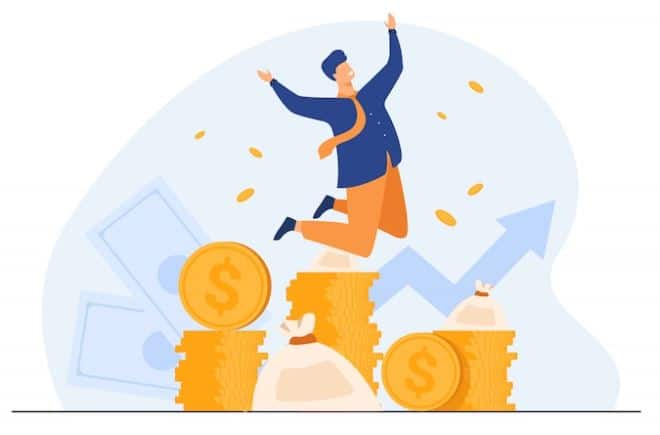 Priced per square foot, this flooring is generally sold by the case. The planks generally cost around $3 to $4 per square foot and a case covers around 20 square feet.
To compare LifeProof's price with other brands, vinyl planks cost around $4.00-$7.00 per square foot. Although you can find planks as low as $2 per square foot, they won't give you the performance you are expecting.
In addition, expect to pay extra for the following:
Trimmings: $0.50-$3.00 per square floor
Vapor Barrier: $.025–$1.50 per square foot
Also, underlayments can cost from $0.20 to $5.00 per square foot, but since LifeProof comes with a pre-attached underlayment, you'll be able to save more. LifeProof says that their planks don't need a vapor barrier for installation, but you will need to use one if you are installing in damp or humid areas like your basement.
5. Availability
Although you can only find LifeProof products at Home Depot, it's a good thing that they have several stores worldwide which makes finding them easier.
How To Purchase LifeProof Vinyl Plank Flooring
LifeProof luxury vinyl plank flooring, formally called Allure, is sold exclusively at Home Depot.
You can order LifeProof vinyl floors, as well as other popular flooring brands like the Floorte line made by Shaw, online or at your local Home Depot store. However, not all styles are available to ship to your home directly.
There is also an option to ship your order to your nearest Home Depot location for store pickup. There is no shipping fee for this service.
Buying Tip: Spend more on higher-quality materials if you are installing in high-traffic areas. Cheaper products are prone to scratching, staining, and other damages. They are also actually harder to install.
6. Installation
What's great about installing LifeProof is its ISOCORE and DropLock 100 end joints make it easy to work with and slight imperfections won't be noticeable on your flooring. You won't also need special tools and it doesn't require acclimation before installing it in residential areas.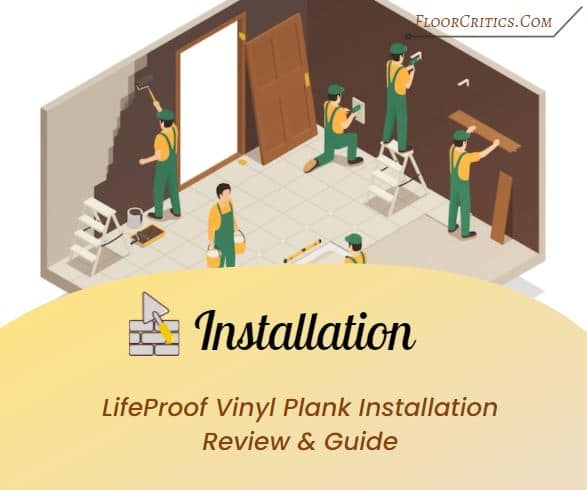 One of the many benefits of LVP is that it's easy to install. In fact, if you like DIY projects, this is one you can handle yourself. You can install LifeProof vinyl planks the same day you bought them which is great for projects that you want to finish fast.
One feature you'll love about LifeProof is that the planks come with a pre-attached underlayment, saving you time during the installation process. Also, you will simply need a few tools like a tapping block and a soft-faced hammer.
LifeProof's LVP is designed with floating or interlocking planks that you can install directly over your subfloor. So if you are replacing your tiles tile or other floors, you may not even have to remove them. Simply lay your floating LVP over the existing floor.
However, in some cases, you may need cushioning or a vapor barrier system. When in doubt, you can always ask an expert.
Note: Your existing subfloor should be solidly attached. LVP cannot be installed over another floating floor (in other words, do not attempt to install your LifeProof vinyl planks over laminate, for instance).
In addition, listed below are the approved and non-approved subfloors when installing LifeProof flooring:
Approved Subfloors
DRIcore
VCT
Metal
Non-Cushion Sheet Vinyl
Tile
Hardwood
Chipboard
Particleboard
OSB
Plywood
Concrete
Non-Approved Subfloors
Rubber
Hardwood or Parquet Over Concrete
Sleeper Substrates
Cork
Laminate
Floating Floors
Cushioned Vinyl Flooring
Carpet
Thus, you will need to remove non-approved subfloors including old adhesives before installing your LifeProof vinyl planks.
Proceed to Home Depot's detailed installation guide for LifeProof vinyl planks for more information about approved subfloors. The guide also includes the things you need to take note of before installation and the tools you will be needing.
You can also follow the steps in the short video below on how to install LifeProof flooring:
Installation Costs
As for the installation costs, professional installation can also cost between $2.00 and $10.00 per square foot or $30 to $50 per hour. If you want more specific pricing, you can request a quote.
Does LifeProof Vinyl Floors Need A Vapor Barrier?
LifeProof vinyl floors don't need a vapor barrier. This is clearly stated on the product's installation requirements. Even though the installation requirements state that you don't need a vapor barrier, you may want to add one if you're installing the planks over concrete. This is especially true if you're installing your vinyl flooring in a basement.
A vapor barrier is a piece of material used for damp-proofing your floors. The vapor barrier can be a sheet of plastic or foil to prevent water vapor from diffusing into the floor. Furthermore, this vapor barrier is typically 6mm polyfilm.
Again, be noted that you mustn't use any additional sound suppression underlayments because it will void the LifeProof warranty policy. But sound-detering underlayments are different from vapor barriers; the latter should be fine to install.
If you're concerned about leaks when installing your LifeProof flooring, then consider including a 6mm polyfilm underlayment.
Useful LifeProof LVP Installation Considerations
Below are other installation tips from the manufacturer you can follow:
Bring your flooring to room temperature before installation.
You can install your flooring in temperatures between 50°F and 100°F, so they are also ideal for seasonal homes.
Buy 10-20% more planks than needed for corners and trims.
LifeProof is designed for interior applications only. It is not suitable for outside areas, camping trailers, saunas, boats, RVs, areas prone to flooding, non-temperature controlled settings, and even on vertical surfaces and stairs.
DON'T use LifeProof to seal existing floors from moisture.
Other Things to Note
Many DIYers are complaining about the performance of LifeProof after installing them. But, professionals who have installed a lot of Lifeproof flooring said that it is among the best out there and that problems only occur when the installer doesn't have much experience and doesn't have the right tools.
Also, one problem that professional installers encounter most of the time is having flooring that isn't level but this is due to a poor subfloor. In short, the issues encountered by DIYers are not due to LifeProof itself but their lack of experience.
7. Care & Maintenance
When cleaning and maintaining LifeProof vinyl flooring, always follow the recommended cleaning guide by the manufacturer. This avoids voiding the warranty and ensuring that your flooring will still be as good as new for years to come.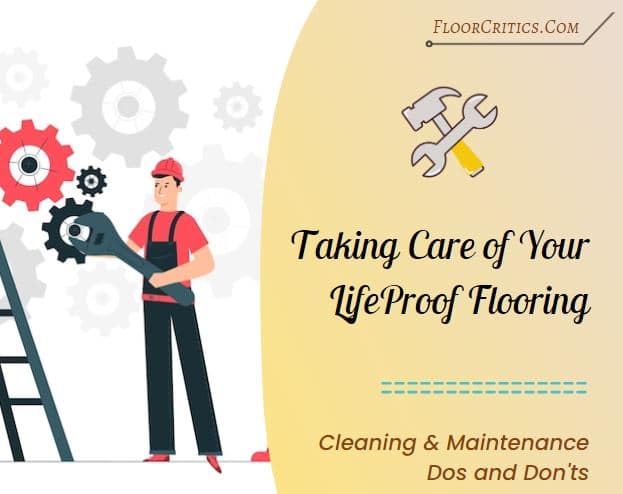 How to Clean Lifeproof Flooring
For routine cleaning, simply sweep the floors, use a dust mop, or even a vacuum with a hard floor attachment.
Since they are 100% waterproof, you can also mop your LifeProof floors when you need a deeper cleaning. Just make sure to use a cleaning product approved for LVP on your floors when using a mop.
How To Maintain LifeProof Vinyl Floors
LifeProof Luxury Vinyl is a high-quality vinyl plank flooring that is easy to maintain. It includes many features designed to help the floors last a long time, even in high-traffic areas.
With ISOCORE technology, these luxury vinyl boards are difficult to damage. But if needed, you can simply replace damaged planks with new ones.
LifeProof's drop-and-lock end joints make it easy to install and effortless to switch out a plank if there is some major damage to it.
In addition, below are dos and don'ts when cleaning and maintaining LifeProof flooring:
Dos
Use a mop and warm water for everyday cleaning.
Sweep your floor regularly to remove first using a soft-bristle broom.
Wash your floor with non-abrasive and pH-Neutral floor cleaners for vinyl floors.
Always remove liquids promptly.
Protect your flooring from direct sunlight by using UV-tinted windows or window treatments.
Remove pointy shoes.
Keep your pets' nails trimmed.
Put non-rubber mats under chairs.
Don'ts
Don't use the following on your flooring:
Vacuum cleaners with rotating beater bars engaged
Bleaches or ammonia
Detergent-based cleaners
Mop and shine or abrasive products
8. Health & Environmental Safety
LifeProof has a FloorScore certification which means that it emits low VOCs to ensure that you breathe good quality air so it is a healthy choice for your family.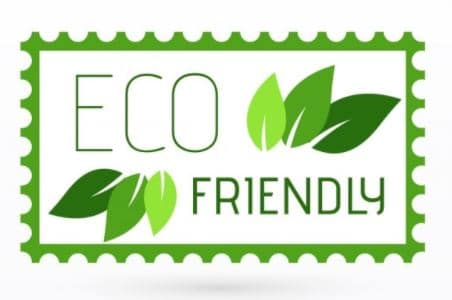 LifeProof floors are formaldehyde-free and phthalate-free. So, you can trust that this line of flooring is safe, free from many of the harmful contaminants that some products contain.
Since LifeProof LVP is antimicrobial, it is also a smart choice for anyone who suffers from allergies. This LVP is specially treated to prevent the growth of mold and mildew on the surface or in the underlayment. This will prevent staining and foul odors.
Moreover, the manufacturer has green-certified offices worldwide to promote sustainable and safe processes for their manufacturing activities.
9. LifeProof vs. The Competition
When it comes to waterproof flooring, LifeProof is the most affordable and most popular option. It is also more comfortable to walk on and easier to install compared to other options. However, among its major disadvantages is its weak interlocking tabs and not being resistant to fading. So if you want more premium options, there are better alternatives that are more expensive. All in all, LifeProof still has the balance between durability performance and pricing.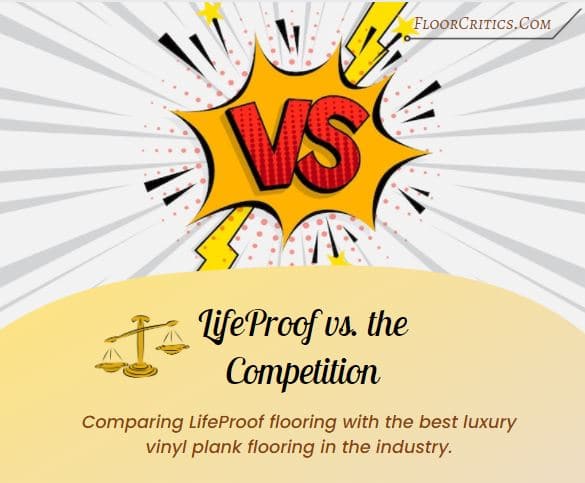 Key differences:
LifeProof is cheaper.
SmartCore has more flooring types, but LifeProof has a better traditional wood carving look.
SmartCore is more user-friendly for DIY installations. LifeProof can't withstand uneven installation and can get damaged.
SmartCore's warranty is transferable, LifeProof's is not. But, LifeProof offers up to 20 years of commercial warranty, unlike SmartCore that only offers up to 10 years.
LifeProof LVP vs. COREtec
Key differences:
LifeProof is cheaper, but we think COREtec is more innovative.
COREtec is thicker and thus, is more scratch-resistant.
COREtec has nice beveled edges, LifeProof doesn't.
The rubbery underlayment of LifeProof is more comfortable to walk on.
COREtec recommends professional installation of their planks. LifeProof is easier for DIY installation given that you do it right.
Key differences:
LifeProof is cheaper.
Proximity Mills has integrated UV coating which makes it fade-resistant when installed in verandas and sunrooms. LifeProof is not built for exposure to sunlight.
Proximity Mills has 5, 7, and 10-year commercial warranties while LifeProof offers 5, 10, and 20-year warranties.
LifeProof LVP vs. NuCore
Key differences:
NuCore is cheaper and also less durable.
LifeProof is easier to clean while NuCore is a bit sticky when cleaned.
NuCore offers more designs to choose from but LifeProof still has more than enough styles.
What Is Comparable To LifeProof Vinyl Flooring?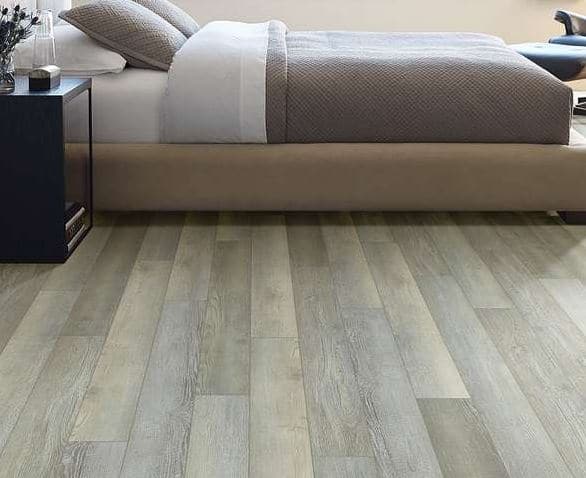 Shaw vinyl flooring is one brand that is comparable to LifeProof. The Shaw brand offers a series of luxury vinyl planks that come in three ranges: Floorte Pro, Floorte, and DuraTru. Each of these Shaw vinyl ranges offers 12 color palettes and species variations.
Although Shaw flooring is on par with LifeProof, the price of these vinyl planks will cost a bit more. But Shaw is definitely worth the price you pay. Most of the planks in Shaw's line are 5mm thick and the wear layers are 20mm thick.
Shaw's luxury vinyl floor planks are ideal for high-traffic areas because they are scratch-resistant, waterproof, stain-resistant, and less toxic than some competing brands. Shaw offers vinyl plank flooring with a fiberglass core that's made with virgin vinyl.
What's more, Shaw luxury vinyl plank flooring is comfortable to walk on and elegant to look at. You can add these vinyl planks to any part of your home, including basements and bathrooms. Shaw vinyl flooring is so durable that it's suitable for families with pets and children.
Similar to Lifeproof, Shaw flooring is easy to install because it has a click profile that requires no tools or adhesives. Simply click the Shaw planks into place as you're installing them. Shaw vinyl flooring is designed to fit any taste, so it will enhance the aesthetics of your interior decor no matter what theme you're going for.
FAQs
Who is the manufacturer of LifeProof vinyl floors?
The manufacturer of LifeProof vinyl flooring is Halstead New England. This manufacturer reduces cost and distribution layers. 

What are the disadvantages of vinyl plank flooring?
Although LifeProof luxury vinyl flooring offers many benefits to homeowners, there are some drawbacks to this type of flooring.

One of the shortfalls of vinyl flooring is that it can't be refurbished. This means that if your floors get scratched, dented, or tarnished over time, you'll have to replace the planks. They can also emit VOC (volatile organic compounds) which are organic chemicals that have high vapor pressure at room temperature. These VOCs can be detrimental to one's health. That's why it's important to select vinyl planks that have low VOC emissions like LifeProof.

Do LifeProof vinyl plank floors scratch easily?
LifeProof is a highly durable type of vinyl flooring that's scratch-resistant, so this type of flooring is ideal for high-traffic areas. If you maintain your LifeProof vinyl floors, they will last for up to 15 years. 

Can I install LifeProof vinyl over concrete?
Yes, LifeProof vinyl planks are designed to be installed over any type of flooring. You can even install LifeProof over wood or tiled flooring. 

How thick are LifeProof vinyl planks?
The LifeProof vinyl planks are 6mm to 7mm thick. The thickness of this flooring gives you the look of hardwood flooring and the durability of laminated floors. What's more, the thickness of these vinyl planks adds to the durability of the flooring, which means it's ideal for areas with high foot traffic.
Final Thoughts
LifeProof Vinyl Plank Flooring is a great option for anyone who loves the look of hardwood flooring but doesn't want the headaches that can come along with it.
Planks are available in a variety of beautiful wood-grain looks. And with today's technology, the resemblance to wood is so close that your guests may not even realize it's not real wood.
This LVP is also ideal for people who have health issues because it has low VOCs. It protects against harmful allergens too.
LifeProof is also easy to install and easy to maintain. And at a cost of around $3 a square foot in most areas, it is also a budget-friendly product.
But you can't just buy it anywhere. LifeProof vinyl plank flooring is only available through Home Depot.
If you have any comments or first-hand experiences with LifeProof vinyl floors, please post them below or share your pictures via our social media.
Back to Top