Have you ever lain awake wondering what the best thickness for vinyl plank flooring is? If so, you might be in the middle of a renovation meltdown. Or maybe you've spent way too much time watching home improvement shows.
Our vinyl plank thickness guide will give you all the key considerations to determine what thickness you need for your floors.
Vinyl Plank Flooring Layers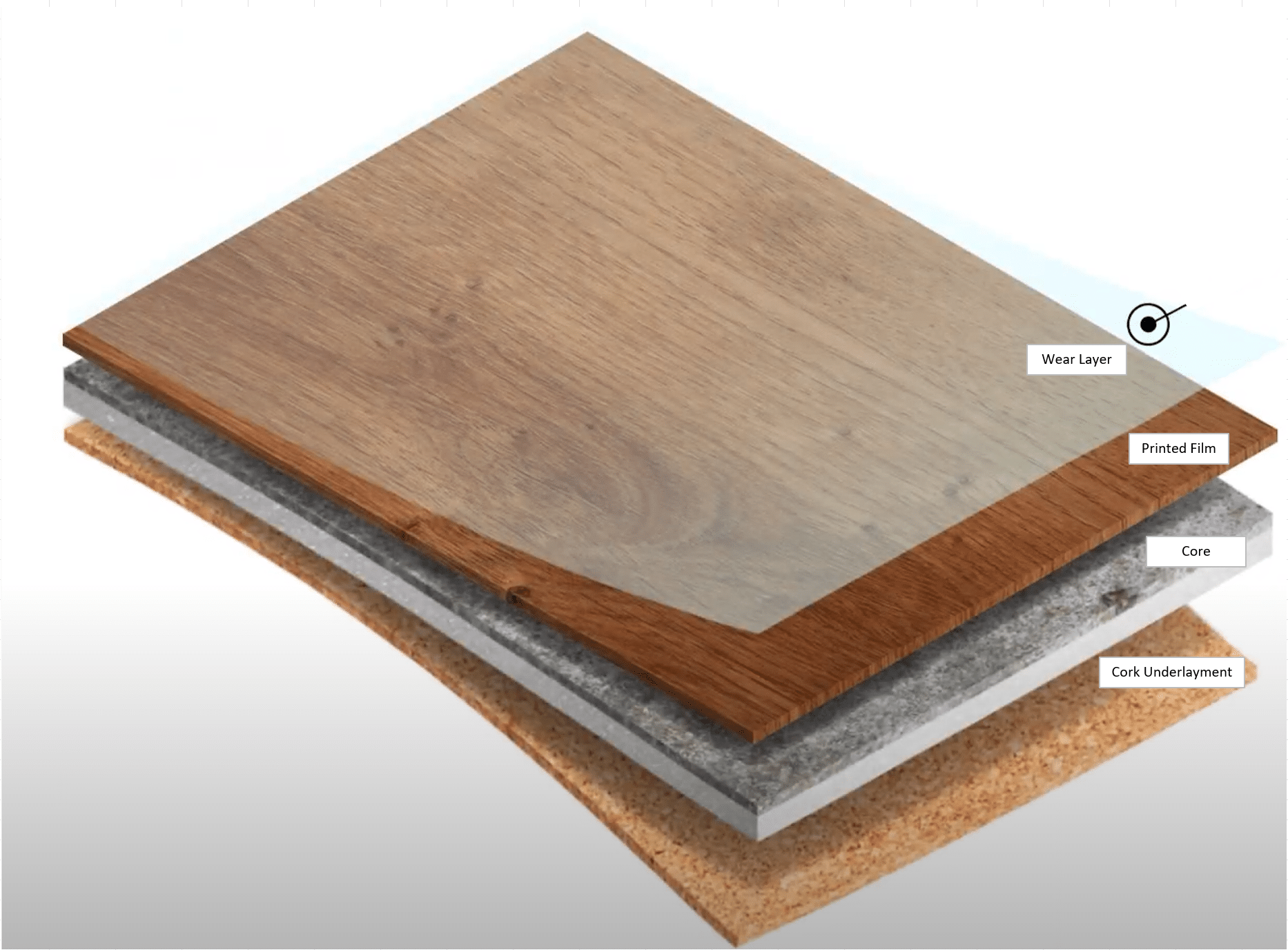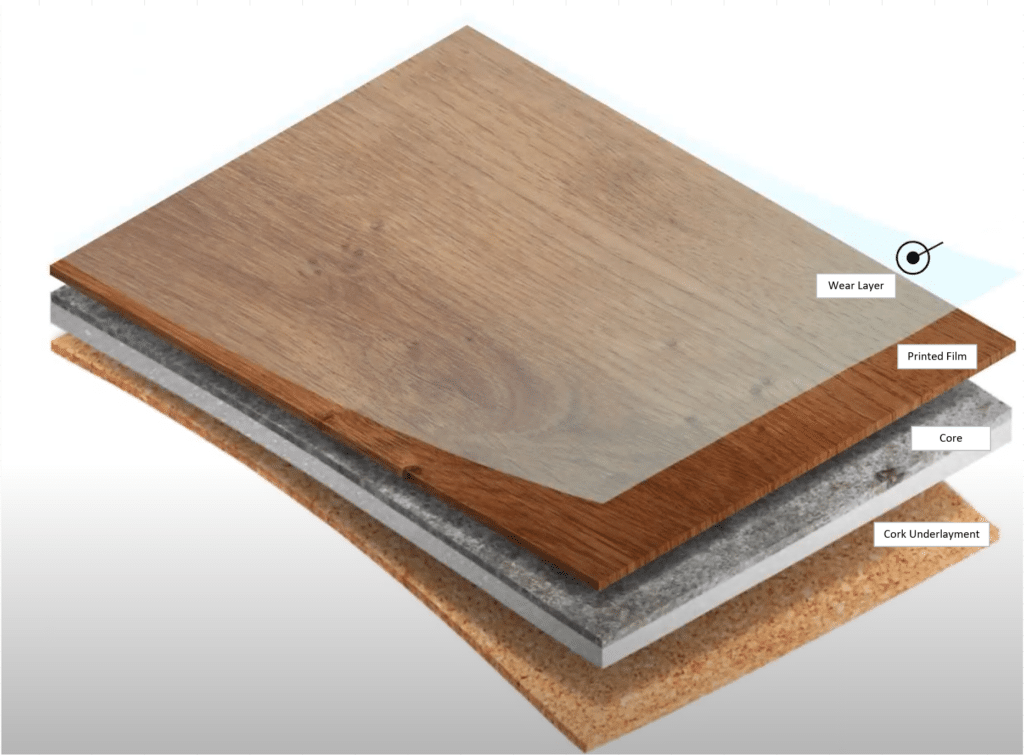 1. Wear Layer
The wear layer lies at the top between the printed design film and the coating at the very top. We consider this layer to be the most important factor of how well your floor will hold up over time. One simple piece of advice is to buy the highest wear layer you can afford. Overall, the thicker the wear layer, the more durable the vinyl plank will be.
We will discuss how wear layer is calculated later, but below are guidelines you can follow.
Best: >20 mils
Good: 12 mils
Below Average: 6 mils (be wary of floors below 6 mils in wear layer)
If the wear layer breaks down, the printed design will damage and fade. The thicker the wear layer the longer it takes for the top layer to wear off and expose your vinyl print. However, no matter how thick the wear layer, a floor will still scratch over time and if not properly maintained.
A thicker layer is more resistant to scratching and denting. Better quality flooring tends to have the highest wear layers, but is more expensive.
12 mil vs. 20 mil Vinyl Plank Flooring
A good wear layer for vinyl plank flooring is at least 12 mil. If you have an active family or an assemblage of pets, consider buying 20 mil or higher. For commercial applications, 28 mil wear layer vinyl plank flooring is recommended.
Even with a thicker wear layer, your floors may not last as long as you'd think. Other factors such as plank construction, installation and maintenance will play a critical role.
Top Coating
The top coating on the wear layer is also an important factor to consider. Better vinyl floors have wear layers that include a protective top coat. This coating often contains additives like ceramic or other substances to increase the hardness level of the planks. We like vinyl planks that have a wear layer with a top coating that has aluminum oxide.
Many Shaw floors have aluminum oxide while COREtec floors have a UV cured finish. Both do a great job and give the plank a very hard top coat which increases durability. Urethane coating is also used on some vinyl planks and has tiny ceramic beads mixed in to provide extra durability and grip.
During manufacturing, these substances need to bond to the flooring through the process of curation. If bonding isn't performed correctly, the coating won't be effective. Be sure to check your warranty for guidelines on manufacturer defects.
Overall LVP Thickness vs. Wear Layer Thickness
In short, wear layer thickness is more important than overall thickness of a luxury vinyl plank. Let's look at one simple example.
Plank #1
Overall Thickness: 8 mm
Wear Layer: 10 mils
Plank #2
Overall Thickness: 6 mm
Wear Layer: 20 mils
WINNER – We would choose this plank as the wear layer is much greater and will protect the floor much longer. The overall thickness of the plank is not as relevant.
2. Printed Film
The printed film covers the core with paper print film to get the desired style and color. This layer is less about thickness and durability and more about visual appeal.
3. Core
Most luxury vinyl planks (LVP) have either a WPC (Wood Plastic Composite) or SPC (Stone Plastic Composite) core.
WPC is softer, warmer, and quieter, but can dent more easily. On the other hand, SPC is harder and very durable as it's made from stone particles but it is louder and less comfortable than WPC. WPC does not contain actual wood. Instead, it's made up of wood flour fused with thermoplastic and calcium carbonates. This type of flooring is free of phthalates and safer for your family.
If we had to choose, we lean slightly towards SPC as you can buy something under $2 a square foot and it will last a long time.
See our full comparison of SPC vs. WPC.
4. Underlayment and Balancing Layer
The underlayment and balancing layer serve several purposes such as providing a softer feel under the foot, acting as a moisture barrier, and helping dampen sound. It also provides stability.
You won't find a balancing layer on many lower end floors (under $2 a square foot) as manufacturers want to get the cost product down so this is one of the first areas they will cut. If you live in an area with excessive humidity or your floors are exposed to direct sunlight, not having a balancing layer can make the floor unstable and cause it to warp and separate.
We do not recommend buying a floor without a balancing layer.
How Is Vinyl Plank Thickness Measured and Calculated?
The level of wear on a vinyl plank is measured in mil (one thousandth of an inch). A mil is not the same as a millimeter, as roughly 40 mil equals 1.0 mm (39.4 mil to 1 mm, to be exact).
To find the depth of a vinyl plank you need to account for the protective wear layer, core, and the backing. To better evaluate your options you'll need a basic understanding of how companies assemble vinyl planks.
Total thickness of the floor is measured in mm (1 mm = 3/64 of an inch). You'll find a wide range here, with lower quality planks falling in the 4 mm range and higher quality planks boasting 8 mm or thicker. For example, the total thickness of a 6 mm floor with a 1.5 mm pad is actually 4.5 mm.
Will there be a transition from your vinyl planks to another type of flooring? If so, you'll need to keep that in mind when calculating the thickness of the planks. Awkward transitions between rooms will make your floors uneven and unattractive.
What Is The Best Thickness For Vinyl Plank Flooring?
As a rule of thumb, for heavy traffic areas go with a wear layer of 20 mils and for low to normal traffic areas, go with 12 mils. See our vinyl thickness chart for more detail.
| | |
| --- | --- |
| Type | Wear Layer We Recommend |
| Peel & Stick Flooring | 6 mils |
| Loose Lay Vinyl Flooring | 12 mils to 20+ mils |
| Glue Down Vinyl | 12 mils to 20+ mils |
| Click and Lock Vinyl | 12 mils to 20+ mils |
Cost and Useful Life of Vinyl Plank Based On Thickness
| | | |
| --- | --- | --- |
| 20 mil Vinyl Plank Flooring | 12 mil Vinyl Plank Flooring | 6 mil Vinyl Plank Flooring |
| $3 to $8 per SF | $2 to $5 per SF | $1 to $4 per SF |
| 20 year useful life | 7-10 year useful life | 4-5 year useful life |
Do not solely consider cost and give equal weight to how long a higher quality floor will last.
LVP Thickness – Our Picks for Top Brands
20 mil wear layer
8.0 mm overall
$5 to $6 per SF
20 mil wear layer
6.0 mm overall
$5 to $7 per SF
30 mil wear layer
3.0 mm overall
$6 to $8 per SF
5 Things to Know Before Buying LVP
Order full size plank samples (this may have a small cost but it worth it to see how the planks will look and for testing).
Do the butter knife test: take a butter knife and try to the scratch the floor using normal force (if a bunch of scratches appear, don't buy that floor).
Ensure you have a proper subfloor and that it is even.
Buy the highest wear layer you can afford.
Ensure the locking areas don't snap off by hand (take a plank and try to break off the locking areas, if they break easily, don't buy that floor).
Residential or Commercial Rating
Another important consideration is the rating. Is it rated for residential or commercial traffic?
Both have the same maintenance requirements, but planks appropriate for business settings can hold up to excessive use.
It's helpful to compare the commercial warranty with the residential. An extended industrial warranty usually signifies a thicker wear layer.
Flooring manufacturers tend to err on the side of caution with commercial customers. By underrating the vinyl plank's life expectancy, companies avoid costly warranty claims.
In contrast, residential flooring is expected to withstand less abuse over a longer period. If the plank in your home needs to hold up to rolling loads, exposure to grease or extreme use: you should consider the commercial grade rating as a better indicator of how long your vinyl planks will last.
FAQ
How thick should vinyl flooring be?
Overall vinyl thickness is less relevant than wear layer. A wear layer of 12 mils or greater is recommended.

How thick is 20 mil vinyl flooring?
20 mils is roughly 0.5 mm. Note mil is not the same as millimeter.

Is thicker vinyl flooring better?
In general, yes, but its the individual components of the thickness that matter the most. Wear layer is the most important consideration. Also, remember a 8mm thick vinyl floor with a 2mm of padding means that the overall thickness is 6mm.

Can I increase wear layer of LVP?
No, you cannot add wear layer to an existing floor. The wear layer is added during the manufacturing process.

What is a good thickness for vinyl sheet flooring?
Vinyl sheet is less thick than a vinyl plank so having a an overall thickness of 2mm to 5 mm is sufficient in most circumstances.
Final Thoughts
If durability is your primary concern, look for vinyl planks with the thickest wear layers. Your retailer should provide you with documentation detailing these features.
When shopping for vinyl plank; look at the warranty, core construction, wear level, and attached underlayment before making a final decision. Planks with added cushioning are warmer and quieter. Some products also feature built-in vapor barriers within the underlayment.
Don't be fooled into thinking that more expensive flooring is always the better choice. While that is often the case, sometimes you are paying for the name, not necessarily the quality. Be sure to confirm the product is health compliant and carries safety certifications.
Whether you've found vinyl planks that have exceeded your expectations or have failed to live up to the hype, help others by sharing your comments.
Back to Top