Vinyl plank flooring has emerged as an affordable alternative to hardwood flooring and also a great way to get hardwood looks, but in a material that is water-resistant. However, while there is a lot of quality vinyl plank flooring out there, there are also some duds, which look fake and don't hold up in terms of appearance and durability.
In this article, we are reviewing Shaw Floorte Vinyl Plank Flooring, a brand that works hard to meet the needs and concerns of their customers. They have a broad collection in terms of both styles and price points, which seems to live up to theirmarketing promise.
We'll look at Shaw Floorte's different lines, their quality, installation, where you can buy it, and what customers have thought. Basically, we will equip you with everything you need to know to decide whether this flooring brand might work for you.
Styles And Lines
Shaw divides their vinyl plank offering into two series, the Classic Series and the Pro Series.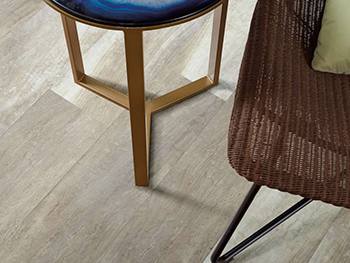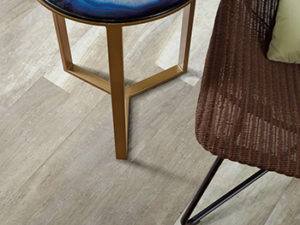 The Classic Series combines a foamed waterproof core with a Soft Silence acoustic pad underlayer and its design and performance layer on top, which combines the design print with an ArmourBead & ScuffResist Platinum finish. So you are looking at a product that is both water-resistant and durable. Floorte options with a wear layer of between 12 and 20 mil tend to belong to this line.
The Pro Series has a denser core, with the same acoustic pad but an enhanced design and performance layer that uses a thicker commercial-grade platinum finish. Floorte options in the Pro series have wear layers from 20 mil to as much as 30 mil thick, offering commercial-grade protection.
Within these series, there are a variety of different design lines. Let's take a look at some of their most popular.

Floorte Casa
Casa comes in 18 exotic color variations including Bianco, Grigio, and Gialo. These textured planks are vividly detailed and strike the perfect balance between weathered and warm.
Part of the Classic Series, Casa planks have a 12 mil wear layer, which is acceptable for vinyl, but it may be too thin for use in active households. Families with children and pets should look for thicker vinyl planks with a layer of 20 mil or higher.
The Floorte Casa collection features 4-foot-long boards just shy of 6 inches in width. These resilient floors have a waterproof surface making them an excellent choice for basements or damp areas.
Like most of Shaw's vinyl planks, Casa utilizes the Fold-n-Tap installation method. It's a floating floor that locks together at the bevels. Installing these planks is relatively simple as they don't connect to your walls or adhere to the subfloor.
Shaw warranties the finish of its Casa planks in residential settings for 30 years. Be advised, gloss reduction and surface scratches are excluded from this guarantee.
Expect to pay just under $6.00 per square foot for this line.

Largo Planks And Largo Mix Plus
Floorte Largo is the brand's smallest but most diverse collection. Largo Planks come in six color options that mimic familiar wood species.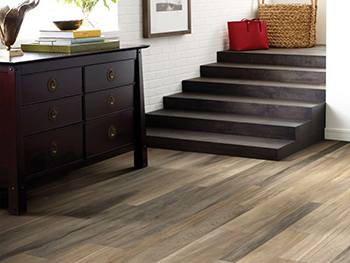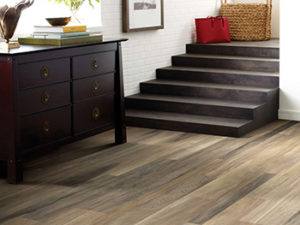 These planks are perfect for open floor plans. Their impressive 8"-wide by 6'-long sizing make them a smart choice for anyone wanting a seamless look. Utilizing larger planks will create the same sense of flow and continuity found in many of today's top designs.
Largo planks sport a durable wear layer of 20 mil and a total thickness of 6.5mm. They are waterproof, scratch-resistant, and have a lifetime warranty.
A subcollection within the Largo line is Largo Mix Plus. These planks come in premixed boxes of various lengths. Largo Mix gives you the freedom to customize your design and create a one-of-a-kind style. This flooring takes it up a notch for those DIY installers with adventurous spirits.
Largo Mix Plus is available in six striking shades not found in the original Largo line. The mixed collection offers a residential lifetime warranty. You can install either Largo line with Shaw's fold-n-tap system.
One of the more expensive lines, expect to pay between $6.00 and $7.00 per square foot.
If you need a budget-friendly option, consider Mantua plank.

Mantua Plank
Mantua is Shaw's line of value vinyl planks. These planks come in nine beautiful colors that blend with any design style. Mantua planks measure 6" x 4' and 5.5mm thick.
This collection has a thinner wear layer of 8 mil. Mantua planks may be a better choice for homes without children or pets.
If you're updating your home for resale purposes, this flooring is an appealing option. Mantua planks are waterproof and scratch-resistant. You can install them on any level in your home.
Shaw warranties that the planks in this series will last for 15 years of residential use, and they will set you back less than $5.00 per square foot.
While we have covered the lines of Shaw Floorte, we haven't quite finished our examination of this brand. There is more to consider.

Price
Shaw Floorte flooring is mid-range when it comes to pricing, and you can expect to pay between $4.00 and $7.00 per square foot for their lines, which is the market average.
As a general guide, their lightweight lines, such as those with just an 8 mil wear layer and only around 5.5mm thickness overall, cost around the $4.00 mark. The Floorte residential lines, with a 12 mil wear layer and a thickness of between 6-7mm, cost between $5.00 and $6.00. Their premium lines with wear layers of 20 mil or more and thicknesses of between 8 and 12mm, will cost between $6.00 and $7.00.
If you choose to hire a professional to install your floor, expect to pay between $1.50 and $3.00 per square foot. But the planks are designed to be easy to install, so this may be something you can tackle yourself as a DIY project.

Warranty
Shaw Floorte's manufacturer warranties are based primarily on the wear layer on the plank. With an 8 mil wear layer, you can expect to receive a 15-year residential warranty and 5-year commercial warranty. For 12 mil planks, Shaw offers a 30-year residential warranty and 7-year commercial coverage. For their higher wear layers, you can expect a lifetime residential warranty, and a commercial warranty of 10 to 20 years.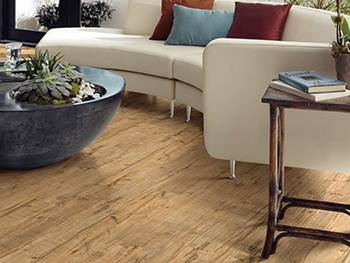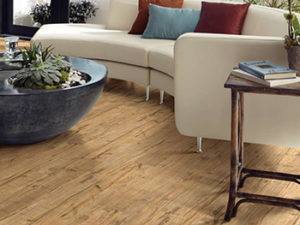 The warranty covers manufacturing defects, delaminating, and loss of original pattern or color while subject to normal use and when properly maintained. They also warrant that the planks will not be warped by water.
As is the case with most lifetime warranties on floors, it applies only to the original purchaser and does not pass to the subsequent homeowner when the home is sold.

Where To Buy
Shaw does not sell their vinyl flooring directly to the public, but rather through a network of approved retailers as well as some big box and specialty flooring stores. They provide a store locator on their website to help you identify your local dealer.

Installation
Shaw's Floorte flooring is easy to install and is a project that most home DIYers should be able to tackle without the help of a professional.
The vinyl flooring can be installed over existing flooring, and the underlayer means it can be installed over an imperfect subfloor without significant issues.
The planks come with a click profile, which allows the planks to be fit together in a tongue-and-mouth approach.
Shaw's vinyl planks are also appropriate for glue-down installation over wood and concrete substrates.
Floorte floors do not require acclimation, so you can walk on your new floors on the same day as installation.
The manufacturer confirms that this vinyl flooring can be installed over radiant heating as long as there is a minimum of a ½ inch separation between the heating system and the flooring.

Care And Maintenance
Shaw recommends sweeping your Floorte vinyl floors regularly to remove dirt and grit, which can be responsible for scratches and abrasions. Periodically, the floor should also be cleaned with their recommended hard surface cleaner and a dry mop.
The floor should not be cleaned with a vacuum cleaner with a beater brush, as this can cause scratches and dents. Shaw also does not recommend the use of steam or harsh chemicals to clean their floors, and their use may void your warranty.

Shaw Floorte Reviews
The reviews for Shaw Floorte aren't exactly promising. Installers, retailers, and customers all note multiple problems with Floorte vinyl planks
While the line has been revamped, it's hard to ignore the number of complaints. Common issues include faulty installation mechanisms, excessive wear, and denied warranty claims.
While reviews can be helpful, it's important to do your research. Make sure you take the bad reviews with a grain of salt.
Considering many of the posts were written before the collection's overhaul, the problems may have been corrected.

FAQs About Shaw Floorte Vinyl Flooring
Is Shaw Vinyl Flooring Good?
Shaw Floorte sells a variety of grades of vinyl flooring, some lightweight with an 8 mil wear layer and others with extra-durable wear layers of up to 30 mil. There is a significant cost difference between the two, and they will perform very differently.
But one thing that stands out about Shaw Floorte is the variety. Floorte offers a broad range of designs in both their affordable and high-quality lines, so there is something for every taste and budget in their collection.

Where Is Shaw Vinyl Plank Flooring Made?
While the majority of Shaw's new lines are made in the United States, it still has lines that are made in China. The country of origin for each of Shaw's flooring lines is clearly displayed on their website.

Does Shaw Vinyl Plank Flooring Require Underlayment?
The majority of Shaw's vinyl flooring comes with a sound dampening underlayer attached to all planks, so there is no need to purchase additional underlayment.
If it does not have an underlayment, or you want additional sound dampening or moisture protection, additional underlayment can be used. Shaw sells a number of underlayments that they recommend for use with their vinyl plank flooring.

What Is The Best Shaw Vinyl Flooring?
If you are looking for the most durable Shaw Floorte vinyl flooring, look at their lines designated as Plus. These are usually thicker boards, around 12 mm thick, and protected with a 30 mil wear layer. Shaw thinks these floors are so durable, they offer a 20-year commercial warranty and limited lifetime residential warranty on these lines.

Is COREtec Made By Shaw?
COREtec flooring is now manufactured by Shaw, since their acquisition of USFloors in 2017. COREtec is now manufactured in Shaw's facility in Ringgold, Georgia.

What Is The Difference Between Floorte And Floorte Pro?
Floorte Pro is a more durable version of standard Floorte vinyl flooring. It has a harder core and a tougher wear layer to ensure that vinyl planks are more durable, more scratch-resistant, and hold up better over time. A range of colors and styles are available as Floorte and Floorte Pro.

What Are The Disadvantages Of Vinyl Plank Flooring?
The main drawback of vinyl plank flooring is that it offers a minimal return on investment when compared to other floors. For example, vinyl flooring does not add to the value of your home, unlike hardwood floors. Similarly, while engineered hardwood floors might last you 50 years and solid wood floors more than 100 years, vinyl plank flooring needs to be replaced every 20 to 25 years.
There are also health and environmental concerns with some vinyl flooring. Some vinyl flooring is made with chemicals that convert into gas when the planks acclimatize to room temperature, releasing potentially poisonous toxins into your home. You need to look for VOC-free vinyl planks to avoid this.
Vinyl planks are also not biodegradable, so once you rip them out of your home after 20 years, they can sit in landfill forever.

What Is The Best Thickness For Vinyl Plank Flooring?
Never purchase vinyl plank flooring with a thickness of less than 5mm. This is usually sufficient for light residential use. For the areas of your home with greater traffic, or for light commercial areas, look for planks at least 8 mm thick. As part of its Floorte line, Shaw produces planks that range from 5mm to 12mm thick.

The Verdict
With their Floorte vinyl plank flooring line, Shaw offers its customers a large variety of options both in terms of colors and designs, and durability and price. There is something for everybody within the collection.
Their floors are waterproof and range in durability depending on the wear layer you choose, but in general seem to live up to the promise of being a wood-look alternative you can use in any part of your home.
Shaw has some negative customer reviews online, but in recent years they have updated much of their manufacturing practices including moving some of their important production from China to the USA. Also, there is an element of "you get what you pay for." If you get one of the Floorte 8 mil wear layer lines, you cannot expect it to live up to the promises of their 20 or 30 mil wear layer options.
The Floorte line offers selection, and you need to be careful to select a style and a level of durability that is right for you and your home.
If you've used Floorte, be sure to help others by posting your comments below.
Back to Top