One of the attractive things about tile as a flooring option is how easy it is to clean and maintain. But you do need to know what you are doing to maintain your tiles in peak condition and ensure they are thoroughly hygienic.
In this article, we will go through everything you need to know to clean your tile flooring properly.
We'll go through the different ways for treating porcelain, ceramic, marble, and natural stone tiles, and the best way to clean and care for your grout lines. We'll share general cleaning tips and the best cleaning materials to use with a few product suggestions.
Before you start cleaning, the first thing to know is what type of flooring tiles you have, as this can make a big difference when it comes to maintenance. If you use the same cleaner on your natural stone tile floor as you do on your ceramic tile floor, you can find yourself doing more harm than good.

Are You Cleaning Porcelain/Ceramic Tiles?
Porcelain or ceramic tiles are the simplest to maintain. They can handle most cleaning agents without losing their shine, and they won't scratch easily. Most manufacturers will recommend that you use any mild cleaner mixed with warm water on these types of tiles.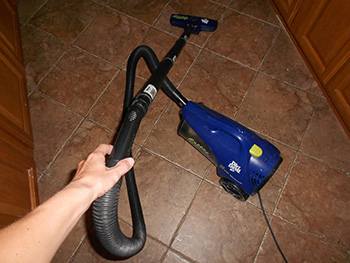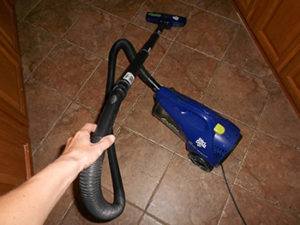 Unfortunately, porcelain and ceramic tiles also hide dirt and germs, so scrubbing them is essential to your family's health.
Microfiber dusters such as the Swiffer are great for everyday cleaning. The disposable cleaning cloths pick up dust and pet hair without scattering it through the air. Swiffer even has an inexpensive model with a vacuum to pick up debris and dust over larger areas.
For a deep clean, consider using a microfiber mop that won't grind the dirt into your tiles. Many models are reusable and include pads you can wash after every use. Best of all, they're flexible and get into the corners, unlike many string mops.
You don't need to soak them in a cleaning agent either. In fact, microfiber mops work best when they're not saturated. Your floors won't take forever to dry, and you won't have to worry about kids or pets slipping on the tiles.
Do You Have Marble Or Natural Stone?
Natural stone tiles are breathtaking to look at but need a lot of upkeep. Even the tumbled varieties can etch and scratch if you're not careful. Marble tiles are especially tricky to keep clean.
Never use a rough broom to clean these floors. Look for a soft-bristled model or, better yet, use a vacuum made for tile flooring like this one: the Bissell PowerEdge on Amazon. Try to find a lightweight model that's easy to maneuver.
When washing stone tile, remember you can't use any old cleaner. You'll need something that's pH neutral. Use a cleanser made explicitly for stone that won't etch or stain your floors. Black Diamond is a popular choice and has excellent customer reviews.
With a combination of light maintenance and quality products, stone tiles will last as long as you own your home. Even if you're planning on selling in the future, having natural stone tiles in your bathrooms and kitchen will make your home stand out from the competition.
How Should You Clean Grout Lines?
While many people advocate using vinegar or peroxide to clean grout, it's not the best option. The acid in these chemicals can wear your grout down and loosen it. If you have stone tile, acidic or alkaline cleaners will destroy your floors.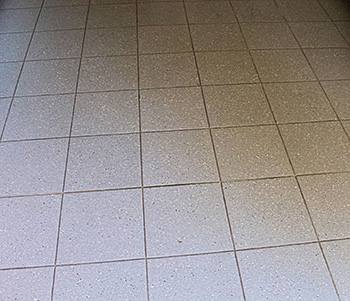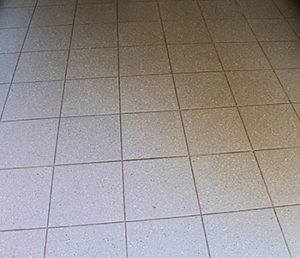 But without regular cleaning, grout will discolor and your tile will look old and worn. Thankfully, many companies have started producing cleaning products without harsh chemicals. You can find them online or at home improvement stores.
Hoover makes a reasonably priced grout cleaner that will penetrate the toughest of grime and leave your floors sparkling. Use a brush to loosen the dirt and to scrub away stains. It's better to use one with soft bristles, so you don't damage your tile.
A second option is to use a steam cleaner in combination with a scrub-brush. Steam cleaning is a safe alternative to harsh cleansers. The hot water will sanitize your tile while loosening dirt trapped in the grout.
One of the most popular models is made by Shark. This steam mop has excellent reviews and is gentle enough for everyday cleaning. Remember to wear shoes while you clean, so you don't accidentally burn your feet.
How Effective Are Environmentally-Safe Cleaners?
The government has made strides in regulating the products we use to clean our homes. Tile floor cleaners are no exception. The Environmental Protection Agency sets strict guidelines for companies and promises to ensure the chemicals we use are safe.
Some say, green cleaners aren't potent enough and won't sanitize your tile floors as well as traditional methods. But, that is far from the truth. Hospitals and daycare centers across the globe rely on eco-friendly cleaners to kill germs and sanitize surfaces.
Disinfecting your floors isn't optional, especially if you have toddlers. Germs can hide anywhere, and children love to touch everything. Always make sure the cleansers you use are safe for your family and your flooring.
Have you ever used homemade floor cleaner on your tile? There's a famous recipe online that uses a mixture of vinegar, water, and dish soap. The jury's out on how well this concoction cleans and many reviewers note the odor isn't worth the savings.
Simple Green Naturals is an economical choice that's both effective and safe to use around children and pets. It's made by a company that has long prided themselves on manufacturing non-toxic cleaning solutions. This plant-based cleaner leaves behind a pleasant scent your family will love.
The EPA keeps an online database of safe cleaners where you can look up your favorite brands. You can also check the product's label to see if it carries the Safer Brands seal.
FAQs About Cleaning Tile Flooring
What Is The Best Cleaning Solution For Ceramic Tile Floors?
Ceramic tiles are tough and versatile, so you can use almost any mild detergent solution to clean them. With regular sweeping to pick up debris, just water is usually enough to clean most of the dirt off the tiles. Steam cleaning can also go a long way when it comes to maintaining tiles. To deal with odors, consider making your own cleaning mixture with white vinegar.

It is actually the grout between the tiles that is most likely to pick up dirt and mold, and the grout will also discolor and make your floors look worn. To prevent this, seal grout when installing. Afterward, clean with a hydrogen peroxide and water mixture or a specialist grout cleaner, that is made by specialist flooring companies such as Hoover.

How Do You Clean Dirty Tile Floors?
The best way to clean your tile floors depends on the type of flooring tiles you have. But all tile floor maintenance should start with regular sweeping and dusting. This is essential as debris on top of the tiles can be abrasive and cause scratches. If left to sit, dirt can also seep into grout, where germs can thrive, and grout can also easily discolor, leaving your floors looking worn out.

When it comes to cleaning, you can use almost any mild cleaning agent on ceramic and porcelain floors. For marble and natural stone tile floors, you need a pH neutral cleaner, such as this option from Black Diamond.

But, when cleaning your tiles, don't forget about your grout. It is often the first thing to become discolored and start looking worn, and is also more likely to trap germs. Use a specialist grout cleaner, such as this option from Hoover.

Is Vinegar Good For Cleaning Tile Floors?
Vinegar is a natural, non-toxic agent that safely deodorizes, disinfects, and cleans some hard surfaces, but not all. It is safe and effective on ceramic and porcelain tiles, but it should not be used on marble or natural stone tiles, which require a more balanced pH cleaning agent. Too much vinegar may damage these types of tiles.

It is also not a good idea to soak your grout in vinegar to get it clean. With a pH level of around 2, vinegar can corrode grout, undermine its integrity, and create spaces where water can seep and sit, leaving behind pockets of mold.

What Is The Best Way To Clean Ceramic Tile And Grout?
The best way to keep ceramic tile and grout clean is to remove dirt regularly through sweeping or with a microfiber mop. Debris that sits on top of the tiles can cause scratches and abrasions. Dirt that is left to soak into grout can damage it. On top of this, you can also steam clean your floor regularly. The steam will lift dirt off the tiles and out of the grout.

For a deeper clean, mop your tiles first with any mild cleaning agent, and then treat your grout separately with specialist grout cleaner.

How Do You Remove Ingrained Dirt From Floor Tiles?
When it comes to ingrained dirt, we are usually talking about the grout rather than the tiles, which does not tend to hold onto dirt. To deep clean your grout, use either a baking soda paste or a specialist grout cleaning solution. Work it into the grout using something like a toothbrush, and then leave it for around 5 minutes. Finally, remove the cleaning agent with warm water.

What Is The Best Homemade Tile Floor Cleaner?
You can make homemade cleaning agents for your tiles from a variety of household items such as white vinegar, baking soda, dish detergent, and essential oils such as peppermint, pine, or lavender. Which is best depends on what you are cleaning.

For ceramic and porcelain tiles, mix white vinegar with water. For grout, make a baking soda paste; for marble and natural stone tiles, make your solution from pH neutral ingredients such as baking soda and hydrogen peroxide.
The End Results
Cleaning your tile floors isn't difficult, if you have the right supplies to do the job. Microfiber mops, steam cleaners, and lightweight vacuums are indispensable allies in the war against dirt.
After cleaning, allow time for your tile to dry before walking on it. Otherwise, your floors will show every streak and footprint. Try to wash your floors at off-peak times, so your family doesn't ruin all your hard work.
Remember, these floors will last a lifetime if you take care of them. You don't have to wash your tiles every day, but most experts suggest you sweep regularly and apply cleaner every two weeks.
How do you keep your tile floors clean? Which products do you use regularly? Be sure to share your best cleaning tips with the rest of us in the comments below.
Back to Top