Hours of research, and countless nights of dreaming about pet hair vacuums (I know, please feel bad for us) – and here we are. The ultimate vacuum buying-guide for dog & cat owners.
As you stare at the fur-covered cat tree in the corner of your living room, you can't help but wonder: what color was it originally? You could have sworn you bought a millennial pink tree, but somehow, it's gone completely grey.
Lint rollers are a joke and your vacuum can hardly pick up rogue kitty litter, nevermind suck up the mounds of fur your babies leave behind. You need something to help you and fast.
These 6 best vacuums for pet hair, according to our research, can help you restore your cat tree (or your pet friendly flooring) to its former bubblegum glory.
Having a vacuum designed specifically for pet hair in your home will save you time and money in the long run. Most ordinary vacuums can't handle the vast amounts of fur that you'll inevitably be cleaning up, so getting something optimized for picking up after your furry friends is necessary.
Rankings
Here's everything you need to know about vacuums for pet hair:
What to Look for in a Vacuum for Pet Hair?
Buying a vacuum for pet hair isn't like buying any regular ol' vacuum. Though they're all made for the same purpose, here are the different kinds of vacuums that are optimized for picking up furballs:
Robotic vacuums
Stick vacuums
Handheld vacuums
Upright vacuums for pet hair are a classic choice. With these, you'll be able to clean floors (including carpet), area rugs, stairs, and upholstery. For those searching for an all-in-one option, this is what you'll want to look for.
Robotic vacuums for pet hair are perfect for families that don't like to spend a lot (if any) time cleaning. These will pick up after your pets in real time, leaving only sparkling floors for you to come home to.
Stick vacuums for pet hair are great for homes that have just one floor type (typically laminate, tile, vinyl plank or hardwood flooring). You'll want to also purchase a handheld vacuum when going with a stick option to make sure your upholstery is fur free, too.
Handheld vacuums for pet hair are specially designed for upholstery and areas like stairs and cars. For parts of the house where a full sized vacuum won't fit, handhelds are the only way to go.
Based on your lifestyle and needs, there is a vacuum for pet hair out there that your family will love almost as much as you love your furry friends (OK, perhaps that's stretching a bit too far).
What to Expect When Spending More?
When going with a less expensive pet hair vacuum, you'll typically purchase a stick vacuum or handheld vacuum. When buying a stick vacuum, you'll want to go ahead and purchase a handheld as well since stick vacuums don't come with hose attachments.
Stick vacuums typically only work on hard floors or low pile rugs, so if you have plush carpeting, a more expensive upright carpet vacuum would be a better fit for your needs.
Mid range vacuums are typically uprights. For pet related upright vacuums, you'll have a variety of attachments to choose from that will get pet hair out of deep crevices and off of your upholstery.
These vacuums will have good suction and are a solid choice for a family with a few pets.
Expensive vacuums for pet hair will either be fully automatic or will be uprights with extraordinary suction. These will make cleaning an absolute breeze. More expensive models are recommended for families with more than 2 pets that need to be picked up after daily.
For every family, there's a perfect vacuum for pet hair. Now's the time for us to look at each of the models to help you find your purr-fect match.
Full Research & Reviews
We've shown you what to look for, now it's up to you to decide. Which vacuum will you adopt into the family?
Here are our 6 best vacuums for pet hair picks: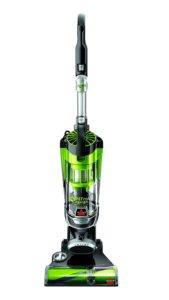 Weight: 18 pounds
Power type: Corded – 30 feet
The high points: Tangle free brush roll, 2 in 1 pet brush, pet turboeraser tool
The not-so: No storage for attachments on vacuum, may lose its balance, have to bend over often
There are a ton of vacuums out there with "pet" in their name, but not many are as good of a value as the Bissell Pet Hair Eraser – that I'm sure of.
The Eraser is designed specifically with pet hair in mind. No matter what kind of cleaning you need to do, you'll be able to do it with ease with the Eraser.
With this Bissell, you'll have not one, not two, but three parts of the vacuum optimized for cleaning pesky pet hair. The no tangle brush, the pet brush, and the turboeraser are all fan favorites.
Compared to other vacuums on our list, this one has the most pet-oriented features. There's even a scented disc attachment that refreshes the area you've just vacuumed which makes it smell like a pet's never even been there.
For the value and price of this vacuum, there was no way that it wouldn't easily be our top pick. Recycle your old vacuum, and prepare for a lifestyle upgrade.
What reviewers say about it?
Reviewers say that for dog and cat hair, this is one of (if not the best) vacuum they've used. This vacuum is designed entirely with pets in mind, and reviewers can tell.
Some minor things that reviewers wanted on the Eraser were some of the features that more expensive vacuums have. Quite a few users mentioned that they would like a headlight on the front of their vacuum to see exactly what they were picking up.
Some reviewers noted that even though long pet hair doesn't tangle on the brush roll, if you have long human hair, you still may need to cut it off. It's good to check the vacuum before storing it away to get rid of any strands that may have gotten stuck along the way.
The Eraser doesn't just erase hair, it also erases odors. Users love that they can add a scent disc to the vacuum to noticeably refresh the area they just cleaned.
What's good?
The Eraser gets rid of pet hair and does it well. There's not much that this little machine can't do when it comes to pets.
The tangle free brush roll is one of three features geared specifically toward pet owners. When it comes to long pet hair, you won't need to cut anything off of the brush roll when you're done vacuuming.
The 2 in 1 pet brush is a nifty little tool that you can attach to the end of the hose. The rubber end is perfect for picking up pet hair and the end with soft bristles is perfect for getting any other crumbs off of upholstery.
The pet turboeraser tool is a mini motorized vacuum head designed just for upholstery. If the 2 in 1 pet brush didn't finish the job, the pet turboeraser sure will.
What could be better?
The Eraser as a whole is sturdily built, but that doesn't mean that all parts of the vacuum are created equal. A few users noted that the part that stores tools onboard the vacuum was likely to snap.
Properly balancing vacuums is a challenge vacuum product designers have been battling for ages. Unfortunately, the Eraser may or may not fall down the stairs if you make a single wrong move.
When cleaning baseboards, most people don't actually want to get down on the ground to do it. Since the hose extension isn't very long, you'll need to bend over to clean areas close to the floor with the handheld.
How does it compare in value?
The Eraser took the number one spot on our list because, for the price point it's in, the Eraser does bang-up work doing its main job: getting rid of pet hair.
Compared to many other vacuums optimized for pet hair, this is one of the most inexpensive ones you'll find. Luckily for you, the Eraser falls into the elusive "it's too good to be true for this price, yet it is" category.
How has it improved?
An older version of the Eraser didn't have the new and improved no tangle brush roll. Scent discs are also exclusive to the new Eraser.
The older version of this vacuum also doesn't have the 2 in 1 pet tool. A version of the turboeraser tool is found on the vacuum, but the new 2 in 1 tool is what really makes the hair clinging to your upholstery disappear.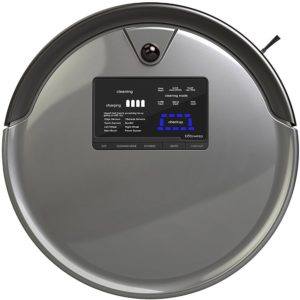 Weight: 7.72 pounds
Power type: Cordles Vacuum – automated
The high points: Lets you know if there are any issues that need to be fixed, stellar customer service, is programmable, you never have to vacuum yourself
The not-so: Taller than advertised, may have difficulty going over tall transitions
Do you hate vacuuming? The answer is probably yes if you're reading about this fully automated pet hair destroying robot.
The one thing the bOb loves to do (aside from vacuuming) is to make your life easier. The bObsweep pet is the best automated vacuum on the market designed specifically for pet hair.
From a large dust container to constantly picking up after your furry friends, the bOb has the features to make it the pet vacuum you'll want to splurge on.
Aside from being fully programmable and scheduleable, the bOb's main pro is that you never have to think about vacuuming again.
Wherever your pets go, there's bound to be pet hair following them. Instead of picking up after them only once a day, the bOb will allow you to come home daily to a clean, pet hair free home, which is well worth every penny.
What reviewers say about it?
Reviewers say y-e-s to the b-O-b. The vast (and I mean vast) majority of reviews were overwhelmingly positive, which is a first for any vacuum that I've seen before.
One major plus reviewers loved was bOb's 1 L dust container. Many automated vacuums have tiny dust containers, but not the bOb; this vacuum has the container the size of an average upright.
Customer service is what makes or breaks a company. For bOb, the customer service is way above the rest and users love that their (few, if any) problems with their bObs will always be solved and solved fast.
What's good?
Most things, if not everything is good about the bOb.
For an electronic product for which many users were first time buyers, most had no trouble at all adjusting to using the bOb vacuum. If there were any problems, the bOb customer service team is the absolute best most of the users have ever seen (AKA: on par with Amazon customer service-good).
If your bOb needs servicing, it literally tells you on the control panel what needs help. From there, you can fix the problem yourself or contact the stellar customer service providers.
The machine is easily programmable; once you set up your bOb, you don't have to think about him again for a few days. You will need to set a reminder on your phone to empty the dust collector, but other than that, your pet hair problems have magically disappeared.
What could be better?
It was actually difficult finding problems with the product, so know that what's said about the bOb below are minor details that only a few customers found a problem with.
A few reviewers noted that their bOb was taller than they expected it to be. Some said that if bOb went into their kitchen or bathroom, it got stuck under their cabinets.
The transition from room to room and from floor type to floor type may also be difficult if you have a particularly tall threshold. Your bOb may detect these as boundaries and won't go over them to clean.
Again, most reviewers did not share these problems, but since some did have difficulty using the bOb, this information is vital to share with you.
How does it compare in value?
If you're paying for ease of use, this product is the one to invest in. Most people can't put a price on totally eliminating a chore that they despise, but if they could, it would be worth more than the bOb, for sure.
Though expensive, this product isn't that much more expensive than your average Dyson. When deciding which high end product to invest in, you need to think of your lifestyle, cleaning needs, and personal preferences.
How has it improved?
An older pet version of the bOb had a much smaller dust collector. This would require frequent emptyings, which could get tedious if you wanted your bOb to clean multiple times a day.
The new bOb has fixed that problem with the large 1 L dust container. You'll now only need to empty your bOb every evening or every other day, which is a major improvement.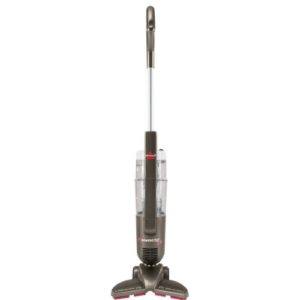 Weight: 7.5 pounds
Power type: Corded – 20 feet
The high points: V shaped head, picks up large debris, no brush roll, lightweight
The not-so: Only for hard floors, no hose, have to push forward for best results
That's right, a stick vacuum made the top of our vacuums for pets list. If you've ever doubted exactly how strong a stick vacuum can be, you're in for a treat with the Bissell PowerEdge.
The PowerEdge is designed be the ideal tile vac or hardwood floor vacuum for pet hair, a job it performs incredibly well.
This vacuum's head is shaped like a V, which is odd, but it works. With the PowerEdge, you'll be able to pick up large debris, swerve around corners, and never have to clean a brush roll again.
For a vacuum so lightweight, the PowerEdge packs a serious punch. When cleaning for the first time, you'll catch dirt and hair you didn't even know was on your floor, so don't be surprised if you find yourself emptying the large dirt cup more than once.
As far as budget vacuums go, the PowerEdge is the ideal choice for pet parents everywhere.
What reviewers say about it?
Reviewers know that when they buy this vacuum, it's going to be one of the most unique ones they'll ever use. No other vacuum that I've ever seen has a V shaped head (and I've reviewed a lot of vacuums to date).
Users don't seem to mind the learning curve that comes with using this new kind of vacuum. They did, however, note that the PowerEdge's filters need more TLC than the average stick.
You'll need to clean the filter after every use to maintain suction cleaning-after-cleaning. Many users were used to cleaning filters daily, but for some, this was an added chore they were not expecting.
What's good?
Unique design sometimes ends up meaning great design. That's the case with the PowerEdge's unique V shape head.
The reason the V works is that it funnels all large debris to the center of the vacuum head to suck it right up. Kitty litter, dog food, and Cheerios are all fair game for the PowerEdge.
The other major pro of the V shaped head is that there is no brushroll to be cleaned. If you're not a fan of cutting hair out of your vacuum's beater bar every other day, this completely eliminates that problem.
Because this is a stick vacuum rather than an upright, this vacuum is extremely lightweight. The lighter the vacuum, the more fun cleaning is for the whole family.
What could be better?
The major downfall of the PowerEdge is that it's designed for hard floors and hard floors only, which makes it one of our less versatile pet vacuum options on the list. However, what it lacks in multi-surface cleaning, it makes up for in suction power.
Since the PowerEdge is a stick vacuum, it does not have a hose attachment. This stick vac is strictly hard floors only.
Because of the unique V design, you'll essentially need to re-learn how to vacuum when purchasing the PowerEdge. You'll only be able to pick up dust and debris on the forward push of the vacuum, not on the back and forth like the majority of others.
How does it compare in value?
Compared to other vacuums designed for pet hair, this is the absolute best deal you'll find anywhere on the market. Every other quality pet hair vacuum is at least twice the price of this one.
The reason the PowerEdge is at such a low price point is because of its limited cleaning options. However, the power you'll get with this Bissell is worth much more than what you're paying for.
How has it improved?
This is the first edition of the PowerEdge and looks like it's the only vacuum on the market with its unique V head shape. Since this Bissell is a hit and does what it does incredibly well, I'm sure we'll see Bissell come up with ways to improve the PowerEdge in the future.
Who knows? Maybe there will be a low-pile rug option for the PowerEdge coming your way soon, too.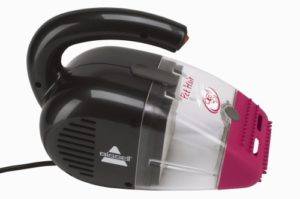 Weight: 4.2 pounds
Power type: Corded – 16 feet
The high points: 2 nozzles to choose from, picks up literally any hair from upholstery
The not-so: Will need to replace filter every so often, not great for anything other than upholstery
The Bissell Eraser Handheld is the innovation built for both your home and car vacuuming needs to get every last speck of hair cleaned up for good. With the Eraser Handheld, cat trees, sofas, and car seats will finally be fur free.
The rubber nozzle of the Eraser Handheld may not look impressive, but users swear by this product wholeheartedly. With the nearly-impossible cleaning capabilities that this little vacuum has, it's no wonder the Eraser Handheld has a cult following.
What reviewers say about it?
Reviewers love this vacuum. For those that bought it with the intention of using it for pet hair and nothing else, their expectations were completely exceeded.
Users did note that there are two large vents on the side of the vacuum that blow air out of the sides to the point where if you're on a hard surface, the dust you're trying to pick up will be scattered. Many reviewers mentioned that if you buy this, use it for pet hair on upholstery only and you won't be disappointed.
What's good?
There are two nozzles for you to choose from, both specialized for a different purpose. One is a rubber nozzle designed for pet hair and the other is a long plastic nozzle for crevices and hard surfaces.
The rubber nozzle isn't just designed to pick up pet hair, it's designed for magic. When using it on upholstery, there will be no pet hair left behind, nearly-guaranteed.
What could be better?
Because there is air that blows out of the sides, this product is best used for couches, stairs, and cat trees. For any other purpose (especially on hard floors), a different handheld would be better for the job.
The filter is the only other issue that some users had with the Eraser Handheld. This filter needs to be cleaned after every cleaning and replaced every two or three months for optimal performance.

Weight: 15.4 pounds
Power type: Corded – 30 feet
The high points: Lift-away technology, fingertip controls, HEPA filtration
The not-so: A bit heavy, can be tiring on the hands after a long cleaning session
Up up and away, the Shark Rotator has both your upright and canister vac needs covered. From hard floors to carpets to upholstery to stairs, the Rotator can do it all.
With attachments like the true motorized pet brush and the pet multi tool, fuzz doesn't stand a chance against the Rotator. Features like HEPA filtration also make this vacuum as pet parent friendly as possible.
What reviewers say about it?
Reviewers say that compared to Dysons and Mieles, the Rotator stands up against the best. Their floors were spotless using the Rotator and users that cleaned for a living prefered this vacuum over other more expensive models.
As far as fur is concerned, users found that the Shark Rotator was perfect for cleaning up after homes with even 4 or 5 dogs in them. Reviewers with allergies said that the Rotator literally changed their lives and that the Rotator's HEPA filtration made it that much easier for them to breathe.
What's good?
Even though the Rotator is an upright, the included lift-away technology transforms your ordinary Shark into a canister vac. You'll easily be able to clean upholstery, stairs, and your car with the easily transportable lift-away feature.
For power at your fingertips, Shark is the choice for you. All controls, including those that change the brush roll speed, are all at the top of the vacuum; this is a major lifesaver for anyone with a bad back.
What could be better?
Though this Shark vacuum is extremely versatile, it's a tad on the heavy side. For the really young and the really old, this vacuum may be a bit difficult to use.
When cleaning, having fingertip controls is extremely useful and prevents you from straining your back. However, if you have fragile hands or thin skin, this could cause irritation as you vacuum; some users vacuumed while wearing garden gloves to eliminate this problem.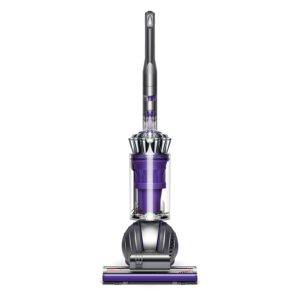 Weight: 17.35 pounds
Power type: Corded – 35 feet
The high points: Certified best suction of any upright, tangle free turbine tool
The not-so: Not ideal for plush carpets
Dysons are known for being the best above the rest, which is absolutely true when it comes to suction. The Animal 2 has the best suction of any vacuum on the market right now.
Each Animal 2 even comes with an instant release wand with a tangle free turbine tool to deep clean your upholstery. For a future that involves as little fur in your home as possible, the Animal 2 is the investment you'll want to make.
What reviewers say about it?
Reviewers are impressed with the power of the Animal 2 to say the least. From hair to kitty litter and dog food, the Dyson Animal 2 sucks it all up with grace.
Users love that the Animal 2 has a self-adjusting head, which makes transitions from room to room simple. Though the head is self-adjusting, reviewers say that remembering to manually turn the brush bar on and off takes a bit of getting used to at first.
What's good?
For a Dyson vacuum with the best suction on the market, you should expect nothing but top quality. The Animal 2 has the raw cleaning power you need to take on messes of any caliber.
For upholstery, the tangle free turbine tool works as a mini brush roll to completely refresh and transform your couches, chairs, and stairs from furry to fab. Again, with the suction the Animal 2 has, this tool works absolute wonders.
What could be better?
Is too much of a good thing a bad thing? The best suction on the market comes at a price that you may not expect.
For plush carpets, the suction of the Animal 2 may be too strong. The vacuum will be difficult to move back and forth on extremely long carpeting because the suction will suck the carpet into the machine, making cleaning nearly impossible.
If you have hard floors with a few low pile area rugs, you have the ideal home for an Animal 2.