If you share your household with a dog or cat or some other hair-coated creature, you need a vacuum for designed to suck up the inevitable resulting pet fur. When you're lucky, your breed has the kind of hair that doesn't stick to every surface it comes into contact with. Even if it doesn't, though, you need to suck it up on a regular basis, and for this, fur parent, you need to know the best vacuums for pet hair.
Based on the amount of hair I vacuum up a couple of times a week, my two big dogs should be completely bald. They are not, though, and they're high-production fur factories. I find that staying ahead of the pelt-tumbleweeds requires both diligence and a great pet hair vacuum.
What is the best kind of vacuum for pet hair? You want power, lots of it, to suck up the hair as it affixes itself to the carpets with the tensile strength of super glue. You also want the right attachments to get into the corners and clean the upholstered furniture, and a lift-off unit that functions as a handheld is also a plus.
6 Best Pet Hair Vacuums
PRODUCT

Best Overall

With HEPA filter
Washable microfiber pads
Cleans the rollers as the machine runs

View On Amazon →Check Our Review

Best Cordless

Dyson Cyclone V10 Lightweight Animal

The most powerful on the cordless market
Can continue to work for 60 minutes on a single charge in its regular mode
HEPA filtration system

View On Amazon →Check Our Review

Best Budget Option

Hoover Windtunnel 3 Pro Pet

Simple pedal adjustment
The power cord is automatically retractable
Has three separate channels of suction

View On Amazon →Check Our Review

Best for Plush Rugs

Kenmore Elite Pet Friendly Ultra Plush

Large removable bags
With HEPA filter
Has a variable speed setting

View On Amazon →Check Our Review

Best for Handheld Use

Bissell Pet Hair Eraser Lift-off

LED lighted crevice tool
Lift-off dust bin
SmartSeal allergen system

View On Amazon →Check Our Review

Best for Allergy Sufferers

Miele Complete C3 Cat & Dog Canister

The brush head has five adjustable heights
Has a charcoal air filter
With separate canister construction

View On Amazon →Check Our Review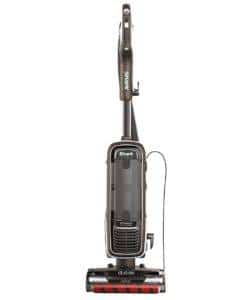 Effectiveness on carpet: A
Effectiveness on bare floor: A
Tools and attachments: A
Dust repository: Bagless, A-
Ease of movement/ergonomics: A-
Style and weight: Upright, 16.0 lbs.
The complete name for this machine is the Shark APEX Upright Vacuum with DuoClean for Carpet and HardFloor Cleaning, Zero-M Anti-Hair Wrap, & Powered Lift-Away with Hand Vacuum (AZ1002), and it ranks highest on our list as the best pet hair vacuum because it serves many different needs.
The upright system on this Shark vacuum allows you to remove the bagless canister and motor from the upright to get the full size head under furniture or you can lift off the canister alone and attach tools for stairs, furniture or other small spaces. Users particularly like the Pet Tool designed to both release tough pet hair from upholstery and other stubborn places and fit into those tight corners.
Users also mention the HEPA filter coupled with washable microfiber pads trapping dust and allergens as a big plus for households with pets. Pet hair won't wrap around the brushes due to the unique system that cleans the rollers as the machine runs.
The system also comes with a unique hard (bare) floor attachment to make quick work of accumulated dust in wide passes, and the brush roll can be turned off to avoid chasing larger grit across the floor if you move from hard to carpeted surfaces frequently.
Perhaps best of all, Shark designed this equipment with noise reduction technology, so you won't suffer from the high whine you might find with other models. It has tons of power, 1350 watts, which some reviewers comment might be almost too much. This much suction can make maneuvering the machine (built to be flexible) a chore for some.
Effectiveness on carpet: A
Effectiveness on bare floor: A
Tools and attachments: A
Dust repository: Bagless, B-
Ease of movement/ergonomics: A
Style and weight: Cordless stick, 6 lbs.
If multiple floors in your home make you cringe thinking about moving a big machine, this cordless stick vacuum makes cleaning easier. This Dyson vac features super suction to tackle both pet fuzz on carpets and debris on hard floors with special attachments for particularly hairy problem areas. The proprietary turbine suction system design, the most powerful on the cordless market, is said to capture dust that other vacuums might leave behind.
If cleaning substantial areas is an issue, rest assured that this vacuum can continue to work for 60 minutes on a single charge in its regular mode. Turning on the turbo booster for dog beds or cat perches will use up the charge faster but promises to inhale even more of what your pets leave behind. Its HEPA filtration system effectively sweeps the air of allergens, pollen tracked in by your pets, and fine dander.
Users note the small size of the dust canister can be a drawback, though it can be emptied with a touch of a button. Its conversion to a handheld unit and multitude of tools makes cleaning furniture and hard to reach places simple. Professional reviewers note this is the most powerful cordless unit on the market today, well worth the price if ease of lightweight cleaning is your desire.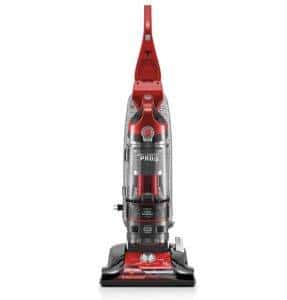 Effectiveness on carpet: A
Effectiveness on bare floor: A-
Tools and attachments: A-
Dust repository: Bagless, B
Ease of movement/ergonomics: A-
Style and weight: Upright, 18 lbs.
This machine's full moniker is Hoover Vacuum Cleaner Windtunnel 3 Pro Pet Bagless Corded Upright Vacuum (UH70930). Hoover's proprietary Windtunnel design is said to scoop up hair and dander on the surface and deep into carpeting through three separate channels of suction. The system can move from carpet to bare floor (like laminate) easily with a simple pedal adjustment, and the power cord is automatically retractable.
Washable filter pads and the HEPA system capture the dust and debris you're cleaning on the first pass. Dust stays in the dust cup until you trigger the canister to release it, dropping out the bottom into your trash so you'll never need to get your hands dirty. Users comment the suction on this machine is amazing for a budget vac, proving to pull out pet hair and debris on areas thought to be clean upon first use.
Perhaps the biggest complaint from reviewers relates to a perception that Hoover quality has declined. Getting a lemon is a possibility. However, happy customers say the amount of pet hair this vac can pick up outweighs that risk, as long as you make your purchase from a reputable dealer where returns are possible.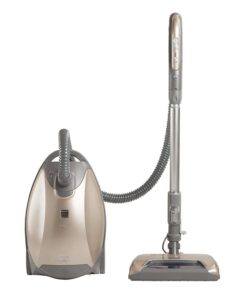 Effectiveness on carpet: A
Effectiveness on bare floor: B
Tools and attachments: A-
Dust repository: Bag, A-
Ease of movement/ergonomics: A-
Style and weight: Canister, 30 lbs.
Don't let the overall weight scare you, since most of it is in the canister on the floor rather than the tool in your hand. The large removable bags ensure you have capacity for lots of pet hair while the HEPA filter cleans the dander and allergens from the air. The dual motor system creates amazing suction power that pulls out hair and dander from supposedly clean deep pile carpeting.
The brushes and wheels in the mobile head have been designed with plush carpets in mind, making the push and pull easier without getting stuck in deep pile. It also has a variable speed setting, so lighter rugs won't be sucked off the floor as you vacuum. A performance indicator will inform you about clogs in the system or when your bag is full and ready to change.
Some users complain about build quality, though since there are many versions of this Kenmore on the market, it's not clear if they have the most current, high quality model (81714 as of this writing). Others note the pet tool is a huge plus, able to clean upholstery and dust bare surfaces with a power other machines lack. Experiment with the various pet tools stored on the main unit to find the best combination for your furniture and fixtures.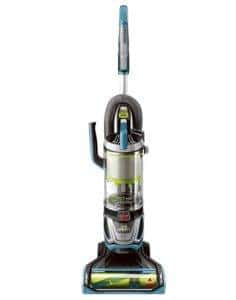 Effectiveness on carpet: A
Effectiveness on bare floor: A-
Tools and attachments: A-
Dust repository: Bagless, B
Ease of movement/ergonomics: A-
Style and weight: Upright, 18 lbs.
The lift-off dust bin on this upright vac turns your big machine into a portable handheld, giving you the benefits of two vacuums in one. Users like the hair removal system, offering tangle-free cleaning of the brush rollers automatically.
Its proprietary SmartSeal allergen system comes with a filter made by Febreze, said to remove the smells you often get when a concentration of doggie or kitty fuzz gathers in one place.
Other features mentioned as pluses include the telescoping wand, allowing you to reach even the most remote cat hiding places for a cleaning. The LED-lit crevice tool to get into corners and along walls where dog dander likes to gather may be nice to have, but users note that this light and the headlights are not very bright. The handheld Pet Turbo Eraser tool receives raves.
On the negative side, some people aren't crazy about the extending hose, either because they find it difficult to retract or because it's too short for their needs. Wrapping the power cord can also be a challenge. Users note that the suction is great, and if medium level pet hair is your worry, this choice should be fine for you.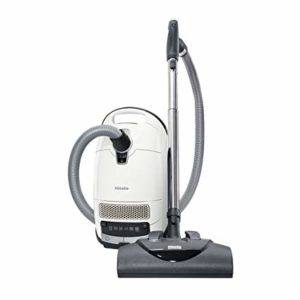 Effectiveness on carpet: A
Effectiveness on bare floor: A-
Tools and attachments: A-
Dust repository: Bag, B
Ease of movement/ergonomics: A
Style and weight: Canister, 19 lbs.
The big advantage this Miele system brings to the user is its separate canister construction. This means you aren't moving the full system with each pass of the brush head, making it agile and easy to navigate on high pile carpets. The brush head has five adjustable heights so you can fit under different kinds of furniture and transition from carpeting to bare floors (like vinyl plank) with ease.
A charcoal air filter removes pet odors as it works, a big plus, and the HEPA removes particulate matter. Suction is intense, with a six speed variable motor to adjust to whatever you're vacuuming. Handheld tools are said to effectively take care of pet hair on furniture too.
Users noted three major drawbacks, the first being the much higher price for this vacuum (though they have a reputation of lasting for decades). Some users weren't crazy about how frequently they need to change the dust bags, and others noted the replaceable HEPA filter seemed to need replacing more often than they expected. Still, if you want a pet vac that's going to last you for a very long time, this Miele vac can make the investment worthwhile.
The Complete Pet Hair Vacuum Buyer's Guide
Types of Pet Hair Vacuums
Vacuums designed with pets in mind come in four categories. Each works best for certain pet situations, but none conquers all without fail.
Uprights
Upright models have everything within the space of the head and handle, including the motor and the dust repository. This means you're moving the whole machine with each pass you make. On the other hand, uprights often have the strongest suction power because they can house the biggest motor in closest proximity to the brush head.
These vacuums are generally thought to be the best for major shedders, long hair, or removal of other debris like pet dander and allergens. They come in bag and bagless models. Some have lift-off mini-vacs for tight places too.
Canisters
Canisters can also provide a lot of suction power in a smaller, more compact overall size (see more on Uprights vs Canister vacs here). The only thing you're moving around is the head with the hose attached, which means you won't tire as quickly. Bags hold the results of your effort in the canister you pull behind you.
It's important to make sure you aren't skimping on a motorized head in the process of lightening your load. Also, a longer hose means there are plenty of places to have something get stuck inside. Today's canister vacs are touted as great solutions for people with deeply piled or textured carpeting.
Cordless
People love cordless units for their portability, which means traditionally they've been great for small messes, light shedders, or quick cleanups. Since they are rechargeable, the unit itself is lighter than a floor model. Ease of use is usually rated highly for anything handheld.
Plenty of situations prove to be ideal for use of a handheld. Stairs come to mind, since the carpet on the risers and in the corners hang on to pet hair with a vise grip. The newest models have as much power as corded models, making them a good choice for regular everyday use.
| | | | | | | |
| --- | --- | --- | --- | --- | --- | --- |
| Vacuum | Effectiveness on carpet | Effectiveness on bare floor | Tools and attachments | Dust repository | Ease of movement/ ergonomics | Style and weight |
| Dyson Cyclone V10 Lightweight Animal | A | A | A | Bagless, B- | A | Cordless Stick, 6 lbs. |
Robotic
We've all seen the funny commercial with the cat riding the automatic floor vac around the house, right? You'd think this type would be great for people sharing an abode with a feline. That might be its best feature when it comes to pets, cleaning up tracked cat litter, particularly on bare floors.
As a solution for general pet hair issues, though, these automatic machines don't have the suction to keep your carpeting or rugs clear of fur fuzz with medium to heavy shedders, nor can it deal with your furniture messes. The dust bin will need to be emptied more frequently too, since hair will clog the mechanics otherwise. As of this writing, robotic units don't meet the vacuuming needs of households with pet hair.
What to Look for in a Vacuum to Conquer Pet Hair
Raise your hand if this sounds familiar. You notice a concentration of dog hair standing out as if mocking you in the center of your living room rug. Or the dust bunnies have grown fur in a color strikingly similar to your cat.
You pull out the biggest vacuum you own and run the head over the rug or chase the rolling spheres around the hard-surfaced bare floor. With minimal progress, you try again, and again. You look down, convinced it must be gone by now.
It's all still there. The fur mocks you. Your shoulder hurts and you wonder if perhaps hairy furniture and floor covering will come back in style.
Strong Suction is the Key
There are a lot of reasons why the vacuum you already own doesn't do a good job on pet hair. First and foremost, it could be its age. Leaps in technology have even come to vacuums, making them more powerful while offering better features to leave you with cleaner rugs, pet-friendly floors and air.
The biggest change over the last few years is the amount of power in the suction. Older vacuums (P.S. remember to recycle) didn't have the same air wattage (the amount of suction which, amazingly, isn't something you can readily learn from manufacturers). If they came close in the past, they were so large, you'd destroy your shoulder trying to use them regularly and need an extra closet for storage.
New models come with more suction, translating into the ability to pull in more fur, dander and debris left by your pets. Moreover, they do this without adding a ton of weight and a city block of size. In fact, many of today's vacuums clean with exponentially more suction than a bigger machine from ten years ago, and their weights are lighter too.
What Makes Pet Hair a Special Vacuuming Problem
Pet fur can seem to have magnetic superpowers affixing it to your surfaces. Therefore, the power of the suction is only part of the story. You need the right kind of brushes or beaters to attract the hair.
Long hair from a pet is no different from the human equivalent. Given the wrong kind of brush, it will become tangled, wrapped around as the brush spins. It builds up with time and soon, surgery is required to snip off enough fiber to consider weaving a coat.
Manufacturers realized this problem would best be solved by different devices brushing or beating the offending fiber, and that's where the 'for pets' designation began to take shape. While there isn't one best design, the combination of stronger suction and ability to break the pet hair free of the surface without tangling it inside the machine created the pet professional lines of vacuums we see today.
FAQs on Selecting a Pet Hair Vacuum
Want to know more? Here are our answers to some of the most commonly asked questions when it comes to making a purchase decision for a vacuum designed to inhale that pet hair.
Can the same vacuum work for carpeted and bare floors?
This depends on the model. Some are designed to move from carpet to hard floors and back again without any adjustment. The question is if they're equally effective on both types of surfaces.
Many models come with settings based on the kind of surface you're vacuuming. The kind of suction power used for carpet is more than what you'll need for hard floors. Likewise, the head of a furniture attachment doesn't need the same power because of its smaller brush area.
Ultimately, you'll need to decide where you have the greatest problems with pet hair. Unless you have no carpets or rugs, you want it to be effective on those uneven surfaces where fur congregates. Don't forget the other nasties you'll be sucking up too.
Will the same vacuum work on pet debris other than hair?
In most cases, yes. Little leaves tracked in on your dog's paws should disappear as long as your vacuum head isn't pushing the item around the floor. Whatever you want to suck in needs to be under the head.
Large items of any kind, like big leaves, need to be picked up by hand because they would block the air passages inside the mechanics of the vacuum and ruin the suction.
The one concern some people find with some machines is the inability to pick up cat litter or tracked in grit and sand. In many cases, this lack of effectiveness occurs because the debris isn't under the head, or it is propelled around the brush and sling shots out. If you need to vacuum grit, look for a head that can be adjusted in height so you can roll over the item and it has a chance of being removed.
What about fur on the furniture?
If you have a cat, your pet hair problem probably takes over other surfaces, like the couch (or windowsills, which always seem to be behind a nice piece of upholstery). While you won't want to drag your big vacuum up on the seat, you still need the power of it directed to these fur depositories. This is where attachments become important.
Having a nice little tool that gets in the cracks and crevices isn't enough, though. Some machines have handheld tube extensions to reach the difficult spaces, but their suction is nothing like what you have for regular floor use. Again, vacuums under the pet pro umbrella tend to maintain suction power whether you're using the main head or a hand tool.
The best type of tool is often one that mimics the large head on your vacuum but in a much smaller size. Its brushes or rollers grab the hair better than suction alone. Add a pointy tool for the corners and something to use on your stairs, and you might be covered.
What is the best dust repository?
Again, personal preferences play a big role in the dust bin choice. I like bagless units I can empty into the trash rather than bags I have to remove and replace, though usually those translate into smaller dust repositories. However, if you have people with allergies under your roof, keeping things as sterile as possible in a removable bag might be a better choice.
The other factor to protect those with pet dander or hair allergies is choosing a unit with an air filter. HEPA grade filtration is designed to filter the air moving through your machine, removing minute particulates like dander and allergens. Even in households without allergy concerns, a HEPA system is nice because you won't be reintroducing what you just cleaned back into your atmosphere in the air expelled from the vacuum.
Note that a HEPA filter will need to be replaced. Other designs have washable filters, which you should want if you aren't considering a HEPA model. Dander and dust can build up in any filter over time, and that minimizes its effectiveness along with the power of the vacuum.
Is one style of vacuum better than others?
The short answer is no. Some people swear by uprights, while others like canisters that ride behind you, meaning you won't be dragging it back and forth. Even the mini models intended for handheld use come in a variety of styles.
This being said, consider how easy or difficult it would be to move the vacuum over your surfaces. If you have heavily textured rugs, rolling a big machine could wear you out faster than if you only needed to vacuum hardwood or wood-look tile. Having a canister you aren't also moving could be an advantage.
Does vacuum size matter?
Major suction means a large motor, larger than what's found in a traditional non-pet vacuum. You also want maneuverability. Some parts of the machine, like the head and tool attachments, should be small enough to work into the corners, next to walls, and around furniture.
Portability might also be important to you if you have carpeted stairs, or if you're moving the machine between floors in your house on a regular basis. Weight is subjective, because the bulk and how the machine hangs together when lifted play starring roles in your discomfort or ease in moving the vacuum too.
| | | |
| --- | --- | --- |
| Vacuum | Ease of movement/ ergonomics | Style and weight |
| Shark APEX | A- | Upright, 19 lbs. |
| Dyson Cyclone V10 Lightweight Animal | A | Cordless, 6 lbs. |
| Hoover Windtunnel 3 Pro Pet | A- | Upright, 18 lbs. |
| Kenmore Elite Pet Friendly Ultra Plush | A- | Canister, 30 lbs. |
| Bissell Pet Hair Eraser Lift-off | A- | Upright, 18 lbs. |
| Miele Complete C3 Cat & Dog Canister | A | Canister, 19 lbs. |
Are cordless vacuums less powerful?
Cordless is usually equated with portability, but not necessarily power. Since power means suction, selecting a portable in a smaller model won't be enough for long dog or cat hair or heavy shedding situations. Luckily, today some manufacturers are packing as much punch into their cordless units as they are their uprights.
Keep in mind that cordless vacuums run on rechargeable batteries. These have a finite period they can run before they need to be returned to their charging station. While some are equipped with long-lived power, this can be drained if you use a booster (a setting that temporarily increases the suction) or if you have more surface to cover than the time it can maintain a charge.
Our advice is if you intend to buy a portable, pay close attention to how long it is rated to run on regular use. Time your vacuuming to see if that is long enough to meet your needs. You might need two vacs – a portable for the hard to reach places or touch-ups, and a regular floor model for cleaning day.
Our Selection Criteria for Pet Hair Vacuums
Only you can decide which of the machines on our list will be the best match for your cleaning situation. If you have dogs that are heavy shedders like mine or a cat with a long mane, you'll be vacuuming frequently, so ease of use and suction will be key. If you have wall to wall carpets, you want something strong to pick up the pet hair stuck to the weave.
Following is the list of features we're considering for the six best vacuums for pet hair. We've graded their effectiveness on a standard letter grade scale based on feedback by users and professional reviewers.
Effectiveness on Carpet
The more textured or plush the carpet, the stronger the suction you'll need to clean it. Some materials also hold on to pet hair with more ferocity than others. We rate the effectiveness users and reviewers note on carpeting and rugs, along with any specific advice on making a good selection that matches your floor covering in the comments.
Effectiveness on Bare Floor
While cleaning a carpet is about loosening the debris from the weave, on bare floors it's about not sending that dirt flying in a new direction. The style of brush, roller or beater effects how well the machine picks up from hardwood or as a tile vac. User and reviewers often mention issues with bare floors more frequently because it's easier to see if the machine picked up the dust than on a carpet.
Tools and Attachments
If your pets get on the furniture or you have carpeted steps (or maybe you've toted Fido around town and now need a car vacuum) you'll want an upholstery tool and a crevice head at a minimum. Some furniture tools are mini beater heads, while others have fewer features. The more attachments the merrier, since you're more likely to find exactly what you want to clean up that special little mess.
Dust Repository
Bag or bagless is a personal choice. Bagged works well for those of us who don't like to handle the results of our cleaning effort. Bagless is nice because you aren't replacing something on what is likely to be a frequent basis, considering it's getting filled with pet hair.
Ease of Movement/Ergonomics
Vacuums are designed to be good at going back and forth, but that's not the only movement you need to clean a rug or floor. If the machine is cumbersome with a design that makes navigating turns difficult, you won't be as inclined to use it. The more likely you are to vacuum, the freer your home will be of pet hair, dander and allergens, making it cleaner overall.
Style and Weight
We've noted the design style of the vacuum, along with its overall weight. Moving an upright vacuum with a heavier weight is different from a lighter canister. If using the machine on different floors in your house or other maneuverability concerns are an issue, you'll want to pay attention to this feature.